If you're looking for chic outfits with chunky loafers, we've got you covered. Check out these modern chunky loafers outfit ideas and get the best tips on how to style chunky loafers for every season!
*This post contains affiliate links*
How to Style Chunky Loafers
In recent years, chunky loafers have been established as a stylish piece in a classic and timeless wardrobe. This is not shocking considering they're simple, comfortable, and can easily make anything you wear look professional and thought-out.
Whether you go for the iconic, and highly sought-after Prada loafers, or a less expensive substitute, getting yourself a pair will prove to be a wise investment – no matter what season you wear them in!
Chic Chunky Loafers Outfit Ideas
Choosing the right pair or knowing how to wear chunky loafers is where you might be feeling confused. So we're breaking it down and detailing our favorite chunky loafer outfits below!
Making a statement, chunky loafers are the ideal counterbalance to a sleek midi skirt, as demonstrated here. All you need to finish the look is a cozy knit sweater for the fall and winter months.
The outfit provides the warm and comfort you're looking for on a chilly day, yet still makes a statement wherever you go.
Jean shorts are one of those summer items that every trendsetter should have. Looser-fitting jean shorts are on-trend and look great with a pair of chunky and simple white ankle socks.
This outfit will definitely have you joining in on the fashion influencer street style looks this year.
Chunky loafers, leggings + layers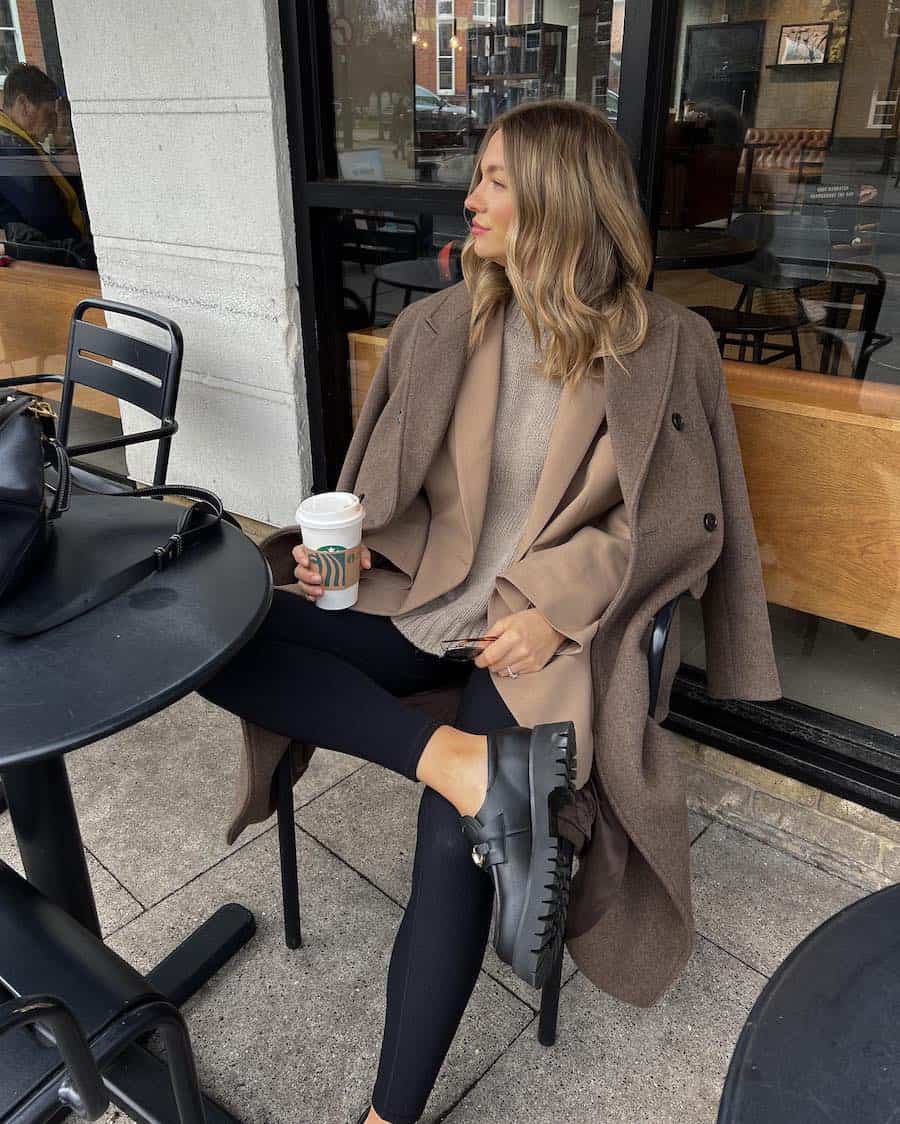 get the look:
So you want to feel comfortable and chic? Try pairing chunky loafers with black leggings, then add elevated layers.
We love the different shades of brown from the turtleneck to the blazer to the long wool coat. This outfit has an old-money, elevated vibe, but is comfortable enough to wear to Thanksgiving dinner.
A feminine dress with chunky loafers is an unexpected combination, but it's a clear winner. A dress, whether flowy or fitted, always looks elevated with loafers.
Put on your favorite flowy dress with loafers and you'll be ready to take on the day – shopping, brunch with friends, school drop-off, you name it. We love the look of the black bag to balance the black loafers and tie the outfit together.
Miniskirts and loafers complement each other like bread and butter. The bulkier shoe effectively counterbalances the feminine, dainty skirt.
Additionally, while ankle socks are optional, they really pull the look together.For the spring and summer months, this is a cute outfit that can be worn on a day out with friends.
Grab yourself an iced coffee and show off your miniskirt meets loafers look!
Are chunky loafers business casual?
Yes! Any type of loafer, including chunky loafers, can be worn with business casual outfits. While they do make a statement, chunky loafers are still professional when paired with other business casual clothing like blazers, trousers, and smart blouses.
Chunky loafers are an excellent choice for the office because they provide a trendy element to your wardrobe, but still have a formal feel. Check out these outfits below for ideas on what to wear to your next business meeting.
This outfit has a smart, sophisticated vibe, and looks great with the oversized blazer and high-fashion bag. You'll look like a boss as you walk into the office, and you're bound to make good impressions at your next meeting.
This is a chic outfit to wear to the office or in the city. Add a pair of black sunglasses and a black purse for an eye-catching look.
If you feel the outfit is a little too "leggy" for your office setting, go with a longer sweater dress or wear black tights instead of the socks.
For an elegant, sophisticated style, we recommend a classic white button-down. The loafers and button-down go together to create a business-appropriate outfit, so show up to your next meeting and impress your colleagues with your style.
If jeans are a no-go at your office, swap them for a pair of straight-leg pleated trousers in a muted color tone like green or navy. Or, go with classic black.
Leather pants are a wardrobe staple that we love, love, love. Pair them with your chunky loafers, and you'll look elevated, modern, and polished.
Rather than leather leggings, straight-leg leather pants provide a fresh and bold look for those of you wanting to stand out. The added sweater-over-the-shoulders ties in a preppy aesthetic so you can show up to your business meetings and events in style.
This blazer outfit is timeless and classy, and can be worn just about anywhere. It's comfy and easy to pull together, yet you look like you planned your outfit with thoughtful consideration. Gold jewelry does wonders for this type of outfit and the loafers are the cherry on top.
Add a handbag and a pair of sunglasses, and you'll have the look down.
Trench coats and long wool coats are back in style and looking classier than ever! These coats bring in a timeless, polished look and really stand out when combined with a pair of chunky loafers.
A good trench coat will keep you warm in the spring and fall, and the stirrup leggings are a dressier legging option for the office and beyond.
Finish the outfit with a cozy turtleneck sweater in a cropped style, or oversized for a modern take.
Even though it may seem obvious, a timeless pair of straight-leg or cigarette pants will come to your rescue whenever you're having trouble finding the right attire for your loafers. Black pants create a classic look that will never go out of style.
Shiny black, chunky penny loafers are balanced with an oversized knit sweater that has an on-trend stripe detail we love so much. This chunky loafers outfit is chic, effortless, and perfectly minimal.
What do you wear chunky loafers with?
Chunky loafers are a great statement shoe that go best with timeless basics like jeans, oversized sweaters, midi skirts, blazers, denim shorts, casual dresses, and straight-leg trousers. But, no matter the style of your hem, the color scheme of your outfit, or the amount of formality, you can easily wear chunky loafers with any outfit if you get a pair in brown, black, or beige.
More Chunky Loafers Outfit Ideas
Below are a few more outfits that show you how to style chunky loafers for laid-back days and casual evenings.
If you're looking for something cute, yet cozy, try pairing your loafers with a cozy, oversized sweater. It will keep you warm throughout the day while still looking elevated and chic. Sounds like a win-win.
Don't forget to grab a coffee of hot coffee on the chilly day you chose to wear this outfit. It's difficult finding outfits that combine fashion with comfort, but that's exactly what this look does.
Try the 'Canadian Tuxedo' with an elevated vibe, and throw on a denim button-down with your chunky loafers. This outfit offers a casual look mixed with professionalism.
This western-inspired look may not be for everyone, but it's fashionable regardless.
Oversized denim jackets are definitely having a moment. The bulky silhouette makes it a perfect jacket choice to pair with chunky loafers, for balance and an elevated look.
We love the addition of the sweater over the shoulders and the chic bag and sunnies.
An oversized button-down or a simple crewneck sweater looks excellent with stirrup leggings and chunky loafers. This outfit is comfy, yet elevated and the oversized shirt makes the look slightly more casual.
This is a great outfit if you're simply taking your dog for a walk, exploring the city, or spending the day shopping.
For another edgy look, try a black-and-white color scheme and throw on the leather. A leather blazer with a black denim skirt (or biker shorts) is very on-trend and fashionable. The chunky loafers truly make the outfit complete though, especially with a cute pair of white socks.
Go out for the day (or night!) in this outfit and have a great time.
Of course, blue jeans fall within the timeless category. However, straight-leg styles—whether cropped or full-length—work amazing with chunky loafers. The vintage blue wash offsets the black and the leather blazer is the perfect finishing touch.
Though it's simple, this outfit is polished, classic, and we want to copy it immediately.
Oh, and the Anine Bing bag – nothing but love!
Prada Chunky Loafers Outfit
The iconic Prada leather loafer with a round toe, chunky rubber sole, and triangular plaque front and center is a statement begging to be made. Prada's thick-soled beauties have a chic, modern, and diverse style.
In a head-turning fashion move, Hailey Bieber wore her Prada loafers with a leather Nour Hammer Gotham coat, cut-off Levi's, and bright white ankle socks, setting a trend that fashion influencers everywhere wanted to copy. Bella Hadid upped the ante with baggy jeans and a vintage leather waistcoat.
Here's how you can style your Prada loafers to turn heads in all the right ways.
Plaid shacket, mini skirt + knee-high stockings
Here's another stylish look with a mini skirt and Prada loafers. The addition of sheer knee-high stockings gives a modern academic aesthetic (read school-girl vibes), and we love the cozy addition of the long plaid shacket to balance the chunky loafers.
A long, black cotton dress looks fresh and modern with chunky Prada loafers and white ankle socks. We love this look and the addition of simple jewelry, sunglasses, and a black handbag.
This outfit is perfect for a day of shopping or spending time outdoors in the warmer spring and summer months. So go to a park and have a picnic with this outfit, it deserves the attention.
Who doesn't love a fun skirt? Pair your best long skirt with a funky top and Prada loafers. This outfit is current, eye-catching, and super fun. We're here for it!
Try this outfit for a day visiting a flee market, shopping, or at the art museum. You'll enjoy looking at the art while showing off your own masterpiece of an outfit!
Are chunky loafers in style 2022?
Absolutely! In 2022, if you are to make one shoe purchase, we would recommend it be a quality pair of loafers. The chunky, oversized aesthetic has been gaining popularity for a while, and in 2022, it's more in style than ever.
You can easily pair chunky loafers with any bottom half in your closet, including skirts, dresses, jeans, and suit pants. They are a great shoe for work or the weekend, rain or shine.
Getting Dress with Chunky Loafers
We are all about chunky loafers. You can wear them in so many ways (clearly) and enjoy a chic fashion sense. The desired chunky loafer style has gained popularity for a reason, and since attracting the attention of celebrities like Hailey Bieber and Bella Hadid. they've become a must-have.
It's not a shocker that we will see chunky loafers increase in sales in 2023. Are you prepared to join in?
More Style Guides You'll Love:
18+ Modern Womens Gucci Loafers Outfit Ideas
9+ Seriously Good Gucci Loafers Dupes (& Mules!)
How To Wear A Belt Bag + 19 Modern Belt Bag Outfit Ideas
Are Leggings Business Casual? Here's What You Need To Know!
What Shoes To Wear With Straight Leg Jeans
16+ New Balance Outfit Ideas You'll Love