Wondering how to wear Chelsea boots with jeans? We've got the perfect guide for you! Learn how to style Chelsea boots and jeans of different styles to get a chic and seamless look, including black Chelsea boots, heeled Chelsea boots, and more.
*this article contains affiliate links*
get the look:

How To Wear Chelsea Boots & Jeans
With fall officially here, it's time to bust out our favorite timeless shoe: Chelsea boots. These boots are a classic indeed, going back as far as the Victorian era (seriously) and taking off in popularity in the 1950s and 60s.
Luckily for us, these quintessential cold-weather shoes are still as on-trend and stylish as they were back then. And what better way to style them than with a pair of jeans? From wide leg denim to straight slim fits, I'm showing you which jeans to wear with Chelsea boots with the help of our Editor-in-chief at Style Your Occasion, Christal.
Can you wear Chelsea boots with jeans?
You can absolutely wear Chelsea boots with jeans. In fact, it's quite a classic combo that works for all seasons and never goes out of style. Chelsea boots look great with all types of denim, from wide leg jeans to skinny jeans to straight leg jeans.
You can experiment with full-length jeans or cropped styles; either look fantastic paired with a Chelsea boot.
Chelsea Boots and Jeans Styling Ideas
Below are my favorite ways to style different cuts of jeans with Chelsea boots.
Straight-Leg Jeans with Heeled Chelsea Boots
get the look:

You've got dozens of styling options when it comes to wearing Chelsea boots with jeans. A good rule of thumb is to pair the Chelsea boot style (heeled, classic, chunky, etc.) with jeans that will match or enhance the overall aesthetic.
In this outfit on Christal, a pair of slightly cropped straight leg jeans look great with heeled Chelsea boots because it shows off that signature side panel. This Jenni Kayne Chelsea boot has a slimmer shape and more pointed toe, so it helps to elongate the leg even with cropped jeans.
To recreate her outfit, grab your favorite pair of cropped straight leg jeans that hits just above your ankle. Slip on your ankle-grazing heeled Chelsea boots and throw on a coordinating sweater for a minimalist aesthetic.
Wide-Leg Jeans with Heeled Chelsea Boots
Leave it to Margie to give us a perfectly elevated look with wide-leg jeans. I'd definitely wear this outfit on date night.
With this combo, the heeled pair of Chelsea boots peek out underneath the hem of the wide-leg denim, and act just like any other ankle boot you'd wear with wide leg jeans. So this combination couldn't be any easier to style.
To dress up your Chelsea boots, pair them with dark wash denim (this shade is naturally more formal) and a black bodysuit. A statement jacket, like this faux fur one, adds interest to an otherwise basic outfit.
Finish the look with a crossbody bag, a belt to cinch in your waist, and gloves to keep you warm (and fancy).
Slim Leg Jeans with Heeled Chelsea Boots
get the look:

Similar to straight-leg jeans, Chelsea boots are a natural fit with slim cut jeans. The streamlined silhouette complements the boots' posh and preppy aesthetic, especially when paired with a striped knit. With this jean style, you can rock flat or heeled Chelsea boots, depending on the occasion.
I love that these tan suede boots on Christal offer a different take on the standard leather. And the extra lift from the heel makes them easy to dress up for work or a nice dinner. Plus, the light color makes them wearable all year long.
Christal's camel coat has an elevated vibe that I totally love, and it ties the outfit together. On warmer days, I'd go with a striped t-shirt and lightweight trench coat.
Full-Length Straight Jeans with Heeled Chelsea Boots
One of my favorite pairs of jeans to wear with Chelsea boots is a full-length straight-leg jean. With slightly more room than skinny jeans, straight jeans sit over the top of the shaft of the Chelsea boot for an elongating effect, like on Emanuelle above.
A flat, chunkier style Chelsea boot would have an unnatural contrast with the straighter style, so I recommend pairing this jean style with heeled Chelsea boots.
Opt for high waisted jeans to elongate the legs even further and wear them with a simple fitted top or sweater. A leather jacket or bomber adds a warm layer that instantly makes your look feel more stylish.
This is the perfect model off-duty look!
Chelsea Boots with Socks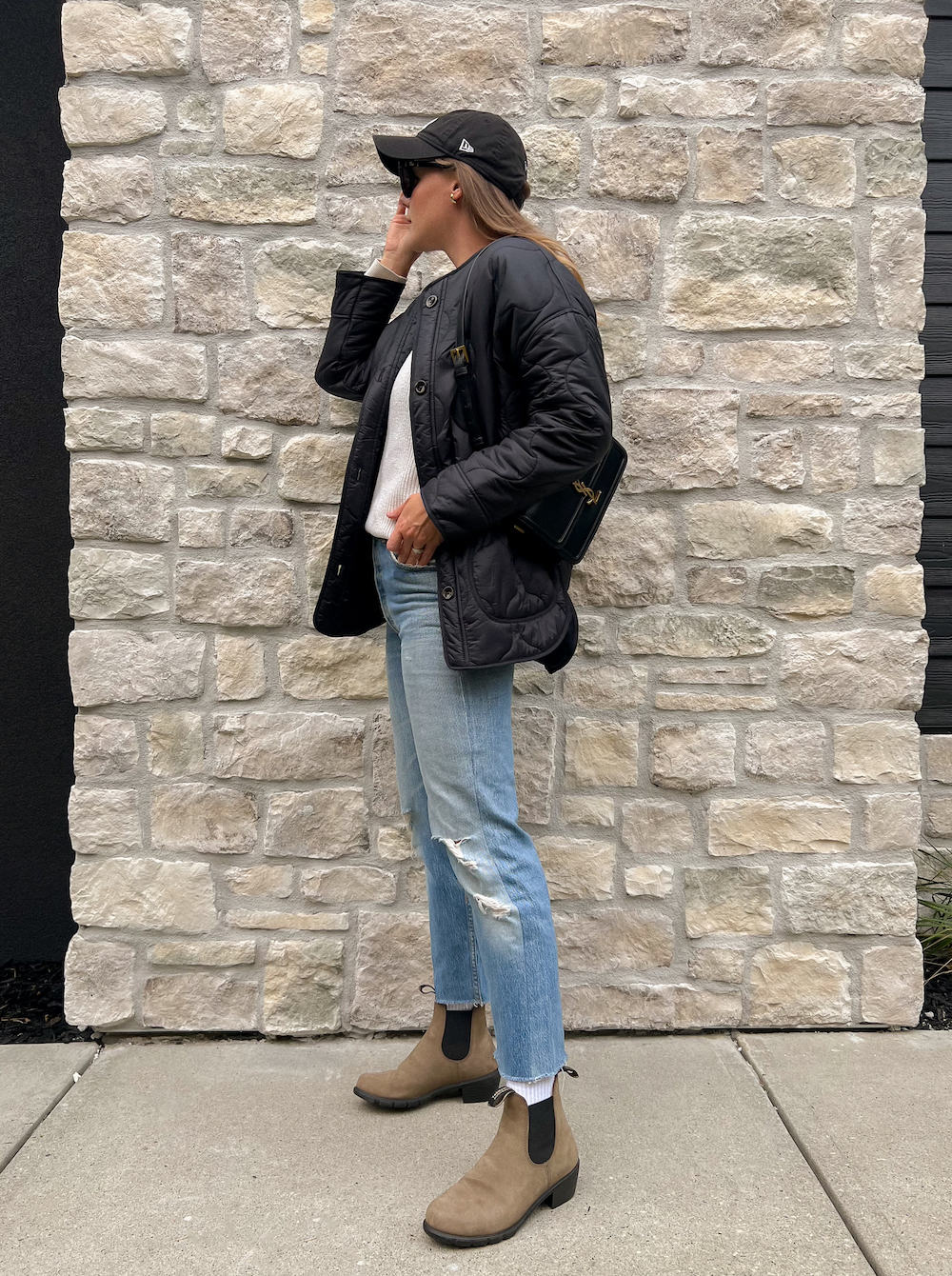 get the look:

Crew socks and Chelsea boots might not be your first go-to, but this unexpected combination by Christal creates the illusion of taller boots. And it will keep your ankles warm in the colder months.
This stylish pairing is perfect for casual outings when you want to dress up your usual tee shirt and jeans. And because it's so casual, this look works best with a flat Chelsea boot and straight leg or boyfriend jeans.
On chilly days, throw a quilted jacket on top for an added layer. I think this everyday look has a sporty feel that's perfect for fall football games and tailgates.
How long should jeans be with Chelsea boots?
Chelsea boots always look great with ankle-length, cuffed, or full length jeans. With cropped ankle-length or cuffed jeans, the full boot is in view. Aim for the jeans to hit just above the boot or a couple inches before.
With full-length jeans, be sure they have a slightly wider hem that drapes comfortably over the shaft of the boot. With this look you can experiment with slimmer heeled Chelsea boots or ones with chunkier soles.
Black Chelsea Boots with Jeans
Black Chelsea boots are a timless and classic choice, and they look excellent paired with different styles of jeans. I'll show you exactly how you can style the two below!
Straight-Leg Jeans
get the look:

Here's another great outfit from Christal where she shows that a chunky black Chelsea boot is ideal for a casual daytime look. Wear them with straight leg jeans that just hit the top of the boot to make the outfit feel cohesive and well put-together.
Play up the black of your boots with a coordinating black shoulder bag and quilted jacket. If you want to keep things cozy, layer with a turtleneck sweater or cable knit. I'd wear this outfit for running errands on crisp autumn days or heading out for a lunch date.
Bootcut Jeans
Bootcut jeans have a figure-flattering fit designed to be worn with boots underneath. Because the fit is streamlined but tapers out, a pointed-toe Chelsea boot that has a heel will be the best fit.
Get this French-girl inspired look by pairing dark wash bootcut jeans with patent leather brown or black heeled Chelsea boots. A lightweight knit, like this gorgeous green cardigan, is the perfect piece for transitional weather.
Adding a blazer or trench coat to this bootcut jeans outfit also keeps the look fashionable while keeping you warm. I would wear this look to happy hour with my besties or for a full shopping day.
Cuffed Jeans
get the look:

As Christal shows above, Chelsea boots and cuffed jeans are a sure-fire way to look effortless and cool. The cropped length cuts off just above the boot and looks great with flat, chunkier-style Chelsea boots.
Keep the look laidback with a simple tank and sweater draped ever-so-effortlessly over your shoulders. In my opinion, this rolled-up look is great for those who don't want to commit to buying cropped-style jeans since you get the same effect without investing in a new pair of denim!
Wide-Leg Jeans
As you saw earlier, wide-leg jeans look amazing with a heeled, pointed-toe version of a Chelsea boot. But baggier, wide leg denim with chunky Chelsea boots are equally fab.
These clunky lug sole boots ground the outfit and help balance the excess fabric of the wide leg jeans without getting lost. And the platform sole is ultra-cool.
I love the look of black boots with black jeans for an edgy, on-trend feel. Black denim can sometimes feel too fancy for the daytime, but this baggier shape feels relaxed enough for every day.
Skinny Jeans
Black Chelsea boots with jeans are a match made in fall fashion heaven. This autumnal look marries dark skinny jeans with a pointed-toe heeled Chelsea boot.
Tucking in skinny jeans will make your legs look long and show off your super cute ankle boots. In my opinion, it's a fashion win-win.
A colorful, boxy sweater balances the tight-fitting jeans and adds a pop of color and texture to the look. Voila. This outfit is ready to go from day to night.
Should jeans be tucked into Chelsea boots?
Because Chelsea boots don't have an overly slim shaft, you can tuck slim or skinny jeans into them. Out of all the jeans to tuck into Chelsea boots, skinny jeans look the best. hether you're wearing a flat or heeled Chelsea boot, tucking skinny jeans in will help to elongate the leg and create a more seamless finish.
For a more avant-garde, street-style look, you can experiment with tucking baggy jeans into Chelsea boots.
Final Notes
I hope you enjoyed seeing all the different ways you can wear this stylish combo fall and winter fashion!
Remember, heeled Chelsea boots are automatically fancier than flat ones. So they work best with wide leg, bootcut, skinny, and full length jeans. While cuffed jeans, straight leg fits, and baggy denim pair perfectly with the casualness of a flat Chelsea boot.
It's all about proportion, but don't forget to take jean length into account, too! With these tips in mind, you'll be ready to rock this classic combo for years to come.
pin this!
More Style Inspiration You'll Love:
How To Style Wide Leg Jeans: The Do's & Don'ts + Chic Outfit Ideas
What Shoes To Wear With Straight Leg Jeans For A Chic + Modern Look