Looking for bright and feminine nails to rock this winter? You'll love our list of 26+ pink winter nails including light pink winter nails and pink and white winter nails, perfect for this season!
Stunning Pink Winter Nails
Winter is one of our favorite times of the year! We love everything about it – from the beautiful snowy sights to the yummy treats, cozy chic outfits, and stunning winter nail designs.
And during this chilly season comes the classic winter and holiday colors – bright reds, deep greens, and gorgeous shades of blue. While we love to see these lovely holiday colors, we're also a big fan of mixing things up with a vibrant, feminine shade like pink!
You may not think of pink as a typical cool-weather shade, but you can look pretty in pink year-round, and winter is no exception! So, if you're looking for the perfect winter nail inspo with a feminine flair, our list of stunning pink winter nails is just what you need. Check out our top picks below for pink winter nail designs you'll love in 2023.
Shimmering Frenchies + Bow Details
Ribbons and bows are popular home and gift decor in winter, so adding a bow detail to your mani is perfect for a subtle and stylish holiday vibe. We love the shimmering pink polish for the French tips here – it adds a bold and trendy look to a timeless design.
Hot Pink Mani w/ Red Glitter Accent Nails
Don't be afraid to go for a daring winter mani with hot pink nails! The sweater texture and dot details add a playful wintery feel, while the shimmering red accent nails make these a top choice for a Christmas manicure.
Light Pink Winter Nails
If you're looking for winter nail designs with light shades of pink, the manicures below are just what you need! These soft pink colors are so stunning and great for adding a subtle feminine vibe to your winter nails.
Chunky Silver & Light Pink Ombre
Chunky silver glitter is a perfect detail to add to your winter mani, and this gorgeous metallic glitter looks amazing with light pink. This is a must if you want bright nails with a subtle winter vibe.
Metallic Pink, Glitter Polish + Nude Nails
Soft metallic pink polish instantly gives off a winter vibe, while adding nude and glitter-coated nails creates a gorgeous minimalist look. This mani is an easy way to elevate your look while keeping it sleek and simple!
Can you have pink nails in winter?
The color pink works any time of the year, even during the cool holiday months. So you can choose your favorite shade of pink, or opt for light or cool-toned pinks for a stunning winter nail design.
Light and cool shades of pink will pair well with the cooler tones we commonly see in winter like blue and silver, and add a gorgeous pop of color to any outfit.
Silver Ornaments + Striped Pink French Tips
We love how these silver beads resemble Christmas ornaments while adding a pop of glam to these nails. The pink and white striped French tips also add a holiday feel and give this manicure a fun and youthful aesthetic!
Gradient French Manicure w/ Snowflakes
We are obsessed with this matte gradient nail design! It has a bold, playful feel with an undeniable winter aesthetic. And we love how the snowflakes match the shade used on each nail – although you can give this manicure a bolder look by opting for silver or gold snowflakes instead.
Light Pink Polish + Metallic Magenta
Matte pink pairs perfectly with bold and vibrant metallic magenta for a stunning winter nail design – and the rich magenta helps the light pink snowflakes pop. You can definitely rock these nails during a holiday party this winter season!
Bright Pink Nails w/ Candy Canes
These nails will have you holiday-ready in no time!
Candy canes are one of the most iconic Christmas treats, and pairing this cute candy nail art with bubblegum pink creates an adorable and youthful nail design. This nail design is perfect for adding a playful feel to your everyday outfits during the 2023 winter season!
Pink Sweater French Tips + Mistletoe Borders
Sweater French tips are a must for a cozy and stylish nail design this winter! Pink polish adds a feminine touch, and the mistletoe nail art bordering these Frenchies instantly adds a Christmas vibe.
Shimmering Pink & Black Plaid
Plaid is a classic winter pattern, so you can't go wrong using this timeless print on your winter manicure. We love the shimmering pink here, while the black adds a gorgeous contrast that makes these nails so eye-catching.
Pink Nails w/ Snowflakes + Silver Beads
Pretty pink nails can quickly be elevated with silver bead details, white snowflakes, and sweater art. We love the subtle pink shade here, while the details and accents in this design create an elegant aesthetic.
What is the most popular nail color for winter?



There are tons of popular nail colors in winter, but rich jewel tones are a top choice for nail designs during this time of year. Deep reds, greens, and blues are all trendy picks during winter, along with classic neutral colors like snowy white, black, brown, and cream.
Metallic accents are also popular in winter. Silver is perfect for adding a touch of glam and a holiday feel to any manicure, and gold accents are another excellent choice!
Glittery Pink French Tip Outlines
Keep it simple but stunning with French tip outlines. This is a chic and modern twist on a classic nail design, and opting for pink glitter polish gives these nails a holiday feel.
French Mani w/ Gold Sparkles + Colorful Gems
While we love the snowflake art that we see in winter nail designs, you can easily mix things up by opting for sparkle and star accents instead. We love the addition of the colorful gems for a vibrant look, and the shimmering gold stars look so beautiful with this shade of pink!
Pastel Pink w/ Chrome Accent Nails + Snowflake Details
We couldn't have a list of winter nails for 2023 and not include a chrome mani!
We are in love with the chrome finish on these accent nails and how they make this soft pink pop! The iridescent crystal accents are perfect with this chrome look, and white snowflake details are a must to give this manicure a winter vibe.
Pink and White Winter Nails
You can't go wrong with white nail polish in winter – and this color pairs so well with pink nail designs for a bright and beautiful aesthetic. The nails below feature some of our favorite designs to use with these lovely shades.
Matte Nails w/ Pink French Tips & White Snowflakes
Matte nails are simple yet sophisticated, while the lovely pink French tips add a playful feel. The white snowflakes add a nice bright pop, and the dot details are perfect to create a snowy look in these light pink winter nails.
Dusty Pink w/ Glitter + Plaid Accent Nails
This dusty pink nail polish is a great way to give your nails a feminine aesthetic with more of a muted tone. The glitter accent nails add a glamorous feel without being too bold, and the plaid nail art is a must in pink winter nails.
Slanted Pink Glitter & Snowflake Art
Pink glitter and bright white are a match made in heaven in the nail design above! We love the subtle, glamorous feel of these nails, making them a great choice for an eye-catching look this holiday season.
Glossy Pastel Pink + White Snowflakes
Go for a chic, elevated design with light pink winter nails with dainty white details. We are in love with the accent nail featuring a slanted French tip, and the snowflake art is the perfect winter accent!
Milky White + Glittery Pink Nails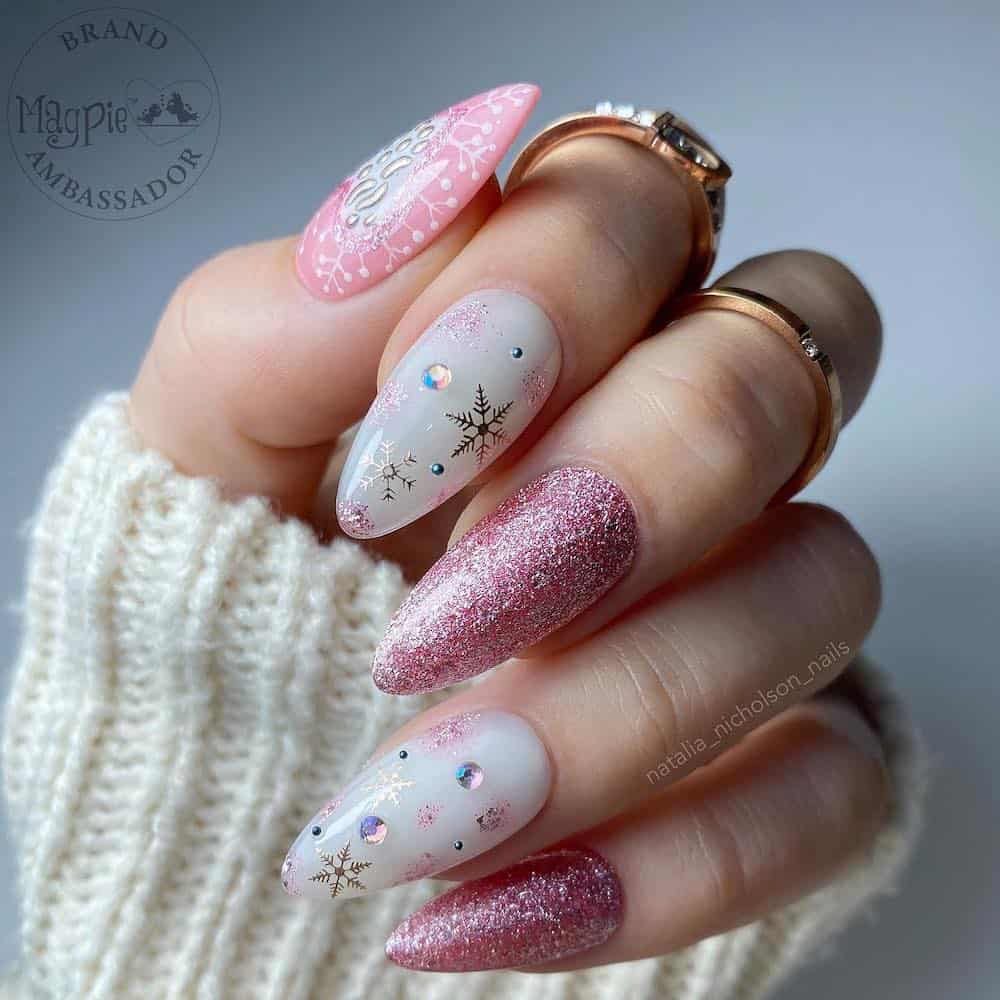 If you prefer bold manicures, these light pink winter nails are definitely for you! Pink glitter polish and milky white are trendy and gorgeous together, and we adore the metallic snowflakes and gem accents for a daring touch.
Pink Nails w/ Dot Details & Striped Santa Hat
Add a holiday feel to your pink and white winter nails with a Santa hat. A white hat with pink stripes is cute, feminine, and fun – and this bright pink shade plus the white dot accent nail fit the playful vibe perfectly.
Matte Pink Sweater Nails w/ Snowflakes
Knit sweater nail art instantly adds a winter vibe to these nails, while the white snowflakes create a lovely contrast with this vibrant pink. The matte finish adds an elegant feel to this manicure, making it a top choice for anything from the office to a night out!
Shimmering Ombre Frenchies + Snowflakes
Glittering pink ombre French tips are modern and daring, and the snowflake art makes these fantastic light pink winter nails. If you want more of a trendy look, pair these snowflakes with white wave details.
Pink + Silver Reindeer Nails
Everyone knows that Rudolph had a very shiny nose, so shimmering silver polish is perfect for this reindeer nail art!
The silver glitter combined with matte pink and white nail polish is both fun and refined, so these nails can be worn anywhere from a holiday office party to Christmas day with your loved ones!
Matte Pink & White Nails w/ Snowflake Art
The snowflakes definitely give these nails a cool-weather feel, but they blend in easily with the gradient matte polish, making these nails great for anyone who wants a subtle winter nail design.
Matte Magenta + White French Tips
Vibrant magenta and crisp white look stunning together, and we love the combination of white details on both the French tip and solid-colored nails. Dotted snowflakes and dot accents create a cohesive and chic look that we can't get enough of!
Shimmering Pink Polish + Gingerbread Art
And last but certainly not least is this beautiful shimmering pink nail design with gingerbread nail art! These brown cookie designs pop nicely against soft pink glitter, and the white snowflake art is an excellent addition.
While we love the classic Christmas shades we see in winter, you can mix things up by choosing a vibrant shade of pink for your holiday nail design! We hope these pink winter nails inspire you and you have the perfect winter nail design to try in 2023!
More Nail Inspiration You'll Love:
22+ Beautiful Winter Ombre Nails We're Obsessing Over
24+ Simple Black Christmas Nails To Try This Holiday Season
21+ *Stunning* White Christmas Nails You'll Love
21+ Stunning Nude Pink Nails & Nude Marble Nails