Wondering how to style wide leg jeans in 2024? Check out these chic outfit ideas for wearing wide leg denim to your next cocktail hour, the office, a grocery store run, and more!
*this post contains affiliate links*
Originally published July 2022, Updated Sept 2023
get the look:

How To Wear Wide Leg Jeans
First it was skinny jeans, then we fell in love with the straight cut, and now in 2023 (and leading into 2024) it seems bootcut, baggy, and wide leg jeans are back in the spotlight. And, we're here for it!
If you've been searching for modern ways to style wide leg jeans, you've come to the right place. High-waisted, wide leg denim is great for making you appear taller, slimmer and leaner. And who doesn't want that?
How do you style wide leg jeans?
When it comes to styling wide leg jeans, there are many different options. The best choices include:
with a button-down shirt and flats
with a fitted tee or tank top and heeled sandals
paired with a cropped jacket and heels
with a chunky sweater and flats
with a blazer and mules
paired with a chunky sweater and heeled ankle boots
A good rule of thumb is to pair your wide leg jeans with a simpler top. Whether you are putting an outfit together for a night out or running errands, wide leg jeans are a closet staple you can wear for multiple occasions.
Read on for details on our favorite ways to style wide leg jeans!
get the look:

What body type looks good in wide leg jeans?
Truly, all body types look great in a pair of wide leg jeans. A wide-leg lengthens your legs, accentuates your waistline and shows off all your curves, making it an incredibly flattering silhouette on bodies of all shapes and sizes.
If you rock a more petite figure, or are shorter in height, choose a full length pair of wide leg jeans. This will help extend the line of your body and make your legs look miles long. Throw on a pair of heels to elevate the look and lengthen your legs even more.
Taller women can opt for a cropped wide leg denim. Shop for a jean that hits right at or above the ankle. Cropped wide leg jeans will compliment your height, without making you look even taller.
Pair your cropped jeans with a heeled sandal or ankle boot and you're ready for anything the day throws at you.
shop wide leg jeans:

Best Tops To Wear with Wide Leg Jeans
Our biggest tip for wearing any type of wide leg jean is to make the denim the focal point of your outfit. Keeping your top half a bit more subtle will allow your jeans to be the star of the show.
Button-Down Blouse
One of our favorite tops to pair with wide leg jeans is a simple button-down blouse. Opt for a button-down that is fitted or slightly oversized.
You can tuck the blouse in to define your waist, or leave it untucked and open with a tank underneath for a more casual, "I just threw this on" look." Either way, you'll achieve a casual chic style in your wide leg denim (case-in-point above).
Fitted Tank Top
get the look:

Looking for a way to style wide leg jeans in the hotter spring and summer temperatures? We've got you.
Pair your wide leg denim with a fitted tank top, tucked into the waistline for a casual look. Wanting to elevate the look for dinner or drinks? Throw on a pair of block heels or wedges to really lengthen your legs.
A Cropped Jacket
As summer fades to fall, you'll be wanting ways to transition the way you style your wide leg jeans. Cropped jackets are our favorite way to keep you warm on those chilly evening while still showing off your waist and elongating your legs.
Cropped jackets add texture and interest to your outfit, and allow you to play with the wash of your denim. When choosing the perfect cropped jacket, shop for a tailored cut that hits just above or at your waist.
We love a tweed cropped jacket paired with blue wide leg denim or a classic jean jacket paired with black denim.
Chunky Sweater
(photos: @laurenireland, @netaporter, @popsugar)
get the looks:

For fall and winter, style your wide leg jeans with a chunky or oversized knit sweater. Tuck the sweater into the waist to show off your waistline and lengthen your legs. Or, keep the sweater untucked for a casual, comfortable look.
Opt for a pair of sleek ankle booties or flats to finish the outfit.
With a Muscle Tank
This outfit shows how you can balance out the statement of wide leg jeans with a simple tank. The sharp cut of the tank and the addition of shoulder pads balances out the width of the jeans, creating an illusion of a smaller waistline.
This outfit is fresh and modern yet versatile enough for different occasions.
How to Wear Wide Leg Crop Jeans
Wide leg crop jeans are a great option in the fall for taller women. For a classic layered look, pair your wide leg crops with simple sweaters and over coats.
get the look:

This outfit with cropped wide leg jeans, a blazer, and heeled sandals is stylish and keeps the jeans looking more polished and professional. You could easily wear this outfit to the office or out to happy hour with friends.
Cropped wide leg jeans also look great with flats, so if heels aren't your favorite, you could easily swap in a pair of Mary-Janes or ballet flats.
If you are looking to add a pair to your closet in 2024, our favorite retailers for wide-leg denim include Madewell, Levi's and Reformation.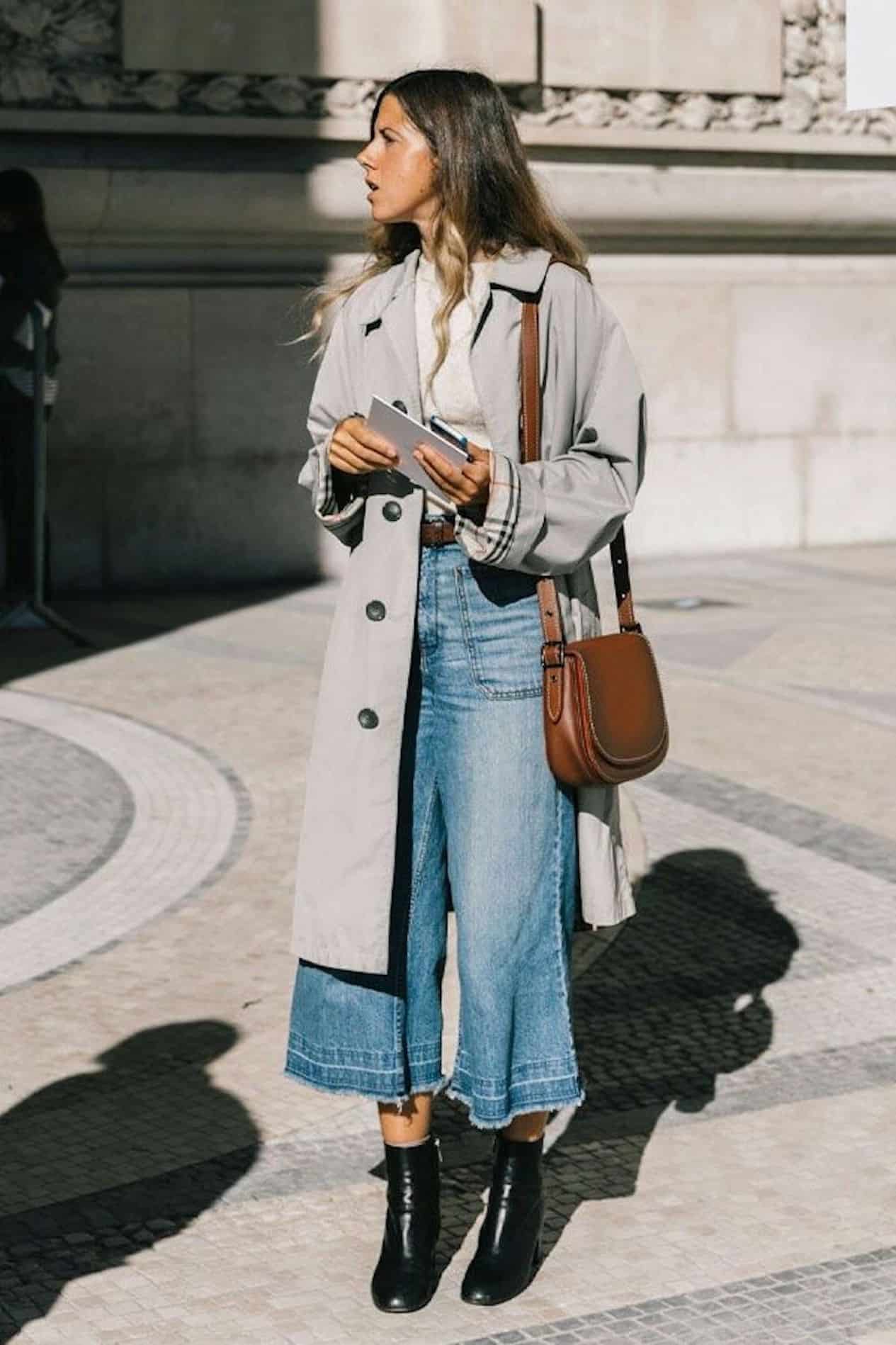 get the look:

This look is perfect for fall with the addition of ankle boots and a trench coat.
The goal with wide-leg cropped jeans is to add interest to the outfit with various textures and silhouettes. And with this look, the length of the trench coat helps elongate the body as cropped jeans can sometimes cause you to look shorter than you are!
How to Style Wide Leg Jeans for Work
Wanting to transition your wide leg jeans to the office but don't know how? We can help!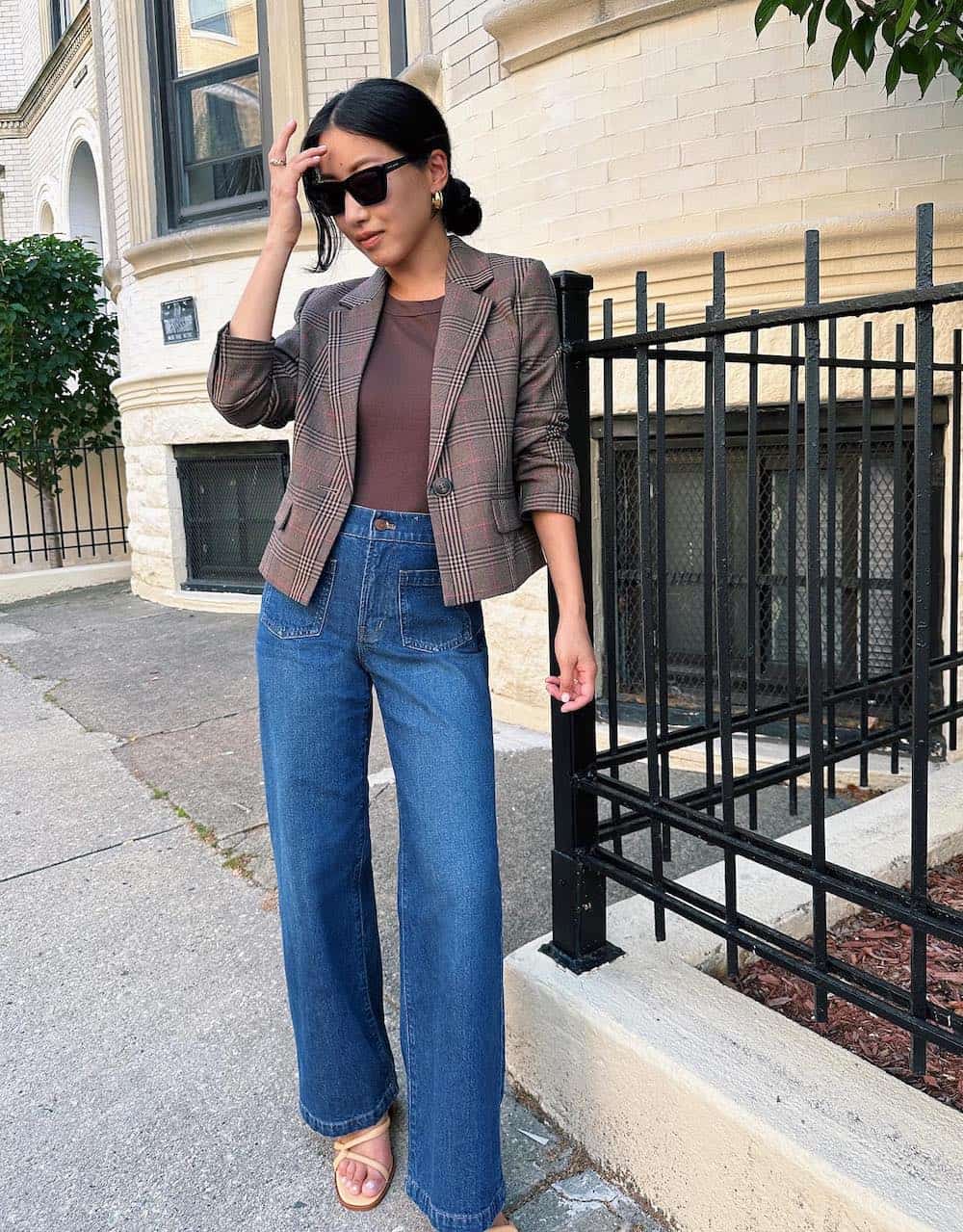 Adding a blazer to your wide leg jean outfit will elevate the look to business casual. Opt for a tailored black blazer or a plaid blazer to keep the look classy and professional.
Go with a pair of pumps to finish off the look, and you're ready to tackle your work day while still looking high-fashion and fabulous.
get the look:

Here's another look we love with off-white wide leg jeans and a simple black top and heeled mules. This look is stylish yet professional and perfect for a work lunch meeting! This outfit also showcases how a pair of wide-leg jeans can look excellent on a curvier body.
Leading us to our next FAQ…
Should Curvy Girls Wear Wide Leg Jeans?
While wide leg jeans look great on all body types, they are great for accentuating curves. But, curvy girls should stick with full-length, high-waisted wide leg jeans. This silhouette will hit at the smallest part of your waist, lengthen your legs and highlight your backside.
Full-length, high-waisted wide leg jeans can be paired with many different tops. For the most flattering look, we recommend a figure-hugging top tucked in or a tighter fitting bodysuit. Add a pair of block heels to lengthen your legs even more, and your curves will be turning heads no matter what room you walk in.
If you're in the market for curve-friendly wide leg denim, Abercrombie offers tons of styles in tall, petite and curvy.
shop curvy jeans:

get the look:

Final Notes
We hope you have enjoyed these many ways to style wide leg jeans for different occasions and body types in 2024. If you were on the fence about the wide leg jean trend, we think it's safe to say the silhouette is here to stay!
Remember, wide leg jeans are the focal point of your outfit. Stick with neutral, figure hugging tops to really accentuate your waist and show off your curves. Additionally, add a pair of pumps, heeled sandals or boots to lengthen your legs even more.
Happy shopping and styling!
More Style Guides You'll Love:
Christal Sczebel is an entrepreneur, published author, and content creator. Over the past decade she has worked in the digital media field building successful websites for both food and fashion. She has a natural affinity for minimal, timeless fashion, neutral home decor, and styling.
Here on Style Your Occasion, Christal is the Editor-in-chief and brain behind the aesthetic. She hopes you love the this space and the inspiration you'll find!