Learn how to achieve the beautiful, neutral, coastal-inspired Serena and Lily look (but for less!) with these 12+ incredible Serena and Lily dupes you've got to have!
*this post contains affiliate links*
12+ Seriously Good Serena and Lily Dupes
I first stumbled across Serena and Lily when my husband and I were renovating our home. We wanted a statement piece for our dining room and fell in love with the Santa Barbara pendant.
We decided to go with the pendant even though it was on the pricier side (I've never regretted it once!), but I'm still always on the look-out for budget-friendly dupes that offer that gorgeous coastal-inspired Serena and Lily look…without the sticker shock.
If you love the classic S & L style, but don't have the room in your budget for all of their pieces, I hope you can be inspired by this list of dupes that prove you really can have the 'look for less'!
Shop The Post:

Serena and Lily vs. The Dupes
The blake raffia 1-drawer nightstand.
Above you can see the Serena and Lily Blake Raffia Nightstand in Indigo vs. the Wayfair Yudi Nightstand in Navy.
The Serena and Lily version is made of raffia material and wood, and the Wayfair a solid and manufactured wood mix, but the overall look, shape, size, and color, is very similar.
The balboa coffee table.
The Serena and Lily Balboa Coffee Table is a beautiful round coffee table made from solid beechwood and hand-wrapped with rattan. It has a smooth, coastal look that truly anchors any room, but at a price point of over $2,000… it won't fit every budget.
The dupe is the Cassidy solid wood coffee table from Wayfair and while it is not made of high quality beechwood, it is solid mango wood with a stunning cane inlay, which gives a similar vibe to rattan.
The quality is great for the price point and the round shape and two-tiered style is very similar to the Balboa.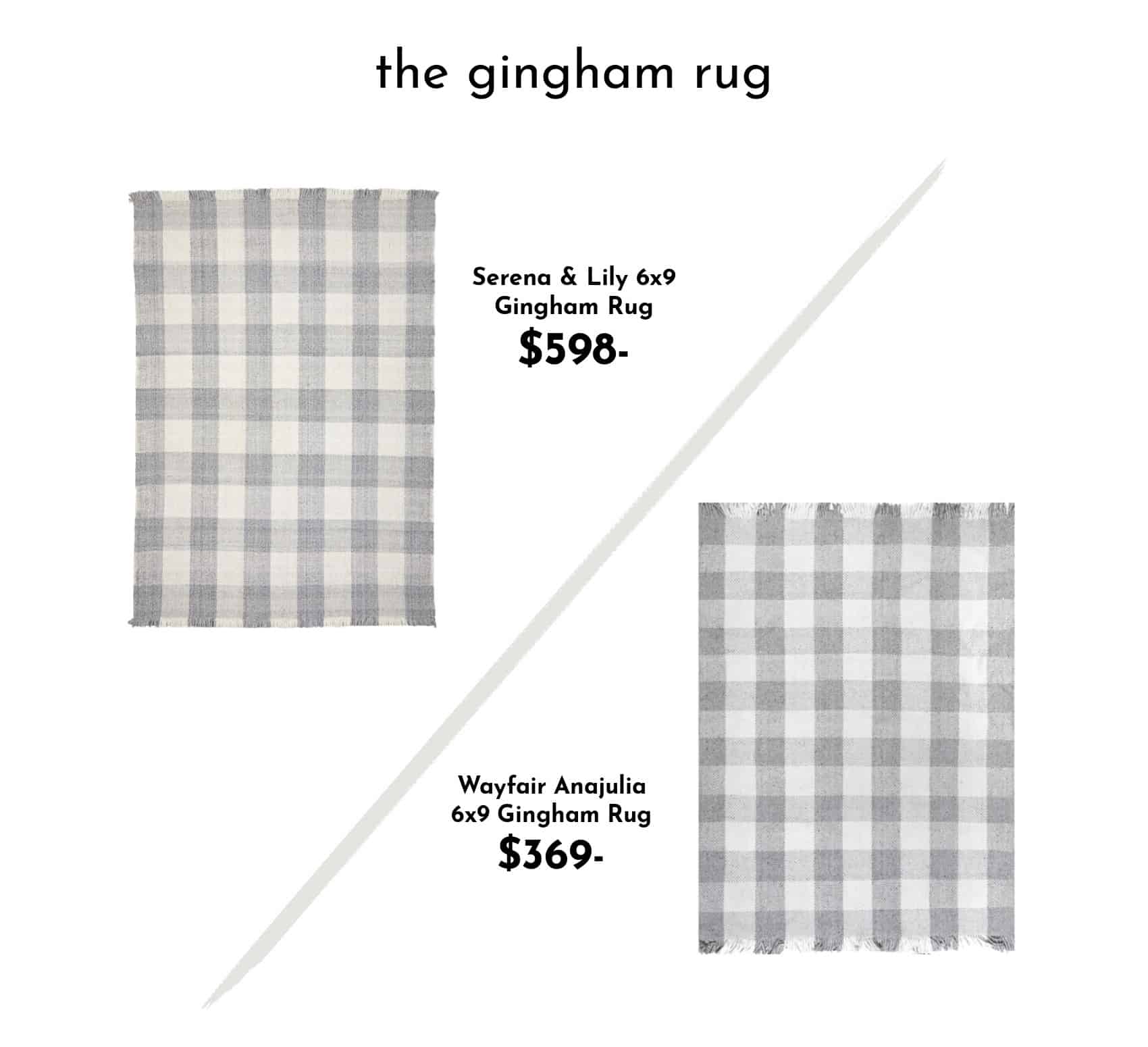 The gingham rug.
Cozy, chic and super stylish the Serena and Lily Gingham Rug is a definite showstopper in any room.
The dupe is honestly so good, I had to keep going back to double check that I was putting the right rug graphic in the right place for these blog images!
From Wayfair, the Anajulia Gingham Rug comes in the same 6'x9′ size and is over $200 less than the Serena and Lily version.
Shop The Post:

The santa barbara pendant.
Ah, my beloved Serena and Lily Santa Barbara Pendant is truly such a beautiful piece. It's handmade, woven with rattan in a classic wicker weave and makes a statement.
My dupe is this Rattan Cone Pendant in a very similar size from the WickerWorkShopCrafts store on Etsy. It is also handwoven with rattan and has a very similar look and vibe. Honestly, if I had known about this dupe when we were doing the renovation… I might have gone with it instead!
The riviera counter stool.
This Serena and Lily Riviera Counter Stool has a very specific look that seems to be quite unique to Serena and Lily so I was surprised to find such an impressive dupe.
The Wayfair Alastair Counter Stool is almost identical with the option of the same grey color weaving on the top and wicker rattan frame. At just over $100 less than the S&L version, it's a steal!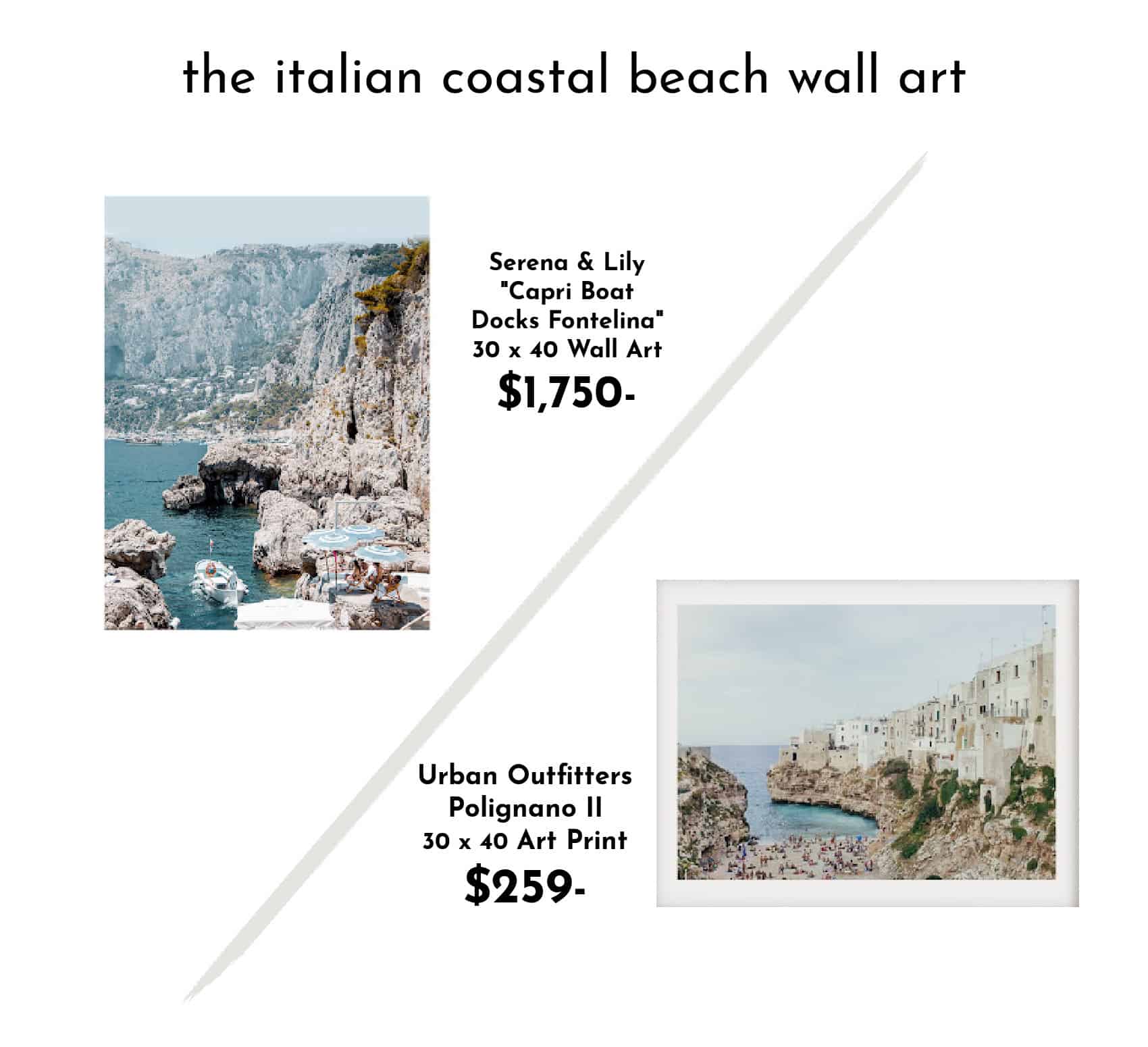 The Italian coastal beach wall art.
Nothing completes a room more than a beautiful piece of art.
100% worth the splurge if it's in the budget, this stunning acrylic mounted 30″ x 40″ 'Capri Boat Docks Fontelina' piece by Caroline Pacula from Serena and Lily is rich with color, and brings you right into that beautiful coastal scene.
A fantastic dupe at a much lower price point, the Polignano 2 framed print by Tessa Neustadt from Urban Outfitters is seriously beautiful and comes in the same 30″ x 40″ size for under $300. Wow!
Shop The Post:

The seadrift side table.
The Serena and Lily Seadrift Side Table is a lovely little side table handcrafted in natural rattan giving it that perfect coastal look.
To get the same hourglass design I've chosen the Urban Outfitters Pierce Wicker Side Table as a perfect dupe coming in at $300 less. The two tables look very similar are both handmade with rattan and give the same vibe.
To be honest, I haven't always had the best of luck with Urban Outfitters quality – when it comes to wood furniture items, so that is something to consider – but for a simple wicker side table I'm sure it's a safe bet!
The cooper leather stool.
The Serena and Lily Cooper Leather Stool is on my must-have list with a solid wood frame and a European leather top. It's on the pricier side but is super versatile and can be used in so many areas of the house.
I'm actually shocked to have found such a similar stool for the dupe a lower price from a small Etsy store based out of New Jersey. Their Folding Leather Stool is almost identical in style and is made with a poplar wood base and British leather on top.
The black canopy bed frame.
Another gorgeous statement piece, the Serena and Lily Whitaker Four Poster Bed is made from solid oak (hence the price tag) and would look amazing in a coastal or modern farmhouse inspired bedroom. While we never had the ceiling height needed in our master bedroom, I've always loved the idea of a canopy bed.
A really great dupe, the Wayfair Low Profile Canopy Bed is also a lovely statement piece and has a nice cane wood detail on the headboard. This bed frame is solid wood with a dark subtle oiled bronze look.
Shop The Post:

The slipcovered swivel armchair.
This classic Serena and Lily Jamieson Swivel Chair is so perfect in so many ways. It's neutral, chic, stylish and can be placed in a living room, bedroom, reading nook, or nursery.
The Wayfair Bella Swivel Armchair is a great dupe at a much lower price-point with a very similar slipcover and several fabric options to give that linen look.
Light, airy, coastal vibes all the way with these two swivel armchairs.
The rattan lounge chair.
A comfortable and stylish rattan lounge chair is a must-have in any coastal-inspired home. Whether you put it indoors or outdoors, it is guaranteed to be lounged in often.
The Serena and Lily Palms Rattan Chair comes in around $550 and has a lovely shape and style, and the dupe, the Rattan Lounge Chair from Wayfair is very similar and comes in at less than $450 (and has over 90 five-star reviews!). The look for less indeed!
The blake raffia 1-drawer nightstand.
Lastly I've in included the natural version of the Serena and Lily Blake Raffia Nightstand vs. the Wayfair Yudi Nightstand in 'White' (although it looks more beige to me!).
The Serena and Lily version is made of raffia material and wood, and the Wayfair a solid and manufactured wood mix, but the overall look, shape, size, and color, is very similar.
The white color is currently sold out as I write this post, but it is set to be back in stock in just a few months!
Honorable mentions.
This list would not be complete without a few more honourable mentions for Serena and Lily dupes I discovered.
Shop The Post:

A Serena and Lily Room Look vs. The Dupes Room Look
To show you just how awesome these dupes are I created two bedroom looks; one using only the Serena and Lily pieces, and the other using only the dupes.
As you can see, the looks are so similar and the dupe look gives the same beautiful vibe at a much lower cost.
While I do prefer to invest in quality pieces, I often try to pick and choose where to save and where to splurge, so I hope this list will help you do just that if you are looking for that Serena & Lily look.
Pin me!
Don't miss: Minimalist Dorm Room Ideas + How To Make Your Dorm Room *Totally* Serene
Did you enjoy this post? Be sure to check out my 8+ Must-Have Jenni Kayne Dupes!
Another article you might like: 13+ Websites Like Wayfair You Need To Know About