Wondering how to style linen shorts in 2023? You'll love our list of 15+ linen shorts outfit ideas for spring, summer, and vacation! On warm days, these linen shorts outfits will easily elevate your style.
*this post contains affiliate links*
How To Style Linen Shorts
We're ready for the season of sun, sand, and…shorts! As the temperatures rise, we're swapping our jeans and trousers for something breezier and more comfortable – linen shorts.
Linen shorts are such a versatile piece, and they're the perfect addition to any wardrobe for spring and summer. Plus, these shorts are fantastic to bring along with you while you travel to a sunny destination.
You can easily pair them with colorful pieces for a vibrant summer look or keep it simple with neutral tones. Either way, linen shorts can add effortless style to your outfits.
Chic Linen Shorts Outfits
If you want to add linen shorts to your closet, or if you already have some but don't know how to style them, don't stress! We've found (and created) stunning and stylish linen shorts outfits to inspire your warm-weather looks. And we have tips to help you style this piece like a pro.
gorgeous in gingham
get the look:

We love the adorable gingham pattern on these linen shorts. The checkered print is cute and summery, while the neutral tones in the outfit keep it the look timeless and refined.
This outfit has a laid-back vibe but still looks polished, making it perfect for grabbing lunch with the girls. The blazer also adds a formal touch and elevates the outfit, so if you want something more casual, opt for a linen button-up or even a classic tee.
You can also swap the gingham for another pattern – try going for stripes, houndstooth, or plaid for a similar look.
effortless elegance
get the look:

Pair pleated linen shorts with a classic button-up for a chic business casual look. Go for a linen or lightweight cotton shirt to keep this outfit suitable for warm weather, or you can layer a tank top underneath in case the weather heats up.
This outfit is perfect for anything from grabbing coffee or lunch to checking out a new boutique. The heels add an elegant vibe to the outfit, or you can opt for strappy black sandals if you plan to walk around.
What do you wear with linen shorts?
Luckily, linen shorts are so versatile! Here are some stylish ways to wear them in the summer:
White linen shorts with an oversized button-up and trainers
Beige linen shorts with a black camisole top and black heels
White linen shorts with a summer crop top and basket bag
Black linen shorts with a matching vest and sandals
Printed linen shorts with a white t-shirt and a linen blazer
Drawstring linen shorts over a swimsuit with sandals for the pool or beach
beach day outfit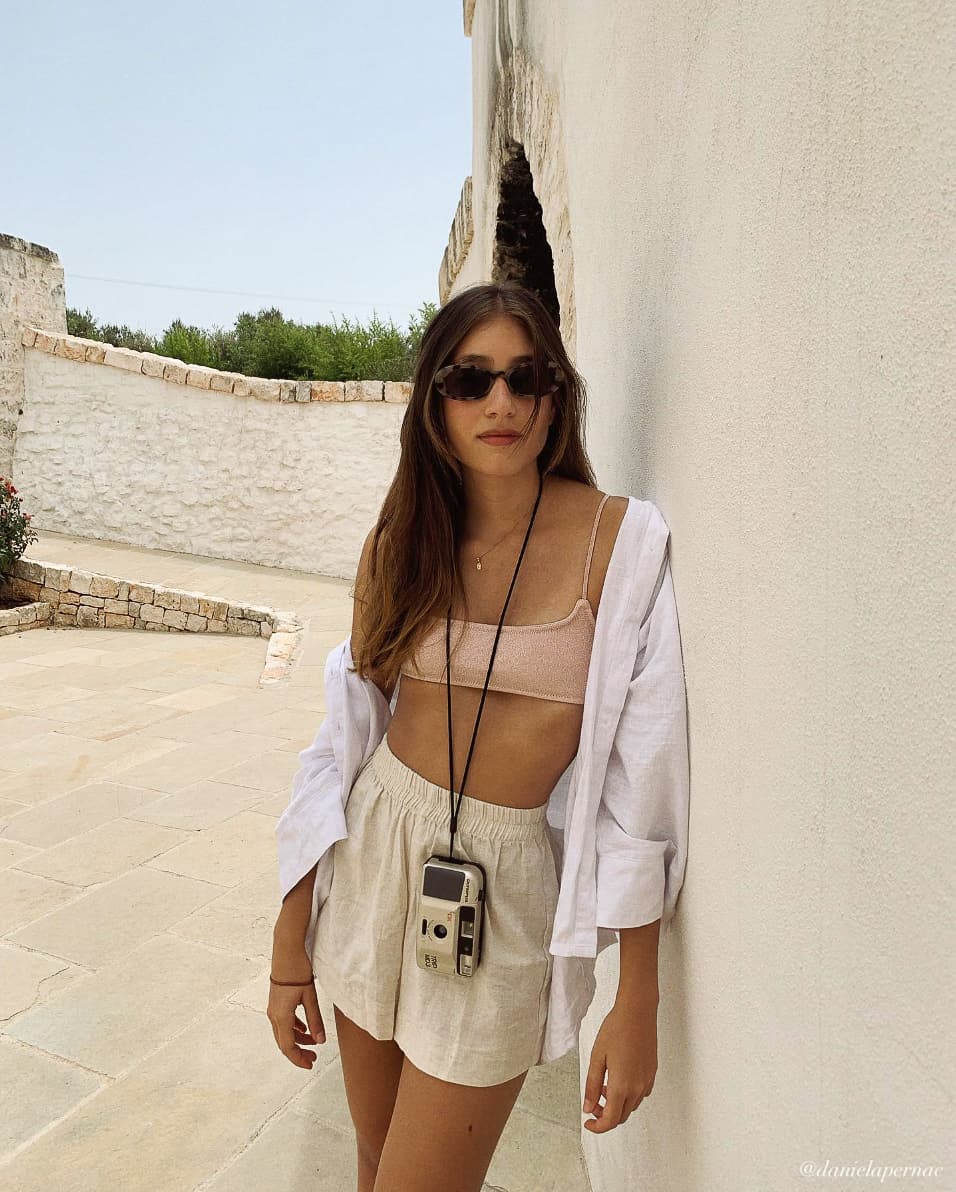 get the look:

Linen shorts are a must if you need breezy shorts for a hot summer day at the beach on vacay (see our Mexico vacation outfit ideas, Cancun outfits, and Maui outfits).
The pull-on style of these shorts is perfect to easily throw them on over your bikini before you head out the door. And a white button-up is another fantastic piece to layer over a bathing suit.
You can put this look together for a day trip to the beach or pool or pack them up and bring them along on your next vacation. The linen shorts and button-up will easily work in so many outfits, and they'll definitely keep you cool in the summer sun!
a pop of color

We love the colorful linen shorts that create a vibrant summer look. A bright coral shade is definitely a great color for summer, and pairing it with a breezy tank top will have you ready to grab drinks beachside in no time.
And let's talk about sandals! Black sandals with metallic details will make your outfit stand out even more, but they still work for a laid-back warm-weather outfit.
Of course, you can wear any color for a look like this; go for sage green, pastel pink, or light blue to mix things up.
White Linen Shorts Outfit Ideas
If you're looking for ways to style your white linen shorts, these looks below are for you. We have white linen shorts outfit ideas for anything from breezy spring days to hot summer nights, along with chic vacation looks.
comfy spring linen shorts outfit
get the look:

Here at SYO we love Jenni Kayne, and this cashmere hoodie is no exception.
The soft, oatmeal-colored sweater paired with white linen shorts is comfortable and cozy, and perfect for spring/summer transitional weather. Go for sandals to have comfortable and breathable footwear, and add a tank top or plain tee under the hoodie, just in case.
We love the light neutral tones in this look styled by our editor. It's no question, white and beige are a perfect color combo for spring but also pair easily with other pieces for a cohesive outfit.
make it monochromatic
get the look:

We love a good monochromatic look, and this all-white linen shorts outfit fits the bill perfectly!
Linen shorts, a white vest, and a blazer creates a chic and elevated combo, making this outfit a perfect blend of comfy, casual, and sophisticated. Not to mention, the very trendy straw tote from Loewe adds a perfect summer vibe. And the simple flip flops give a laid-back touch to the look.
This outfit is a great choice to wear while enjoying a patio lunch with your friends or SO. If you want a look better suited for hot days, trade the blazer and vest for a flowy linen blouse or a feminine tank top.
Are linen shorts trendy?
Linen shorts are very on-trend, yet timeless. In fact, linen shorts are even more popular now than when they first had their comeback. Designers have been creating linen shorts with new colors and patterns, so there's never been a better time to add linen shorts to your wardrobe.
Whether you prefer a classic neutral or a bold statement piece, you'll be able to find a pair of these classy shorts to suit your style. So, don't be afraid to rock a pair this summer – you'll be right on trend!
vacation vibes
get the look:

Planning your wardrobe for an upcoming vacation? Add linen shorts to your packing list because this piece is perfect for a chic and laid-back vacay look!
Pair it with a statement top for a night out, or wear over a one-piece swimsuit. Either way, you can't go wrong bringing a pair of linen shorts with you while you travel.
keep it neutral
get the look:

If you're ever in doubt about how to style your linen shorts, sticking with neutral colors is an easy way to create a chic outfit. Black, white, and brown tones are easy to mix and match, and these shades also look great in spring and summer.
The great thing about neutral tones is that you can create gorgeous and eye-catching outfits with these contrasting colors, so your outfit will have effortless style and still stand out from the crowd.
add a trench coat
get the look:

This is another gorgeous outfit that's perfect for transitional weather! Linen shorts and a simple top are an easy but stylish look, and you can quickly throw on a trench coat to keep your outfit chic while adding an extra layer of warmth or to help stay dry during those rainy spring days.
You can go for a classic tan trench coat or a taupe color like this one here. Either way, this piece will elevate your outfit and keep you ready for any weather you encounter.
What kind of shoes to wear with linen shorts?

There are many shoes that look great with linen shorts, including:
flip flops, leather slides, or chunky sandals – these are great for a casual outfit or beach day.
sneakers – these are best for a sporty look that's comfortable too!
open-toe kitten heels, strappy sandals, or slingback pumps – this is a great choice for a for a dressy look.
casual-chic with sneakers
get the look:

Yes, you can totally wear comfy drawstring linen shorts even if you plan on running errands. Keep it casual with a linen or cotton button-down shirt, and add trainers for a chic and sporty vibe.
If it's a hot summer day, trade out the long-sleeved button-up for a short-sleeved tee or simple tank top.
coastal-inspired style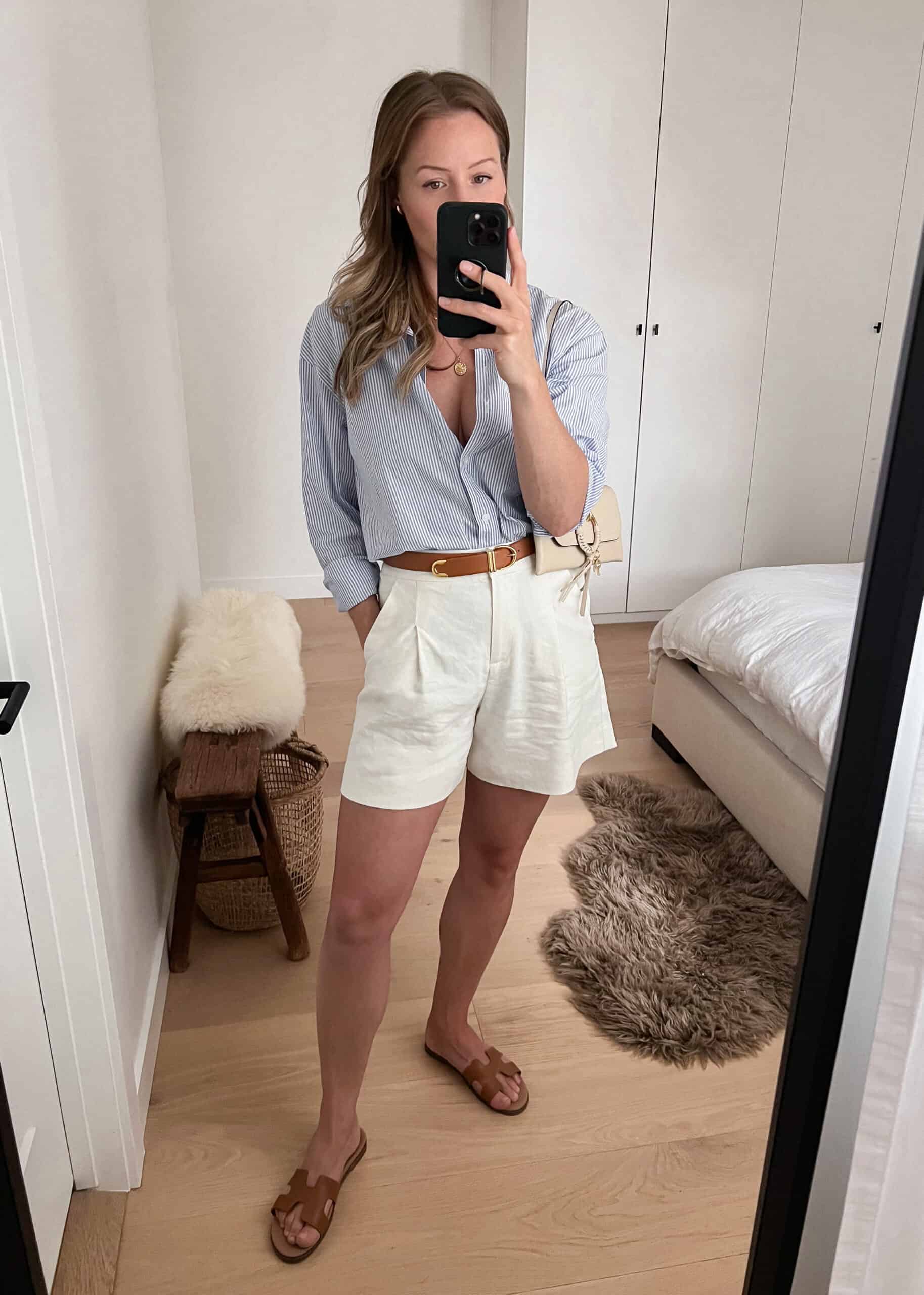 get the look:

We've said it before, and we'll say it again – linen shorts are perfect for the summertime!
An airy light blue striped top and cognac sandals paired with white shorts create the ultimate coastal granddaughter summer vibe. Dress up this laid-back outfit with gold jewelry, a matching brown belt, and a chic handbag.
This outfit is perfect for grabbing coffee before taking a stroll by the water on a warm summer day.
beachy vibes
get the look:

Linen fabric has a beachy feel, making it ideal for a chic vacation outfit like this. The ruffled hem on these Posse shorts adds a stylish touch and creates a feminine aesthetic that pairs perfectly with the adorable bandeau top. And, the straw clutch is a perfect finishing touch for this look.
Add some cute sandals, and you'll be ready to hit the town on your next vacation or enjoy lunch at a local beachside restaurant!
Black Linen Shorts Outfit Ideas
Are you looking for a fresh summer look that's both elegant and laid-back? Look no further than black linen shorts! These versatile shorts can be dressed up or down, and we're here to show you how to rock them for any occasion.
modern + trendy
get the look:

With Y2K fashion being all the rage, why not pair this modern trend with timeless linen shorts?
A ribbed cardigan sweater looks fantastic paired with black linen shorts, and the flip-flops add a relaxed vibe that's perfect for a casual summer day. If you want to dress this up, go for heels instead, and you'll have a stylish look on your next summer date night!
add a striped top
get the look:

Stripes are a classic pattern that complements so many looks, but this black and white striped top adds a bold and eye-catching aesthetic to this outfit.
The loose fit of the shirt paired with these relaxed linen shorts has a casual feel, while the tie-up gladiator sandals are chic and playful. This outfit is an excellent choice for a laid-back day browsing the farmer's market or hitting up your favorite bookstore.
make it match
get the look:

Pairing black linen shorts with a matching black vest makes a trendy, yet timeless outfit that's perfect for grabbing a latte while enjoying some fresh air and sunshine.
This outfit is simple but incredibly chic, and it can work in a casual setting or somewhere a little more formal. The sandals definitely work for a laid-back look, although you can opt for slingbacks or heeled sandals to dress it up!
simple & sporty
get the look:

If you know you'll be out for the day and want something simple and comfortable; you can style linen shorts into a casual sporty outfit like our editor has.
A classic crewneck sweatshirt (Anine Bing is our fave!) and trainers (New Balance is perf!) add that athletic feel, and the black linen shorts complement these pieces perfectly. This is a fantastic look for anything from running to the grocery store to meeting a friend for a casual dinner.
Linen shorts are definitely a must for chic, warm-weather looks! Use these tips, and you can rock your linen shorts all season long, from spring to summer and of course, on vacation. And don't be afraid to play around with different colors, patterns, and styles to create a linen short outfit that's perfect for you!
More Style Inspiration You'll Love:
15+ Effortless Linen Pants Outfit Ideas for Spring & Summer
Summer Capsule Wardrobe: Checklist + Chic Outfits