Learn how to achieve the beautiful, neutral, coveted Jenni Kayne look (but for less!) with these 11+ incredible Jenni Kayne dupes including an incredible Jenni Kayne cardigan dupe and Jenni Kayne sweater dupe options you've got to have in 2023!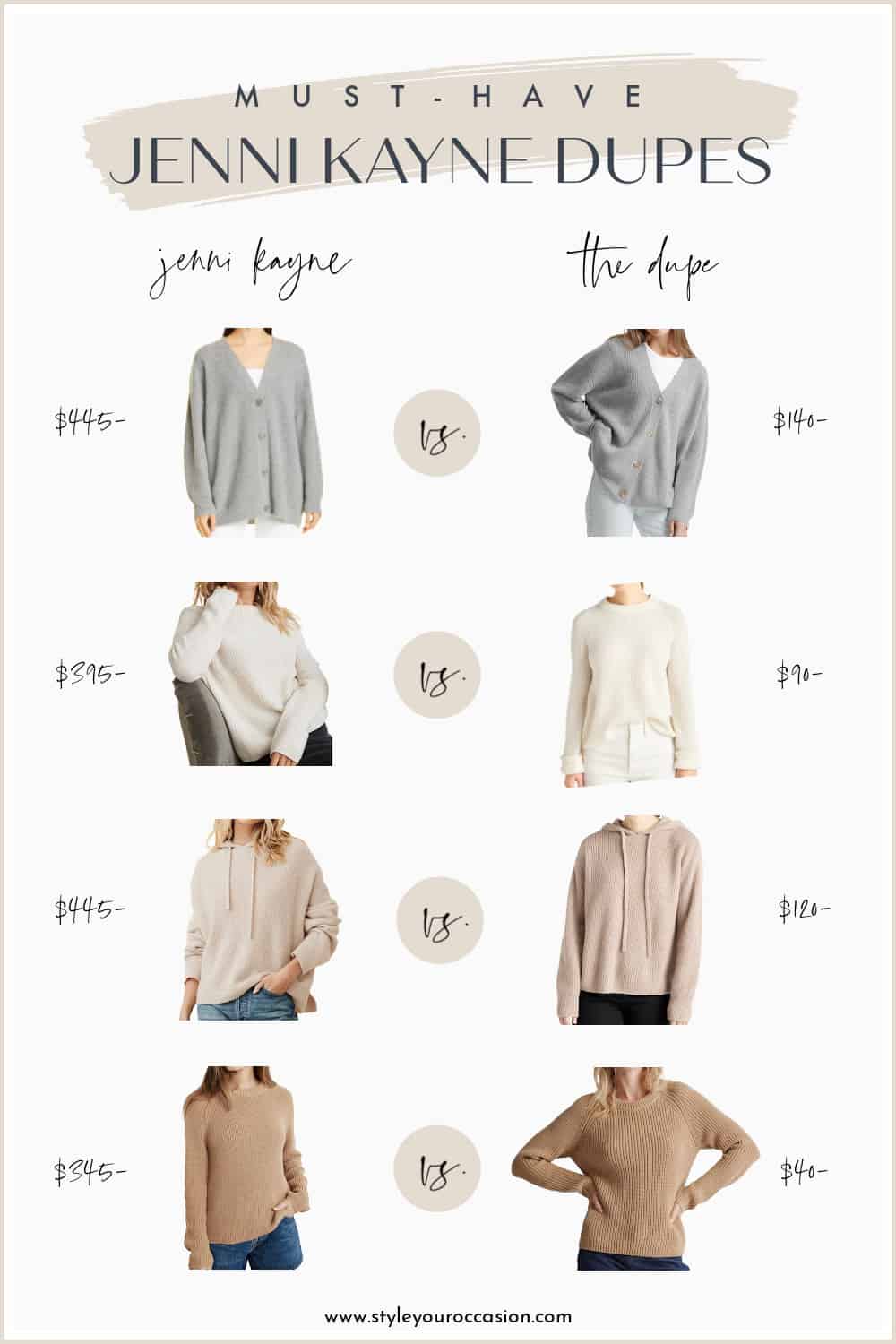 *this post contains affiliate links*
Originally published October 17, 2021, Updated May 4, 2023
11+ Seriously Good Jenni Kayne Dupes
Jenni Kayne has been on our radar for quite a few years now. In fact, it's our editor-in-chief's favorite clothing brand, as she was introduced to the brand while renovating her home and found herself perusing Pinterest for home decor inspiration.
Not only is the Jenni Kayne aesthetic so serene and calming, we love the quality of the clothing and versatility of each piece. Our editor has written two review articles here – Honest Jenni Kayne Review and Cocoon Cardigan Review – if you want to learn more about the brand if it's worth the investment.
Now, if you are on the hunt for Jenni Kayne look-alikes, you've come to the right place!
The Jenni Kayne Dupes List
It's no surprise many people have Jenni Kayne pieces on their wishlist. If you are one of them but your budget isn't quite aligned, you'll love this incredible list of Jenni Kayne dupes for 2023.
These look-a-likes are great quality, but at a lower price point, it's a win-win!
Above you can see the very much coveted Jenni Kayne Cashmere Cocoon Cardigan vs. the Oversized Cashmere Boyfriend Cardigan from Quince, available in ivory, oatmeal, heather grey, dusty blue, black, and brown. This Jenni Kayne cardigan dupe is is a seriously good, and at a much lower price point.
It is made with 100% cashmere and has the same oversized silhouette. We honestly can't tell the difference, it's that good!
If you don't like the oversized fit as much, you can try the Quince Mongolian Cashmere Boyfriend Cardigan which comes in a very similar style but is slightly shorter in length and a bit more fitted. At just $140 this Jenni Kayne dupe is worth every penny.
More excellent cardigan dupes:

This classic Jenni Kayne Cashmere Fisherman Sweater is so perfect in so many ways. It's neutral, chic, stylish and can be worn in a multitude of ways.
But, the Quince Cashmere Fisherman Crewneck Sweater is an incredible Jenni Kayne sweater dupe! It's also made with cashmere but with a much more affordable price tag, and it has the same crewneck style, ribbing details, and classic appeal.
More alternates include a darker grey cashmere crewneck from Everlane, and the Aritzia Luxe Cashmere Classic Crew.
Ultimate coziness with a healthy dose of luxury, the Jenni Kayne Cashmere Fisherman Hoodie take loungewear to the next level. This gorgeous hoodie can be worn while lazing around at home, or elevated with a knit skirt and those lovely shearling moc clogs.
Another excellent Jenni Kayne sweater dupe, the Quince Cashmere Fisherman Pullover Hoodie is also made with cashmere in a lovely oatmeal color. But it comes in at less than 1/4 the price (say what?!).
We love the shades available with this Jenni Kayne dupe as well; heather grey, oatmeal, camel, brown, ivory, and black (all the best neutrals!).
As budget-friendly alternate you can check out the 12 Storeez Knit Hoodie with a similar style, or the Aritzia Babaton Luxe Cashmere Hoodie.

Above you can see the Jenni Kayne Cotton Cocoon Cardigan vs. the J. Crew Cotton Blend Cardigan Sweater. This Jenni Kayne dupe is made with a cotton-cashmere blend (even better!), and is currently on sale – another bonus!
The Jenni Kayne cardigan dupe has pockets making it slightly different than the style of the Jenni Kayne cardigan, but the overall look is very similar. At just under $100, this is a sweater worth checking out!
More dupe options for the cotton cocoon cardigan include:
The Jenni Kayne Cashmere Turtleneck was released a couple of years ago and it's still on the Jenni Kayne roster. It comes in at a hefty price point, just under $600 (ouch!), but is absolutely stunning and the perfect cozy fall and winter sweater.
Luckily, we have an excellent and luxurious dupe for you from Quince! The Fisherman Cashmere Turtleneck Sweater is so similar, it's shocking! It is made with a luxurious ribbed cashmere and it's 1/5 of the Jenni Kayne price tag.
You can also try the Garrett sweater from Reformation which is another beautiful Jenni Kayne sweater dupe. Or, check out The Chiara Cashmere Sweater from Banana Republic, the Quince Alpaca Turtleneck or the Super Luxe Baby Cashmere Sweater.
The Jenni Kayne Chloe Crewneck was a huge hit this year and last, as everyone loves a good stripe (it has sold out multiple times). We think this sweater gives major coastal grandmother vibes, and it comes in mutliple colorways.
The dupe is an excellent look-alike from Quince, the 100% Organic Cotton Striped Sweater. At just under $50 this versatile cotton number is perfect for layering, wearing with jeans or linen shorts, or with a slip skirt for an elevated vibe. Not to mention it comes in Ivory/Black and Navy/White!
The Jenni Kayne Cable Cocoon Cardigan is another beautiful piece. It's soft, cozy, stylish and can be dressed up or dressed down.
When it comes to the perfect dupe, we have another excellent option from Quince. The Quince Oversized Cable Cocoon Cardigan is almost exactly the same in appearance as it has an oversized fit with buttons along the front, and a very similar cable pattern.
This Jenni Kayne cardigan dupe comes in a rich camel color (hello fall!), ivory, and black and is priced at just $70. What's not to love?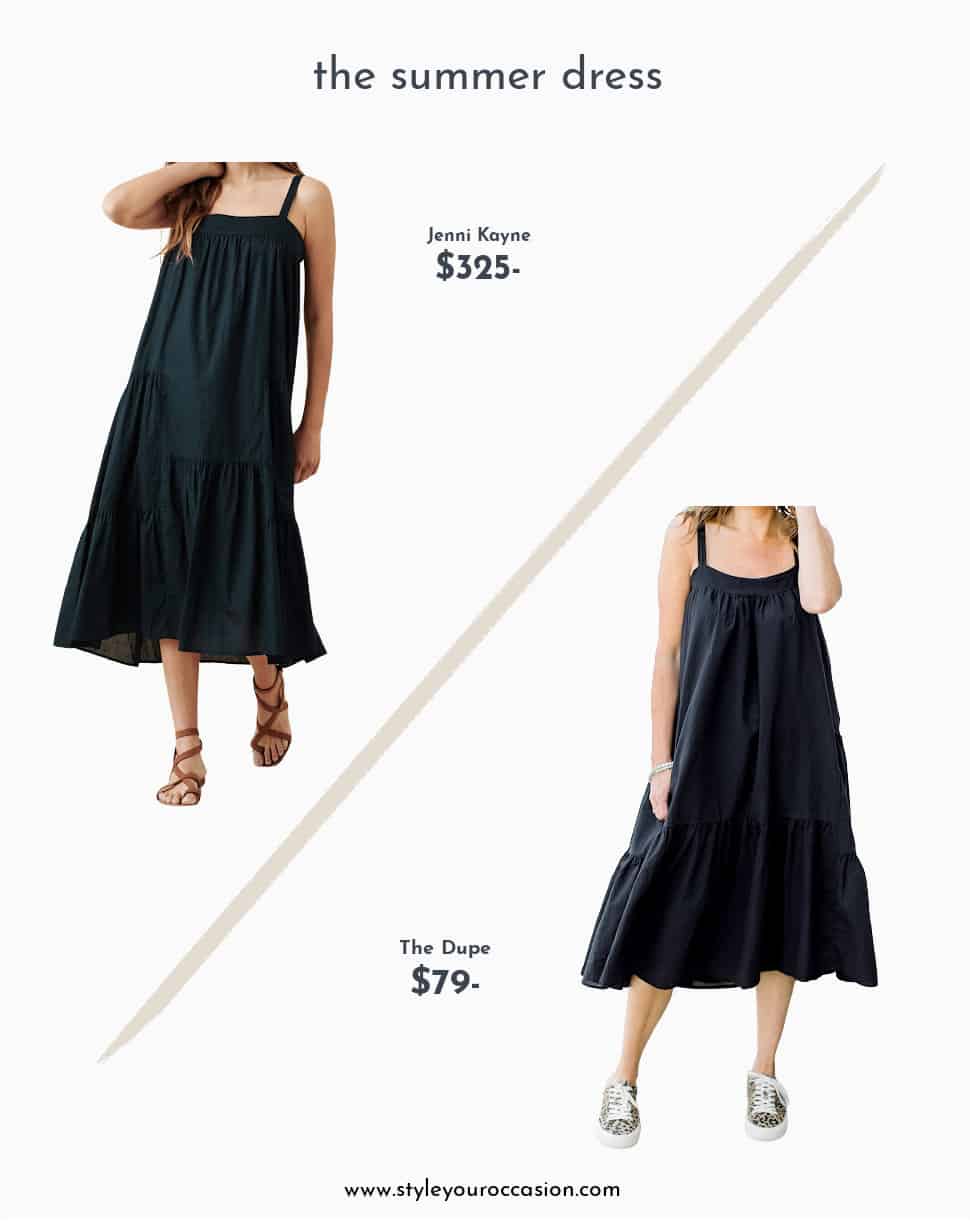 The Jenni Kayne Summer Dress is on our must-have list.It's light, airy, classy and can be easily dressed from day to night. We love the way it drapes and the effortless look it has.
Luckily, we've also found the perfect Jenni Kayne summer dress dupe! The first is a new addition, the Linen Trapeze Dress from Quince comes in white, black, and golden brown and looks almost identical to the Jenni Kayne.
Another option is from a small boutique called Evolverie, the Tiered Maxi Dress is almost identical in style and is made from woven cotton leftover fabric. Or, you can check out the beautiful Rails Amaya Dress with a similar look as well.
In the spring, summer, and early fall, we are all about cotton sweaters. They are more lightweight than cashmere and provide warmth without overheating.
This is why we love the Jenni Kayne Cotton Fisherman as a warm weather alternative to the cashmere. Our dupe, the Cotton Fisherman Sweater from Quince is also just as nice and is priced way lower – we just love Quince for this!
It also comes in multiple colors including camel (pictured), ivory, navy, black, and charcoal.
This next Jenni Kayne dupe was introduced to us in the Fall 2023 season, so we aren't sure how long it will last. It's a knit cardigan from H&M with a unique silouhette that reminds us so much of the Cooper Cardigan in black.
The H&M cardigan has a v-neckline rather than a crewneck like the Cooper, but it is very similar in overall look and style. But its exceptionally lower in price!
The Jenni Kayne Suede Chelsea Boot is a classic, gorgeous suede olive colored boot that can truly be worn any time of year. Pair the boots with a dress in the warmer months, or a pair of distressed denim and a plaid shacket in the cooler months (check out our fall capsule wardrobe and winter capsule wardrobe here).
To get the look we've chosen the Clarks Taylor Shine Chelsea Boots in Dark Olive as the perfect Jenni Kayne boot dupe. At first glance they look the same! But they have a slightly different olive tone and the Jenni Kayne version is definitely higher quality.
These fuzzy, luxurious shoes have been on Jenni Kayne's roster forever, and while we'd love to have the Jenni Kayne Shearling Mules, for now we are settling with a pretty darn good dupe.
The Jenni Kayne mules dupe is from Matisse. The Romance Shearling Slippers are genuine shearling and priced competitively at $60 (currently on sale!).
They come in tan and black and have a great overall similarity putting them at number 10 on our list!
We hope you are feeling inspired by this list of Jenni Kayne dupes!
If you are able to invest in any Jenni Kayne pieces, we highly recommend it – they are timeless, well-made, and just absolutely beautiful. But, if not, go for the dupes and rock that stunning neutral California inspired style.
Don't forget to check out our Honest Jenni Kayne Review and Cocoon Cardigan Review.
More Look-for-Less Posts You'll Love:
Images from the previous version of this article (in case this is what led you here!):
Christal Sczebel is an entrepreneur, published author, and content creator. Over the past decade she has worked in the digital media field building successful websites for both food and fashion. She has a natural affinity for minimal, timeless fashion, neutral home decor, and styling.
Here on Style Your Occasion, Christal is the Editor-in-chief and brain behind the aesthetic. She hopes you love the this space and the inspiration you'll find!