Are you looking for the perfect country concert outfit for men? We've got you covered with mens country concert outfit ideas that will have you looking stylish without going full-on cowboy in 2023!
*this post contains affiliate links*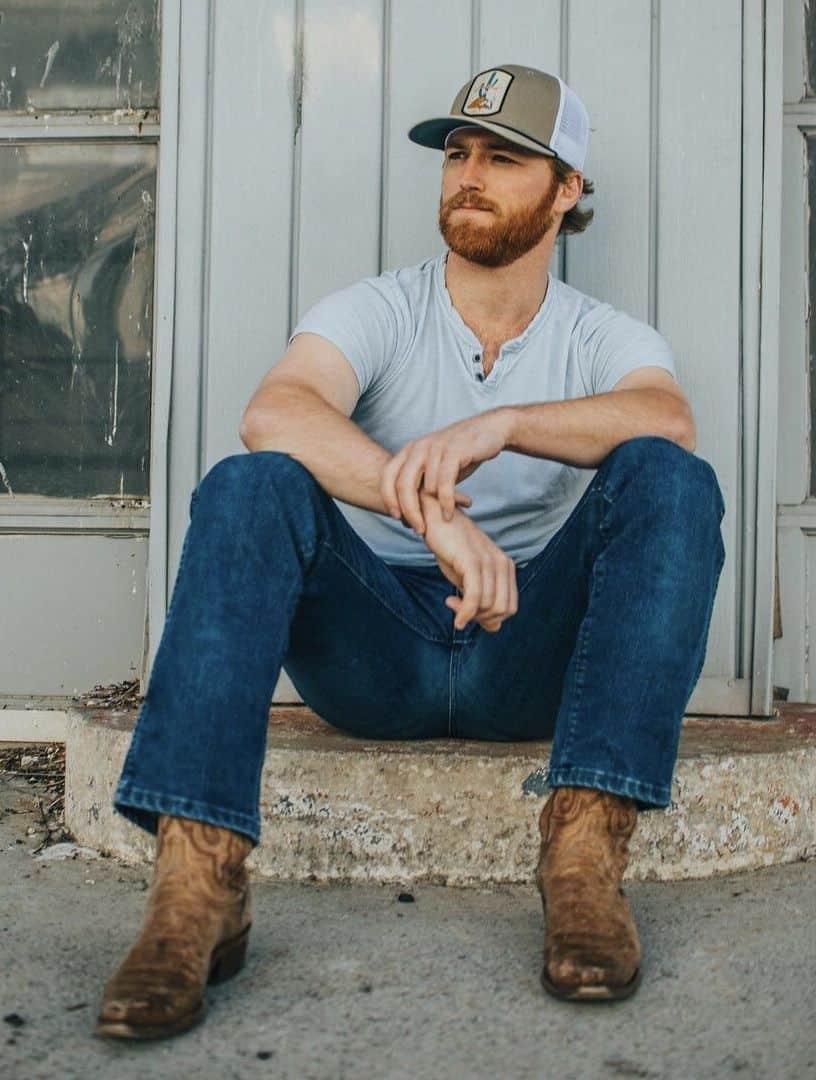 Trendy Country Concert Outfit for Men
Going to a country concert is an exciting experience for any music fan, and dressing for the show can be just as fun as the concert itself.
Whether you're going to a country music festival or a solo concert, finding the perfect outfit can feel daunting. But with the right inspiration and style tips, you can quickly put together a stylish look that perfectly blends modern trends with that classic country style.
So if you're in need of a trendy look for your next country concert, don't worry! We've got you covered with on-trend mens country concert outfit ideas and tips to help you build an outfit that will make you look and feel your best!
Mens Country Concert Outfit Ideas
We have plenty of photos below to inspire your mens country concert outfit. Whether you want a casual and comfortable outfit or a look with serious Western vibes, you're sure to find something that fits your style.
denim shirt + black jeans
get the look:

Black jeans and a blue denim button-up are an excellent combo for a mens country concert outfit. The denim shirt is a classic country staple that gives any outfit a relaxed and rugged look. Plus, this piece is versatile enough to be tucked, untucked, and even left unbuttoned for more of a casual look.
Black jeans contrast the blue denim shirt nicely, and dark denim adds a refined touch to the outfit. Boots are a must for any country concert, although you don't have to go for the typical cowboy boots; instead, you can opt for sleek pull-on ankle boots. Whether you go for pull-on or cowboy boots, these shoes will be practical for a night spent on your feet.
The fedora adds another stylish touch. This hat has similar vibes to a cowboy hat but has more of a modern feel, and this can be a great accessory if you'll be going to a daytime show.
bootcut jeans + cowboy boots
get the look:

Bootcut jeans and cowboy boots are an obvious combination to wear to a country music concert. Bootcut jeans are a perfect choice for this type of event, and these jeans will be both stylish and comfortable. You can also dress these jeans up or down to fit the vibe you're going for.
Adding cowboy boots to the look is a no-brainer, and this footwear quickly adds that classic Western feel to the outfit. And like ankle boots, these shoes are great for being on your feet. Whether you're indoors or outdoors, you'll be set with a stylish pair of cowboy boots.
Complete this look with an open linen button-up shirt. This top adds a casual sophistication to the outfit and is great for extra breathability on a hot day.
What do men wear to a country music concert?
Men typically wear casual and comfortable clothing to a country music concert. Jeans are the most popular choice, although you can wear chinos for a more refined look. Button-up shirts, Western-style tops, flannel shirts, and graphic tees are all great options for a concert look.
Boots are the most common choice for a country concert or festival; while some men prefer traditional cowboy boots, others go for Chelsea boots that still have that same rugged feel. Although, you can't go wrong with a pair of sneakers if boots aren't your style.
You can add a cowboy hat for more of that country style, or a baseball cap is perfect accessories for a modern country-singer look.
keep it urban
get the look:

Of course, don't be afraid to shake things up by going for an urban look. Jeans are a classic and versatile choice that you can style for any occasion, so they're perfect for a look like this.
The suede jacket has a cool and casual feel that's great for a concert, and the suede has a subtle country feel, making this an excellent choice for a country concert. Plus, the jacket will add some extra layers of warmth for an outdoor show that's held in the fall or winter.
Going for sneakers instead of boots gives this outfit its' urban feel, and these shoes will be just as comfortable and supportive as boots.
denim on denim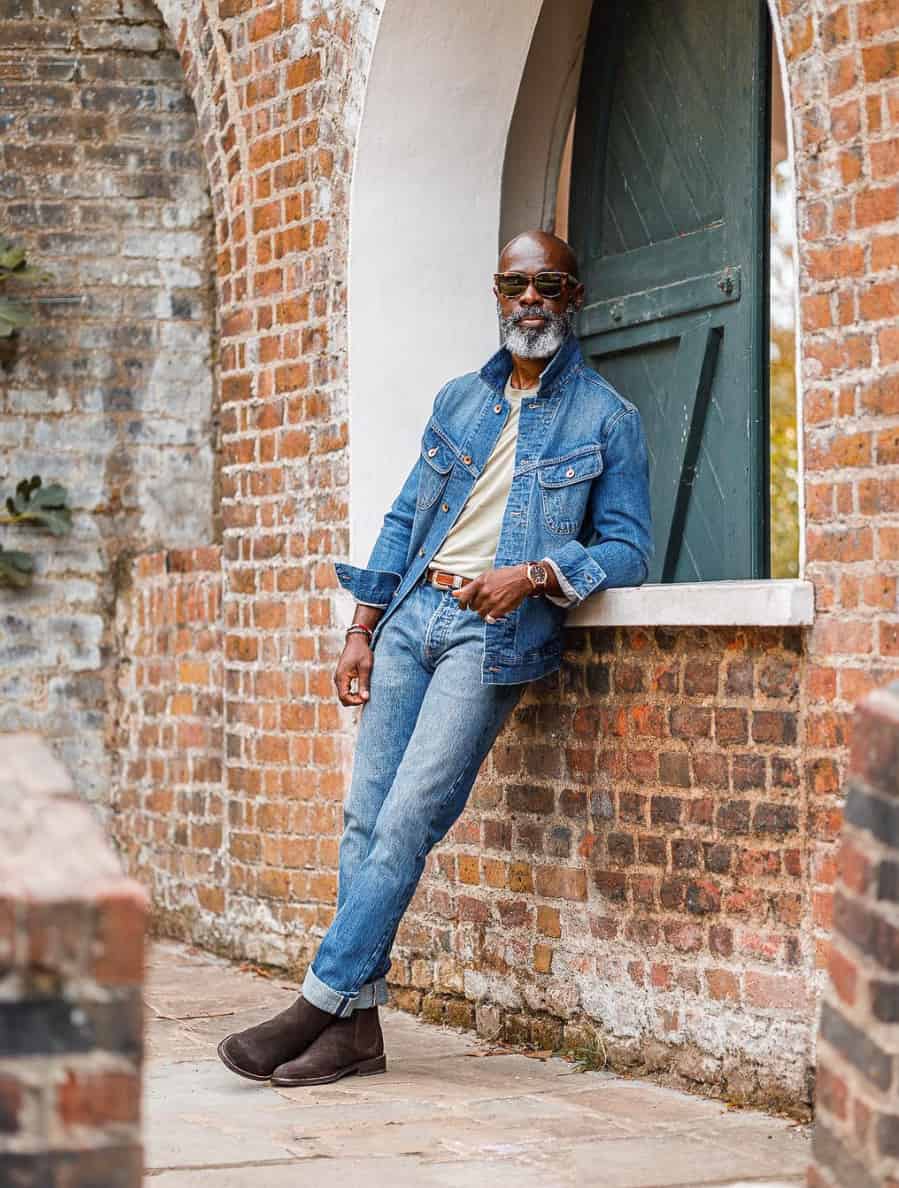 get the look:

Denim is definitely a Western wardrobe staple, so blue jeans and a blue denim jacket are very fitting for a country music concert.
This pairing is easy to put together but will instantly create a stylish and modern country look. The rugged denim has a classic country look, and these pieces have the perfect balance of comfort and style.
The brown boots are a great addition here as well. They add another modern touch while still having a masculine and country vibe that works well with the double-denim outfit.
the graphic tee
get the look:

The next country concert outfit for men includes a classic, tee that is. Is there a more classic concert look than a graphic tee and jeans?
These pieces are an easy go-to for a concert outfit, even a country concert! The graphic tee has an edgy feel, although you can wear a shirt with country vibes to make it more suitable for the occasion. Choose a top with trucks or guitars or a tee featuring one of the performing country artists.
Black jeans are a great way to mix things up from the classic blue denim we see at country concerts, and they add to the bold feel of the outfit. Converse sneakers will definitely keep you comfy all night, and these shoes are a perfect way to complete any concert outfit.
What should men wear to a summer country concert?



When going to a country concert in the summer, you should choose lightweight and breathable clothes that make it easy to stay cool throughout the show. Opt for casual, comfortable pieces like jeans and a linen button-up shirt or a classic cotton tee.
As far as footwear, sneakers and boots are still a top choice since they can support your feet and keep you comfy throughout the day.
If your summer country concert is outdoors, bringing a hat, sunglasses, and sunscreen will make it easy to enjoy the show without worrying about getting too much sun. Plus, a cowboy hat or fedora and some sleek aviators will help complete your country-inspired look!
western shirt + denim
get the look:

A country concert is the perfect time to sport a Western-style shirt like this. An embroidered shirt and leather vest give off a rugged and masculine vibe that's so fitting for a country show.
Jeans pair perfectly with a Western shirt, and they're both practical and comfortable for any line dancing you may partake in. The vibrant, traditional design of a Western shirt is not only stylish but will also help you stand out from the crowd. If you don't care for an embroidered shirt, you can choose a button-up with a minimal design but still has a Western look.
We love the country style of the leather vest, although you can wear a denim vest for a similar look. Finish your outfit with brown leather boots, and you're ready to rock the night away!
hipster vibes
get the look:

Did you know that a hipster-style outfit could work at a country concert? This outfit is a must if you want a subtle country look for an upcoming show.
The brown leather jacket and fedora create a stylish, modern look that's perfect for the country music scene. The blue jeans definitely add to the country style, and they also add a relaxed vibe to the outfit.
Brown suede boots fit the country theme perfectly while still being functional for a concert setting. This outfit is an excellent choice for a country concert in the fall since the boots and leather jacket will protect you from any chilly air; that way, you can just focus on enjoying the show.
the plaid flannel
get the look:

And last country concert outfit for men includes the classic plaid flannel!
The plaid flannel button-up and check shirt have long been a staple for any country music fan. This timeless piece has a rugged charm that's perfect for any country concert, and it's also casual and comfortable enough to spend the day in.
You can stick with red plaid, go bold with blue or green, or keep it simple with neutral tones like white, grey, and black. Either way, the plaid will quickly add that country feel you're going for without being over the top.
Jeans are an excellent piece to complement a flannel shirt and help create this classic country look. The cowboy hat adds a touch of personality and is the perfect finishing touch for a Western-themed outfit like this.
The Perfect Country Concert For Men
When it comes to the perfect country concert outfit for men, there are plenty of options for creating looks that aren't full-on cowboy.
You can easily build an outfit with a stylish country look by pairing modern and trendy pieces with clothing and accessories that have a little Western flair. Whether you love the Yellowstone look, or want something with more of an urban vibe – one of the options on this list will work for you.
We hope you've found this style guide helpful and have the perfect look for your next country concert in 2023!
More Men's Style Guides You'll Love:
6+ Best Mens Bootcut Jeans and How to Wear Them
12+ Stylish Mens Brunch Outfits & Tips On Brunch Attire for Males
11+ Stylish Vegas Mens Outfit Ideas For All Sin City Has To Offer
What Shoes To Wear With Chinos + 11 Modern Mens Chino Outfits
10+ Modern Mens Trench Coat Outfit Ideas That Prove You Need One