Taking a trip and need to know what to wear in Palm Springs? Check out our style guide with 13+ Palm Springs outfits and Palm Springs attire tips to help make packing a breeze!
*this post contains affiliate links*
What To Wear In Palm Springs
Are you planning to spend some of 2023 at a desert resort in sunny Palm Desert? Or maybe you live in the Golden State, and you're visiting Palm Springs for the first time? Either way, you're definitely in for a treat!
Palm Springs is a stunning place filled with majestic mountains and towering palm trees. Whether you plan to explore the breathtaking landscapes or unwind in the world-class spas, you'll have an unforgettable experience in this desert paradise.
As always, we're here with tips and outfit inspiration to help you pack for your desert vacation. We have outfits for any season and occasion, so check out these gorgeous looks below and start planning your perfect Palm Springs attire!
poolside attire
get the look:

You can't beat a day at a resort pool, soaking up the sun and sipping tasty drinks!
If you plan to spend some of your Palm Springs vacation poolside, you definitely need a casual outfit to wear around the deck. An oversized terry shirt has the laid-back vibes you need for a look like this, and a raffia bucket hat is a perfect addition to this outfit while also protecting you from the desert sun.
A pair of flip-flops or slide sandals are a must so you can easily slip them off before taking a dip in the cool water. And don't forget a large tote back to hold your pool towel, water bottle, and sunscreen!
cute + casual
get the look:

Next on our list of Palm Springs outfits is this chic and trendy look! Jeans and a crop top are an easy go-to for a cute and stylish outfit, and this is the perfect look to wear during springtime in California.
Wear this out to grab lunch before visiting the Palm Springs Art Museum. You can wear sneakers if you plan to be on your feet all day, although sandals would be a good choice for this outfit as well.
slip dress + cowboy boots
get the look:

We are in love with the combination of a feminine slip dress with rustic cowboy boots when it comes to Palm Springs attire! The boots and hat are so fitting for the desert, and the silky slip dress has a romantic feel that's perfect for vacation.
This is an excellent choice to wear while out and about in Palm Springs during the summer, exploring the Moorten Botanical Gardens, or trying out local cafes and restaurants. If cowboy boots aren't your style, try sandals or go for trainers if you want to add a laid-back feel to your look.
What is Palm Springs style?
The style in Palm Springs is bold, vibrant, and has retro mid-century modern vibes. Palm Springs has been a hot spot for celebrities since the 1930s, and it's common to see throwbacks to fashion trends from the 50s, 60s, or 70s. Bold patterns, boho-chic details, and bright colors are all good looks for in this desert oasis.
Palm Springs is a great place to rock any style, so your outfits can be anything from casual to refined to daring.
retro vibes
get the look:

If you do love rocking vintage styles, Palm Springs will be the perfect place to show off your retro chic outfits!
Go for a floral mod dress while riding bikes around town in the spring or summer, or try a 60s-style tunic dress with tights for a winter look. The cowboy boots are a playful touch and look so cute with these mini-mod dresses.
And these looks aren't just for grabbing a bike and checking out local spots; you can wear this by the pool, while touring a museum, or out to dinner for a fun and stylish outfit.
country meets boho
get the look:

We cannot get over how gorgeous this outfit is! The Southern vibes from the cowboy hat and boots pair perfectly with the boho chic midi skirt, and the neutral shades give the whole outfit an elevated feel.
This is definitely a good look for the summer; the breezy crochet skirt and off-the-shoulder crop top will keep you cool in the California sun, and the straw cowboy hat is perfect for providing a little shade. Cowboy boots will be easy to walk around in as you stroll through Downtown Palm Springs and check out local eateries and boutiques.
casual chic
get the look:

Pleated trousers make any outfit look polished and put-together, and this one is no exception. These pants will keep you comfortable and cool throughout a warm day while adding an elevated touch to the look.
Pairing casual pieces with pants like this is the key to giving your outfit a stylish but relaxed look. A tank top and sandals add that laid-back vacation vibe without taking away from the refined feel of the pants. Finish your look with a chic handbag, and you have the perfect outfit for a dinner date night in Palm Springs!
modern cowgirl
get the look:

This desert paradise is the perfect place to let out your inner fashionista and go for a bold look like this!
This outfit is a top choice for a girl's night out while in Palm Springs. The belted denim jacket works as a cute mini dress, although you could also leave it untied to use as a regular jacket. It's also a perfect choice for when it cools off at night.
The cowboy boots and wide-brimmed hat add that country feel, and we definitely love the daring look of these zebra-printed boots!
What is the dress code for Palm Springs?
There's no official dress code in Palm Springs, although most people dress casually in shorts, tank tops, midi skirts, and boots or sandals. Cool, comfortable outfits are key if you plan to spend a lot of time outdoors during your visit here.
But because Palm Springs has a strong retro feel, don't be afraid to wear bold or fun pieces, and show off your playful side with your outfits. You can also dress up when you go out for a dinner or to local bars, as this is the perfect time to wear a chic, and slightly fancier outfit.
a blouse + shorts
get the look:

A flowy blouse and denim shorts are perfect for anything from hitting up some boutiques to checking out tourist hot spots.
The floral blouse is chic and elevated, and a shirt with a lightweight blend will help keep you cool in the desert sun. And denim shorts are a must if you plan to spend time at a sunny vacation spot.
Add some sneakers for comfy footwear and a stylish purse, and you're ready to go out and see all that Palm Springs has to offer!
bathing suit + button-up
get the look:

A bathing suit is definitely one of the top Palm Springs essentials!
We love the vibrant shade of this Petal & Pup crinkle one-piece, and the cut-out details are so cute! You also can go for a bikini set if that's more your style. Something we love about one-piece bathing suits is how easy it is to style into an outfit. Add a pair of denim shorts or a skirt, and you have a full look that's ready to go!
A button-up is easy to layer over any bathing suit as a chic cover-up, and you can wear this piece again throughout your trip as part of another outfit.
matching linen set
get the look:

A matching linen set is the perfect Palm Springs attire. The breathable and lightweight linen is fantastic for hot desert days, and a matching set easily creates a chic outfit that you can wear anywhere.
This set, paired with boots and a cowboy hat, has a laid-back feel that we are so in love with. You can rock this outfit on a night out, grabbing dinner and drinks with the girls. If you want a bold look, go for a colorful set or one with a pattern.
How do you dress in Palm Springs in the winter?



The winter in Palm Springs is quite mild, with warm or cool days and cooler nights, so you need a couple of extra layers to stay warm. If you plan to wear a dress or skirt in the evening, add some leggings and pair it with a sweater. During the daytime, you can get away with fewer layers, but it never hurts to bring a light jacket or cardigan along.
polo sweater + jeans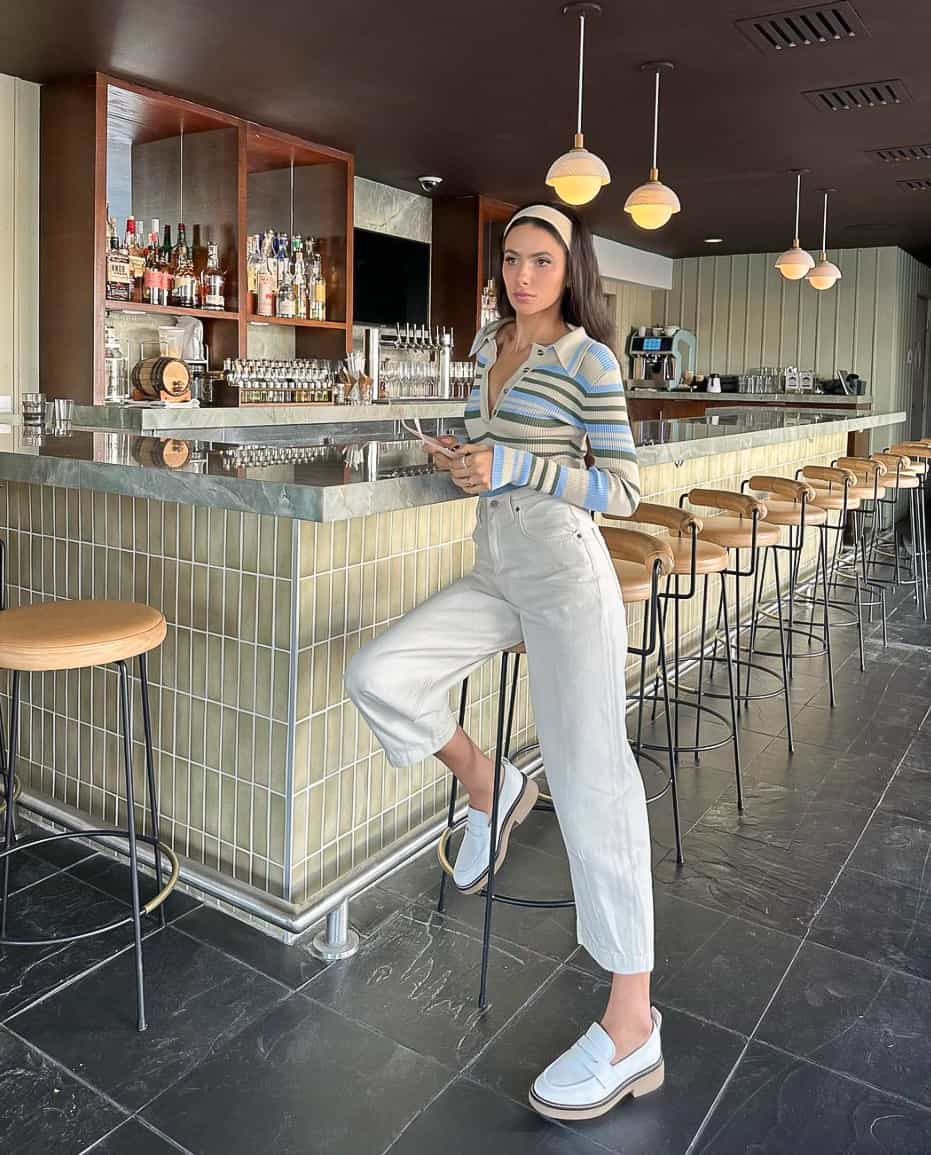 get the look:

This is a perfect example of a Palm Springs winter outfit. A light sweater and wide-leg jeans provide enough coverage to keep you warm without the risk of overheating.
We love how this outfit has a retro feel but still looks refined and chic. The white loafers add a classy touch, and the colorful top adds a vibrant look to the outfit.
You can wear this while spending your morning at the resort and even while out and about in town. This look is stylish yet casual, so it's perfect for grabbing coffee and going on a bus tour of Palm Springs.
retro midi dress
get the look:

A midi dress is one of our favorite things to style while on vacation. And this long-sleeved option is perfect for cooler days in Palm Springs.
The colors on this dress definitely have 70s vibes, making it a perfect Palm Springs attire. A patterned midi dress is a great choice to wear when taking a tour of Palm Springs and grabbing lunch.
a midi skirt + heels
get the look:

A knit midi skirt and sweater are a classic combo and pair together perfectly as a winter outfit in Palm Springs.
You can stick with muted or neutral tones for a simple outfit or go bold with patterns and colors. Then finish off your look with a pair of heels, and you're ready to explore this desert oasis!
Choosing the perfect Palm Springs attire doesn't have to be a challenge. We hope you've found this style guide helpful and that you have stunning looks to wear while in sunny California!
More Style Guides You'll Love:
14+ Chic Desert Outfit Ideas For Your Next Desert Getaway
What To Wear In Nashville + Chic Nashville Outfits To Copy
18+ Chic Vegas Pool Party Outfits for Next-Level Aesthetic