Heading on a getaway to Nashville? Learn exactly what to wear in Nashville in any season and avoid looking like a tourist while you're there. Plus get inspired with super chic Nashville outfits (& what to wear in Nashville over 50) to try in 2023!
*this post contains affiliate links, updated in 2023*
get the look:

What To Wear In Nashville
If you are reading this post it's likely you are headed to the birthplace of country music – Nashville. When it comes to the city known for its music and style, what you wear is definitely important!
You likely don't want to look like a tourist, but rather fit in with the locals and look stylish while doing it. I'll will give you the best ideas for what to wear in Nashville – from what clothing is trending, to the styles that are best suited for the weather, to the do's and don'ts of dressing-up in Music City.
And, if you are looking for what to wear in Nashville for over 50, I've got you covered too! I have a whole section near the end of the article with Nashville outfit ideas for stylish women in their 50's and beyond!
What You Need To Know
Nashville is the capital of Tennessee and the second-most populous city in the state. It's a popular destination for music festival goers, bachelorette parties, and foodies alike. Nashville is an incredibly fun place to visit and when you go, you'll want to dress the part!
If you are planning on visiting Nashville, you should keep a few things in mind when it comes to what to wear:
Overall, Nashville is a laid back city

, with a casual vibe and music is the heartbeat. You can definitely leave the 'black tie' attire at home and focus on casual clothing.
The city experiences all four seasons

, so you will need to dress accordingly depending on what time of year you plan to visit.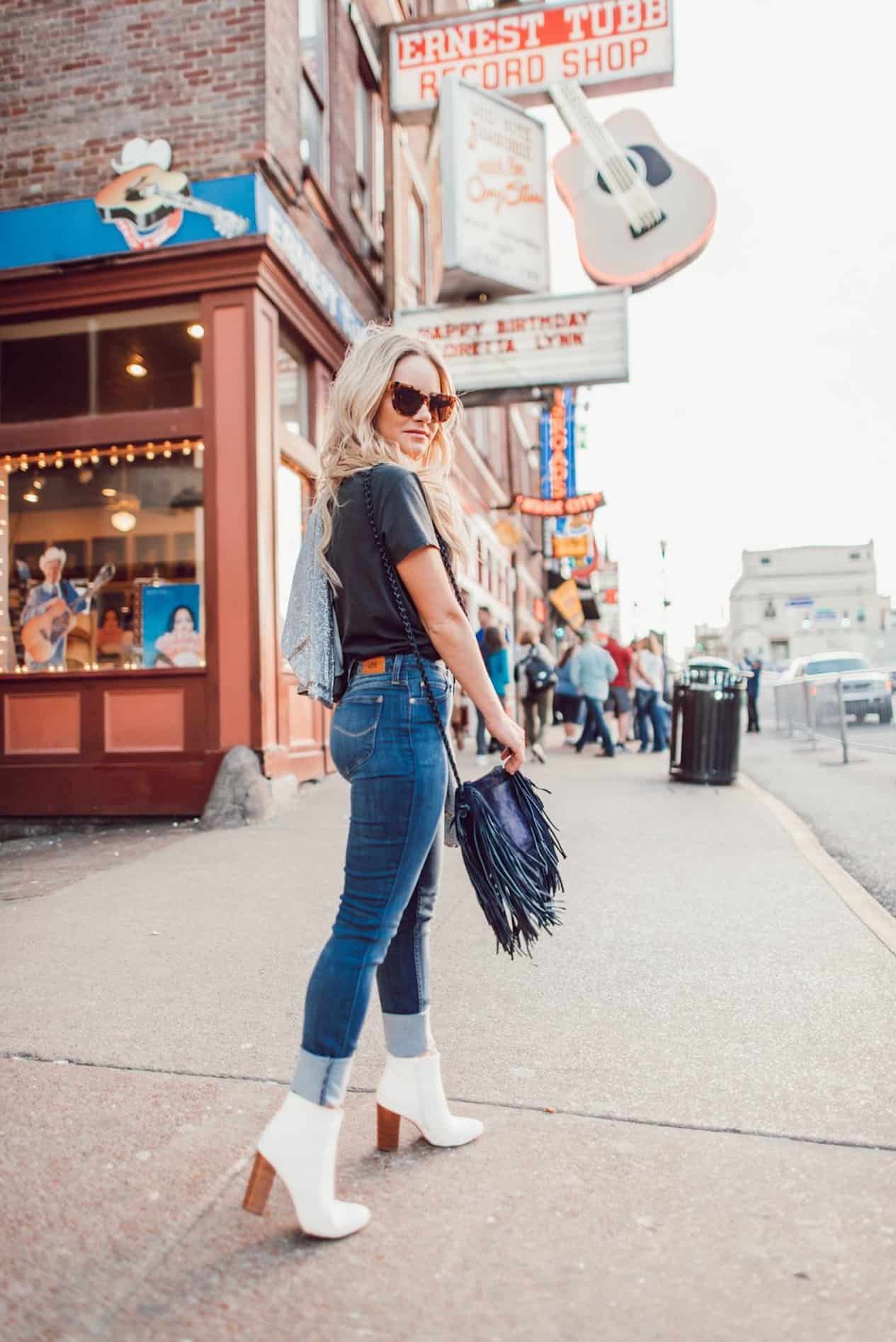 get the look:

What is the clothing style in Nashville?
As mentioned before, Nashville is a city known for its music, and the overall style is "Americana" with a bit of a Hipster vibe and some western flair. This means that most people dress in jeans and a nice top when they go out.
Of course, there are exceptions to this rule. Formal events call for dressier attire, and if you are going to a concert or show, you may want to get a little more dolled up.
But, for the most part, pack lots of laid-back clothing items: jeans, t-shirts, sweaters, fedora hats, sneakers, ankle boots, casual dresses, denim and leather jackets, and subtle accessories.
get the look:

What's Trending in Nashville
Western Boots:

One of the biggest trends in Nashville are cowboy boots. You will see people of all ages and genders wearing them, so don't be afraid to jump on the bandwagon! That being said, the locals don't tend to wear them as much, so western boots are more of a tourist piece.
get cowboy boots:

Denim:

In Nashville denim can be seen in all shapes, sizes, and forms. Of course a great pair of jeans is a MUST for your suitcase, but also consider other forms of denim – a skirt, jacket, jumpsuit, shirt, or a pair of denim shorts will all look great in Music City.
shop denim:

Floral Prints:

Floral prints are always popular in the spring, but they are trending and can be worn year round. If you want to embrace this trend, look for dresses, tops, and even shoes with floral patterns.
shop floral prints: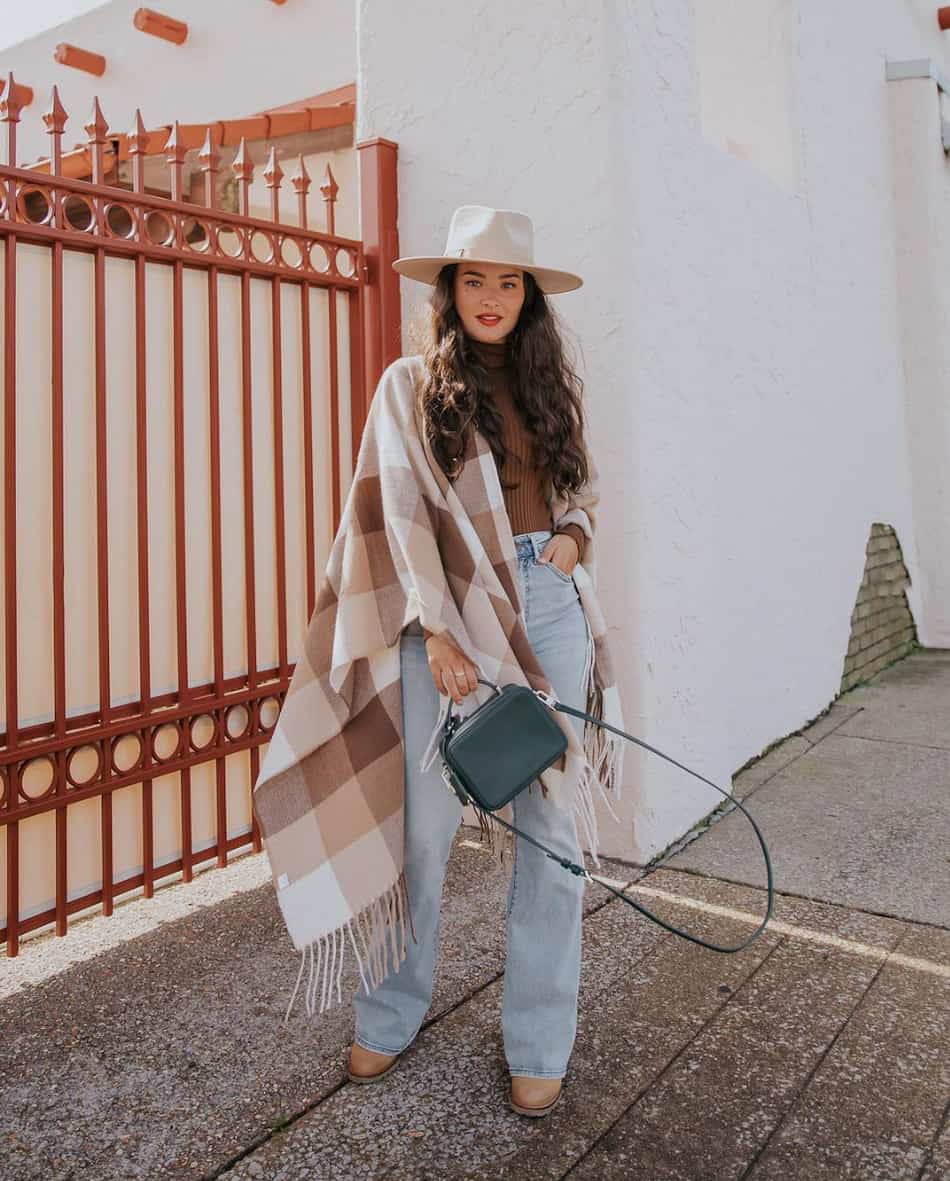 get the look:

How do I not look like a tourist in Nashville?
One of the best ways to blend in with the locals when visiting Nashville is to dress like them. As I mentioned before, the style in Nashville is relatively casual with the hipster vibe.
Leave the "rodeo princess" attire (rhinestones, glittery boots and embellishments) and fancy clothes at home, and pack items that are comfortable and easy to wear. Adding subtle hints of Tennessee style to your look is fine, like western-inspired boots and a fedora hat (leave the full-on cowboy hat at home).
Just avoid wearing so much country attire it looks like you are in costume, as that definitely screams, "I'm from out of town!"
When it comes to Nashville nightlife, you'll find most people stick to casual clothing like jeans, t-shirts, tank tops, or cute dresses, with sneakers, heels, or boots.
Women usually get a little more dolled up with mini dresses, skirts, denim or leather jackets, blazers, and western boots with a heel. But, overall the style is still generally laid-back, without a lot of glitz and glam, unless it's a special event.
get the look:

Nashville Outfits for Every Season
If you are looking for more outfit inspiration, below are some great Nashville outfits to try depending on the season. When you know the time of year you'll be visiting Nashville, it is easier to pack according to the weather, and the activities you'll do.
Nashville Outfits for Spring
In the spring you'll want to dress in anticipation for warmer weather, but bring along layers in case it gets cooler in the evening. Below are some cut looks I've put together!
Because the temperatures in the Spring can fluctuate, layers are essential. I would pair my best denim with a silk cami, and top it off with a neutral suede jacket to tie the whole look together when heading out in Nashville in the Spring.
And depending on the weather, you can still wear your favorite boots or opt for a pair of studded sandals.
For this modern hipster look I love, combine a pair of chic straight leg white jeans with a graphic t-shirt, and bring in the Nashville feel with a pair of stylish western booties. Layer with an oversized denim jacket to add those hipster vibes and of course, if the weather is cooler.
I'd totally add a bandana or dainty gold accessories for more interest!
get the look:

Here's an outfit I'd definitely be wearing in Nashville! A simple white tee paired with longer denim shorts and suede Western booties. It's cute, casual, comfortable, and perfect for a bar crawl, concert, festival, or exploring the city.
Nashville Outfits for Summer
It's good to know that in the summer months Nashville can be very hot. So, be sure to dress in lightweight clothing that's breathable, like cotton or linen.
Also, it's best to go with shorts, tank tops, dresses, and bring a layer for nighttime if you want.
lightweight blouse and shorts.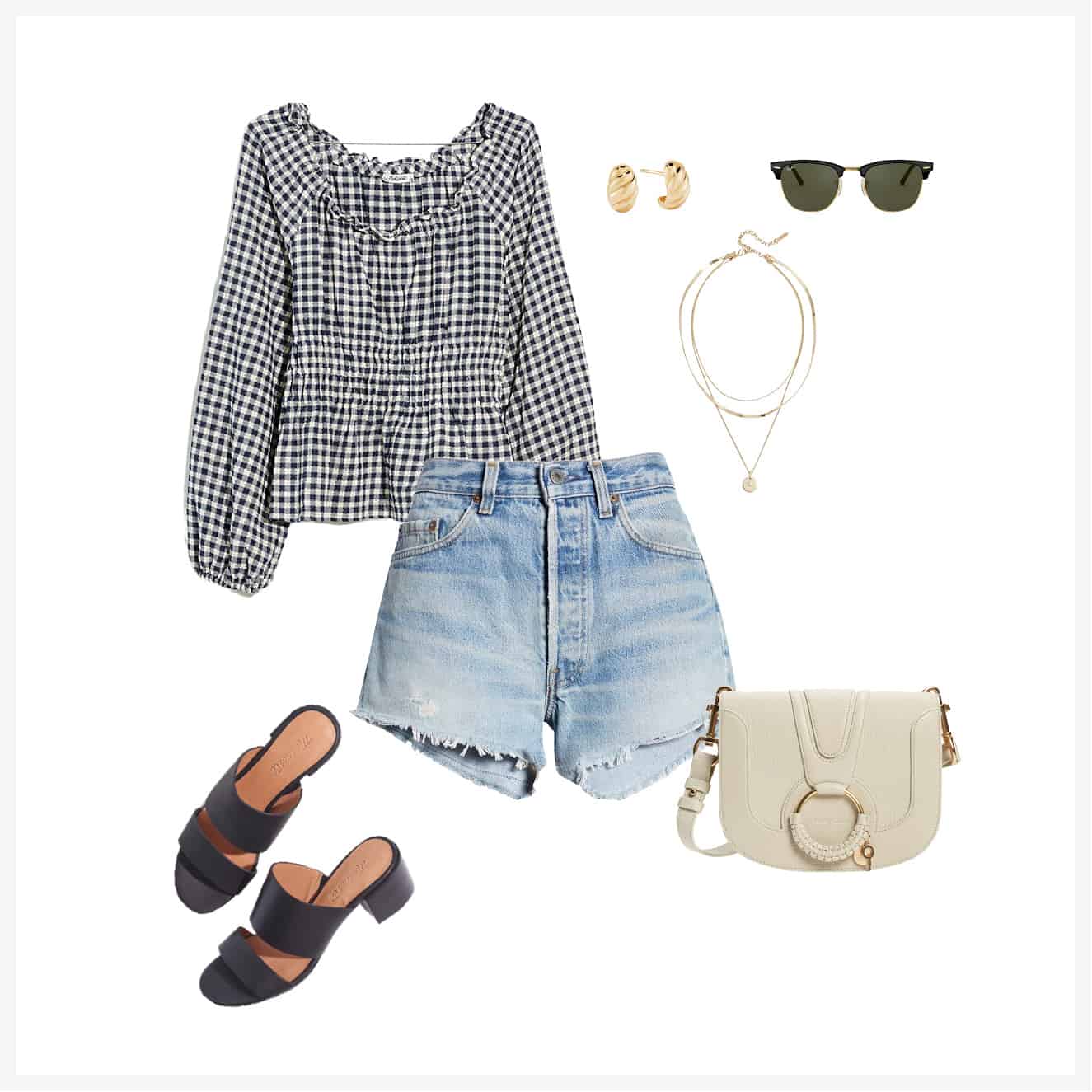 get the look:

One of the hottest trends for spring and summer is an off-the-shoulder or puff-sleeve top. This style is flirty, fun, and perfect for a casual day in Nashville. To make this style work for summer, look for tops, like this gingham blouse from Madewell, made from a lightweight fabrics such as linen or cotton.
I love to pair denim shorts (or a denim skirt), with a pair of sandals (heeled or flats, depending on how much walking you plan to do), and a few dainty accessories.
Another fantastic print to wear other than florals in Nashville is animal print, but you have to wear it the right way.
A chic and sexy leopard slip dress makes a statement, but it is kept casual with a pair of ankle cowboy boots and an oversized denim jacket for layering. If it's a really warm day, you can lose the denim jacket and go with the dress on its own.
And, this look is perfect for day to night if you plan on heading to a concert or show or going to a music festival.
get the look:

Here I've created a cute Nashville outfit for a date night or fancier event with a silk top, silk midi skirt, and Western-style ankle boots. This look is a little dressier, but still has a Nashville vibe.
Nashville Outfits for Fall
If you're visiting Nashville in the fall when the cooler weather arrives, here are some outfit ideas I created to get you started.
leather jacket + denim.
get the look:

This style is perfect for exploring during the day or going out in Nashville's nightlife scene in the fall months.
To achieve this look, start with a pair of vintage wash jeans, then add a cute top (graphic t-shirt for more casual, or a cami for a dressier feel), and finish off with a classic black leather jacket. Add some booties with a country vibe and throw on a felt fedora hat!
Another fabulous fall outfit for fall combines a figure-hugging sweater dress with a suede jacket and western-inspired boots.The look is a little dressier but still casual enough to fit in with the Nashville locals.
Stick to neutral tones and don't be afraid to combine materials like wool, suede, and leather.
Nashville Outfits for Winter
If you're visiting Nashville in the winter, here are some outfit ideas to get you inspired and keep you toasty. Nashville does get chilly and gets snow in the winter, so warm layers are key.
leather pants + shearling.
get the look:

One of my favorite ways to stay warm and stylish in the winter is with a pair of sleek leather pants and a shearling lined jacket.
This style is perfect for going out on a date or exploring Nashville's stores and dining scene. To achieve this look, start with a pair of leather pants, with a straight leg cut for a trendy look.
Then pop on a neutral long-sleeve shirt, and finish with a shearling-lined jacket, fedora, and pair of western-inspired boots.
Off-white or ecru color denim paired with a soft sweater will keep you warm and cozy on the coolest of Nashville days. Top with a casual coat or jacket and pair the look with cowboy boots, or western-style booties.
This is one of my favorite outfits and makes all the neutrals work together perfectly!
While I love the fringed details, cowboy boots, and mini floral dresses that are popular in Nashville, when you're over 50, you may want to wear something sophisticated and classic. I'm thinking of my beautiful Mom and what she would wear if she were visiting Music city!
You can choose outfits with a Western flair while still looking chic and timeless, and these outfits below are the perfect inspiration for just that!
denim midi skirt, boots + a blazer
get the look:

Denim is perfect to wear in Nashville, and a denim midi skirt has an elevated aesthetic that's great for a polished and put-together outfit. The blazer is another refined touch, and this combo is a must if you'll be visiting Nashville in the fall or winter.
If you want to rock a denim midi skirt in warmer months, change the long-sleeved top and blazer for a sleeveless black tank, and swap the boots for strappy heels or pumps!
casual + edgy
get the look:

Go for a casual yet bold look with relaxed jeans and leather pieces.
This is another fantastic outfit to wear in cold weather. The leather jacket and jeans will keep you warm but have a laid-back vibe that's perfect for this city. The black boots and hat are great finishing touches that help tie it all together.
Pair a leather jacket with denim shorts and ankle boots or sneakers if you'll be visiting in the spring, but keep the hat for some extra shade on sunny days.
a feminine blouse + strappy heels
get the look:

Show off your flirty side with a chic, feminine blouse and strappy heels. The short-sleeved top is a must for a cute summer outfit, and the relaxed-fit jeans add a casual vibe to the look. Heels pair perfectly with the top, although you can opt for loafers or leather sandals as well.
Choose a flowy long-sleeved blouse for cold weather, or layer a long cardigan or wool coat over a sleeveless top. Opt for classic pumps in fall or pointed, heeled boots on extra cold days.
a midi dress + leather jacket
get the look:

Early autumn days in Nashville are stunning, and you'll look just as gorgeous with an outfit like this.
The long-sleeved midi dress makes this perfect for cold days, and the jacket adds a layer of warmth. You can also wear a short-sleeved or sleeveless dress if the weather has a slight chill but might warm up throughout the day.
We love the combination of a white, feminine dress with an edgy, black leather jacket. This attention-grabbing combo will definitely have you turning heads as you explore the city and is a top choice for a fancy restaurant or night out in Nashville!
What should a 50 year old woman wear for a night out?
The nightlife in Nashville is incredible, with tons of bars, restaurants, music, and gorgeous views! A night out in Nashville is always a good time, and you'll definitely want to dress up for it.
This city also has iconic fashion, and you should take advantage of this bold and playful style while you're here. Cowboy boots, denim pieces, leather jackets, and fedoras are perfect for adding a little Western flair to your outfit while keeping it minimal and chic.
But how to dress for a night out in Nashville also depends on what time of year you'll be visiting and the weather.If you're going to Tennessee in spring or summertime, choose lightweight and breathable pieces. Think linen pants or shorts, breezy dresses, silky midi skirts, tank tops, and blazers.
Or, if you plan to visit Nashville in the fall or winter, layers are a must! Jeans, leather pants, wool coats, sweaters, and long-sleeved tees are essential for this time of year. And don't forget chic accessories like scarves, hats, and gloves.
No matter what time of year you'll be visiting, don't be afraid to embrace the unique style in Nashville and enjoy your night out in this amazing city!
silky skirt + a blazer
get the look:

This gorgeous outfit is a perfect example of what to wear for a night out in Nashville! The satin midi skirt is chic yet classy and feminine, and you can always opt for a printed skirt for a more playful look.
The tank top is great for spring or summer, and we love the blazer as a sophisticated layer that can keep you warm in cooler weather. The sandals are definitely casual and comfy, although you can go for ankle boots for more of a Western vibe.
When it comes to packing for a Nashville trip, the key is to go with more casual items and add in a few dressier options, depending on what you'll be doing while you're there. Remember Nashville locals dress relatively laid-back, so unless you want to stick out like a sore thumb, it's best to leave the rhinestones and glitter at home.
Here's a simple packing 3-day packing list:
1-2 pairs of jeans or leather pants
denim shorts or linen shorts
little black dress
floral dress or midi skirt
2 t-shirts or tank tops
denim jacket or leather jacket
lightweight sweater
fedora hat
ankle boots or western style boots
sandals or sneakers
heels (if you are going out somewhere fancier)
minimal jewelry
purse
Amy of Fashion Jackson is a Nashville local, and you can get tons more inspiration for Nashville outfits on her IG here!
Final Notes
Nashville is a city that has something for everyone, and the fashion scene is no exception. Whether you're looking to dress up or down, there are plenty of great options to choose from no matter what season you plan to visit.
As long as you keep my tips in mind, you'll be sure to look your best while spending time in Music City.
So, what will you be packing for your trip to Nashville?
More Outfit Guides You'll Love:
Cowboy Boots with Shorts: 11+ Chic Ways To Rock This Aesthetic
14+ Country Concert Outfit Ideas You'll Want To Copy
11+ Stagecoach Outfits With A Chic Coastal Cowgirl Vibe
What To Wear In Vegas: 17+ Classy & Elevated Vegas Outfits
18+ Chic Vegas Pool Party Outfits for Next-Level Aesthetic
What To Wear in Palm Springs: 13+ Perfect Palm Springs Outfits To Try
What To Wear To Universal Studios: Tips + Outfit Ideas You'll Love
15+ Cute Disneyland Outfits For The Perfect Park Aesthetic
What To Wear In New Orleans: Cute Outfits + 4-Day Packing List