Are you wanting to elevate your look with trendy swirl nail designs? You'll love this extensive list with 27+ chic swirl nails to inspire your next manicure.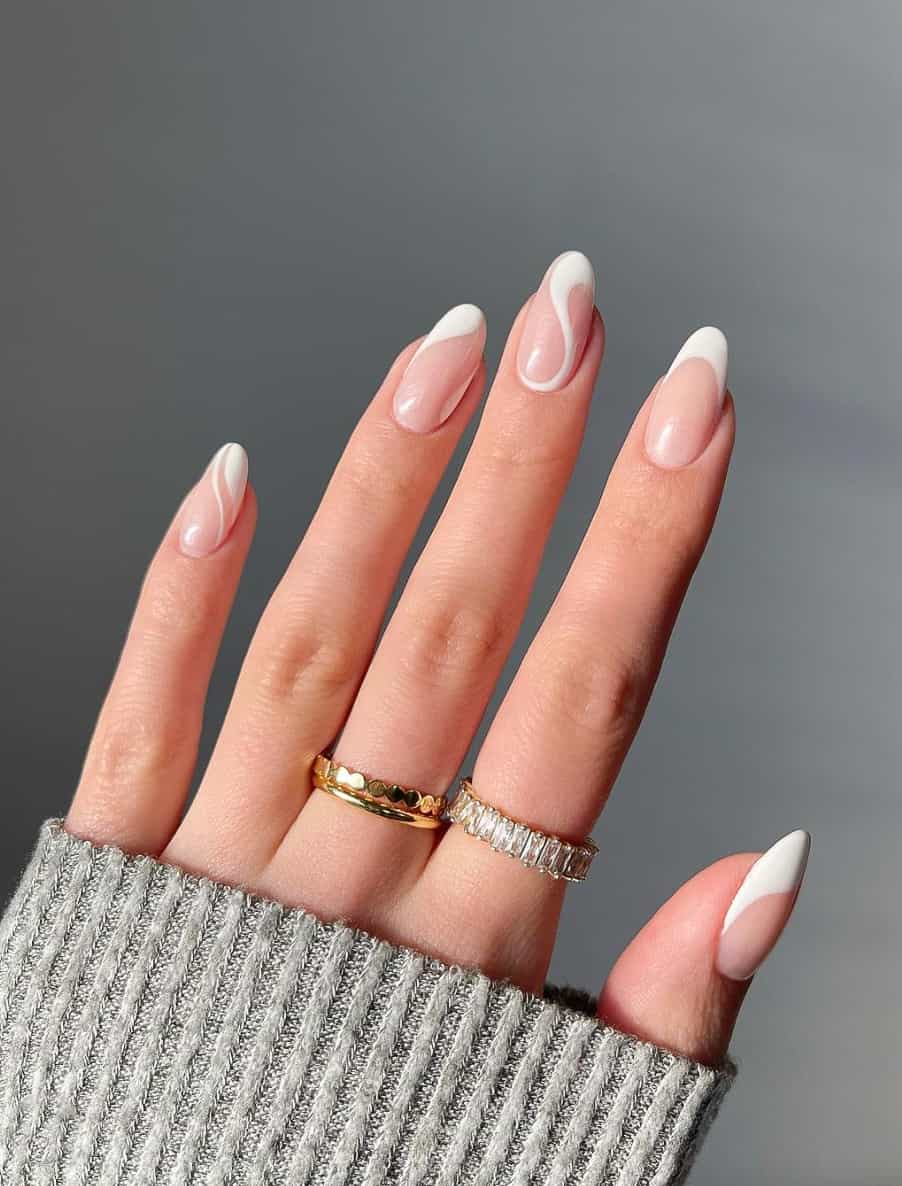 Swirl nail designs were all the rage back in the 70s and 80s. A fresh manicure with vibrant shades and swirling patterns was a popular look to sport in these eras. And this nail art trend had a huge comeback in 2022 and is still going strong in 2023!
Something we love about swirling details on a manicure is that you can add these accents however and wherever you want, making a look perfectly designed for you.
Stunning Swirl Nail Designs
We've gathered tons of gorgeous manicures with swirl accents to inspire your next trip to the salon. Whether you like short nails or long nails, neutral designs or bold manicures, there's guaranteed to be a look you'll love.
White, Grey & Black Swirl Nails
We are loving the neutral swirls on these gel nails! This color palette is simple but chic, and you can easily rock this mani anywhere from the office to the beach to weekend brunch.
White Swirl Nails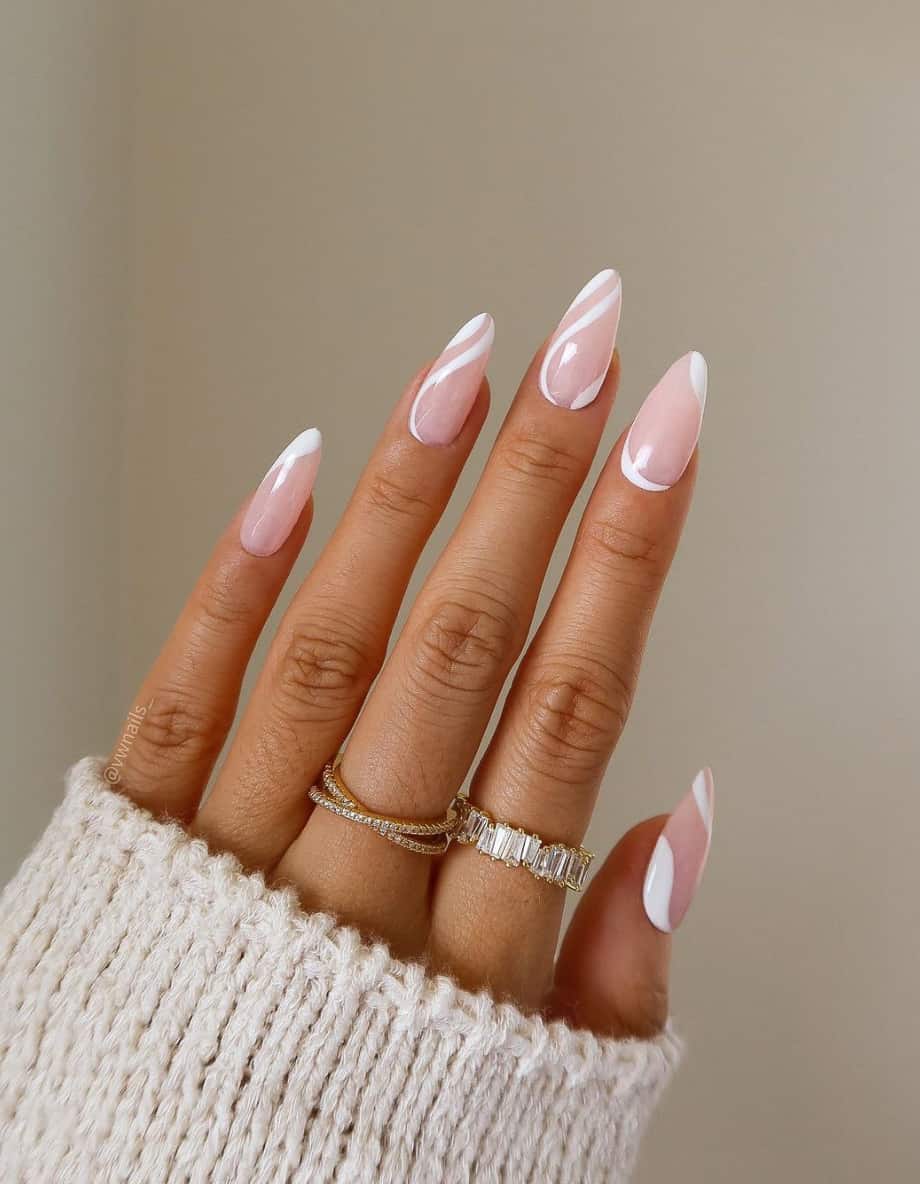 Nude nails with white polish accents will always look stunning and classic. We love the pinkish hue to the nude base color; it adds a subtle feminine touch to these nails.
This nail design perfectly pairs a timeless color combo and a trendy design!
White + Pink Swirl Nails
Almond nails with pink and white swirls are a look you can't go wrong with. We adore the dazzling sparkle details; they definitely add a youthful vibe to the manicure.
This nail design is a fantastic way to add a little flair to your everyday looks.
Matte Blue Swirl Nails
The different shades of blue in this nail design are so gorgeous together, and the white adds a lovely pop of brightness. The swirl accents are playful while the matte finish adds a chic touch, making this the perfect blend of refined and fun!
White Swirl Nails w/ Silver Glitter Accents
Soft pink nails with white and silver polish have an elegant and feminine aesthetic that we are obsessed with. We love the combination of swirl accents with speckled nails, and this nail design has a bright and eye-catching look that would work for any occasion.
Brown + Gold Swirl Nails
Neutral tones and golden accents are perfect for a chic swirl nail design! These acrylic nails have a fall feel, and these colors would be gorgeous this time of year. But don't be afraid to wear this year-round for a polished and stylish look.
Metallic Blue Swirl Nails
We're always down for a manicure with metallic polish. This striking metallic blue is so vibrant and alluring, and this color makes the swirl details really pop against the nude matter base. You can definitely go for a look like this for your next night on the town.
Colorful Matte Nails w/ Black Swirls
The abstract splashes of color look stunning with the bold black swirls here. Even though the shades are bright and playful, the matte finish and striking black details add a refined look.
This would be perfect for adding a daring look to your outfits or to wear while on vacation.
Almond Nails w/ Neutral Swirls
Pearly white nails with neutral accents are gorgeous together. These beautiful almond nails have subtle colors and a daring design, a combo that we are in love with. This makes them perfect for taking your look from the office to happy hour effortlessly!
How do you do swirls on your nails?
You can add swirl nail designs to any manicure using a thin tool to paint twisting lines across your nails. It's best to add this nail art onto already painted nails.
Start with a clear base coat
Next, add colored nail polish or leave it as is if you're going for a natural nude look
Once the layers of clear coat or polish are dry, you can use tools to create the swirls
You can go for an all-over swirl design or add some to accent your nails for a more minimal manicure. Don't forget to add a gloss or matte finish to keep those gorgeous swirls lasting longer!
Retro Nails w/ French Tips + Swirls
These rainbow psychedelic swirls definitely have a retro vibe, and we love the mix of full swirl nails and swirled French tips! The bright shades make this a great manicure to wear in spring or summer, and the playful feel this design has is perfect for a girl's night out.

Rainbow Nails w/ Glitter Swirls
Next on our list of swirl nail designs is this stunning mani with vibrant shades of turquoise, pink, and lilac. The glittered swirls on matte nude nails are such a perfect way to accent glossy polished nails. This is another great look that's perfect for a night out.
Green Swirl Nails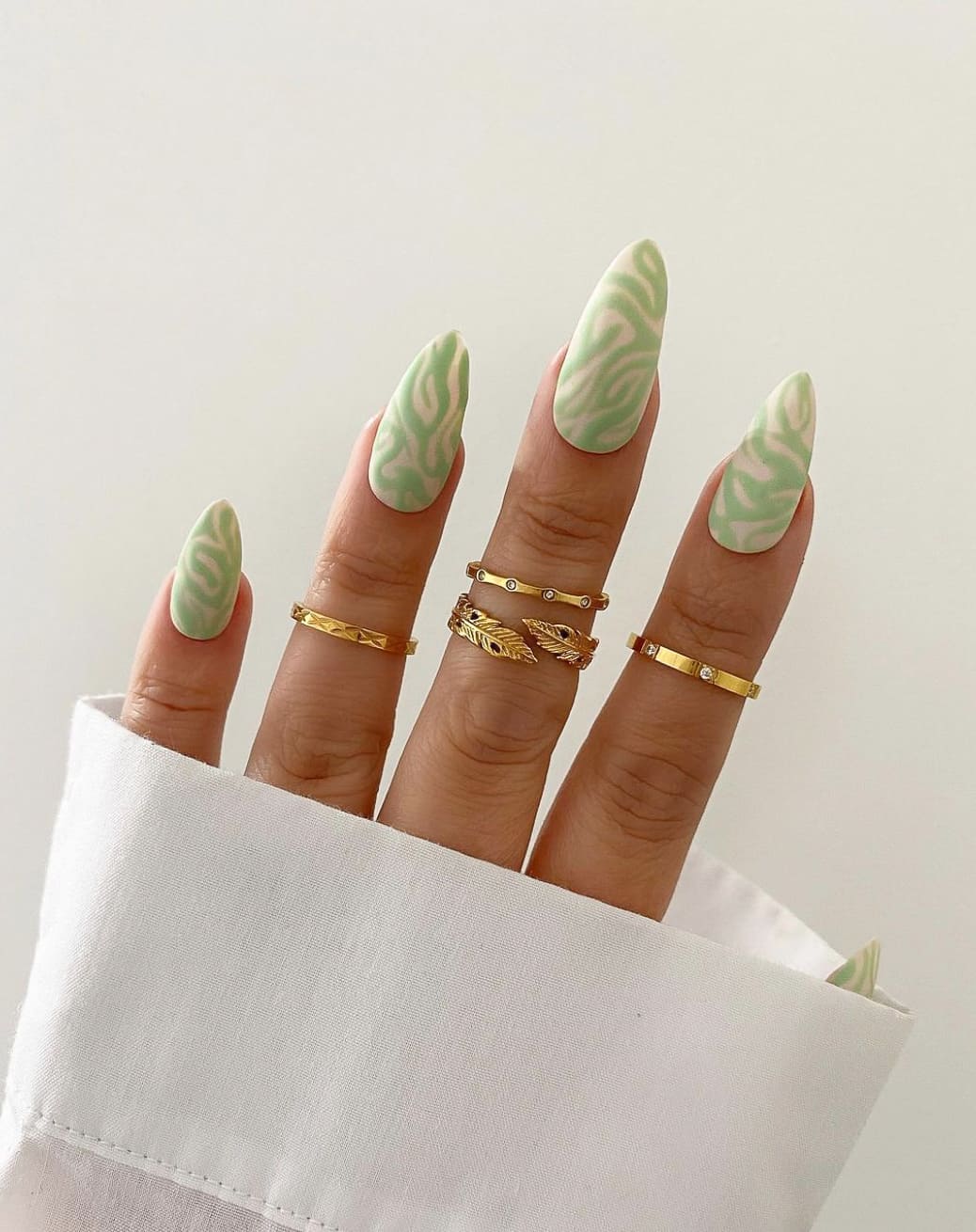 These short stiletto nails are perfectly painted with pastel green swirls, and we love the messy, jagged look of them. If you're looking for a bold nail design, this manicure is perfect for you.
You can even opt for brightly colored polish for a more daring look.
Matte Nails w/ Rainbow Swirl Accents
This manicure is a must if you're looking for summer swirl nails! These bright and beautiful colors were made to be worn at the beach, and the fun swirl design fits the summer vibes too.

Brown + Beige Swirl Nails
We love seeing this deep brown and soft beige paired together. This gorgeous warm-toned look would be perfect for any time of year, and it's simple and sophisticated enough to wear to the office.
Peach Nude Swirl Nails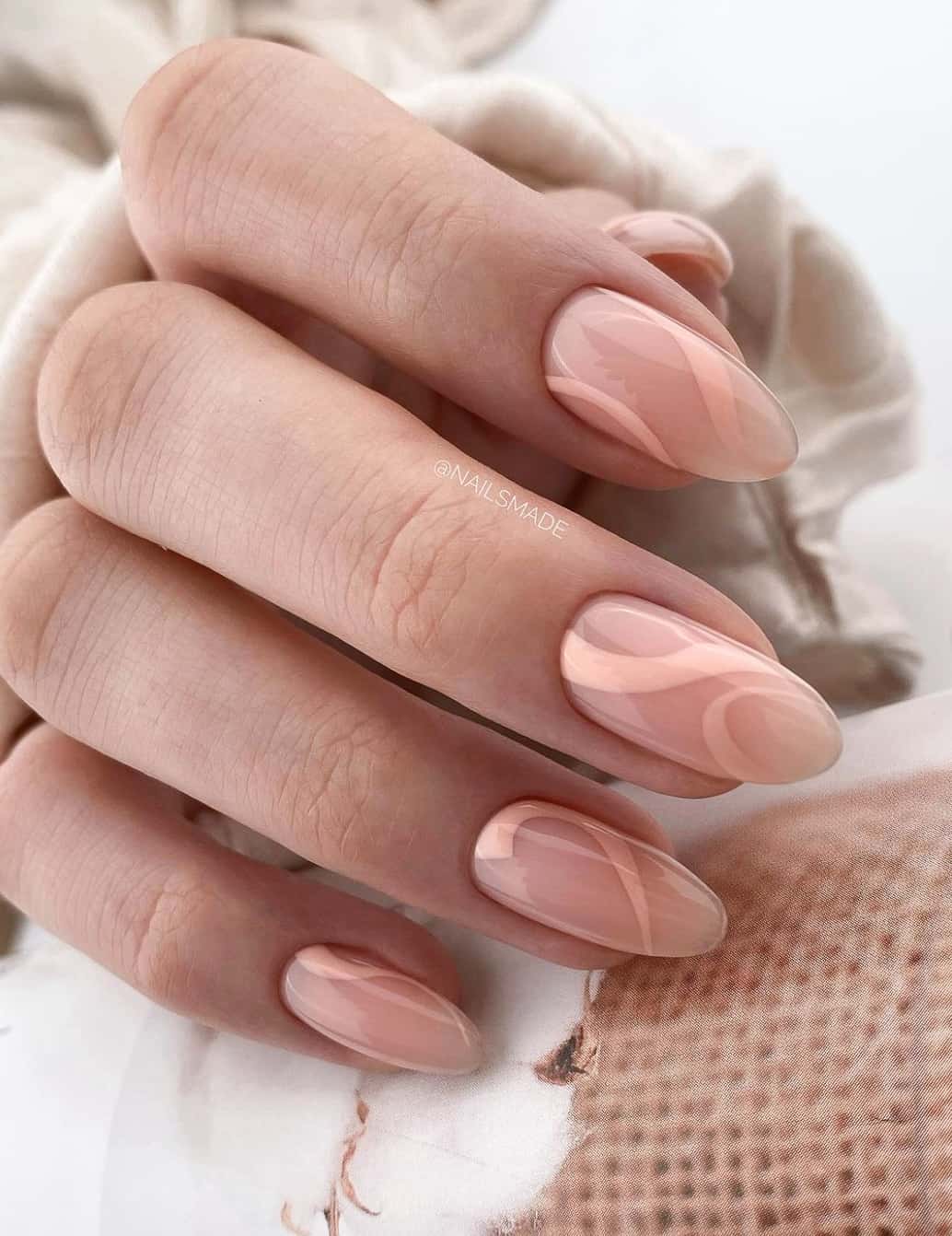 If you want a nude summer swirl manicure, this nude and pastel peach nail design is definitely the one for you! You can use this simple design to add an elegant touch to any outfit.
This look is also perfect for anyone who can't wear vibrantly colored nails to work but still wants a playful design.
Brown Nails w/ Gold Swirls
The rich brown color here is refined and classic, while the gold swirl details add a glamorous feel. Use this manicure to effortlessly spice up your look on your next date night.
Round Nails w/ White + Pink Swirls
This nail design has a playful and youthful aesthetic that we are so in love with! The shades of pink are cute and girly, and the gorgeous swirl patterns make this so eye-catching. These vibrant hues are perfect for adding color to your outfits this spring.
What is used to create swirls of nail polish?
For nail DIYers, making swirls on your nails is pretty simple.
You can use nail tools such as a nail liner brush and a dotting tool, or go for nail polish with a long, thin brush (using any of these tools will help you to create beautiful swirls across any manicure)
Add swirls to any solid-colored nail or layer them on a nude nail with a glossy undercoat
And, you can use any color to paint these accents because any shade looks good in a swirl nail design
Pink Nails w/ Glitter + Swirls
Pink nails with abstract swirl designs are the perfect blend of chic and feminine. We love the way the pink glitter accents and white details pop together. Wear this mani to an anniversary dinner or a weekend getaway with your SO.

Blue + White Swirl Nails
We love the combo of solid blue nails with swirl nails. The white and blue swirl accents are so chic and eye-catching.
You can add some glitter to this look to make it pop even more, or leave it as is and wear this manicure out to grab drinks with the girls.
Pastel Rainbow Swirl Nail Design
Pastels and spring go hand in hand, making these pastel rainbow swirl nails perfect for this time of year. This vibrant look is ideal for anyone who loves a colorful and fun nail design.
Pink + Green Swirls on Almond Nails
Pink and green are a chic pairing, and this bright pink with rich dark green is so stunning! This manicure will definitely make heads turn anywhere you go, and you can rock this look anywhere from a coffee date to a night out.
Light Blue + Peach Swirl Nail Design
This is another perfect manicure if you're going for summer swirl nails. The light blue and peach pair perfectly together and definitely have a summertime feel to them.
Go for this manicure before your next day trip to the beach.

Purple Swirl Nails
Purple is a rich and elegant color, so it's perfect for a swirl nail design like this. We love the subtle shimmer in the dark purple, and you can show off this playful manicure while out and about on the weekend.
White + Black Nails w/ Swirls
We are in love with this bold swirl nail design. It's perfect for anyone who prefers neutral colors but still wants a daring design. But our favorite thing about this manicure is the different swirls and patterns; it's playful, eye-catching, and so gorgeous.
Long Rainbow Swirl Nails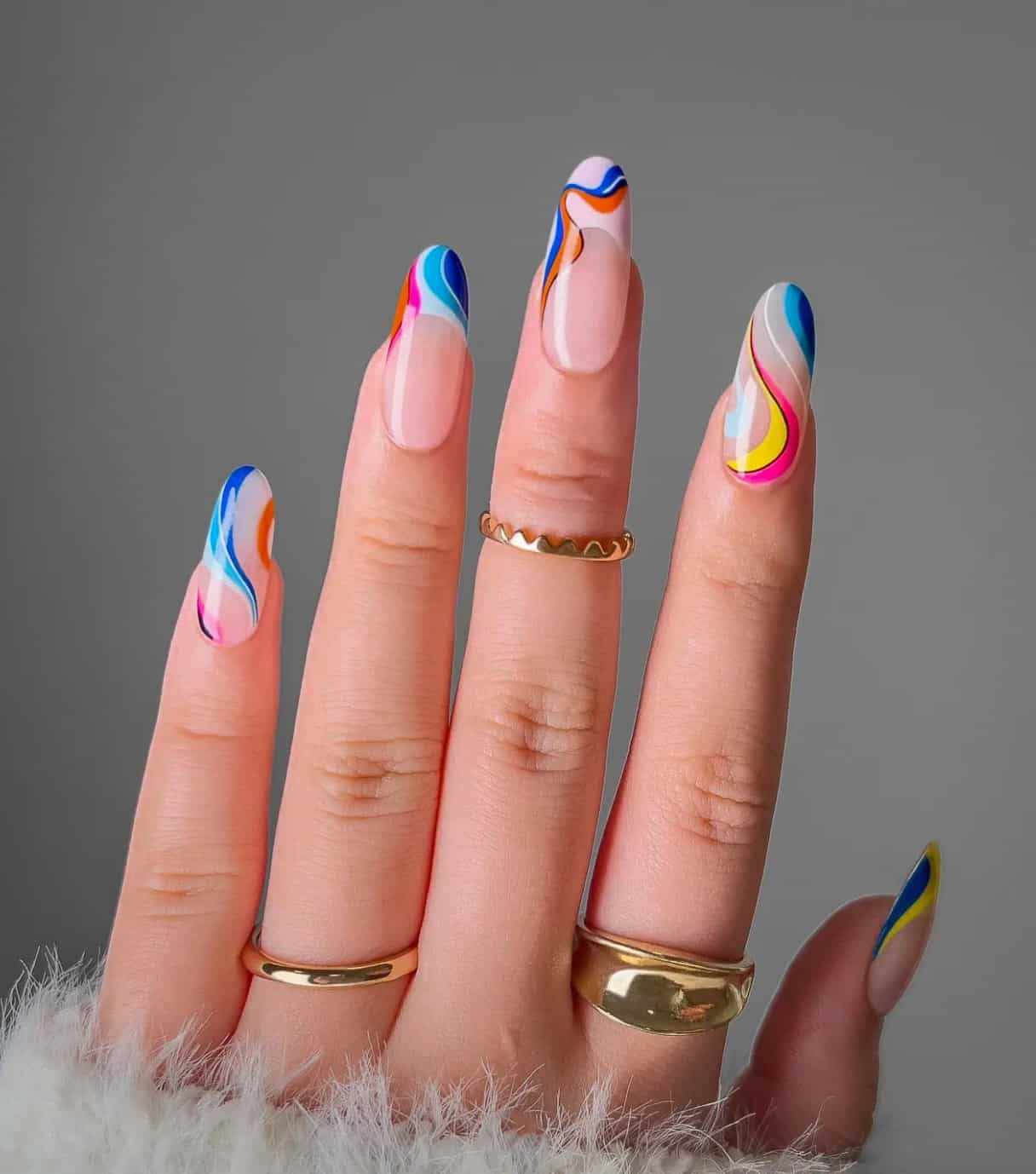 This is another stunning rainbow swirl nail design that's perfect if you're going for a retro look! The combination of colors makes this manicure really stand out, and those bright colors paired with long swirling lines definitely have a vintage feel.
Gradient Nails w/ Swirls
Gradient shades and swirl details are a combo we didn't know we needed! We love everything about this look, from the matte finish to the textured swirl accents to the rich, warm tones.
These colors would be perfect for fall or winter, although you can still wear this during warmer months for a chic neutral manicure.
Matte Pink Nails + White Swirls
We love how this gorgeous shade of pink adds a romantic feel to these nails, and the white swirls are modern and trendy. If you're looking for a classy and feminine nail design to show off, this mani is a must.
Swirl nails are so stunning, and this popular nail art trend will easily elevate any manicure. So whether you want a minimal look or an eye-catching one, swirls are a perfect way to accent your nails!
More Nail Inspiration You'll Love:
21+ Stunning Nude Pink Nails & Nude Marble Nails
27+ Perfect Summer Nails To Obsess Over
23+ Must-See 90s Nail Designs That Are Totally Nostalgic
18+ 70s Nails That Have A Groovy Yet Elevated Vibe
23+ Classic Pink and White Nails + Cute Pink and White Nail Designs
31+ Elegant Vacation Nails You'll Love For Your Next Getaway