Searching for the perfect purple and gold nail designs to try at your next mani? You'll love this list of 22+ purple and gold nails. We've included everything from floral dark purple designs to light purple marble, glitter and more!
Pretty Purple and Gold Nails You'll Love
Purple is the perfect color choice for any season when it comes to manicures. Light purple is great for spring and summer, and dark purple with the addition of gold is excellent for the fall and winter months.
If you are looking for purple and gold nail designs this upcoming season, look no further! Take a look through our favorite purple and gold nails and choose the perfect look for your next mani.
Purple and Gold Nail Designs List
Purple and gold pair perfectly together to create an elegant color combo! From florals and glitter to marble and geodes, we have the perfect look for any style.
Dark Purple and Gold Nails with Navy
We love this dark and bold color combo of navy and purple. The addition of negative space and gold foil detailing adds a classy feel creating the perfect manicure for a date night or holiday party.
Shimmering Purple Nails w/ Gold Accent Nails
This shimmering purple polish is absolutely stunning on its own but adding a touch of gold instantly elevates the design! This look is achieved using a stamp art technique creating a beautiful manicure for any occasion.
Purple and Gold Nails w/ Glitter Accents
If you're looking for a unique fall look, this is the perfect choice! From the chunky encased glitter, to beautiful purple polish and a touch of gold, this design makes for a glamorous mani that will have heads turning.
Purple Abstract French Nails w/ Gold Leaf Design
We love this twist on a traditional French manicure! The contrast between the light and dark purples creates a chic and stylish design. The addition of gold foliage is beautiful and makes this look a great option for fall!
What does purple nail polish mean on nails?
Purple nail polish is bold and expresses a sense of creativity and confidence. If you are looking to have a stand out manicure, you can never go wrong with a bold and sassy purple polish!
Abstract Purple and Gold Almond Shaped Nails
If unique yet elegant is what you're looking for, this is the perfect design for you! We love the combination of purple and gold in this manicure and the abstract accent nails adds an extra flair making this the perfect choice for a girl's night out.
Purple and Glitter Nails w/ Star Design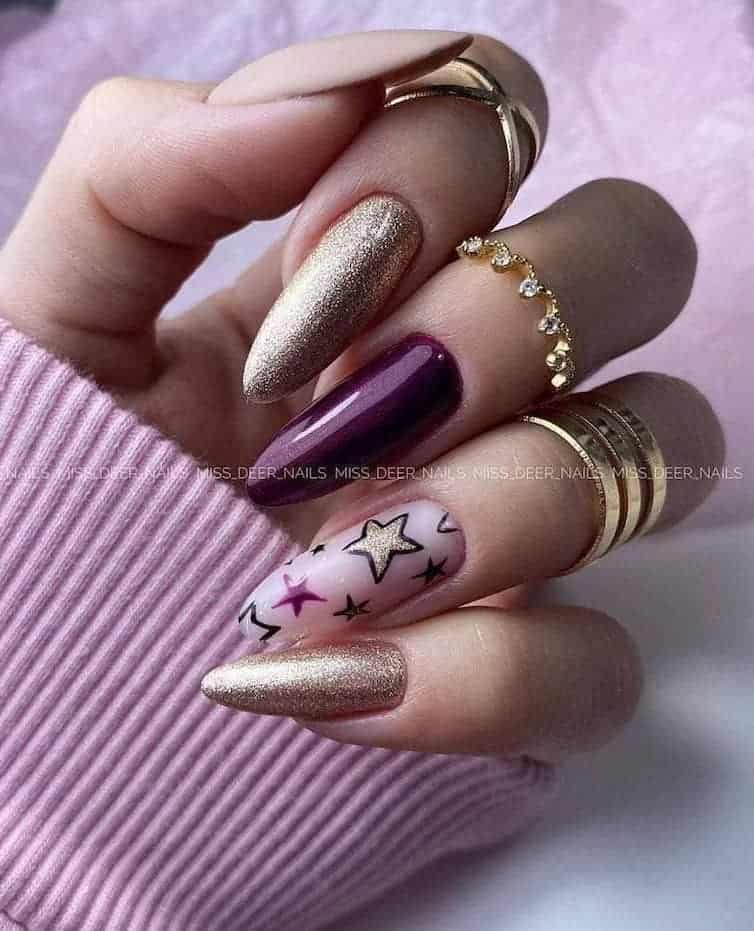 This manicure is so stunning! The deep purple and champagne gold glitter are a beautiful color combo and the addition of a star accent nail adds a fun and playful element.
Purple Marble Nails w/ Charms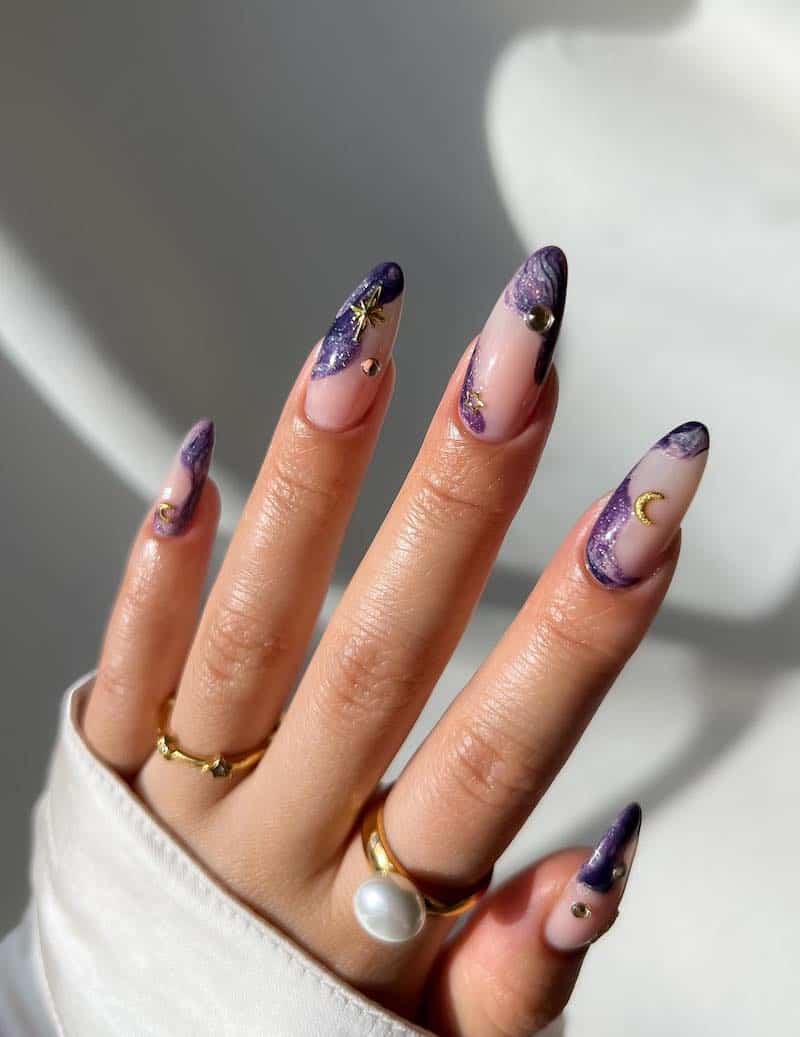 Marble nails are still going strong. We love this look with a bare nail base paired with abstract marble designs.
Adding extras like gold charms and rhinestones gives the perfect amount of glamour. And going for a medium length almond shape creates a feminine and delicate overall vibe.
Dark Purple Nails w/ Gold Split Design
We are loving this simple, yet chic nail manicure. The rich purple is elevated but the addition of a shimmering gold accent!
Going for a fun design on your natural nails is a great way to be bold and fun while remaining minimalistic.
Purple and Gold Geode Nails
An ode the geode!
These purple and gold geode nails have a glowing center surrounded with gold foil and shimmering purple to create a mesmerizing design that anyone will love.
Matte Purple Nails w/ Gold Speckles
A matte finish always exemplifies classy and chic. And we love how this artist went for a sponge paint look rather than a traditional glitter.
Are purple nails classy?
Absolutely! The color purple signifies a sense of royalty and elegance making it the perfect choice if you're going for a classy look.
Light Purple and Gold Nails
If you're looking for something a little lighter we have put together some of our favorite light purple and gold designs that you will absolutely love!
Lavender Nails w/ Chunky Glitter and Leaf Design
This white and lavender manicure is beautiful! We love the use of a chunky glitter rather than a traditional fine glitter to create a unique and bold design.
Pink and Purple Nails w/ Gold Marbling Details
This pink and purple marble design creates a feminine and romantic look that we love. The addition of gold detailing adds an extra flair and instantly elevates this manicure from simple to stunning.
Purple Nails w/ Gradient Accent Nails + Floral Designs
Utilizing multiple shades from the same color family is a great way to spice up a basic polish. Adding fun elements like gold foil and textured flowers is a great way to add some fun and flirty details to your mani.
Light Purple Nails w/ White Leaf + Gold Foil Accents
This light purple polish is stunning! We love the eye catching details such as the foliage and gold foil flakes used in this design. Utilizing both matte and glossy finishes adds a unique element that takes this mani to the next level.
Natural Nail Base w/ Purple Accents + Gold Stars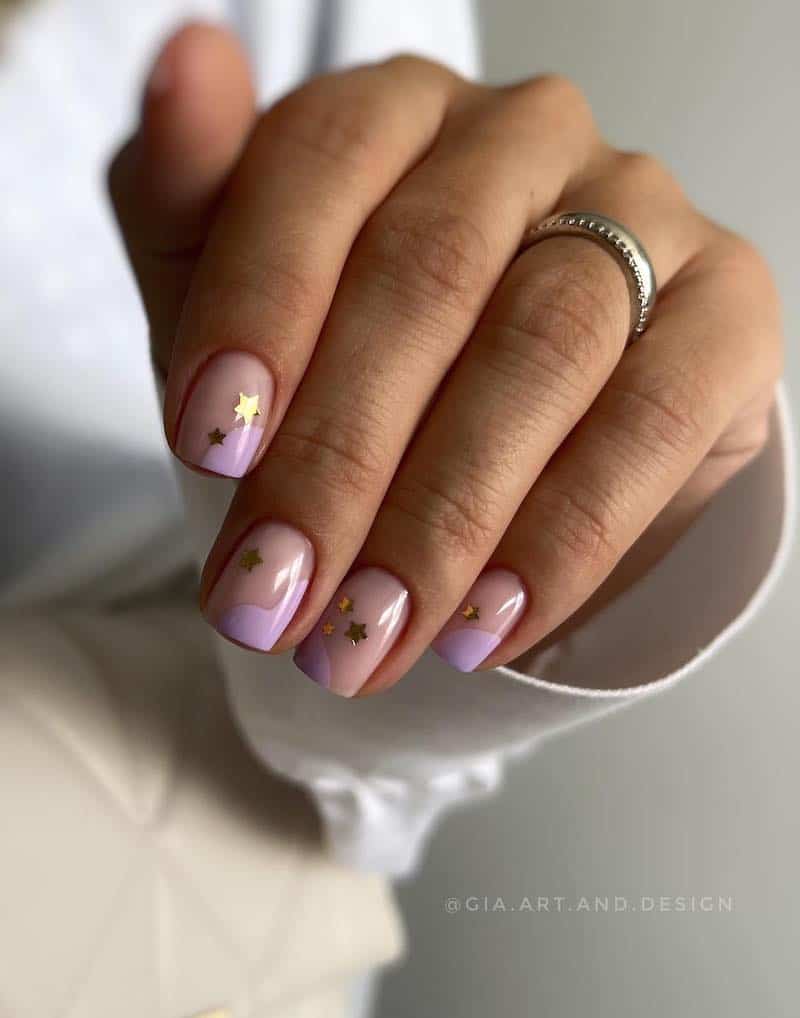 If you're looking for something simple and chic, this mani is the one. We love the combination of nude nail polish with abstract purple accents to create a minimalistic look for every day wear. Add some fun and flair to your nail designs by using nail stickers like the stars added to this mani.
Purple Marble Nails w/ Gold Foil
We love how this manicure features a marble design that doesn't cover the whole nail. This design is trendy and bold making it perfect for a day or night outfit. The use of gold foil flakes adds a sense of elegance that will be sure to be an attention grabber.
Almond Nails w/ Purple Marble + Foil
Going for a nude base polish gives this a classic look with a modern twist. We love that this design features multiple elements including a milky purple marbling outlined with thick gold foil border.
Purple Encased Nails w/ Molten Gold
A great way to get a unique nail design is by mixing fun elements like stars or hearts into your acrylic base encasing them into the nail structure. Go for a bold and glamorous look by adding 3-D nail designs like these fun molten gold waves!
Purple Water Color Nails
Spice up a classic French manicure by adding accent nails! We love this combo of pink and purple French tips paired with pretty watercolor accent nails. And the simple gold flecks add a touch of glamour.
Cat Eye Purple French Tips
The Cat Eye nail technique has become very popular in the last few years. We typically see this design on a full coverage nail so we love the use of a cat eye technique in a French manicure style like you see here.
And, including fun gold elements such as nail stickers and decals is a great way to add an extra layer of fun to your manicure!
Nails w/ Gold Outlined Purple Hearts
We absolutely love this fun and flirty design. Going for a neutral base keeps your manicure simple and natural while adding fun designs like these gold outlined purple hearts creates a feminine and delicate design that will be perfect for any style!
Purple Gradient Tips w/ Gold Lines
We love this fun twist on a classic French manicure. Going for an a-symmetrical technique instantly transforms this mani! A gradient purple palette paired with gold accents creates an eye-catching design that remains clean and stylish.
Whether you are looking for something simple or decadent designs, a purple and gold color combo is an excellent choice for your nails! We hope that you have found this helpful and you have found the perfect inspo for your next mani.
More Nail Inspiration You'll Love:
21+ *Stunning* Purple Ombre Nails To Copy