Searching for a gorgeous nail color with a cozy vibe for 2023? You'll love this list of 25+ burnt orange nails including burnt orange nails with glitter, fall burnt orange nail designs, and more!
Stunning Burnt Orange Nails
Have you been on the hunt for a chic nail color with warm and cozy vibes? Well, we have the perfect shade for you!
Burnt orange is a stunning color with an undeniable cozy feel and a seriously sophisticated aesthetic. And with fall only a few months away, there's no better time to start planning for some gorgeous autumn-inspired nail designs.
This bold shade is a must if you want to make a statement or add a pop of color to your fall wardrobe. And we've found stunning nail design ideas featuring this vibrant shade. So whether you're looking for burnt orange nails with glitter or fall burnt orange nail designs, we have a look below to inspire your next manicure!
Burnt Orange Nails Design List
These manicures are so gorgeous. Not only will they add a touch of warmth to your everyday outfits, but they'll also add a sophisticated feel that will have you looking refined everywhere you go!
Marbled Burnt Orange + Gold Details
Marbled manis are always a good choice, and this elegant shade looks stunning blended with rich shades of brown. The gold accents add another refined touch and make this nail design perfect for a family dinner this fall.
Brown + Orange Nail Design w/ White Accents
If you're looking for a unique nail design that will turn heads, this burnt orange and brown manicure is a must! We love that the white accents add a beautiful brightness that balances these dark shades without taking away from the warm aesthetic. And, of course, the French tip accent nails have a classic vibe that pairs well with this bold and modern design.
Autumn Asymmetrical Frenchies
Two-toned French tips are a simple but chic design that works with any color! This minimal mani definitely makes us excited for pumpkin patches and hot chocolate, but you can rock this look year-round for a classic and elegant look.
What does orange nail polish mean?
Orange nail polish represents warmth, fearlessness, passion, and fun! This daring nail color is perfect for someone who wants to show off their bright, bubbly, and confident personality.
Matte Burnt Orange Nails + Gold Flake Accents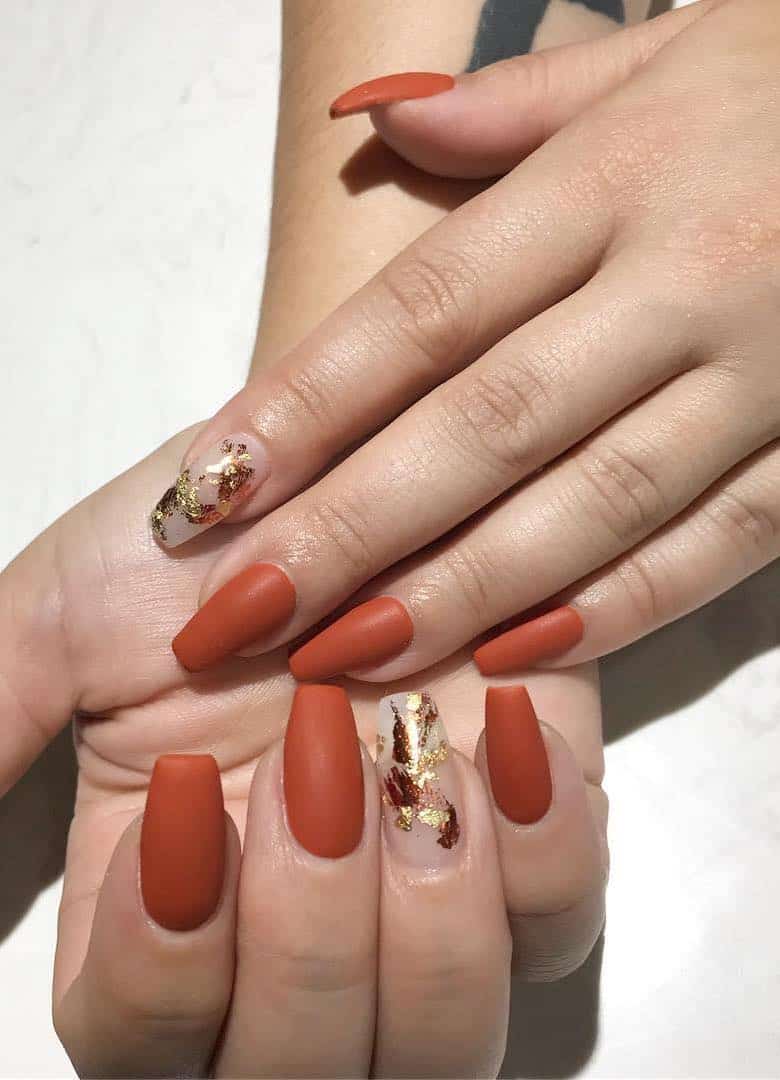 A matte finish and gold flakes are both easy ways to upgrade any manicure and give it a refined aesthetic. This nail design is simple enough to wear with everyday looks yet will still work for a formal event.
Fall-Inspired Gradient French Tips
Burnt orange is perfect for this fall-inspired gradient design! The different shades are gorgeous and rich and work well together for an alluring manicure. This is a great choice for anyone who wants a subtle pop of color.
Dark Orange & Green w/ Floral Nail Art
Dark green and burnt orange are an excellent color pairing, and the matte finish adds another layer of elegance to this manicure. The floral art accent nail is a playful addition and keeps this simple manicure looking trendy and chic!
Abstract Burnt Orange + Dainty Floral Art
White is a perfect color to pair with this shade of orange because it helps it pop so much more! The sheer, abstract burnt orange polish gives this a modern and edgy feel, while the dainty flower art adds a feminine touch that we love.
Cream, Burnt Orange + Brown French Tips w/ Heart Details
The combo of cream, brown, and burnt orange definitely gives off autumn vibes, although this gradient French tip design will work in any season. We adore the heart details on the accent nails – it's cute and playful and perfect for adding a youthful feel to this manicure.
Burnt Orange w/ Black & White Patterned Nails
Burnt orange is such an elegant shade, and pairing it with black and white allows this gorgeous color to be the star. The grid and line pattern designs give this mani a daring look, but the neutral and muted colors make this nail design perfect for anything from work to a night out!
Glossy Nude Pink, Burnt Orange + Gold Flakes
If you're looking for a nail design that's chic, modern, and feminine, these glossy nude pink nails with burnt orange and gold flakes are an excellent choice. The light pink is bright and fresh, while the burnt orange and gold details add a stylish and elegant aesthetic to this manicure.
Dark Orange + Colorful Florals
Even though burnt orange tends to have a cool-weather vibe, you can still use this color for a spring or summertime mani by adding vibrantly colored floral nail art. This nail design is bright and cheery, making it a must for anyone who wants to show off their bubbly and playful personality!
Classic Manicure w/ Burnt Orange Polish
We've said it before, and we'll say it again – you really can't go wrong with a simple and classic manicure! This color is so stunning, and opting for solid-colored nails with this chic shade will leave you with a mani that is bold, alluring, and elegant.
These are the perfect nails for a fall winery visit!
Orange, Cream & Brown Nails w/ French Tips
We have another lovely nail design with this color combo because they just work so well together! The cream nail polish adds a beautiful contrast to the richer, darker shades, while the burnt orange adds a vibrant touch to the manicure.
Burnt Orange Nails with Glitter
If you prefer a manicure that has a bit of a glamorous vibe, these burnt orange nails with glitter are for you! These nail designs are perfect if you want to have an autumn-inspired look with an eye-catching sparkle.
Glittery Dark Orange + Nude Nails
Sparkly burnt orange has such a regal feel, and we love the accent nails with glossy nude to break up this rich color a bit. You can wear this to Sunday brunch, to work, or save it for a get-together this holiday season!
Burnt Orange Polish w/ Shimmering Finish
Shimmering burnt orange and sparkling accent nails are simple but have a classic and timeless look that will work with any outfit and for any season! This is a must for anyone who loves minimal manicures that still have a daring vibe.
Getting senior pictures taken this fall? Try these nails as part of your fall senior picture outfit!
Glitter Burnt Orange Nails
A glitter topcoat is an easy way to elevate any manicure, and the sparkle on these nails will absolutely have you turning heads. You can add chunky glitter to change up this look or keep it exactly how it is for a chic and classic nail design.
Fall Burnt Orange Nail Designs
Burnt orange has serious fall vibes on its own, but you can add another layer of autumn aesthetic with these fall burnt orange nail designs! These manis are perfect to pair with pumpkin-spiced lattes and your favorite cozy sweater.
Burnt Orange w/ Green & White Nail Art
Burnt orange and leaf nail art gives off serious fall vibes, so this manicure is a perfect choice for autumn in 2023! You can rock this nail design during your trip to a pumpkin patch or an apple orchard. Either way, everyone will know you're definitely ready for fall with this stylish mani.
Burnt Orange Polish w/ Mountain Inspired Nail Art
We love a beautiful nature-inspired manicure – and this mountain-themed nail design definitely doesn't disappoint! This nail art, paired with the warm, dark colors, reminds us of sunsets behind mountains on a cool fall evening and makes us all the more ready for those relaxing autumn nights.
Is orange a fall nail color?
Orange is definitely a fall nail color.
This warm-toned shade has serious autumn vibes, making this color a must for this time of year. Whether you want to rock pumpkin nail art or you prefer a simple burnt orange manicure, you can't go wrong adding any shade of orange to your fall-inspired mani!
Tortoise Shell w/ Orange Nails + Plaid Accents
Plaid instantly gives off a cool-weather vibe, so this pattern is a top choice for an autumn manicure. The tortoise shell is a chic and trendy touch, and the colors in this print look stunning paired with burnt orange.
Dark Orange w/ Botanical Art + Gold
We love the combo of glossy and matte nails in this manicure. It's bold and eye-catching, which matches the vibes of burnt orange perfectly. The gold has a regal feel, and botanical nail art definitely works for autumn nails!
Textured Burnt Orange French Tips
Textured French tips have become a staple in fall and winter manicures. We love how they resemble cozy cashmere sweaters, and this mani has us ready for warm drinks and delicious treats! The wave details add a modern feel to the nail design, making these nails a must for 2023 – maybe as part of the perfect fall date night outfit?
Glossy Nude Nails w/ Metallic Orange Flakes
Metallic flakes are a gorgeous addition to any nail design and look stunning year-round. But these copper and burnt orange flakes definitely evoke the feeling of changing colors and falling leaves, making this manicure perfect for this time of year!
Beige, Brown & Orange Nails w/ Flowers
Beige and brown are gorgeous neutrals that look fantastic with burnt orange and add to the fall vibes of this shade. And while floral art is usually a spring and summer design, these dark, rich shades remind us of the orange and red chrysanthemums that pop up each year in autumn!
Burnt Orange, White Scalloped Frenchies + Floral Art
These flowers also add a fall aesthetic to this manicure, and this floral art paired with burnt orange instantly gives off a cozy, cool-weather vibe! The scalloped white Frenchies add a pop of brightness and a feminine, romantic feel that makes this nail design so unique.
Dark Orange w/ Leaf Nail Art + Shimmering Polish
This dark orange and shimmering copper polish is another color combo perfect for fall. Black leaf art is fantastic for a cold-weather mani, and we love the abstract details for a fun yet chic nail design!
Burnt orange is a seriously gorgeous shade that can easily elevate your style! And, of course, this color is a must for chic autumn nails. Whether you like short and simple nails or sparkly and glamorous designs, you can't go wrong with adding this beautiful shade to your fall-inspired manicures.
More Nail Inspo You'll Love:
26+ Perfect Pumpkin Nails To Obsess Over This Season
23+ Fresh Fall Ombre Nails To Inspire You
27+ Brown Nails That Are Anything But Basic
21+ Rose Gold Burgundy Nails That'll Make You Love This Color Combo
27+ Stunning Forest Green Nails To Obsess Over
25+ Beige Nails That Are Anything But Bland