Looking for the perfect green fall nails? You'll love this list of fall green nails including sage green, forest green, and olive green fall nails to elevate your style!
Gorgeous Fall Green Nails
When it comes to fall nails, we know that brown and burnt orange are common choices. But in our opinion, green is a completely underestimated fall nail color! Going for a green polish is a great way to bring an earthy vibe to your style and create a stunning manicure for the fall season.
Green Fall Nails List
Whether you are looking for simple and chic or bold and glamorous, we have a nail idea to fit any style! Covering everything from classic French manicures to abstract nail designs, you're sure to find the inspiration for your next nail appointment in our fall green nails list below.
Matte Green Nails w/ White + Gold
This manicure is absolutely stunning! We love the combination of light green and bright white paired with gold accents. And, going with a matte finish always add an extra element of chic.
Cat Eye Forest Green Nails
The cat eye technique is so alluring and we are here for it! This deep green cat eye design is stunning and perfect for the fall (and winter!) season. We could totally see this mani for a date night or a night out with friends.
Glossy Dark Green Nails w/ Gold Flakes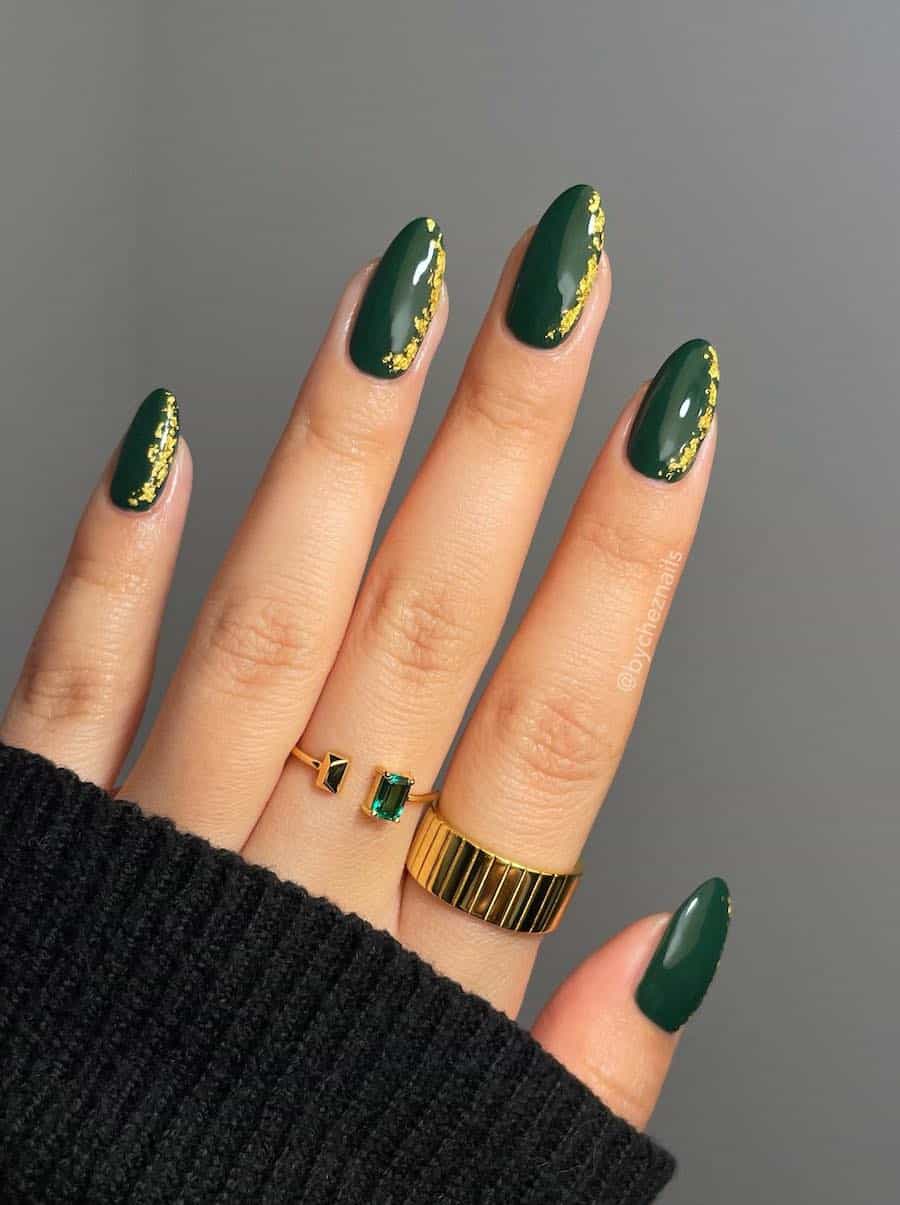 It is amazing how the addition of gold instantly adds a layer of elegance to a manicure. This glossy green polish paired with gold foil flakes is perfect for any occasion from brunch with the girls to a work meeting at the office.
Brown + Green Almond Nails w/ Waves
This mani is screaming 90s vibes and we absolutely love it. The fall color palette brings a Y2K-inspired feel to this design and the wavy nail art is a fun and playful element.
Is green a fall nail color?
The color green is an excellent choice for fall. Opt for dark shades like forest green, or go with emerald green for an elegant vibe. Alternatively you can go with light sage green or earthy olive green. Whatever shade you choose, green is great for autumn.
Shimmering Green Nails
The shimmering gold in this green polish instantly takes this design from basic to brilliant. We love this look on its own but you could add leaf nail art or cute charms if you are looking for a more lavish design.
Bare Nails w/ Green Foliage + Gold Accents
The stunning foliage and gold accents creates a chic and stylish design perfect for Thanksgiving. We love the combo of deep green and the bare nail look to create a whimsical aesthetic!
Natural Nails w/ Gradient Leaflets
If you prefer a more natural nail look, this is the one for you! We love this simple and minimalistic design for every day nails. And the use of a green gradient in the nail art gives this manicure an eye-catching element!
Gradient Green Coffin Nails
Going for a gradient nail design is a great way to keep your manicure interesting in the fall. This green palette is so pretty yet still subtle.
If you want to add a little something extra, try adding white nail art or gold dipped French tips.
Green Nails w/ Negative Space + Speckles
Utilizing negative space is a great way to add a light and natural feel to a nail design. We love the contrast of both dark and light green in this manicure.
And, the use of both glossy and matte finishes adds a unique touch, making this design perfect for any fall occasion.
Green French Tips w/ Mushroom Accent
You can never go wrong with a classic French mani! We love how this nail artist used a gradient effect to add an eye-catching touch to this design. And the addition of mushroom nail art brings in a playful element, making this mani perfect for fun fall activities with the family!
Green + Tortoise Shell Nails
The use of green and brown in this design makes it an excellent choice for fall. The tortoise shell technique adds a chic and sophisticated element making this mani a beautiful option for the office.
Short Green + White Nails w/ Marble Accents
Marble details are a great way to push your classic manicure to the next level. And we love the addition of gold flakes with the sage green for an elegant and luxurious touch!
Matte Beige + Sage Green Nails
These earthy tones make for a beautiful nail design for fall. We love the addition of both gold and silver metallic foil that takes this mani to the next level!
Deep Green + White Nails w/ Watercolor Accents
The strong contrast of green and white on opposite hands instantly makes for a head-turning design. The watercolor accents paired with abstract black speckles is unique and modern. Wear these nails for a fun day out with the family.
Wavy Green, Gold, and Nude Nails
Using a fun abstract design is a great way to instantly elevate a simple manicure. We love the use of neutral and earthy tones paired with gold wavy accents for a chic and stylish design.
Glossy Green Nails w/ Asymmetrical French Accents
We are so in love with these stunning green nails! They have a clean and modern design with a unique twist.
Green Pumpkin French Tips w/ Gold Accents
Heading to the pumpkin patch? Try these!
We love the use of green rather than the classic orange for the pumpkins as it adds a unique twist. The pumpkin frenchies are cute and playful making them the perfect mani for a day pumpkin picking.
Dark Green French Tips
This gorgeous deep shade of green has an earthy vibe that we love. A classic French tip is always a great choice and the addition of gold foil flakes adds a pop of elegance that takes this mani to the next level!
Green Nails w/ Orange Accents
This green and orange color combo is giving major fall vibes! And a great way to add an earthy feel to any manicure is by adding dainty floral or leaf details.
Olive Green Fall Nails
Olive green is an excellent choice for the fall season. Take a look at these gorgeous olive green fall nails to give you some inspiration for your next trip to the salon!
Matte Olive Green Gradient Frenchies
Go for something simple and sensational with this classic green gradient French manicure. This nail design has a chic and stylish look that will pair perfectly with any outfit this fall season!
Matte Olive Green Nails w/ Abstract Art
Abstract nail art is the perfect way to add a special flair to a solid-colored mani. We love the dainty and feminine feel of the art, and the matte finish gives it a refined feel perfect for any occasion.
Olive Green Nails w/ Tortoise + Speckled Accents
We are obsessed with this stunning nail design! The combo of the earthy, neutral colors and tortoise shell makes this mani perfect to pair with any neutral fall outfit!
Matte Olive Green Almond Shape Nails
This stunning olive green is perfect for a classic and timeless fall manicure. Going with a matte finish adds a sophisticated feel that we love for an every day fall nail look.
Olive Green Fall Nails w/ Gold Flakes
Thanksgiving nails? We think so!
Olive green is a stunning color on its own and we love how it shines as the star in this nail design. And adding a simple touch of gold foil brings in an elegant touch.
Olive Green Nails w/ Floral Nail Art
If you want to add a cute touch to your classic manicure, go with a dainty and feminine floral design. We love the use of neutral colors with the olive green base that instantly creates a woodsy feel!
Matte Olive Green Nails w/ Gold + Navy Art
This green and navy color combo creates an unexpected, yet beautiful design for fall. The navy adds a bold feel, while the olive green is earthy and whimsical. And we love the pops of nude pink and gold details.
No matter which fall green nails idea you go for, any of these options will have eyes drawn to your hands this season. We hope that this list has given you the inspo that you need to go for an earthy vibe at your next nail appointment!
More Nail Inspiration You'll Love:
27+ Stunning Forest Green Nails To Obsess Over
19+ Gorgeous Olive Green Nails
17+ Sage Green Nails To Inspire Your Next Manicure