Looking for rose gold and burgundy nails to elevate your look? You will love this list of 21+ stunning burgundy and rose gold nails including burgundy and rose gold ombre nails, nails with glitter, marble detailing, and more!
Gorgeous Rose Gold Burgundy Nails
Are you searching for the perfect color combo to elevate your next manicure? Look no further!
The fall and winter seasons are the perfect time to embrace dark, vampy colors, like burgundy! And, adding in a color like rose gold creates a breathtaking combo that has a little glamour.
Whether you're searching for cute and girly or something bold and elegant, our list features a nail design for everyone.
Burgundy and Rose Gold Nail Ideas
This beautiful color combo is versatile enough for a variety of occasions. We have included a number of designs, styles, and aesthetics to ensure you have the perfect inspo for your next mani appointment!
Burgundy and Rose Gold Nails w/ Floral Accents
If you are looking for feminine burgundy nails, this design it is! Featuring a mix of burgundy and rose gold with white glitter and floral details, we love the romanticism of this look.
It would be the perfect choice for a fall date night!
Burgundy Nails w/ Glitter and Waves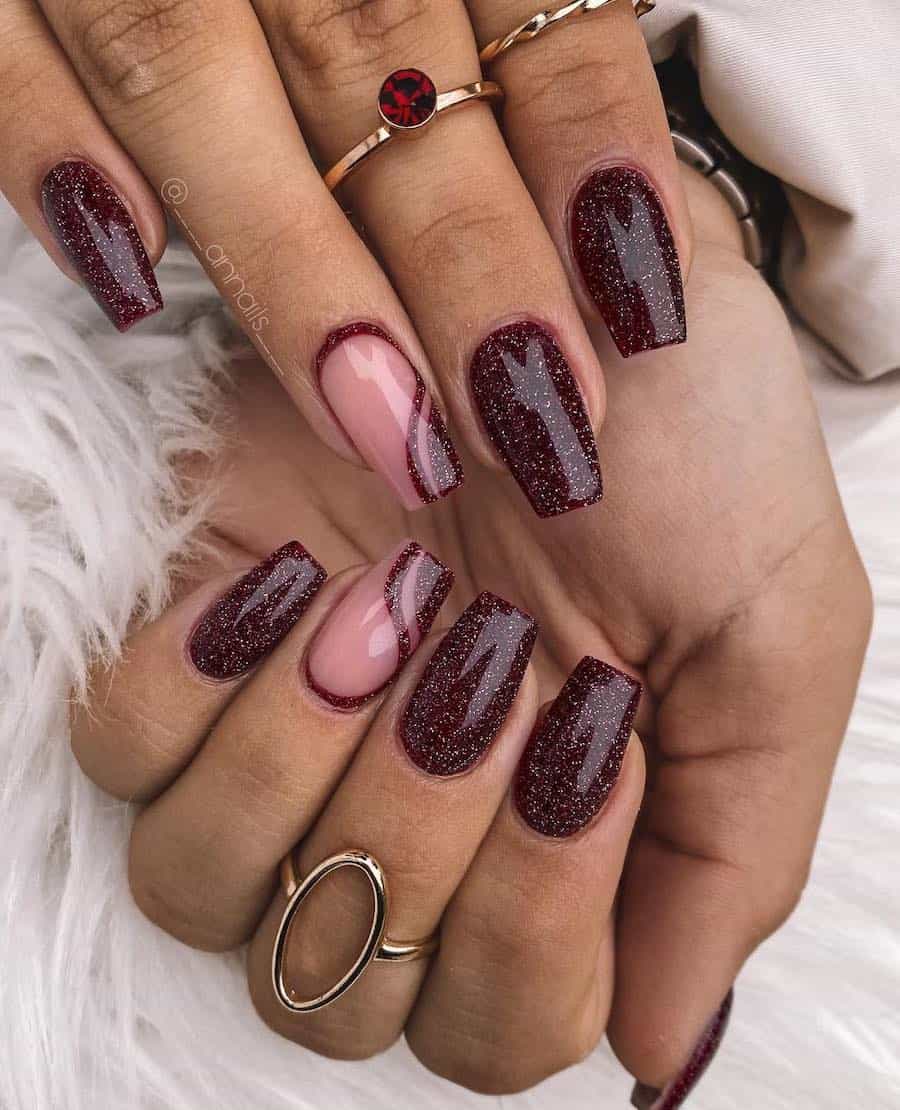 If you're worried about burgundy looking too dark, a great way to balance the hue is by creating negative space in your nail design. We also love the addition of a glitter top coat to add a girly and feminine touch.
What nail color goes with rose gold?
Rose gold has become a popular color in many aspects of fashion over the years whether it is jewelry, makeup, or nail colors. While rose gold and burgundy are absolutely stunning, burgundy isn't the only color that goes great with rose gold. Other popular colors include:
blush pink
light purple
ivory or white
cream
black
soft grey
smoke blue
Burgundy Nails w/ Glitter + Rose Gold Flakes
We love the variety of techniques used in this manicure. From the French tips, glitter accents, and rose gold foil flakes, this combo creates a jaw-dropping look that would be perfect for any formal occasion.
Burgundy and Rose Gold Ombre Nails
Ombre manicures have become very popular over the years and rightfully so! The ombre manicure is subtle and in our opinion, a beautiful twist on the classic French manicure.
Burgundy and Rose Gold Ombre Nails w/ Animal Print
This nail design features a burgundy base with rose ombre and rose gold glitter. We love the addition of animal print to add a variety of textures to this design!
Burgundy + Gold Nails w/ Ombre Stripe Detail
Adding a full glitter nail can elevate a simple manicure. Also, the addition of an ombre nail stripe adds a fun detail to this elegant look. While this nail design features a standard gold glitter, you can easily switch to rose gold.
More Rose Gold and Burgundy Nails
Whether you are looking for floral details or marble designs, we have plenty more beautiful burgundy and rose gold nails to share with you!
Burgundy Nails w/ Geometric Nail Design
Adding a geometric design to a simple manicure takes your look from basic to brilliant!
We love the combo of classic burgundy polish with metallic rose gold. A design like this will keep your nails looking fresh and modern.
Burgundy and Rose Nails w/ Gold Flakes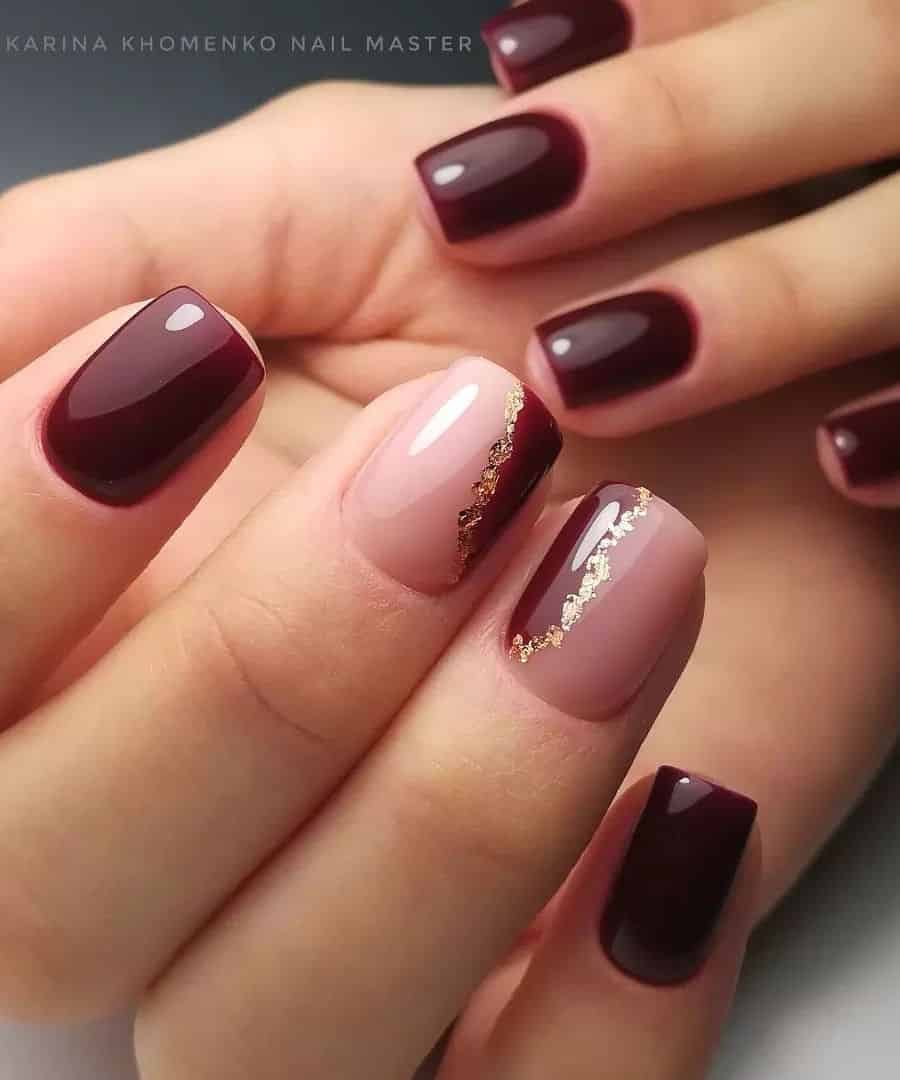 The addition of gold foil is a great way to instantly elevate any manicure. We love how this artist used foil to create a thin border between the burgundy and nude pink. While these nails feature classic gold foil, we know they would look just as beautiful with rose gold foil in its place.
Nude Nails w/ Burgundy + Rose Gold Waves
Burgundy and rose gold waves make for a fun and youthful vibe. This manicure combines the two colors without either being too overpowering.
Burgundy + Rose Gold Mani w/ Chain Detail
We love how this nail design has the perfect balance of burgundy and rose gold. We love the extra glamour with the chain and rhinestone details. This manicure would be perfect for a holiday party or event.
Are burgundy nails elegant?
The burgundy color is rich and deep, symbolizing wealth, prosperity, and ambition. So it's no surprise that Burgundy is an elegant color for nails and lends to a royal aesthetic. This rich hue is often used in weddings and for romantic occasions, making burgundy nails an excellent choice for an elegant event.
Glossy Burgundy Nails w/ Rose Gold French Tips
If you're looking to add a little flair to your mani, consider a bit of rose gold glitter. We love these classic burgundy polished nails with rose gold glitter French tip accent nails. This look is chic and elegant, making it an excellent choice for everyday wear during the winter months.
Burgundy + Rose Gold Glitter Nails
If you're looking for an eye-catching manicure, go for burgundy and rose gold glitter. We also love the addition of glittery mauve nails to create a jaw-dropping color combo.
Cream + Burgundy Nails w/ Gems
Pairing matte neutral nails with a glitter accent creates a striking contrast for this manicure. We love how the bird and tree design shows the true beauty of nature for the fall and winter months.
Of course, if you're looking for a little extra glitz and glam, add gems and rhinestones!
Gradient Burgundy + Rose Gold Nails
Using colors in the same family to create a gradient manicure is the perfect way to achieve a fun and playful design. Burgundy is a beautiful color, particularly paired with other shades of pink like mauve and blush.
And adding a rose gold glitter accent nail is the perfect way to add an extra special touch!
Matte + Glossy Burgundy Rose Gold Coffin Nails
This burgundy mani has a rich and elegant vibe, and the addition of rose gold glitter pushes the aesthetic to the next level. These nails would be perfect for your next special occasion.
Burgundy Nails w/ Rose Gold + Black Waves
We cannot get enough of this stunning mani! The rich burgundy polish paired with fine rose gold and black line detailing creates an abstract, jaw-dropping design. It's definitely our favorite on the list!
Burgundy + Rose Gold Mani w/ Gold Flakes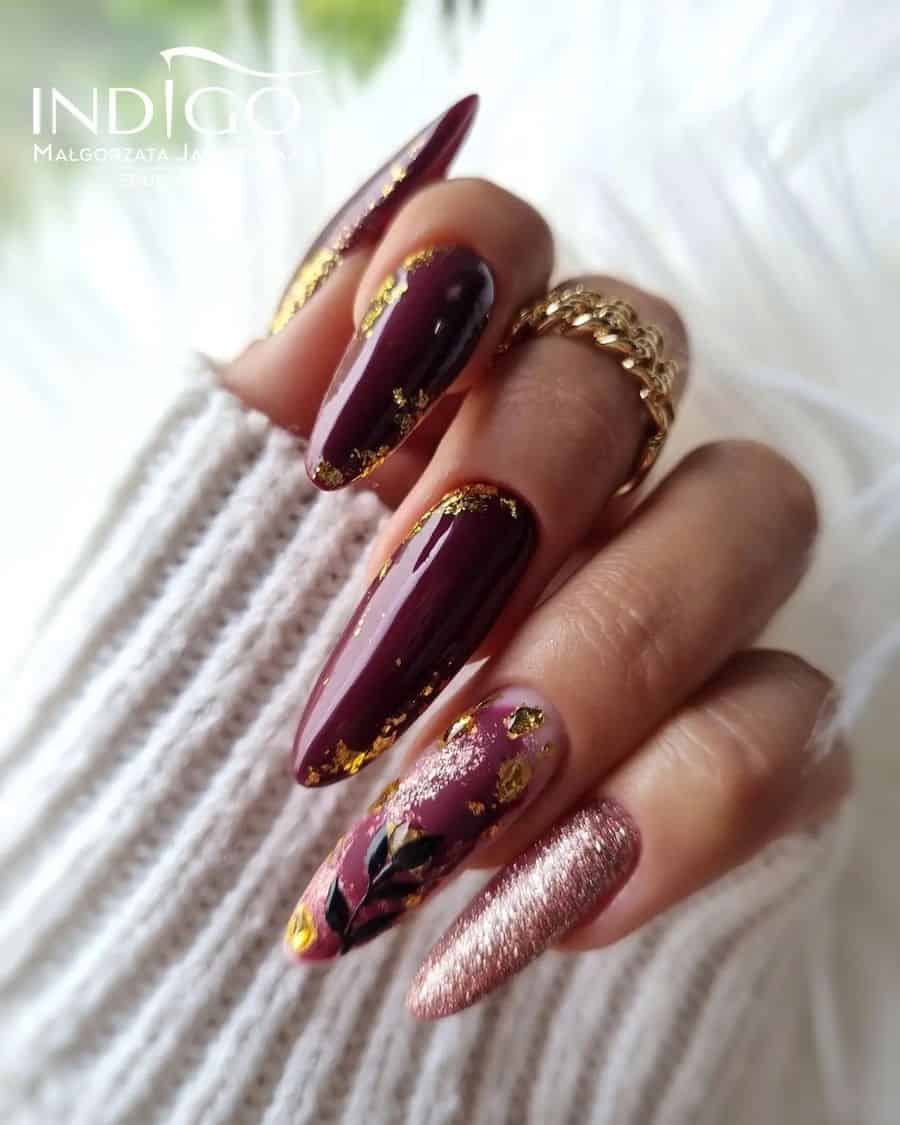 The combination of burgundy, gold foil, and rose gold glitter will have you feeling and looking like a goddess. Everything about this burgundy and rose gold mani is rich and luxurious!
Classic Burgundy Mani w/ Glitter Overlay
If you prefer a minimalist manicure, this is the one for you. We love the pearlescent burgundy and rose gold glitter top coat. This mani is a great choice for everyday wear, particularly during the fall and winter seasons.
Burgundy Coffin Nails w/ Rose Gold Stripe
If you're searching for a manicure that is elegant yet simple, we have found the perfect option for you. A glossy burgundy polish paired with a rose gold metallic stripe creates a stunning aesthetic.
This look is the perfect fit for a holiday party at the office or with your loved ones!
Burgundy Nails w/ Foil Marble Detailing
The marble nail technique has become extremely popular in the last few years and it works so well with this manicure. The burgundy polish paired with rose gold foil and white marbling creates a stunning design that is rich and elegant.
Burgundy Nails w/ Gold Flakes + Marble Details
Next is another marble look we just had to include. This burgundy polish is rich and moody and paired with the rose gold foil, the combo creates a stunning aesthetic!
We would totally choose this mani for a night out during the holiday season.
Glossy Burgundy Nails w/ Gold Florals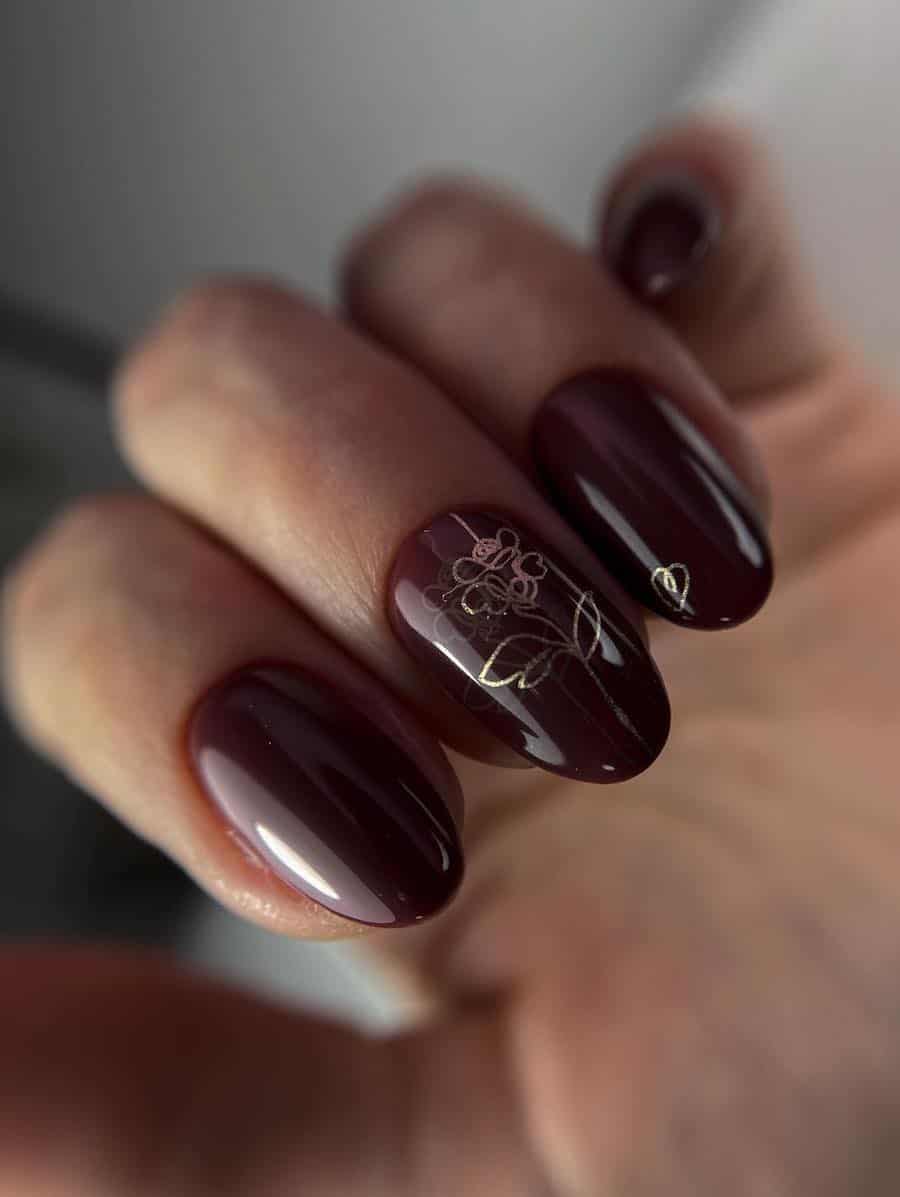 We love the simplicity of this manicure with almond-shaped nails. The rich burgundy and simple rose gold flower art has a feminine yet subtle vibe. This nail design is simple and chic, perfect for everyday wear.
We hope you have been inspired by these stunning burgundy and rose gold nail designs for every day or a special occasion. Be sure to follow the links below for even more nail inspiration!
More Nail Designs You'll Love:
22+ Purple and Gold Nails With An Elegant Appeal
21+ Stunning Mauve Nails With A Feminine & Youthful Vibe
31+ Most Aesthetic Nails We've Seen Yet