Wondering what to wear with velvet pants? I've got you covered! See 15+ chic velvet pants outfit ideas including black velvet pants outfits, colored velvet trousers styling, and cute velvet leggings outfit ideas!
*this article contains affiliate links*
What To Wear With Velvet Pants
Velvet is one of the most fabulous fabrics to wear during the colder months. The luxe material feels smooth and silky, so it's comfortable to wear day to night and has a beautiful luster that adds a soft texture to any outfit.
Even better, you don't just have to reach for velvet during the holidays—this plush fabric can be worn for every day, too (read on to see the cute velvet leggings outfits I styled!).
If you're thinking of adding velvet back into your wardrobe, the easiest way is with velvet pants. Whether you go for black velvet trousers or a comfy pair of leggings, I promise you'll feel so comfortable and gorgeous that you won't want to take these pants off.
Are velvet trousers in fashion?
Velvet has gone in and out of style for decades. But the verdict is in: velvet trousers are in style for 2023 and 2024. Marie Claire's trend forecasters have spotted this lavish fabric all over the runway, making velvet one of the year's biggest fashion trends.
Another way I confirmed that velvet trousers are still in fashion was by browsing the Net-a-porter website that currently features some really gorgeous velvet pants outfit ideas. And they know what's what when it comes to being on trend.
Velvet Leggings Outfit Ideas
Lucky for me (and you!) Spanx carries the comfiest velvet leggings, and I've created some cute looks with these pants to get you started on my list of velvet pants outfit ideas.
Plaid blazer + ballet flats.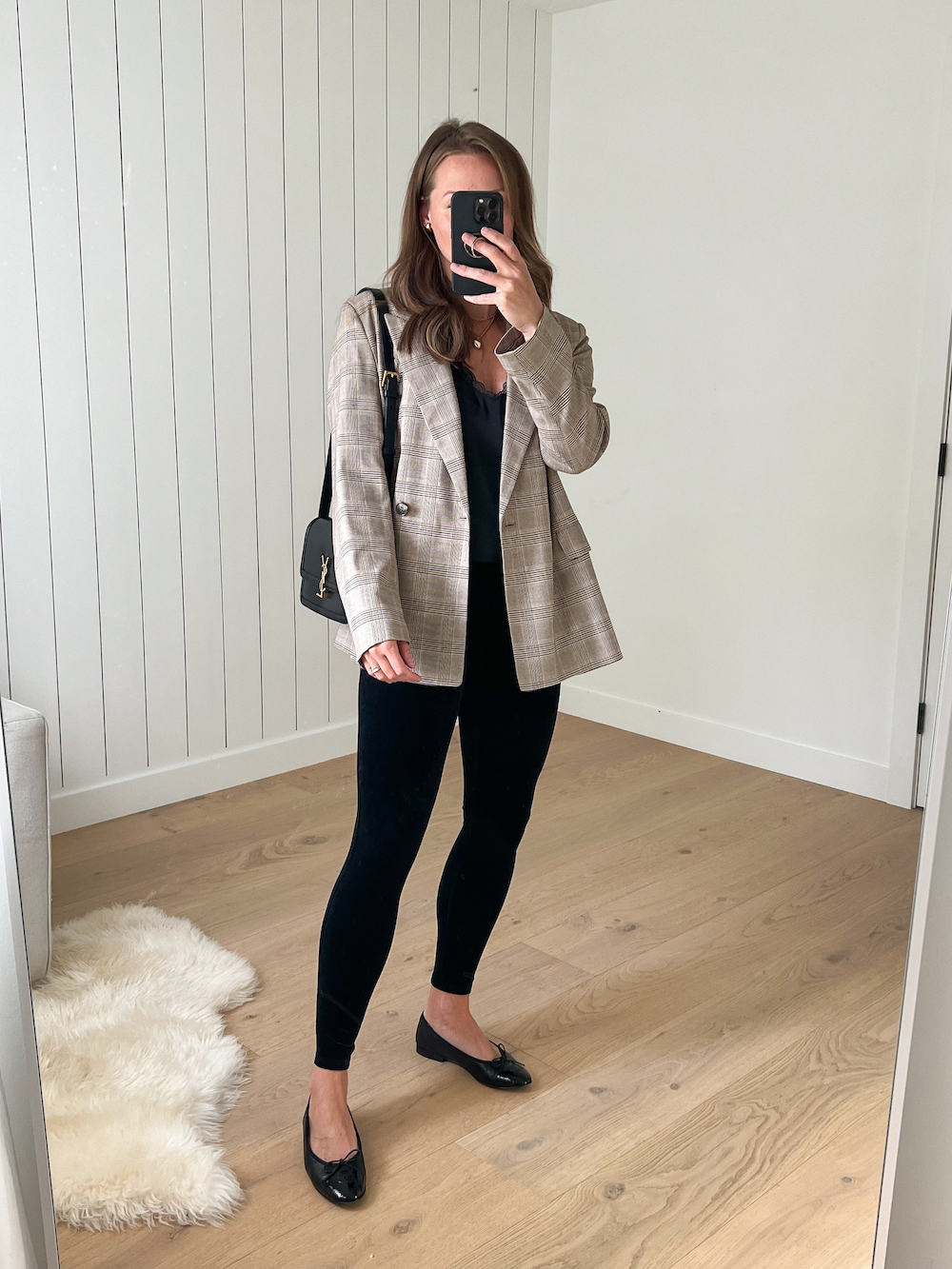 get the look:

These black velvet leggings function just like normal leggings but with an elevated twist.
In this outfit, I've paired a black cami with a plaid blazer and ballet flats to complement the velvet pants and make the outfit feel extra feminine.
I chose to accessorize with an on-trend shoulder bag and dainty jewelry. With this outfit you're ready for work, a day of window shopping, or lunch with your besties.
Sweater, leather jacket + boots.
get the look:

My next outfit combination is effortlessly cool. I paired the black velvet leggings with a roomy Vince turtleneck for a cozy feel.
From there, I added my favorite Quince leather jacket with Poppy Barley Western-style boots for an on-trend blend of textures.
This velvet leggings outfit is ideal for daytime occasions when I want to feel comfortable but chic. If I wanted to dress this up for nighttime, I'd put on a pair of heeled black boots instead, and swap the leather jacket for a long wool coat.
Cozy knit + flats.
get the look:

My next velvet leggings outfit has ballet core written all over it. Plus, it's super easy to recreate!
I paired a cozy gray Vince turtleneck sweater with the Spanx black velvet leggings and completed the look with my absolute favorite YSL bag and Chanel ballet flats (and I've linked budget-friendly alternatives above!).
I'd wear this combo for a fall brunch, to church, or for a casual holiday (Thanksgiving or Christmas) gathering. And to take this look from day to night, I'd simply change out the flats for a pair of black suede pumps!
Sweater + chunky boots.
I also wanted to share this chic velvet leggings outfit from @nickievu.
If your leggings are black, consider going for a monochromatic look like this. By wearing an all-black look, the leggings don't stand out too much. Rather, they add interest and a bit of texture to the overall look.
The real statement in this ensemble comes from the chunky boots. I love that Nickie went with a bold oxblood color perfect for fall and winter. A black, gray, or dark green chunky boot would also look fab!
More Chic Velvet Pants Outfit Ideas
There's so much amazing outfit inspiration on Instagram, I had to look to see how others were styling velvet pants too. Below I'm sharing my top picks to inspire you too!
Bold blouse + pumps.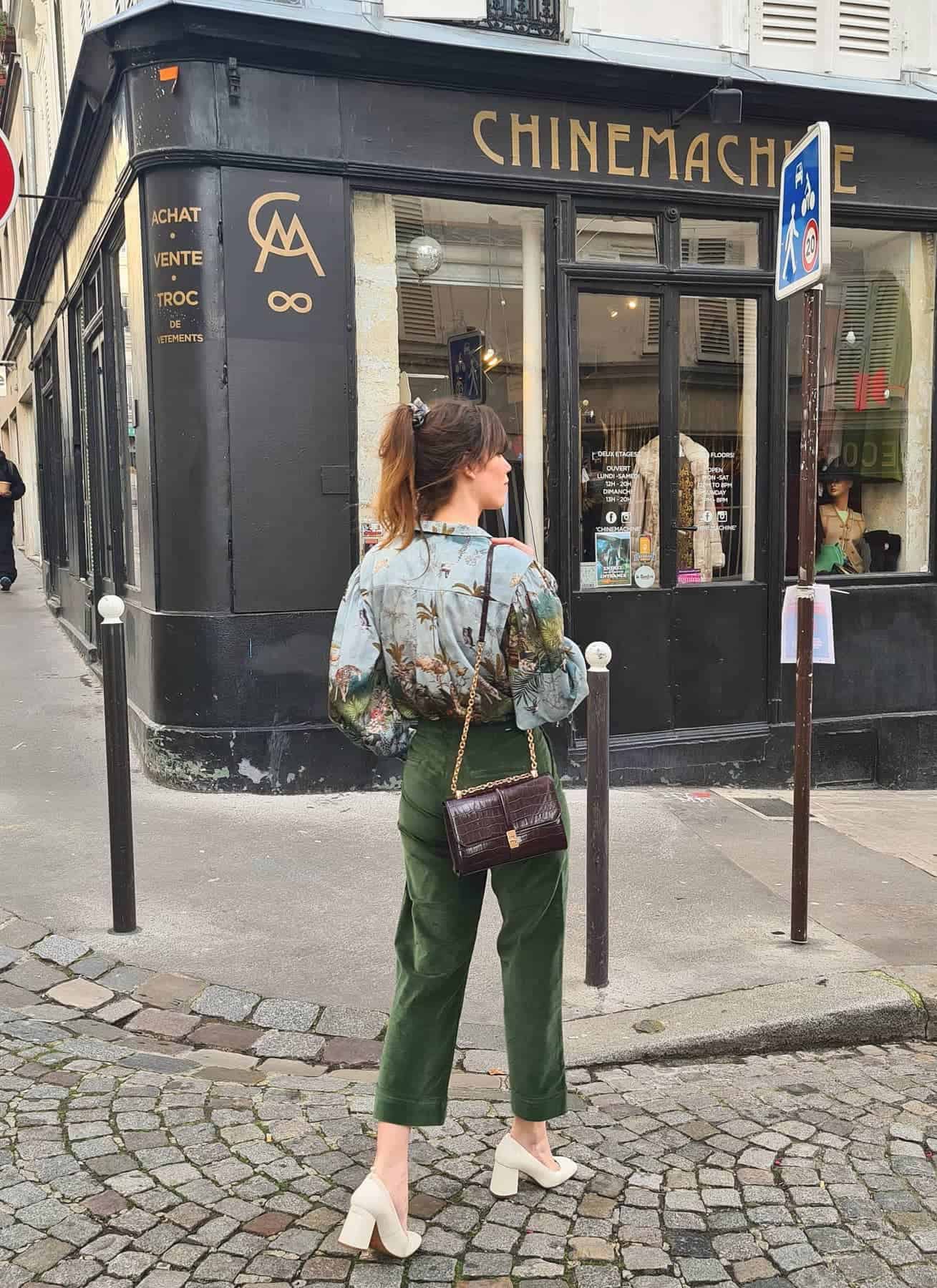 This velvet pants outfit is a masterclass in color coordination—and I can't get enough! Jewel-toned emerald green pants play into the decadence and royal history of the fabric.
This printed silk blouse highlights the color of the pants, shoes, croc-embossed bag, and even her scrunchie proves that velvet isn't just for Christmas parties.
You can incorporate velvet into your outfits all year round for a chic, timeless look.
Graphic tee + velvet trousers.
Need more ideas on what to wear with velvet pants? Fashion girlies, take notes!
This street style look strikes a fabulous balance between fancy and laid-back. Velvet pants make any look dressier, so pairing them with more casual pieces is a great way to dress them down.
I'm swooning over these bronze crushed velvet trousers. Their baggy and oversized silhouette perfectly matches a graphic tee or sweatshirt.
Finish the look with your favorite bag and leather boots just peeking through underneath the pants. Add a puffer coat if it's cold, and you're ready to go.
Matching velvet suit

.
If I wanted to be the chicest woman at any event, I'd go with this outfit. A matching velvet suit is one of the easiest (and most elegant) ways to wear velvet, in my opinion.
I love that this tailored set comes in a dark gray color that feels modern and softer than an all-black look.
This belted velvet blazer works beautifully as a top all on its own, with a lace bralette peeking through. But you can also keep your velvet blazer open with a chic turtleneck bodysuit underneath.
If your suit is cool-toned like this one, accessorize with silver and diamond-encrusted jewelry.
Bonus – the blazer and trousers look good on their own, too! I would deconstruct this suit by pairing the velvet blazer with jeans or the velvet trousers with a crisp white tee.
Red velvet pants + statement top.
If you are looking for holiday-inspired ideas on what to wear with velvet pants, this look is for you.
These cranberry red velvet pants give me all the festive feels. While the top intricately blends mesh and velvet florals for that extra something special. The pairing of the two is a match made in style heaven.
I also love the metallic heels that finish off this look. An ode to one of 2023's top trends.
Brown velvet pants + black ribbed knit.
get the look:

This Net-A-Porter velvet pants outfit combines my two favorite neutrals: black and brown.
The wide leg pants are made of the lushest chocolate velvet, adding depth to even the simplest outfit.
The trousers' dramatic shape and floor-sweeping length have a '70s vibe that meshes perfectly with ankle boots. And I love that the look is finished with a chic ribbed knit sweater from Khaite, for a high-fashion look ideal for the office or cocktail hour.
If Khaite isn't in your budget, don't fret! I've found this great look-alike top at H&M!
Oversized blazer + straight leg velvet pants.
I've been noticing that red is everywhere this season. And what better way to add the it-girl color into your wardrobe than with red velvet pants?
Above is another stylish take on chic velvet pants outfits. The oversized plaid blazer adds a polished pop of pattern layered over a lace top.
Velvet is an eye-catching fabric but layering it with other patterns and textures makes it feel less bold in my opinion.
Drawstring pants + tank top.
Next up, these drawstring velvet pants have a sweatpants look that instantly makes me think of a casual vibe.
But this outfit shows that you can still dress them up with a chic turtleneck or knit tank top and luxe accessories, like Chanel-inspired flats.
I consider them fancy sweatpants that are insanely comfy but look amazing with heels!
Cropped velvet pants + ankle boots.
I'm sure you're with me on this, but doesn't the deep maroon color of these velvet pants give *chef's kiss* for fall and winter? Plus, they look ultra-chic paired with black and other pops of red.
Cropped velvet pants can be styled with blazers, oversized sweaters, or ribbed knits like the one shown. And to keep your legs looking long, wear them with ankle boots that hide below the pant leg or show just a sliver of skin.
Can you wear velvet pants to work?
Absolutely. Velvet is chic and formal, so it is a perfectly appropriate fabric for work. To style your velvet pants for work, pair them with silk tops, blouses, and sweaters.
Another office-friendly outfit is tucking a simple tank top or cami into your velvet pants and adding a blazer on top.
Black Velvet Pants Outfit Ideas
If you are all about black, you'll love the outfits I'm sharing below featuring simple yet sophisticated black velvet pants.
Tweed blazer + sling-back heels.
get the look:

Velvet pants are not only stylish for holiday events or strolling around city streets, but they're fabulous workwear pants, too.
This outfit from Net-A-Porter features slim-leg velvet pants with a high-rise waist and slightly cropped cut just above the ankles. I love how they look with the sling-back heels for an elongating and flattering effect.
The tweed blazer creates a look that's professional and chic. And the black-on-black adds to the overall elegance.
I'd wear this black velvet pants outfit for a day at the office, and think it would also transition seamlessly to after-work dinner and drinks.
Velvet jumpsuit.
The holidays are the perfect time to rock a velvet jumpsuit. I'm fully obsessed with the Saloni jumpsuit in this outfit because of its head-turning embellishments. No need for jewelry! This look has enough bling on its own.
The best part? Jumpsuits are a one-and-done outfit. So all you have to worry about is finding a cute pair of shoes to wear with it. Hint: Pointed-toe pumps and kitten heels are a timeless option.
Oh, and in case you gasped at the Saloni jumpsuit price, not to worry – here's another chic velvet jumpsuit I found at a great price point.
Cozy turtleneck + wide leg velvet pants.
get the look:

Most velvet pants are crafted from cotton, so they're inherently luxurious and comfortable. Keep the cozy vibes rolling by pairing your velvet pants with a turtleneck sweater like in this Net-A-Porter outfit.
Wide leg black velvet pants, like the ones shown, help create an hourglass shape that is flattering on all body types. And I recommend you stay true to size with these pants and keep the hem at floor-length to ensure they look tailored.
Finish with leather accessories like this chunky Khaite belt to cinch your waist and a slouchy shoulder bag to fit all your essentials. I'm head over heels for this Toteme shoulder bag!
Cardigan, velvet pants + heels.
This black velvet pants outfit is one all women can pull off, and is on my list to recreate STAT!
All you need to recreate the look is a pair of black wide-leg velvet pants—this style is so versatile and guaranteed to get loads of wear in your wardrobe.
Keep the look casual chic with a black (or charcoal gray) cardigan, and have fun with all-black accessories – like sunglasses and a stylish purse.
A pair of heels turns this otherwise casual look into something more sophisticated, so don't hesitate to put on some strappy heels before walking out the door.
How do you wear velvet pants casually?
Velvet pants, whether they are wide-leg, straight-leg, cropped, or leggings, can be styled more casually with flat shoes like loafers, ballet flats, mules, or even sneakers. To keep your overall look casual you can also pair velvet pants with a knit sweater, basic tee, or button-up shirt, versus a dressy blouse or going-out top.
I hope you have enjoyed this list of velvet pants outfit and velvet leggings outfit ideas and feel inspired to try this comeback style yourself! I highly recommend getting a pair of the Spanx velvet leggings like I did, as they are so versatile, comfortable, and can ease you into the velvet pants trend!
pin this:
More Style Inspiration You'll Love:
11+ Dress With Stockings Outfit Ideas For A Next-Level Aesthetic
15+ Chic and Casual New Years Eve Outfits You'll Want To Copy