Looking for a more affordable version of the Lululemon Everywhere belt bag (Lululemon belt bag dupe)? I've found 11+ excellent Lululemon belt bag dupes that are sleek, stylish, and easier on the wallet!
*this post contains affiliate links*
The Best Lululemon Everywhere Belt Bag Dupe



I absolutely love my Lululemon belt bags. These handy "fanny packs" are so great when I'm running errands with my kids and need to be hands-free, or out on a walk in the summer and want to bring along my phone and not much else (see how I style the Lululemon belt bag here).
The Everywhere belt bag is also a great accessory for a music festival, or while exploring a new city. It's simple and stylish, with the perfect amount of storage for all of my essentials.
But, the Everywhere bag ranges from $38 to $64 (depending on the size and material you choose), and for many, that's out of the budget for a fanny pack. So I've scoured the retail world and have come across several chic look-alike bags that are more affordable.
What is the best alternative to the Lululemon fanny pack?
There are plenty of alternatives to the Lululemon fanny pack, but the best is the Quince Nylon Belt Bag and the Pander Belt Bag from Amazon! These look-alike belt bags are made from high-quality materials and have the same chic design as the Lululemon bag – making them great budget-friendly alternatives.
Read on to learn about these and several more that made my list!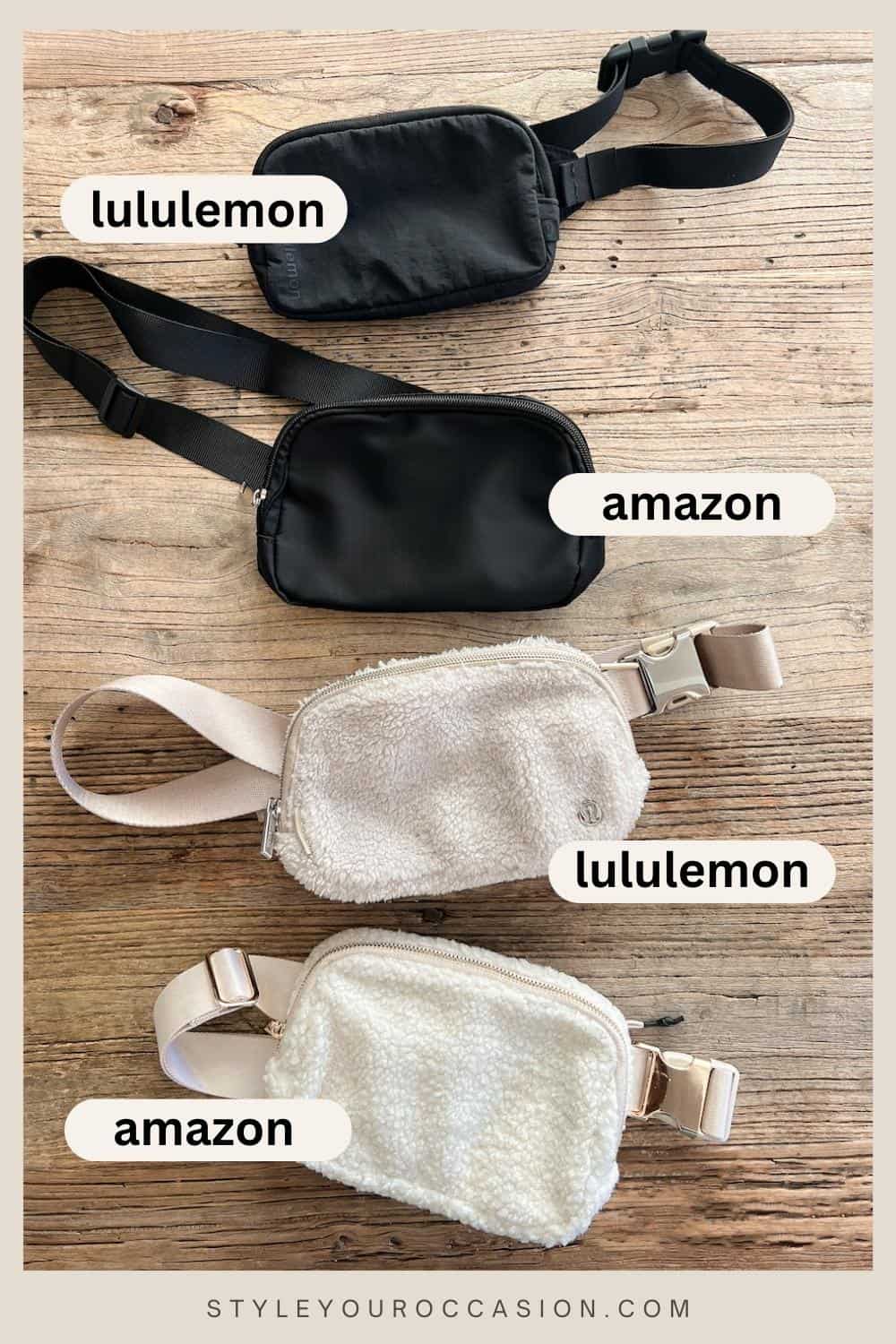 Lululemon Belt Bag Dupes List:



Below are my top Lululemon belt bag dupe picks. Whether you want something colorful for a concert or a classic neutral fanny pack for everyday wear, there's a dupe on my list that will fit the aesthetic (and budget) you're looking for.
I absolutely LOVE the Quince brand! They offer a lot of pieces that are very similar to high-end brands but at a more affordable price.
The Quince Nylon Belt Bag has many of the same features as the Lululemon belt bag – but is only $25! Not only does this belt bag have the same dimensions and storage capacity as the Lululemon belt bag, but it's also made from a water-resistant material.
I love that the fabric used on this bag comes from recycled plastic, making it a fantastic alternative for those who want an eco-friendly accessory. Grab this fanny pack in timeless black, latte brown, or bold olive green. Either way, this Lululemon belt bag dupe is a great choice.
At first glance, I thought this was the Lululemon belt bag! The Pander Everywhere Bag from Amazon has all the same features I love – and for just $17!
This is another belt bag dupe that is the same size as the Lululemon version, and it's also made with water-resistant, recycled nylon, so you can sport this bag even on rainy days. There's a zippered pocket on the back to keep your essentials safe, and the interior has three pockets for easy organization.
Something else I love about this belt bag is that there are tons of color options, so you can definitely find a hue that fits your vibe. And since this bag is such a great price, you can snag two of them for the same price as just one Lululemon bag!
So I absolutely love my fleece belt bag from Lululemon. This is why I chose two excellent dupes for this particular style to include in the list.
I purchased this Fleece Belt Bag from Amazon to compare directly with my fleece Everywhere Lululemon Belt Bag. As you can see in the comparison below, the two belt bags are the same in size, and very similar in appearance.
The Amazon belt bag is lighter in color, and in person, the quality is just slightly less than the Lululemon, only because the fleece is a touch less soft. Otherwise, they are extremely close. And I love that the Amazon bag has a metal buckle just like the Lululemon fleece belt bag.
If you want to save over $20, I would highly recommend this more affordable option from Amazon. And if your budget is really tight, I also found two even more affordable fleece belt bag look-alikes below:
The Rainbow Unicorn Billie Bag from Nordstrom is another stylish dupe of the Lululemon Everywhere bag. This fanny pack is similar in size with a slightly smaller capacity, but I love that this look-alike features an exterior pocket and interior pockets to keep you organized on the go!
This dupe comes in two bold color options – neon green and hot pink. While I'm more of a neutral lover, these bright shades are perfect for adding a vibrant pop of color to your everyday outfits, or for pairing with other bold pieces at a music festival!
Athleta is a fashion brand well-known for carrying athletic pieces and accessories, so it's no surprise that they've earned a spot on my list of Lululemon belt bag dupes!
The All About Belt Bag from Athleta is a great high-quality look-alike with the same dimensions and adjustable strap as the Lululemon version. Plus, this bag also uses water-resistant, recycled polyester for a soft but durable piece.
It comes in a nice array of colors including purple, green, or red, and lovely neutrals including black and beige. While the price is similar to the lower-cost Lululemon belt bags, I do think the quality and brand name make this dupe a worthwhile investment.
Next on my list is this super affordable Belt Bag from Amazon. The price was so low that I absolutely had to see for myself.
This belt bag has over 1,500 reviews and an almost 5-star rating, and I can see why! As you'll see in my comparison below to my Lululemon Mini Belt Bag, the two are quite similar. The Amazon dupe belt bag is actually larger, and not mini size as I was expecting.
The overall quality feels quite good, although not as sturdy as the Lululemon Everywhere belt bag, it's a great deal for the price. And, the zipper functions well!
I'd highly recommend this belt bag if you want to spend less than $10 and don't mind a slightly thinner material.
Next on my list is the Iconic Crossbody Bag from A&F! It's actually considered a Men's piece, but in my mind, it could definitely be unisex.
The mesh front pocket gives it a different aesthetic compared to the Lululemon belt bag, but I love the extra sporty vibes (and the extra storage) that come from it.
There are also zippered pockets throughout this belt bag to help you stay organized and store everything you need while out and about. This look-alike comes in classic neutral colors like olive green, black, white, and grey, so you can get a clean look while staying hands-free – and all for just $35!
If budget isn't an issue, this next option on my list of Lululemon belt bag dupes is for you. The beautiful Béis Belt Bag.
This look-alike is closer in size to the Large 2L Lululemon bag, hence the higher price point, but it isn't too bulky. And it's perfect for when you need to bring along a little extra but want to stay hands-free.
Bonus points – it also comes with an attachable card holder for easy access to cash and credit cards. The Béis brand is known for quality luggage and travel accessories, so I have no doubt this one is worth the investment!
Gap earns a spot on my list of belt bag dupes with this classic Nylon Belt Bag. I love the simple and classic look of this black bag, and even though that's the only color available – black is a color you can never go wrong with!
This look-alike has the same adjustable strap, zippered top, and an interior slip pocket for those items you want easy access to. The Nylon Belt Bag has fewer pockets than the Lululemon bag, but it's still a stylish piece that's great for keeping all your important items close!
Oh, and it's %50 off right now, so it's less than $20 and that's a huge steal in my opinion!
Leave it to Old Navy to come through with a highly-rated Nylon Belt Bag that easily rivals the Lululemon Everywhere Belt Bag!
Available in black, tan, or a cute brown leopard print, this fanny pack has plenty of storage and is perfect for whatever the day has in store for you. One thing to note is that there aren't any interior pockets, so it may not be ideal if you tend to carry smaller items like lip balm or hand sanitizer.
Still, this chic bag is only $12 (currently half price!) and I love that reviewers gush about how roomy this bag is and how easily you can adjust the strap for that perfect fit.
Another great fleece dupe, this Fanny Pack from Wild Fable is a great, budget-friendly alternative. While the Lululemon version costs just under $60, this belt bag dupe is only $15 (start the car!!).
It comes in this beautiful beige tone, is made from recycled materials, and has a small, zippered pocket on the front for smaller items. This is a unique feature that the Lululemon fleece belt bag doesn't have, but I love that it could be used to keep cards and cash separate.
The quality of this bag is definitely not as good as the Lululemon, as the buckle is plastic (vs. metal), and the shearling is a darker beige. But overall for the price, it's a steal!
Last, on my extensive list of Lululemon belt bag dupes, this option is just $13, but you won't be sacrificing quality at all!
This Amazon Fanny Pack is high-quality, durable, and (you guessed it) water-resistant, so it's great for daily use. This bag is the same size as the Lululemon Everywhere bag with plenty of pockets, so you'll still get everything you need in this affordable alternative.
Make a statement with the rainbow tie-dye belt bag, or choose a fanny pack in black, blue, or grey. No matter which one you go for, this bag will make your days easier while keeping you stylish and on-trend!
Why does everyone want a Lululemon belt bag?
The Everywhere Belt Bag is a convenient, low-cost, hands-free, unisex bag that anyone can use, it's no surprise everyone wants one! Men, women, moms, people on the go, those with an active lifestyle…the list goes on.
It's made with a water-resistant fabric and has a large storage capacity for everything you need without being too bulky. The Lululemon belt bag is also a timeless piece with a modern and minimalist style, so it easily becomes a wardrobe staple.
The Lululemon Align leggings are also super popular, so if you are looking for a more affordable option, you'll want to see this article from Saving K on expensive name brand dupes (including the Aligns!)!
In summary, I love the Lululemon Everywhere belt bag just as much as the next girl – but I also love a good dupe, and understand not everyone wants to spend $40+ on a belt bag! These Lululemon belt bag dupes are a great price, and you don't have to sacrifice quality or style for any of these budget-friendly look-alikes.
The question is, which one will you choose?
More Look For Less You'll Want To See:
Best Lululemon Align Tank Dupes: 9+ Look Alikes For Less!
The Best Aritzia Super Puff Dupe (+ More Look-alikes)
8+ Chanel Dupes That Won't Break The Bank
8+ Best Louis Vuitton Dupe Bags: Neverfull & More
Celine Bag Dupe: 9+ Must-See Celine Look-alikes For Less
Best Lululemon Align Tank Dupes: 9+ Look Alikes For Less!