Wondering what to wear with a denim midi skirt, or looking for denim maxi skirt outfits? I'm sharing chic long denim skirt outfit ideas to wear in any season!
*this article contains affiliate links*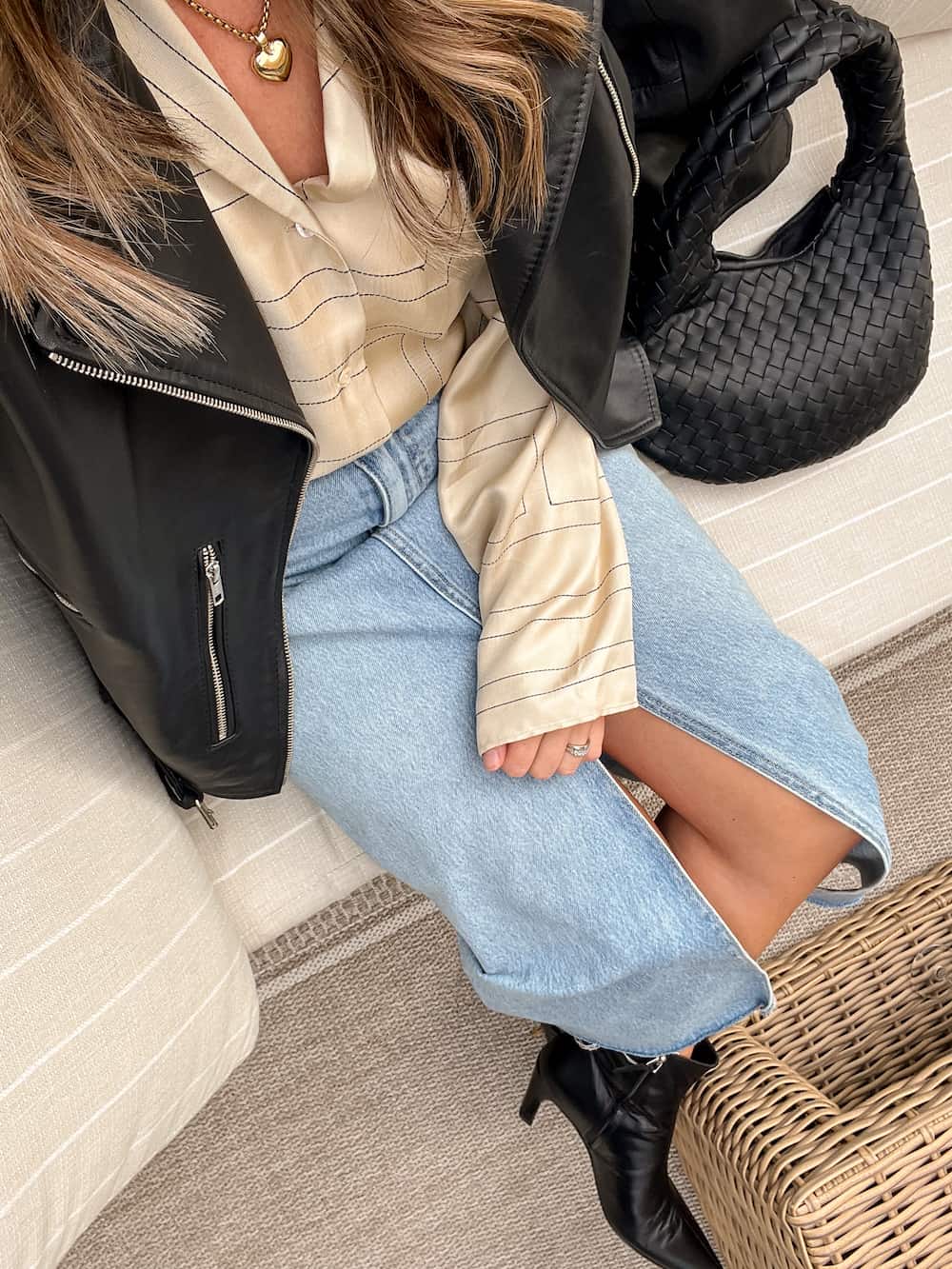 Long Denim Skirt Outfit Ideas
2023 is the year of the denim maxi skirt, and I am pretty certain 2024 will be too! I personally purchased my first long denim skirt a couple months ago and while I initially wrote off the trend as being "not for me", I've proven myself wrong!
I've leaned that long denim skirts (mid-calf or maxi) are super versatile and boast the ability to be worn in any season. Plus, there are so many cut and color variations that anyone is bound to find one that fits their personal style.
What do you wear with a long denim skirt?
When it comes to styling long denim skirts, a good rule of thumb is to style your long denim skirt just like you would style jeans. For example, you can easily pair a long denim skirt with a:
bodysuit or tank top

t-shirt or long-sleeve top

blouse or

button-downs shirt

sweater or sweatshirt

blazer

leather jacket

sandals

heels

loafers or ballet flats

sneakers

ankle boots or tall boots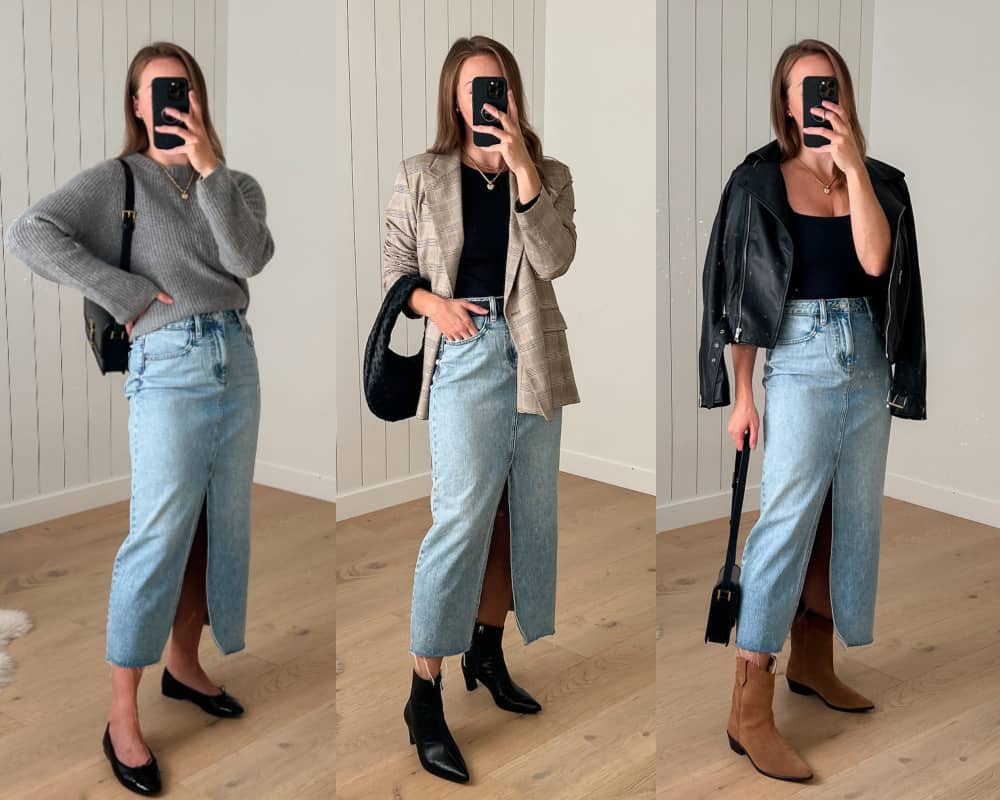 Denim Midi Skirt Outfit Ideas
If you're new to the trend, knowing what to wear with a denim midi or maxi skirt can be tricky. So, I'm sharing the long denim skirt outfits I've created within my own wardrobe, along with some of my fave Insta fashion accounts below.
Leather jacket, midi skirt + western boots.
get the look:

If you're trying a long denim skirt for the first time, I recommend starting with a midi-length style. For this look, I paired my denim midi skirt with Western-inspired pieces.
To recreate this look, opt for a cropped leather jacket to define your shape and avoid looking too boxy. And go with a figure-hugging bodysuit and shoulder bag for a cohesive look.
You could wear a black Western-style boot, but I love the fun expected element these Poppy Barley brown suede boots add to my look.
Bodysuit + fisherman sandals.
get the look:

This was one of my favorite long denim skirt outfits looks for early fall this year.
I paired my midi-length jean skirt with a black bodysuit and fisherman sandals. To tie it all together, I went with delicate gold accessories and a lightweight knit sweater draped over my shoulders.
The result? A seriously stunning outfit that's still casual enough to wear running errands or to school drop off!
Chunky loafers + socks.
If you want something trendier, I love this outfit on Alice Dunnagan is perfect. The cropped black tee shirt and coordinating cool-girl accessories are equal parts edgy and effortless. And the long denim skirt has a frayed hem that adds to the look's casual vibe.
But the pièce de résistance are the chunky loafers paired with long white socks. The bulkier loafers and denim midi skirt are an expected combination, but they totally work. Plus, they're a great shoe choice for a day of walking.
With statement sneakers.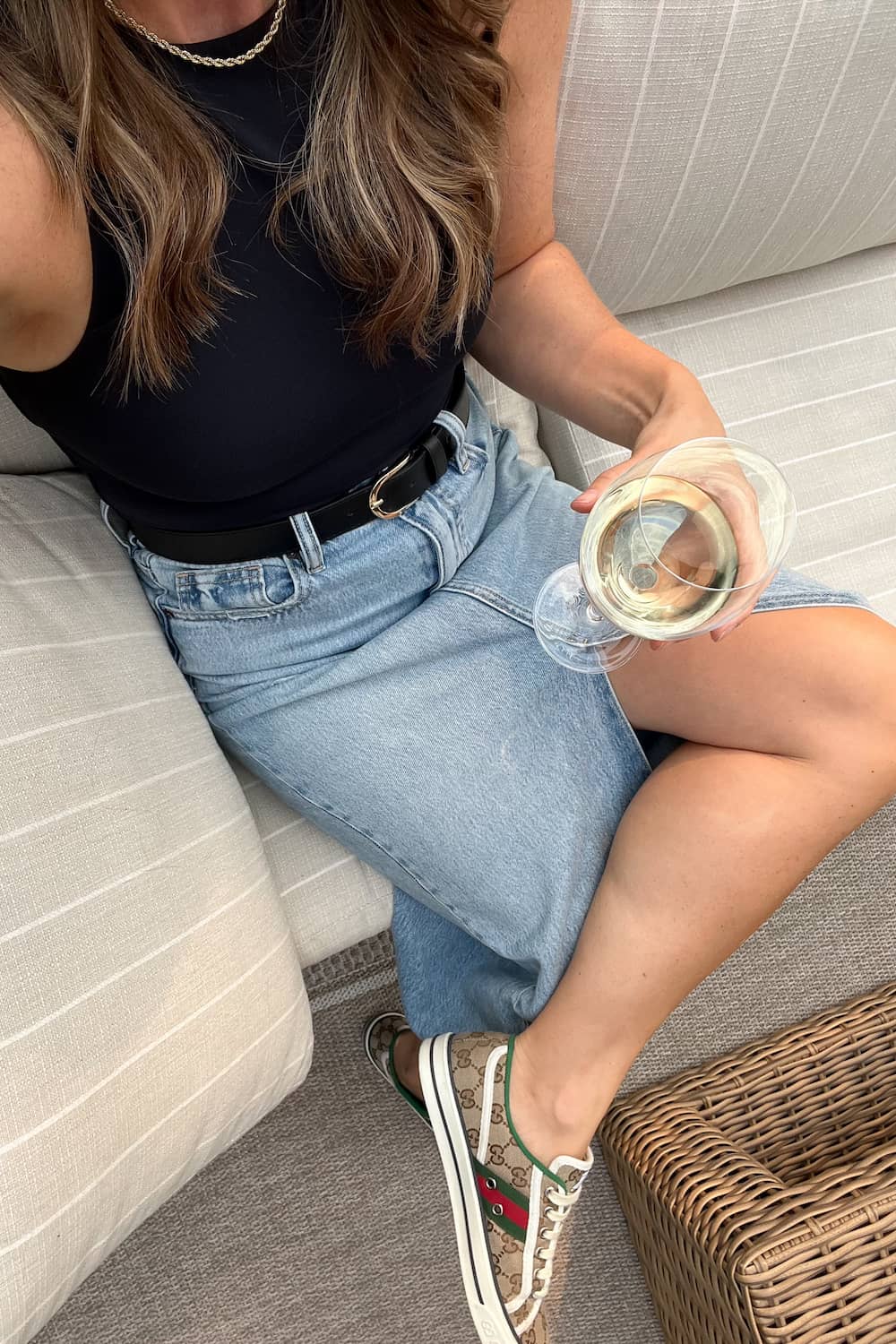 get the look:

Bored of styling your favorite sneakers with jeans? Try a denim midi skirt instead!
For this denim midi skirt outfit, I took advantage of the high slit to show off my legs and my favorite new kicks. I went with a bodysuit and a belt to accentuate my waist, and worte this look for my Mom's 70th birthday party outdoors (hence the wine!).
I love that this look stays neutral but adds a touch of boldness with the Gucci sneakers.
Silk blouse, leather jacket + boots.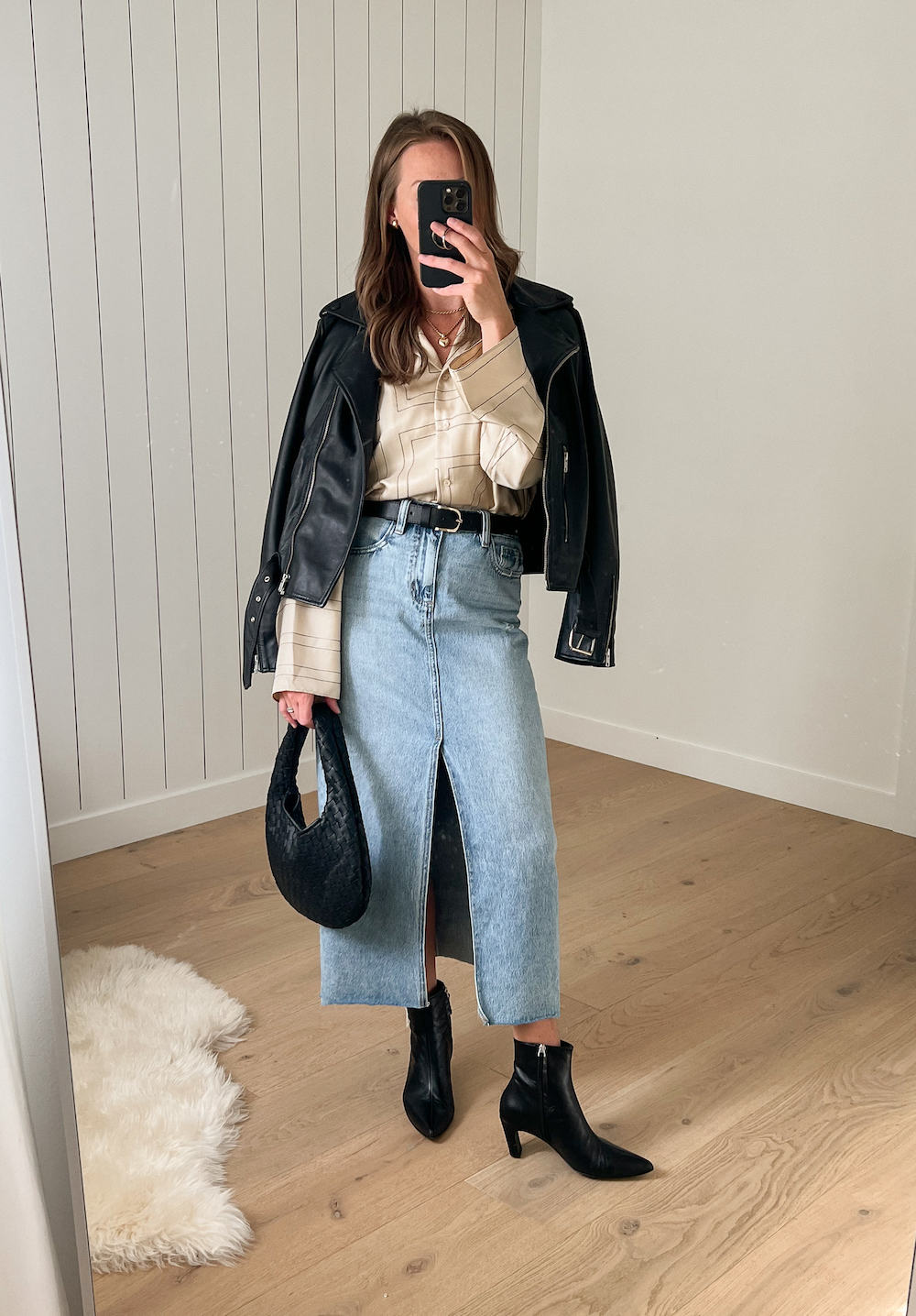 get the look:

When putting together a chic long jean skirt outfit, it pays to play with different textures.
While this denim skirt is show-stopping on its own, I feel the outfit is instantly elevated with a silk blouse and leather jacket. Keep things sleek with a plain or simple patterned blouse like the Toteme top one I'm wearing above.
I also chose to add a simple black woven bag and black belt to tie the look together. And the black pointed-toe ankle booties are perfect for fall (I'd swap in knee-high boots to make this outfit better for cold weather).
Striped tee shirt, vest + sneakers.
get the look:

Who says black and brown don't go together? Here I married these two neutrals in this long denim skirt outfit idea.
I went with a striped black long-sleeved tee, a brown puffer vest, and black New Balance sneakers (my fave!) — perfect for shopping, errands, school drop-off, coffee date, etc. This casual combo shows that you can easily style a long denim skirt in a laid-back way.
Shades of blue.
An A-line denim midi skirt feels fancier and more feminine than straight skirts. Pair it with heels and a blazer, like in this outfit by April Lockhart, for a more formal event.
I love that this look embraces the beautiful blue tones of denim without going overboard. You can thank a ribbed white knit and brown leather bag for that!
This jean skirt outfit is perfect for events or parties when you want to look the part yet feel comfortable and effortless.
Striped sweater + black accessories.
get the look:

When it comes to what to wear with a denim midi skirt, a striped sweater is always a good idea. And this affordable H&M striped knit is one of my absolute faves – I wear it all the time!
In my opinion, long jean skirts look relaxed and casual when styled with an oversized knit. Just do a French tuck and add a belt to accentuate your waist.
See more ways I style this striped knit in my fall capsule wardrobe.
Cowboy boots + long denim skirt.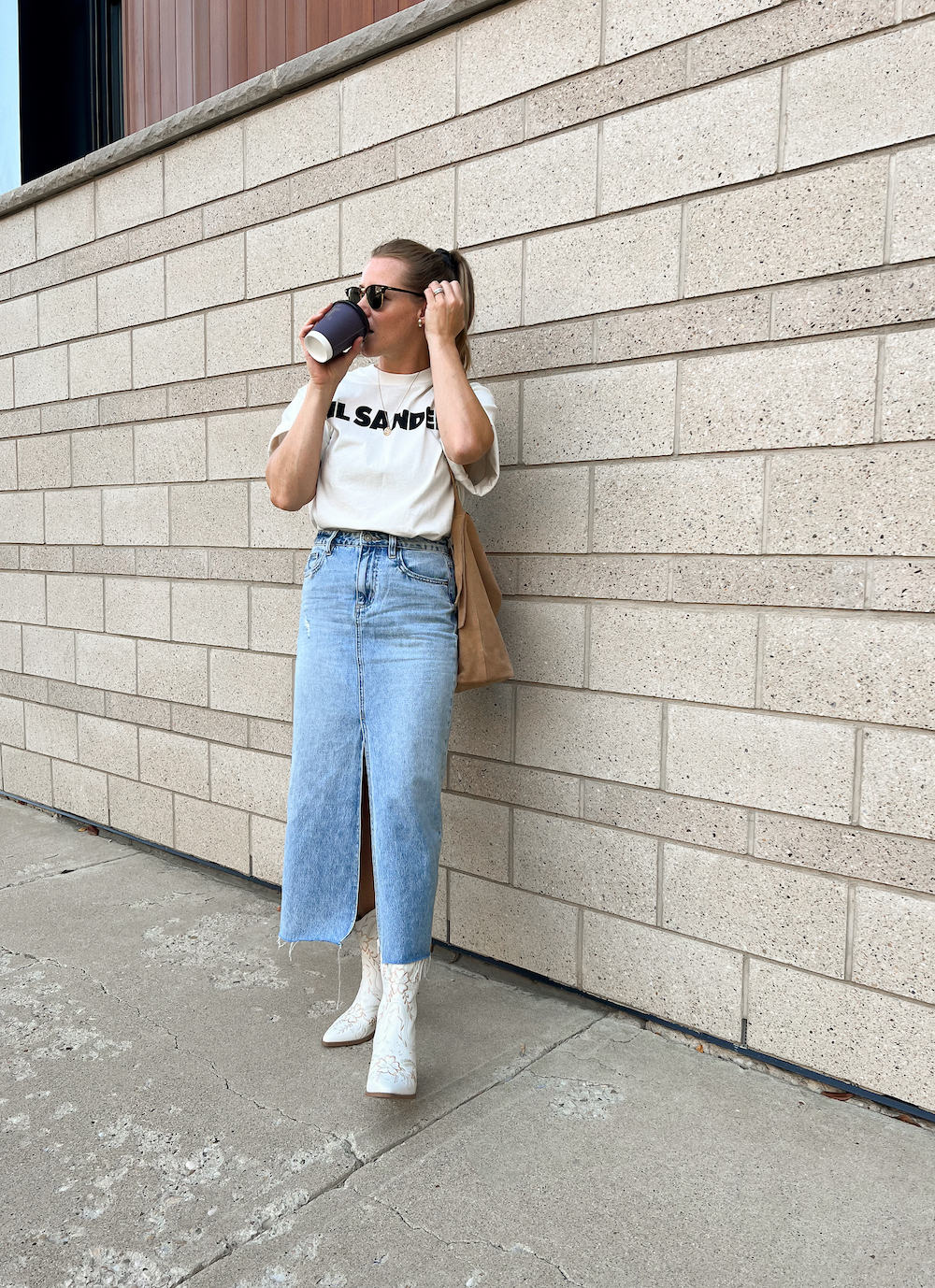 get the look:

Here I styled my light-wash denim midi skirt with my oversized Jil Sander tee shirt for an easy, minimalist look. The white cowboy booties –another popular 2023 fashion trend – go great with the jean skirt to create an outfit that can be worn season to season.
I recommend this outfit for summer or early fall. And a country concert, festival, or rodeo would be a perfect place to wear it!
Cozy sweater, puffer vest + combat boots.
get the look:

Here's another look I styled that's all about a casual aesthetic. This outfit would be perfect for a day full of fall festivities or a chill evening spent with friends or family.
While long denim skirts look amazing with slim boots or strappy sandals, they're equally fab with combat boots. Combat boots are a great option in my opinion because they're durable in rainy and muddy fall weather.
I paired the boots and skirt with a brown puffer vest and my absolute favorite Jenni Kayne cozy knit hoodie that keeps me warm on chilly fall days.
Side note: Quince also carries a very similar cashmere hoodie that I also love, but at a lower price point!
Chunky sweater + ballet flats.
get the look:

One of my favorite combinations, a long denim skirt with a chunky knit sweater. I think the straight-line jean skirt works best for this look, and the high slit is a happy bonus!
I love ballet flats, and they bring a dainty, feminine element to this outfit. The shoes definitely have a très chic vibe and add interest to an otherwise simple look.
From late summer to mid fall to early winter, I'll be wearing this denim midi skirt outfit on repeat.
Plaid blazer, denim midi skirt + ankle boots.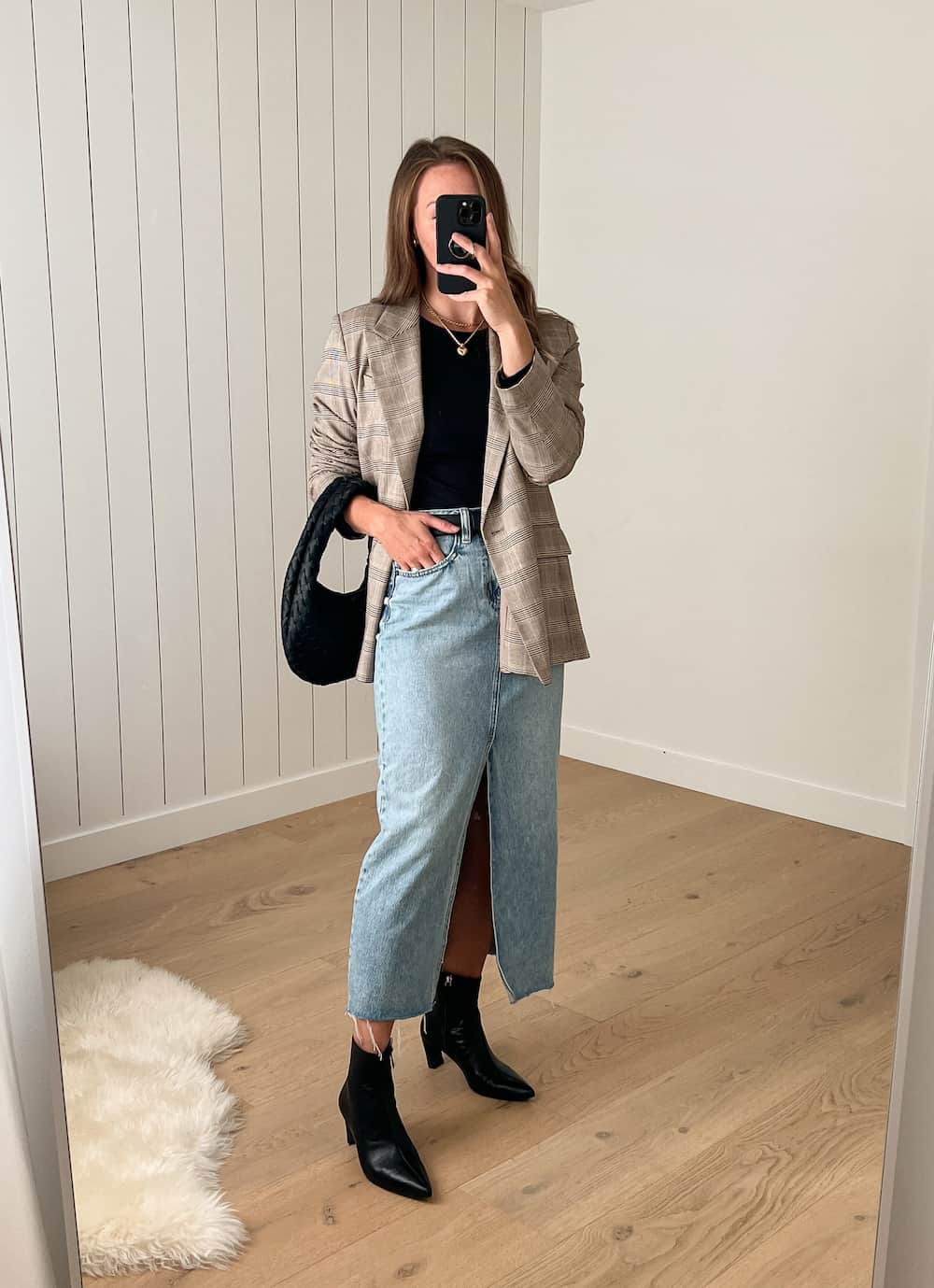 get the look:

In my opinion, a plaid blazer is a fall fashion must-have.
I styled this outfit with the classic blazer and denim midi skirt for a look that's equally elegant for work or a dinner date night. The rest of my outfit calls for items you likely already have in your closet: a black long-sleeve tee, shoulder bag, and pointed-toe ankle boots.
See more plaid blazer outfit ideas here.
Denim Maxi Skirt Outfits
Denim maxi skirts have almost taken over the midi skirt in popularity, and are expected to be huge this season. Below are my favorite styled looks with a denim maxi skirt that I've found by the chicest fashion influencers.
Wear it with a white tee + sneakers.
All the best denim maxi skirt outfits start with a white tee like the one on Izzy above. A basic tee shirt or cropped top lets your jean skirt and accessories shine.
I love this denim maxi skirt look with the Adidas Samba sneakers that have been on everyone's radar (including mine) this past year. The overall aesthetic is casual and comfortable yet still makes a statement wherever you go.
shop denim maxi skirts:

Knee-high boots + oversized blazer.
When it comes to long denim skirt outfit ideas, don't be afraid to go with pops of color.
Featuring an oversized statement blazer and knee-high leather boots, this outfit by Andrea feels fresh and youthful with hints of '90s inspiration. The purple makes the blue denim (and matching baby blue bag) pop. Just be sure to wear a form-fitting layer underneath to keep your shape.
This outfit is ready for a dinner party or a trip to the art museum.
Cream denim maxi with hints of brown.
When it comes to denim maxi skirt outfits, a white or cream denim wash can often feel more elevated than a blue wash. Style a cream denim maxi skirt like Carys Louise Brandon with a matching top and tonal brown accessories for a classic look that gives "quiet luxury".
For fancier occasions, change out the sandals for pointed-toe pumps.
Paired with a graphic tee + strappy sandals.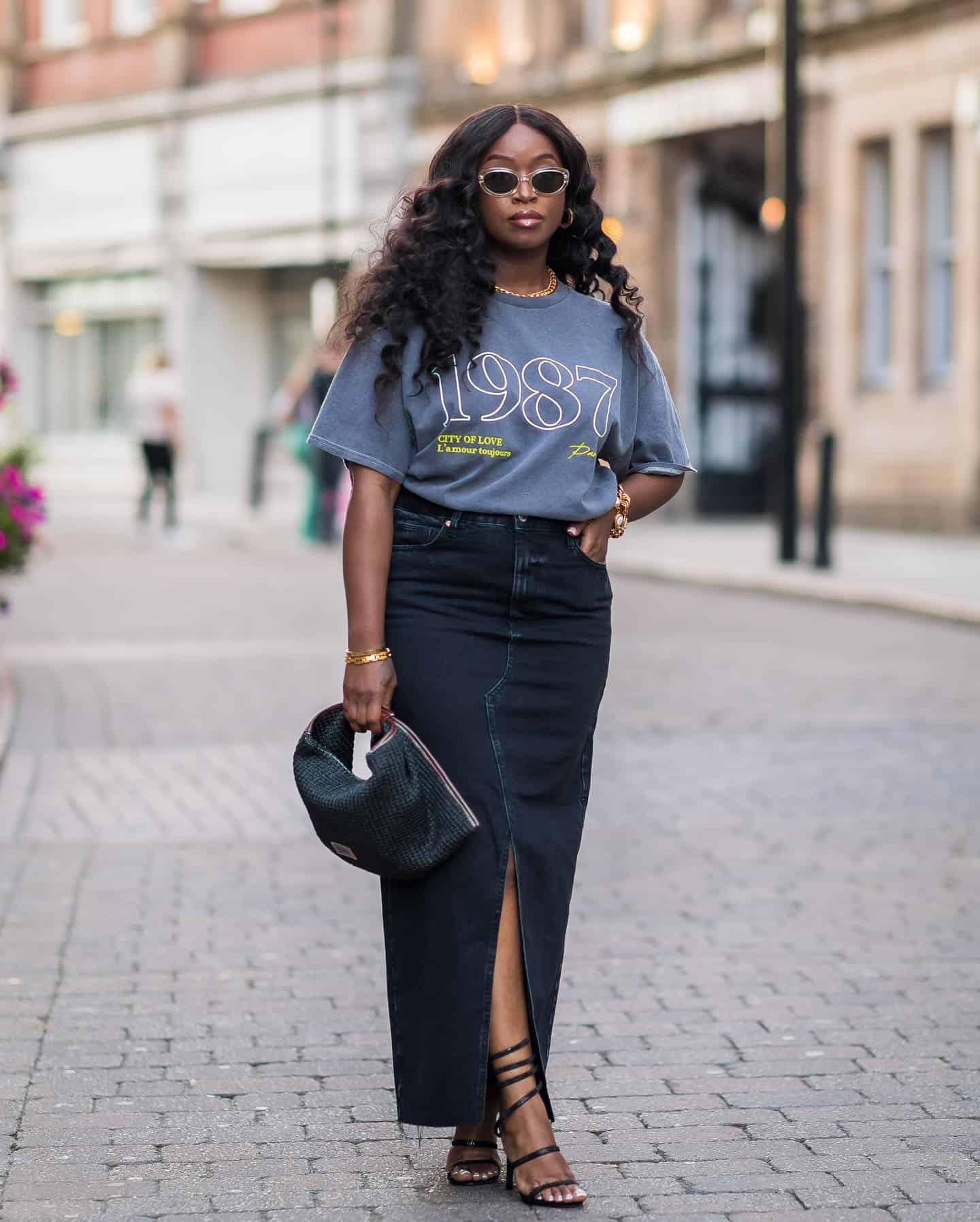 Denim maxi skirt outfits like this one on Jariatu instantly give fashion week—and I'm obsessed. A black denim maxi skirt will complement a graphic tee, all while adding personality to the look.
I love the cool-girl accessories like statement sunnies and a unique shoulder bag. And the strappy heeled sandals give this look an elevated yet edgy vibe. But feel free to swap them for flat sandals during the day!
With a button-down shirt + sandals.
Lastly, on my list of long denim skirt outfit ideas, for a casual (yet effortlessly chic) warm weather vibe, make this ensemble on Sasha Mei your go-to.
Black denim maxi skirts have a natural grunge element but look sophisticated and cool when teamed with a preppy pin-striped button-down and leather flip-flops. Paired with a stylish handbag and pearl jewelry, this is the perfect coastal cowgirl look.
Are long denim skirts in style for 2023?
From the runway to influencer fashion to street-style, long denim skirts are everywhere this year. The longer hemline is huge for fall and winter 2023 and is expected to stay on-trend well into 2024.
Fashion expert Jailynn Taylor at InStyle says "denim maxi skirts will be huge for fall 2023", and I agree. It is safe to say that this it-girl style will be going strong into next year, so don't hesitate to add a long denim skirt to your wardrobe. I did, and I can honestly say it was one of the best fashion decisions I've made as of late!
pin this!
More Style Inspiration You'll Love:
12+ Elevated White Skirt Outfit Ideas: A Fresh Take On This Classic
Winter Country Concert Outfits To Keep You Warm & Looking Chic
10+ White Jean Skirt Outfit Ideas That Are Minimal + Très Chic!
How To Style Wide Leg Jeans: The Do's, Don'ts + Chic Outfits