Looking for stylish brown and black outfit ideas? You'll love this mix of casual and dressy black and brown outfits that show how elevated this color combo truly is!
*this article contains affiliate links*
Chic Brown and Black Outfit Ideas
Most of us are familiar with fashion rules like not wearing white after Labor Day or that your bag and shoes should always match. Luckily for us, these old-school fashion "rules" are being thrown out the window in place of self-expression, trend-setting experimentation, and (most importantly) fun. After all, fashion rules are meant to be broken.
Among these former fashion faux pas is the idea you can never wear black and brown together. While many of us have ruled out this non-traditional color combo for years on end, this neutral duo is incredibly chic and fashion-forward when done right.
Read on for tips, tricks, and endless inspiration of ways to wear black and brown together.
Black and Brown Outfits for Fall & Winter
Can you wear brown and black together?
Brown and black was once considered an untraditional pairing, but you can expect to see this color duo everywhere this season. Black is classic and effortlessly chic, while all shades of brown add warmth and a touch of earthiness to ground the outfit.
The end result is sophisticated and refined, even in the most casual outfits. Our black and brown outfit ideas below are proof of this.
Brown dress + black heels.
get the look:

Most of us have plenty of black accessories in our closet, which makes creating a black and brown outfit so easy.
For this look, pair classic black heels and a black crossbody bag with a brown dress. It could be a fitted ribbed shirt dress (like the one on our Editor-in-chief above), or feel free to experiment with different silhouettes and textures like linen.
Black mini dress, wool coat + boots.
The best black and brown outfits add interest and depth by playing with textures. A thick wool blazer on top of a black knit sweater dress harmonizes with patent leather boots and sleek tights.
This look is chic and versatile, so it can easily transition from morning coffee dates to the office and then back out for dinner and drinks.
Brown cardigan + black pants.
get the look:

A cozy brown cardigan or crewneck is a fall and winter wardrobe staple. Pair it with black trousers and your go-to heels for a laid-back yet polished look that's perfect for a day at the office or dinner with the girls.
You can make this fall 'fit feel more casual by switching the black pants for denim jeans or trading the heels for black ballet flats.
Brown puffer vest, sweatshirt + black leggings.
get the look:

You can even rock this neutral color duo on casual days. A pair of black leggings is the perfect base for layering with a brown sweatshirt or sweater, puffer vest, and taupe combat boots.
Mixing various shades of brown adds dimension to this cozy look, while the black accessories tie it all together.
Black trousers, tank top + brown sweater.
When in doubt, black trousers and a matching tank top never fails. This casual-chic outfit combination looks even better with trendy sneakers, tortoise shell sunnies, and a brown sweater thrown over your shoulders.
It's foolproof fall fashion at its finest.
All black + brown purse.
get the look:

One of the most stylish (and simplest) ways to wear this color combination is wearing an all-black outfit with a brown bag. Together, the warm brown and cool black tones make any outfit feel elevated.
A leather or suede bag would work perfectly, but we also love an attention-grabbing animal print bag like the one above.
Can you wear a brown outfit with black shoes?
Yes! Don't be afraid to wear a brown outfit with black shoes, and vice versa. In fact, black shoes can look even better with a brown outfit than matching brown shoes because they add an intentional contrast that breaks up any monotony.
That said, when wearing a brown outfit with black shoes, you want to reiterate that the pairing is intentional by adding in touches of black with your purse, sunglasses, belt, or jacket. These same tips apply when wearing a black outfit with brown shoes.
Black blazer + brown dress.
get the look:

This office-friendly brown and black outfit has a chic and luxurious vibe. To recreate it, grab your favorite brown dress and pair it with a tailored black blazer, then add black accessories like a shoulder bag and shoes.
Ballet flats are a comfy and cute choice, but you could also swap them for chunky loafers or sling-back heels.
Brown bomber + silk skirt.
This black silk midi skirt and tan billowy bomber showcase how effortlessly these two colors come together to create a smart and sophisticated look.
Don't be afraid to add another neutral to the mix: A hint of white (or cream) breaks up the outfit so the eye can easily bounce from black to brown. Add in rich textures with brown suede shoes or a brown woven leather bag.
Brown coat + black striped top.
get the look:

You don't have to steer away from patterns when combining brown and black together.
Thanks to the striped black and white top layered underneath a camel wool coat, this elegant look has a sophisticated French girl feel. Add a black belt, a stylish pair of ballet flats or heels, and matching sunglasses to complete the outfit.
Layered sweater, brown bag + boots.
Can't decide between a black or brown sweater? Wear both. Grab a lightweight brown sweater and layer it under a heavier black knit.
Finish off the look with vintage-washed black jeans and brown accessories for a well-blended neutral vibe.
Brown knit dress, vest + boots.
get the look:

Monochromatic is here to stay, and we're wearing this brown and black outfit on repeat all fall and winter.
Easily execute it by pairing a brown knit dress with a brown jacket or vest and matching black boots and purse to tie it all together. On super chilly days, swap the lightweight knit dress for a full-length sweater dress.
Black slip dress + brown cardigan.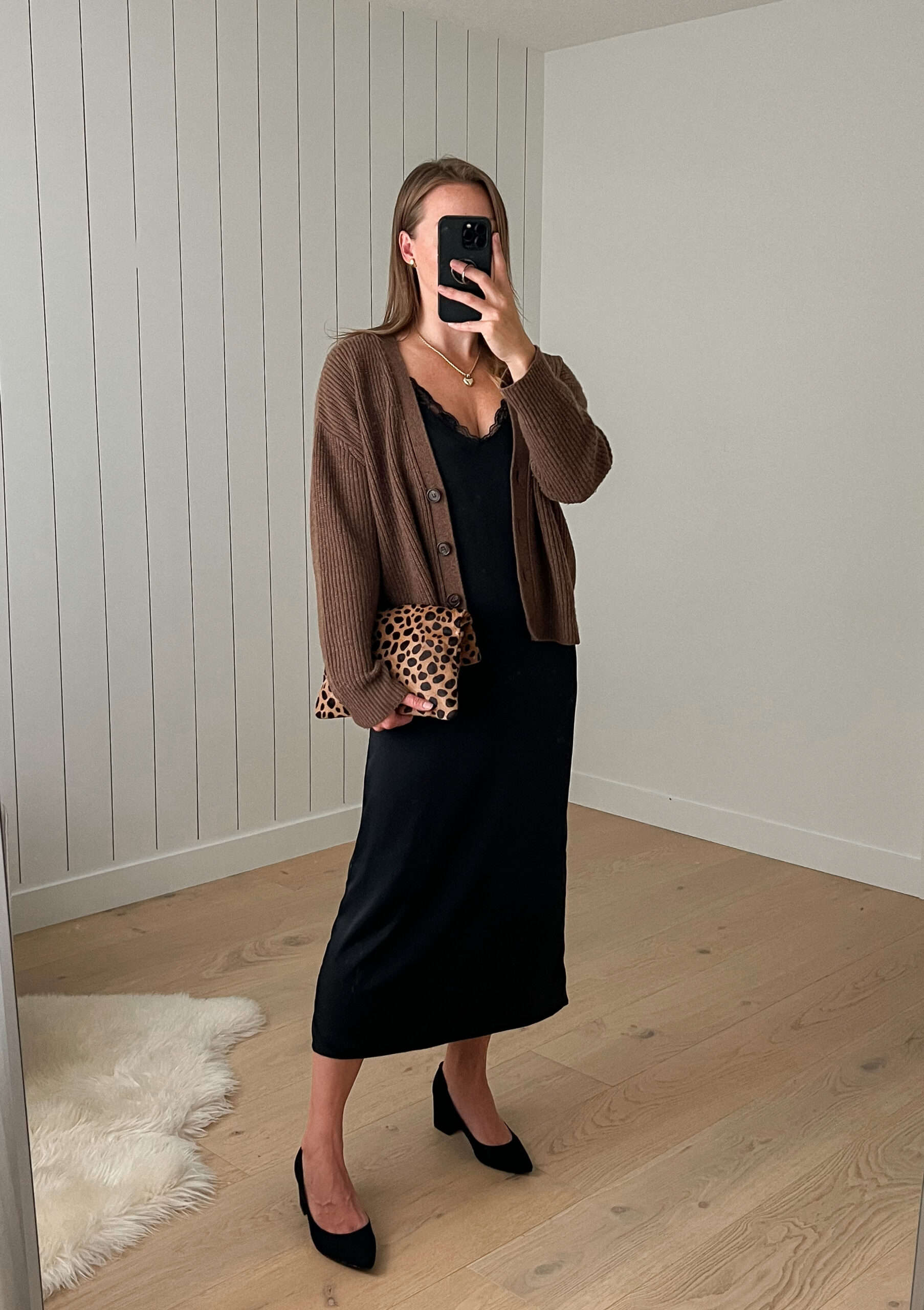 get the look:

You probably already have an LBD in your wardrobe. Instead of pairing it with all-black accessories or a pop of color, mix in different shades of brown (chestnut, cognac, walnut, camel, taupe, etc.) for a well-styled look.
We love how this feminine black slip dress complements a cozy dark brown cardigan while the cheetah print clutch adds a touch of playfulness.
Brown leather jacket + black mini dress.
A brown jacket is the perfect statement piece for an otherwise all-black look. We love this chocolate brown leather blazer paired with a monochromatic mini dress, boots, and accessories for a trendy and effortlessly cool vibe. Make this outfit even better for colder weather with knee-high boots and sheer black tights.
Black cargo pants, brown vest + sneakers.
get the look:

This brown and black outfit is perfect for chilly fall and winter days spent outside or running errands. Our Editor-in-chief paired trend-forward black cargo pants with a long-sleeve black top and cool sneakers for the outfit's base.
The pièce de résistance is the muted brown puffer vest that adds texture and a subtle pop of color to an otherwise simple outfit.
Black and Brown Outfit Ideas for Warmer Seasons
The earthy black and brown color combination is ideal for fall and winter, but you can wear the neutral pairing well into spring and summer, too.
Girly top, black linen shorts + brown accessories.
get the look:

Who says you can't wear an all-black look during the spring and summer? A black camisole blouse paired with black linen shorts will keep you cool during the warmer months and act as the perfect base for luxury accessories.
Keep it elegant with brown leather sandals, classy sunglasses, and a woven tote bag.
Black top, leopard midi skirt + heels.
get the look:

One of the best ways to wear black and brown together is with an anchor piece. An anchor piece serves as a focal point for the outfit, seamlessly incorporating both colors (here, it's black and brown) for easy styling.
In this look, the leopard printed midi skirt anchors the black summery top, strappy black heels, and brown hues in the woven tote.
Final thoughts.
Can you wear black and brown together? These looks are proof that you absolutely can. Black and brown are a color combo that (when done right) never fails to look modern, stylish, and fashion-forward.
Ultimately, this combo can be worn all year round. However it's ideal during the fall and winter when you naturally gravitate towards darker hues. The key to putting together a chic brown and black outfit is leaning into anchor pieces (like an animal print skirt or bag) or a statement piece and building an outfit around it.
You can also start with a black or brown outfit base and pepper in the other color through jackets, bags, and other accessories.
So, which of these looks are you most inspired by?
More Style Inspiration You'll Love:
What Shoes To Wear With Black Dress + Stunning Looks To Steal
13+ Black Blazer Outfit Ideas For Women
15+ Elevated Brown Pants Outfit Ideas To Make You Love This Hue