Are you looking for elevated pieces to add to your wardrobe, or wondering how to style the perfect black blazer outfit? Check out our list of 12+ black blazer outfits that prove this piece will make you look polished and chic!
*this post contains affiliate links*
Chic Black Blazer Outfit Ideas for Women
A black blazer is a perfect fashion staple to add to any wardrobe. As a matter of fact, this classic piece doesn't always need to be worn for a formal look. A black blazer can also be the perfect addition to any casual and laid-back outfit.
Adding a black blazer is an easy way to elevate any look, whether wearing dress pants, jeans, a skirt, or shorts. If you want to step up your style, check out these gorgeous black blazer outfit ideas for some chic style inspiration.
How To Style A Black Blazer
We've scoured the fashion world and have found stunning looks that we are obsessed with. From casual to dressed-up, you'll find a mix of styles with black blazers for the different seasons.
So, read on to discover the best ways to style a black blazer so you can feel confident adding this staple piece to your wardrobe.
summer casual
get the look:

First off, this outfit is perfect for you if you want to incorporate a black blazer into a summertime outfit. The light tone of the outfit and the cute striped shorts definitely have a laid-back summery feel. The black blazer adds a polished touch to the outfit and makes it look chic and put together.
You can start with a pair of breezy, casual shorts with a classic white tee tucked in. Next, add the blazer over top to get this same refined look, and don't forget a gorgeous chain-strap handbag like the one pictured here.
This look is perfect for grabbing lunch with the girls. Additionally, you can choose from strappy sandals to match the summer feel or go for sneakers if you plan to be walking around.
make it leather
get the look:

Chic leather blazers are having a moment, and we're here for it. A black blazer always looks amazing with a pair of jeans and heels, but the leather adds an edgy vibe that we adore. This outfit is a perfect choice to wear in early spring, fall, or even winter.
This outfit creates the perfect mix of casual, bold, and chic, making it a must for your next lunch date. You can wear light-wash jeans like the ones here, or go for a darker wash.
The white tee adds contrast, and the black glove boots and handbag bring in an elevated touch that pulls the look together.
in transitional weather
get the look:

Ecru jeans, a chic black blazer, and a cozy sweater are a perfect combo for grabbing a coffee with friends on a chilly day. We love how this outfit has a cool and laid-back vibe.
The relaxed bootcut fit of these jeans makes them perfect for this cozy look, and the sweater tied loosely around the shoulders adds to the comfy feel. In fact, bootcut jeans are making a comeback, and we aren't complaining!
The black blazer and mix of neutral tones elevate the outfit and make it look chic and put together. Pair your favorite light jeans with a classic tee, and add the blazer over top. Choose a cozy sweater and a pair of comfy shoes to finish this look.
over a slip dress
get the look:

Hello, date night!
A slip dress and a black blazer are a match made in heaven. We love how this outfit is simple but stunning every time. This is one of our favorite looks for a weekend date.
The satin dress adds a feminine touch to this chic look and pairs perfectly with the masculine blazer. You can go for a neutral-toned slip dress or add a pop of color with pastel pink or green.
This minimal look is elevated even more with the strappy heels, gorgeous handbag, and timeless touches of jewelry.
pair it with loafers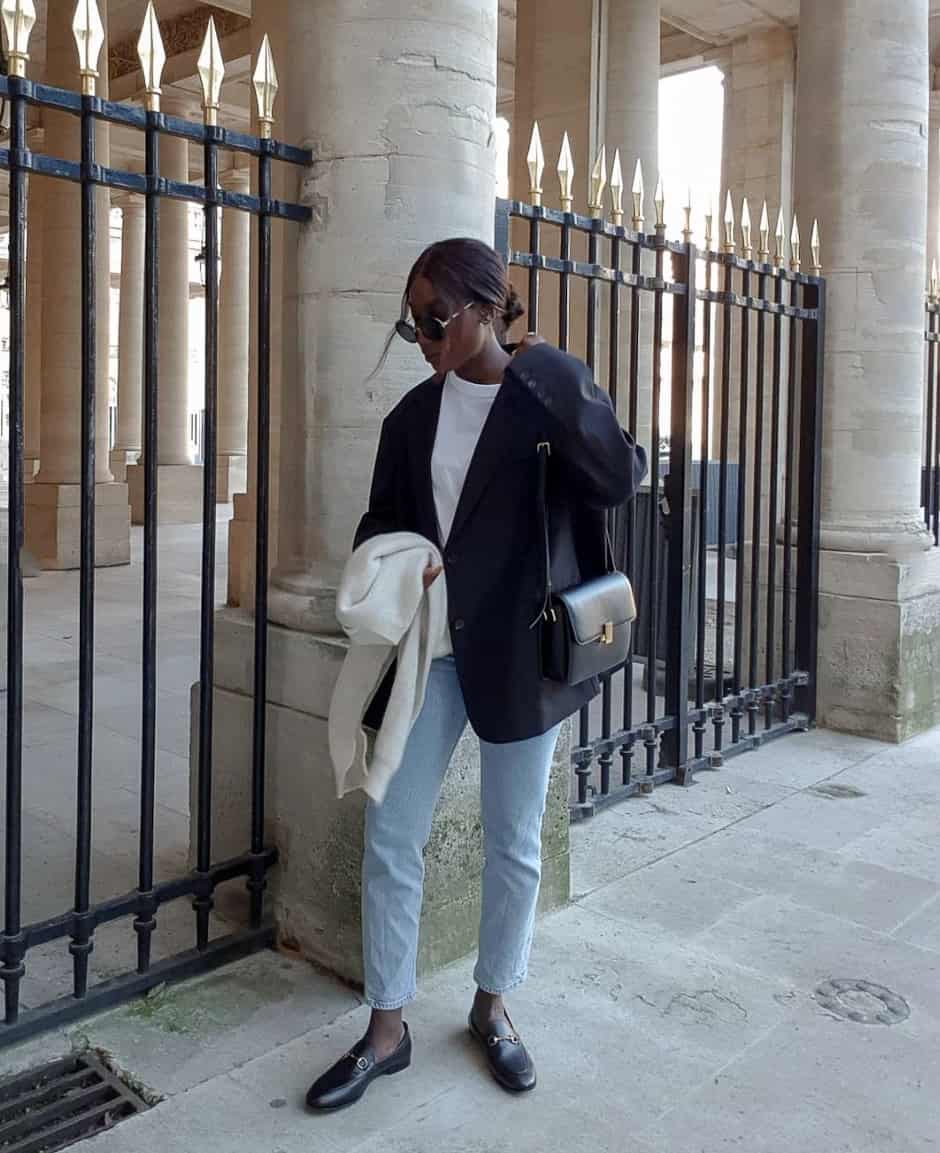 get the look:

Our next look is another minimal outfit, and perfect for Casual Friday at the office.
Oversized blazers have been all over our radar over the last year, and we love the mix of the blazer with slim jeans. The Gucci loafers add a business-casual vibe as well as a more polished feel to the whole look.
This french-girl inspired look is approachable and great for so many occasions.
crop it
get the look:

This stunning outfit has a minimal and classic look to it. We love the pairing of the flowy, feminine skirt and the edgy boots. The black blazer is the perfect piece to tie the whole look together.
Grab a textured midi skirt or even a satin skirt, and tuck a black tank top into it. Layer on the cropped blazer and add a pair of simple black boots. Don't forget a black handbag and some sunglasses to complete this chic look.
This classy and modern outfit would be perfect to wear anywhere, from a date night to a concert, to brunch with friends.
go oversized
get the look:

We love the minimal and edgy vibe of this next black blazer outfit. The black jeans and blazer look chic paired together, and the white tee breaks up the dark colors, bringing in a touch of contrast.
The pointed boots add another edgy feel to this look, and we love how the Anine Bing handbag adds a playful touch. This outfit is perfect for cooler seasons and could be worn as a casual work outfit or for a coffee date.
You could also swap the boots for sneakers for a more casual look.
What can I wear with a black blazer?
A black blazer is such a versatile piece that it can easily be dressed up or dressed down to match the aesthetic you're going for. Here are some of our favorite pieces to mix and match with a black blazer:
Jeans

(all styles pair well with a black blazer)

Leather pants or leggings

Dress pants

or

trousers

Shorts

(denim, linen, cotton)

Mini skirt

Midi skirt

Dress

(slip styles, body-con, and mini dresses work really well)

Sweater

(all styles pair well with a black blazer)

Sweatshirts or hoodies (for a casual look)

Tank or classic tee

Sneakers

Boots

Heels
When building an outfit with a black blazer, figure out what look you're going for and build your outfit based on that. If you want something casual, go for shorts, a mini skirt, or denim. If you want to look more refined, pair a dress or jeans and heels with a blazer.
prep school vibes
get the look:

Prep school goes modern.
The combo of a blazer, mini skirt, and loafers evokes feelings of a school uniform, giving this look a youthful vibe that we love. The classic grey mini skirt looks great but you could easily swap in a denim skirt for a more casual feel.
We've been seeing the socks and loafers combo on all our fave style influencers, and we are all for it. Add some sunglasses, and you will have a perfect outfit to wear on your next shopping trip with friends.
Alternatively, you could wear this look during the fall by adding some thick tights and swapping the loafers for ankle boots.
laid-back chic
get the look:

A black blazer is a perfect piece to elevate a casual look. This outfit proves how you can put on jeans, sneakers, and a baseball cap for a day of errand running, and elevate the look immediately with a blazer.
A classic black tee and a pair of jeans are the perfect casual combo to start this look, and the black blazer adds a refined touch. We also love the addition of the scarf and handbag for an extra chic feel.
Perfect for a spring day spent out and about, this laid-back look has the perfect blend of casual and high fashion.
cool + casual
get the look:

This blazer and dress pants combo has a business chic vibe that we love. Wear this to the office or just while out and about for a cool and stylish look.
We love the simple black and white outfit paired with that gorgeous green Bottega Veneta purse for a pop of color. The sneakers and sunglasses definitely add to the laid-back feel of this look.
This outfit would be perfect for a spring day when you want to look chic and stay warm at the same time.
over a sweater dress
get the look:

This outfit has a cozy look that would be perfect for a chilly day. We love the look of the taupe sweater dress and the black blazer together. And, the gold touches from the purse and belt add an elevated feel.
Start with a mini or midi-length sweater dress and add the belt and blazer over top. Grab a pair of tall black riding boots, or black ankle boots, and add a chic shoulder bag to finish off this look.
You could also add a pair of winter tights to quickly turn this outfit from a fall look to a winter look.
pair it with denim shorts
get the look:

You can't go wrong starting off a casual look with a pair of denim shorts. This chic black blazer outfit is the perfect mix of classy and relaxed, and we can't get enough of it.
You can easily recreate the look with a pair of denim shorts and a silky tank top. To finish, layer on a black blazer and grab a pair of sandals or heels for a stunning look that is perfect for trying out a new brunch spot.
add a pop of color
get the look:

Last on our list of black blazer outfit ideas, we love the soft pastel green as the pop of color adds interest to this minimal look.
Grab a pair of pants or jeans in a muted (or bold) color, add a belt, and tuck in a plain black tee. Layer on the blazer and add your favorite pair of black sandals or mules.
This outfit is perfect for a dinner date and can be worn in spring, fall, or winter!
Do black blazers go with everything?
Black blazers are such a versatile piece that they make a perfect addition to any outfit (a swimsuit might be the only exception here!). This simple and neutral piece can easily be paired with a minimal and timeless look or worn with something more colorful and fun.
Adding a black blazer to your wardrobe gives you an easy way to create refined and modern looks.
How do you style a black blazer casually?
A black blazer has a classy feel, but can be easily paired with casual pieces for a laid-back outfit. Wear it with jeans, a denim skirt, athletic leggings, shorts, or a classic tee, and wear sneakers, sandals, or a pair of boots to style a black blazer casually.
At the end of the day, we can't choose our favorite way to style a black blazer, and luckily, we don't have to! This piece will easily mix and match with so many other wardrobe pieces, making it a perfect staple to keep in your closet.
Use these outfits for inspiration and you'll quickly discover your fave ways to add a black blazer to your looks.
More Style Guides You'll Love:
16+ Chic Blazer Outfits That Prove You Need One In Your Closet
16+ Fresh & Chic Trench Coat Outfit Ideas
13+ Paris Outfit Ideas Inspired By The Chicest French Influencers
Are Leggings Business Casual? Here's What You Need To Know!
16+ New Balance Outfit Ideas You'll Love