Wondering what shoes to wear with a black dress? Learn about the best styles and colors to pair with your LBD and get classy and modern outfit ideas!
*this post contains affiliate links*
Originally published Aug 2022, Updated September 2023
A black dress is a must-have in any woman's wardrobe. It can be dressed up or down, and it always looks chic. But what shoes should you wear with your black dress?
A pair of black pumps is usually an obvious choice, but there are so many other options that can look just as good.
In this post we will share the best shoes to wear with a black dress for different occasions. Including some ideas for different color combinations that will make your outfit really stand out!
What can I pair with a black dress?
Whether you're attending a wedding, a party, or just going out for dinner, there are many options to choose from when finding the perfect pair of shoes for your black dress.
Heels

are always a good choice when you want to dress up your black dress. If you're going to be dancing, consider a pair of strappy black heels that keep you sturdy on the dance floor!

Sneakers

are a great choice if you're looking for something casual yet chic. They also have the added benefit of being super comfy which makes them a great choice for anything from running errands to Sunday brunch.

Ankle boots

will make your outfit pop. If you're feeling extra bold, try a pair with lace-up details!

Knee-high boots

are excellent for fall and winter, and can make a mini black dress extra chic!
Choosing The Right Shoes For a Black Dress
Now that you have some ideas of what shoes to wear with a black dress, it's time to find the perfect pair for your outfit! Here are some tips:
Consider the occasion:

Heels are usually the best choice if you're attending a formal event. For a casual occasion, sneakers or flats might be more comfortable.

Think about the weather:

If it's hot out, you might want to avoid wearing heavy boots. If it's cold, you many want to consider styles that you can pair with socks or tights to keep your legs warm!

Consider your personal style:

Choose a pair of shoes that reflect your personal sense of style. Classic heels might be the way to go if you're more traditional. If you're trendier, try a pair of contemporary sneakers or boots.

Choose a color that doesn't just compliment your dress but also compliments you:

Black goes with everything, but if you want your outfit to stand out, your confidence is key! Go with colors and styles that make you look and feel good.
What shoes to wear with a black dress?
When creating an outfit with a black dress, try ankle boots, lug boots, knee-high boots, flat or heeled sandals, loafers, ballet flats, or sneakers. Choose according to the occasion and the weather.
When it comes to colors, go for neutrals like black, nude, white, or cream. Or, for a bit of fun, go with red or animal print shoes.
Below are some of our favorite footwear options and how you can style each with a black dress!
Classic Heels
A classic pair of heels in black, nude, or metallic is a perfect choice to wear with a formal black dress for a party or special event. You can also opt for a colorful pair of pumps with a black dress for a date night, or girls night out.
shop classic heels:

Ankle Boots
We love the look of ankle boots with a knit black dress. Go with black or add contrast with a nude or cream color ankle boot. In the fall and winter months, suede tan or brown boots also look wonderful with a black sweater dress.
shop ankle boots:

Lug Boots
If you're looking for a more edgy look, try pairing your black dress with lug boots. The thick soles and substantial heels will make you feel like a rockstar while the dress will keep you looking classy.
This combo is perfect for a day of running errands or a casual night out in the fall or winter months. If it's really chilly, add a pair of thick black tights under your dress.
shop lug boots:

Chelsea Boots
get the look:

Chelsea boots are easily recognizable by their distinct side panel detail, and these stylish boots should be a staple in anyone's wardrobe! These shoes add an edgy vibe to any outfit but still have a minimalist design that makes them easy to pair with any look.
Something else we love about a pair of Chelsea boots is how easily you can dress them up or down to match your aesthetic. These boots would work for a night on the town, a dinner date, or just for running errands. And since they're so comfortable, you definitely won't regret choosing these sleek boots.
shop Chelsea boots:

Knee-High Boots
If you want to take your black dress up a notch, pair it with knee-high boots. The extra height will elongate your legs and make you look taller and more slender.
This outfit is perfect for an evening event or party in the fall and winter months. For a more casual look, go with a chunky black sweater dress and a pair of brown over-the-knee suede boots.
Pro tip: Try a midi length black dress with knee-high boots where the hem of the dress covers the top of the boots to create a cozy vibe for fall and winter.
shop knee-high boots:

Flat Sandals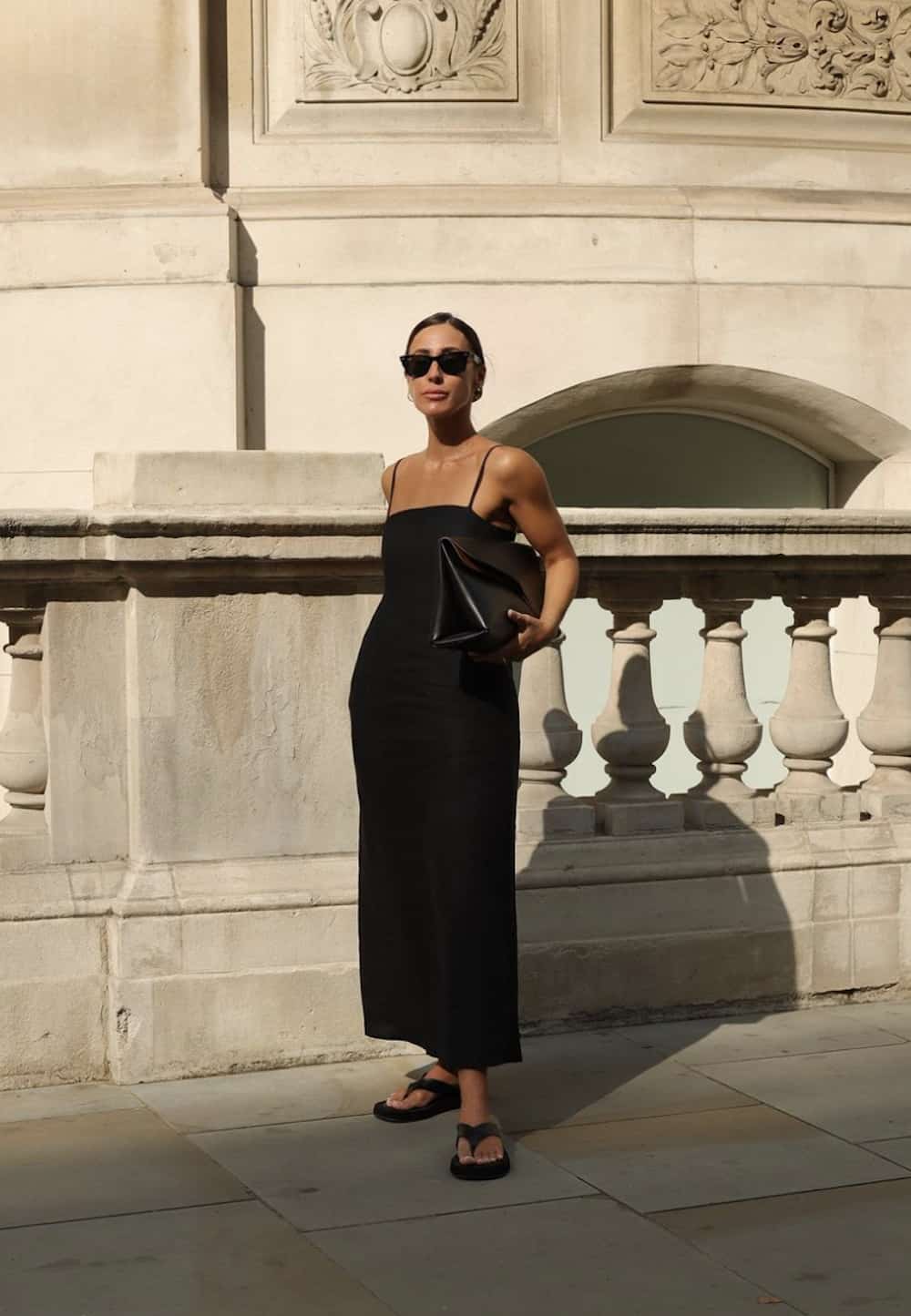 If you want to keep things casual, pair your black dress with flat sandals. The simplicity of the sandals ties the look together, and the neutral color will match practically everything.
This look is perfect for a lunch date or running errands around town in the summer months, and is elevated and timeless.
shop sandals:

Chunky Loafers
If you want to add flair to your black dress, try pairing it with chunky loafers. The boldness of the loafers will add visual interest to your outfit while still keeping things classy.
This combo is perfect for a day at work with an added blazer and tote bag. Or, wear it for drinks with the girls paired with a long trench coat and dainty jewelry.
shop loafers:

Ballet Flats or Mary-Janes
get the look:

Ballet flats are another fantastic choice if you want to add a chic touch to your outfit while keeping it classy. And these shoes are a must if you want to add a feminine vibe to your outfit but want something more comfortable than heels!
You can easily pair ballet flats or Mary Janes with a slip dress like the one above or use these shoes to elevate a casual jeans and tee outfit. No matter how you style these shoes, they're perfect for creating a refined and delicate aesthetic.
shop ballet flats:

Classic Sneakers
Lastly, if you want to wear sneakers with your black dress, go for it! The relaxed and sporty vibe of sneakers will balance out the formality of the dress, making it perfect for everyday wear.
We love this look for running errands, school drop-off, meeting friends for lunch, or taking in a daytime festival.
shop sneakers:

What color shoes go with a black dress?
Black is a neutral color so it goes great with almost everything! When it comes to the best color shoes to wear with a black dress, for a timeless look choose with tones including:
Cream
White
Nude/Beige
Natural

(raffia, jute)

Brown
Black
Metallic

(gold or silver)

Animal print

(leopard, cheetah)

Clear

(pvc)
For a bolder look, try red or neon color tones including pink and green. Below are our favorite looks to show how you can style different colored shoes with a black dress.
Below are some outfit ideas for inspiration when pairing a black dress with different colored footwear.
Nude Shoes
get the look:

For a chic and more formal look that works for a summer or fall wedding, pair a black dress with nude heels. The nude color will elongate your legs, and the sleek design of the heels will add a touch of elegance.
Depending on the style of your black dress, and the occasion, you can go with a pair of nude sandals, pumps, loafers, or ballet flats.
shop nude shoes:

White Shoes
get the look:

If you're looking for something light and airy, try pairing a black dress with white shoes. White shoes are perfect for summer weather and will keep you looking cool on those hot days.
This look is perfect for a day out shopping, brunch with friends, or a casual date night in the summer months.
White looks excellent with a black dress and provides a nice pop of contrast. But, you can also go with cream or ivory tones to make the contrast more subtle.
shop white shoes:

Black Shoes
If you're looking for something more minimal, try pairing a black dress with black ankle boots. The boots will give your outfit a bit of edge but black keeps it looking classic.
What is great about this outfit is that it can be dressed up or down depending on the occasion. This brown and black outfit is perfect for fall or winter weather.
On the other hand, in the summer months you can pair a black sundress with black heeled sandals, black flat sandals, or black sneakers.
shop black shoes:

Brown Shoes
get the look:

If you're looking for something more traditional, try pairing a black dress with brown shoes. Brown shoes are versatile and can be dressed up or down, depending on the outfit.
The look above is perfect for a casual day, or heading to the beach. In the spring, fall, and winter, try brown ankle boots with a black dress. Or, opt for brown mules with a black dress for a more professional look.
shop brown shoes:

Metallic Shoes
get the look:

If you want to add a bit of glamour to your outfit, try pairing a black dress with metallic heels. The gold or silver will add sparkle and shine to your outfit, making you stand out in a crowd.
Or, opt for metallic Mary-Janes or ballet flats for a laid-back vibe with a casual black midi dress.
shop metallic shoes:

This look is perfect for a party, special occasion, or during the holiday season. You can also go with metallic ankle boots and a black dress with a leather jacket for a concert or date night out.
Clear Shoes

Opt for clear shoes if you want to give your ensemble a bold and modern vibe. This is a great way to add a playful feel to your outfits without adding a bright color or daring pattern.
Clear heels are definitely a top choice for something sleek and stylish, but you can also wear clear sandals or wedges for the same bold look, but a more comfortable feel.
Colorful Shoes

Of course, there's nothing wrong with adding some color to your look with a fashionable and colorful pair of shoes!
Going for a brightly colored pair of shoes is an excellent way to add a youthful and alluring vibe to your outfit. Or you can choose a dark, rich shade for an elevated feel.
Adding colorful shoes is an easy way to add a pop of color to your outfit. You can also use vibrant shoes to match the colors you already have throughout your outfit and create a chic and cohesive look.
The Best Shoes to Wear with a Black Dress
No matter what occasion you're dressing for, there are so many shoe options to choose from that will look great with your black dress. You're sure to find the perfect pair for your outfit!
Remember to consider the occasion, the weather, and your personal style when selecting. With these tips in mind, you'll be ready to rock that black dress like all the fashion it-girls!
More Style Guides You'll Love:
What Color Shoes To Wear With a Red Dress + Chic Outfit Ideas
How To Style a Sweater Dress with Boots: 10+ Looks We Love
What To Wear To A Gala: Elegant Outfits + Gala Dress Code 101
11+ Dress With Stockings Outfit Ideas For A Next-Level Aesthetic
15+ Pink and Black Outfit Ideas That Prove This Combo Is Still Hot
The Best Shoes To Wear With Long Dress for Any Occasion
What Shoes To Wear With Straight Leg Jeans For A Chic + Modern Look
The Best Shoes To Wear With A White Dress + Chic Looks To Steal
The Best Shoes To Wear With Sweater Dresses + 10+ *Chic* Outfit Ideas