If you are wondering what to wear with brown pants? You'll love this list of 18+ fresh and modern brown pants outfit ideas to inspire you in spring, summer, fall, and winter!
*this post contains affiliate links*
Originally published Jan 2023, Updated Sept 2023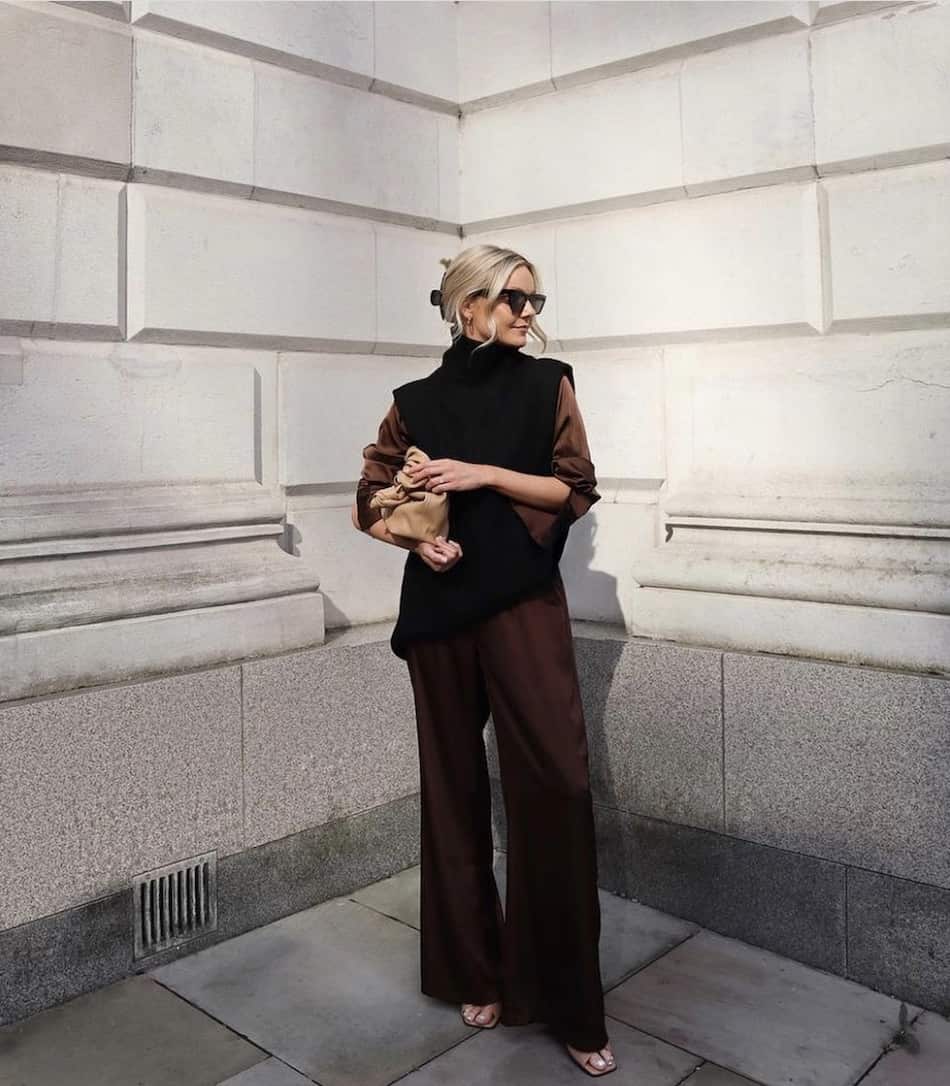 get the look:

Creating Chic Outfits With Brown Pants
With the right combination of pieces, brown pants make a chic statement.
I've seen a resurgence of brown pants on runways and have seen them all over fashion influencer accounts on IG lately. So, it's not a surprise many women are adding a pair to their wardrobes – myself included as I've been on the lookout for the perfect pair.
Whether you're going for a casual look or something more formal, you'll love these chic and stylish brown pants outfit ideas I've gathered from my fave fashion influencers.
Stylish Brown Pants Outfit Ideas
From the office to date night, and everything in between, you'll see that brown pants are a closet must with these stylish looks below.
Polished and professional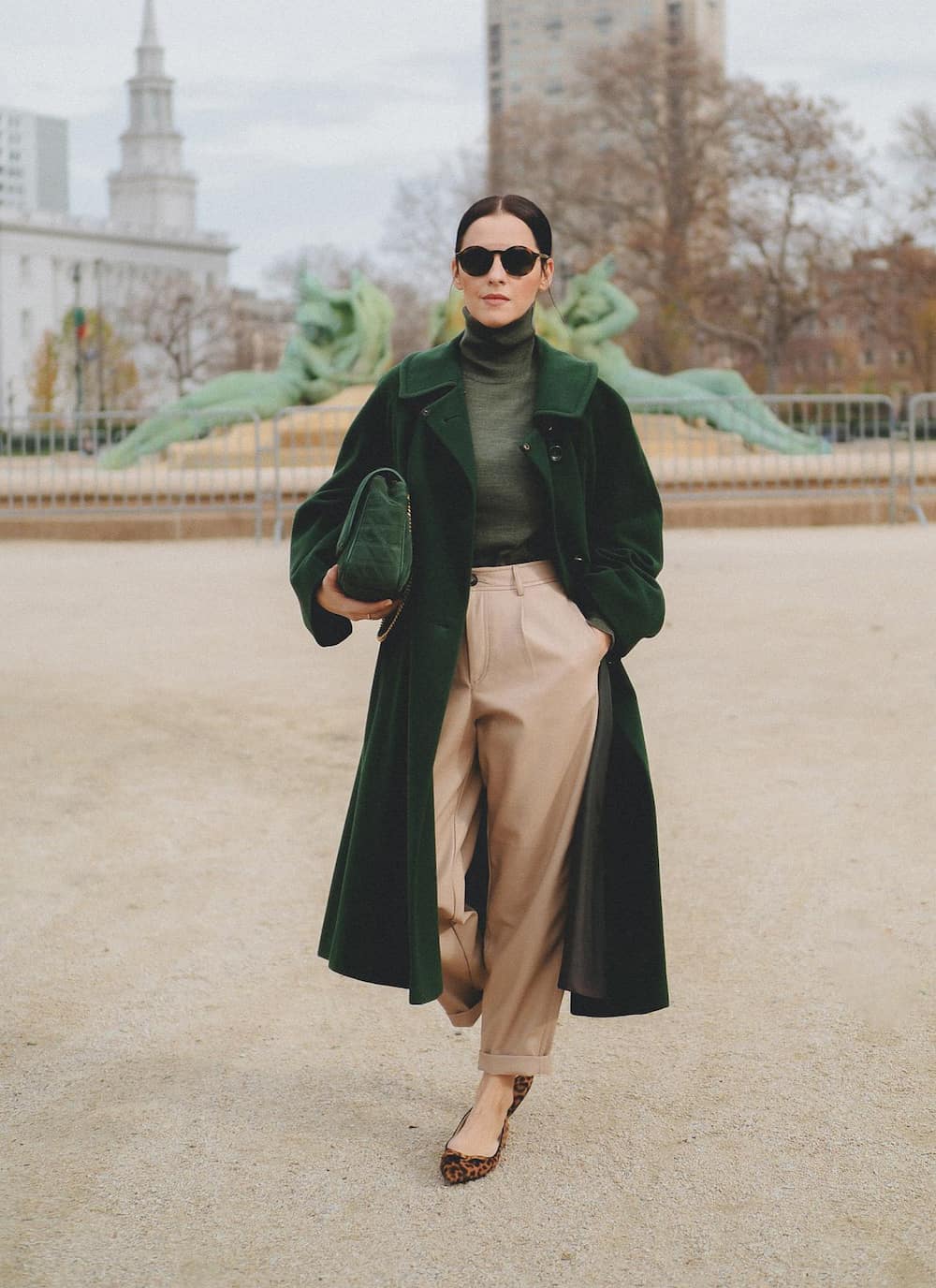 get the look:

Brown and green are a match made in heaven.
These earthy tones complement each other so well and when putting together an outfit with light brown pants, deep green is a perfect accent color. I love the dark green coat with a green turtleneck underneath providing just the right amount of contrast to this look.
I love the light brown pants in this combo, but you could easily pair green with dark brown pants here too. When recreating this outfit, finish off the look with some leopard print flats (animal print goes excellent with brown), and you'll be ready for the office or a coffee date.
Earthy and summery
get the look:

Brown linen pants are a great option in the summer months, and I love this monochromatic look from Emma Hill. The brown high neck tank top, brown drawstring pants, and brown sandals create an elevated and minimalistic look.
I would wear this outfit running errands, hanging out at a coffee shop, or on vacation in Maui, and would feel put together, effortlessly. I also love this woven leather bag from Dragon Diffusion which has been incredibly popular, but it is somewhat pricey. Luckily, Etsy has a more affordable dupe I love too!
Cozy cream & brown
get the look:

For the woman who loves timeless and classic style, I have just the look.
A cozy cream-colored mock neck sweater paired with brown trousers and cream pumps is a perfect combination. This outfit ensures both comfort and style, something I can get behind!
This brown pants outfit is perfect for all kinds of occasions from family gatherings, to date nights, casual events, and even the office.
Easy-breezy spring look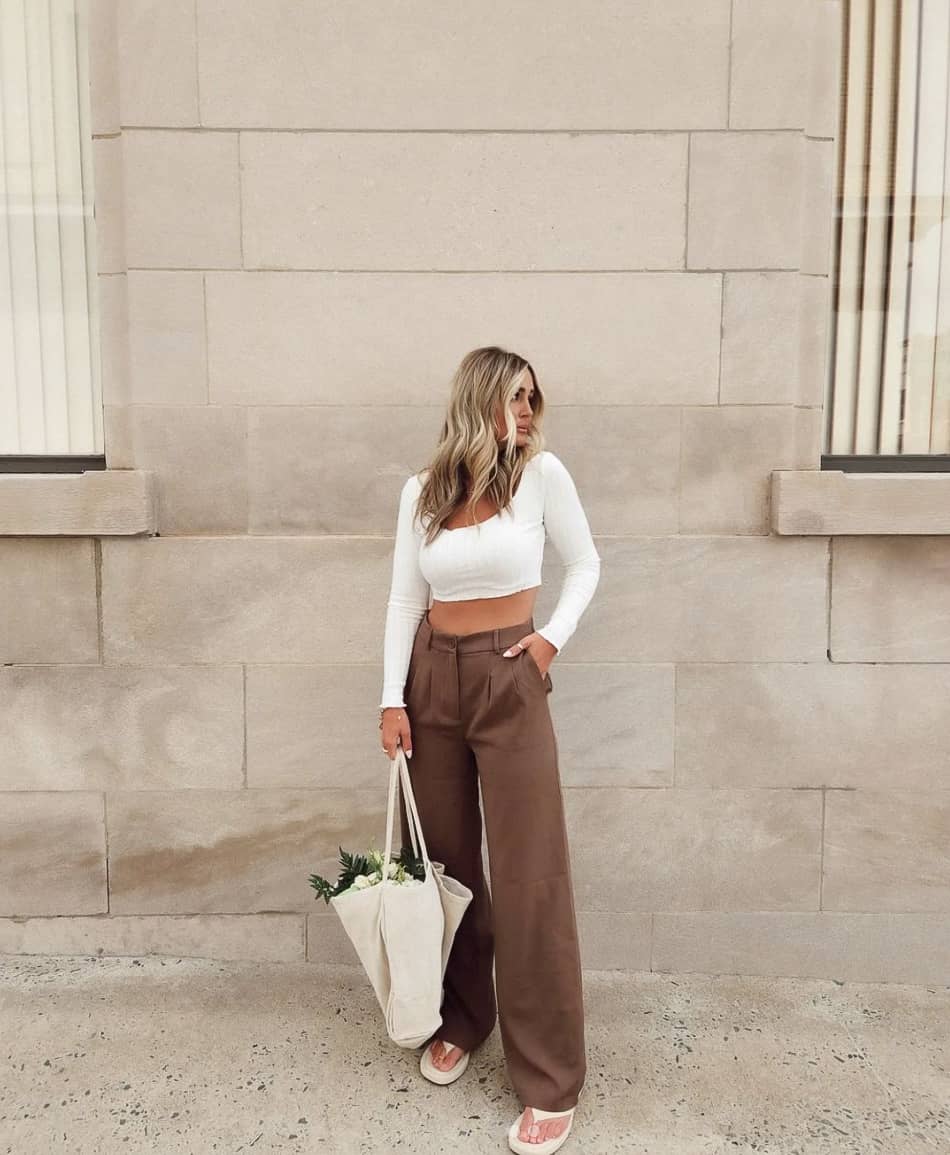 get the look:

Who says that you need complicated show-stopping pieces to pull off a great outfit?
This simple combination with a white crop top, brown pleated trousers, and white sandals proves that less is more. I'd wear this spring-friendly outfit for brunch with friends or casual drinks in the evening.
Feel free to add a few strategically placed accessories to give it just the right amount of detail – after all, there's nothing like the power of dainty accessories. Whatever occasion awaits you next, this breezy, feminine brown pants outfit idea is an excellent choice.
splash of purple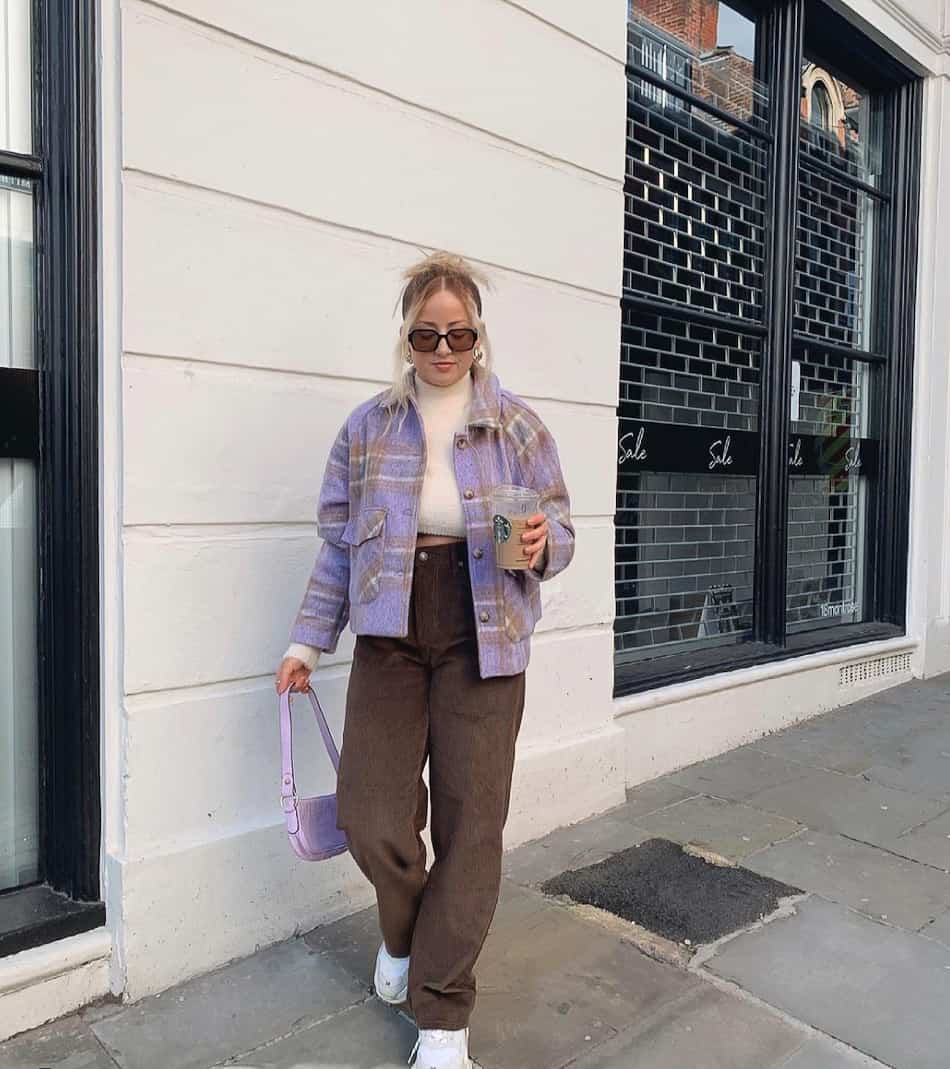 get the look:

If you'd asked me before seeing this outfit I wouldn't have been sure, but now I can say that brown and purple look surprisingly good together!
Because brown is a versatile neutral, it pairs well with pastel hues like purple, pink, and green. This outfit is cute and casual but has a fresh and modern feel to it with the plaid purple shacket and brown corduroy pants.
I'd wear this look in the fall or in early spring around Easter for the perfect splash of color.
With a leather blazer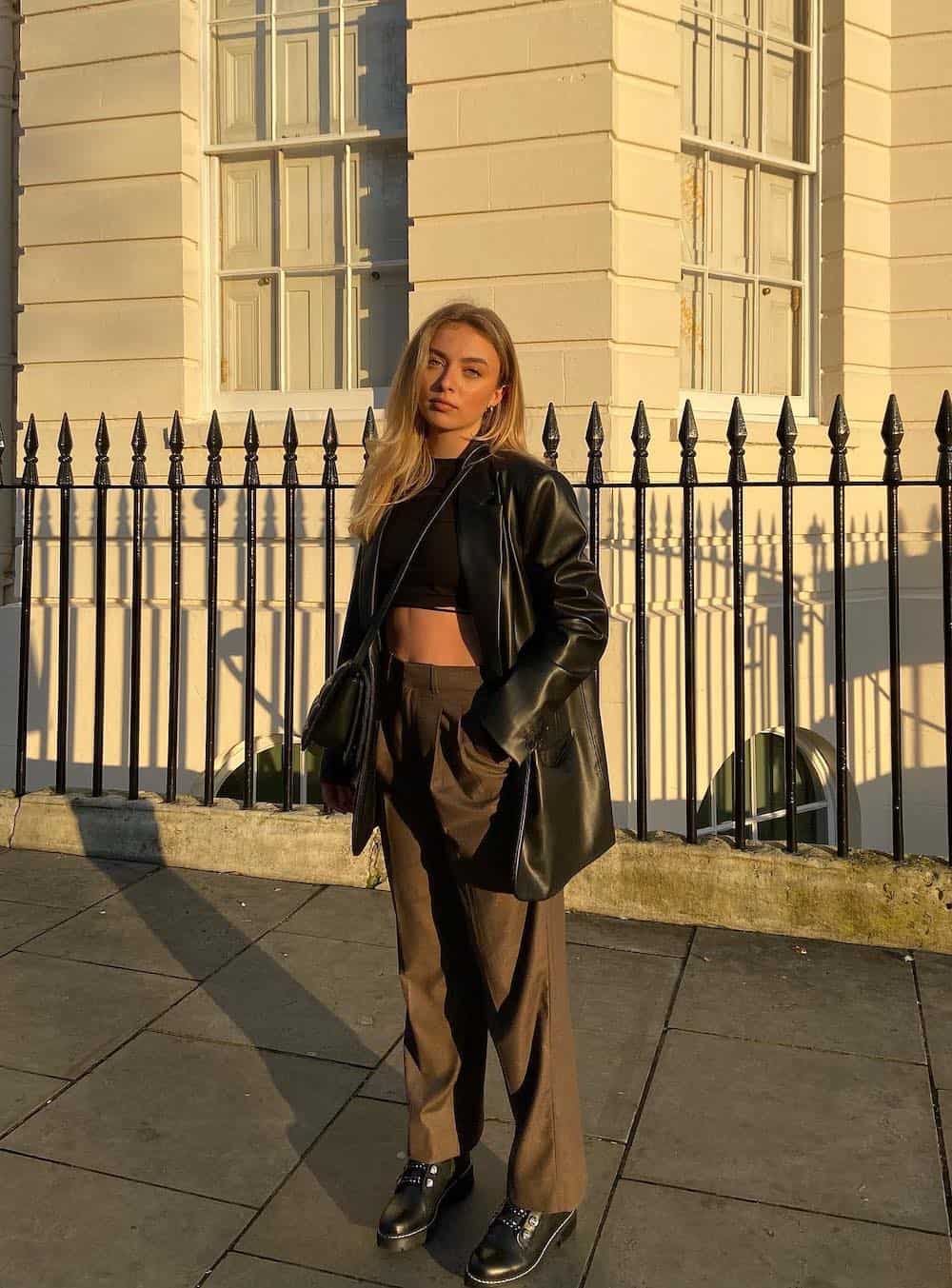 This is the ultimate fall look for 2023 with a stylish leather blazer, black Doc Martens, and a tailored pair of brown trousers. I love how this outfit is modern and fresh, yet still has a vintage vibe to it.
Swap out the combat boots for heels and you'll be ready for an evening out!
Monochromatic minimalism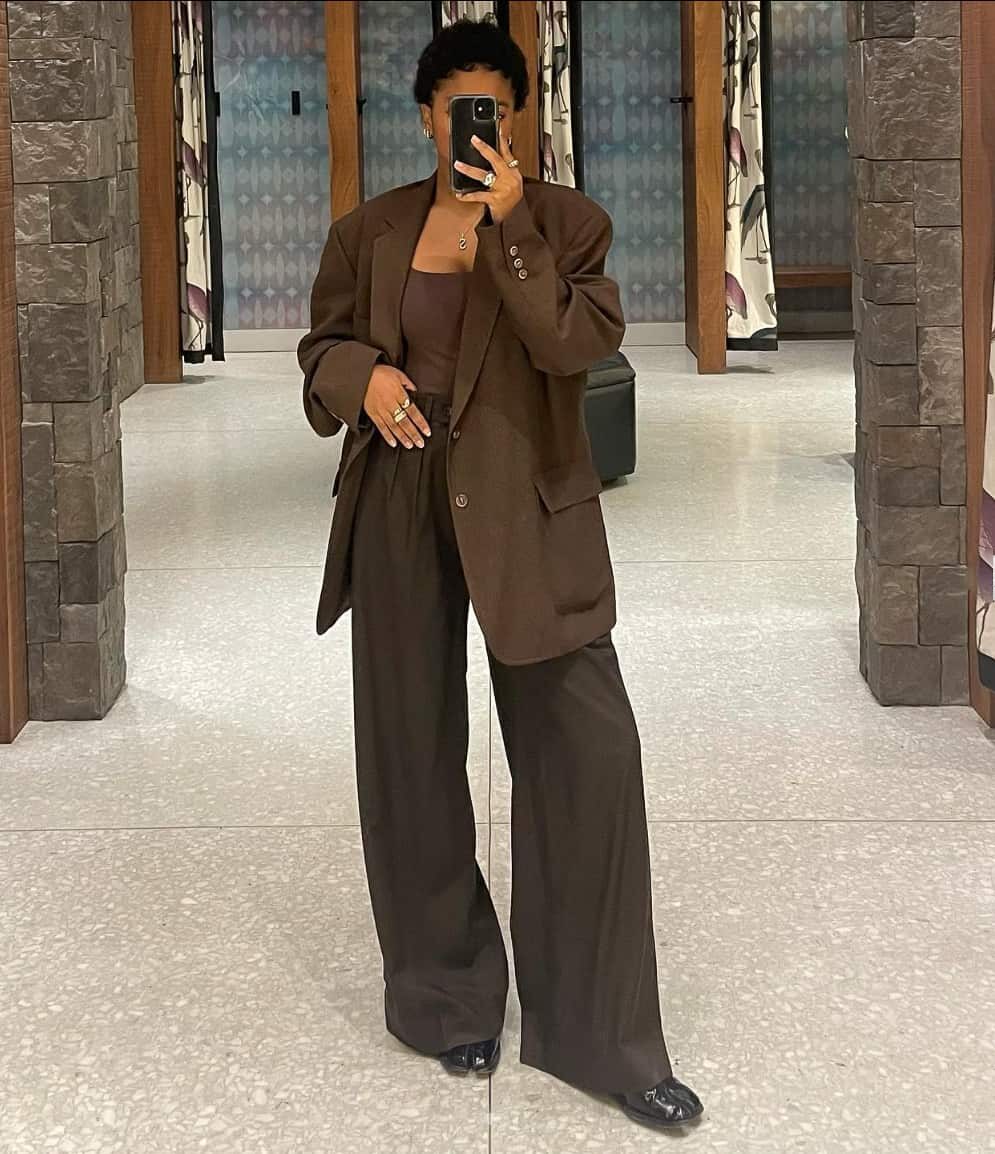 Brown is a rich, earthy color and when it comes to taking the plunge and delving into an all-brown ensemble, I am totally on board. Combining a brown blazer, with a brown bodysuit, and brown wide-leg pants creates an elevated monochromatic look that's both current and timeless in my opinion.
You also don't have to go with matching shades of brown to get the right effect, playing with varying shades of brown will create a stunning outfit that has a refined feel.
Earthy denim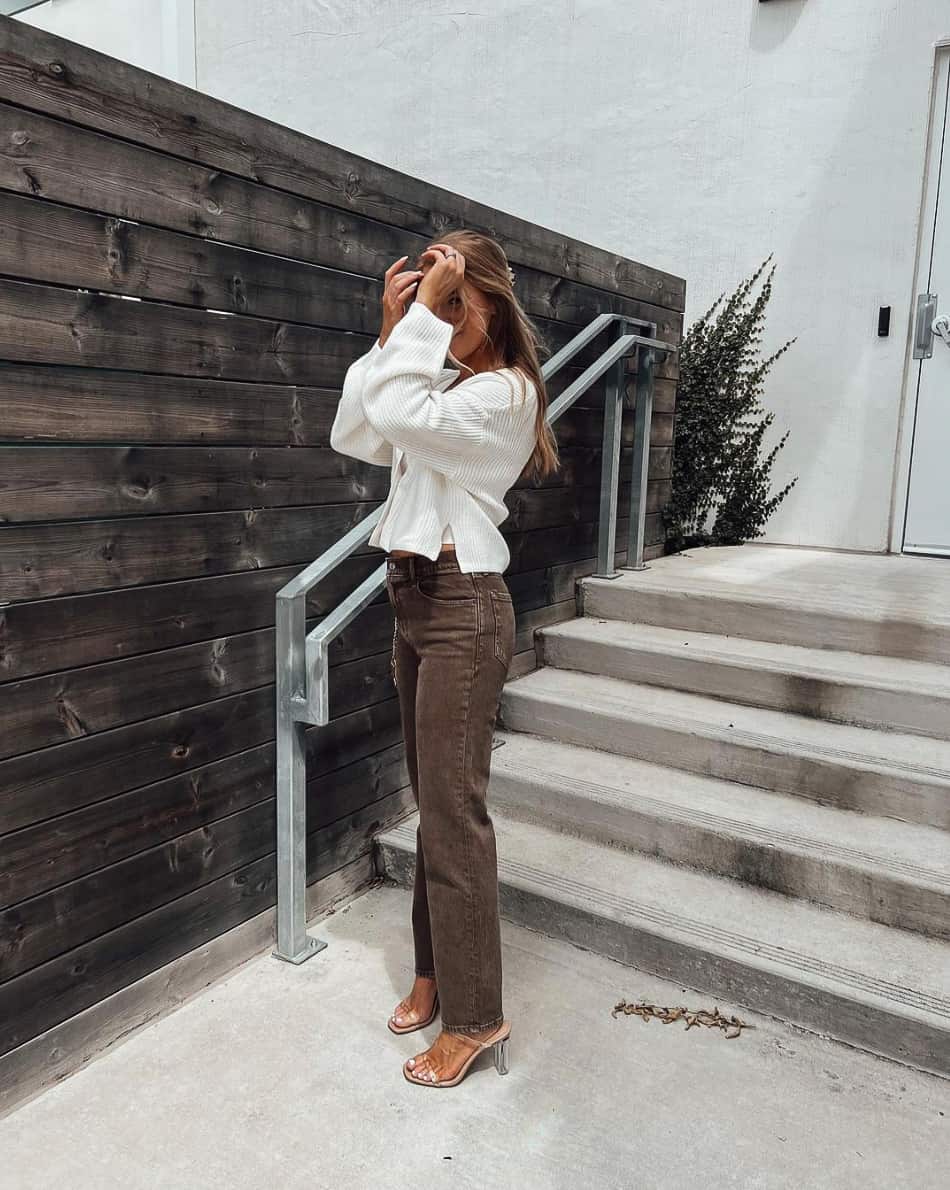 get the look:

Brown pants are not only stylish, but their versatility makes them the perfect choice for an outfit base.
If you are just introducing brown pants into your wardrobe, why not try a pair of brown jeans? This earthy denim can easily be paired with a white cardigan and neutral heels for an outfit you can wear weekly – case in point above.
I've learned that varying shades of brown denim easily goes with any neutral top and turns an otherwise casual look into something more sophisticated.
Brown Leather Pants Outfit Ideas
Brown leather pants are having a moment as of late, and we I'm loving this shift from basic black.
This hue of leather pants is unique without stepping into over-the-top territory. And, they also offer a subtle take on leather as the fashion world, and my own wardrobe, has become increasingly saturated with soft neutrals.
Below are my fave looks with brown leather pants as the star.
Add a blazer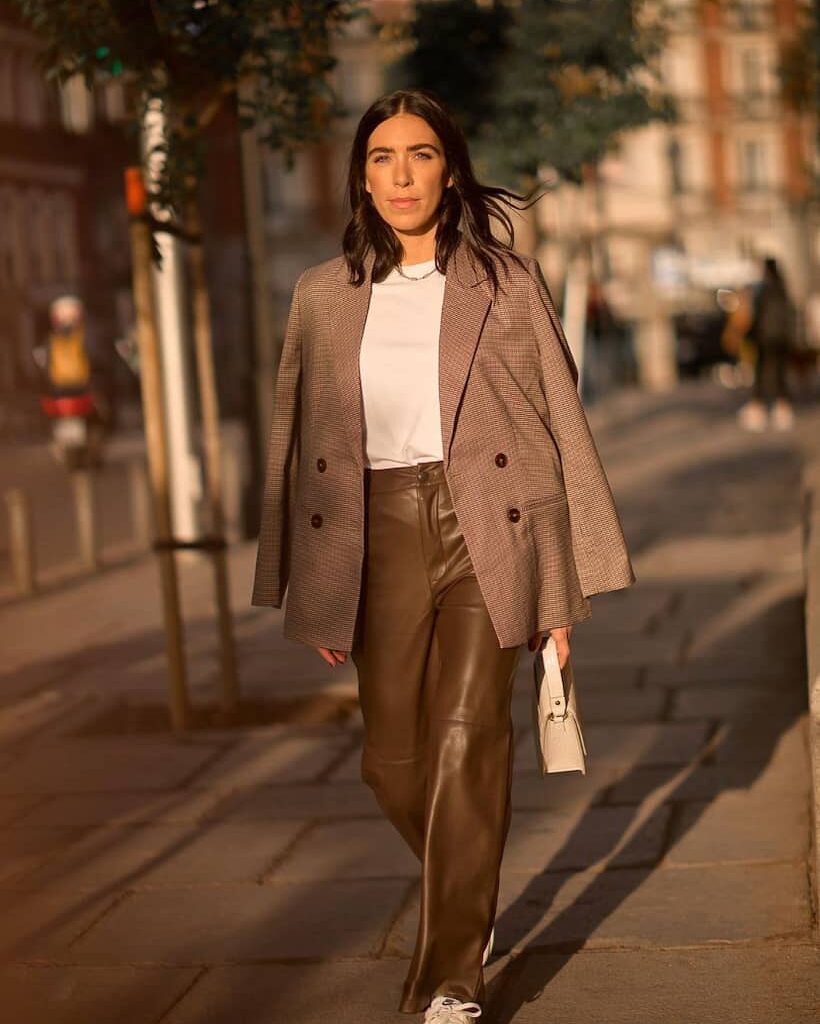 get the look:

Brown leather pants are incredibly versatile. Give them a professional edge with a light brown blazer, or keep it casual with a white tee and sneakers – or try both like Jessica Skye does with this laid-back look.
Adding subtle jewelry will help make the outfit more feminine, and you can easily take this look from day to night by swapping the sneakers for heels and the brown blazer for a black one.
Keep it simple
Often when it comes to outfits, less is truly more. I really like the simplistic look of this outfit with brown leather pants and a classic white button-up shirt. The sneakers keep it cool and casual, but you could easily dress up this look with a simple swap of the shoes.
If I were going for an evening out in this look, I'd ppt for brown suede pumps or a classic leather ankle boot.
Coffee date casual
get the look:

This brown and black outfit proves that this color combo will always live in harmony when it comes to fashion.
A cozy black sweater and croc-effect brown leather pants create a trendy look with a polished appeal. And, the cap-toe Chanel heels make this outfit a little dressier (if Chanel isn't within your budget, check out these slingback dupes).
Not only is this outfit very stylish, but it's also versatile enough for any setting—proving that brown leather pants are truly a chameleon wardrobe piece.
Elevated basics
get the look:

Style and sophistication… and a touch of sex appeal.
Combine wardrobe basics like a cotton button-up shirt with brown leather pants and add a pair of statement heels for a look that easily goes from the office to happy hour.
I absolutely love the snake print pumps that add the perfect pop of texture to this minimalistic ensemble. But, if you want to keep this outfit more business casual, swap the pumps for simple black loafers.
This outfit would also look great with the addition of a black blazer or a long wool coat.
More Chic Outfits with Brown Pants
As you can see, brown pants look excellent with neutrals. That being said, they can also be paired with colors like blue, green, and purple.
Below are a few more outfits with brown pants to give you extra inspiration.
Sporty vibes
get the look:

The days of neon leggings seem to be behind us and I'm not complaining TBH. Now, we are seeing a lot of soft neutrals like cream, taupe, or brown, and brown leggings are no exception.
I love this look with brown leggings, New Balance sneakers, chunky socks, and an oversized sweatshirt. It's the perfect go-to for comfort and style whether you're headed to the gym, going for a walk in the park, or out for a morning coffee run.
Oh, and let's not forget the sherpa bucket hat, the perfect cozy accessory.
Cozy and casual
In the fall and winter months when you want to go totally cozy, try this outfit with brown sweatpants and a brown bodysuit. Top it with a neutral plaid overshirt or shirt jacket and you'll be ready for an early morning coffee run followed by a day full of lounging.
And you could easily swap sweatpants for brown jeans to go from cozy at home to brunch with friends.
A touch of edge
get the look:

A half-zip sweater with brown pants is a classic choice, but you can easily add some personality to your look with white lug boots. The brown, ivory, and pop of white have an elevated feel, while the boots give the outfit an edgy vibe.
This is a perfect look for fall, winter, or early spring when the temperatures are still chilly. I'd layer it with a long puffer coat in the coldest months!
A pop of color
get the look:

When you want to add a playful vibe to a neutral outfit, always think about accessories.
The white sleeveless top paired with light brown pants in this outfit creates a classic look, but the bright orange sandals and handbag break the mold by injecting a bit of fun.
This brown pants outfit proves that you don't need to stick within traditional color ranges to look elevated. In other words, you can go bold without fear of falling flat.
Moody blues
get the look:

Who knew blue and brown could look so good together?
Featuring a light blue button-down and wide-leg brown trousers, this outfit is a refreshing surprise. The blue stands out against the brown in a subtle yet stylish way.
Plus, I am dying for the patent leather Mary Jane's that tie the look together creating a sophisticated appeal (I'm instantly on the hunt for my own pair!). No matter where you're headed, this outfit will make a great impression.
The matching set
When it comes to outfits with brown pants, you can never go wrong with a matching set.
With the addition of white-heeled boots, you can turn a simple two-piece brown ensemble into an ultra-chic outfit. The boots in the outfit above give the look a modern feel while keeping it neutral.
From a pant-suit to a going-out look, brown on brown should never be off the table in my opinion!
What color goes well with brown pants?
Brown serves as the perfect neutral in any outfit, offering endless possibilities for color pairings. Here are some of the best colors to wear with brown pants:
neutrals

–

white

,

cream

,

ivory

,

beige

,

black

,

dark brown

,

tan

, and

camel

pink
purple
light blue

or

navy
green
dark grey
You can also go out of the box and try bold pops of color like bright orange, dark red, and lime green.
Is it okay to wear black shoes with brown pants?
Absolutely! Black is a universal color and can pair with any shade or hue, including brown pants. You can easily pair brown loafers, pumps, or sandals with light brown, medium brown, and dark brown pants for a cohesive look.
A Case For Brown Pants
From classic trousers to leather pants, to cozy leggings, brown pants can be dressed up and down with ease. And when it comes to creating stylish outfits, brown is a versatile color that can be worn in so many ways.
Also, brown is often associated with luxury and sophistication, so adding brown pants to your wardrobe can definitely help you look more expensive on a budget.
I hope you have loved these outfits with brown pants and feel inspired to create some of your own stylish looks.
More Style Guides You'll Love:
17+ Leather Pants Outfit Ideas That Prove You Need A Pair
18+ Outfits With Green Pants: Stylish + Elevated Looks You'll Love
16+ Fresh & Chic Trench Coat Outfit Ideas
15+ Coffee Date Outfit Ideas That Are Classy & Casual