Looking for beautiful butterfly nail ideas or butterfly nail art? You need to see this list of 23+ butterfly nail designs that are perfect to DIY or for your next trip to the nail salon!
Butterfly Nail Designs You'll Adore
Butterfly nails are our newest obsession! These manis are cute, chic, and perfect for adding a playful feel to your everyday outfits.
So, if you love butterfly nail designs as much as we do, you need to see our list of butterfly nail ideas below. We have everything from sleek and subtle nail designs to bright and bold nail art.
And whether you're looking for casual designs for everyday wear, elegant styles for a special occasion, or something daring for a night out – we have the perfect inspiration for you below!
Shimmering Purple Nails w/ Black Wing Accents
Go for a subtle butterfly nail design with wing accent nails! We love the soft shimmering purple nail polish, and this light shade looks gorgeous with the black wing details.
This is perfect for adding a playful touch to your daily looks while still having a minimal nail design.
Ombre + Nude Butterfly Wing Ombre
If you prefer a bolder design, you can go for a full mani with butterfly wing art. We love the light orange and nude ombre underneath this design. Orange is perfect for butterfly nails, and using this color in an ombre gives it a modern look.
Classic French Tips + Pink Butterflies
Add a fun vibe to a classic nail design with delicate pink butterflies on French tips! We love that this nail design still has that sophisticated and timeless feel, even with the butterfly nail art.
Using a pastel pink shade for the butterflies keeps the design subtle while giving the art a feminine aesthetic.
What are butterfly nails?
Butterfly nails are any manicure with butterflies on them! This can be done through nail art, nail stickers, line art, glitter, or butterfly charms. They often symbolize a new beginning or fresh start, so many people love to wear butterfly nails around the New Year, graduation, or a wedding.
Something we love about this nail trend is that you can combine it with any nail design – layer butterfly nail art onto a chrome mani, ombre nails, or classic French tips! Plus, this nail art looks stunning in bright colors, muted tones, neutral shades, metallic accents, or any combination of them.
Gold Nails & Blue Butterflies
Looking for a daring and alluring mani to rock in 2023? Gold nail polish with blue butterfly nail art has the perfect contrast for a beautiful and eye-catching nail design.
This is a must if you're going to a formal event and want to really make a statement or if you want bold butterfly nails to bring in the New Year with!
Orange + Red Nails w/ Butterfly Line Art
Red and orange blend together for a lovely abstract design, and pairing butterfly line art with this design creates a gorgeous, modern look! This color combo is a must for summer, but you can go for any color with this mani to get the aesthetic you want.
Pink + Purple Nail Art w/ Butterfly Accents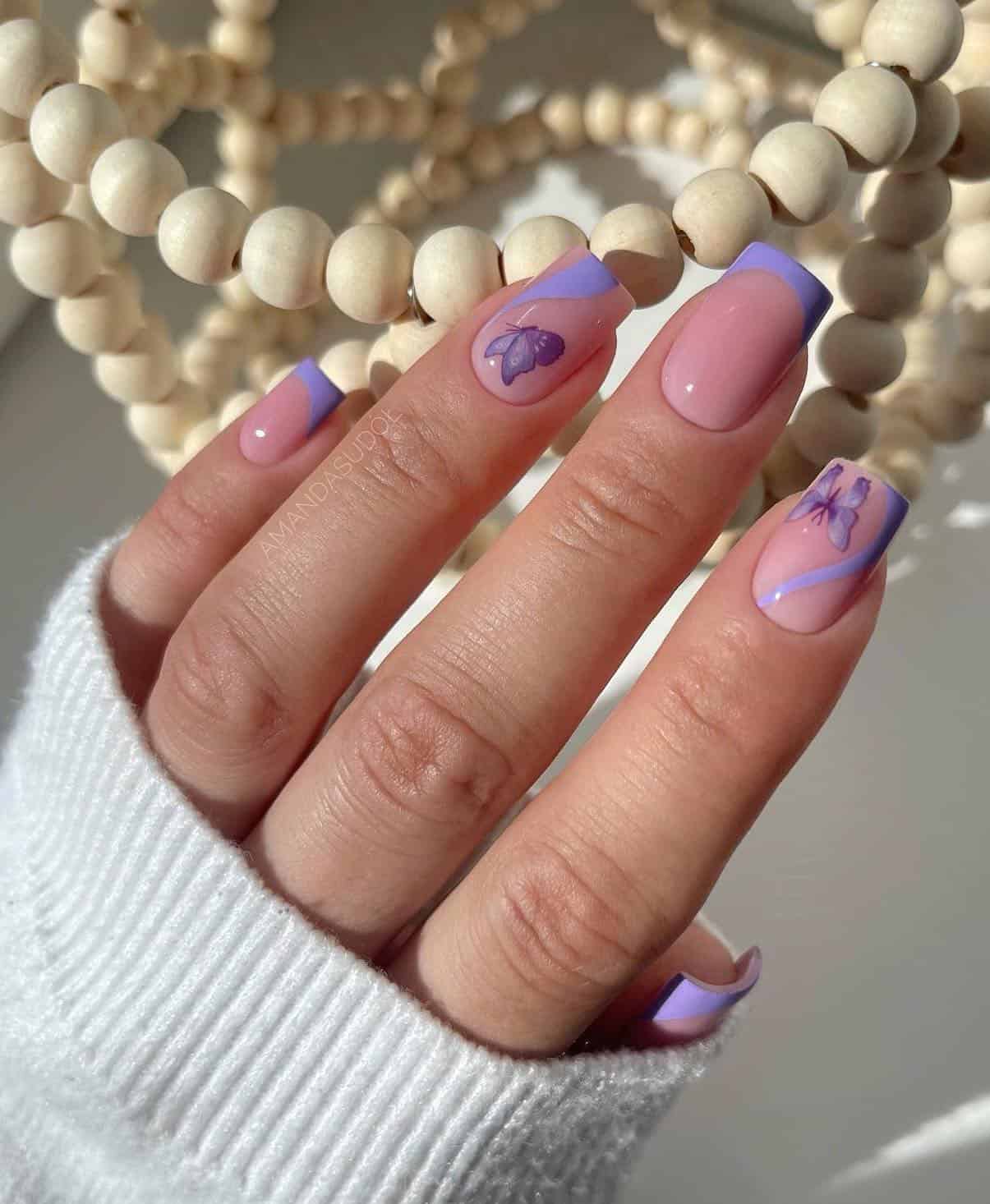 Go for a chic and feminine design with purple and pink butterfly nails! We love the combo of classic Frenchies with modern wave details, and butterfly accents are perfect to pair with these designs.
Show off these stylish butterfly nails at brunch or on a girl's night out!
Milky White + Monarch Nails
Monarchs are probably the most well-known type of butterfly, and these bright orange beauties look so stunning against milky white nails. This simple nail design has an elegant and chic aesthetic, making it perfect for a refined manicure with a nice pop of color.
What do butterflies symbolize?
Butterflies are seen as symbols of transformation, so these nails tend to symbolize growth, hope, and rebirth. This makes nail art with butterflies perfect for anyone starting a new chapter or looking to embrace change in their life – and that means these beauties are a must-have for chic New Year nails!
Butterfly Frenchies
You can't go wrong with a simple but chic nail design like the one above! Butterfly French tips are fun and so cute, and this nail art is an easy way to add a playful vibe to your everyday outfits while keeping the look minimal.
Matte Nails + Colorful Butterflies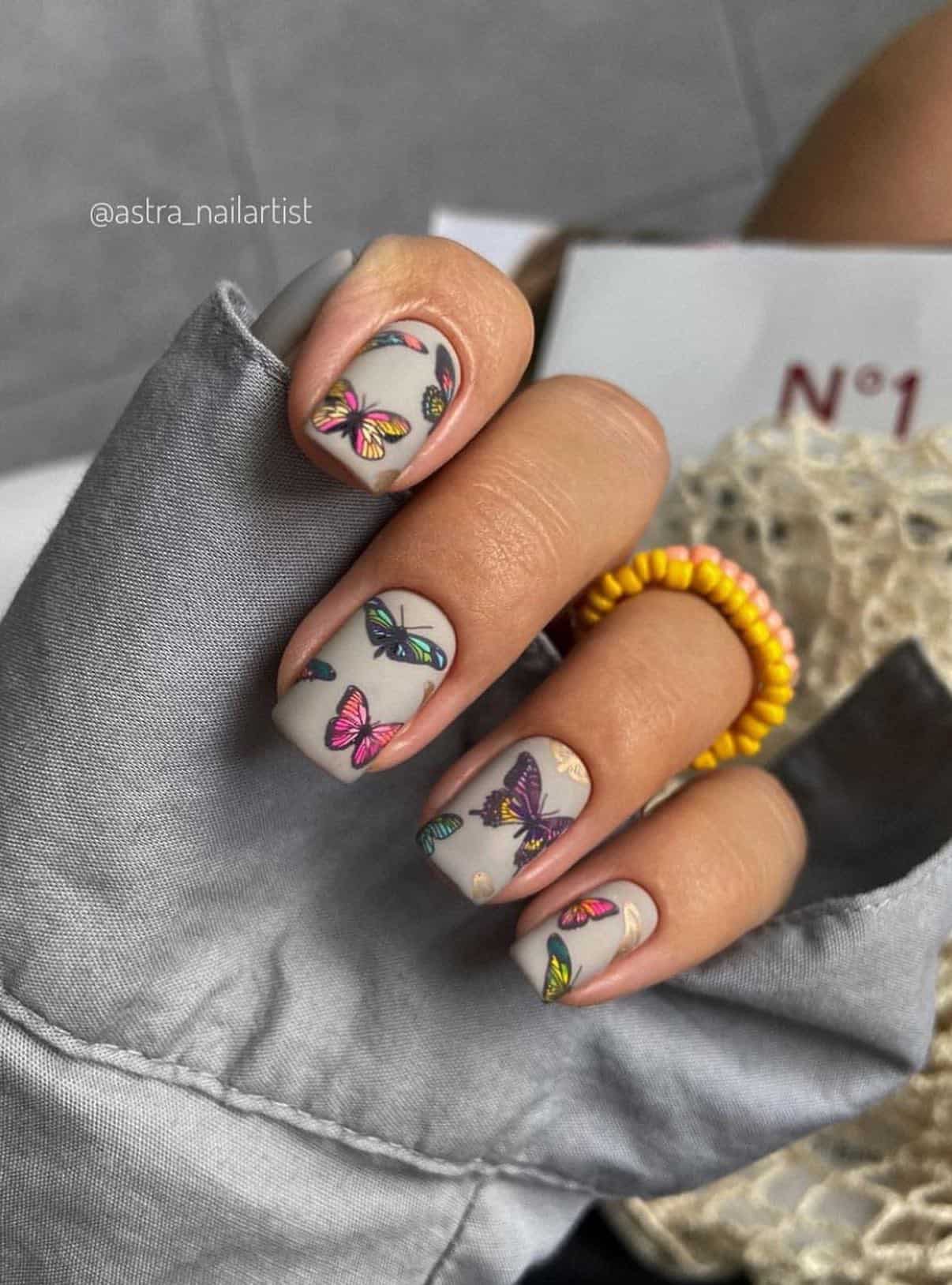 We are in love with this colorful butterfly nail art! A neutral base is a perfect canvas for such a vibrant design, while the matte finish adds a refined touch. This manicure would elevate anything from daily looks to vacation outfits to formal ensembles.
Black French Tips + Gem Accented Butterfly Wings
When it comes to butterfly designs on nails, you don't have to go for something colorful or bright. Neutral colors would look just as stunning, and this mani above proves that!
Keep it simple and subtle with nude nails and black nail art while adding a pop of glam with crystal accents.
Delicate Blue Butterflies on Milky White Nails
If you're wondering how to incorporate butterfly nail art into your next mani while keeping it elegant and chic – this look is for you! The milky white nails are clean and classic, and this shade of blue is so stunning paired with this base color.
We love the simple and translucent design of these butterflies, and you can always add some gold flake details for a bit of a bolder look.
Dusty Blue & Butterfly Nail Art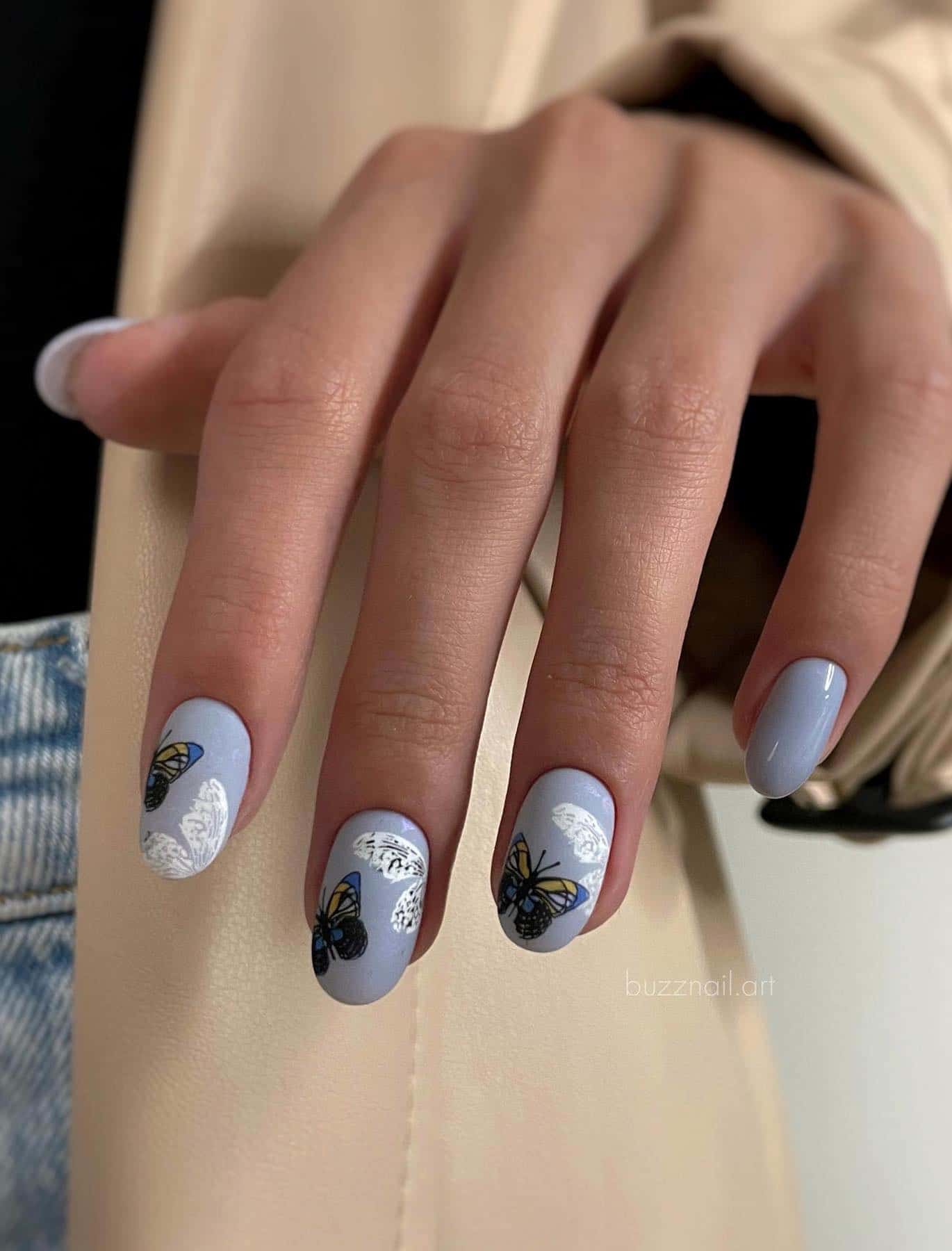 We love the soft blue shade here as if these butterflies are flying across a clear blue sky.
Blue and yellow butterflies have a gorgeous contrast and really pop against the dusty blue nail polish, while the white butterflies add a lovely pop of brightness. We also love the vintage vibes we get from this nail design, so this is a must for anyone who loves retro-inspired manicures!
Pink Stiletto Nails + Butterfly Charms
Butterflies and pink go hand in hand, and we love this chic yet girly nail design! This shade is so pretty, and the butterfly charms are a bold way to accent your nails. And like the look above, these nails have a retro 90s vibe that we adore.
You can always add some white line details or glitter to mix things up, but this monochromatic pink look is perfectly charming as is.
Pastel Butterflies & Pink Nails
You can easily rock this manicure in spring or summer with these pastel butterflies! These shades definitely have a warm-weather vibe, and they're the perfect way to elevate your summer style while kicking back and soaking up the sun.
Short White Nails w/ Butterfly Accents
This is another gorgeous butterfly nail idea that is elegant and modern. We love the realistic look of these butterflies, and the bright white polish makes these colorful butterflies stand out perfectly!
You can wear a nail design like this anywhere – while running errands, going for a coffee date, or hitting up your favorite shops.
Pink Nails, Orange Butterflies + Gold Accents
We love the unique and bold nail design here! The combo of pink nails with light orange butterflies is so lovely, and the subtle butterfly nail art adds a whimsical feel to these nails. The gold accents add a bright, glamorous feel, making these nails perfect for anything from a night out to a day at the office.
Chrome Nails + Pink Butterfly Wings
Chrome nails with pink butterfly wing nail art creates the bold, feminine mani of our dreams! This manicure has serious Barbie vibes, and it's a must if you want to add a cute and girly feel to your outfits or if you want an eye-catching design for an upcoming girls' trip!
Shimmering Purple Polish + Colorful Butterflies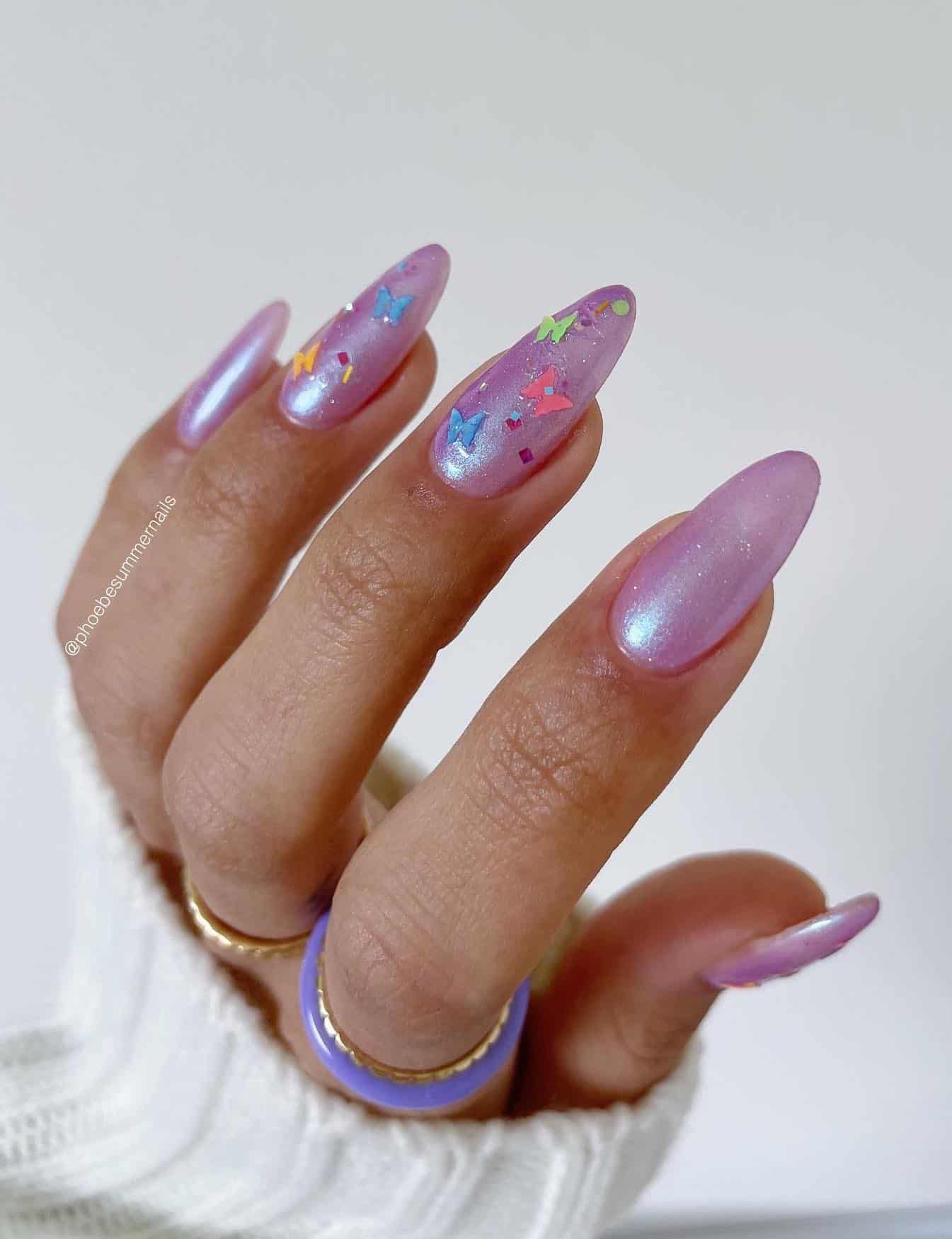 Glittering purple nail polish is seriously stunning, and the colorful butterfly accent nails add a fun, vintage flair to the nail design! We love the addition of chunky glitter on the accent nails; they add to the playful and retro aesthetic here.
Butterfly Reverse Frenchies
Next on the list of butterfly nail ideas, go for a peek-a-boo design with reverse French tip butterfly nail art!
This is a nail design that you can keep simple or change to fit your vibe. Stick with nude nails and classic orange butterflies, or opt for glittery polish and vibrantly colored butterflies. Either way, this fun butterfly nail design is sure to earn you compliments all week long!
Shimmering Rainbow Polish & Wing Nail Art
When it comes to butterfly nail ideas, bright colors are always welcome!
We love a pretty rainbow nail design, and adding butterfly wing details over the top with a shimmering finish takes this manicure to another level. If you love bold and eye-catching nails, this mani is definitely for you!
Sparkly Pearl French Tips + Bronze Accents
We have another mani that proves butterfly nail designs can be elegant and chic!
Shimmering pearly French tips are the perfect combination of modern and timeless, while the bronze details have just the right amount of contrast with these light nails. We love the addition of sparkle details with the butterfly accent – it adds a fun and whimsical feel to this sophisticated manicure.
Lime Green French Manicure w/ Butterfly Accent Nail
While we love the purple, pink, and blue nail polish we see with butterfly nail ideas, you really can use any shade with this design. Bright lime green gives these nails a springtime feel, although you can still rock this look in fall or winter when you're missing bright colors!
Pink + Yellow Marbled Nails w/ 3D Butterflies
Marbled nails are always elegant and so beautiful, and this pink and yellow color combo also adds a fun touch to this marbled design. And while we're all for butterfly nail art, these 3D butterfly accents are a seriously bold and eye-catching detail that you're sure to love!
When it comes to butterfly nail ideas, there are countless styles and color combos to choose from. But luckily, you really can't go wrong with a cute and modern design like butterfly nails. We hope this list has given you the perfect inspiration for butterfly nail designs to rock in 2023!
More Nail Inspiration You'll Love:
28+ Gorgeous Graduation Nails Ideas
26+ Perfect Pumpkin Nails To Obsess Over This Season