Wondering if brown shoes, khaki pants is a good outfit combination? Learn how to master this look with outfit inspiration and our top tips for what to wear with khaki pants and brown shoes.
*this post contains affiliate links*
get the look:

Creating Modern Outfits with Khakis
There's a big misconception about the use of the word "khakis". Unlike what most people believe, khakis aren't actually pants. The pants actually come in a variety of styles like chinos or trousers, and it's the color that is the range of shades of tan we call khaki.
As a good middle ground between jeans and dress pants, khakis are a must have for the men who want to elevate their wardrobe. Not only can it pair this neutral color tone with almost anything, it automatically creates a classy feel to any outfit.
get the look:

Do you wear black or brown shoes with khaki pants?
You can wear both! Since the earthy color of khaki pants is considered a neutral tone, both black shoes and brown shoes pair well with them.
Khakis aren't limited to those colors though, almost any shoe color can match. For darker shoes (like black shoes), a good match would be a darker tone of khaki to reduce the contrast.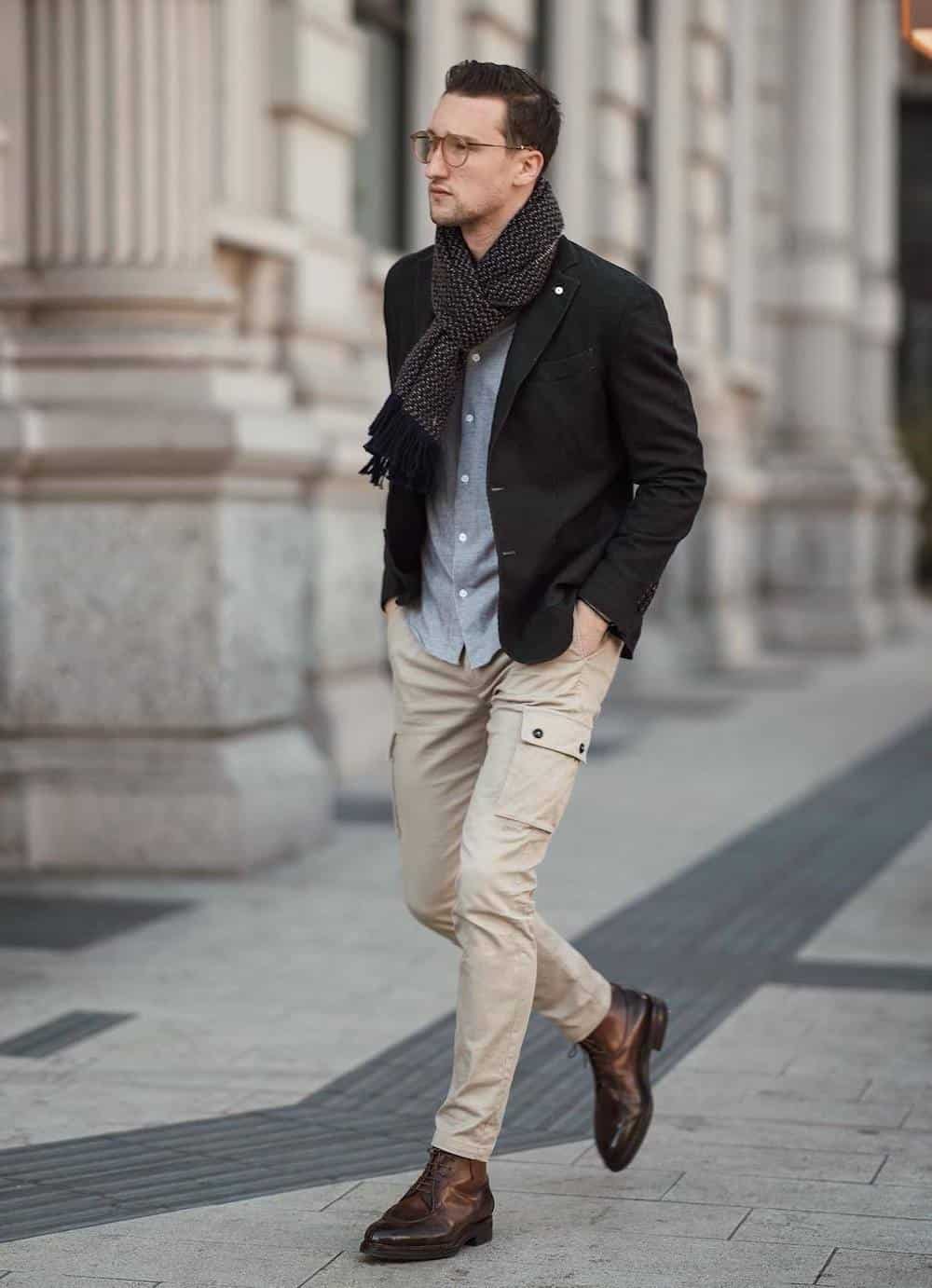 get the look:

For a sharper contrast, it's possible to pull off a dark shoe with light khaki tone in style! Pair it with a neutral colored Oxford shirt or t-shirt and a dark blazer to complete the look.
Khaki pants, brown shoes, what color shirt?
Khakis are such a versatile garment, they can be worn with almost any combination of clothing and look great. Neutral colored shirts should be a staple pairing for anyone who likes to wear khaki pants. Try any of the following color shirts with khaki pants:
black
gray
white
forest green
maroon
navy blue
light blue
Color combinations with other neutral tones can be both casual and formal. Khakis are also good with colored shirts, but we recommend you keep the colors muted, rather than bright and bold, like forest green, maroon, or light blue.
get the look:

What goes well with brown shoes and khaki pants?
Khakis have got to find their way into your closet because they'll make you look good. If you are going to a formal event, the key is choosing a neutral colored Oxford shirt to go with the pants-shoes color combination. Dark or light grey is alway a good choice as a pairing, along with any shade of white.
Faded or light colors will also pair well if you've decided on wearing brown shoes with your khakis. A classic look is pairing brown boat shoes with khakis and a light blue Oxford shirt as the cherry on top. You'll be able to rock it at a bar as well as a wedding!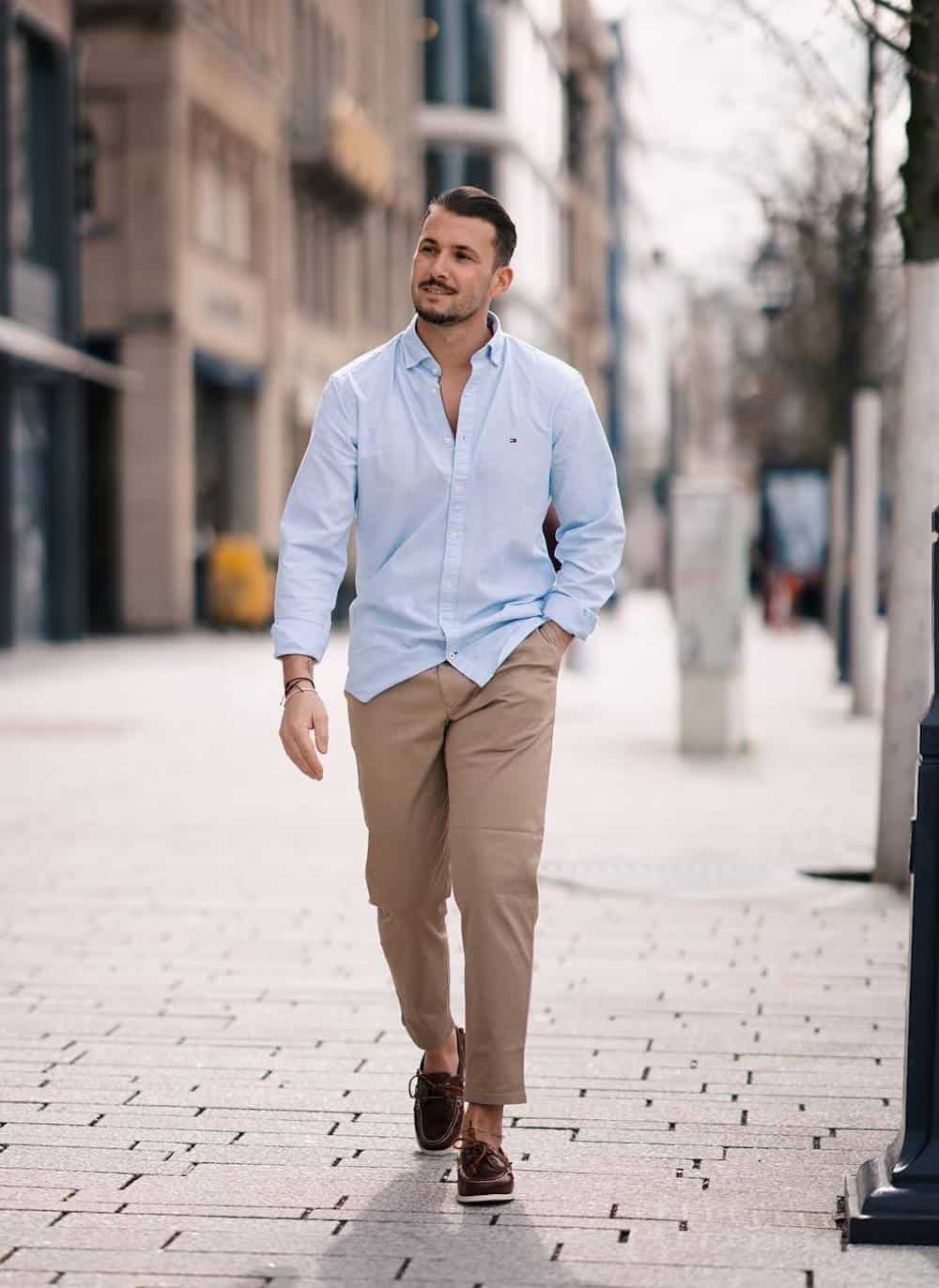 get the look:

For a more casual look, pair your khaki pants with a basic t-shirt in white or black, or a hoodie or sweatshirt. Throw on a pair of brown leather sneakers and you'll be on your way.
What shoes do you wear with khaki pants?
Khaki chinos can be molded to fit any occasion if paired with the right shoes. Here are some examples of the best shoes to wear with khaki pants:
Leather or canvas sneakers. Invited to a house party by your friends? Leather or canvas sneakers and khaki pants can be your go-to.
Casual sandals. Laid-back dinner in Bali by tiki light? No problem, brown slides (think Birkenstocks) can be your choice of footwear.
Chelsea boots. Going on a date with a girl who loves the woods? Go for the rugged look by pairing your khaki pants with some nice brown boots.
Chukka boots. Running errands or going to a relaxed gathering? Throw on a pair of chukka boots with your khaki pants.
Dress shoes. Going to a wedding or a business meeting? Throw on some dress shoes to spruce up the khaki pants' formal clout.
Western boots. Visiting your family in Texas? Throw on some cowboy boots with your khakis and pack your "Yee haw!"
Any event that you may go to, the constant can be khakis, while the shoes can decide if you'll be casual or classy.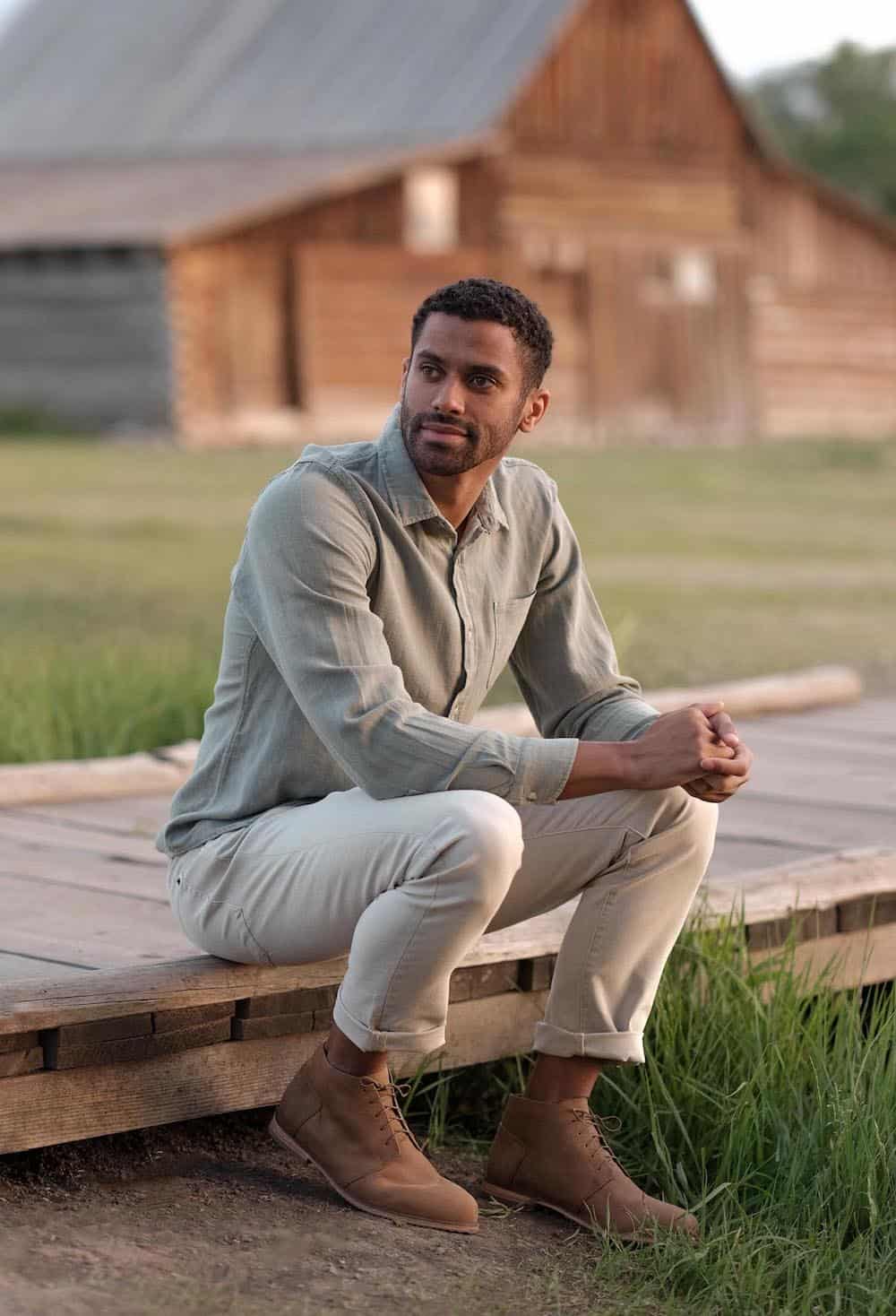 get the look:

Do brown boots go with khaki pants?
Like a match made in heaven. Brown boots combined with the earthy tones of khaki pants are the epitome of the rugged yet still fashionable man. You can wear khaki chinos with brown boots outdoors and still look spectacular while traversing fallen logs and jumping over boulders.
For the men looking to achieve the live-in-a-log-cabin look that's very in right now, get some brown boots, a neutral t-shirt, and a flannel shirt or jacket to complete the style.
Wearing khaki pants with brown boots will really bring out your inner mountain man. Maybe it will even cause your beard to grow out faster!
get the look:

Brown shoes khaki pants, what color socks?
Luckily, there are a plethora of sock colors that go with khaki pants! Depending on the style you're going for, you can choose to go with no-show socks to pair with boat shoes, or formal socks of various colors:
Tan socks. Monochrome colors (matching socks and pants) aren't necessary, it's totally fine to have them be different shades.
Black socks. Classic and trustworthy, black socks work great with a pair of brown shoes and khaki pants.
Charcoal grey socks. Another reliable neutral charcoal grey socks go really well with the brown shoes, khaki pants combo.
Brown socks. You can't go wrong with the brown shoes, brown socks, and brown khakis combination. Different shades of brown work well together, but if you want to really stand out you can pick tones that contrast each other for a classic look.
Forest or olive green socks. Earthy green toned socks can really sharpen up lighter toned khakis.
Funky patterned/colored socks. Wearing socks that are fun and different can help bring a playfulness to the style. For example, having a pattern of pineapples in view while sitting down can be a subtle flex on everyone who went with the traditional pant-sock combination.
get the look:

The Bottom Line
In summary, brown shoes and khaki pants are a great combination when done right. Because khakis are a versatile addition to your wardrobe, they can work for so many outfits, as can brown shoes of all styles.
But be aware, the clothes you match with your khakis may not be the best fit with each other. For example, a green shirt may not look the greatest with red socks.
Focus on syncing harmonious colors together to maximize your outfit's style, and consider sticking with neutrals to keep the look classic and timeless. You don't want to look back on photos 10 years down the road and think "why did I wear that?!". Black, white, grey, brown, and tan never go out of style and always look great together.
If you enjoyed this article be sure to check out more of our style guides in The Men's Edit below.
More From The Men's Edit:
What Color Shirt Goes With Khaki Pants? A Foolproof Guide For Men
What Shoes To Wear With Chinos + 11 Modern Mens Chino Outfits
21+ Leather Gifts For Him: Top-Rated Budget & Luxury Ideas
6+ Best Mens Bootcut Jeans and How to Wear Them
10+ Simple Outfits With Light Blue Jeans For Men
Christal Sczebel is an entrepreneur, published author, and content creator. Over the past decade she has worked in the digital media field building successful websites for both food and fashion. She has a natural affinity for minimal, timeless fashion, neutral home decor, and styling.
Here on Style Your Occasion, Christal is the Editor-in-chief and brain behind the aesthetic. She hopes you love the this space and the inspiration you'll find!