Wondering what color shirt goes with khaki pants? Learn about the best colors, styles of shirts, and how to put the shades together for a khaki pants outfit that is both classic and trendy.
get the look:

Khaki pants are undoubtedly a versatile wardrobe staple that come in different shades of brown. The great thing about khaki pants is that they work for both casual and formal dress codes.
Therefore, you can easily wear khaki pants with a combination of light and dark items and they look fantastic with neutral-colored shirts like black, dark grey, and white.
In this article you'll find basic guidelines about wearing khaki pants so you can rock your outfit every time.
Are khakis still in style?
Thats a big yes. While khaki is technically a fabric, the khaki color for pants is very trendy and it the trend keeps on rolling. Because khaki is a neutral color, it works with so many different outfit combinations which makes it both versatile and flexible.
Khaki pants can be part of an effortless and relaxed look but, at the same time, have a structured enough look for a more formal outfit. Khaki pants are a staple wardrobe item as you can wear them for multiple occasions. So, if you don't have a pair, it's high time to buy some.
What do you wear with tan khakis?
Because khakis can be worn both casual and more formal, there are a lot of options on how to style them. Khakis generally look the best with neutral colors and subtle earthy tones. You can effortlessly pair them with the following colors:
White/Ivory
Black
Blue (light blue, navy, and medium blue)
Grey (light, medium, and charcoal)
Green (stick with earthy tones rather than bright)
Maroon
Furthermore, in terms of clothing styles, you can wear tan khaki pants with t-shirts, long-sleeve shirts, button-up shirts, sweaters, sweatshirts, blazers, and denim jackets. For footwear, khaki pants go great with sneakers or sandals for a more casual look, and dress shoes or boots for a dressier look.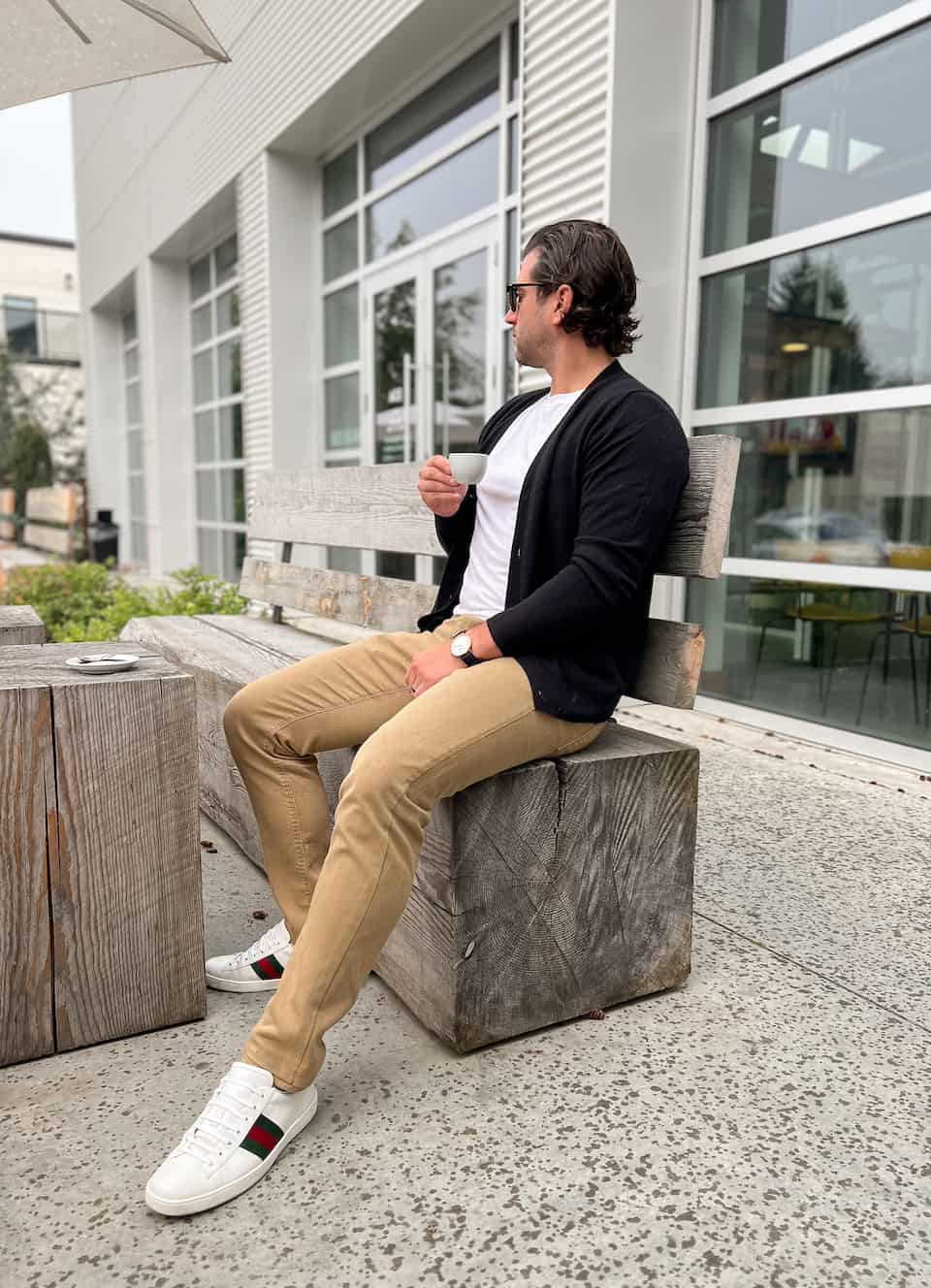 get the look:

Does a black shirt go with khaki pants?
Yes! Wearing khaki pants and a black shirt is a perfect outfit combination. It's classic, sophisticated, and the contrast looks great.
You can wear this stylish combo for a casual trendy look or a dressier sophisticated aesthetic, depending on the style of black shirt you go with. Try a simple black t-shirt with high-top sneakers, a black button-up short-sleeve shirt with sandals in the summer, or a black cardigan over a tee in the fall.
For a dressier look go with a long-sleeve button-up shirt tucked into the khaki pants with a brown belt and brown dress shoes.
get the look:

What color shirt goes with khaki pants and brown shoes?
When pairing Khaki pants with brown shoes, you'll have quite a bit of freedom for what kind of shirt to add to the outfit.
Because both khaki and brown are neutrals, you can stick with another neutral color like white, black, or grey. Or, you can go with a subtle color like moss green, navy, or lighter blue.
Additionally, you can consider patterned shirts as well. Black or blue gingham looks great with khaki pants and brown shoes. So does a plaid shirt in brown, dark red, green, or navy.
Top Shirt Colors for Khaki Pants
White Shirts
A white shirt with khaki pants is always a safe-to-go option. With a white shirt, you can never go wrong. As white and khaki are neutrals, both colors compliment each other, whether you opt for a dark or light shade of khaki pants. This color combo is the best choice for a fresh look, especially in summer.
Grey Shirts
Dark neutral shirts look fantastic with khaki trousers. Lighter shades of khaki with a dark grey shirt is a nice balance. Stick with simple neutral footwear, like sneakers or brown shoes, and you'll be good to go.
Light Blue Shirts
A light blue shirt with khaki pants is a great idea for men who want a more business casual look. Go with a long-sleeve light blue button up shirt then choose a pair of slightly dressy brown shoes to complete the look.
Black Shirts
As mentioned previously, black is a classic color and always looks good with khaki pants no matter the shade. You can wear black in a laid-back manner with a casual t-shirt, or dress is up for a more business-casual appeal. You can't go wrong with neutral on neutral.
Navy Blue Shirts
Pair a navy blue shirt with khaki pants to achieve a more elevated vibe. A nice quality navy blue knit sweater or button up shirt really compliments khaki pants well. In short, this combination won't ever fail or feel outdated.
6. Brown Shirts
Brown shirts can look incredible with a pair of khaki pants but there is one caveat; the khakis must be a lighter tan shade. Otherwise you risk the brown clashing with the brown of the khaki. A darker brown tone button-up shirt or sweater works great with light tan khaki pants and a pair of white or black sneakers or brown shoes or boots.
Easy Khaki Pants Outfit Ideas
Below are some simple and stylish outfit ideas to copy with your pair of khaki pants. Each of these looks is versatile and can be adjusted depending on the occasion.
the simple white shirt.
get the look:

Khaki chinos with a long or short-sleeve white shirt looks amazing. Not only that, it's a comfortable outfit that has a simple, minimal vibe.
For a dressier take, you can go for a white button-up shirt with a collar or ivory knit sweater, and a pair of brown dress shoes.
the navy shirt.
get the look:

Khaki chinos with a navy button-up shirt and brown dress shoes is always a safe-bet. It is casual but still dressy enough for semi-formal occasions.
For something more laid-back, go with a navy hoodie or sweatshirt, and classic high-top sneakers, or tan suede sneakers.
the grey sweater.
get the look:

Khaki pants and a grey sweater can be a really classy look. Therefore, this is an outfit idea you definitely need to try.
If you want to dress it up a bit you can add a collared white shirt under the sweater and go with a pair of nice brown shoes. Or, opt for the casual look with sneakers and a ball cap.
the plaid button-up shirt.
get the look:

Plaid shirts work great with khaki pants because they add a bit of color to the mix with the neutral shade of the khakis. Go with a subtle color tone like green, blue, or red for the plaid shirt and wear it open with a white graphic t-shirt underneath for a trendy look.
Additionally, you can try a button up plaid dress shirt with khaki pants and a knit sweater over top for a more formal outfit. Go with a nice pair of brown dress shoes to complete the look.
the maroon shirt.
get the look:

Maroon is a great option to pair with khaki pants because it adds a pop of color while still being subtle. Therefore, go with a deep maroon button-up shirt with a white tee underneath and choose a simple pair of white sneakers. Or, have a little fun with it and try the maroon Converse sneakers pictured above.
the brown shirt jacket.
get the look:

Here you can see how stylish tan khaki pants can look with a medium or dark brown shirt or jacket. Ordinarily, two shades of brown might not look good. Yet, as long as there is enough contrast, it works.
In this case, it's best to go with a brown suede or canvas shirt jacket or button up and a plain white t-shirt underneath to keep it simple. Additionally, a pair of white sneakers or dark brown boots or shoes finish the outfit perfectly.
the blue denim jacket.
get the look:

Lastly, this final outfit is so easy, stylish, and classic. In short, you really can't go wrong with tan khaki chinos, a black t-shirt, a denim jacket, and sneakers. Wear this meeting your buddies for a drink, running errands, or taking your lady on a casual date. The options are endless.
More Outfit Ideas
If the above didn't give you enough ideas for what color shirt goes with khaki pants, here are a few more:
Khaki pants with a grey knit sweater and navy blazer can bring together a well-executed and neat ensemble. For a classic look, you can go with dark brown suede loafers.
A white t-shirt and a black leather jacket can give you an edgy look paired with simple white sneakers.
Khakis with a white and navy striped short-sleeve shirt is the perfect streetwear combination you can easily carry throughout the day. Throw on a pair of white high-tops and you are good to go.
Pair khaki pants with an army green crew-neck sweater and black leather sneakers for a casual yet dapper vibe.
What colors do not go with khaki pants?
To avoid a tacky look, it's best to avoid overly bright colors with khaki pants (especially neon tones). Therefore, stay away from:
yellow
orange
bright red
bright green
teal or bright blue
Otherwise, with any of the colors above you might end up looking like a staff member at IKEA, or another retail store. By going with neutrals and subtle colors you'll avoid being mistaken for someone who just got off their shift.
get the look:

Bottom Line
In summary, Khaki pants are still in and isn't going anywhere. They are a versatile wardrobe staple that can be worn for casual occasions and more formal events.
Additionally, when choosing a shirt for your khaki pants outfit, stick with neutrals and subtle color tones and you'll look classy, sophisticated, and like a well-dressed man.
More Men's Style Guides To Check Out:
10+ Simple Outfits With Light Blue Jeans For Men
Grey Pants Brown Shoes: How To Master This Combo for Men
Brown Shoes, Khaki Pants: How to Master This Outfit Combo
6+ Best Mens Bootcut Jeans and How to Wear Them
13+ Must-See Shoes Like Vans to Mix Up Your Sneaker Routine!
11+ Stylish Vegas Mens Outfit Ideas For All Sin City Has To Offer