Wondering how to style your light wash denim? Check out these 10+ modern and simple outfits with light blue jeans for men you will want to copy.
*this post contains affiliate links*
How To Wear Light Blue Jeans
Light wash denim is tried and true, and luckily the trend isn't going anywhere. If you own a pair of mens light blue jeans and aren't exactly sure how to style them in a modern way for 2022, you've come to the right place.
In this article you'll find out what colors and clothing goes with light blue jeans, how to style them for different seasons, and how not to wear them. So, grab that pair of light wash denim and go through your closet to create a modern and masculine look that works.
shop light blue jeans:

What colours go with light blue jeans?
While jeans are versatile, light blue jeans do clash with certain colors, especially bright/neon tones. Simply put, it's best to stick to neutrals and more subtle colors. The best colors include:
White
Ivory/Cream
Black
Grey
Tan
Camel
Brown
Navy
Dark green (earthy tones like moss)
Red
While you can wear blue with light blue jeans, it's more cohesive to choose a darker tone of blue and not the same shade as the jeans, which can look a bit off. The exception here is blue denim on denim, which you'll see in the outfits list below.
Simple Outfits With Light Blue Jeans
We've put together 10 outfit ideas to show you just how easy it is to style light blue jeans and how versatile they can be. From running errands to meeting friends for drinks, to date night, or a semi-formal gathering, light wash jeans can be your go-to.
1. White t-shirt & sneakers
shop the look:

This casual outfit idea is perfect for every day living. From coffee shops to catching a movie, you can wear this simple, neutral style again and again. In short, you can never go wrong with pairing a white t-shirt with light wash jeans. Throw on a classic watch and sunglasses to complete the look.
2. Grey sweatshirt + high tops
shop the look:

For a cooler day put on a grey sweatshirt or grey knit crewneck with your light blue jeans. Finish the outfit with a casual pair of high top or regular sneakers. For added warmth add a beanie, or throw on your favorite ball cap.
Any shade of grey goes well with light blue jeans whether its light grey, medium grey, or dark charcoal grey.
Can you wear black with light blue jeans?
Absolutely! The contrast between the black and the light wash always looks good, so you can easily wear a black t-shirt, sweater, dress shirt, or jacket with light blue jeans.
Try the look below with a black sweater and boots, or opt for a black leather jacket looks with a white or black t-shirt underneath.
3. Black sweater + boots
shop the look:

A nice black sweater looks great in the cooler months with a pair of black or brown leather boots. It creates the "sandwich" effect, which balances the light jeans between two dark anchors; the sweater and the shoes.
Wear this outfit to date night, casual gatherings, or running errands.
4. Camel coat + boots
shop the look:

To dress up a pair of light wash jeans, wear them with a camel color wool coat and a pair of dressier boots (or go casual with classic white sneakers).
Light wash denim naturally tends to look quite casual so combining then with dressier items like a collared shirt, wool coat, or blazer, you can instantly elevate the look.
5. Green vest + flannel
shop the look:

For a more rugged look, go with a green or neutral color vest over top a plaid flannel button up shirt. This light blue jeans outfit is great for cooler days and looks awesome with either a pair of boots or casual sneakers.
Add a beanie for an extra layer of warmth and you're ready for the day.
6. Dress shirt + blazer
shop the look:

As mentioned earlier, light blue jeans can be pretty casual so to get a dressier look you have to combine them with elevated pieces like collared shirts, blazers, or a nice coat.
For a semi-formal gathering or date night, choose a dress shirt in a neutral or subtle color tone, and add a dark grey or navy blazer. Finish the look with a brown belt and a pair of brown dress shoes.
7. Navy button-up shirt + sneakers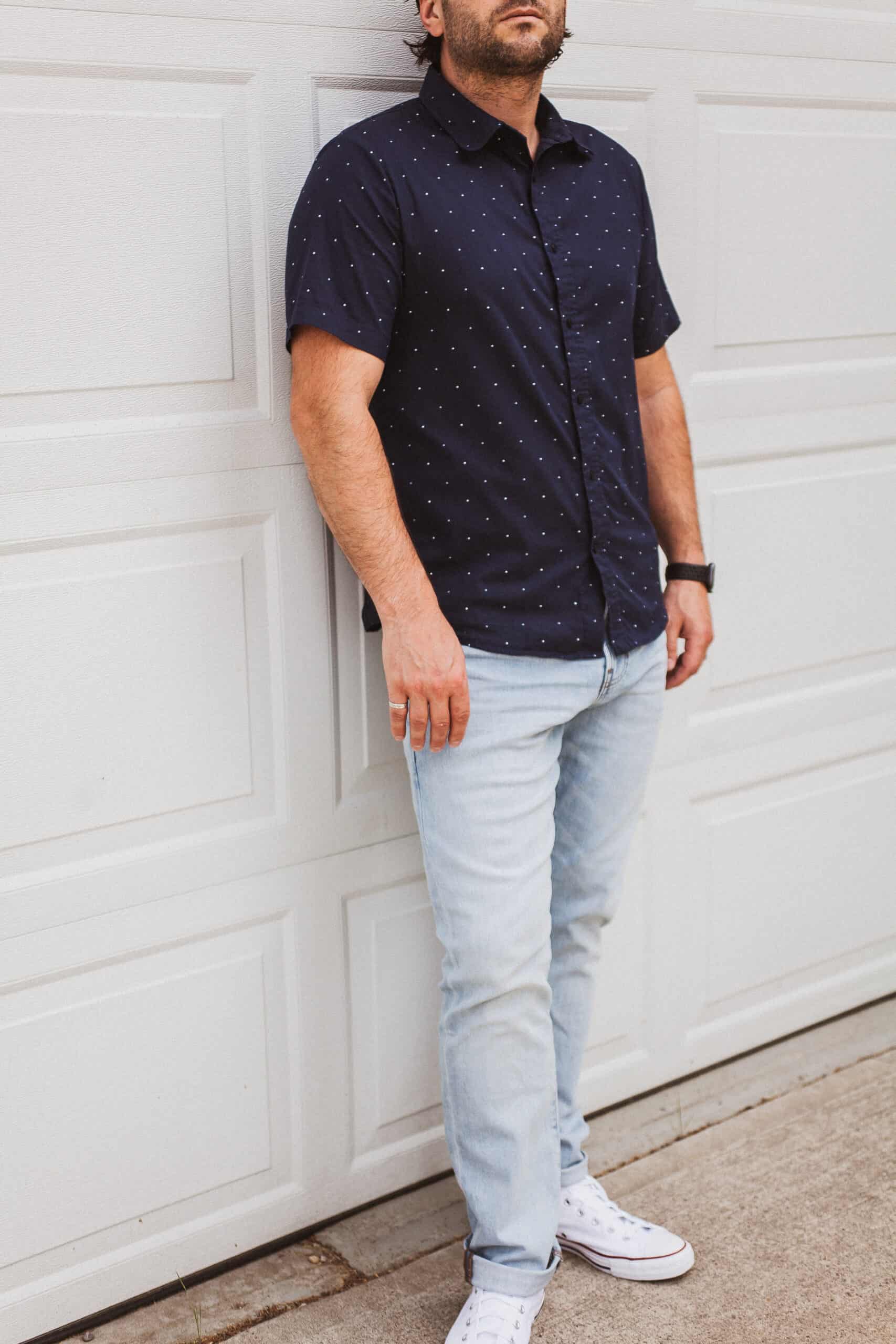 shop the look:

The blue on blue works really well in this outfit because the light blue jeans and navy blue shirt create contrast. The white sneakers are neutral so they don't compete with the blue, and the whole look is casual, yet elevated.
Go with a white t-shirt under the button up for extra layering if you want to add depth to the look. A nice watch finishes the outfit.
8. Denim on denim
shop the look:

The "Canadian tuxedo" isn't really a fashion faux pas anymore. In fact, it's actually a pretty trendy look. Light wash denim and a similar toned light wash denim jacket works well with a pair of sneakers or casual shoes.
You can also wear light blue jeans with a white, black, or dark blue denim jacket. Go with a neutral black, white, or grey shirt or hoodie underneath when doubling up on denim. Avoid a brightly coloured shirt, otherwise the outfit can go from trendy to tacky.
9. Brown jacket + brown boots
shop the look:

Create the "sandwich effect" with your light blue jeans with a brown trucker jacket and a pair of brown boots or shoes. Wear a neutral shirt under the jacket to keep the look minimal.
Brown, is a great rugged neutral color that works really well with light wash denim. It's a casual look but still stylish.
10. Classic white button-up shirt + brown shoes
shop the look:

This simple outfit can easily be a go-to for all kinds of occasions. You can never go wrong with a white button-up shirt as it's is versatile and classic.
Fold up the sleeves on your shirt for a more casual look and add a pair of brown shoes. Or, you can also go with sneakers for an outfit that's even more laid back. If you want to add a layer, go with a crewneck sweater over top of the white button up shirt. This can dress up the look slightly for an evening out.
How do you style light blue jeans in the fall?
In the fall months you can style light wash jeans many different ways as this wash of jeans is very versatile. Try pairing your light blue denim with the following:
Camel or charcoal color long wool coat and brown boots
Black, grey, or white hoodie, a puffer vest, and sneakers
Navy blazer, neutral button up shirt, brown belt, and brown shoes
Black knit sweater and black boots or sneakers
Dark green or grey flannel shirt and brown boots
Just aim to keep the tops you pair with your light blue jeans a neutral or subtle color. Fall colours are also great options; dark green, rust red, brown, tan, and burnt orange.
What jacket to wear with light blue jeans?
Choosing a jacket to wear with light blue jeans doesn't have to be overwhelming. Stick with neutral color tones, or denim, and keep the look minimal and uncomplicated. Try any of the following:
Final Notes
Putting together outfits with light blue jeans can be a simple process. Stick to mostly neutrals and subtle colors, go with brown, tan, black, or white shoes, and don't overcomplicate the look.
Light blue jeans are a great, versatile wardrobe staple that can be worn many different ways as showcased in this article. Now go sort through your closet and feel confident the next time you put on your best pair.
More Men's Style Guides To Check Out:
What Color Shirt Goes With Khaki Pants? A Foolproof Guide For Men
What Shoes To Wear With Chinos + 11 Modern Mens Chino Outfits
Grey Pants Brown Shoes: How To Master This Combo for Men
21+ Leather Gifts For Him: Top-Rated Budget & Luxury Ideas
13+ Must-See Shoes Like Vans to Mix Up Your Sneaker Routine!
6+ Best Mens Bootcut Jeans and How to Wear Them
Brown Shoes, Khaki Pants: How to Master This Outfit Combo
12+ Stores Like Hollister + Why You Need To Check Them Out!
11+ Stylish Vegas Mens Outfit Ideas For All Sin City Has To Offer
Christal Sczebel is an entrepreneur, published author, and content creator. Over the past decade she has worked in the digital media field building successful websites for both food and fashion. She has a natural affinity for minimal, timeless fashion, neutral home decor, and styling.
Here on Style Your Occasion, Christal is the Editor-in-chief and brain behind the aesthetic. She hopes you love the this space and the inspiration you'll find!