Wondering what shoes to wear with chinos for men? Learn about the best shoes that go with this popular pant style, and get stylish, modern mens chino outfits to try!
get the look:

The Best Shoes To Pair With Chino Pants
Chino pants not only look good but also match numerous styles and clothing combos. They are durable, comfortable, and too stylish to ignore.
The fun doesn't stop there; they are an excellent fit with multiple outfits for almost every formal and informal occasion. If you are wondering, what type of shoe pairs well with chino pants for men? Keep reading and find out!
What type of shoe goes with chinos?
Chinos go with most kinds of shoes, including sneakers, loafers, dress shoes, etc. Diving a little deeper so you're in the know, here are a few shoe types that are an ideal fit:
Sneakers. One of the most favored shoes to wear with chinos. The leather tops on some dress sneakers work well with the chino look. Their design is also extremely versatile, with variations including the classic brogue, the derby, and the monk strap.
Loafers or boat shoes. You may not believe they look like it, but they bring out an awesome vibe with a pair of chinos.
Chelsea boots. Many famous people, including members of the Beatles have worn the chino and Chelsea boot combo. Chelsea boots and chinos are also perfect office attire.
Formal dress shoes. Another great option to wear with chinos is formal dress shoes. Dress shoes pair well with chinos and are also encouraged for semi-formal events. You can easily clean up well with a button-down Oxford and some polished dress shoes.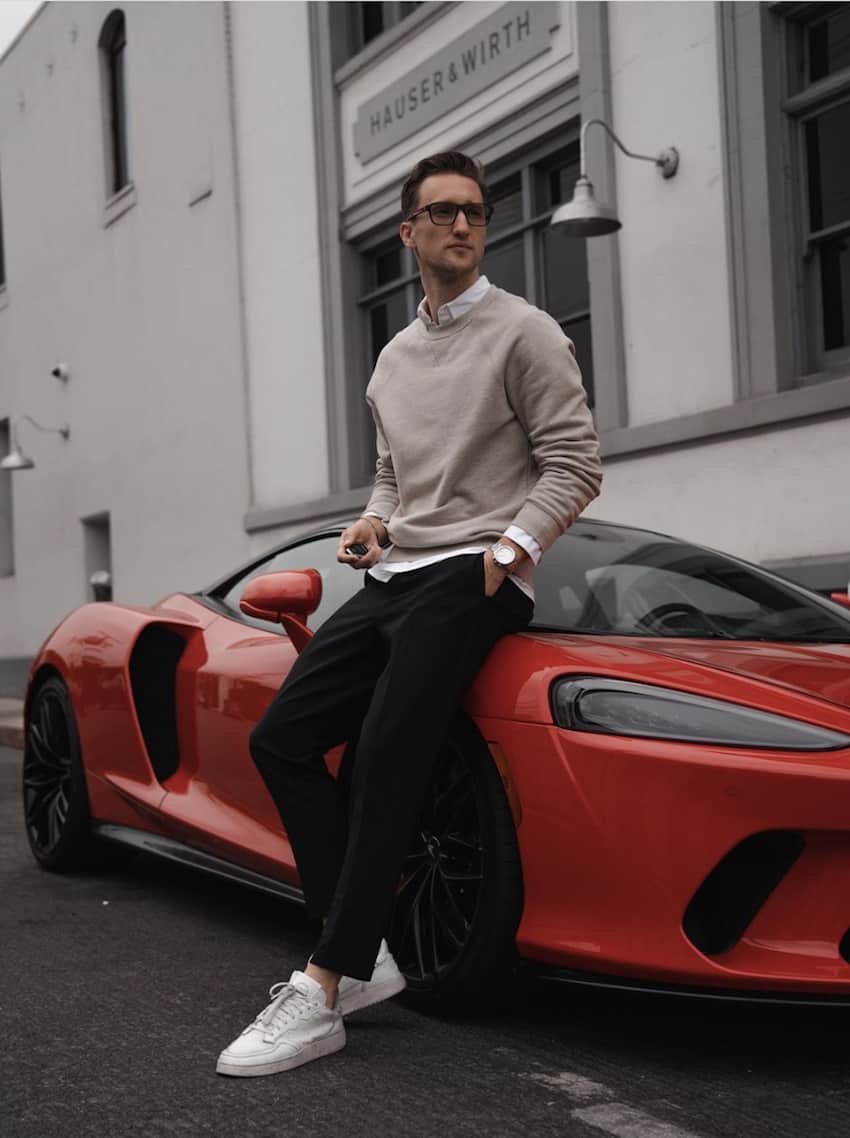 get the look:

Can you wear sneakers with chinos?
Yes, absolutely, sneakers and chinos are like two old pals – they get along very well. This might be the best combo for you if you want something more casual.
Accessorizing with a hat or a baseball cap can also create a stylish, casual look. Or, wear a beanie and an open blouson for form and function on chilly days.
Modern Mens Chino Outfits
Before charging full speed into the chino style, remember that chino combinations depend on the occasion. Here are a few men's chino outfits you can pair with the event you have on your calendar:
Dress Shoes with Chinos
get the look:

For this look, the key is to keep it simple! One of the best outfit options is a solid or striped button-up shirt, a pair of chinos, and dress shoes. This is a great option for business-casual occasions, so keep it in mind for the next event you have planned.
Navy Chinos Outfit with Chukka Boots

Halfway between casual and formal, chukka boots elevate the outfit when paired with chinos. This combination with navy chino pants, a lighter blue shirt, and tan suede chukka boots is laid-back but still stylish.
You can easily wear this to the office, and then lose the tie and wear it for drinks at happy hour.
Trainer Sneakers with Chinos
get the look:

Trainer sneakers look fabulous with chinos if you're going for the sporty, yet fashionable look. Pair khaki, tan, or dark brown chinos with a muted color trainer sneaker for a fun combo that is current and stylish.
Not convinced? Check out the picture above for a great example of how these two items synergize to form a great outfit.
Can chinos be worn as formal wear?
Yes, worn with the right top and shoes, chinos are an excellent choice for formal occasions. They're also a lot more comfortable than formal dress pants.
When wearing chinos for a formal occasion, pair them with a nice button-up shirt, a blazer or sport coat, and a more formal pair of shoes such as loafers or Derby shoes.
Since chinos are a hybrid between casual and formal wear, they can be worn as business attire, to formal events, and as casual wear. Talk about versatility!
Formal Loafers with Chinos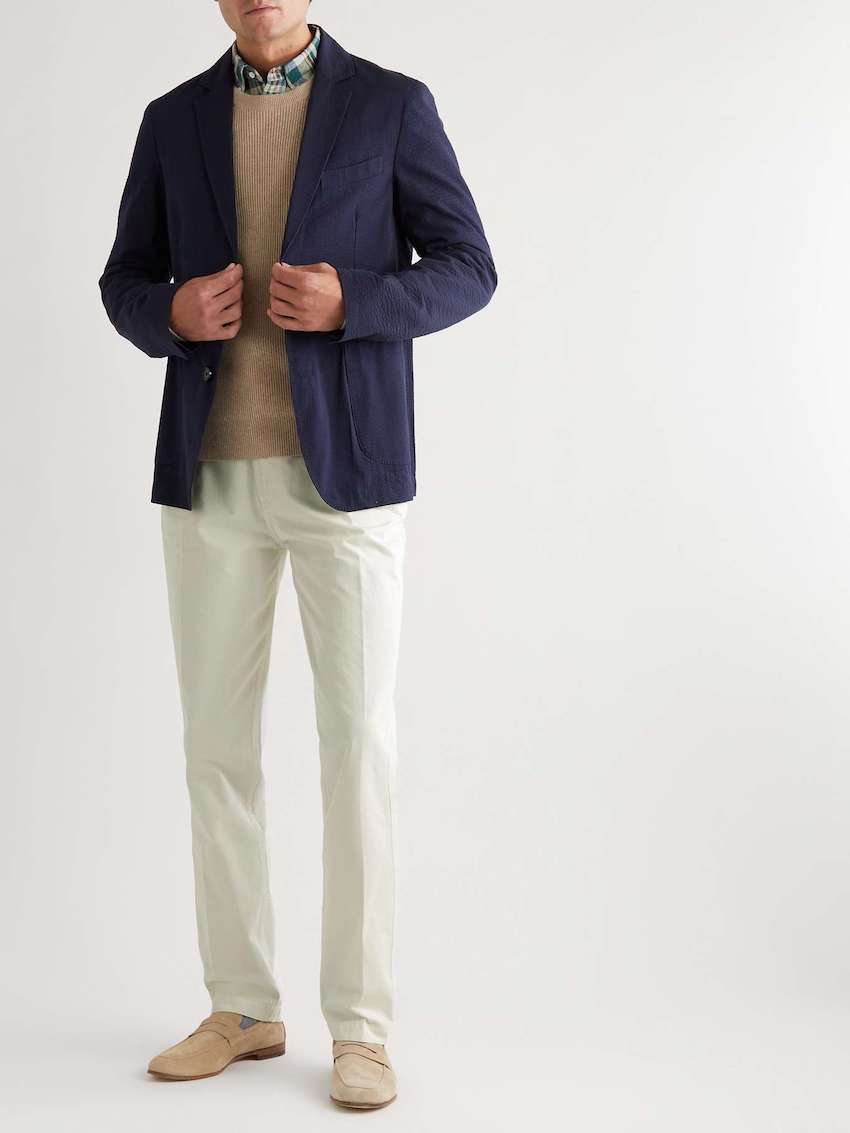 get the look:

The combination of loafers and chinos is a classic and instantly creates a polished look. Wear a blazer, sport jacket or a shirt with a band collar for a sophisticated, understated look.
This outfit shows how chinos can easily be taken from casual to dressy for a business meeting, conference, casual wedding, day at the country club, or other more formal occasion.
It should also be noted that you can buy chino pants that have a more formal appeal with pleating or a tailored look. For more casual occasions, you can opt for chinos that have extra pockets or a jogger detail at the hem.
Casual Sneakers with Chinos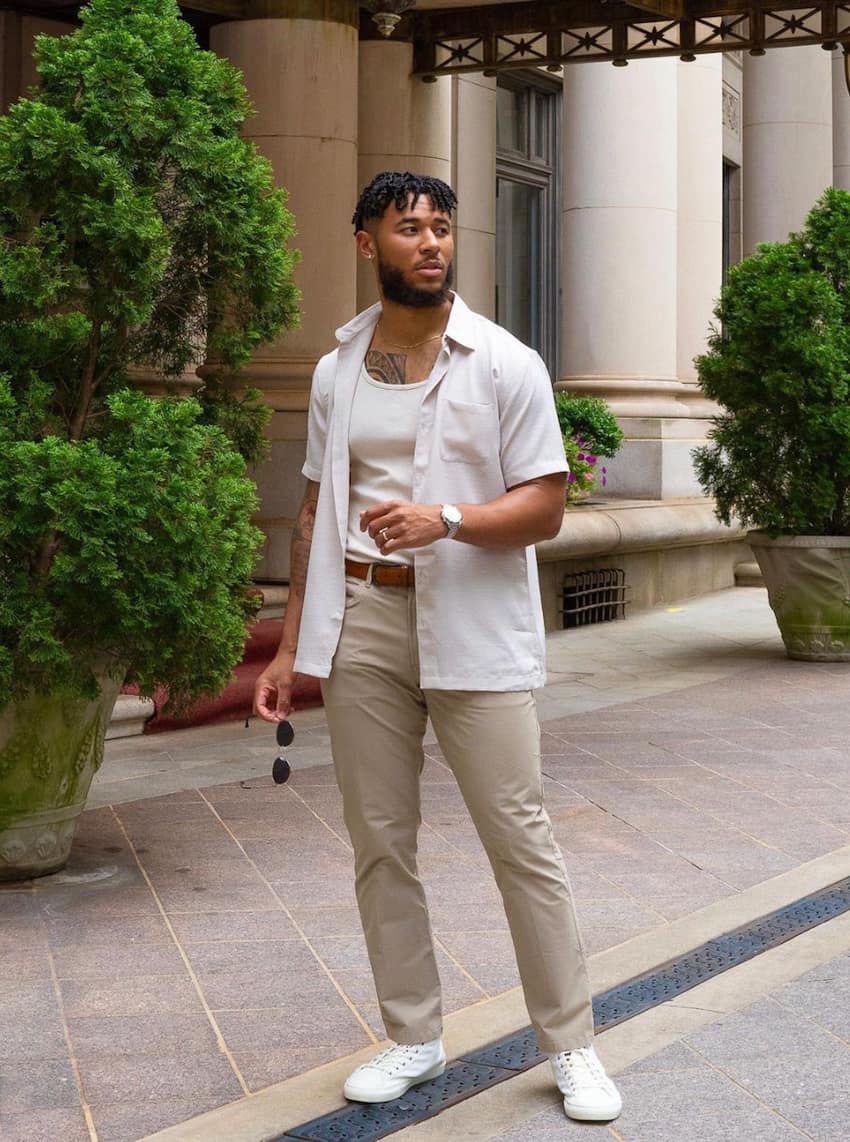 get the look:

Casual sneakers may not have the sharpness of formal shoes, but they still look great with chinos to create a more mellow style. A routine grocery run or visit to the mall with this combo will still have people checking out your cool, casual style.
Opt for classic white sneakers as they go with literally any pair of chinos. Or, change it up and try a pair of black sneakers or a funky color like red or blue.
High-top Sneakers with Chinos
get the look:

Chinos and high-top sneakers are another fantastic team. Pair them with some fun socks that peek out when you are seated, and now you're just showing off!
We love this outfit for a casual, sporty look that can be worn for a laid-back date, ball game, drinks with buddies, or other relaxed occasion.
Sandals with Chinos
get the look:

While socks and sandals might not be your thing, sandals and chinos definitely should be. The sandals and chinos combo is great for vacation, summertime, or when the weather is warm.
It has a laid-back appeal and you can wear all styles of sandals with chinos.
What boots go best with chinos?
Chelsea, dress, and combat boots are best to pair with chinos. Some more popular combos in the fashion world of 2022 are:
Chelsea boots – A popular pairing with chinos, you can't go wrong with this combo!
Dress boots – Elegance without arrogance, dress boots can make the chinos look like the cool laid-back friend everyone wants to know.
Combat boots – It's not a common pairing, but combat boots give an edgy look to chinos and keep it casual.
Chinos with Boots
get the look:

Timeless Chelsea boots are the perfect shoes to wear with chinos. Their versatility allows you to wear them for formal and informal occasions and still look like it took you hours to choose the perfect outfit.
We love this look with rustic brown Chelsea boots, light tan chinos, a knit fisherman sweater, and a stylish wool coat to finish the ensemble. The neutral tones work so well together and have a really elevated appeal.
Combat Boots with Chinos
get the look:

Finally, this outfit shoes how combat boots and chinos can really work together. It gives an edgy vibe to the outfit as well as a masculine look that is perfect for a man that wants the rugged appeal.
Try brown combat boots with neutral chinos, or go with black combat boots paired with black or charcoal grey chino pants. The options here are endless.
Which shoes should I wear with chinos?
The versatility and elegance of chinos pair easily with almost any type of shoe. You can wear chinos with classic sneakers, trainers, loafers, boat shoes, Chelsea boots, chukka boots, sandals, and more styles.
Depending on the occasion, you can pair chino pants with all kinds of shoe styles, although you'll most likely want to steer clear of Vibrams (you'll be hard-pressed to find anything that goes well with those).
If you're feeling sporty, wear some cross trainers. Have a wedding to attend? Slap on some dressy loafers and dance the night away. The possibilities are only limited by your imagination!
More From The Men's Edit:
Grey Pants Brown Shoes: How To Master This Combo for Men
12+ Stylish Mens Brunch Outfits & Tips On Brunch Attire for Males
10+ Modern Mens Trench Coat Outfit Ideas That Prove You Need One
Brown Shoes, Khaki Pants: How To Rock This Style
What Color Shirt Goes With Khaki Pants? A Foolproof Guide For Men
10+ Simple Outfits With Light Blue Jeans For Men
11+ Stylish Vegas Mens Outfit Ideas For All Sin City Has To Offer
Christal Sczebel is an entrepreneur, published author, and content creator. Over the past decade she has worked in the digital media field building successful websites for both food and fashion. She has a natural affinity for minimal, timeless fashion, neutral home decor, and styling.
Here on Style Your Occasion, Christal is the Editor-in-chief and brain behind the aesthetic. She hopes you love the this space and the inspiration you'll find!