Get ready for summer with this gorgeous shade of coral peach! We have 24+ coral peach nails, peach nails, coral peach ombre nails, & coral gel nails that are perfect to wear in 2023!
Gorgeous Coral Peach Nails
Summer is almost here, and as the weather warms up, we're looking forward to manicures that include bold, vibrant colors and playful patterns!
There's no doubt that coral peach is one of the best shades for this time of year. The blend of peachy orange tones with bright pink creates a daring and captivating color that's sure to turn heads all season long.
So if you're looking for a bright and fun nail design to show off this gorgeous shade or a bold mani for days at the beach, we have the perfect nail inspiration for you. From simple and chic designs to bold nails with glitter and gold, we have a nail design for any style and every occasion!
Cute Color Block Nails
We're starting our list of coral peach nail designs with a simple but bold manicure! Coral peach and bright yellow scream summer, so these two shades are perfect for a summertime nail design that you can show off during a day at the pool or a night on the town.
Nude Pink + Coral Peach Polish
Soft coral peach also looks stunning with a nude pink base. We love the combo of bare nails with painted nails and the color-blocked accent nails.
Add some sparkle with silver details or glitter if you want this mani to stand out even more, although it's so stunning as is!
Coral Peach + White Waves
Nude nails with white, peach, and coral swirls are simple but so beautiful. This nail design is definitely office-friendly but still playful enough to wear out to the beach this summer.
Peach & Coral French Tips w/ Waves
Peachy coral French tips and wavy accents are another minimal manicure perfect for adding color and flair to your look. The nude pink base works so well with the other shades and helps them pop even more.
We also love that it adds a subtle feminine touch to these nails!
Is coral a good nail color?

Coral is an excellent color for nails! This shade is vibrant and playful, and has a warm and summery vibe, making it the perfect choice for beach vacations and pool parties! Plus, coral is so versatile – you can wear it with a classic French manicure or something more daring.
Coral Peach Ombre Nails w/ French Tip + Glitter
We love a good ombre nail design, and chunky glitter is another gorgeous way to add some flair to any manicure. These coral peach coffin nails are perfect for a day out on the town or at the beach – the glitter will shimmer in the sun, and this gorgeous shade will definitely stand out!
Speckled Coral Peach Nails
If you're looking for coral gel nails that are simple but still eye-catching, go for a speckled nail design like this. Coral peach is gorgeous and bright, while the speckled texture adds an alluring touch.
Abstract Coral Peach Nails w/ White Accents
Simple but chic is always a good way to go when it comes to having a beautiful manicure! Abstract spots of coral and peach look stunning as a subtle ombre across the nails, and white is the perfect color to add accent lines and make this nail design pop even more!
Blue Glitter + Coral Peach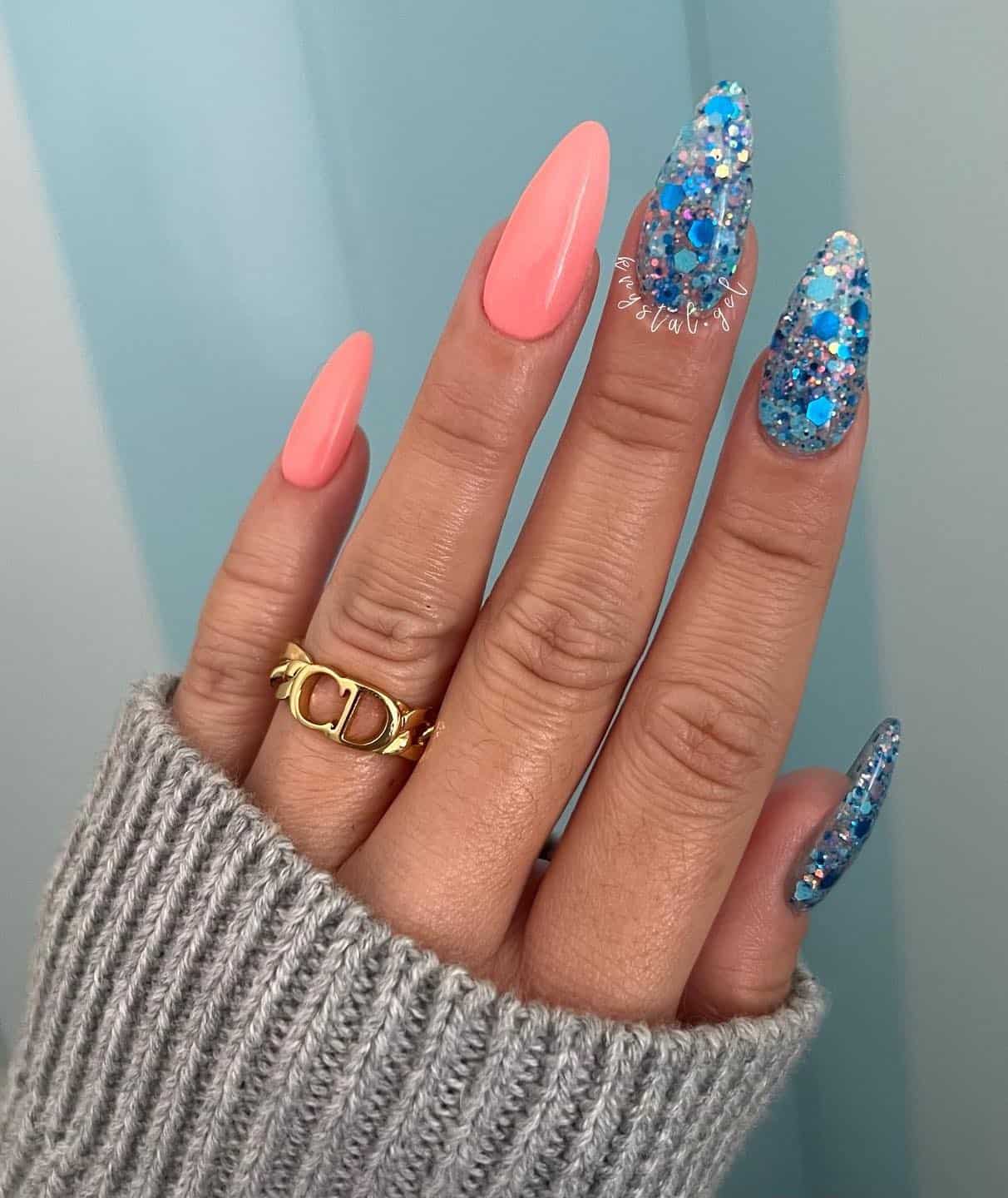 Blue and coral peach are a gorgeous color combo, and using blue glitter instead of regular polish is a great way to add a playful touch to your look. These colors will have you summer ready in no time, and this design is a must for a weekend getaway in 2023!
Classic Colorful Mani
If you're a fan of simple manicures, you can always come back to the classic painted nails. This shade is a great choice for a classic mani since it's feminine and vibrant, so you can keep it minimal without sacrificing style.
Peachy Coral Polish w/ Gold Details
Gold looks so amazing paired with coral peach nails, so this is an easy way to elevate your manicure. These warm colors are perfect for summer days, and the gold adds an elegant touch that makes this nail design work for both casual and formal events.
Bright Coral Peach & Silver Glitter
Silver accents look just as incredible as gold with this vibrant shade! The warm tone of the coral peach paired with cool-toned silver glitter is a pairing that pops, making it perfect for a day or a night on the town.
Coral Peach Nails + Matte Flowers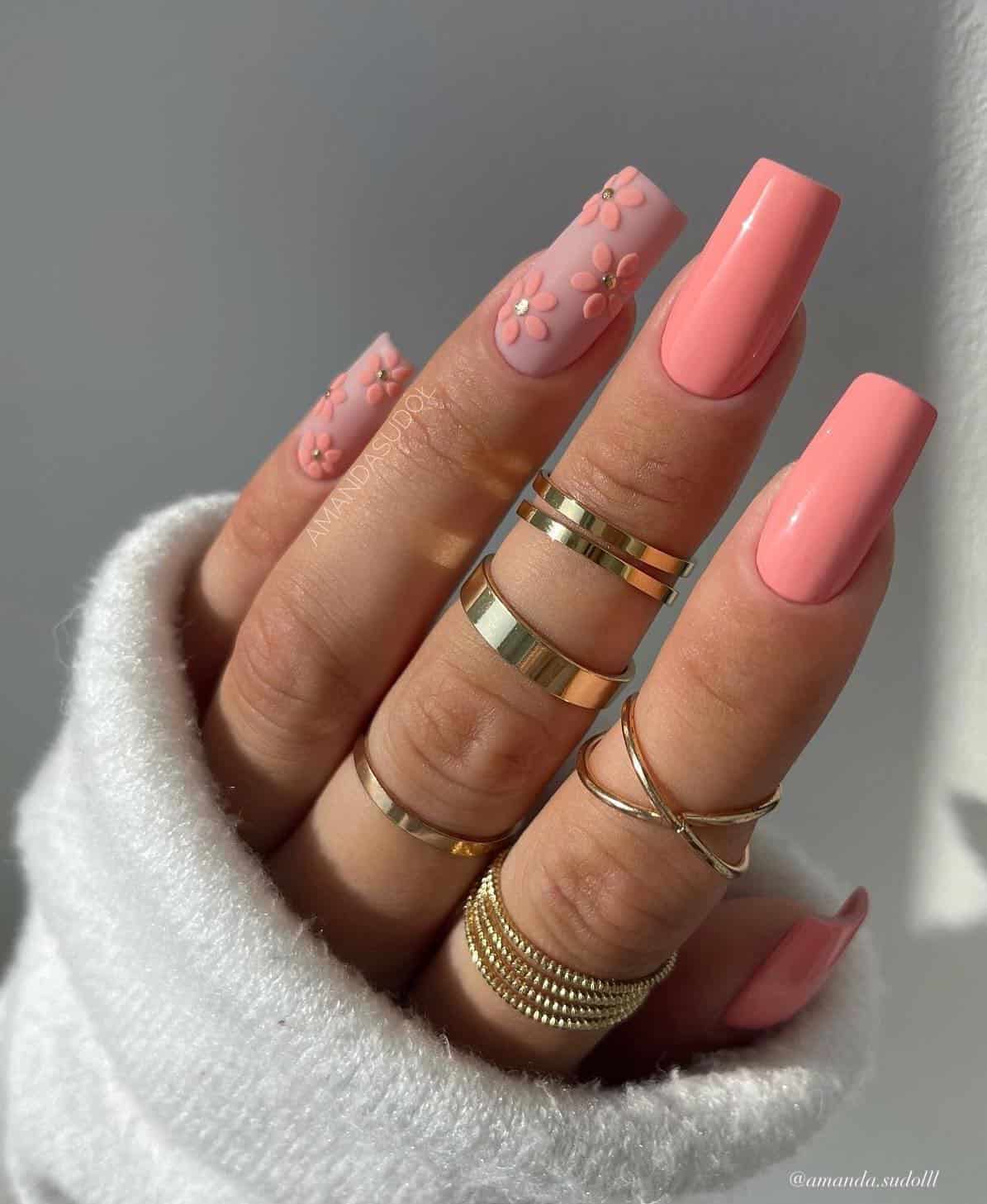 This blend of peach and coral is perfect for lovely floral art like this. This shade is must for delicate flowers, and we love the combo of matte pink nails with glossy coral peach. The gold accents in the flowers are another chic touch, and you can even add gold details to the glossy nails for a bolder look.
Coral Peach Ombre Nails
This lovely pinky peach hue is so perfect for a summer ombre. The blend of coral peach and glossy nude is elegant but still bright and colorful, making it a perfect mani for anywhere from the office to the beach!
Yellow + Coral Peach w/ Floral Art
Coral peach and golden yellow are so gorgeous together, especially in floral nail art like this. We love the pops of blue for a vibrant touch, and the solid-colored accent nails make for an alluring manicure.
Matte Peach Coral Nails w/ Zebra Print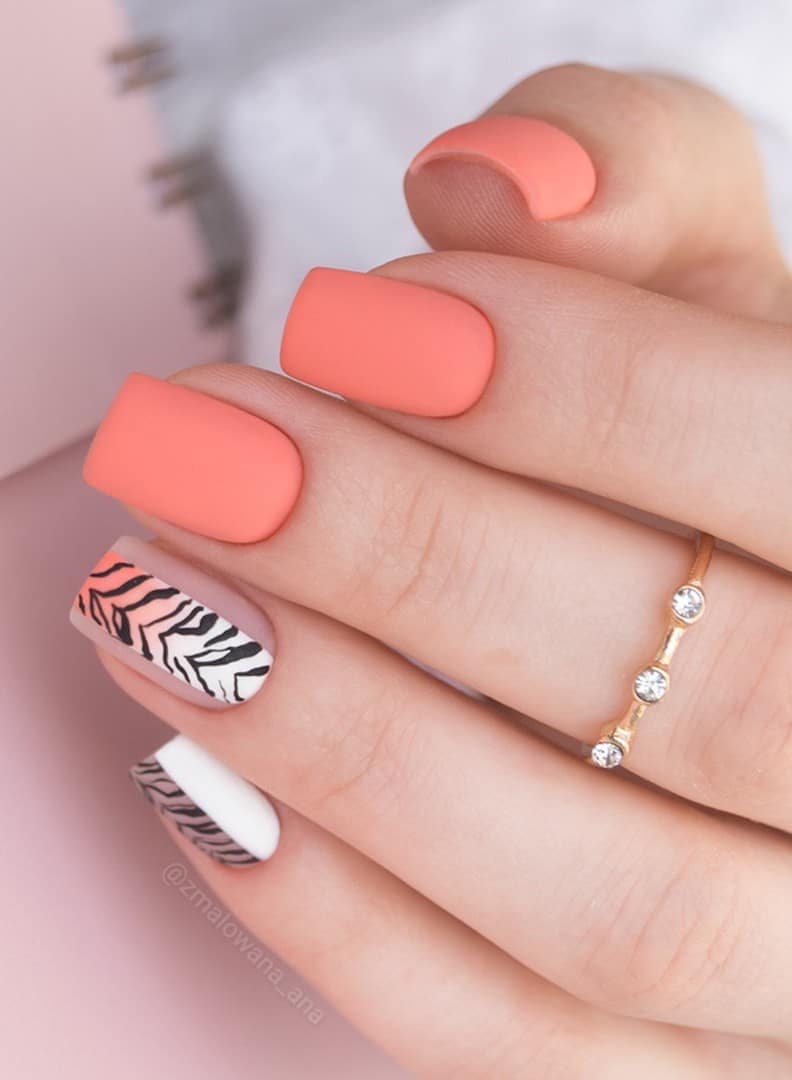 We love seeing a vivid shade paired with a classic black-and-white zebra print! Peachy coral is a fantastic choice to combine with animal print since it's just as bold as the striped pattern.
Stick to the matte finish for a sophisticated look, or go for gloss if you want a playful mani!
Coral Peach + Nude Nails w/ Floral Accents
Flowers and summer go hand in hand, and coral peach is the perfect color to complement a floral nail design like this. We love the addition of the dark green leaves for a bit of contrast against the bright colors, and you can easily add some gold accents if you prefer a sparkling manicure!
Peachy Coral Nail Polish & White Daisies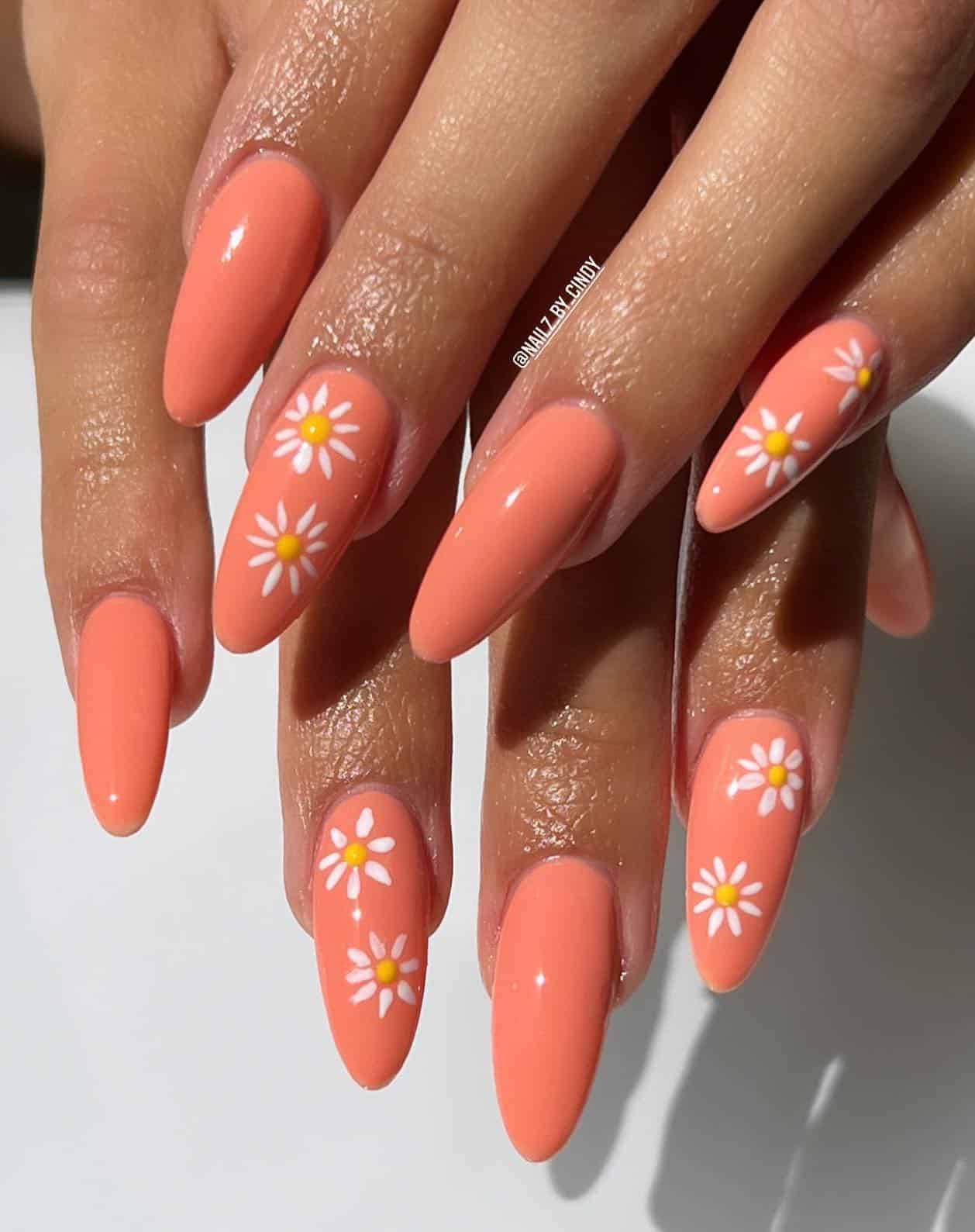 Long almond nails are always the perfect canvas for gorgeous daisies, and the white flowers look stunning with the coral peach background. Add white waves to the solid-colored nails for a more intricate nail design, or leave it as is for something simple but summer ready!
Pineapples, Coral Peach + White Accents
Speaking of summer-ready – this manicure with pineapple nail art has the perfect summer vibes! We adore the combo of white polka dots and stripes; it makes this nail design so playful and pairs perfectly with such a vibrant shade like coral peach!
Gold Glitter + Coral Peach Nails
Pink and gold glitter is absolutely stunning when paired with this rich pinky peach shade! This design is so simple but would work well with any outfit. It's warm, bold, and definitely fun – all you could want in a summer nail design.
Classic Frenchies + Coral Peach Flowers
You can also use coral peach to upgrade a simple and timeless French manicure. Nude pink is the perfect base color to make both the white French tips and the coral peach flowers stand out, while the gold gem accents are the perfect finishing touch!
Coral Peach Zebra Stripes
Coral peach is a perfect shade for bright, neon zebra print. Animal print is bold and fun, perfect for such a bright shade – and this nail design would look stunning during a day trip to your favorite beach!
Coral Peach French Mani w/ Wave Accents & Heart Detail
Since coral peach has a strong pink tone, this hue is an excellent choice for a feminine and flirty nail design like this. French tips and wave accents keep it classy, while heart details add a romantic feel that we adore.
Go for a manicure like this for a date night at your favorite beachside restaurant!
Peach + Coral Acrylic Nails w/ Grapefruit Nail Art
Peach and coral are gorgeous when paired together, and they're also perfect to pair with cute grapefruit nail art. Long nails are perfect for a bold design like this, and you can add another playful touch with gold glitter accents.
Pastel Pink + Peachy Coral French Tips
We love the way that soft pink and peachy coral complement each other in these coral gel nails. This color pairing is a match made in color heaven – it's cute and feminine and perfect for a bright but elegant nail design.
A manicure like this is a great way to add some color to your everyday looks while keeping it simple.
It's always fun to add such a vivid and rich color to your nails – whether you prefer simple nail designs or bold and intricate ones! This shade is a must if you want an eye-catching, playful, and feminine shade for summer this year.
We hope this list of gorgeous coral peach nails has been helpful and that you've found the perfect inspiration for your next trip to the nail salon!
More Nail Inspiration You'll Love:
27+ Perfect Summer Nails To Obsess Over
31+ Elegant Vacation Nails You'll Love For Your Next Getaway