Looking for cute summer nails to spice up your look while lounging by the pool this summer? You'll love our list of 27+ perfect summer nails that will instantly elevate your style. Whether you want simple summer nails, ombre summer nails, or bright summer nails, we have a look for you!
Summer Nails You Need To Try
Ah, summer – the season of sun-kissed skin, salty hair, and of course, fabulous nail designs! Whether you're a fan of vibrant summer colors or prefer a simple manicure, there's no denying that cute summer nails add a pop of fun to any outfit!
So if you plan to lounge on the beach all summer long or you want to add a chic touch to your everyday looks, we have the ultimate list of summer nail designs to inspire your next mani-pedi! From stylish, minimal nails to bright and bold manis, these summer nail ideas will have you ready to lounge by the pool in no time!
Simple Summer Nails
Who says simple has to be boring? We have chic summer nail designs that will elevate any beach look and have you turning heads all season long!
Glitter, French Tips + Flowers
Spice up a classic French manicure with gorgeous glitter and some floral nail art! The glitter nails and flower details add a fun summer feel to these nails, while the French tips keep them classy and versatile enough to wear for any occasion.
Milky White Nails w/ Butterflies, Flowers + Gold Flakes
These nails are anything but boring!
Butterflies and flowers are perfect for the warm summer months (and for graduation nails), and the gold flakes add an elegant touch. Rock this nail design anywhere from the beach to Sunday brunch.
French Mani w/ Flower Detail
Pastel colors are perfect for French tips, and the subtle floral detail here keeps this manicure simple while adding a chic and playful touch. This is a great choice for anyone who wants a subtle summer manicure this year.
Marbled Pastel Rainbow Nails
This manicure is a must if you want simple summer nails that will still shimmer in the sunshine! The iridescent marbling is so gorgeous, and this nail design will easily pair with anything from a colorful bikini to a date night outfit.
Shimmering Pearl French Tips
Pearl details are perfect to sport on warm summer days, and these shimmering pearl French tips will easily add some serious mermaid vibes to your look. Pair this nail design with a cute sun dress and you'll have the perfect outfit to rock all summer long.
Watermelon Nail Art
Fruit nail art is a popular look in the summer, and you can still rock these cute designs while keeping your nails simple. These tiny watermelon slices definitely work for a summer look, but they're small enough to keep your summer design minimal.
Nude Nails w/ Silver Flake French Tips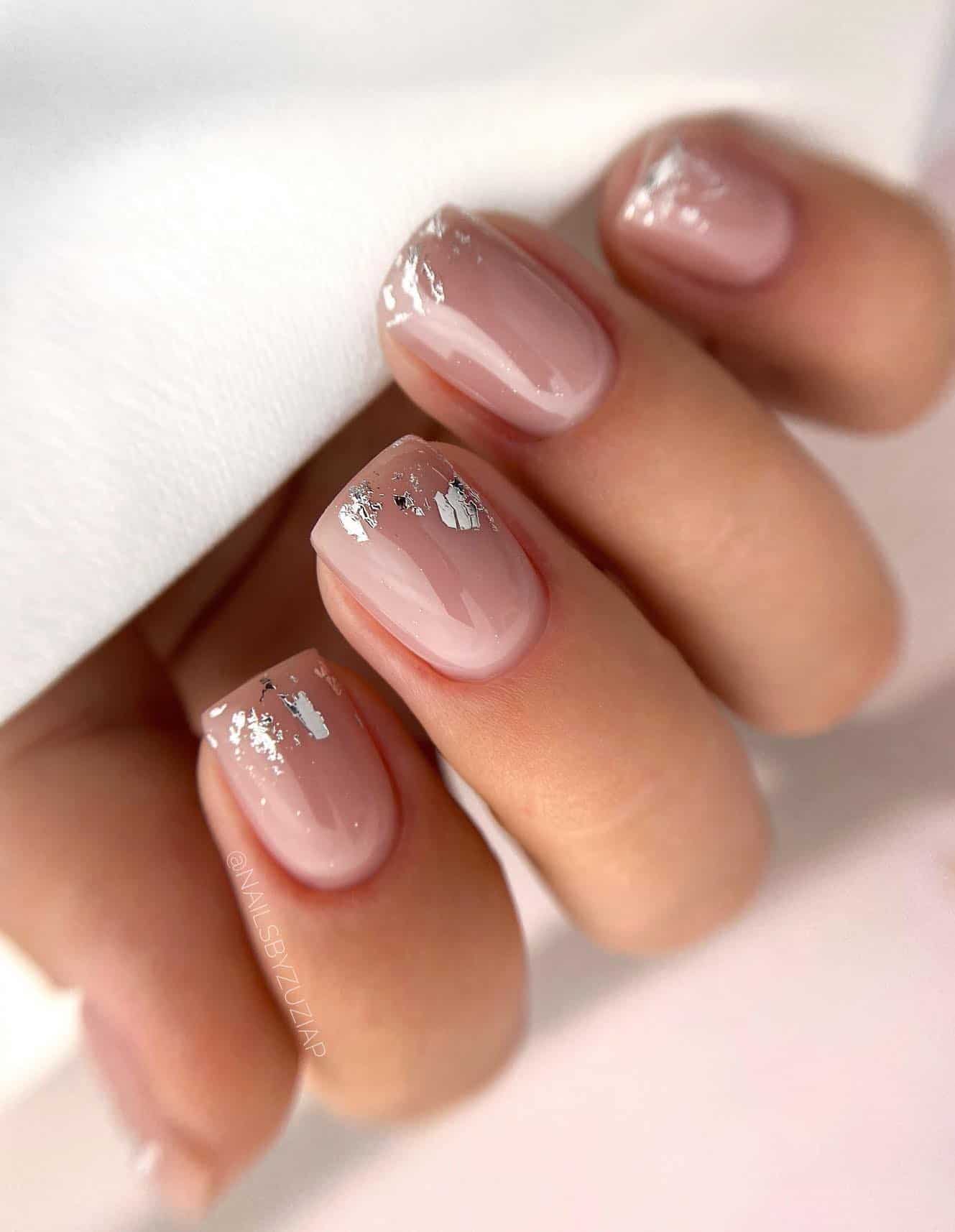 Silver flakes are an easy way to create elegant French tips like these. These nails will work for any formal occasion and will also look stunning as vacation nails too!
Stick with silver or go for gold if you want a warm-toned manicure.
Matte Nails w/ Gold Outlines
Speaking of gold – gold details are always refined and so eye-catching! The combination of matte nails and gold outlines is chic, and this simple manicure would be perfect for an intimate house party with friends this summer.
Glazed Donut Nails
A stunning chrome finish like this will shine perfectly in the summer sun, but these nails are also simple enough to work at the office, while out to lunch, or anywhere in between.
Bright Summer Nails
Are you a fan of summer nails that are as bright as the sun? We've got looks for you too! We have electric colors and playful designs that are perfect for a vibrant nail design this summer.
Summer Pink French Manicure
Pretty pink shades are always a fantastic look for the summer, and these colors add a feminine touch to these nails. This manicure is fun and youthful, making it a top choice for bright summer nails to show off in 2023.
Bright French Tips + Rainbow Waves
We are in love with the gorgeous summer shades here. The bright yellow and rainbow waves scream summer, and this chic design will look perfect while you lounge in the sand with a coconut in hand!
Speckled Blue Nails & Daisies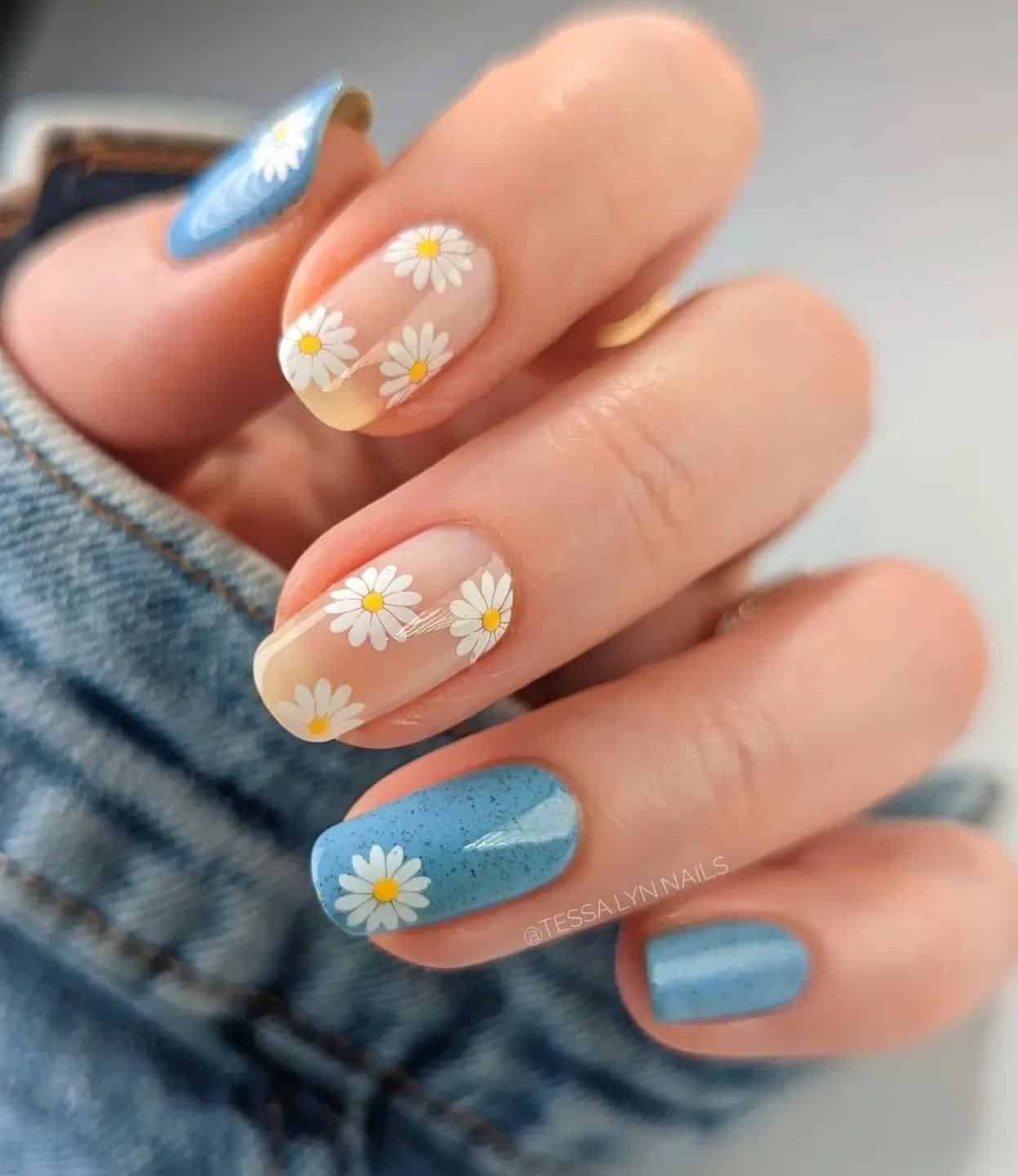 Blue nails and daisies are perfect for the summertime. This gorgeous shade will add a summer feel to any outfit, and the floral art adds a playful vibe.
You can definitely sport this manicure during a beach or pool trip this year; try going for denim shorts and a floral crop top to perfectly complement these nails.
What are good nail colors for summer?
There's no better time than summer to experiment with vibrant shades, and there are some colors that always have a summer vibe. Here are some great summer nails colors to try:
Coral
Turquoise
Peach
Bubblegum pink
Sky blue
Orange
Yellow
Pastel or light green
French Mani + Peach Nail Art
Summer fruit is perfect for adding a summer vibe to any nail design. We love the combination of classy French tips with gorgeous fruit nail art, and this design will definitely have you ready for the season in no time.
Looking for more peach nail inspiration? Check out this list of coral peach nails.
Summer Shades on Pearly White Nails
This blend of summer shades on pearly white nails is definitely one of our favorite looks! This design is simple but still bright and eye-catching, making it perfect for adding effortless style to your outfits.
Rainbow Gradient Mani
Bright rainbow nails like these will quickly add a summer feel to your style! Summer days are the best time to rock vibrant shades like this, and this rainbow gradient design is both chic and playful.
What is the best color for a summer pedicure?
If you want to complement your summer nails, you can always opt for matching shades on your mani-pedi. Neutral colors like white and nude are classic and versatile, and you can use them in cute nail designs like French tips or waves for something more eye-catching. Or, make a statement with bright summer shades; go for neon orange, bright pink, or light blue.
These will definitely add a fun pop of color to your look and are perfect for a day at the beach!
Neon French Tips
Add some summer vibes to a timeless style like French tips by using neon shades instead of white. We adore this bright summery orange, although you can go for neon green, pink, or yellow for a similar look.
Pink, Orange + Blue Waves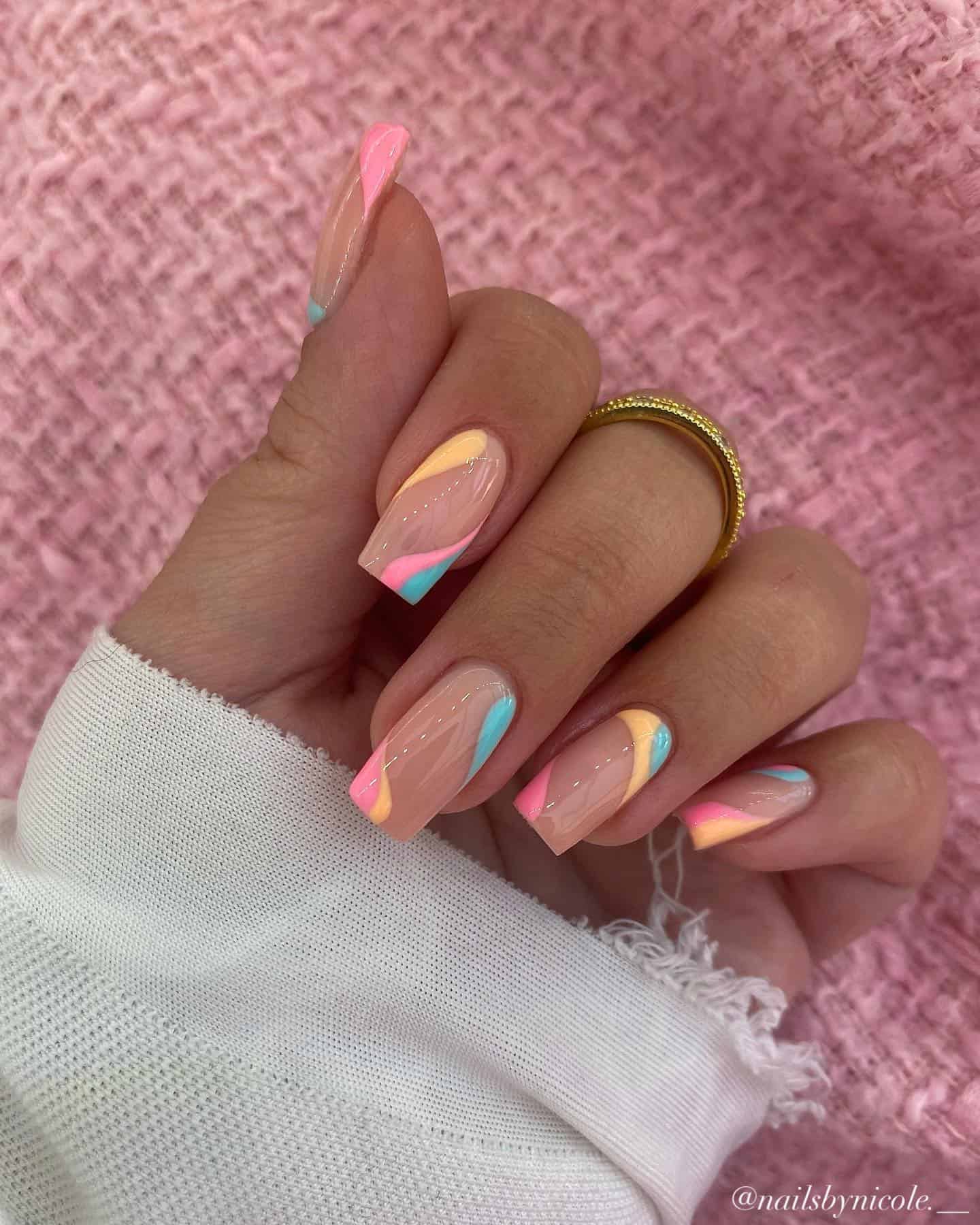 Summer nail colors and trendy wave details are so chic and perfect for a summer nail design. This manicure is an excellent choice for a day trip to the beach, pool, or even a backyard BBQ this summer.
Green Waves w/ Gold Accents
Gorgeous green and gold details are a fantastic combo for a summer manicure! This green is bright and cheery, perfect for this time of year. The gold accents add a glamorous touch to these nails, making them a great choice for a girl's night out this summer.
Pineapple Nail Art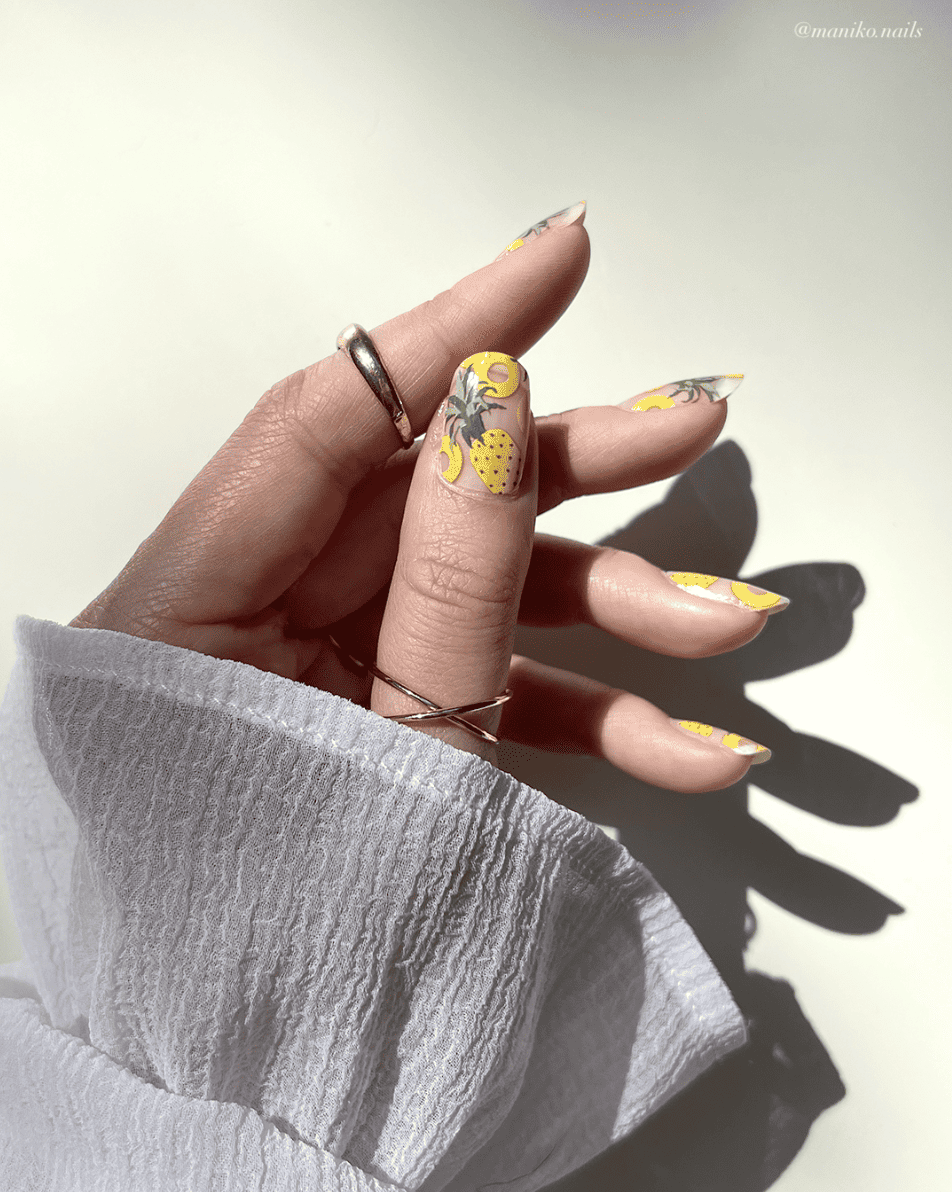 Here's another stunning summer fruit nail design we can't get enough of. Pineapples instantly evoke a feeling of summer, so this fruit is a must for summer nail art in 2023. Plus, this bold manicure would look perfect with a cute summer romper.
Orange + Coral Waves on Nude Nails
Coral is one of the best summer colors, and pairing this beautiful shade with bright orange and wave accents makes for a simple but vibrant manicure that's perfect for anything from pool days to an ice cream date.
Asymmetrical Rainbow French Tips
We're always excited to see a playful twist on a classic nail design, and asymmetrical French tips in rainbow shades definitely doesn't disappoint. This mani has a bright and cheery vibe that was made for the summertime, and this design is perfect for anyone with a bold sense of style.
Speckled Orange Polish & Matte Nails
This vibrant shade of orange is all that we need for a gorgeous summer nail design! The speckled details are bold and playful, while the French tips on matte nails add a refined feel.
And if orange isn't one of your go-to shades, try another summer nail color like bright pink, lemon yellow, or mint green.
Watermelon French Tips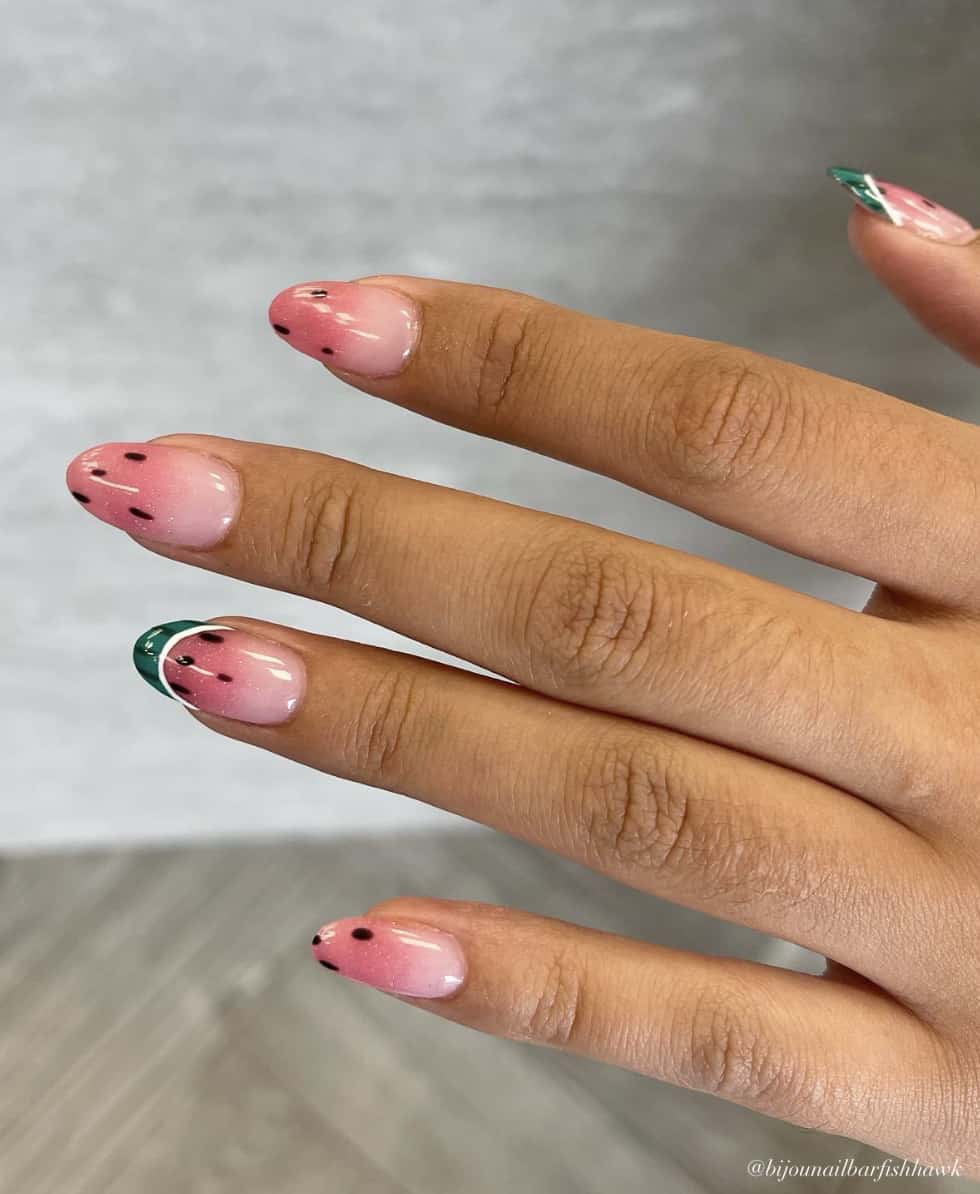 Of course, you can always add a summer flair by going for watermelon-tipped nails. This bold and playful look makes an excellent choice for a head-turning manicure this summer.
Summer Ombre Nails
Summer is the best time for one of our favorite nail trends – ombre nails! With lovely shades and this chic nail design, you'll definitely find a manicure to rock this summer!
Pink + Purple Ombre
If you're looking for a summer nail design with a feminine flair, a pink and purple ombre is definitely the mani for you! The glittering finish is cute and youthful, making this the ultimate summer ombre look.
Rainbow Ombre Nails
Having a hard time choosing your favorite shades for ombre summer nails? Go for all of them!
This rainbow ombre manicure is so breathtaking, and these vivid shades will instantly add a summer vibe to any outfit you wear.
Summer Ombre + Black Speckles
And last but certainly not least, with these ombre summer nails we have this gorgeous speckled ombre! Pink and orange blend seamlessly together, and these hues definitely have summer vibes. The black speckles add some serious contrast and make this mani pop even more.
Nails can be the perfect accessory this time of year, so why not take advantage of the season and go for a fun summer-inspired look?
Whether you're here for simple nails, ombre summer nails, or bright and bold manicures, there's no denying that summer is the perfect time to experiment with your style. So we hope you've found your favorite summer nails and have a gorgeous new nail design to try in 2023!
More Nail Inspiration You'll Love:
31+ Elegant Vacation Nails You'll Love For Your Next Getaway
21+ Perfect Periwinkle Nails for Spring & Summer