Planning a getaway in 2023 and need inspiration for chic vacation nails? You'll love our list of 31+ nails for vacation that are modern and refined. Whether you're going to a tropical destination or planning a winter trip, we have the perfect vacation nail designs for you!
Perfect Vacation Nails
Getting excited about a tropical vacation in your near future? The season of relaxing seaside and basking in the warm sun is almost here, and we know that a beach vacation is a perfect way to unwind. Whether you want to work on your tan or play in the ocean, you'll have a fantastic time surrounded by salt water and palm trees!
Going on vacation also means dressing your best, and a chic and refined manicure is a fantastic way to add a little extra style and flair to your outfits. So you know the drill. We've searched the web and found stunning vacation nail designs that are perfect for days (or weeks) at the beach!
We also have nails for winter getaways, European adventures, urban hotspots, and more! No matter what you're looking for, we have gorgeous nail designs that will have you looking stylish day and night while on vacation.
Nails For Beach Vacation
We're starting our list off with our favorite beach vacation nails. Whether you want a manicure inspired by ocean waves and tropical plants or a classic and neutral nail design, we have it below!
Colorful French Tips + Florals
Bright colors are always a good idea when you want a beach nail design. The floral accents are so cute and perfect for summer nails!
Tropical Colors + Abstract Nail Art
If you're planning to visit a warm tropical destination, you can definitely rock these gorgeous tropical colors! Go with an abstract design like this for something chic and playful.
If you love the colors in these nails, you'll love this list of coral peach nails.
Match Your Bikini
Planning to sit on the beach in a stylish bikini, sipping cool drinks out of a coconut? Match your nails to the color or pattern of your bathing suit for a stunning and Instagram-worthy manicure!
What to do with your nails when you go on vacation?
When you're getting ready for a vacation, you can do anything from a DIY nail design to press-on nails to a salon manicure. The nail design you go for can depend on where you're going and what aesthetic you want to have.
Bold manicures are perfect for the beach, while neutral and classic nail designs can be worn on any vacation and look great in the winter. Some people prefer to get gel or acrylic nails before a vacation, as these nails are less likely to crack or break during your trip.
If you're going for press-on nails, you can always pack some extra sets to replace any broken ones. You can also bring a topcoat to touch up your nails as needed to prevent chipping or cracking.
Blue Waves on Matte Nails
Gorgeous nail art will always elevate your manicure, and beautiful blue waves are perfect to wear on a beach vacation! We love the sophisticated look of these short nails with matte finish, although you can add a glossy topcoat or glitter details for a youthful vibe.
Matte Nails & Tropical Art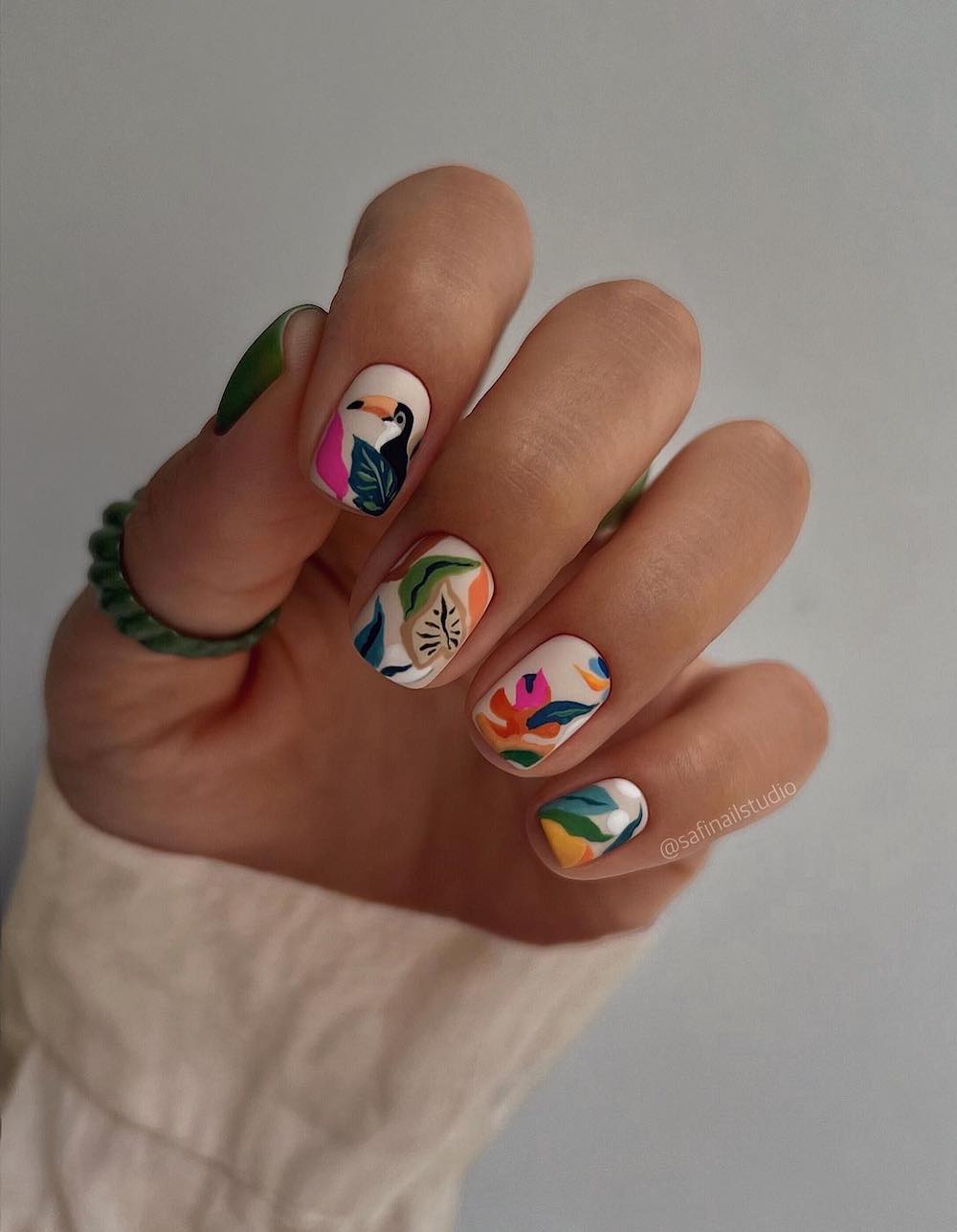 Tropical destinations are known for their sunny skies and lush plant life, so sporting a mani with stunning plant art and an exotic bird is perfect for vacation!
Blue French Tips
Classic French tips get a makeover with baby blue nail polish, and we are here for it! The soft blue shade has a summer feel, and you're sure to look chic in any outfit with a timeless nail design like a French manicure.
Retro Summer Nails w/ Waves + Flowers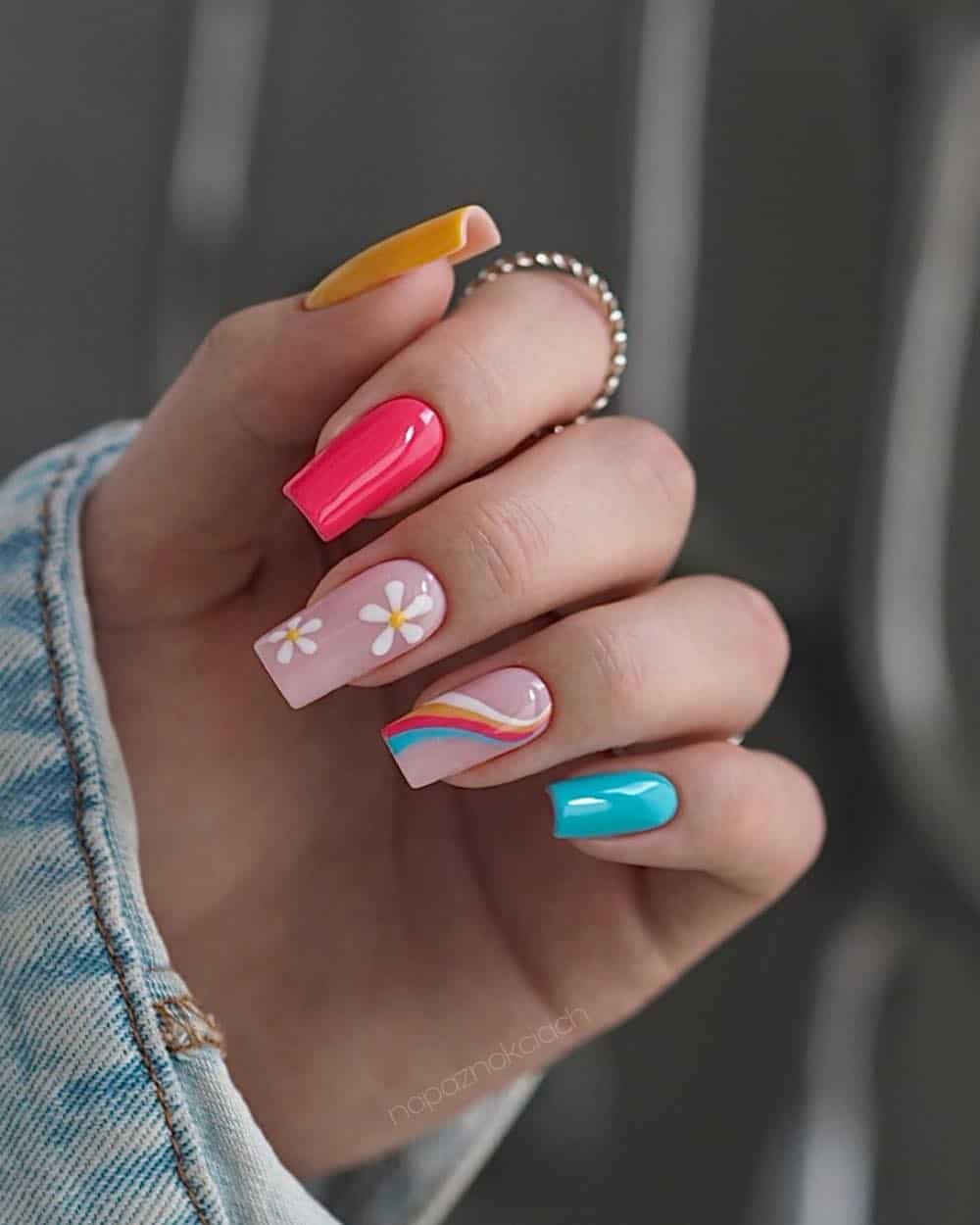 This is another perfect look if you want chic summer nails. The vibrant shades are a must for a summer vacation in 2023, and the wave details and floral art adds a retro vibe that we can't get enough of.
Pink Seashell Nails
If you want mermaid aesthetic nails that'll stand out from the crowd, this gorgeous seashell nail design is a perfect pick for you! The design is simple but so unique, and you can rock this beautiful pink look or try blue, green, or purple seashell nails instead.
What kind of nails should I wear on a beach vacation?
There really are so many nail designs to choose from when you're going on a beach vacation! You can stick with minimal designs and neutral colors, like classic French tips or solid-colored nails, for something chic to pair with any outfit. These are great nail designs for an beach-inspired look:
summer colors (pink, blue, yellow, etc.)
wave accents
ocean nail art
floral art
palm trees or tropical plants
seashell nail art
pearl accents
You can also go for any nail shape you prefer, and the same goes for length. Long nails are gorgeous and daring, or you can opt for short nails to prevent any chipping!
Pastel Rainbow Nails w/ Chrome Finish
Pastels and chrome are two hot nail trends in 2023, so pairing them up for a vacation nail design is a must! You can stick with this rainbow gradient design or choose your favorite pastel shades. Either way, you'll have a stunning manicure!
Beach Nails w/ Your Besties
Planning a girl's trip to a warm and sunny vacation spot? Hit up the nail salon together and go for anything from colorful French tips to ocean wave nail art to trendy glazed donut nails. Then you'll be ready for a gorgeous vacation pic this like, right in front of the ocean!
Neutral Nails w/ Tropical Leaves + Gold Flakes
If you want a refined manicure that still has vacation vibes, try elegant tropical nails like these! Milky white nails are the perfect base to make emerald green and gold leaves pop, and we love the addition of gold flakes for some extra flair.
Glazed Donut Nails w/ Leaf Accents
Glazed donut nails get an upgrade with chic floral nail art! Leaf accents are definitely summer vacation-worthy, and we love how the white leaves add a chic and feminine touch while still keeping these nails minimal.
Pink Gradient Manicure
Gradient nails are simple but so beautiful and will elevate any outfit you wear during your vacation. We love the shades of pink between red and white, and you can rock this nail design on square nails or go for stiletto or coffin nails for a bold look!
Pink Bachelorette Nails
Going out of town for a bachelorette party? Go for a bright and playful look like this! Pink nails are feminine and flirty, and the floral nail art is perfect for a summer nail design.
Colorful French Tips
Colorful French tips are perfect for sitting poolside with a frozen drink or lounging on the beach and soaking up the sun. Add some glitter details to make this manicure pop even more, or keep it simple with these gorgeous colors.
Classic Mani w/ Royal Blue Polish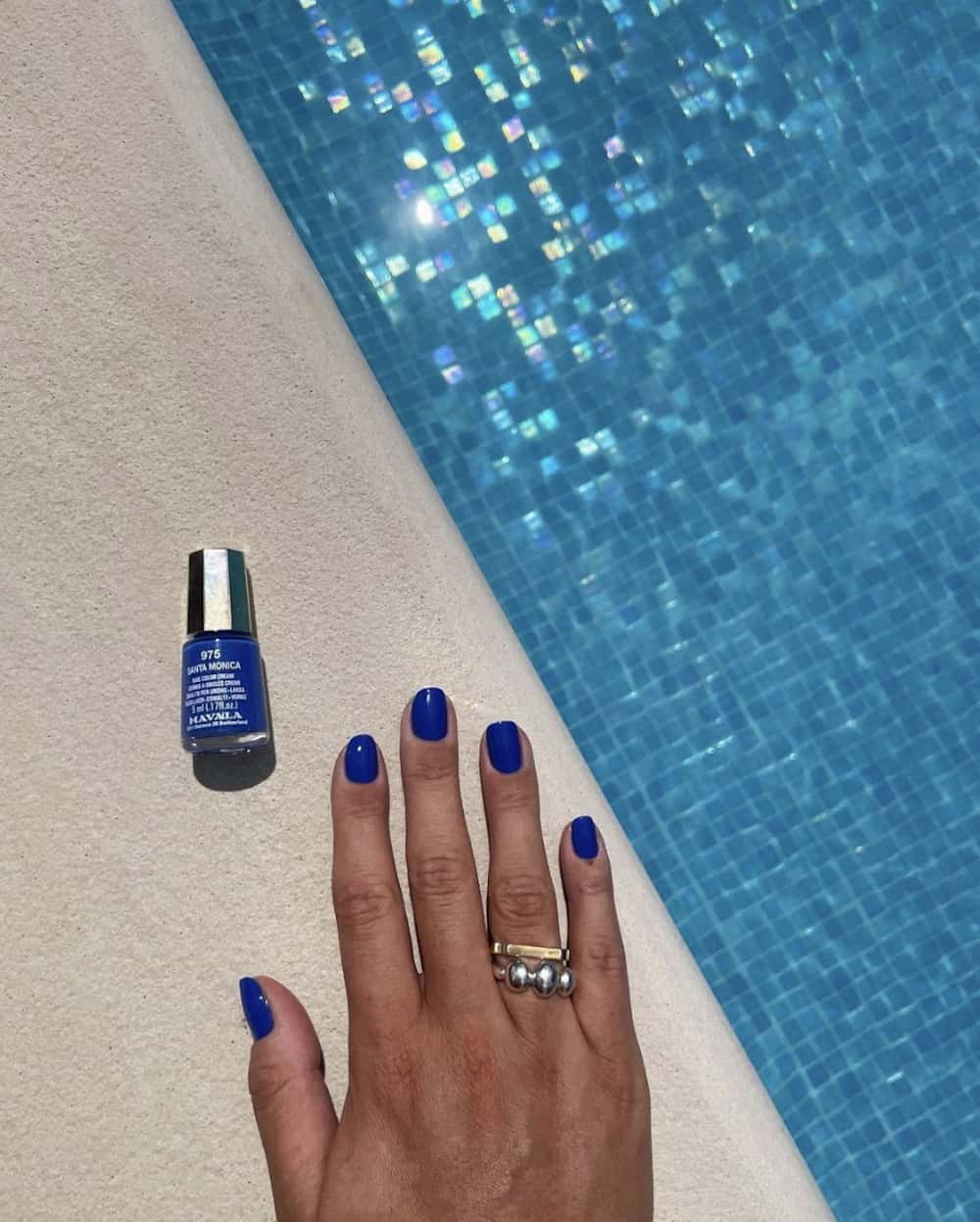 Bright blue nails are definitely a good look for relaxing by the pool and listening to your favorite songs! And this classic manicure will pair well with anything from summer dresses to a chic matching set.
Nude Almond Nails w/ Gem Accents
If you prefer neutral tones but still want something unique and glamorous, try accenting your nails with gems! Your nude nails will perfectly match any outfit, but the gem accents will definitely give you those luxurious vacation vibes.
Asymmetrical French Tips
Are you planning to hit up South Florida for your summer vacation? Go for asymmetrical French tips in bright shades for a bold and playful look that's perfect for the beautiful beaches and nightlife in Miami!
Seaside Nails w/ Gold Details & Pearls
Get inspired by the ocean and rock a shimmering pastel blue manicure! The gold flakes, chunky blue glitter, and pearl accents perfectly fit the beach aesthetic, making these gel nails one of our favorite picks for vacation nails.
Blue Coral Nails
Blue polish has an instant summer feel, and coral nail art is a simple but chic design to wear for a tropical vacation. If you want a more intricate look, add glitter, pearls, or white accents to make this manicure even more eye-catching!
Vacation Nail Colors
Like the nail design, the nail color you choose might depend on where your trip is taking you. You can choose a nail color based on the weather at your destination and the reason you're going.
A beach vacation is the perfect time to rock a bold mani with coastal, summery shades, including:
pink
blue
green
peach
coral
nude or glazed donut
Going on a winter getaway like a ski trip to a beautiful Chalet in the mountains? You can't go wrong with classic winter colors such as:
red
green
blue
white
nude
You can also stick the neutrals like cream, beige, or black for a refined nail design. And whether you're going somewhere sunny or snowy, you can elevate any manicure with gorgeous gold and silver accents!
Chic Nails for Vacation
Going on vacation somewhere cold? Or maybe you're going out of the country? Either way, we have more gorgeous nail looks to fit any occasion!
Glossy Nude Nails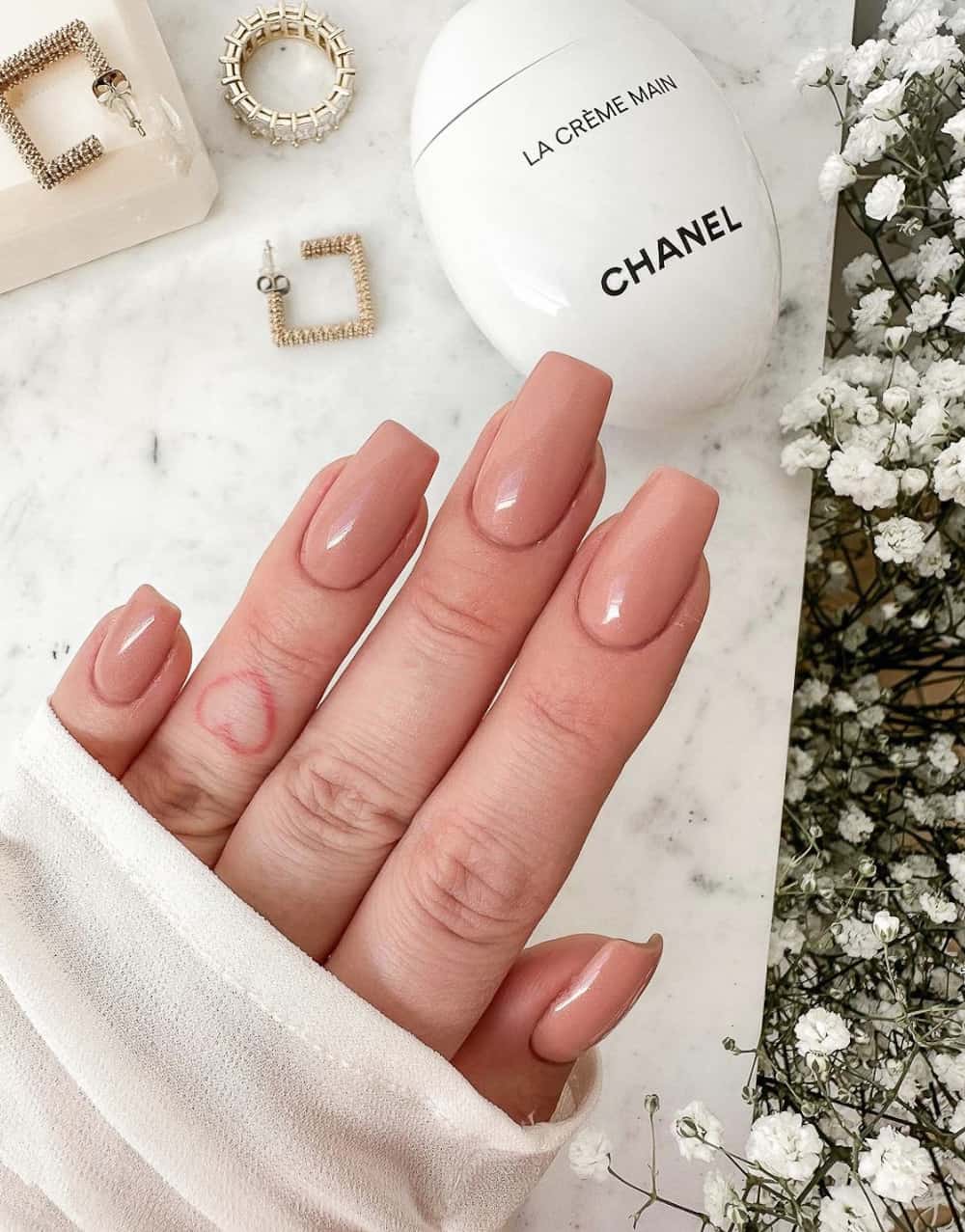 You can always go for a classic nail design, like these glossy nude nails. Nude tones pair well with just about anything, so your manicure will always match your outfits and have you looking pretty and polished!
French Manicure
A French manicure is another gorgeous, timeless design. Whether you're vacationing in South America, Europe, or Asia, this nail design will look stunning as you explore a new place or an old favorite!
Classic Manicure w/ White Nail Polish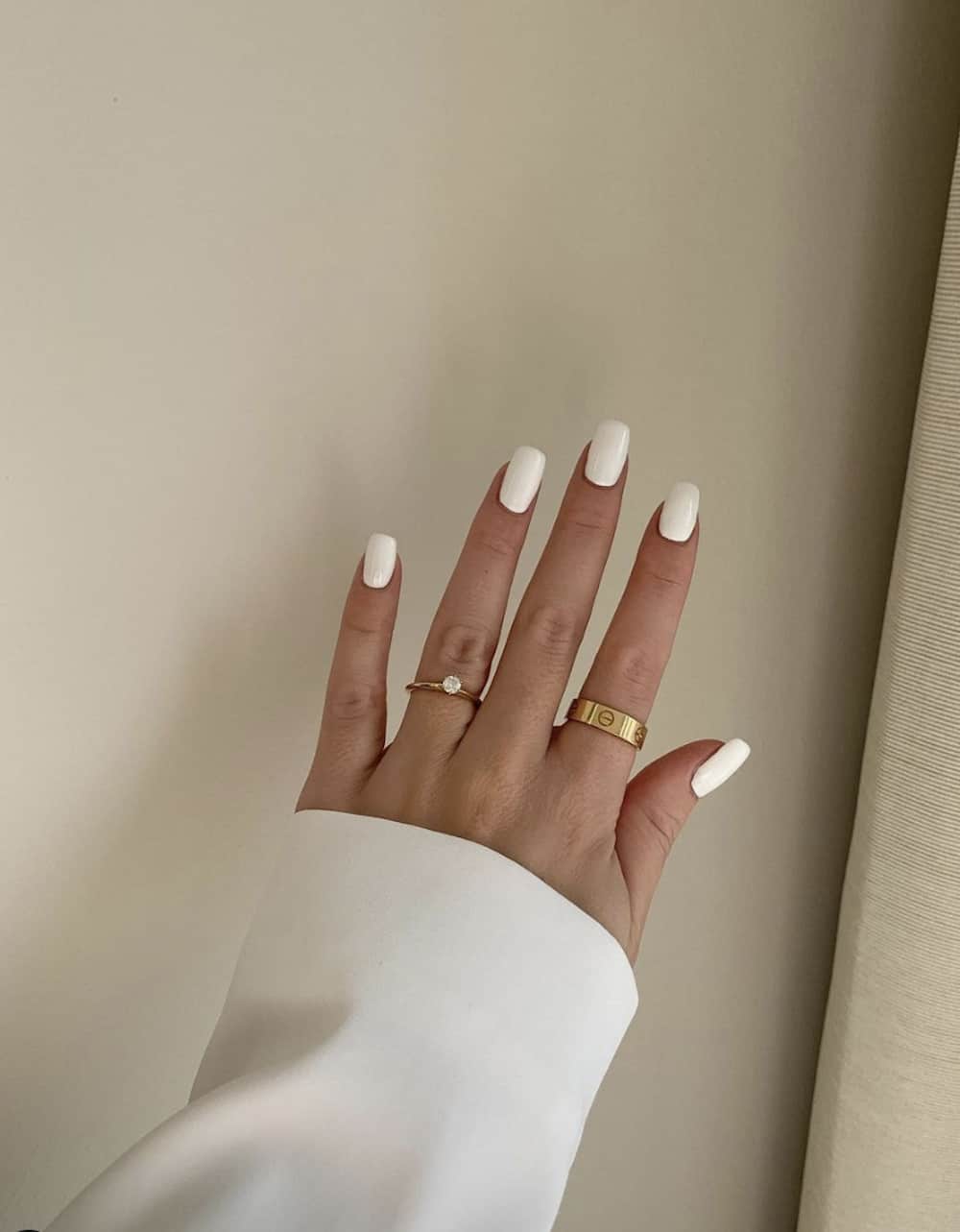 Solid white nails always add effortless style to any outfit, and this manicure would work for anything from a sunny beach to a winter wonderland!
Glazed Donut Nails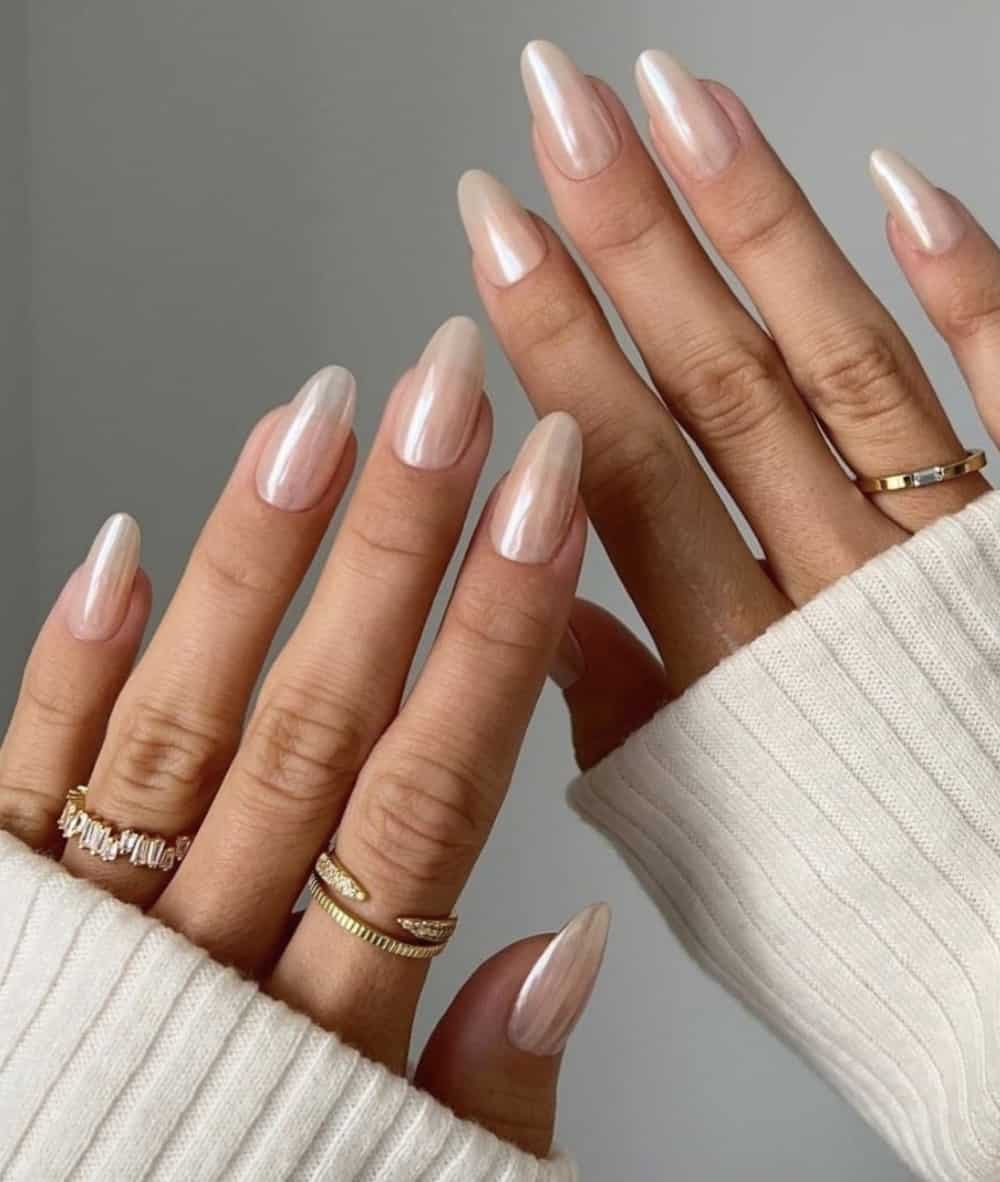 We are in love with the glazed donut nail trend that came about in 2022, and we are happy to see it going strong in 2023! This look is simple but so gorgeous, and these nails will quickly add a classy and chic vibe to your vacation outfits.
French Tips + Mickey Mouse
Taking a trip to the happiest place on Earth? Show your love for all things Disney with this stunning nail design. A colorful French manicure is perfect for the theme park, and the Mickey Mouse nail art definitely adds that something extra to this look!
If you'll be visiting Disney World, you need to see this guide on What To Wear To Disney World!
Purple Disney Nails w/ Sparkles
You can also rock some Disney nails with a youthful and feminine feel. Shimmering purple ombre, sparkle accents, and Mickey Mouse art are a must if you'll be spending time at Disney parks during your vacation!
Don't miss these cute Disneyland outfits to try on your trip as well!
Hot Pink + Glitter
When it comes to vacation nail designs we love bright and stylish looks.
Hot pink nails with a shimmering finish are so gorgeous. This nail design is perfect for a trip to Las Vegas, a city known for being bold and glamorous!
White Animal Print French Tips
If you're planning to go on the wild side and go on an African safari, wear a chic animal print nail design like this! It's gorgeous and neutral-toned, so it will go with any look, but the animal print will definitely fit the safari vibes.
Winter Getaway Nails
Taking a vacation to a winter wonderland in 2023? Go for a refined manicure that still has a winter feel with snowdrops, pine trees, and a red snowy house! Add glitter if you want to go bold, or keep it minimal for a subtle manicure.
Christmas Red Nail Polish & Snowflakes
If your vacation will be a Christmas getaway, red polish with snowflake nail art is the perfect look. Nothing says Christmas like bright red hues and white snowflakes, and this gorgeous manicure will definitely get you in the holiday spirit!
Blue Glitter + Candy Cane Stripes
Blue glitter polish and white details are another perfect combo for a winter aesthetic! This look is a must if you're planning to hit some snowy slopes on a winter ski trip!
What nails should I get for vacation?
The best vacation nails for you will definitely depend on the destination and the vibe you're going for. Go with bright colors and playful nail designs for a tropical vacation and try something winter inspired if your destination will have cold weather.
We hope you've loved this list of vacation nail designs and you've found the perfect look for your next getaway!
More Nail Inspiration You'll Love:
27+ Chic Swirl Nails You'll Want To Copy
28+ Stunning Baby Blue Nails & Light Blue Nails To Try
21+ Chic Neutral Nails For A Classy, Minimal Aesthetic
27+ Perfect Summer Nails To Obsess Over