Going to a rodeo soon? Here's exactly what to wear to a rodeo and cute rodeo outfits to try so you'll look stylish and turn-heads (in a good way), but still feel comfortable and ready to get two-stepping!
*this post contains affiliate links*
What To Wear To A Rodeo & Rodeo Outfits
So, you're going to a rodeo – yeehaw! If you've never been, you can expect a lot of bull-riding, barrel racing, team roping, and classic western wear.
If you're a rodeo rookie, it takes more than throwing on a cowboy hat and a pair of boots to fit in with the regulars. Now, before you spook like a nervous horse, take a breath!
Fortunately, it's not impossible to arrive at the rodeo looking fashionable and functional. Below are some rodeo must-have fashion pieces that will convince everyone you're a rodeo-regular.
photo: Blue Anemone
What Top Should You Wear to a Rodeo?
When it comes to tops, you should avoid any soft, fragile fabrics, like silk and satin. Instead, opt for lightweight material like cotton or linen, or a more durable material, such as button-down denim – a staple in western wear.
For a cute look, try tying the ends of your denim top to create a cowgirl crop top, and think about patterns like plaid, gingham, or white with ruffle or lace detailing.
photos: Ashley Trees, Society19, Tin & Turquoise
Another suitable option is a flannel shirt or jacket. This classic American garment is a popular style among rodeo-goers, as it features an iconic pattern that will ensure you fit right in.
If you don't have denim or flannel, you're safe with a top that has ruffle layers or a top or jacket with fringe.
In fact, the more fringe, the better.
Shop Tops: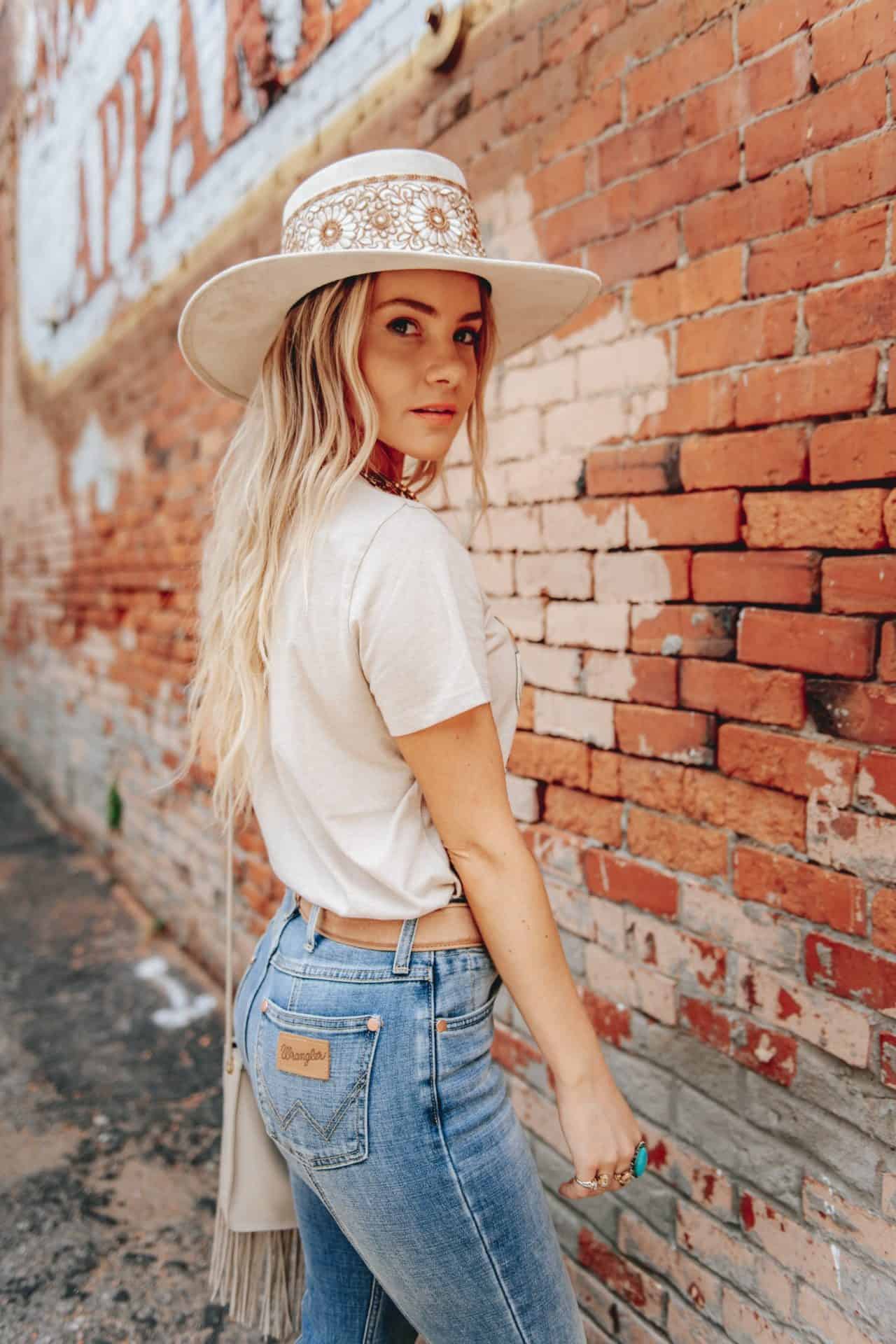 photo: Hunter Premo
What Bottoms Should You Wear to a Rodeo?
If you guessed denim, you've got that right! Experiment with various fits and cuts, such as jeans, shorts, or skirts – all are fair game as long as they're denim.
While bootcut jeans are generally associated with cowboy fashion, you won't look out of place wearing a fitted pair or straight leg, which are great for tucking into a pair of cute knee-high cowboy boots.
photos: Fashion On Rogue, Girl Meets Gold, The Cool Hour
Wrangler is a classic brand for rodeo-goers and vintage inspired Levi's will also add a high-fashion edge to your look.
Shop Bottoms:

photo: SPELL
Dresses and Skirts Are Great Options Too
If you want to dress up a little, don't hesitate to throw on a cute dress or skirt with your cowboy boots.
Opt for a white cotton or linen dress or skirt with lace or frill detailing, or go with a floral print dress and channel your inner Beth Dutton (Yellowstone anyone?).
photos: SPELL, Christy Dawn, @marijka_dam
The right dress can look stylish and classy while still having that old western vibe you'll want for the rodeo.
Shop Dresses & Skirts

photo: @westerngringa
Best Hat For A Rodeo
If you've seen an old Western movie, you certainly know the answer to this question.
Yes, you should wear a cowboy hat, and any style will do. You're welcome to get creative and select the one that speaks to you. There are a wide variety of cowboy hats, all coming in different textiles, including:
Fur Felt
Wool Felt
Straw
Leather
Canvas
Additionally, if you want to play it safe, opt for a Resistol, which has been the preferred choice for rodeo cowboys for decades.
Shop Western Hats:

photo: Rural Haze
What Kind of Shoes To Wear to a Rodeo
You didn't think I'd compile a rodeo fashion essentials list and not include cowboy boots, did you? Just like cowboy hats, cowboy boots also come in various styles and materials, including:
Crocodile
Lizard
Goat
Alligator
Calf
Caiman
Snakeskin
photos: @westernrodeo, Elizabeth Hay Photography, @marijka_dam
Try to avoid boots with a super high heel, as they're less aligned with proper rodeo attire.
Also, if you've never owned a pair before, you should know that many leather boots are stiff during the first couple of uses. I recommend breaking them in before the rodeo, so you can focus on enjoying the event rather than the blisters forming on your feet… ouch!
Shop Western Boots:

Can You Wear Sandals to a Rodeo?
When it's warm out, and the temperature somehow seems to be rising even as the sun sets, you might find yourself thinking that a pair of sandals is a wise choice to keep your feet cool outside.
Unfortunately, it's not a great idea. Unless you like the feeling of dirt between your toes, sandals, flip-flops, or other open-toed shoes are not usually a good idea.
photo: Virou Tendencia
What About Accessories?
Go for it! In its own way, a rodeo is like a fashion show, where Old Western is the theme. That means accessories are definitely appropriate. Once you've selected your top, jeans, hat, and boots, it's time to start accessorizing.
Jewelry: Try layered gold or silver pendant necklaces or go with a statement necklace, bracelet, or earrings. And, turquoise is always a popular rodeo color when it comes to jewelry.
Belt: A leather belt with a massive, flashy buckle is a must for a rodeo and a great way to accessorize. If you think your belt is too much, go even bigger.
photos: @westdesperado, @kayleeacaroll_
Poncho: A colorful poncho with fringe is an effortless way to elevate your outfit to new heights. Wear your poncho over jeans or shorts with a pair of ankle boots to create an uber-stylish outfit.
Vest: Another popular rodeo fashion piece. Leave it open over a long-sleeved shirt for a casual appearance that still maintains the western theme.
Shop Accessories:

photo: @marijka_dam
Now that we've established the proper rodeo attire, you're ready to hop in the saddle and put together one of these stylish rodeo outfits.
You've got this, cowgirl!
Pin This: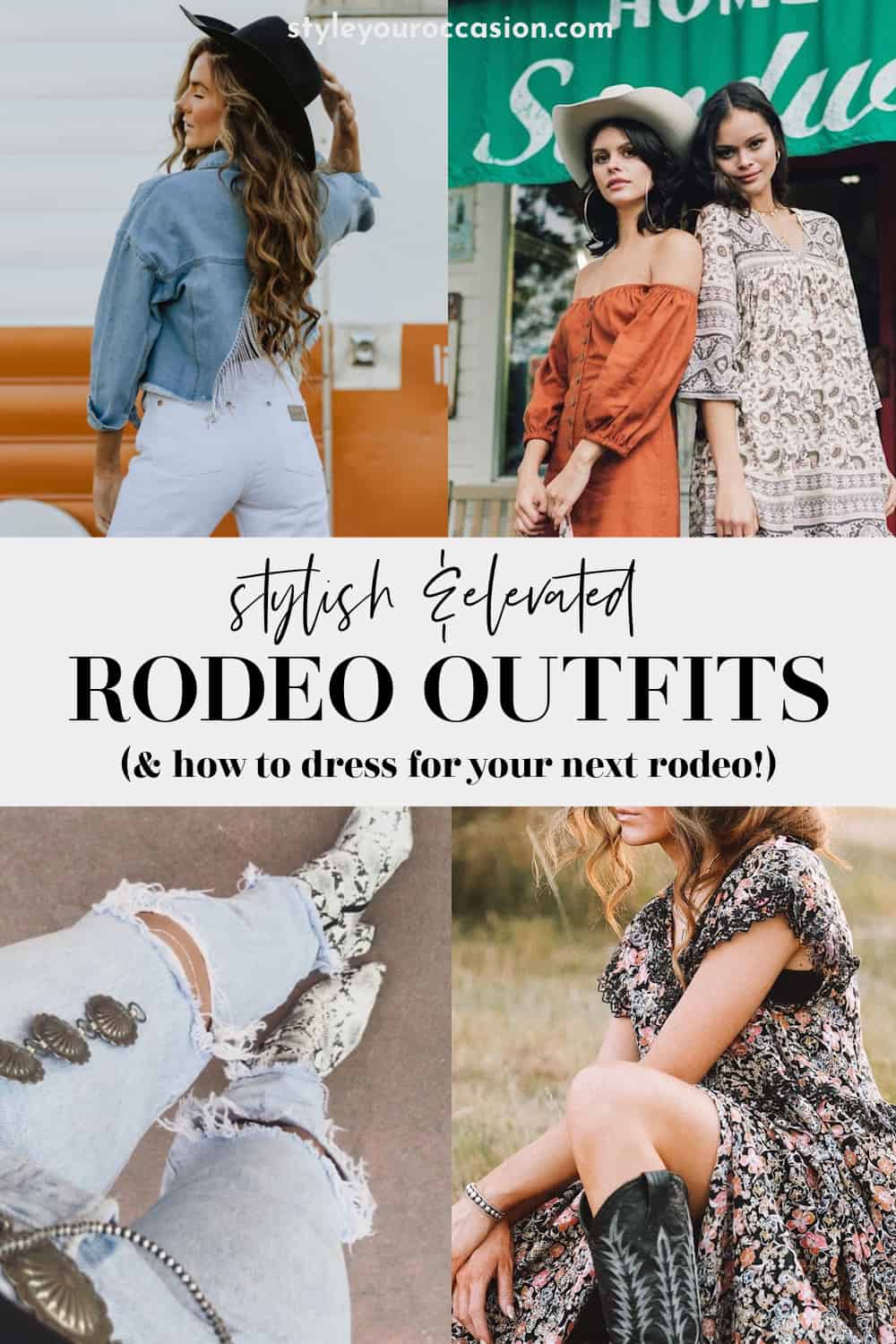 More Outfit Inspiration You'll Love: