Ready to spice up your look with a gorgeous retro manicure? Check out our list of 70s-inspired nails and 70s nail art for a groovy new nail design you'll want to try!
Chic + Retro 70s Nails To Copy

The 70s was an iconic time when people embraced natural beauty, individual expression, psychedelic patterns, and bold colors. This era will always be remembered for its free-spirited fashion and the vibrant aesthetics that have stayed trendy in the decades since.
We've collected 18+ stunning 70s-inspired nails to show you how to add retro yet refined styles to your everyday looks.
How To Get 70s-inspired Nails
Creating gorgeous retro-inspired nail looks can be easily done by adding a couple of key elements to your manicure. Use cream or nude-colored nail polish as your base, and choose a vivid, colorful palette for the vintage details.
Classic 70s prints will also give your nails an instant retro feel. Add the iconic flower power pattern to your nails, or try waves, checkerboard prints, hearts, or happy faces. Below are our favorite 70s nails from incredible nail content creators.
Almond Pink Nails w/ Daisies
Pink nails with white flowers are a timeless style, but this 70s-inspired nail art puts a fun twist on a classic design.
We love the pairing of deep orange and pastel pink, and the retro daisies add that groovy vintage touch. This 70s nail art has a flirty and feminine vibe, making them perfect to wear for a girls' night out.
Retro Rainbow French Tips
Vibrant colors and swirling patterns are an iconic 70s look. We love the bold look of these nails, and the gorgeous mix of colors adds such a playful touch.
This 70s spin on the classic French manicure is perfect for daring trendsetters who enjoy showing off their funky style and colorful personality.
Pink, Orange + Blue Waves
Waves are another classic 70s pattern, and the colorful waves in this manicure definitely give off a retro vibe. These nails are so simple and easy to recreate since you can paint the waves to look however you want.
We love the color combo used here, the white brightens up the nails while the pink, orange, and blue add to the 70s aesthetic.
Pink Flower Power Nails w/ Wave Accents
Nothing says the 70s like a retro flower pattern, and this adorable manicure has a fantastic combo of the flower power print and swirl accents.
We love the soft and feminine vibe we get from the different shades of pink used here. The green and yellow accents help make this manicure pop, although you could easily swap the colors for different shades to create a unique look.
Cream & Brown 70s-Inspired Nails
We love the vibrant and fun retro patterns on these nails. This manicure has the ultimate 70s look with so many vintage patterns and neutral earthy tones.
These cream and brown nails would be perfect for a fall look or if you prefer neutrals to bright colors. Even with simple colors, this is still a bold and stylish look.
Brown Waves w/ Cream Accents
Here's another gorgeous look featuring neutrals, and we love the addition of cream nail polish. The dark brown and cream shades add the classic, earthy tones that the 70s are known for, and the french tips add a modern twist.
These beautiful acrylic nails are a great way to add a retro vibe to your everyday look. These nails would look amazing on a night out, at a wedding, or even at the office.
Did they have acrylic nails in the 70s?
Yes! Not only did acrylic nails already exist in the 70s, but they also became a popular staple at nail salons during this era. This nail style allowed nail technicians to create gorgeous designs that were long-lasting and had a glamorous, colorful look.
Brown + Orange Nails w/ Retro Flowers
Flower power patterns are a must for retro-inspired nails, and this breathtaking manicure has a pretty floral pattern and rich tones that give off that 70s vibe we love.
These nails have a refined look while still giving that vintage feel. Orange and brown pair perfectly with the white nail polish, or you could change the colors for other classic 70s hues, like mustard yellow or avocado green.
Nude Nails w/ Pastel Waves + Geometric Accents
We're loving the combo of a retro aesthetic with gorgeous pastel tones. The light shades used here make this manicure a perfect 70s look to wear during spring.
This manicure has a classy and elevated look that we can't get enough of, and the gorgeous wave details and geometric patterns add that fun vintage touch that will spice up any look.
Orange & Red Negative Space Nails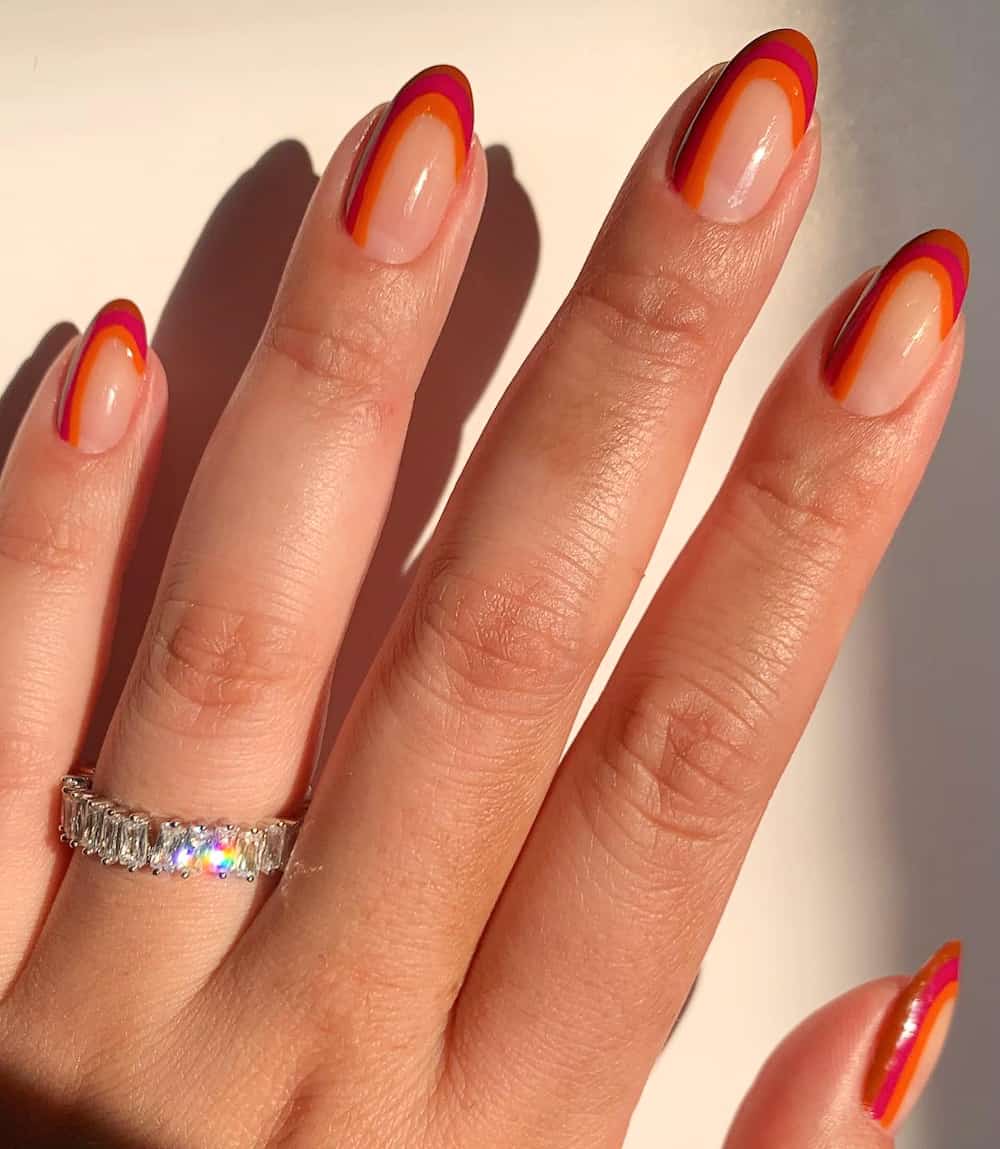 This design is a modern and elegant variation of 70s-themed nails. The rust red and vibrant orange quickly evoke those hippie vibes we're going for, but the clean lines and negative space in this design create a sleek and refined look.
We love the warm tones on these nails, and the combo of nude, orange, and red has a gradient effect that elevates this retro look.
Pink Nails w/ Orange + White 70s Nail Art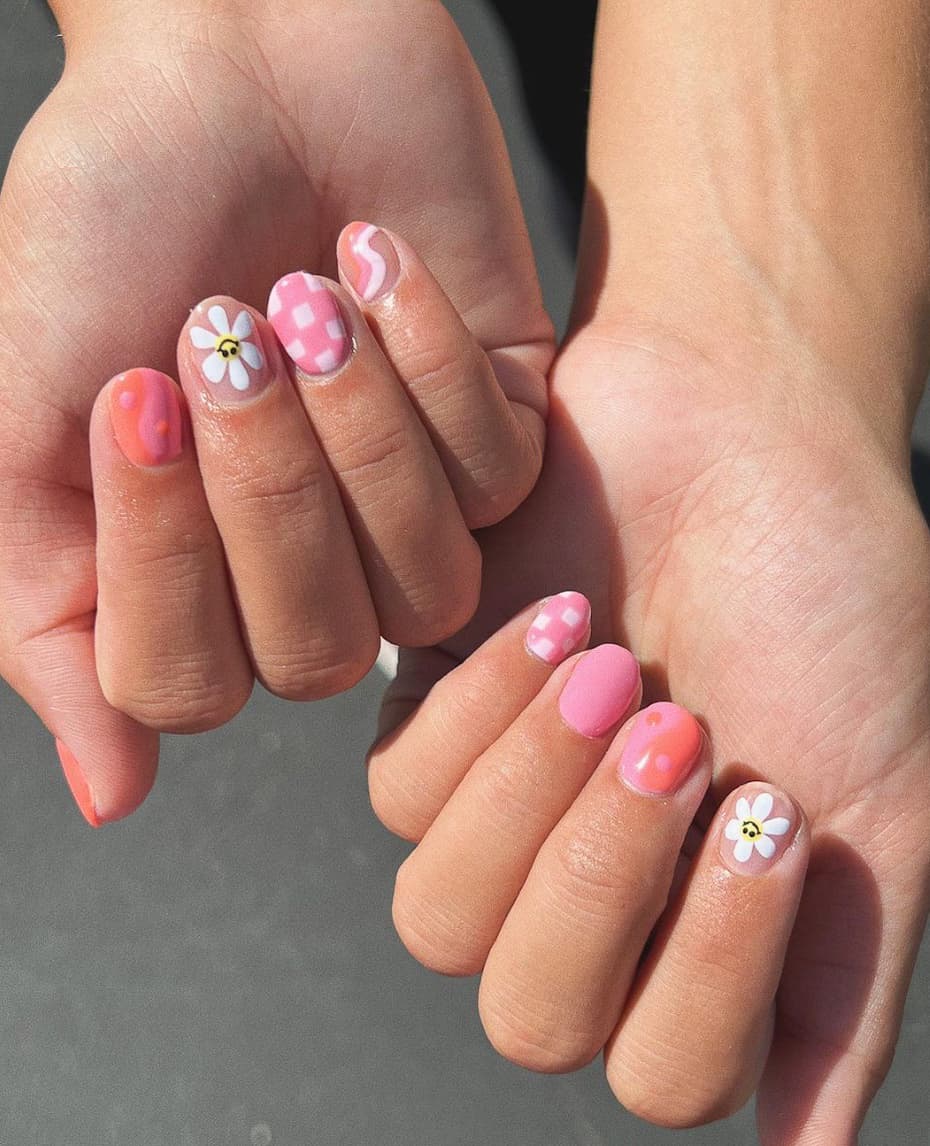 If you want a 70s look that is vibrant and youthful, this is a fantastic pick for you. The light pink polish on these nails adds a young and flirty feel, while the happy face flowers, yin and yang nail art, and checkerboard print give us that retro look.
This gorgeous design is a top choice for a cute and playful vintage manicure. And this intricate style would look amazing on a longer length as well as the short.
Peach Nails w/ Waves + Flower Details
This warm-toned manicure has a cheery and fun look that we are obsessed with. The dainty daisies and wavy line details scream 70s fashion, and we love the free-flowing look of each wave.
These bright and beautiful nails have serious summer vibes, so pair this stunning manicure with a 70s-style dress during your next beach trip.
What color nails were popular in the 70s?
Earth tones were commonly worn in the the 70s, and these colors were a popular choice for nails as well. Rich, nature-inspired tones are very reminiscent of this era, so go for muted shades of rust, burnt orange, mustard, green, brown, and cream.
Some people also use bright and vibrant shades of orange, pink, and turquoise to get that same 70s style. These colors are excellent if you prefer bright colors in your nail looks.
Bright Pink & Orange Nails w/ Swirls
Pink and orange are a chic 70s color pairing, and the swirl accents definitely add to the retro vibe.
We love the fun and youthful feel these bright colors add to this look, and these vibrant shades also have a summertime feel that makes them perfect to wear during those warm, sunny months.
Green + Teal Mani w/ Wave Accent Nail
This combo of dark green and vibrant teal is so stunning. We love the subtle nod to 70s style paired with a classic manicure.
These nails have an elegant look, and the wavy accent lines add that vintage vibe we're going for. If you want more of a retro look, you can easily add more wave details to this manicure.
Pastel Pink & Orange w/ Psychedelic 70s Nail Art
This stunning 70s look is one of our favorites! The pastel colors and heart nail art gives this manicure a soft and romantic feel, making it a perfect groovy look for your next date night.
We love the dreamy retro look of this manicure. The pastel shades give these peach nails a more subtle 70s look, so this is a great choice if you want a refined vintage look.
Hot Pink + Lime Green Nails w/ Flower Accents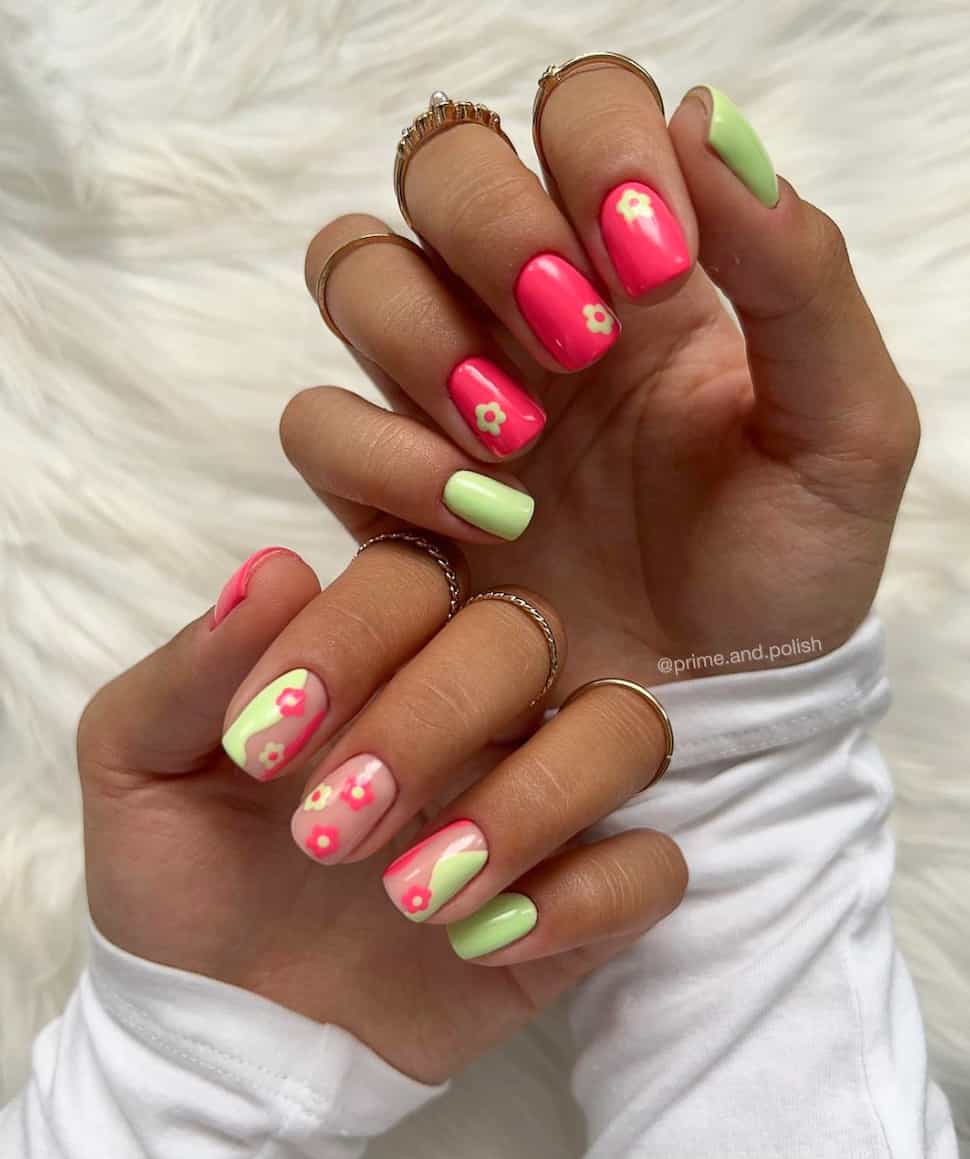 We are in love with the bright colors used for this look. Hot pink and lime green are a stunning combo, and the flower nail art definitely adds a retro feel to this manicure.
These nails have a youthful vibe, and the different designs on each hand make them a fun and playful pick for your next manicure.
Flowers & Waves in 70s Earth Tones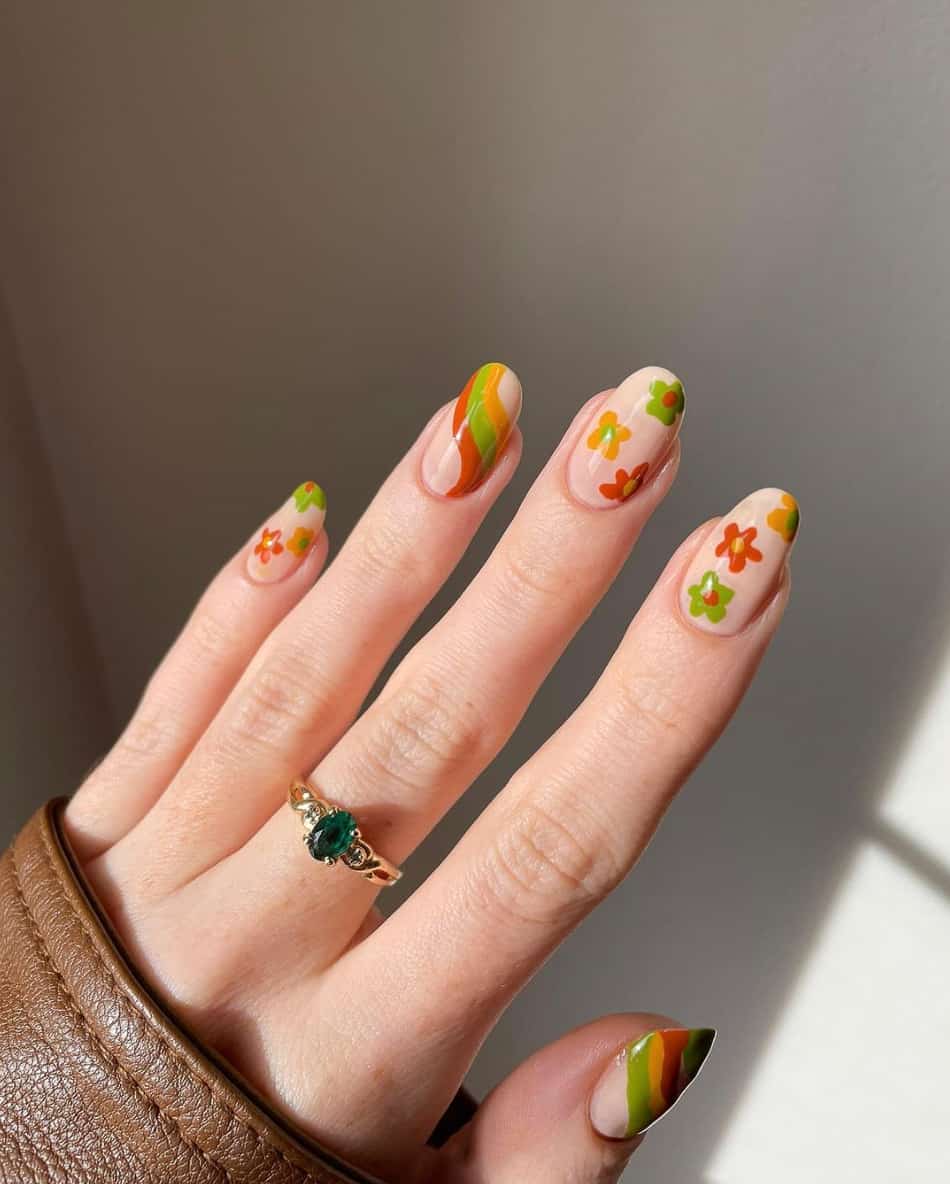 Since earth tones were all the rage back in the 70s, this combo of earthy green, red, and orange is perfect for a vintage look when it comes to 70s nail art.
The colorful retro patterns look so gorgeous and chic paired with the neutral tone of the nude-toned polish. This combo of 70s colors and neutral almond-shaped nails gives these nails the perfect blend of modern and vintage.
Geometric Prints + Flower Details
If you can't choose which 70s pattern is your favorite, why not try them all with this gorgeous multi-pattern manicure?
Nude polish is the perfect base for this retro look, and the vibrant red tones make it so eye-catching. You can mix and match the different patterns and colors to turn this into a look that's all your own.
Black & Cream Retro Nails w/ Colorful Accents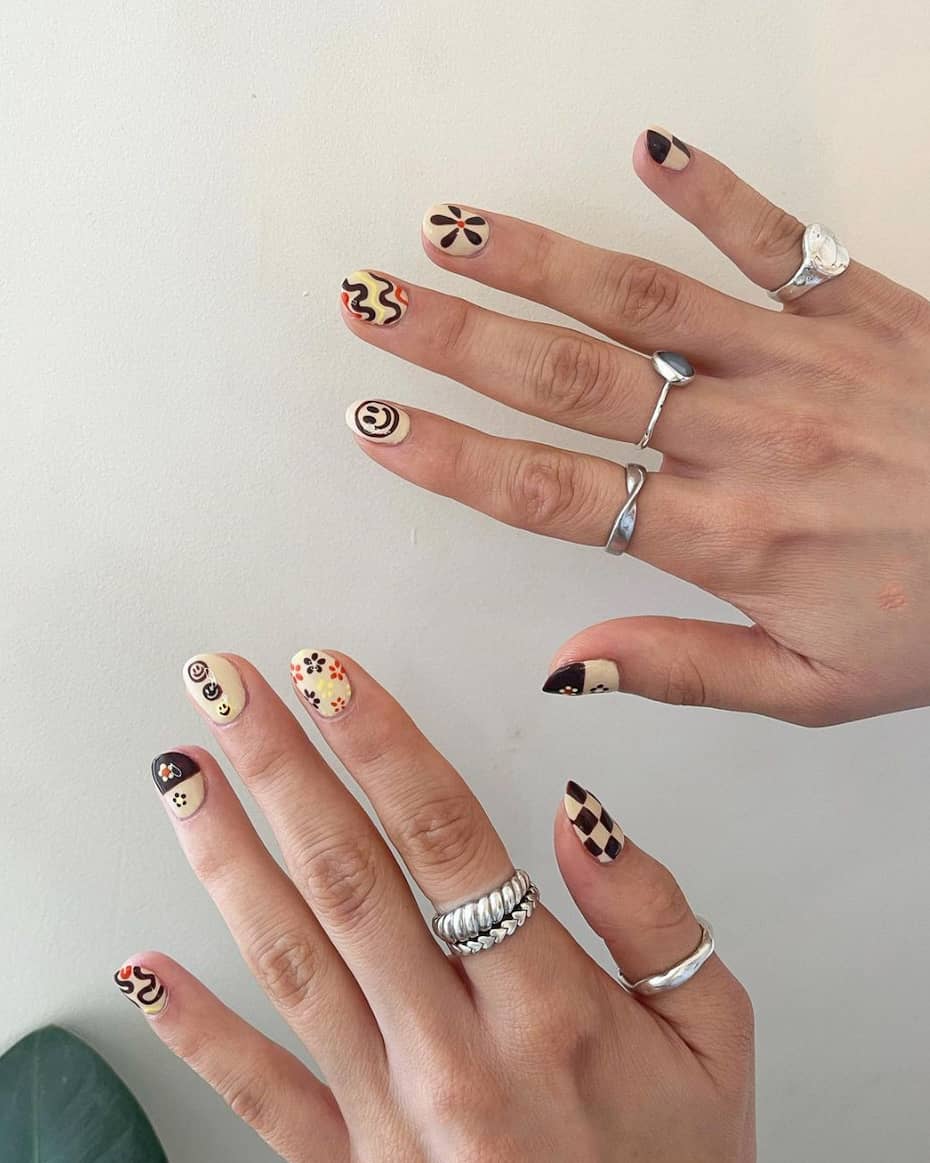 We are obsessed with the psychedelic vibe of this 70s nail art! They have a funky and bold look that makes them so eye-catching and fun. The black and cream color combo creates an edgy and daring look, but the yellow and red accents paired with classic 70s patterns add the retro look to this nail design.
You can easily add more color to this manicure if you prefer a colorful design, but the contrast of black and white helps the smiley's, waves, and flowers pop.
There are so many ways to rock 70s nail art, from gorgeous retro shades to groovy patterns. A vintage look can be done in bright and bold colors or neutral tones, and it can be as intricate or minimal as you want.
Use this guide as inspo to find your perfect retro look and add gorgeous 70s-inspired nails to your everyday style.
More Nail Inspiration You'll Love:
21+ Pink and Red Nails For A Fun & Flirty Vibe
23+ Classic Pink and White Nails + Cute Pink and White Nail Designs
17+ Gorgeous Sage Green Nails To Inspire Your Next Manicure
21+ Cow Print Nails That'll Make You Love This Viral Trend
21+ Chic Neutral Nails For A Classy, Minimal Aesthetic