Going for brunch and need to know what to wear? Whether you're heading to a formal brunch or going on a casual outing with friends – these mens brunch outfits will help you decide what to wear, and you'll learn all about male brunch attire.
*this post contains affiliate links*
Brunch is one of our favorite ways to enjoy a meal with friends and family! I mean, who doesn't love to indulge in your favorite breakfast foods along with bottomless mimosas or a delicious cappuccino?
And even though this is a fun and relaxing event, you still want to be dressed your best. So, if you have an upcoming brunch to look forward to but don't know what to wear – we've got your back with a style guide on brunch outfits men edition.
Moden Brunch Outfits for Men
Whether your breakfast will be with friends, family, co-workers, or someone special – we have stylish and modern mens brunch outfits below to help you look and feel your best.
Chino pants, tee + flannel shirt.
get the look:

Can you really go wrong by rocking a flannel shirt? We don't think so!
A flannel button-up is a classic piece that should be in any man's wardrobe, and this shirt adds a rugged and masculine vibe to your outfit. Pair it with Mott & Bow Mercer Jeans in Khaki and the comfiest Drigg's tee for a laid-back and comfortable look that's perfect for a relaxing brunch. You can stick with a black-and-white style like the one above or add some color to your look with a red, blue, or green flannel shirt.
And we love the brown Oxford shoes here – they dress the outfit up just the right amount. But if you want to stick with casual vibes, go for a pair of plain white sneakers.
Go for a professional look.
get the look:

When it comes to more formal male brunch attire, a blazer and dress shirt are a solid combo – so pairing these with Oxford shoes and Mott & Bow Twill Chinos in black creates a put-together and stylish ensemble. This look is great if you plan to meet clients for brunch, if you're attending a work event, or if you just want to dress up a little.
You can also choose a look like this for an elevated, cool-weather outfit. Pants and a blazer are perfect for staying warm, whether you're enjoying brunch on the patio in cool fall air or eating inside on a winter day. If you plan to wear an outfit like the one above in warmer weather, choose lightweight pieces made from linen or breathable cotton blends to stay cool.
Stick with neutral colors like brown, black, and grey for a clean look. Or you can go for a more colorful but still refined outfit with shades like forest green or navy.
Keep it casual.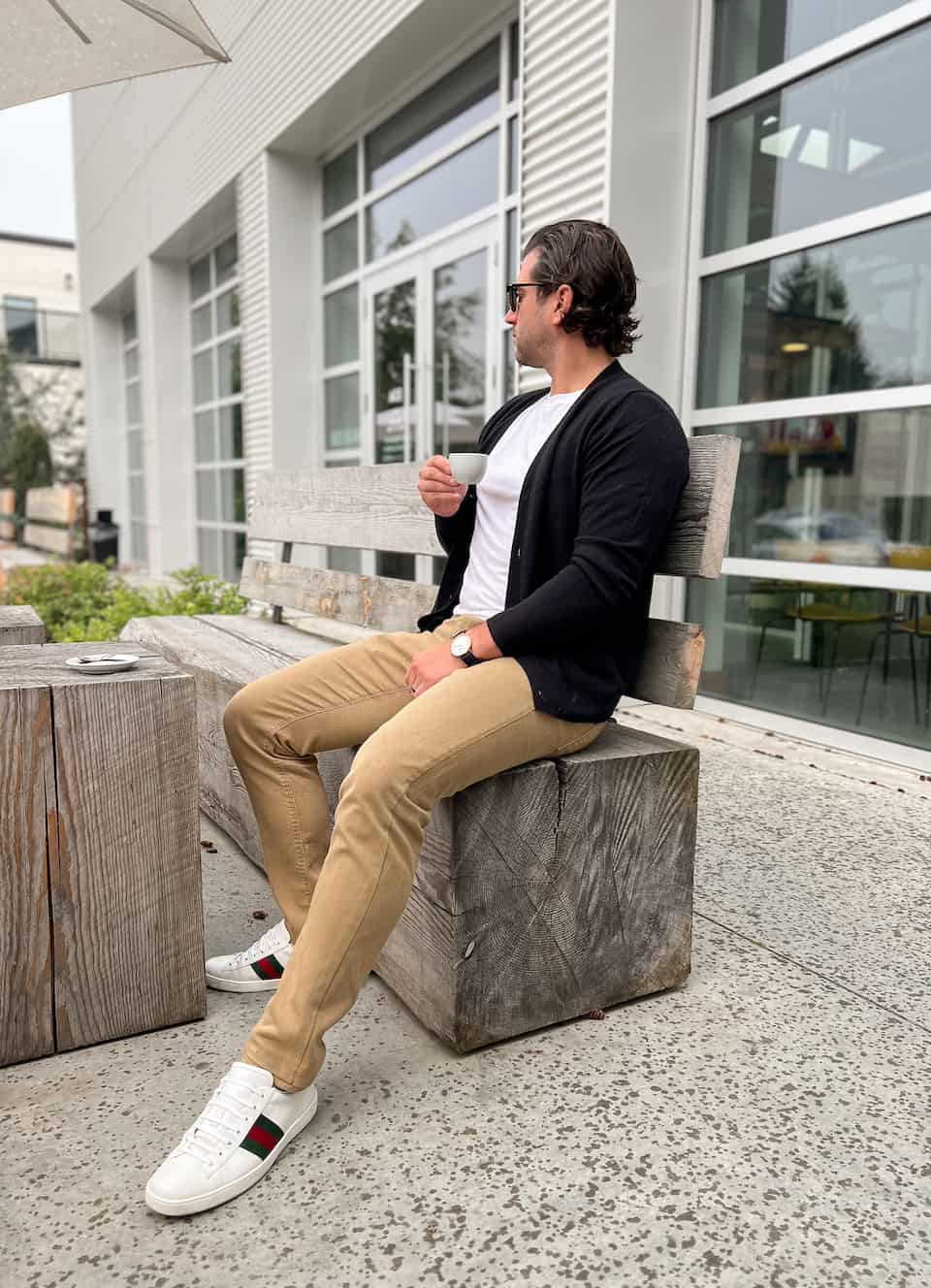 get the look:

While we love elevated mens brunch outfits, you don't have to sacrifice style to have a casual ensemble. You can still look put-together with simple pieces.
Khaki jeans or chinos and a plain white tee are a great start for any stylish and laid-back mens brunch outfit. Add a simple black cardigan for chilly days, or leave this combo as is for a warm-weather ensemble. Either way, you can dress your outfit up just a bit with sophisticated sneakers and accessories like a watch, sunglasses, and a sleek belt.
Holiday brunch outfit.
get the look:

Planning to enjoy a holiday brunch this year? You can definitely rock a stylish outfit while staying comfortable during a holiday meal.
Dress-style pants or chinos are perfect for a look like this, and a simple white sweater is a safe choice when it comes to male brunch attire for the holidays. Add a tan coat for an extra layer of warmth and style, and pair it all with a sleek pair of loafers. Finish the outfit with a watch to elevate the look (and make sure you're on time!)
These pieces will keep you warm and cozy during cool weather yet still looking fashionable during any event.
Fall vibes.
Don't be afraid to go for a simple but modern ensemble for a fall male brunch attire.
Brown is the perfect shade for a look like this – it's warm and instantly gives any outfit an autumn feel. And pairing this dark, rich shade with white pants adds a bold contrast that looks sharp and alluring. The loafers add a refined touch to this minimal look, and you can go for a patterned pair like these or stick with a simple, solid-colored shoe.
Either way, this outfit is another great choice for a holiday brunch look or even a casual brunch in cool weather.
Brunch with friends.
get the look:

Grabbing brunch with your buddies? We've got mens brunch outfits for that, too!
Go for simple but refined when it comes to a brunch with friends outfit. Dark blue or black jeans and a plain white tee are wardrobe staples that you can quickly pair together for a great outfit base. And a dark green overshirt keeps the outfit looking casual while elevating the overall look. Plus, this piece is perfect if you'll be heading out on a cool day.
Keep your accessories simple as well – choose plain white sneakers, a simple black belt, and a classic silver watch to perfectly style your outfit while keeping it cool and casual.
Warm-weather outfit.
When it comes to summer casual male brunch attire, you can go for a look like the one above.
Dark blue pants and a white tee start off the outfit again, but swap the long-sleeved overshirt with a short-sleeved button-up. This will give you the same laid-back look that's also warm weather-friendly. We love the striped green and white top for a playful touch, but you can always go for a solid-colored button-up for a timeless look.
Again, keep the shoes and other accessories simple, and you're ready to relax, hang out with friends, and enjoy delicious food.
Brunch date look.
get the look:

While you can keep it casual when meeting up with your friends, you'll want to dress up a little more for a brunch date!
But you can easily pair simple pieces together to create a modern and stylish outfit that's perfect for a date. Go for chinos or dress-style pants and a neutral-colored sweater. These pieces will give you that elevated dressed-up look, while the overshirt and plain sneakers balance the look with a laid-back vibe.
This outfit is great if you're meeting your someone special in fall or winter, although you can change things slightly to make this ensemble suitable for warmer weather. Swap the sweater for a plain black polo, and choose a lightweight button-up instead of a heavy overshirt.
Winter mens brunch outfit.
If you're wondering if you can wear your favorite hoodie to brunch, the answer is yes!
A hoodie is essential on cold winter days, and you can create a more refined outfit with a hoodie by pairing it with the right pieces. Chinos and a long wool coat are perfect for chilly days, and loafers are a must to dress any outfit up while staying comfortable.
Opting for neutral shades makes it easy to mix and match different pieces for a stylish outfit. But if you want to add some color, choose one or two neutral colors and one colorful shade. This will make it easy to have a vibrant outfit that still looks cohesive.
Work brunch attire male.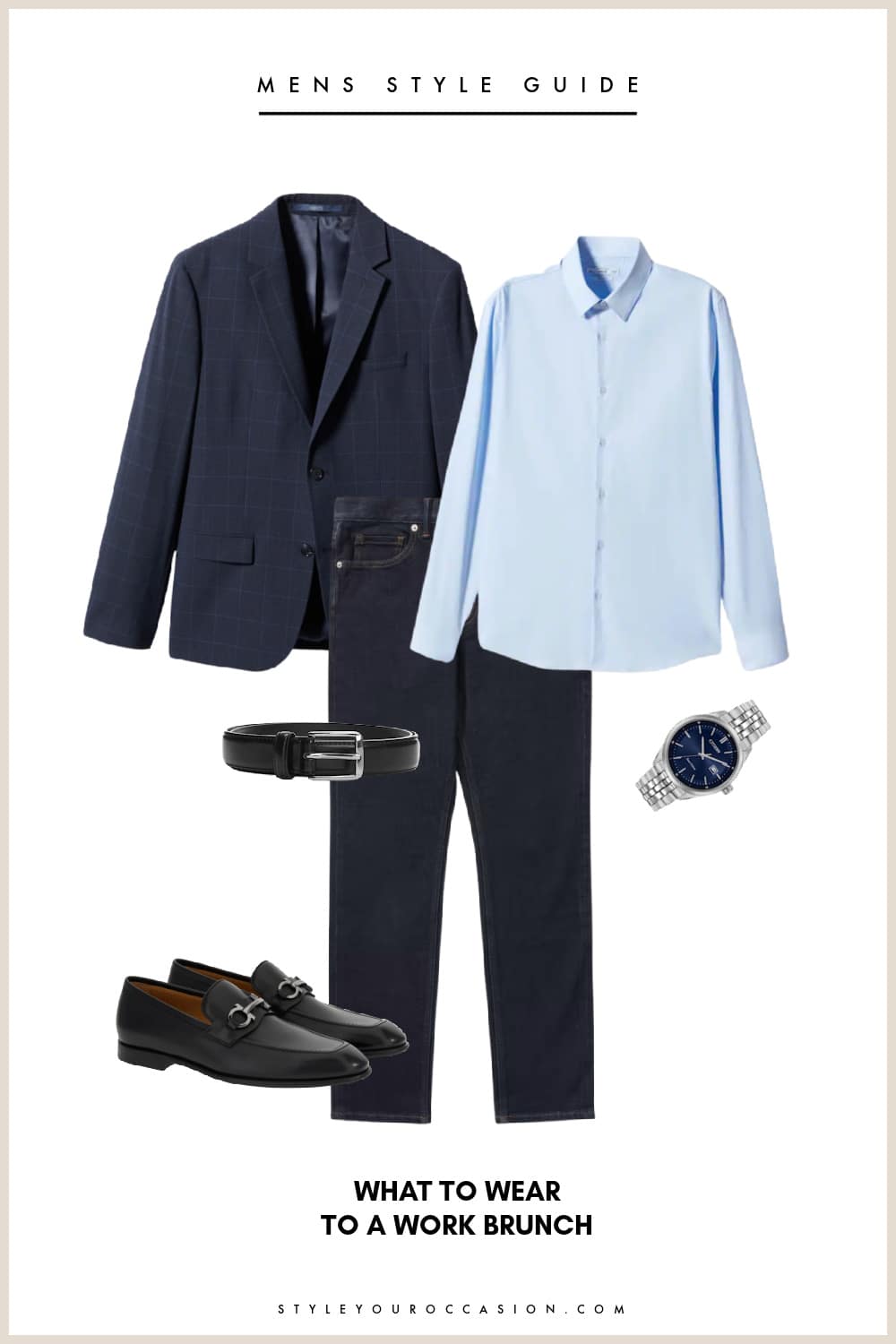 get the look:

When it comes to work-related brunch outfits for men, you can't go wrong with a business casual look. And as with any business casual outfit, jeans are an option!
Go for a dark blue or black pair of jeans for a refined look, and pair it with a navy blazer. A button-up is a perfect choice so you'll still look put-together even if you take your blazer off. A light blue button-up is a great way to brighten the look while sticking with the same color palette.
Since you'll be at a work event, choose loafers rather than a pair of sneakers. These shoes are still comfortable but also work-appropriate.
Go monochromatic.
An all black monochromatic outfit always looks stylish. This is an excellent alternative for a work outfit if you want to wear simple pieces or if you need an outfit that's better suited for warm weather. Although, you really can wear a look like this anywhere – to meet family, friends, or even for a brunch date!
Choosing only black pieces lets you keep the outfit simple, but it still looks modern and refined. Although, if black isn't your go-to color, don't worry. You can create a similar look with any shade. Go for a classic look with other neutrals like grey, beige, brown, or white.
Or you can go for a bolder look with colors like navy or olive green. No matter what color you choose, a monochromatic outfit is always a good choice.
When looking for stylish brunch outfits for men, things don't have to be complicated. There are a ton of styles you can choose from. We hope you've found our style guide on mens brunch outfits helpful and you have the perfect outfit inspiration for your next brunch!
More Mens Style Inspiration You'll Love:
10+ Modern Mens Trench Coat Outfit Ideas That Prove You Need One
8+ Mens Country Concert Outfit Ideas (That Aren't Too Cowboy!)
What Shoes To Wear With Chinos + 11 Modern Mens Chino Outfits