Looking for stylish ways to add a trench coat to your everyday looks in 2023? You need to see our guide with 10+ mens trench coat outfit ideas and black trench coat outfits for men, plus tips on how to style this classic piece!
*this post contains affiliate links*
Modern Mens Trench Coat Outfit Ideas
A trench coat is a timeless and versatile piece that should be a staple in anyone's wardrobe. This classic coat is excellent for chilly and rainy days and can add a refined touch to any outfit.
But figuring out how to style this piece can be challenging at times. Luckily, we have some tips and tricks about how to pair a tan trench coat with any look as well as black trench coat outfits for men. With this guide we'll help you create modern trench coat outfits that you can wear for any occasion.
Are trench coats stylish for men?
Trench coats are definitely a stylish piece for men!
A trench coat has a sharp and sophisticated look, and this piece is always in style. Plus, trench coats aren't just fashionable; they're also practical and incredibly versatile, with the ability to be dressed up or dressed down and worn with a variety of outfits.
Mens Trench Coat Outfits List
We're starting our list of mens trench coat outfits with some of our favorite looks featuring a classic trench coat. Whether you're looking for something casual or classy, there's a trench coat outfit idea for you below!
keep it casual
get the look:

A sleek trench coat can easily elevate even the most casual outfit, and pairing it with laid-back pieces creates a simple but stylish look.
Jeans are an excellent foundation for any outfit, and when paired with a trench coat, they add an effortless style that's hard to beat. You can choose classic blue denim or something more daring, like black jeans.
A hoodie adds a touch of urban edge and is perfect for cold-weather days. Sneakers keep the outfit casual, plus they still look stylish and will keep you comfortable throughout the day. This is a great trench coat outfit for the next time you need to grab a coffee and run some errands.
dress it up
get the look:

If you want a modern and sophisticated look, try layering a trench coat over a business outfit instead of a suit jacket.
Dress pants are comfortable yet have a clean and stylish look, while the button-up and dress shoes complete this refined outfit. This classic and timeless combo will look great anywhere you go, and the trench coat is a perfect finishing touch.
You can opt for this outfit when heading to the office or wear it for a date night or family dinner. Either way, you're sure to get tons of compliments with a look like this.
pair it with joggers
get the look:

Joggers aren't just for the gym anymore! A slim-fitting pair will look fantastic with a timeless trench coat and add a modern touch to your outfit. Plus, they're great for chilly days and comfortable enough to wear all day.
Opt for a pair of joggers in a neutral color like black or grey, and pair them with a simple crewneck top. This will give you a sleek and streamlined look, perfect for a day out on the town.
Sneakers are a must when it comes to having comfortable and stylish footwear. Choose a pair of sneakers that complements the rest of your look, and you'll have an outfit that looks put together while still being casual and cozy.
What goes well with a trench coat for men?
Fortunately, when it comes to building an outfit with a trench coat, there are tons of pieces that men can combine for a classic yet modern look. These are the top pieces that men can pair with a trench coat:
Plain white tee

Button-up

Sweater

Jeans

Chinos or khakis

Dress pants

Dress shoes or loafers

Sneakers

Ankle or combat boots
Whether you're going for something simple and casual or a polished and put-together look, you can add a trench coat to instantly elevate your outfit.
go for plaid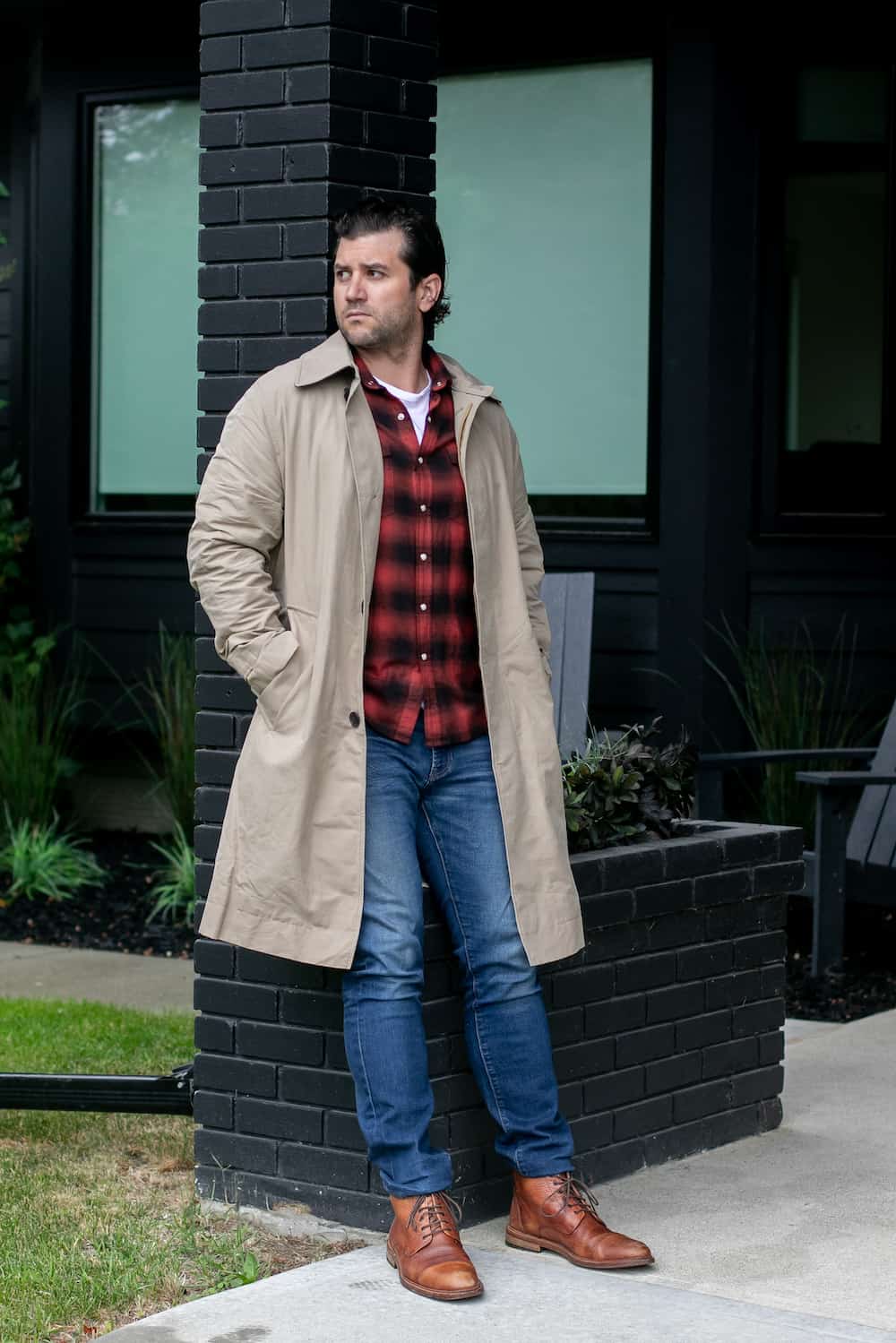 get the look:

A trench coat is the perfect piece of outerwear for autumn days, so you can't go wrong pairing it with other classic cold-weather pieces.
A plaid flannel shirt definitely has fall vibes, and this top adds a nice pop of color or holiday flair to any outfit. Jeans and flannel go hand in hand and create a classic look that's always in style.
Leather boots look great with this combo, adding a touch of ruggedness to your outfit. Opt for a pair in neutral shades like brown or black, so they'll look great with any color flannel you choose.
fall ready
get the look:

You can pair joggers and a trench coat together for a stylish fall outfit! Classic Chelsea boots are the perfect footwear to pair with a trench coat, and these brown boots have a sleek and sophisticated vibe.
A plain white tee is a simple piece that will easily work with the rest of the outfit. And don't forget to add a scarf for extra warmth and style. Go for a scarf in a neutral shade to match your outfit effortlessly, or opt for a patterned scarf for a more eye-catching look.
add stylish sneakers
get the look:

The next mens trench coat outfit shows that adding designer pieces is an easy way to dress up any look.
Dark wash denim has a sophisticated look that works so well in this outfit, although you can go for a light wash, black wash, or even distressed jeans to change up your look. And keep the outfit simple by adding a plain white tee.
Finish the look with designer sneakers to add a high-end and stylish feel to your outfit while still being comfortable and practical. Whether you choose a classic white pair or something more eye-catching, they'll look effortlessly cool, and you'll be ready for whatever the day throws your way.
What pants to wear with trench coat men?
You can pair this classic coat with many different types of pants to create any aesthetic. These are some of the best pants men can wear with a trench coat:
Denim jeans

Slim-fit chinos

Khakis

Joggers

Dress pants

Cargo pants

Linen pants

Leather pants
Black Trench Coat Outfits Mens
If you prefer the look of a sleek black trench coat, we have stylish black trench coat outfits mens edition! Get inspired with the outfit ideas below – plus tips on styling this classic coat!
cold-weather outfit
get the look:

Another great black trench coat outfit for men? Go for a turtleneck and dress pants.
Dress pants and a turtleneck sweater are a clean and refined base, while the black trench coat and Chelsea boots add a touch of masculinity and ruggedness. The layers in this outfit will definitely keep you warm throughout the day. Plus, this look is stylish and modern and will work for any occasion.
Can you wear a black trench coat with jeans?
You can absolutely wear a black trench coat with jeans. In fact, a black trench coat and jeans is a tried and true combination that always looks simple yet sophisticated. Since black is a neutral color, it's easy to pair this color with dark or light-wash jeans to create an effortless outfit.
classic in denim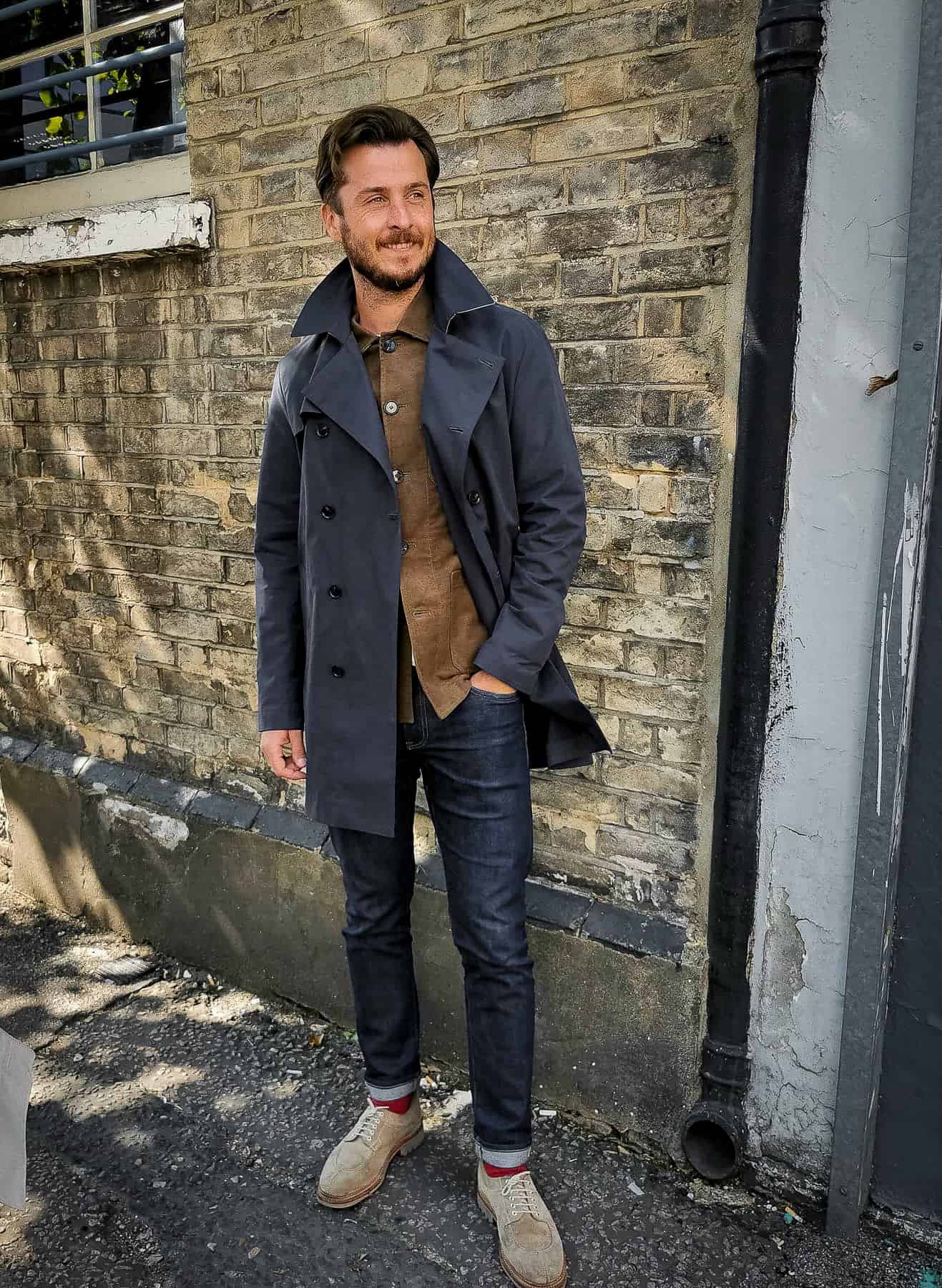 get the look:

A black trench coat is a true staple in any wardrobe, and you can style this piece in so many ways!
This mens black trench coat outfit is a must for fall or winter. Dark wash jeans complement the black trench coat nicely and create a sleek, elevated look. And you can wear them all day without feeling like you're sacrificing style for comfort.
A brown shacket is perfect for layering in the transitional seasons, and this piece will add some color to the outfit. Finish with comfortable Oxford shoes for a classic, timeless style perfect for a trench coat outfit.
an all-black look
get the look:

You can't go wrong with a black-on-black-on-black look. It's sleek, sophisticated, and a surefire way to make a statement.
Black dress pants provide the perfect foundation for this black trench coat outfit for men. Opt for a slim or tapered fit for a clean, polished look, and add a black button-up for another refined touch. If you want a casual monochromatic look, go for black chinos and a plain black tee.
And don't forget a stylish pair of black loafers. Not only are these shoes comfortable, but they're the perfect way to dress up any outfit.
add contrast
get the look:

An excellent way to create a bold and stylish mens trench coat outfit is by adding some contrast to your look.
White pants have a sophisticated look and create a striking contrast against the black trench coat. The black turtleneck sweater is great for fall or winter and is a classic piece that goes well with a timeless piece like a trench coat.
The sleek black boots are the perfect finishing touch to this outfit, adding an edgy look while still being practical and comfortable.
laid-back in neutrals
get the look:

If you're not sure how to style a sleek and cohesive look, sticking with neutrals is a foolproof way to make your pieces work well together.
Grey chinos and a white tee are simple, stylish, and the perfect base for any outfit. Plus, they allow the black trench coat to really pop. The neutral shades create a striking, modern, and effortless look that is perfect for a night out on the town or a casual weekend brunch.
Styling a trench coat for a modern mens look doesn't have to be difficult. This piece is versatile and adds an effortless feel to any outfit. So use this style guide for mens trench coat outfits as inspiration and find the perfect look for you!
More Men's Style Guides You'll Love:
6+ Best Mens Bootcut Jeans and How to Style Them
11+ Stylish Vegas Mens Outfit Ideas For All Sin City Has To Offer
12+ Stylish Mens Brunch Outfits & Tips On Brunch Attire for Males
What Shoes To Wear With Chinos + 11 Modern Mens Chino Outfits
8+ Mens Country Concert Outfit Ideas (That Aren't Too Cowboy!)
black trench coat outfits mens