Looking to hop on the sweater over dress trend this fall and winter? We've got you covered. Check out our favorite ways to style sweaters and dresses for a chic, cozy look.
*this post contains affiliate links*
Originally published July 2022, Updated September 2023
How To Wear Sweaters Over Dresses
Styling a sweater over dress can be tricky. While models and influencers make this fashion trend seem effortlessly chic, actually executing the look is a little more daunting.
When your sweater feels bulky or bunched up over your dress, you won't feel polished and put together. We are here to show you exactly how to rock the sweater over dress trend with tips, tricks and outfit inspiration!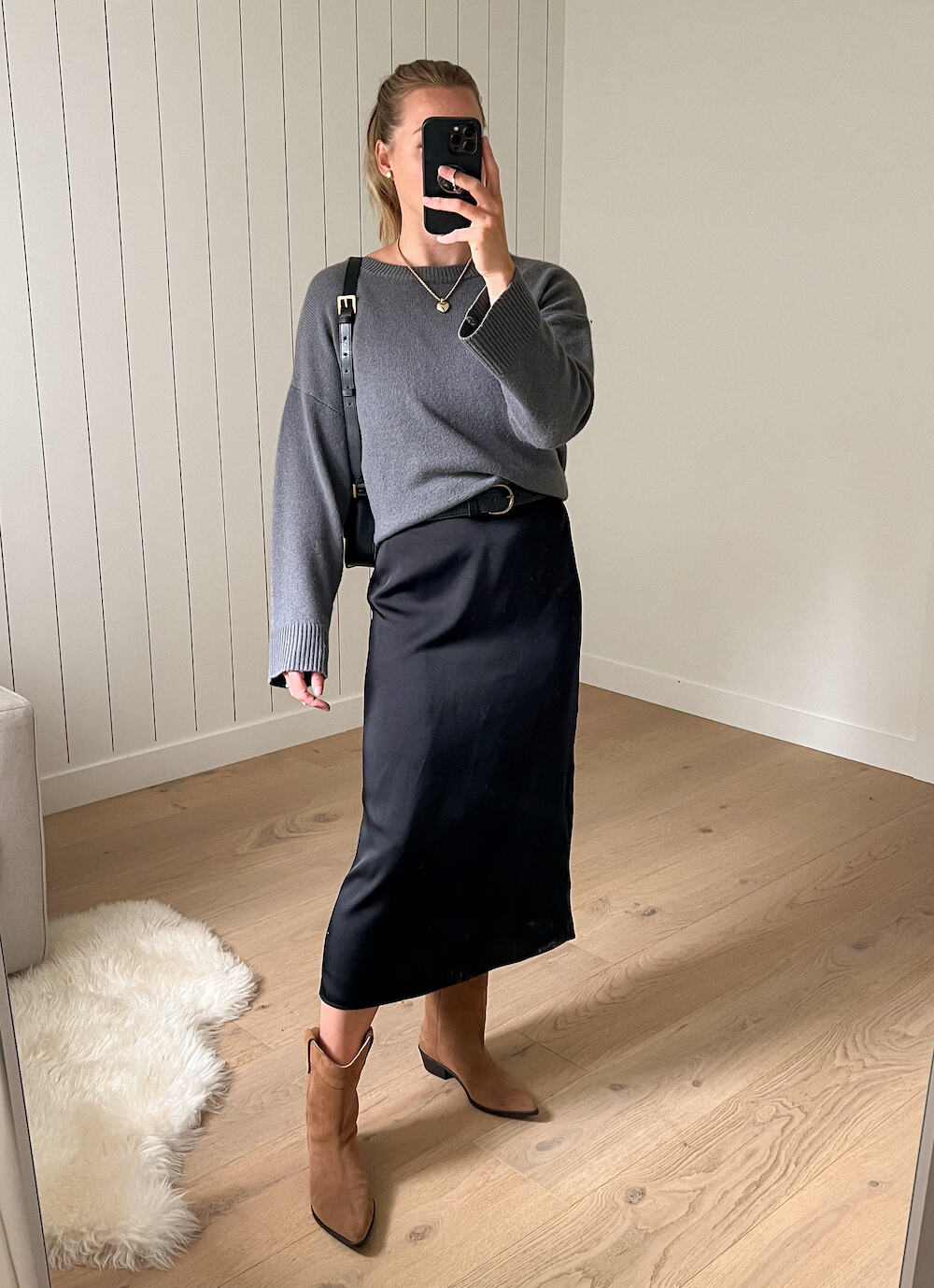 Can You Wear a Sweater Over a Dress?
Absolutely! In fact, wearing a sweater over a dress is a great way to extend the life of your spring and summer dresses. Throw a sweater over your favorite sundress, and you have a functional and transitional wardrobe to last you through multiple seasons.
The best part is, you don't have to stick to a specific type of dress or sweater. Mix and match dress lengths and sweater silhouettes to customize your look for your style or occasion.
We promise, there is a sweater over dress combo for everyone!
get the look:

How do you tuck a sweater in a dress?
Grab a belt! This is the perfect trick for wearing a sweater over a dress. Wearing a belt over top of your dress gives you a place to tuck in your sweater and make sure the sweater drapes nicely, creating a polished look.
Read on to learn the two ways you can use a belt to tuck in your sweater.
Sweater Over a Dress With a Belt
There are two ways a belt can elevate your sweater over a dress game, and both simply require tucking your sweater into the belt.
Option One: Visible Belt
get the look:

With option one, your belt acts as an accessory and a way to style your sweater. Simply place the belt over your dress and around your waist. Tuck the front part of your sweater into the front of your belt and let the back of your sweater fall naturally.
Any belt you like will do, but a belt with a statement buckle is a great choice.
Option Two: Invisible Belt
get the look:

With option two, your belt will not be seen. This will create the illusion that you are wearing a sweater and a skirt. It is also a great option if you would like your sweater to hit a little higher than your waist.
Grab a thin, skinny belt and situate it as tight as is comfortable wherever above your waist you would like. Then, tuck the bottom of your sweater into the belt. Pull the remaining fabric over the belt to conceal it.
Now your sweater can sit wherever you like and it won't budge all day long!
How do you wear a sweater over a dress without a belt?
Make a knot in the sweater! After the knot is tied, you can flip it under the sweater to conceal it or leave it out. If the knot is tied correctly, it looks great as an addition to the outfit.
It's important to note that some sweaters are easier to tie in a knot than others. When you have a sweater that will allow it, tying it up can actually be more comfortable than wearing a belt.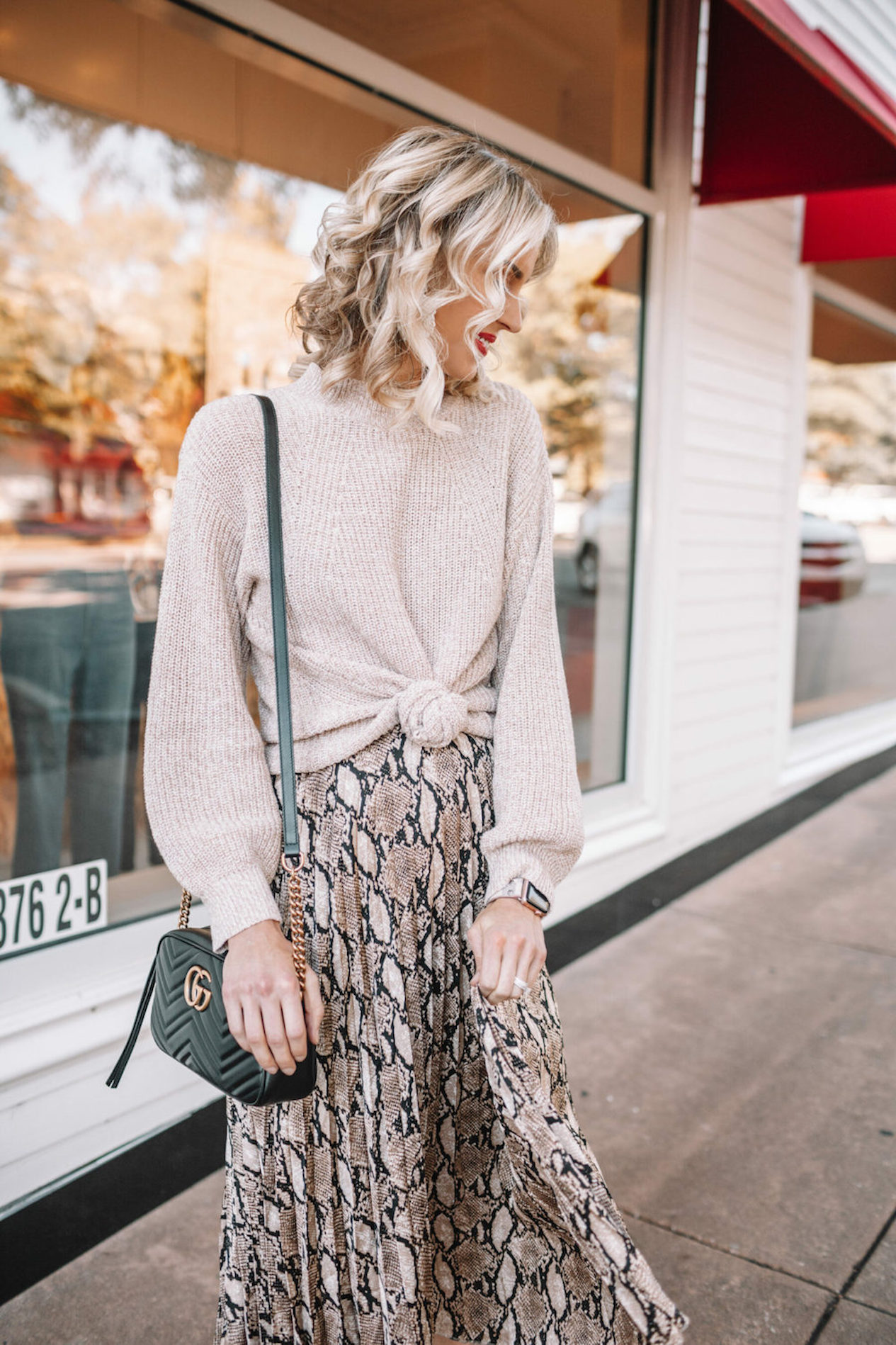 get the look:

Tying Your Sweater Over a Dress
Like wearing a belt, there are different ways to tie up a sweater.
Tie a knot. Sweaters made of thinner material can be tied in a knot just using the sweater itself. Simply fold the sweater under and place it at your waist.
Use a hair elastic. If your sweater is a little bulkier, use a hair elastic to gather the ends of the sweater behind you. Wrap the hair elastic around the ends of the sweater and flip the excess fabric under the new waistline that you created.
get the look:

The Best Sweaters to Wear with Dresses
While shopping or searching for a sweater in your own closet, make sure to choose a looser fitting sweater. Tight, bodycon-type sweaters are not a good option, as they are hard to fit over dresses without causing the dress to bunch up.
Read on for examples of our favorite sweaters to wear over dresses!
Cropped Sweater Over Dress
get the look:

In our experience, cropped sweaters are the best way to avoid bunching. Because there is less fabric to deal with when wearing a cropped sweater, you will get a more polished look.
Cropped sweaters can be thrown over a mini, midi or maxi dress and left as is. We love the look of a cropped sweater over a knit body-con dress as this look will give your lower half more definition.
Oversized Sweater Over Dress
get the look:

Oversized sweaters over a dress create the coziest and cutest outfits. Opt for a silk or satin dress to elevate the look and throw on your coziest cashmere or cotton oversized sweater.
No need to tie the sweater up! Leave it hanging over the dress for an effortless look. Keep the jewelry simple, but add heels. You'll be the comfiest and most fashionable wherever you go.
Sweatshirt Over Midi Dress
get the look:

Everyone has a favorite sweatshirt. Maybe you got yours on vacation or it has your home college written across it. No matter where it came from, you probably wouldn't consider it high fashion. But we are here to change that!
A silk or satin midi dress is perfect for this look: Wear your sweatshirt over top of the midi dress and flip the bottom hem under where it hits at your waist. If the sweatshirt is loose and doesn't hold with the lower hem flipped under, tie the sweatshirt with a hair elastic and flip the knot under for the same effect.
To finish, throw on a pair of heels, boots, or sneakers!
Cardigan Sweater Over Dress
get the look:

Just like Taylor Swift, we love a good cardigan! Cardigans are a great way to add some warmth to a longer maxi dress or add texture to a midi dress.
For longer dresses, leave the cardigan unbuttoned and drape it across your shoulders. This will elongate your midsection and show off the full length of your dress.
For midi dresses, button up the cardigan and secure at your waist. This would be a good time to use the invisible belt trick! Another option is to buckle the belt right around around the cardigan at your waist to accentuate your curves and add a lovely detail to the outfit.
How to wear a sweater over a dress when pregnant?
When pregnant, wear a sweater over a bodycon dress for a chic look. Bodycon dresses are a great way to show off your baby bump. For the sweater look, you can pair your bodycon with a cropped sweater or any type of oversized sweater.
Make sure to position the sweater right above your bump. A belt might be a little uncomfortable when pregnant, so tying the sweater up with a hair elastic or knotting it is your best option.
You'll be the most comfortable and stylish mama-to-be around!
get the look:

Here's a look that showcases just how to style a sweater over a dress with a baby bump!
Sweater Vest Over a Dress
get the look:

The sweater vest is definitely having a moment right now. And, it's no surprise that wearing a sweater vest over a dress is another chic and trendy look to try.
Go with an oversized sweater vest or tunic and let it flow with a maxi slip dress or a bodycon tank dress. Or, you can go with a long sleeve sweater dress so you'll be able to see the arms and the vest adds an extra layer.
Layered Over a Summer Dress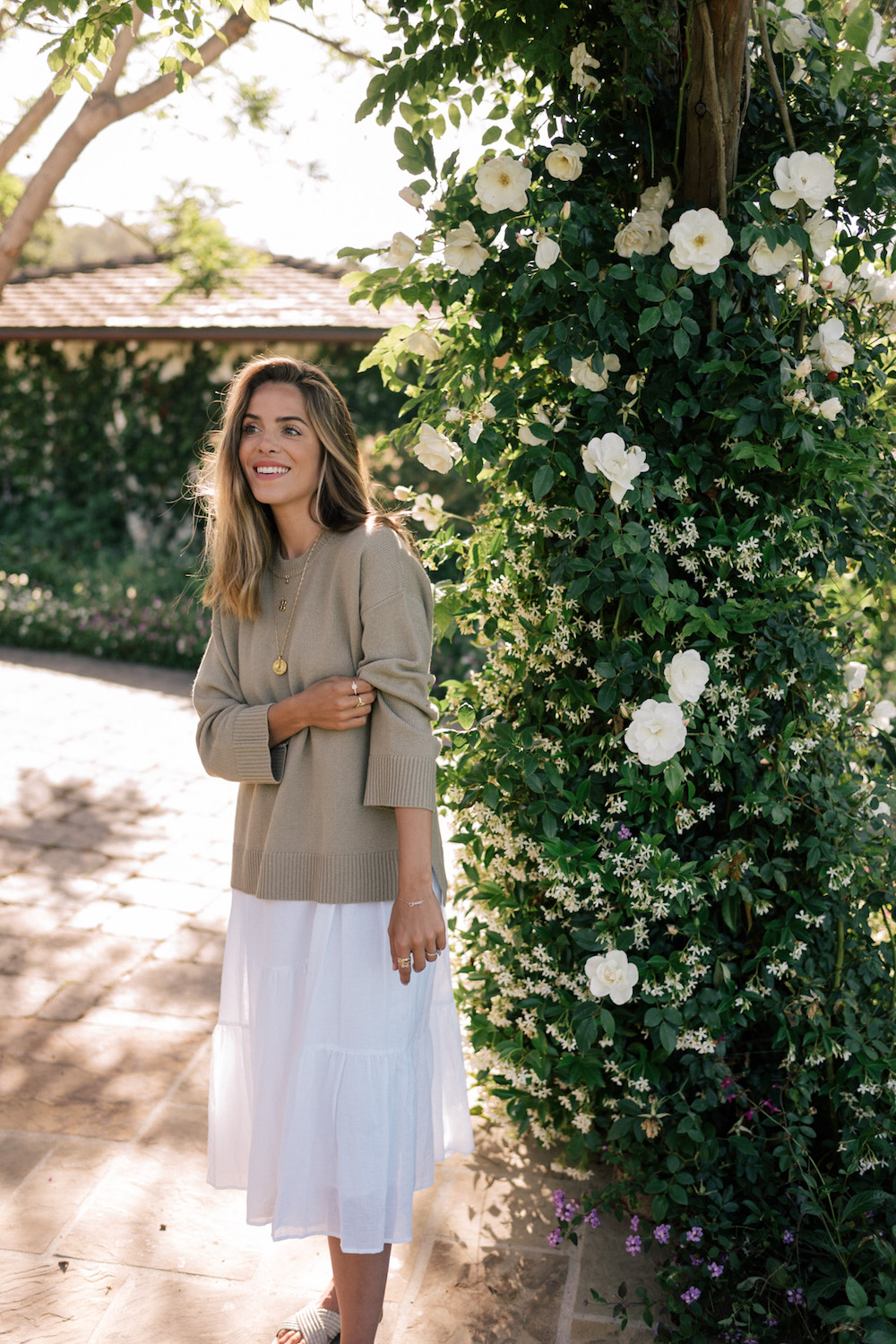 get the look:

If you are in the midst of transitional weather when summer turns to fall, make the most out of your airy sundresses with this look above. An oversized cotton-blend, linen-blend, or cashmere-blend sweater works wonderfully to add an extra layer of warmth over a light and airy summer dress.
Paired with chic slides or sandals this look is great for summer or early fall, depending on wear you live.
Sweater, Dress, and Belt-Bag
get the look:

If you are trying to define your waist or have a slightly longer sweater on hand, try an accessory such as a belt bag. A belt bag will give you a place to tuck in your sweater and serve as an accessory to keep your cell phone, keys and lipstick. A win in our book!
Monochromatic Sweater Over Dress
get the look:

This is such a chic look and so easy to pull off. Grab a black dress from your closet (a tank dress or slip dress are great options), and throw over top a slightly oversized black sweater.
Add in a small black purse and a pair of black ballet flats, mules, or loafers. Chic, polished, and perfect for all kinds of occasions.
Final Notes
So, there you have it! Tips and tricks on how to style sweaters over dresses. You have all the inspiration you need to transition your spring and summer dresses and rock them into the fall and winter seasons.
Remember, looser fitting sweaters are key. Grab a belt or a hair elastic if you need help making sure the sweater stays in the right place. Additionally, don't be afraid to grab a cropped sweater next time you're out shopping.
Be sure to check our our other style guides below and pin your favorite looks from this post!
More Style Guides You'll Love:
Capsule Wardrobe For Fall: minimal, modern + chic!
15+ Chic Fall Date Night Outfits You'll Feel Amazing In!
14+ Modern Fall Winery Outfits To Wear
15+ Ugg Tasman Outfits That Made Us Buy These Cozy Slippers
Dresses for Broad Shoulders: The Best Styles To Choose
11+ *Modern* Ways To Style A Jean Jacket With Black Dress
What To Wear With Faux Leather Leggings: Chic + Modern Outfits
The Best Shoes To Wear With Sweater Dresses + 10+ *Chic* Outfit Ideas
How to Wear a Poncho: Chic + Modern Outfit Ideas To Try
Christal is an entrepreneur, published author, and content creator. Over the past decade she has worked in the digital media field building successful websites for both food and fashion. She has a natural affinity for minimal, timeless fashion, neutral home decor, and styling.
Here on Style Your Occasion, Christal is the Editor-in-chief and brain behind the aesthetic. She hopes you love the this space and the inspiration you'll find!