Are you looking for stunning Mothers Day nails to treat yourself to this year? You'll love this list of 21+ gorgeous Mother's Day nail designs that will make this year's holiday extra special!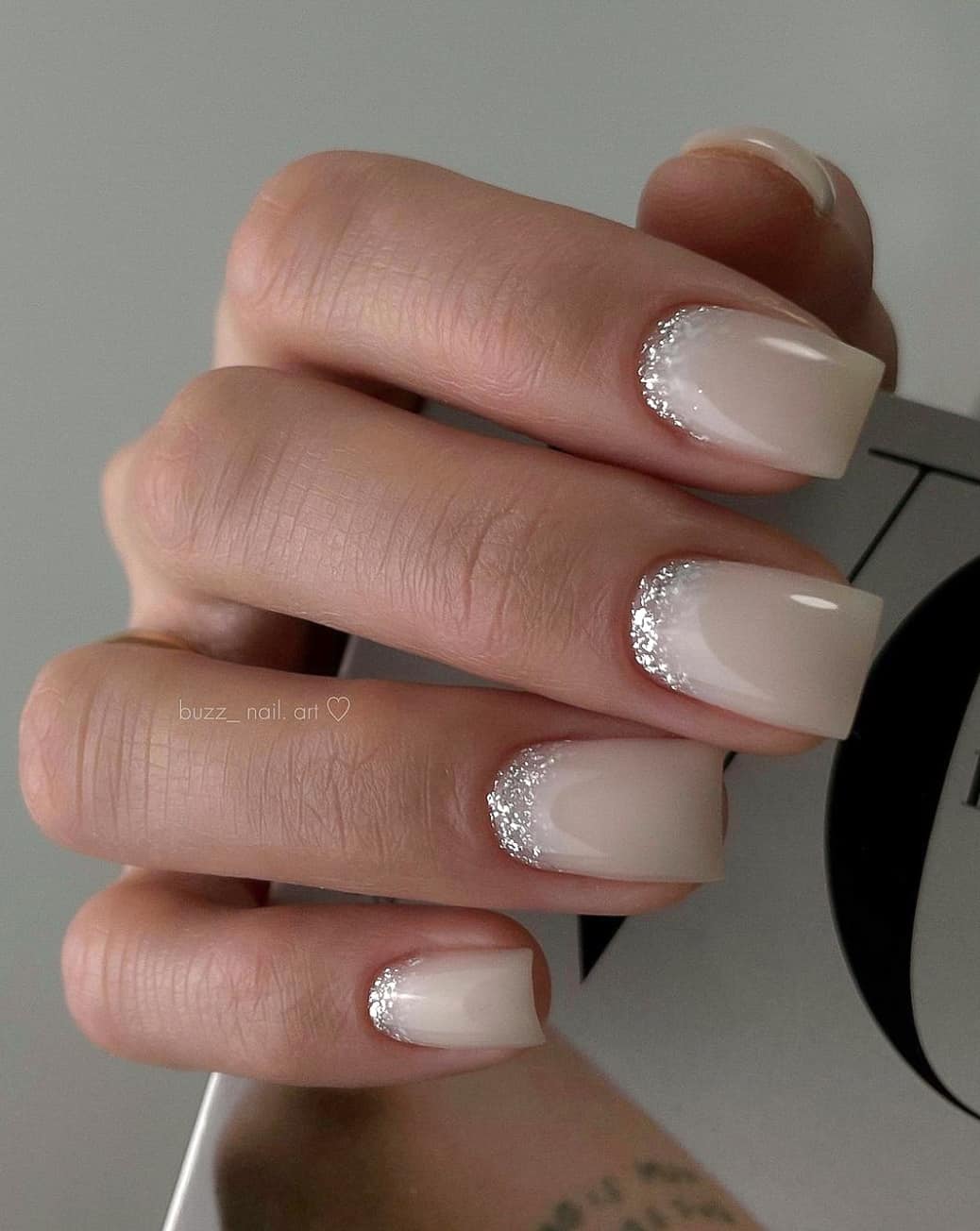 Mother's Day Nail Designs
Mother's Day is a special day of the year when we can look forward to homemade gifts and some extra love from our little ones. It's also a great time to treat yourself to a little TLC and spend a day getting a massage or a mani-pedi.
If you need ideas for a chic nail design to get this Mother's Day, then look no further. Whether you prefer simple and timeless or bold and trendy, we have tons of gorgeous manicures to inspire you down below!
Stunning Mothers Day Nails To Try
We've chosen stunning nail looks from our favorite nail artist influencers to help you choose a perfect Mother's Day manicure.
Pink + White Gradient French Tips
Pink is the color of love, so it's perfectly fitting to sport this color on a day like Mother's Day. Timeless French tips pair well with a trendy gradient design, making this manicure the perfect blend of classic and modern.
Matte Coffin Nails w/ Gold French Tips
Who doesn't love an elegant and regal design like this? The matte nude nails make the gold French tips pop even more, so this is perfect if you want an elevated and eye-catching manicure this Mother's Day.
Baby Blue Nails w/ Heart Detail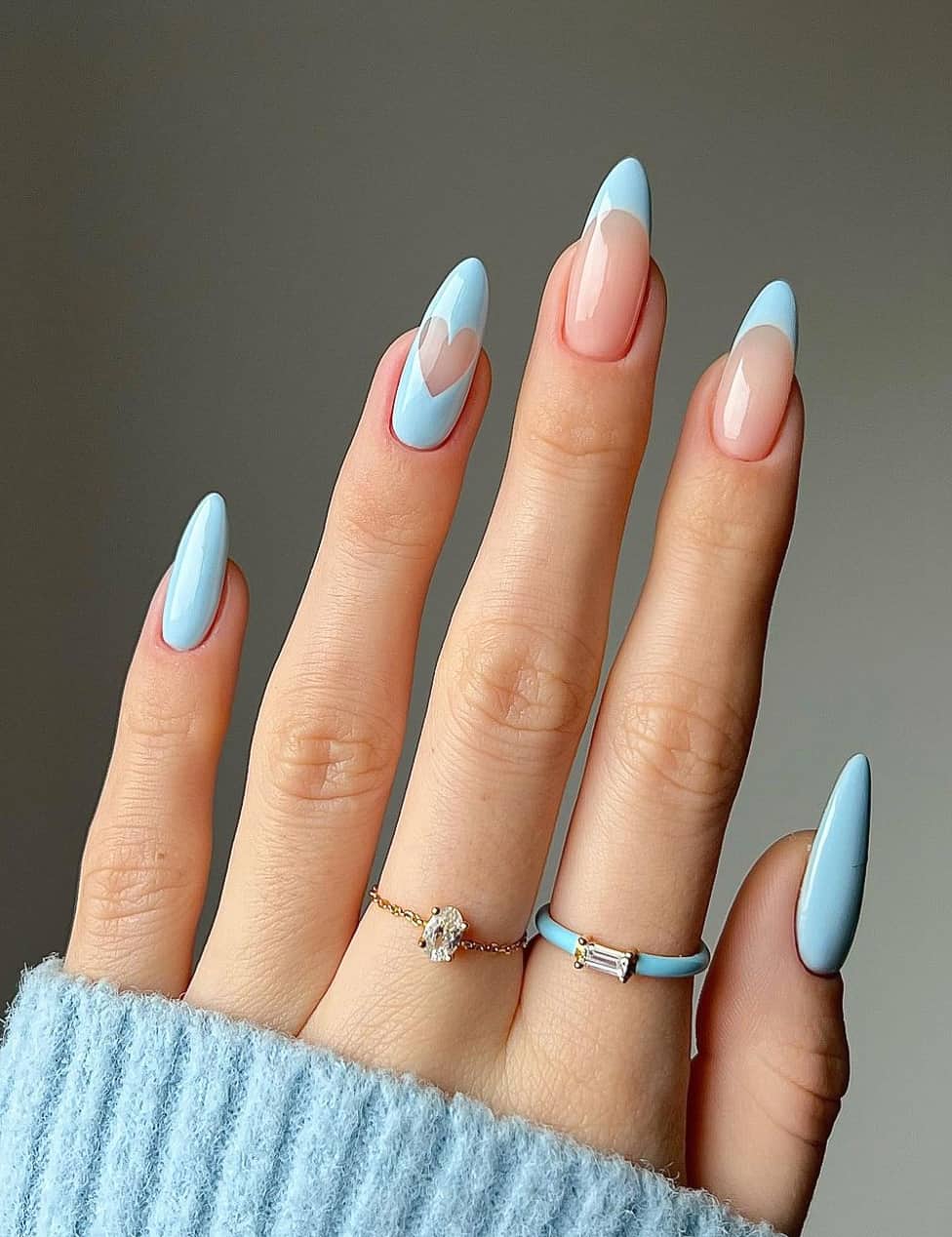 Baby blue is always a gorgeous nail color, and this nail design is perfect if you're looking for something youthful. The combination of solid-colored nails and French tips is chic and playful, and we love the subtle heart nail in this look.
Pastel Gradient Nails
Pastels always look stunning, and this gradient pastel nail design is perfect as a fun look for moms. This design is simple but still eye-catching, and you can rock this manicure on any nail shape or length for a minimal and chic look.
Pink French Tips + Red Hearts
Pink French tips are a sweet take on this classic design, and the tiny heart accents are perfect for showing off all the love felt on Mother's Day. If you want a bolder design, you can add more hearts or go for classic white French tips for a brighter look.
Pink & Green French Tips w/ Wave Accents
This manicure is perfect for younger moms who want a fun and youthful nail design. Pink and green are gorgeous together, and the wave accents are bold and trendy. You can rock this look with other shades if pink and green aren't your top choice, and glitter or gold accents would elevate this nail design even more.
What colors to wear on Mother's Day?
You can wear any color you want on Mother's Day (it is your day, after all), but lots of moms choose to wear shades of red and pink since these colors can represent the love between a mother and her children.
Pastel shades are popular nail color choices for Mother's Day nail designs since they are fun yet still subtle and classy. Although, some mamas prefer bright and bold colors like magenta or vibrant red. And, of course, you can always go for neutral shades like black, white, or nude tones for an effortlessly chic nail design.
Classic French Mani
French tips are a timeless and classic design for a reason, so you can't go wrong getting a gorgeous French manicure for Mother's Day. We love the soft pink shade on these nails, although you can opt for a warm nude tone as well.
Pink Ombre Nails
Gorgeous pink shades are perfect for Mother's Day, and an ombre nail design will always be a fashionable design. We love the blend from nude pink to fuchsia, although you can go from blush pink to red or white to pink for a similar look.
Soft Pink Almond Nails
Speaking of sporting pink nail polish on Mother's Day, a classic mani with this soft pink is a simple yet stunning choice for Mothers Day nails. This gorgeous shade will add a bright pop of color to your looks, and you can rock this color on anything from round to stiletto nails.
Pink Almond Nails w/ White + Gold Accents
Glossy pastel pink looks stunning with crisp white and gold accents. We love the tiny heart details here, and the wavy accent lines make this manicure look so alluring. If you want a sweet and simple design with eye-catching details, this is the nail design for you!
White French Tips + Flowers
Beautiful bouquets are a popular gift given on Mother's Day, so a nail design with floral details is so fitting. Pink and white are a timeless color combo and make this manicure look refined and chic, while the flower nail art is a playful touch.
White + Black Waves
Line details and waves are one of our favorite ways to accent a manicure, and the combo of thick white waves and dainty black lines is so stunning. If you're looking for a manicure that has neutral tones but still has an attention-grabbing design, this look is meant for you!
What nail shape is best for moms?
Round or almond nails are a great nail shape for moms since they're least likely to snag on anything and break or scratch any young children you have.
However, if you have older children, you can definitely rock coffin or stiletto nails without any worry of scratching little ones. And, of course, if you prefer these nail shapes, you can still wear them regardless of how old your kids are.
Some mothers also prefer to keep their nails short to prevent any chipping, although medium-length nails are easy to manage as well.
Short Nails w/ Floral Nail Art
Even though shorts nails are popular to prevent chipping, it doesn't mean that your nails can't still be bold and eye-catching. Short nails can still look gorgeous when you add stunning floral nail art. Soft pink is the perfect base color for this design, and the intricate floral art is so breathtaking.
Black & White French Tips w/ Line Details
We are in love with the eye-popping contrast of the black and white nail polish here. French tips and line details are perfect for a minimal manicure, but the contrasting colors add a bold and modern feel to this nail design. This look is definitely for the mom who prefers classic designs with a little flair.
Glittering "MAMA" Nails
If you want to show off your pride in being a mother, add " MAMA " to your Mother's Day manicure. You can start with a shimmering base like the one here, or use your favorite shade as a base color. Either way, these adorable nails couldn't be more perfect as Mothers Day nails!
Stiletto Nails w/ Pearl Accents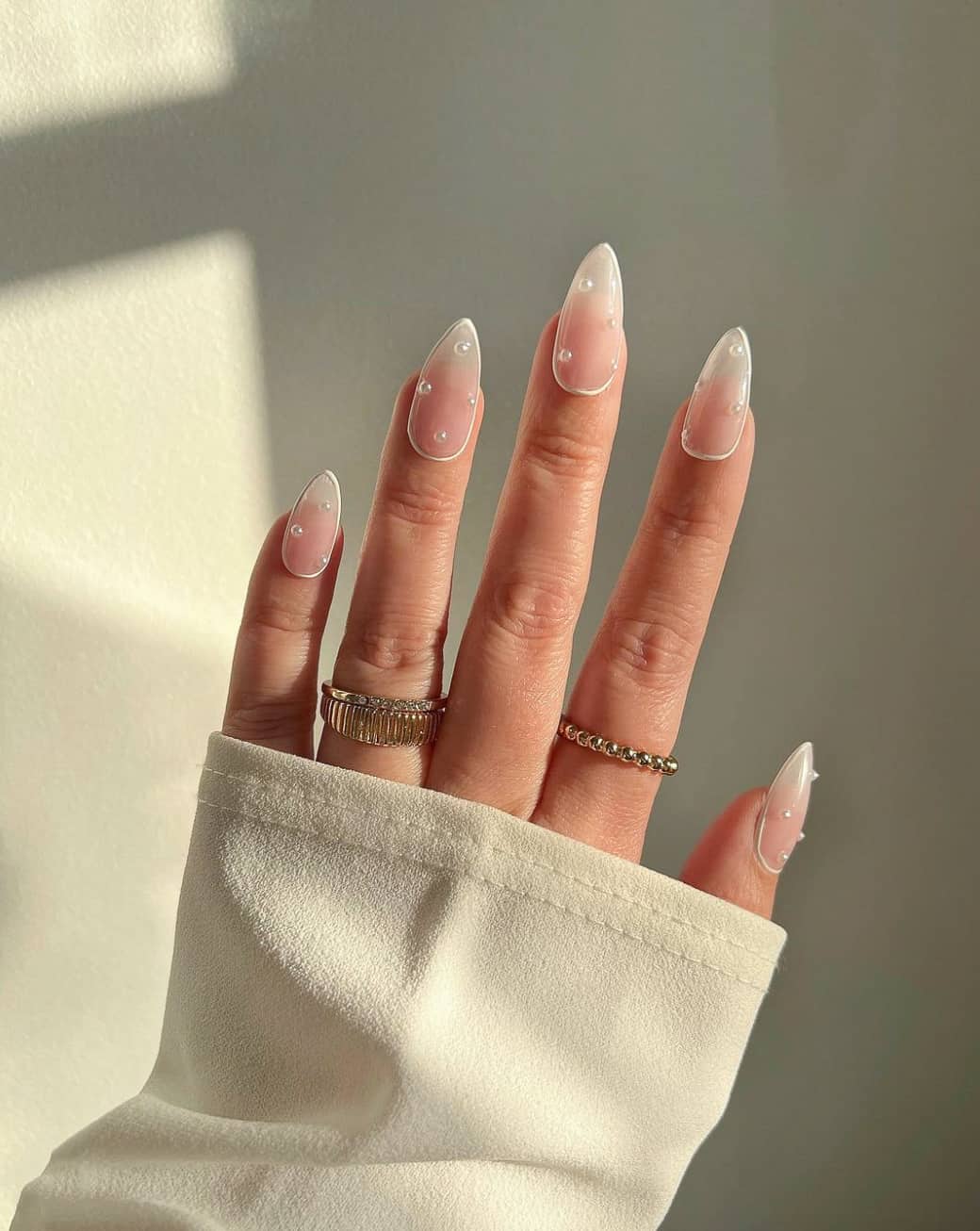 Nude nails with pearl accents are chic and elegant, a perfect manicure to treat yourself to this year. If you don't like having stiletto nails, don't worry! This gorgeous design would look fantastic on long or short nails and any nail shape.
Matte Nude Nails w/ White Flowers + Gold Accents
Long matte nails always have such a refined look, and the gold flake accents add to that aesthetic even more. The white floral nail art is fun and youthful, giving these nails the perfect balance of polished yet playful.
Pink Nails w/ Floral Accents
The shades of pink here are gorgeous colors to use in Mothers Day nails, and the simple floral accents definitely fit the mom vibes. We love the combo of matte and glossy finishes, and they elevate this manicure even more.
Light Pink Nails w/ Metallic Pink Flakes
Soft pink nails with vibrant magenta accents are bold and gorgeous. The metallic flakes definitely add a trendy and youthful vibe, making this another look that's perfect for a young mom.
Glitter Coffin Nails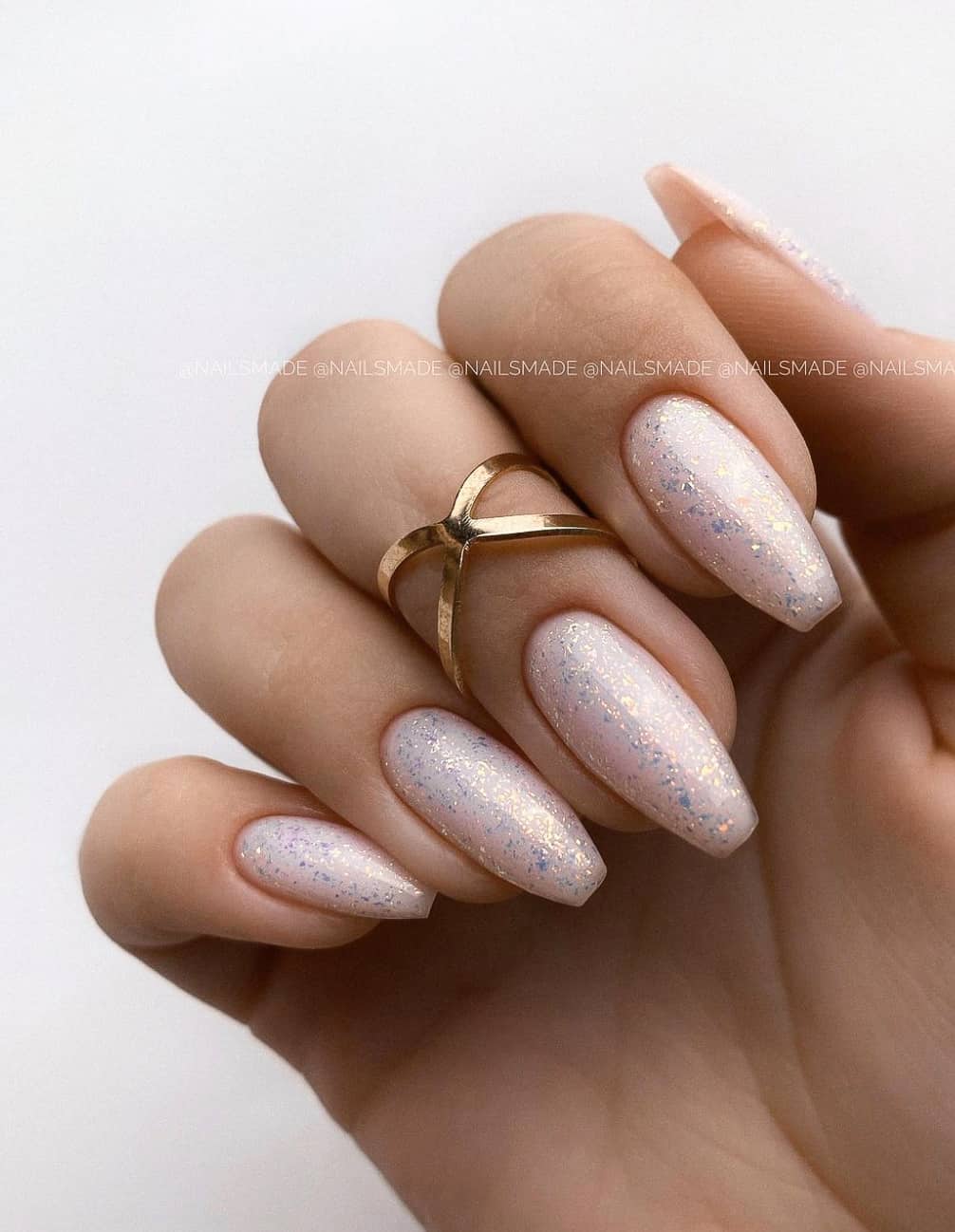 Glitter is an easy way to add a fun and chic touch to any manicure. If you want a simple look that still shows off your fun-loving side, iridescent glitter on coffin nails is definitely the way to go. Or you can rock this design on square, almond, or round nails if you prefer.
Nude Almond Nails w/ Gold Accents
Last but definitely not least on our list of Mother's Day nail designs is this stunning and simple manicure. The gold accents add a luxury vibe to this manicure, and they're gorgeous enough to completely transform these simple nude nails into a breathtaking nail design.
If you want a more colorful look, try using soft pink or a pastel purple as the base color before adding the gold details.
Mother's Day is a fantastic time to enjoy the love from your family and shower yourself with some extra care and attention! Treating yourself to a manicure is a perfect way to spend this day, so go for a bright and vibrant design, or choose something simple and classic.
Either way, we hope these gorgeous nail looks have inspired you and you've found your perfect Mother's Day nail design!
More Nail Inspiration You'll Love:
21+ Stunning Nude Pink Nails & Nude Marble Nails You'll Love
21+ Stunning Mauve Nails With A Feminine & Youthful Vibe
23+ Chic Line Nail Designs For A Modern Aesthetic