Looking for stunning graduation nails ideas? You'll love this list of 28+ gorgeous graduation nails that are perfect for the class of 2023! Whether you want timeless and refined nails for graduation or colorful styles, there's a look for everyone.
Chic Graduation Nails Ideas
It's that time of year again!
Graduation season is upon us, and while you may have your outfit, cap, and gown picked out, have you thought about what your nails will look like when you walk across that stage and grab your well-earned diploma?
Your nails are the perfect way to add some flair to your graduation look, and we have all the inspiration you need to choose an absolutely gorgeous manicure. From timeless nail designs to bold manicures for grads who want to rock their school colors, get ready to celebrate your hard work in the most stylish way possible!
Graduation Nails 2023 List
Graduates, you've made it to the finish line, so it's time to celebrate – and we've got you covered! We have graduation nail ideas that will make your day even more special.
Nude Nails + Silver Flakes
We're starting our list of nails for graduation with a bright and eye-catching mani! Nude polish with metallic silver flakes will definitely have you standing out from the crowd. And while this nail design is elegant, it still has a playful vibe that we love.
Trade the silver flakes for gold ones if you prefer, but either way, you can't go wrong with this manicure.
Pastel Pink w/ Rose Gold Accents
If you're looking for graduation nails with a feminine vibe and a luxurious feel, this manicure is for you! The pastel pink definitely adds that feminine touch, and the shimmering rose gold accents are both bold and elegant.
Pink + White Ombre
Everything about this nail design is elevated – from the colors to the classic ombre design. Pink is the perfect color to pair with white for a refined look, and this gorgeous design is an excellent choice for short nails.
Gold Glitter Tips
Gold glitter accents are always a fantastic look for any celebration. Combining this with classic French tips on nude nails makes for a modern yet elegant design that is perfect for graduation day!
What color nails for grad pics?
When choosing the perfect colors for your graduation nails, there are plenty of options. For a classy and timeless look, go with a neutral shade like nude, beige, white, or light pink. On the other hand, if you want a bold look, go for bright and vibrant shades like red, blue, green, or your school colors.
Don't be afraid to add a bit of glam to your grad nails as you've worked hard and deserve to celebrate yourself! So add a shimmering finish, gold flakes, glitter, or crystals for a stunning nail design.
White Waves + Glitter
You can easily elevate a simple design with glitter nail polish. The classy white waves are fantastic, but the glitter details instantly transform it from simple to stunning while adding a youthful feel!
Light Pink Polish + Floral Accent Nails
These are definitely some of the cutest graduation nails we've seen!
Soft pink is chic and feminine, and the dried flower details are so stunning and eye-catching. This is a fantastic choice for anyone who wants to stand out while still looking sophisticated.
Confetti French Tips
Graduating from school is one of the best reasons to celebrate and stylish confetti. French tips are perfect for showing off your joy! We love the colorful glitter on this nude nail polish, but you can also go for a light pink or white base.
French Mani + Crystals
Want a classic nail design with just a little extra flair? Timeless French tips pair perfectly with crystal accents for a chic, elegant, and playful look.
White & Gold Flowers on Pink Nails
Flower nail art is definitely a timeless and elegant design. The pastel pink, white, and gold polish are gorgeous colors that give this manicure an elegant feel, and the floral details are a perfect way to showcase your style!
Butterfly Grad Nails
Butterflies have long been a symbol of transformation, growth, and new chapters – so, of course, these gorgeous creatures are an excellent choice to wear as graduation nail art! And we love that the shimmering finish on these nails adds a whimsical and playful vibe without taking away from the classy design.
See a full list of butterfly nail designs here!
What nails are considered classy?
A French manicure is a tried-and-true choice when it comes to classy nails. The combination of the nude base and white tips creates a clean and polished look that never goes out of style. You can also opt for a solid-colored manicure with neutral tones, such as beige, taupe, or soft pink. These nail polish colors have a subtle elegance and work with any look!
Of course, you can always go for a vivid color or add a touch of glamour to your nails. Rich shades like crimson, forest green, and navy are perfect for classy nails. And you can add metallic accents or gorgeous nail art to make your manicure more suited to your style.
Chrome Nails
Chrome finish instantly adds a sleek and elevated look to any nail design, so this minimal manicure is perfect for anyone who wants a sophisticated and modern aesthetic for graduation!
Grad Cap Nail Art
While it's common for grads to wear elegant designs, you can still go for a bold look without going over the top! Adding some grad cap nail art is a perfect way to elevate your graduation look. Plus, you can choose bright colors like this or simple neutral shades for a more subtle design.
Blue Nails w/ Silver, White + Black Accents
This is another gorgeous way to show off your school spirit during your graduation ceremony! Take inspiration from your school's colors and sport their vibrant shades on your nails. And don't forget to add metallic accents to take the design from simple to bold.
Nude Nails w/ Red + Silver Sparkles
Sparkles on nude nails are chic and classy, but adding gorgeous red and silver shades into the mix definitely elevates this design. This is another great choice to show off your college colors, especially if you want more of a minimalist design!
Light Pink Coffin Nails
If you're looking for something simple and sophisticated, solid pastel pink nails are a look that you can't go wrong with. This shade will definitely work with any outfit and will have a classy feel that's perfect for graduation!
Black French Tip Hearts
You can always go for a classic design with bold shades to make your nails pop even more! Black is such a gorgeous color for a French manicure, and while this neutral shade works with any look, it is still a good choice for a daring design.
Nude Pink Nails & Rainbow Gems
If you love the look of nude pink nails but want something more glamorous, opt for these nails with rainbow crystals. They're fun but still simple and elegant, and the sparkle from these gems will definitely help you stand out from the rest!
Blue Gradient Frenchies w/ Silver Accents
We cannot get enough of this breathtaking nail design! The shades of blue in this gradient are so beautiful, and the silver accents make the nails even more eye-catching. Go for this if blue and silver are your school colors, or you can swap the shades for some that work better for you.
Black + Gold French Tips
Black and gold are another gorgeous color combo that also happens to be common college colors. You can rock these colors in a stunning design like this – the nail art says classy, but the colors are definitely bold, so this manicure has the perfect balance of a daring yet timeless style.
Glitter Manicure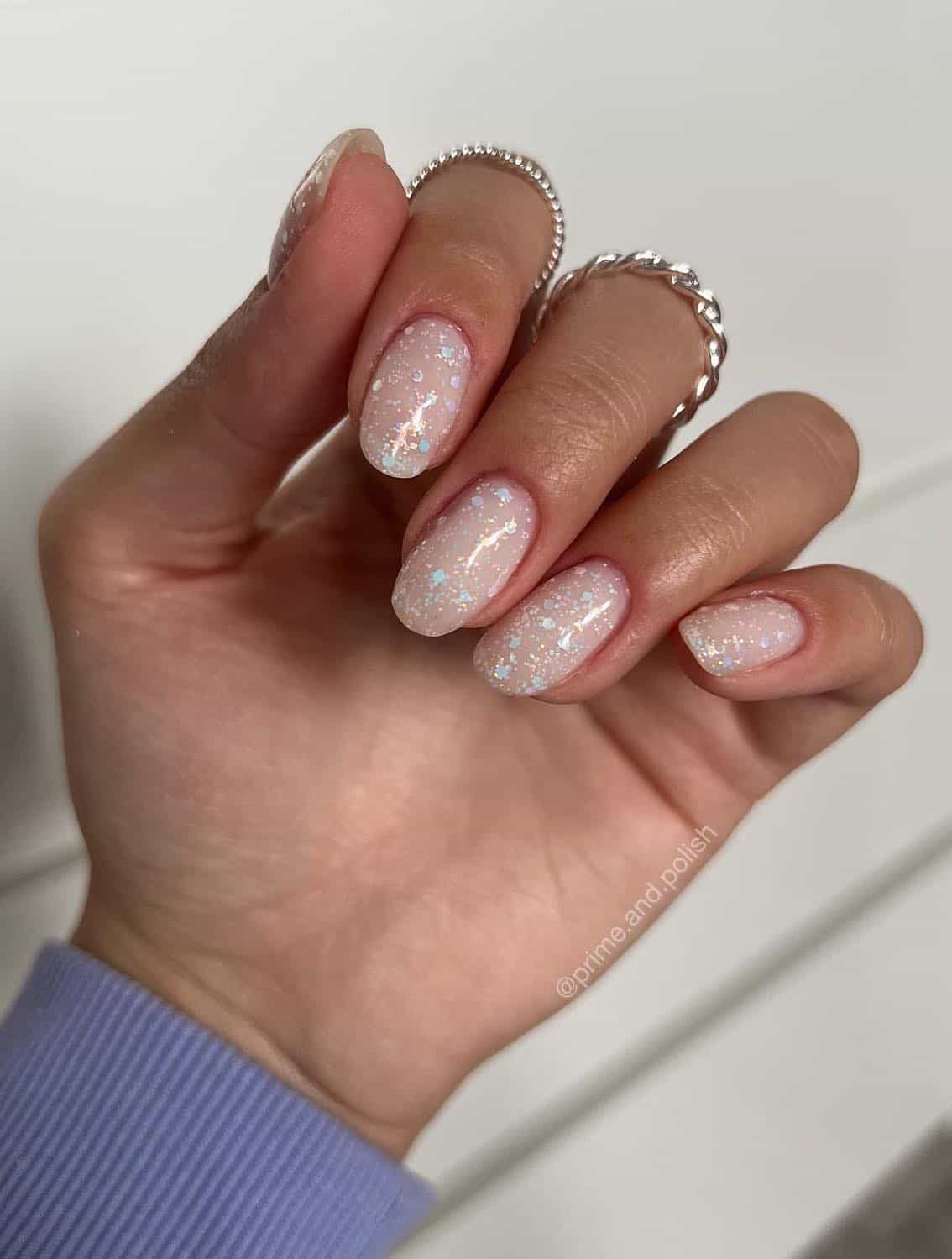 This is a fantastic design if you want something that stands out on short nails! A full glitter mani is always fun and chic, so this nail design is an easy way to upgrade your graduation look!
Graduation Nails 2023
You can go for a classy design like these white wavy French tips and add your graduation year to show off your pride! And we love how the black and white are perfectly contrasting to make this design even more alluring.
Marbled Mani
A marbled look is always stylish, so you can't go wrong wearing this to your graduation. Pink and white are classic and elegant colors, although you can play around and find shades that work perfectly for you!
Check out this list of nude marble nails for more inspiration.
Green + Gold Nail Design
Solid green nails with a gorgeous gold stripe are perfect for graduation! This nail design is a must for showing off your school colors, and not only are they eye-catching, but they still manage to be elegant and refined.
And if your school colors are green and gold, this one will be even more fitting!
Shimmering French Tips + Half Moons
Shimmering pink details are feminine and chic – a combo that we're always down for! This nail design has an elegant aesthetic, and it will definitely make you feel and look your best during your graduation.
Purple, White + Silver French Tips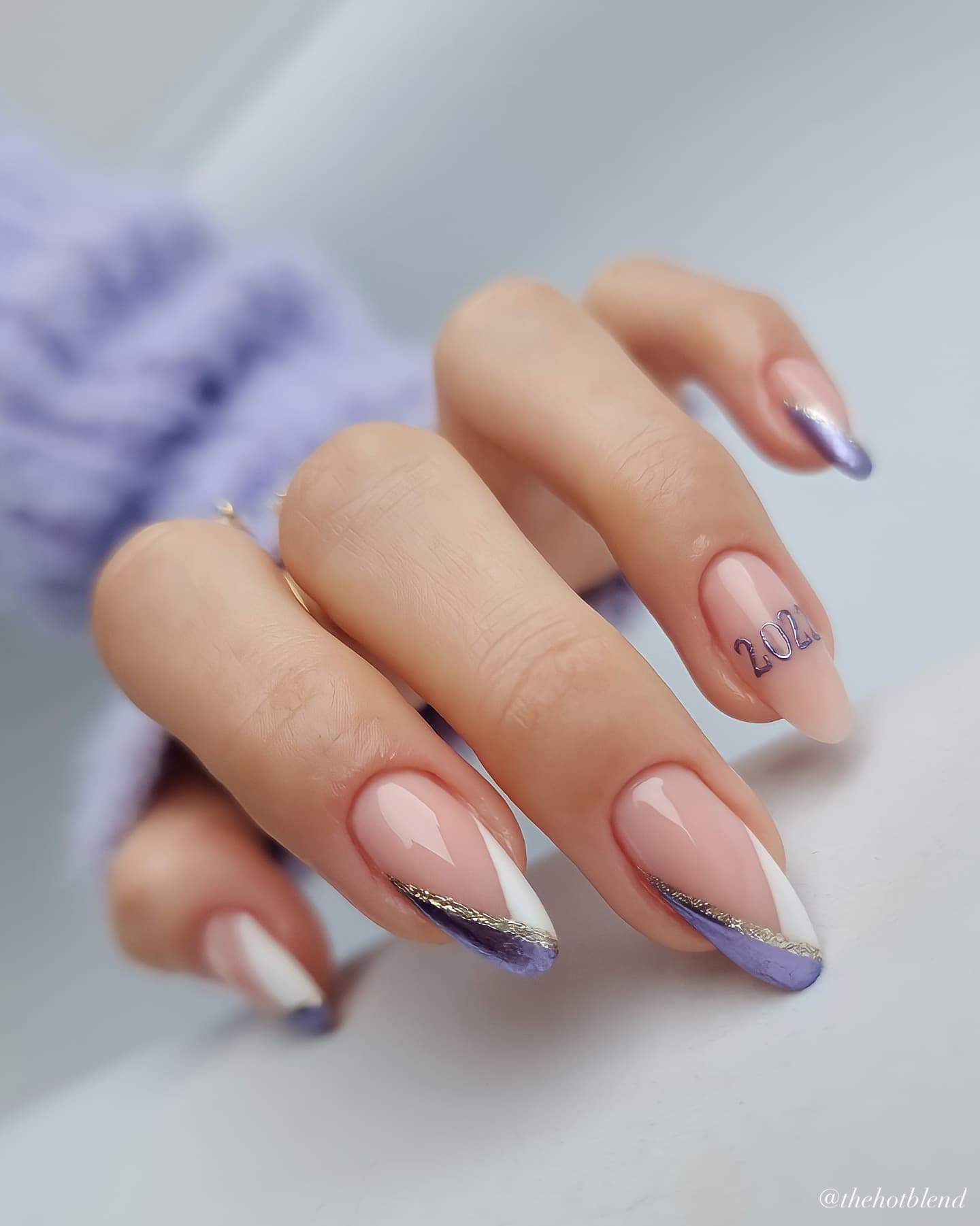 Purple and silver definitely have a college color feel, making this nail design perfect for showing off your school pride when you walk across the stage! Add your graduation year, and you'll have a stylish graduation look for 2023.
Nude Nails w/ Gold Hearts
There's no denying that a college degree is a labor of love, so dainty heart nail art is perfect for chic and elegant graduation nails. Plus, this gorgeous design is definitely an Instagram-worthy manicure.
Modern Black & White French Tips
French tips are a great choice for grad nails, but why not elevate this design and create something stylish and modern? Go for contrasting black and white polish and add negative space details for a trendy look.
White, Beige + Brown Nails
Neutral colors in a classic manicure can still be part of a fun and eye-catching design! Choose shades that work well together and use a subtle gradient design like this for simple but beautiful graduation nails.
White + Silver Wave Nail Art
White polish and silver accents easily create a refined manicure, and the wave details are fun and chic at the same time. This is a perfect mani if you want something classy yet captivating!
Choosing gorgeous graduation nails can be fun and an easy way to elevate your graduation outfit. You can go for simple designs that are elegant and refined or opt for a bolder manicure that shows off your personality and style.
Either way, you deserve to treat yourself to a graduation manicure after all your hard work. Congrats, Class of 2023!
More Nail Inspiration You'll Love:
27+ Perfect Summer Nails To Obsess Over
21+ Chic Neutral Nails For A Classy, Minimal Aesthetic
32+ Classy Short Nail Designs & Ideas For Every Season
After earning a degree in Psychology from Eastern Florida State University, Ardelle realized she wanted a career that allowed her to be creative. She began freelance writing and has since written for various websites including fashion and style.
As someone with a love for all things creative, fashion quickly became her favorite topic to write about. Over the years she has focused on becoming an expert in fashion and beauty-related content. Through her writing, she aims to inspire and empower individuals to express their unique style!