Mauve is a stunning color that will definitely be a trendy pick this year! We've got 21+ stunning mauve nails and mauve nail designs for a chic and feminine look that you have to try!
Gorgeous Mauve Nails For Your Next Manicure
Mauve is a trendy and youthful color that adds a romantic, feminine feel to any manicure or outfit.
In 2023 we are going to be seeing a ton of pink, and mauve is no exception. This nail color is definitely on trend, so we have curated a gorgeous selection of mauve nails to inspire you!
What colors go with mauve nails?
Mauve looks fantastic with neutral tones like black, white, and cream, as well as metallics like gold, and silver. You can also pair mauve with pink or purple for a feminine look, or go for shades of green and blue to create a color combo that really pops.
Below are our favorite Mauve nail looks and mauve nail designs.
Classic Mauve Manicure
Starting with a timeless look, we have these gorgeous glossy mauve nails. This shade of dark mauve is such a beautiful color for a classic manicure like this one.
Such a dreamy and youthful hue is perfect for a spring look, and this timeless, classy style will look good on any nail length or shape and for any occasion.
Speckled Matte Mauve Gradient Nails
Mauve and pink are the perfect colors for an ombre nail design. From gorgeous pink to purple and rose mauve, these gradient shades are romantic and dreamy.
The matte finish is chic and refined, and the speckled black details add a playful and edgy feel to this manicure.
Two Tone Mauve Nails w/ Heart Accents
The purple mauve and light pink are a gorgeous combo on these long almond nails, and the matte heart accents are just so cute!
Wear this dreamy manicure on Valentine's Day or for a romantic look during your week.
Mauve Nails w/ Matte Finish + Silver Accents
We are so in love with the look of these nails. The purple mauve stands out against the soft pink shade here, and the silver accent beads give this manicure a polished feel.
The way the shades alternate on each nail make this manicure so alluring, while the matte finish adds a sophisticated touch. This nail design is perfect for an everyday look or could be worn for a special occasion.
Matte Gradient Square Nails
Mauve is a perfect addition to this gradient manicure. We love the brightness from the pink and white, and the mauve adds a romantic feel.
This nail design is so versatile, and you can easily swap one of the white nails for another shade of mauve for an extra lavish feel.
Mauve Manicure w/ Gold Flake Accents
Glossy nude pink and matte mauve are the perfect pairing for an eye-catching manicure. We love the luxurious feel of the gold accents and how they elevate these gorgeous nails.
This elegant manicure is a fantastic choice to wear for your next night on the town or if you want to add a refined touch to any outfit.
Mauve Gradient & Glitter Accents
Going for gradient nails is a simple way to create a gorgeous manicure. The soft pink paired with the different shades of mauve creates a feminine and flirty nail look.
A glitter accent nail is always a great way to make a manicure pop. Wear this pretty and playful nail design on your next date night for a captivating look.
Mauve French Tips + Half Moons
This stunning manicure is so unique and eye-catching. We love the combo of half moons and French tips, and the glittery mauve completely elevates these nails.
Such an elegant nail design would be perfect to wear to a formal occasion, like a birthday celebration or even a wedding.
Light Mauve Nails & Gold Flower Details
Light mauve paired with gold accents and shimmering pearl tones is a combination we didn't know we needed. These iridescent shades add a subtle elegance to this manicure.
The flower details and feminine mauve create a dreamy nail look that we can't get enough of, and the light tones and floral art makes this another excellent look to wear in spring.
Matte Mauve Nails & Glitter Accents
Matte mauve and glitter pink are the ultimate chic combo. The shimmer from the pink glitter polish adds a cute and playful touch to the refined look of the mauve nails.
This manicure is simple yet gorgeous and will add a flirty vibe to your looks this spring.
Matte Mauve Nails w/ Purple Swirls
This light purple mauve was meant to be paired with burgundy accents. The matte finish gives these nails a sophisticated look, and the swirl details add a playful vibe.
We love the combo of light and dark tones here. The light mauve makes this a perfect manicure to wear in spring, but you could definitely wear this look year-round.
Rose Mauve & Animal Print w/ Glitter Polish
We love the fun and youthful aesthetic of these nails. Deep mauve is a gorgeous color to pair with a cheetah print, and these playful details make this nail design so vibrant.
The gold glitter accent nail helps this manicure stand out even more, and the animal print would look amazing with some glitter accents added to it.
Light Mauve w/ Waves & Gold Flakes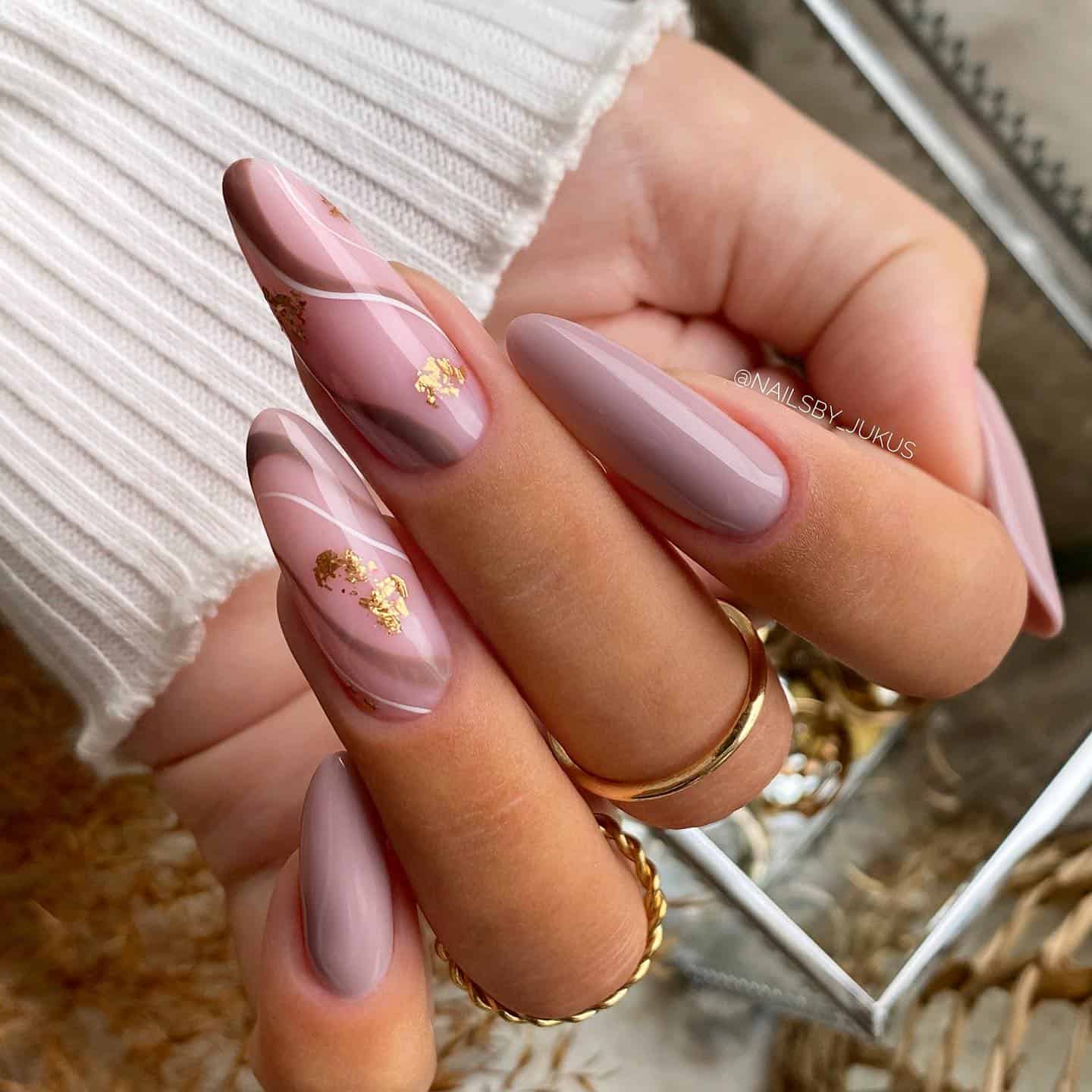 These long, elegant nails paired with the soft and romantic mauve are an incredible combo. We love the dark mauve waves along the pink accent nails, and the gold flake details are so alluring.
This nail design is an excellent choice for a polished manicure that will elevate your look on your next date night.
Mauve Nails w/ Leaf Art + Silver Glitter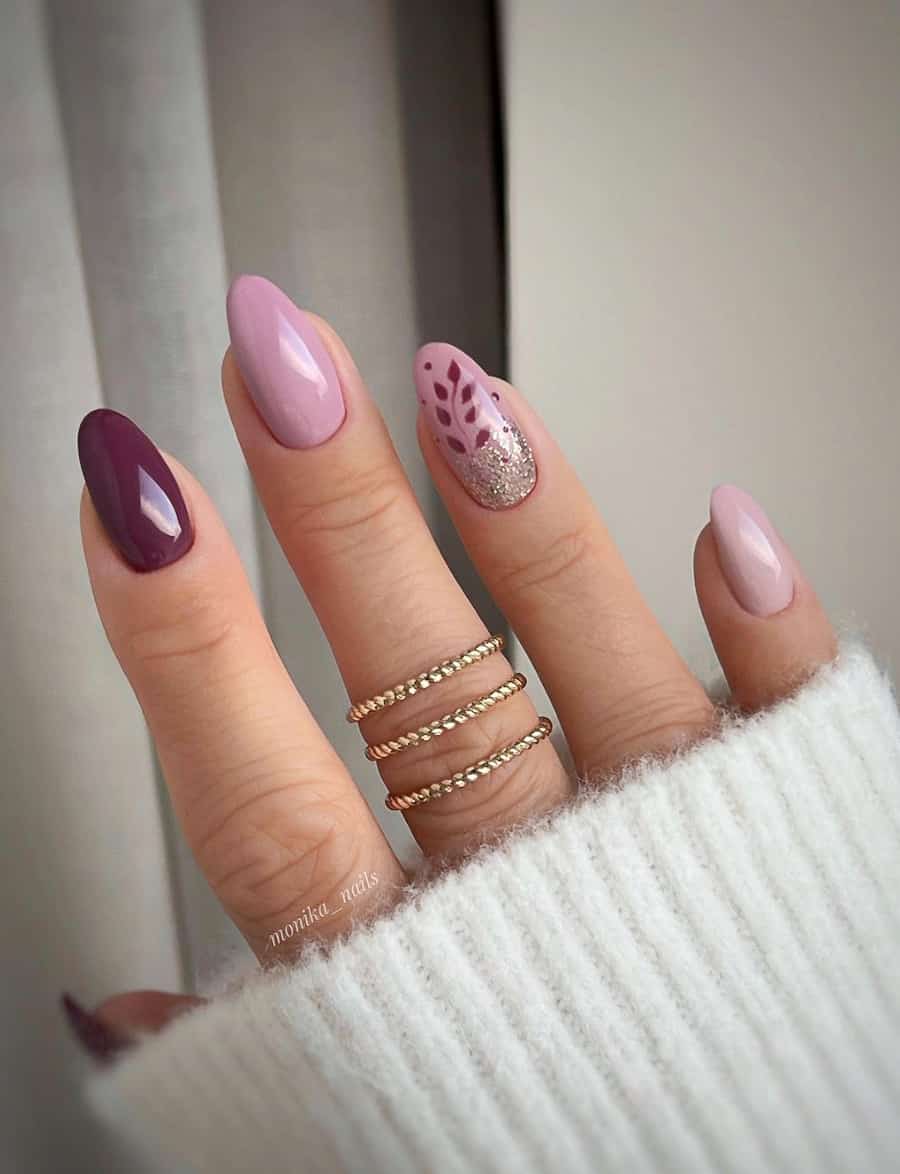 This soft mauve and the dark purple hue are a captivating combination. The silver glitter is an eye-catching accent, and we love the delicate leaf nail art here.
This is a perfect pick if you want a stylish and elegant manicure to wear this spring.
Bright Mauve w/ Gold Glitter + Flowers
We are so in love with this vibrant mauve nail polish. This gorgeous shade has a bright and cheery spring vibe, and the floral details are perfect accents to add to this look.
This manicure definitely has a youthful feel to it, and the ombre glitter accent nails add a chic touch to these nails.
Shimmering Purple Mauve Manicure
Adding a shimmering finish to your nails is a quick way to elevate your manicure. This Heather mauve nail color looks stunning as is, but the glistening polish takes these nails to the next level.
This luxurious shade is a great choice to add some color to your everyday look, and you can sport this manicure anywhere from a date night to the office.
Matte Mauve Nails w/ Gold + White Accents
Next on the list of mauve nail designs, this manicure has a stunning, whimsical aesthetic. The milky white accents and gold details are so elegant and refined, while the matte mauve gives these nails a romantic feel.
The light shade of mauve has a springtime feel and would be perfect for adding some color to your look when the weather starts to warm.
Glossy Mauve Nails + Leopard Print
Purple mauve is such a rich, beautiful tone, and we love the glossy finish on these short nails.
The pop of animal print is fun and alluring, and the half-moon details add a refined touch. Go for a lovely manicure like this before your next girls' night out.
Short Mauve Manicure + Glitter Accent Nails
The silver glitter pops against the pink mauve and elevates this minimal look.
This classic manicure with short nails will add a gorgeous pop of color to your everyday look but still has a simple look that can be worn to work.
Rose Mauve + Taupe Nails w/ Abstract Art
Rose mauve is a breathtaking shade, and we love the addition of the pinkish mauve accent nail. The abstract face art is an incredible detail and elevates these nails further.
This neutral tone will easily pair with any outfit, and the accent nails add a feminine touch. The soft shades here make this an excellent manicure to wear spring.
Berry Mauve Coffin Nails w/ Marbled Accents
We are in love with this lavish shade of mauve, and the gorgeous accent nail is so stunning. The baby pink pairs perfectly with the marbled swirls of berry mauve, black, and gold glitter.
These long nails have an elegant feel, though you can definitely wear this nail design on any length for an eye-catching manicure.
Mauve Cable Sweater Nails
Last on the list of mauve nail designs, this gorgeous array of muted tones is so breathtaking. We are obsessed with the combo of solid patterned nails on the one hand and textured French tips on the other.
The cable sweater details add a refined yet cozy feel to these nails, making them perfect for early spring when there's still a slight chill in the air.
Mauve adds a stunning, feminine feel to any manicure, and these mauve nail designs prove that you can use any shade of this gorgeous color to create incredible looks. Pick your favorite manicure to sport the mauve nail color during the spring or year-round for a dreamy and youthful aesthetic!
More Nail Inspiration You'll Love:
23+ Classic Pink and White Nails + Cute Pink and White Nail Designs To Copy
21+ *Stunning* Purple Ombre Nails To Copy
21+ Stunning Mother's Day Nail Designs
25+ Stunning Beige Nails That Are Anything But Bland
21+ Pink and Red Nails For A Fun & Flirty Vibe
21+ Chic Neutral Nails For A Classy, Minimal Aesthetic