Are you looking for a stunning new nail color to try in 2023? Light blue shades are a gorgeous choice that is on-trend, so check out our list of 28+ baby blue nails and light blue nails that you need to try!
Chic Baby Blue Nails + Light Blue Nails
Pastels are going to be all the rage this year, and stunning shades like baby blue and light blue will be popular color choices for anything from outfits to nails.
Light blue is a perfect color for spring and summer. You can sport baby blue and light blue tones at any occasion – from the office to a beach day, and even for special events like an anniversary or a baby shower.
We're ready for these gorgeous hues to have their moment, so we've gathered modern and stylish nail designs from our favorite influencers to help inspire your next light blue manicure! Check out our top picks below.
What do light blue nails mean?
In the world of nail colors, light blue signifies that one has a boyfriend or significant other. In terms of colors, light blue represents calm and tranquility and this can definitely apply to light blue nails as well.
This nail color will add a feeling of serenity to your everyday looks and also has a youthful vibe we love!
Light Blue Nail Designs
We're starting off this list with our top picks for light blue nail looks. These breathtaking designs are classy and chic, a perfect combo for your next manicure.
Sky Blue French Tips w/ Floral Accents
This white and light blue nail design is so stunning and refined. Classic French tips and floral details have an elegant look, and you can easily add glitter accents to this manicure for a bold and more youthful aesthetic.
White & Pastel Blue French Tips w/ Half Moons
The matte finish on this manicure adds a sophisticated touch to this unique design. We love the half-moons paired with French tips, and the white floral accents make this a perfect look to wear in the spring.
Almond Nails w/ Ice Blue Ombre + White Glitter
We love the addition of white glitter over classic blue ombre nails, and it pairs so well with this shade of light blue. You could definitely sport this nail design in the warmer months, although the light blue and white glitter could easily be worn as a winter look as well.
Shimmering Pastel Blue Polish on Almond Nails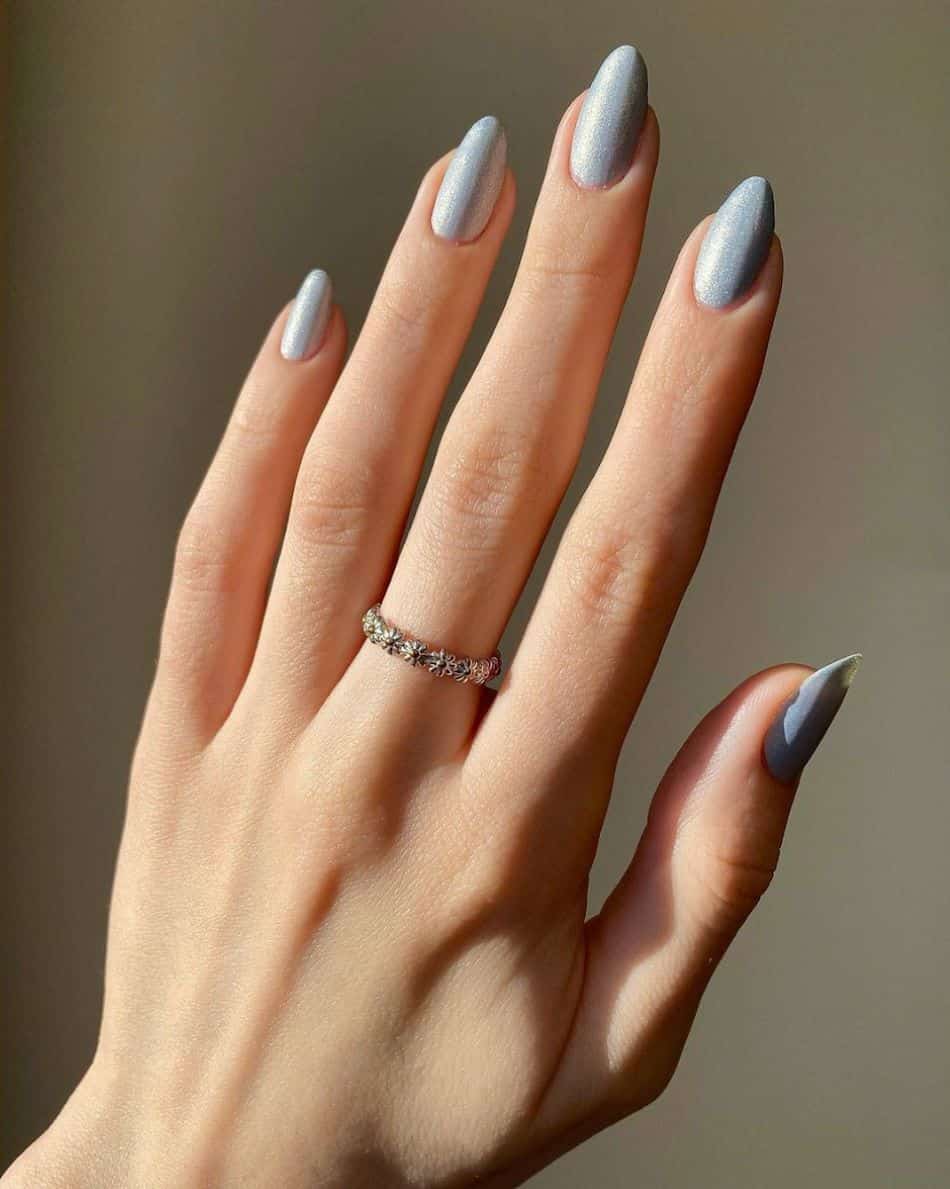 This gorgeous look is an excellent choice for vacation nails to a beach destination. The shimmering polish adds a playful feel to this manicure and elevates this minimal and classic design. This is another style that is very versatile and could work in the spring as well as in winter.
What colour goes with baby blue nails?
Baby blue is such a lovely shade, and fortunately for us, it's easy to pair with other colors. This soft shade looks amazing with anything from neutrals to dark tones, and you can't go wrong by combining it with other pastels.
If you want to keep your nail design vibrant, go for other light shades like blush pink or mint green. You can create a bold and eye-catching look by adding some contrast with rich colors like navy blue, dark green, or a gorgeous shade of bright red. And, of course, you can go for a classic and timeless style using neutral tones like white, black, and light grey.
No matter what color combination you choose, you can add a bright and beautiful touch to your outfits with chic baby blue nails.
Light Blue Nail Polish w/ Gold Accents & Leaf Nail Art
We cannot get over the elegant and regal aesthetic of this nail design. The gold flake accent nails make this an eye-catching look, and the white leaves are so beautiful. This stunning manicure would be a great choice to wear to a special occasion or just to spice up your everyday style.
Light Blue French Tip Nails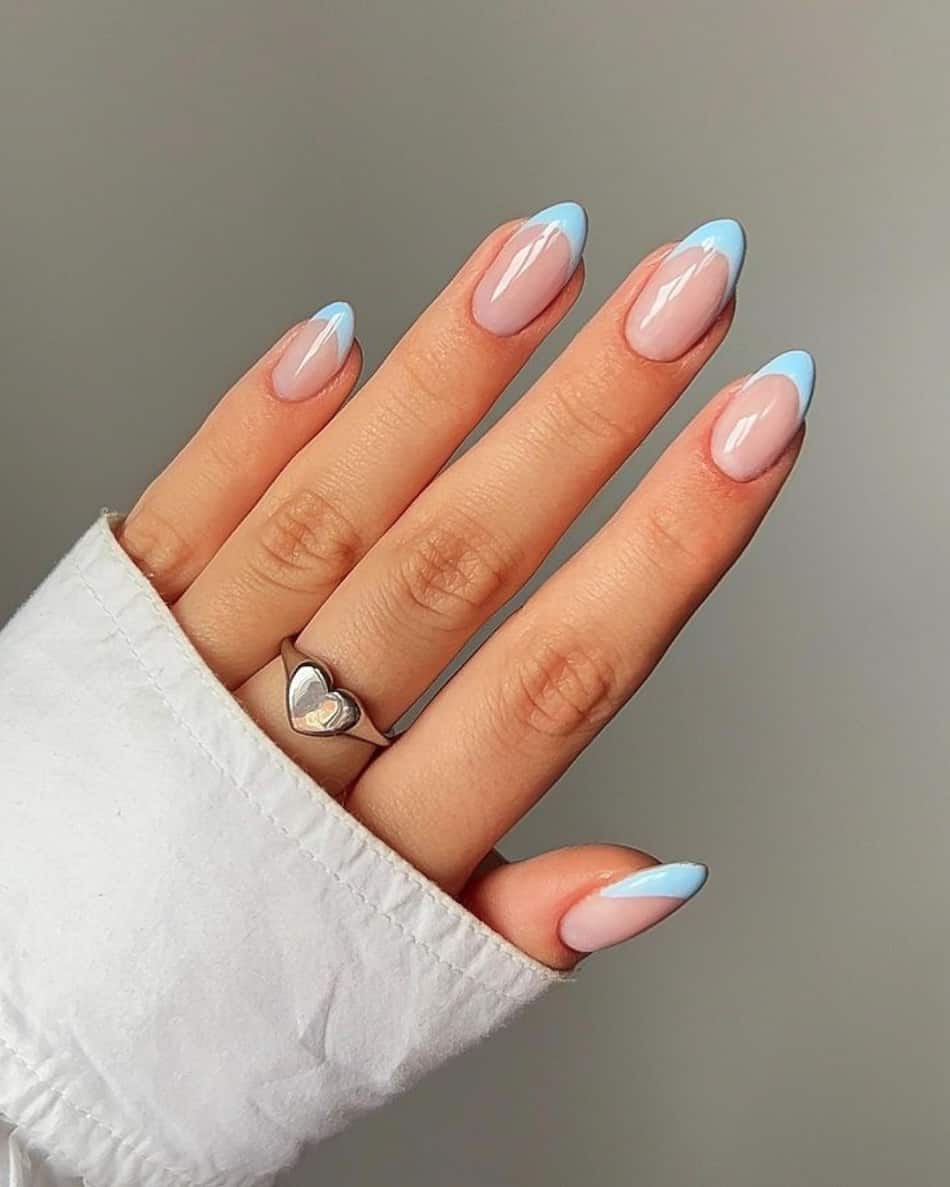 When in doubt, you can always go for a timeless style like this one. The French manicure is instantly upgraded with this gorgeous light blue polish in place of white. This simple and classic design will look amazing with any outfit and for any occasion.
Soft Blue Polish w/ French Tip & Silver Line Details
If you want a chic and modern nail design, this is the one for you. We love the soft blue paired with silver, and the combo adds an elegant look to these nails. You can stick with two French tips or add more, but either way, you'll have a stunning look to wear for your next girls' night.
Light Blue Acrylic Nails w/ Wave French Tips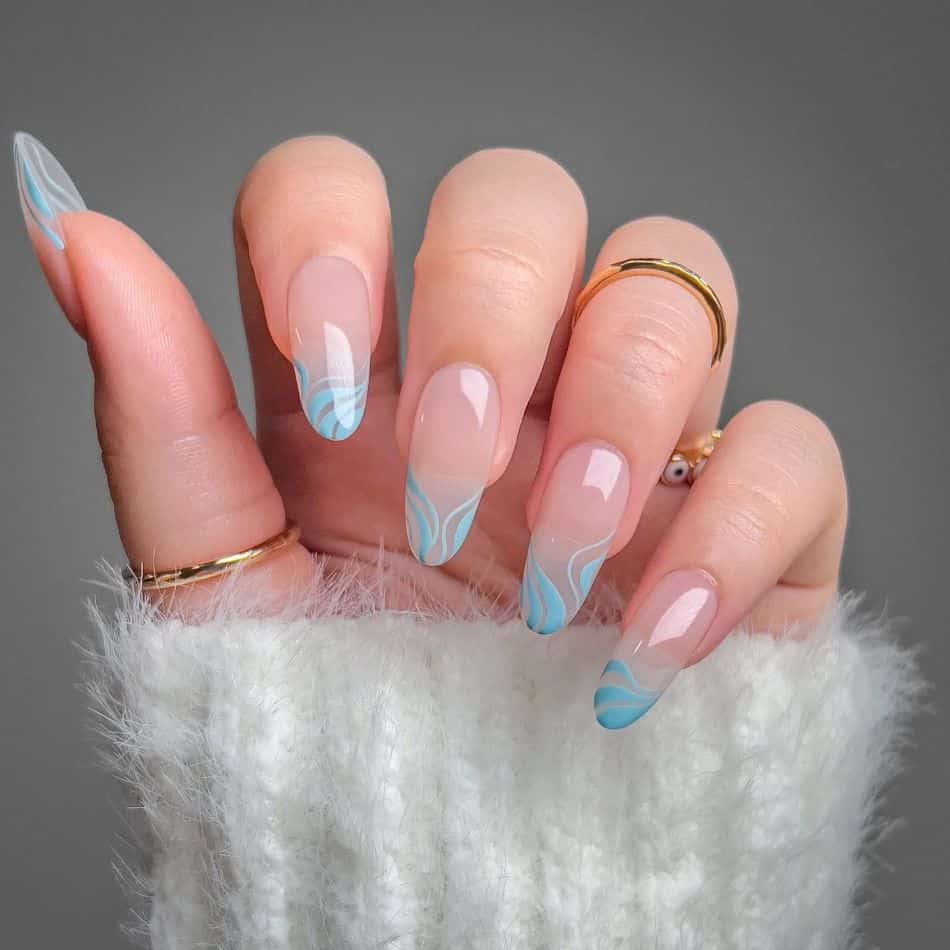 We are so in love with this playful acrylic nail look. The light blue wave details are a fun and trendy spin on classic French tips. You can rock this stunning mani during your next beach day this summer.
Square Pastel Blue Nails w/ Black Nail Art
Pastel blue is a gorgeous color for this nail design. The silver speckles and black botanical art make this manicure stand out, while the soft shade of blue adds a dreamy touch. Wear this to add some style and a pop of color during your week.
Two-Tone White + Light Blue French Tips
This is a perfect way to add some color to your nail design while keeping it classic and refined. We love the pairing of white and light blue here, and the slanted polish adds some flair to these nails. This gorgeous manicure will definitely add a polished feel to your looks.
Sky Blue Nails w/ Gem Accents
We are in love with the abstract silver gem accents on this manicure; they make these nails so eye-catching and chic. This look is the perfect blend of playful and elegant, making them a great choice to wear anywhere from date night to girls' night.
Almond Nails w/ Ice Blue Ombre & Glitter
If you want a manicure that will make you look chic and put-together, look no further. The light blue ombre and glitter details add a playful touch to this classic look, and it will look fantastic paired with any outfit.
Soft Blue + Nude Almond Nails w/ Floral Accents
We love the combo of light blue and nude nails here. The soft tones and floral accents make this a perfect manicure for spring, and this manicure would look stunning during date night, at a house party, or at the office.
Baby Blue Nail Designs
If you're looking for a baby blue manicure to try at your next salon visit, don't worry! We've got you covered with stunning nail designs featuring this gorgeous shade.
Nude Almond Nails w/ Blue & White Waves
Pops of color and wave details are an excellent way to add a bright and playful touch to any manicure. This look is perfect for showing off your fun-loving personality while still looking classy and refined.
Blue Gradient Nails
These vibrant gel nails are a great look to wear this summer. The shades of blue have a fun and alluring feel to them, and this manicure will definitely add a youthful vibe to your everday outfits.
Baby Blue French Manicure w/ Gem Accents
We love the sophisticated aesthetic of this manicure. Baby blue and light blue French tips are gorgeous and chic, and the gem accents take a simple look and completely elevate it. Go for this look for your next date night or on a weekend getaway.
Classic Mani w/ Baby Blue Polish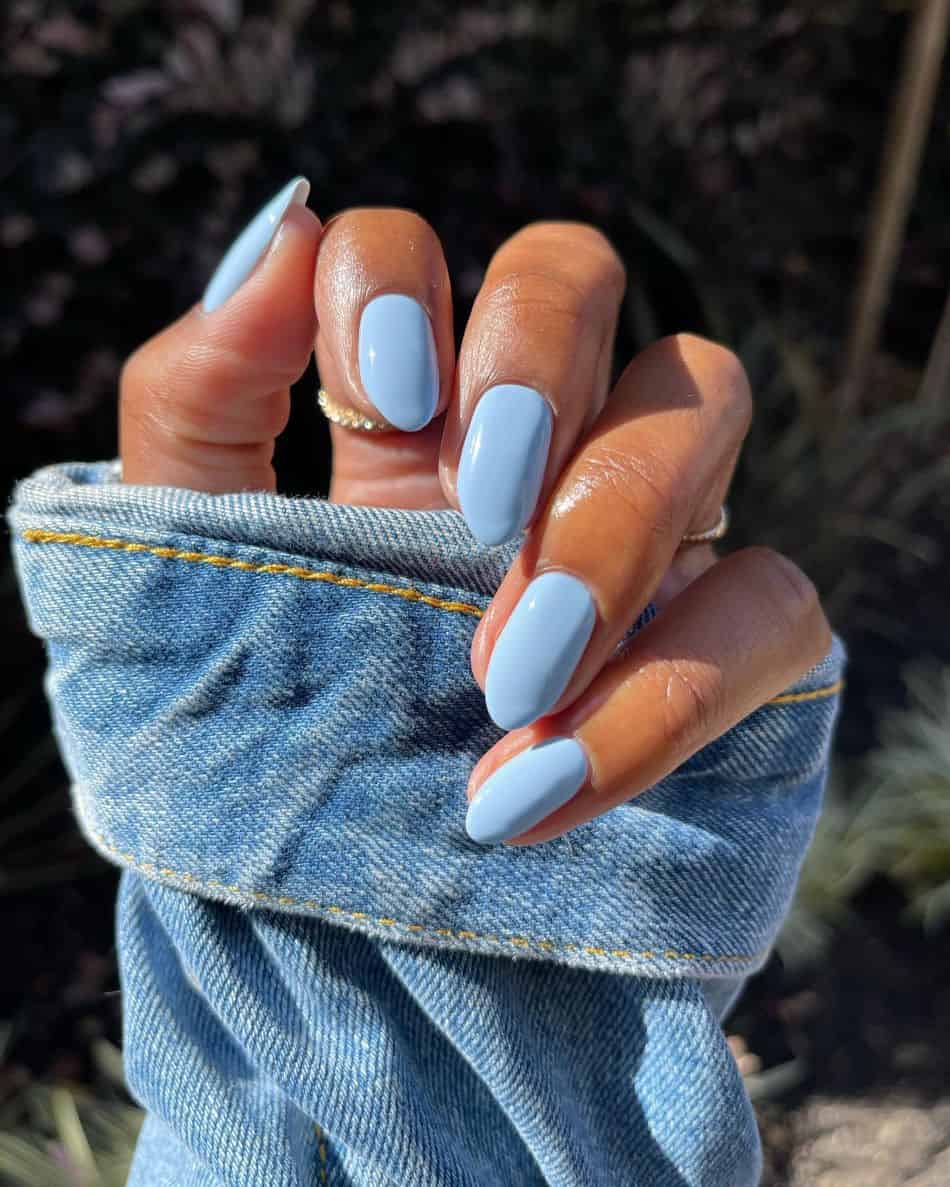 If you want to use this gorgeous shade but don't want a complex design, then opt for this classic manicure featuring baby blue nail polish. This design will always have a timeless and polished look, and it's a perfect way to add some lovely color to your outfits this spring or summer.
Baby Blue Acrylic Nails w/ French Tips & Floral Accents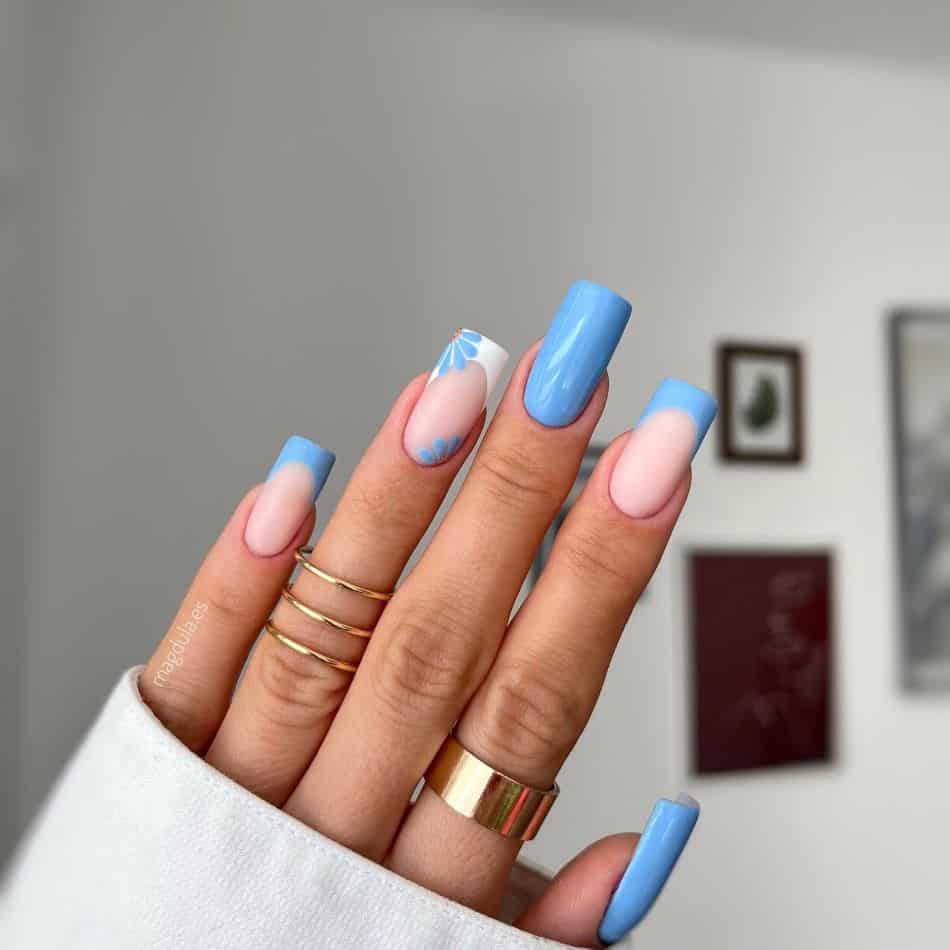 We love the combo of matte French tips and glossy solid nails in this manicure. This stunning design is bold and playful, perfect for spicing up your look this spring. Keep the white details to make these nails pop, and you can add more flower details for a fun style.
Matte Nude Nails w/ Soft Blue Waves
These square-shaped matte nails are a perfect mix of fun and sophisticated. The matte finish adds an elegant touch, while the baby blue waves are vibrant and playful. You can sport this nail design when out and about this summer for a bold and fun look.
Matte Pastel Blue French Manicure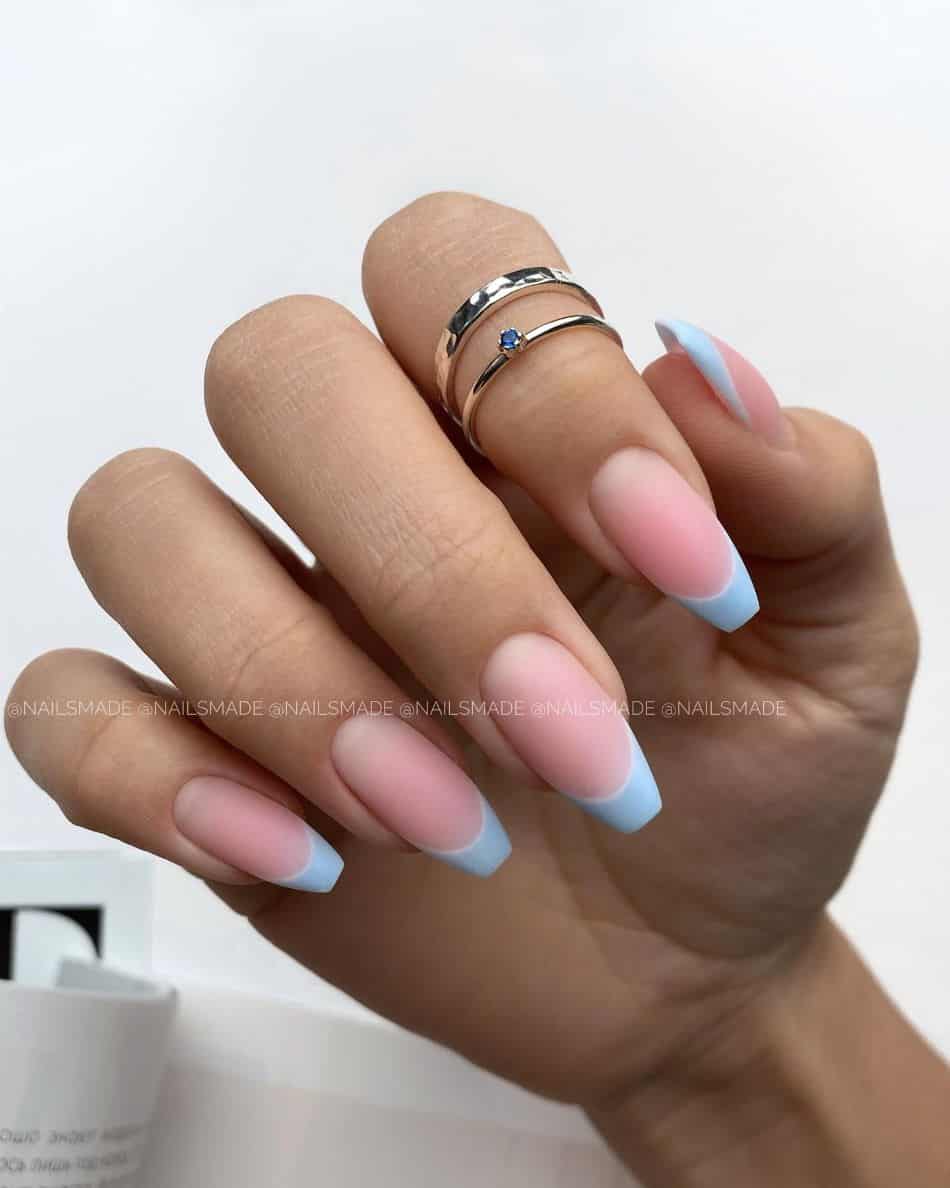 This manicure is a must if you want a classy and tasteful look. These coffin nails look stunning with baby blue French tips and a matte finish. This versatile nail design can be worn at work, during a night on the town, or anything in between.
Baby Blue Nails w/ Silver Glitter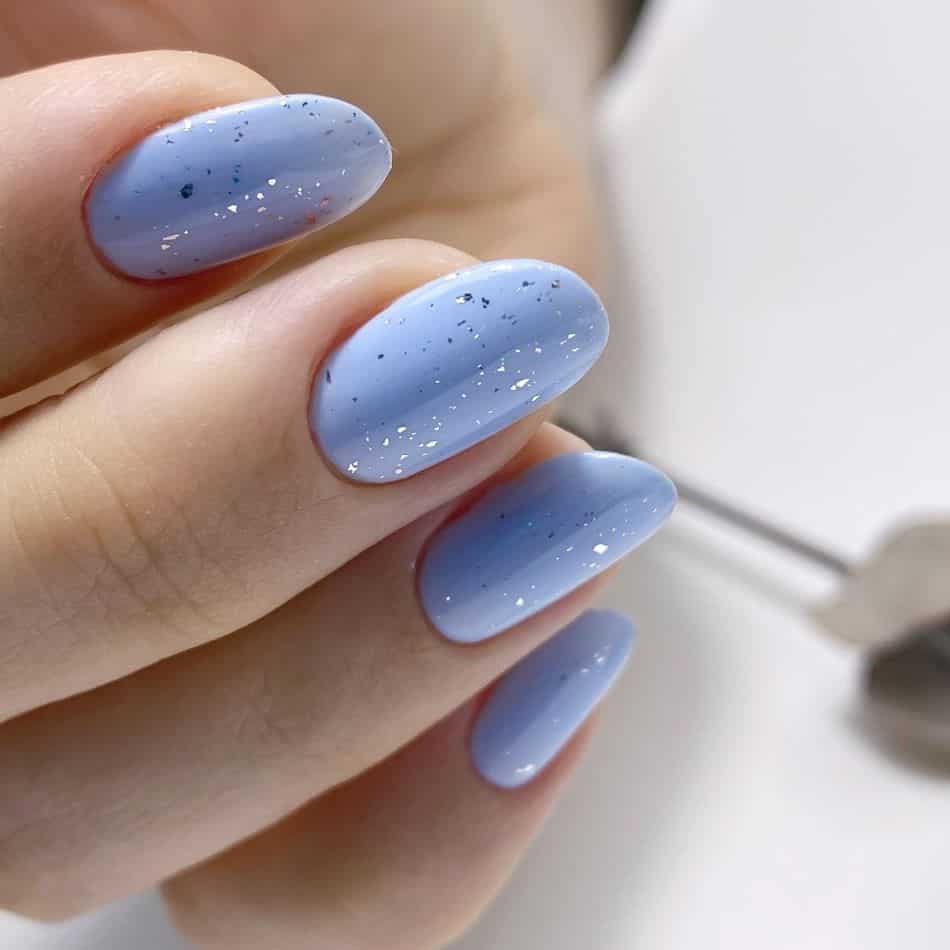 Almond nails are a classic choice for a manicure, and this nail design completely elevates them. Baby blue polish is a gorgeous base for silver glitter, and the glitter accents take this simple look and turn it into something playful and chic.
Soft Blue & Royal Blue French Manicure
We are so in love with this bold and eye-catching nail design. Baby blue and royal blue are a gorgeous match here, and the colors really pop against one another. Wear this look when going out this summer for a stunning and attention-grabbing look.
Baby Blue Almond Nails w/ Blue Glitter Accents
Glitter is one of our favorite ways to transform minimal nails into a stunning and bold look. We love the baby blue paired with blue glitter polish, and this party-ready manicure is a perfect pick to sport during your next night of cocktails and dancing.
Marbled Blue & White Mani
You can't go wrong with a gorgeous, marbled look like this. Baby blue and white are a fantastic color combination for a marble nail design, and you can easily wear beautiful pastel mani during a picnic date this spring.
Blue French Tips + Gradient Nails w/ Silver Accents
We are always fans of a bold and unique look like this one. French tips add a classy feel, while the gradient nails and silver accents give this a fun and youthful aesthetic. Show these nails off at your next brunch date with the girls, or save this design to wear as summer nails.
Baby Blue Almond Nails w/ French Tip Accents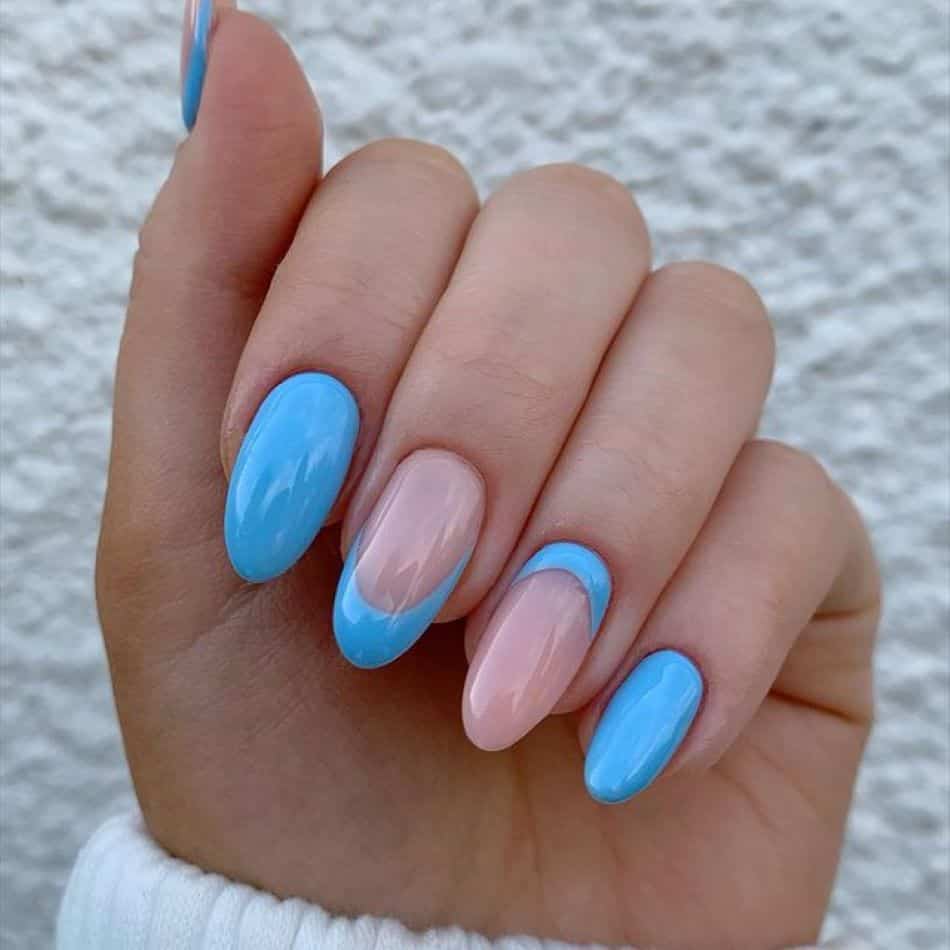 Baby blue is such a youthful and vivid tone, making it the perfect color for a modern twist on classic nail designs. The nude pink and blue look stunning together, and this gorgeous design is a fantastic mix of fun and refined.
Classic Manicure w/ Blue Polish & Heart Accents
This light shade of baby blue is a fantastic color choice for a soft and dreamy look like this. This elegant design is perfect to wear with everyday looks or for a special occasion, like an anniversary. The flirty vibes from the heart accents make it a subtle but stunning pick for a romantic dinner.
Floral Baby Blue Nails w/ Gold Details & White Accent Nail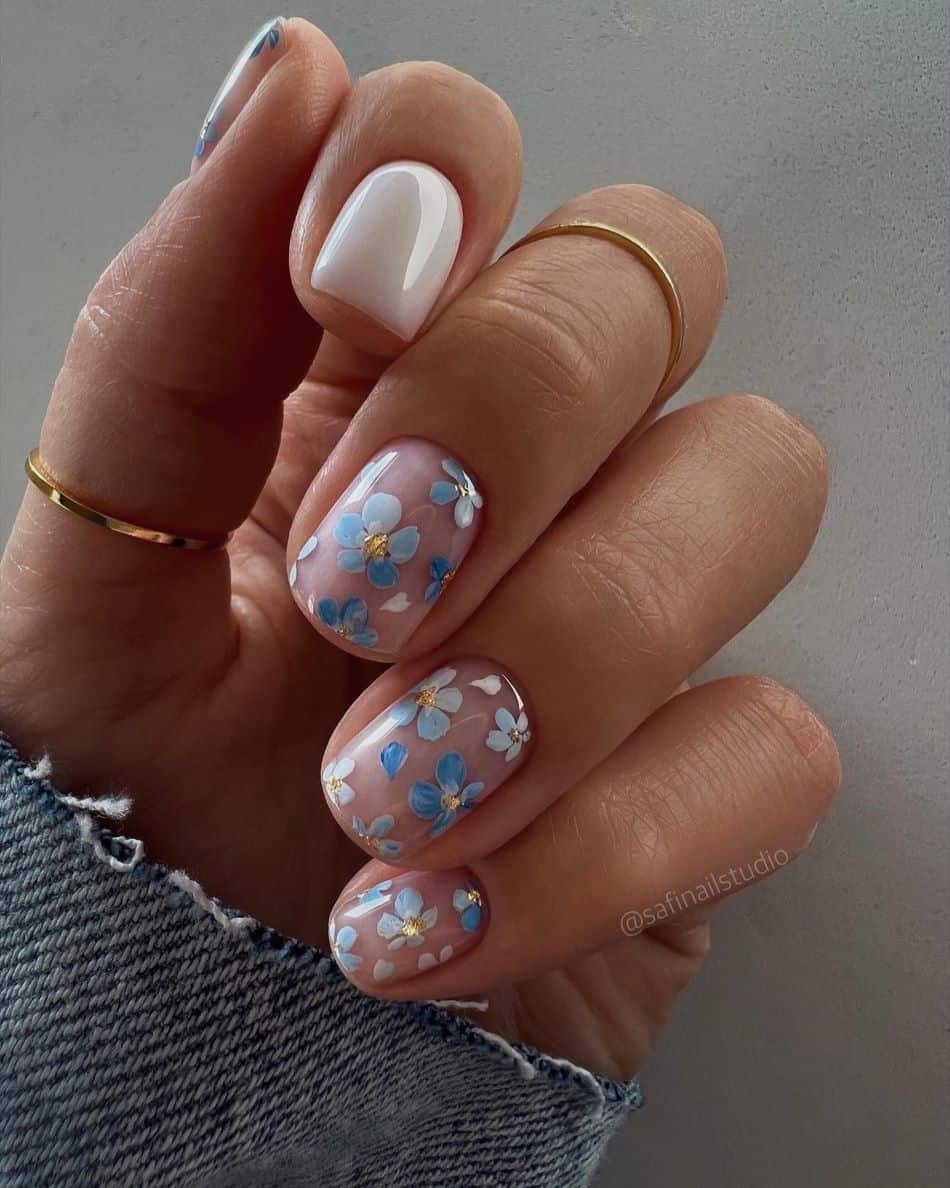 We are so in love with this nail design, from the floral nail art to the gold accents! This breathtaking manicure was meant for a spring look, and you're sure to be grabbing attention left and right with this design.
Pastel Blue + Nude Nails w/ Daisies
Delicate white daisies look so beautiful against baby blue and nude nails. This design definitely has a springtime feel and is perfect to sport during warm months while you're at the park, farmer's market, or just grabbing a coffee and enjoying the sunshine.
You can add any of these gorgeous baby blue and light blue nail designs to your everyday looks or save them for a special occasion. These beautiful shades of blue are so stunning and a perfect way to add more color to any outfit, especially in spring and summer. We hope you've found this helpful and have found a new nail manicure to try in 2023!
More Nail Inspiration You'll Love:
19+ Stunning Navy Blue Nails & Dark Blue Nails To Copy
21+ Stunning Mother's Day Nail Designs
17+ Gorgeous Sage Green Nails To Inspire Your Next Manicure
21+ Perfect Periwinkle Nails for Spring & Summer
21+ *Stunning* Purple Ombre Nails To Copy in 2023
19+ Gorgeous Olive Green Nails You'll Absolutely Love
19+ Gorgeous Emerald Green Nails You'll Want To Copy
23+ Must-See 90s Nail Designs That Are Totally Nostalgic
Christal Sczebel is an entrepreneur, published author, and content creator. Over the past decade she has worked in the digital media field building successful websites for both food and fashion. She has a natural affinity for minimal, timeless fashion, neutral home decor, and styling.
Here on Style Your Occasion, Christal is the Editor-in-chief and brain behind the aesthetic. She hopes you love the this space and the inspiration you'll find!