Going on your first camping trip and wondering what to wear camping? Whether you are going to the backcountry or staying in an RV at a campsite, here is everything you need to know and outfit inspiration for your time in the great outdoors!
*this post contains affiliate links*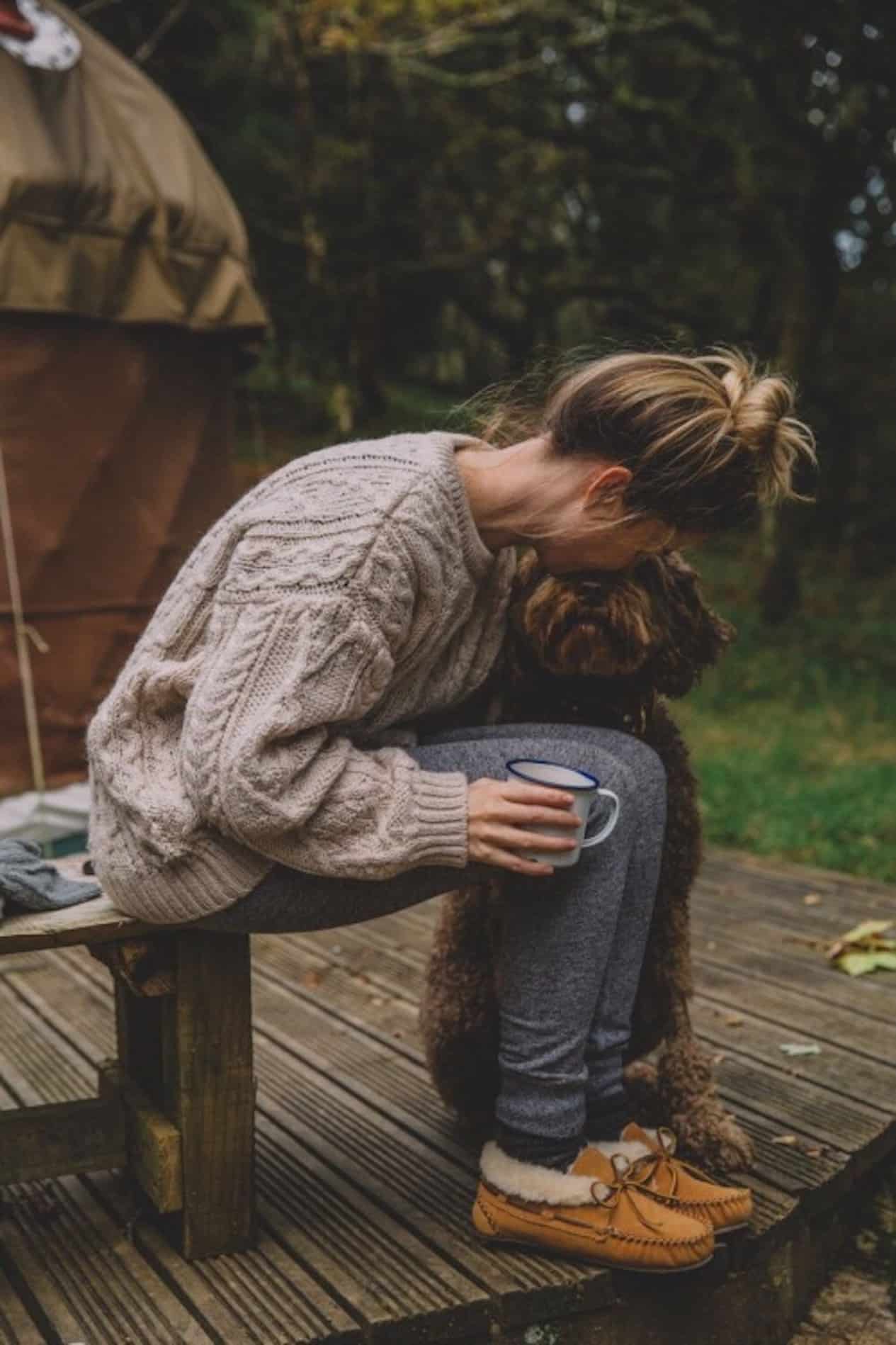 If you're like most people, the idea of camping brings up thoughts of soaking in the outdoors, communing with nature, and enjoying a simpler way of life. But what about what you're going to wear while doing all that? 
It's important to pack appropriately to enjoy your time spent camping without being uncomfortable or feeling over or underdressed. 
In this blog post, we'll share 10 things you should know before embarking on your first camping trip and outfit ideas for what to wear while camping.
What To Wear Camping
What you wear while camping will depend on the weather conditions and what kind of camping trip you're taking. For instance, if you're going on a winter camping trip in the snow, you'll need to dress much differently than if you are going camping in the summertime. Or, if you are headed on an outback excursion versus camping in an RV at a national campground. 
Here are some general tips to help guide your clothing choices for any camping trip:
Think about what kind of activities you'll participate in while camping.

If you are hiking and climbing, you'll need comfortable and versatile activewear to move around in. On the other hand, if you're mostly planning on relaxing by the campfire, you can opt for clothes that are more casual like jeans and a t-shirt. 

Consider the climate and weather conditions where you'll be camping.

If you're going to a cold or damp place, pack warm clothes like jackets, hats, and gloves. If it's going to be hot, you'll want to pack clothes that are light and airy, like shorts and tank tops.

Consider the type of terrain you'll be camping in.

If you're going camping in a heavily wooded area, you'll want to make sure to wear clothes that won't get caught on branches or leaves and provide protection from mosquitos and bugs. And if you're going camping on the beach, it's a good idea to pack clothes that can get wet. 
10 Tips for Packing For Your First Camping Trip
Below are our top 10 tips for what to wear camping and how to pack.
1. Be mindful of the weather and climate.
Check the weather and climate conditions of where you plan on setting up camp before you go. This will vary depending on whether you are camping in the mountains, on the beach, or in the woods.
If you are camping in a cold climate, pack warm clothes, lots of layers, and accessories like beanies and gloves. If camping in the heat, pack light clothing, hats, sunglasses, and lots of sunscreen.
2. Bring the right footwear.
When packing for your trip, it is also essential to bring the right footwear. This will vary depending on what type of camping trip you are taking. 
If you're camping in the woods or plan to go hiking, you want to make sure you are packing hiking shoes. Sneakers or sturdy sandals are sufficient if you are going to a campsite with paved roads. 
If you'll be near a body of water, you may want to bring water shoes, or you can pack a pair of flip flops.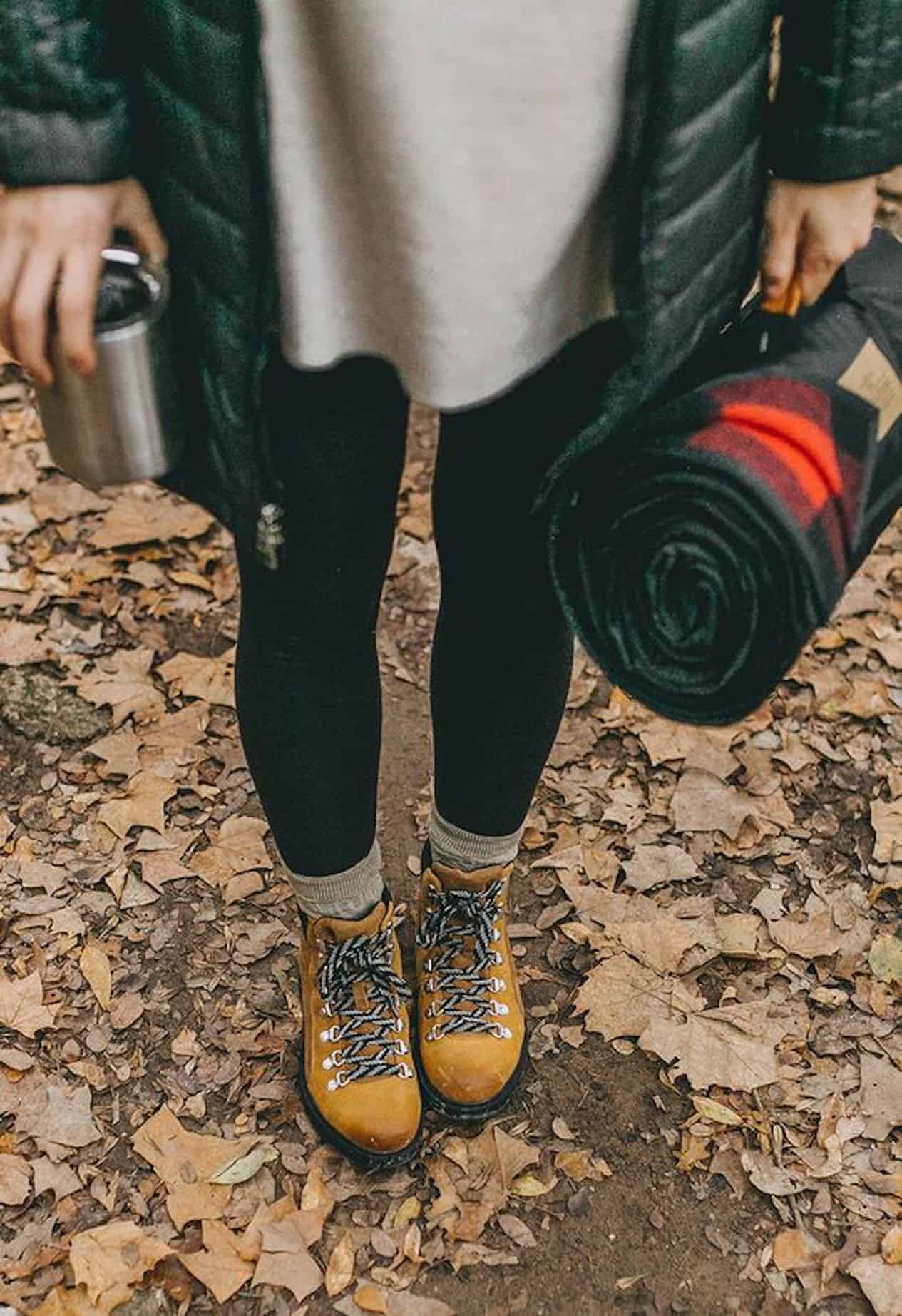 3. Pack for all the activities you'll enjoy.
When considering what to wear camping, make sure to pack clothes and gear that can be used for multiple activities. 
This will prevent an excess of luggage and give you the freedom to participate in various activities while on your trip.
For example, you can often get away with similar clothing items for hiking, biking, walking, exploring, and hanging around by the campsite: leggings or shorts, a tank top or t-shirt, sneakers, or hiking sandals, and a baseball cap.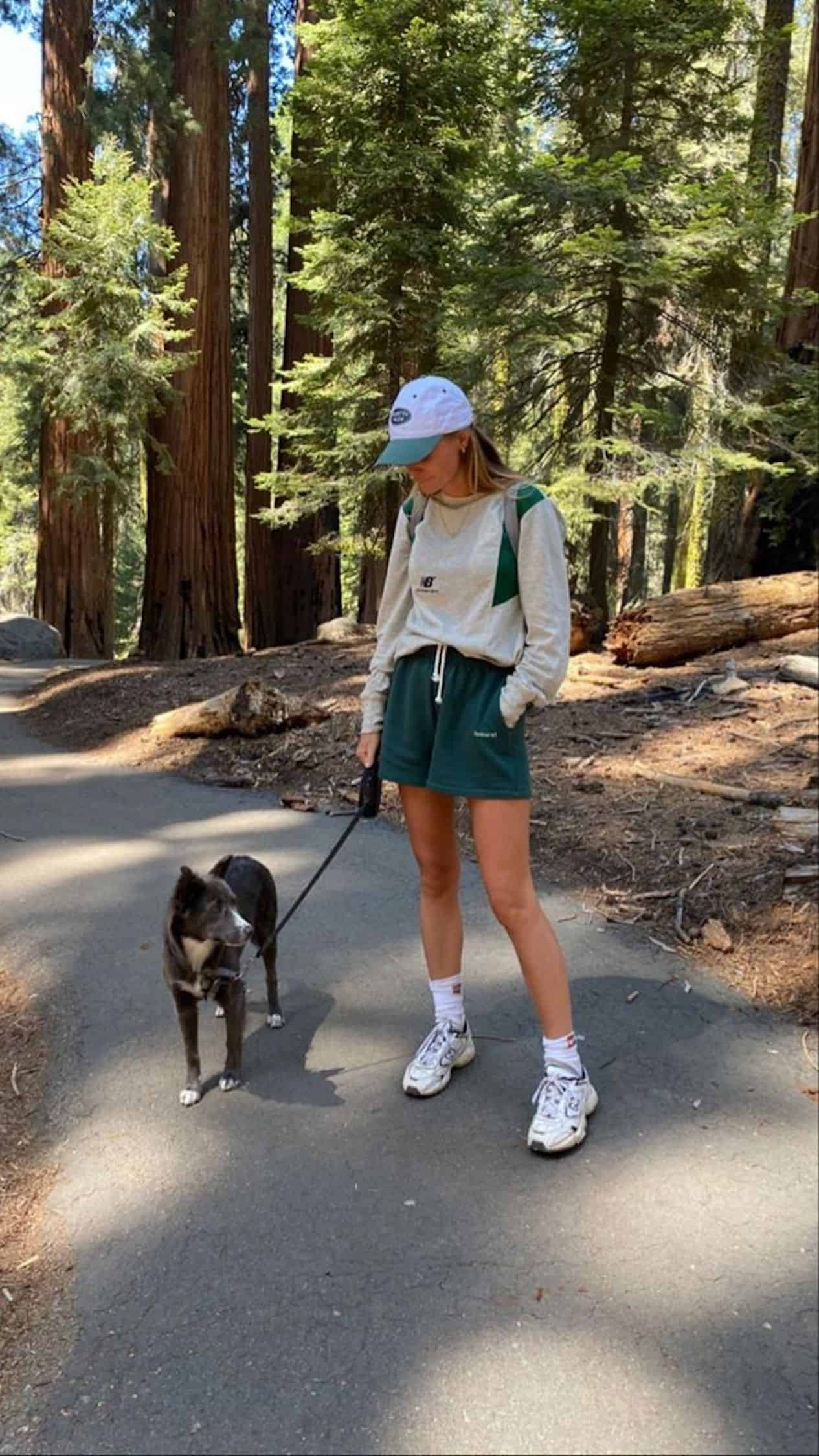 4. Bring clothes that can get dirty.
Camping often means getting down and dirty, especially camping with kids. For this reason, it is important to pack clothes that you don't mind getting stained or dirty, and this will help save you from doing laundry while on your trip.
Leave any nice designer items at home, and pack casual clothing that you'll be fine with getting dirty, ripped, or damaged from sparks off the campfire. 
5. Camping laundry
Speaking of camping laundry, you may find yourself doing laundry depending on the length of your camping trip. At some private campsites or RV parks, laundromats may be available for campers.
However, if you are doing primitive camping, or staying in a smaller campground, you may not have access to a laundromat. In these instances, you will need to get a little creative. Here's what you can do:
Bring a small bin or bucket and use it as your washing machine.

You can add detergent, water, and clothes to the bin and then use a stick or your hands to agitate the clothes. After letting them soak for a while, you can rinse them off with more water and then hang them out to dry.

Use a nearby stream or lake.

You can wash your clothes there as well, just avoid using any soap or detergent

(even it it is biodegradable)

as they should not be used in rivers or lakes because they cannot be broken down in the water and can have a negative impact on the fish and organisms. You'd be surprised how effective just water and a little friction can be to clean your clothing! 
6. Pack clothes that can be layered.
When it comes to camping, think layers, layers, layers.  When sleeping in a tent or sitting by a campfire, even in the summer, you'd be surprised how drastically the temperatures can drop at night. 
It is important to pack clothes that can be layered as this will help keep you warm or cool, depending on what the weather decides to do.
7. Your arrival outfit is important.
Your arrival outfit is just as important as what you pack for the rest of your camping trip. While you want to wear something cute that makes you feel good, you also want to make sure you are wearing something practical!
Remember that whatever you wear on the ride up to the campsite will be the same thing you're wearing to set up camp. If you have a hike-in site, you want to wear practical shoes and comfortable clothes. You also want to be comfortable with pitching a tent or gathering firewood.
8. Pack separate outfits for the daytime and evenings.
Depending on where you are camping, the weather conditions and temperatures can change dramatically. For example, it may be hot during the day but quite cold (and wet!) at night. 
Make sure to pack separate outfits to be prepared for the changes in weather conditions. This will help ensure that you stay protected and comfortable during your entire camping trip.
We love a good cozy pair of sweatpants and a hoodie as a go-to for layering when the temperatures drop. 
9. Are jeans good for camping? Here's the lowdown.
Can you wear jeans when camping? Sure. But, is it recommended to wear or pack jeans for camping? That depends.
Packing jeans for camping will depend on where you're camping and what you are doing. Jeans are often made from heavier cotton material and can be somewhat uncomfortable to move in if they have no stretch, so you might want to leave your jeans at home if you are backpacking or hiking.
Also, they will take forever to dry if it is raining or if you end up getting wet.
If you don't anticipate engaging in these activities, jeans are OK. However, if you plan on a lot of physical activities and enjoying the great outdoors, it may be best to leave your jeans at home.
10. Don't forget sun & bug protection.
When you are camping you are spending the majority *if not all* of the time outdoors. It is essential to protect yourself from the sun, which means packing sunscreen, a hat or two, and sunglasses.
In addition, you will also want to pack insect repellent, which will help keep pesky bugs away while you are enjoying your trip. 
Another option is to bring clothing with built-in insect repellent like these leggings. 
What Should I Wear To Look Cute Camping?
So now that you know everything you need to know about what to wear and pack for your next camping trip let's look at some outfit ideas.

Camping Outfit for Spring
The spring season can bring on warm temperatures in the day and cool temperatures at night. Opt for an outfit you can layer. 
Pair dark leggings with a graphic tee and a plaid button-down. You can remove the button down during the day when it's warmer and use it to stay warm when the temperatures start to drop as the sun goes down.
Go for hiking boots that will keep your feet comfortable and warm enough (but not too hot) both day and night. Wear lightweight socks in the day and pack a pair of thick wool socks to switch into in the evening.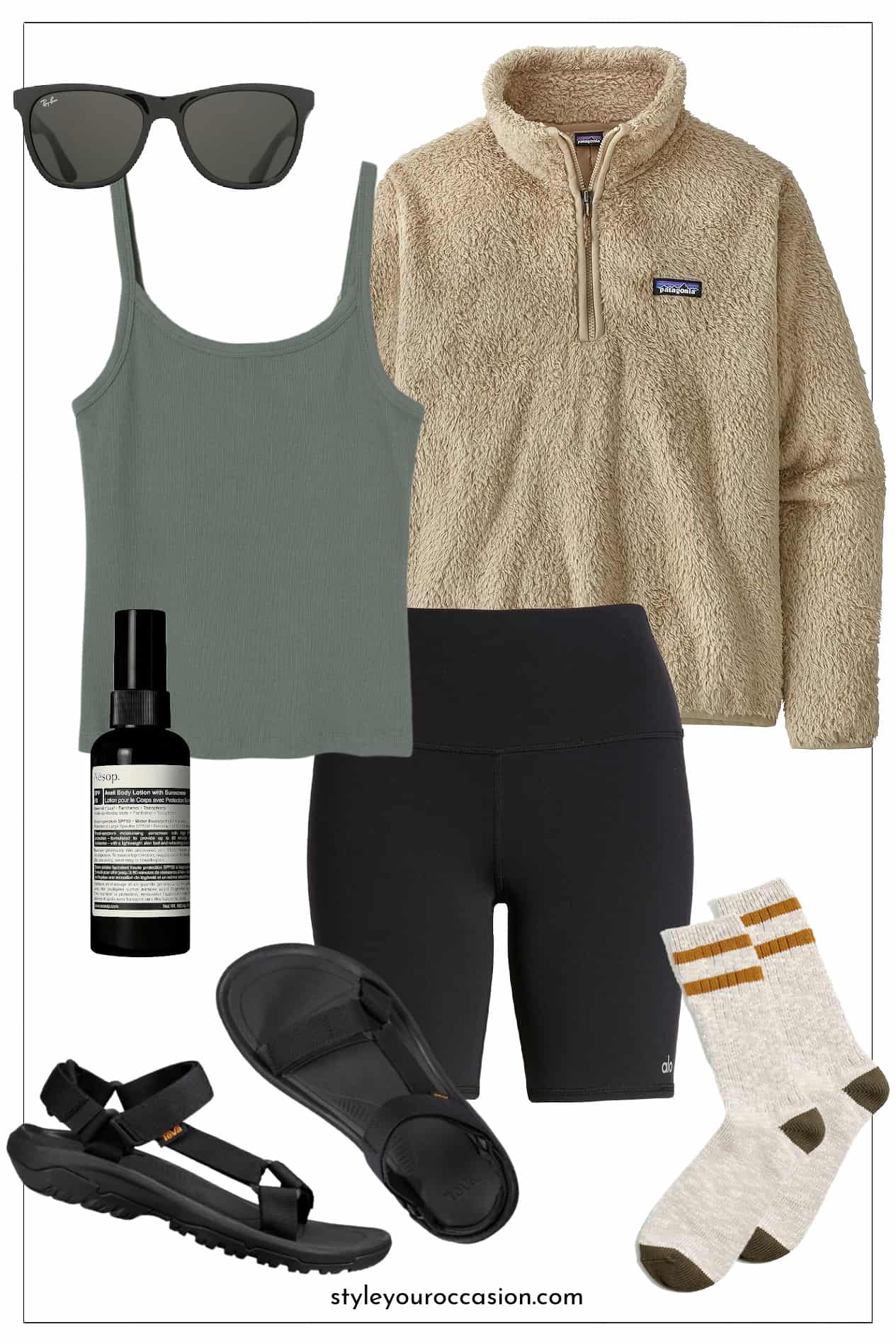 Camping Outfit for the Summer
During the summer months, temperatures will be on the warmer to hot side if you're camping. Opt for shorts and a tank top or t-shirt. Add a pullover sweater, fleece, or hoodie to your outfit to help you stay comfortable in the evening when the sun goes down. 
Birkenstock or Teva sandals are a great option to slip on your feet around the campsite or while walking around, and you can totally wear them with cozy socks later in the day when it cools down. 
Remember, even in the summer, if you are camping in a wooded area or in the mountains, temperatures can still get rather chilly!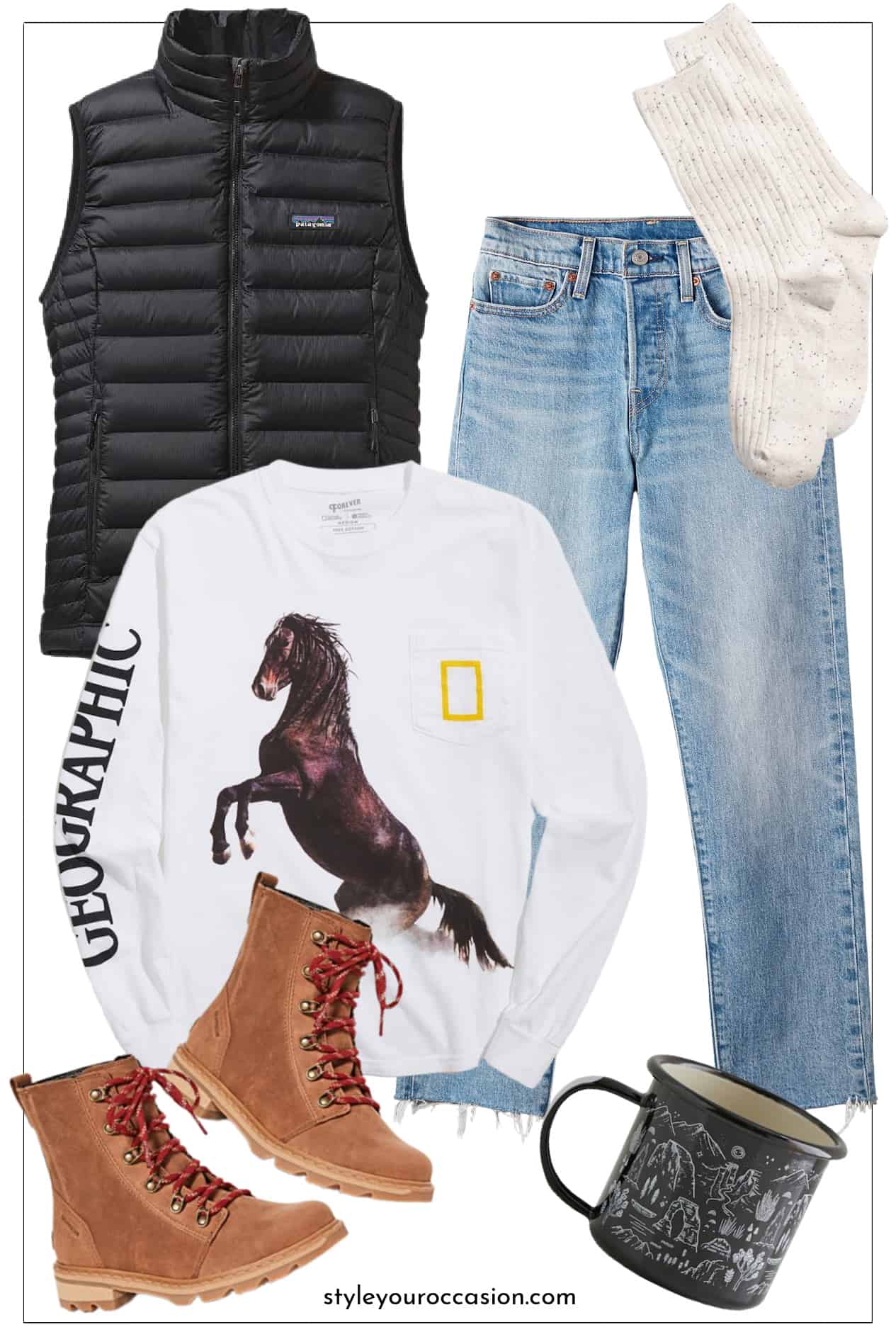 Camping Outfit for the Fall
Camping during the fall can come with a variety of weather conditions, so it's important to pack clothes that you can layer. A long sleeve shirt, jeans or leggings, and a down vest are perfect for this type of weather.
When the temperatures drop at night, you can add a jacket and beanie to your outfit.
Hiking boots and socks also work great to keep your feet toasty warm. 

Camping Outfit for the Winter
Camping in the winter can be a lot of fun, but it's essential to dress appropriately. You'll want to pack multiple layers to adjust as the temperatures change.
Start with a thermal shirt and leggings. Then add a down jacket and pack snow pants to wear on top. Make sure to bring a toque, scarf, and gloves to keep you warm and thick socks along with proper footwear that is water-resistant.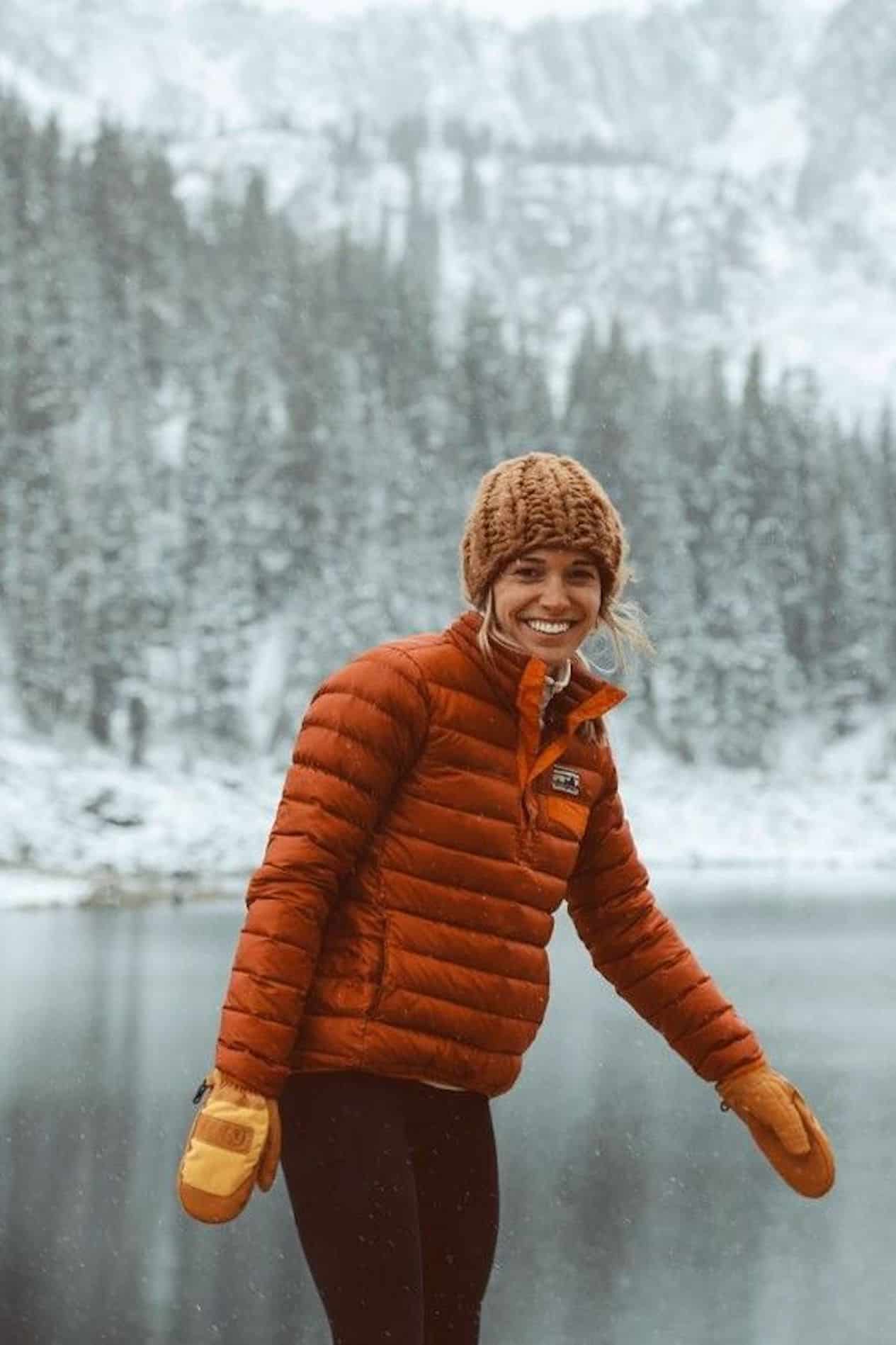 What should you not wear while camping?
There are a few things you should avoid wearing while camping.
Expensive or delicate clothing

– there's a good chance it will get dirty and a small chance it could get wrecked. It's best to leave it at home. 

White pants or jeans

– Light-colored bottoms can and will get dirty quickly. You don't want to worry about your clothes getting ruined while you are out camping.

Non-versatile pieces

– Do not pack anything you cannot wear more than once. When camping, space is at a premium, so you may want to leave your one-wear items at home and opt for pieces that are practical and can be worn many times. 
Final Notes
Now that you know what to wear and what to avoid, and have some outfit inspiration, you should be well on your way for your next camping trip.
Remember, make sure to pack clothes that will keep you comfortable in various weather conditions, and don't forget the sunscreen and insect repellent.
Have fun and enjoy your time in the great outdoors!
Pin me: 
More Outfit Guides To Check Out: 
Outfits for Hiking in the Fall
What To Wear for Rock Climbing