Going for your first paddleboarding experience? You're in for a ton of fun! Learn exactly what to wear paddleboarding for comfort, function, and style!
What to Wear Paddleboarding
Paddleboarding is a great summer activity – it's fun, challenging, and surprisingly, a pretty fantastic whole-body workout. But, did you know this sport isn't limited to just summer? You can actually go paddleboarding year round if you live somewhere where the water isn't completely frozen in the winter.
Below you'll find exactly what to wear whether it's your first time paddleboarding, or if you are looking to expand from the summer into other seasons!
What should I wear for first time paddle boarding?
Whether you are planning to go in the summer or any other season, it is essential to be prepared before heading out on a paddleboarding adventure.There are a few key things to keep in mind regarding what to wear paddleboarding, especially if it's your first time.
First and foremost, you'll want to make sure you're wearing a personal flotation device (PFD, or lifejacket), then you can narrow down your outfit based on the season you are going.

Summer/Hot Weather
For summer paddleboarding, you'll want to wear clothing that is lightweight and comfortable.
Minimal one-piece swimsuit

(avoid one with lots of ties, straps, and embellishments)
Minimal two-piece swimsuit

(avoid one with lots of ties, straps, and embellishments)
Swim shorts, running shorts, or spandex shorts
Sports bra, crop tank, tankini or tank top, or lightweight t-shirt
Rash-guard

(optional, for sun protection, or cold lakes)
Hat

(optional, for sun protection)
These board shorts are great to wear with a one-piece or bikini top, and the fast-drying fabric means that you can wear them out for lunch after a morning on the water.

This v-neck one-piece from Everlane would also look great on the water and can do double duty for brunch paired with denim shorts, or if you are going early in the morning when it's a little cooler, wear a long sleeve rashguard one-piece swimsuit.

Also don't forget the sunscreen which is essential to protect your skin from harmful UV rays.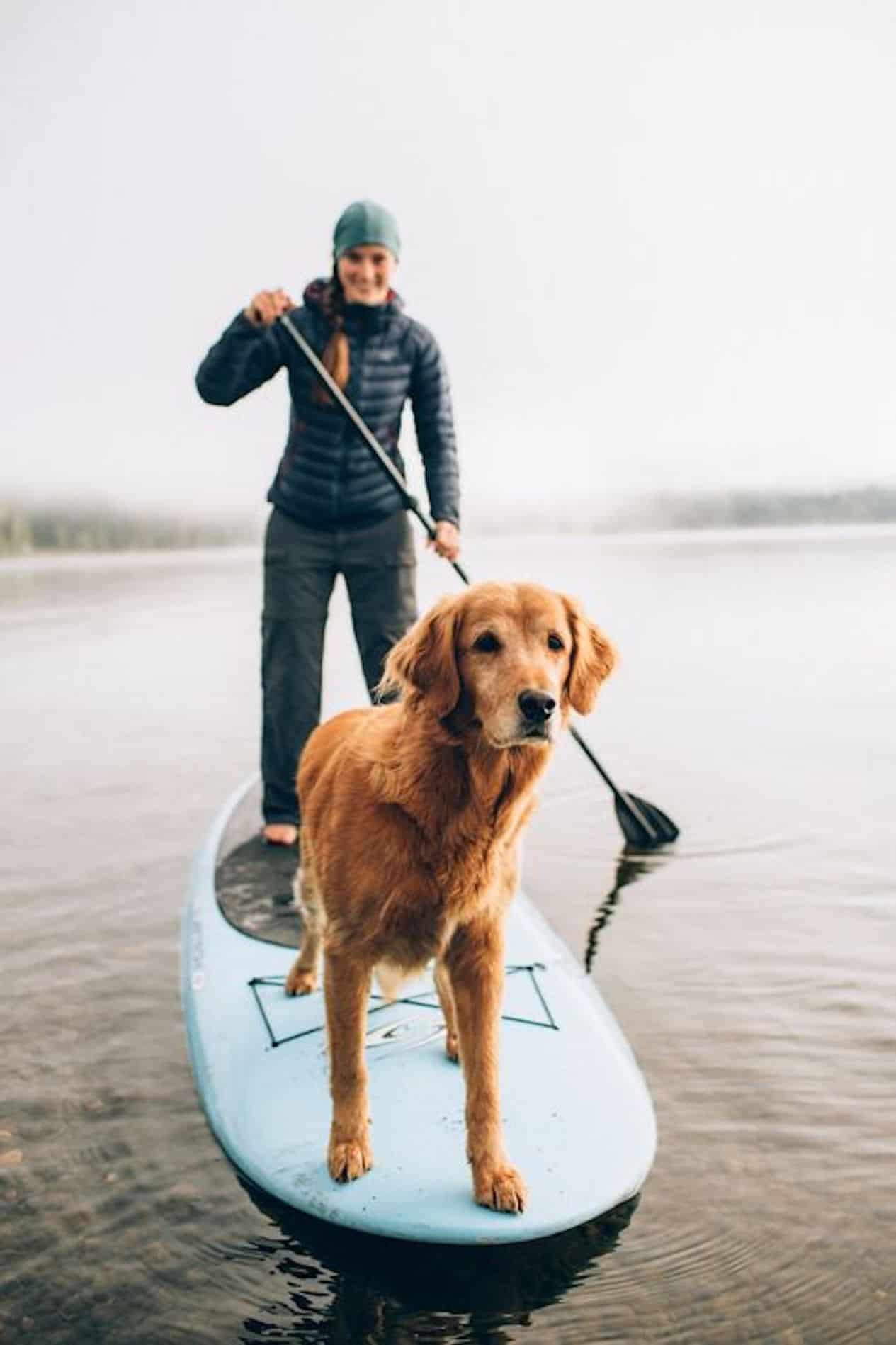 Cooler Weather Seasons
For cold weather paddleboarding, you'll want to wear clothing that will keep you warm and comfortable.
Quick dry leggings or swim leggings
Wetsuit,

depending on how cold it is
Drysuit with baselayer,

for very cold conditions
Waterproof thermal jacket

In addition to your clothing, it's essential to have proper footwear when paddleboarding in the winter or in colder temperatures. Water socks, shoes or sneakers are essential to protect your feet from the cold water. Check out these anti-slip thermal waterproof neoprene socks.
Do I need a wetsuit for paddleboarding?
While it is not required to wear a wetsuit when paddleboarding, it is definitely a good idea to wear during cooler weather. Instead of a wetsuit you can also wear water resistant pants and a thermal jacket over base layers.
Not only will a wetsuit keep you warm and dry in the water, but it also will add that extra layer of protection from any wind and the sun (you can still get a sunburn in the shoulder seasons!).
In terms of thickness, the thicker the wetsuit (in millimetres), the warmer for cold weather and water.

When To Wear a Drysuit for Paddleboarding
You should wear a drysuit if the water temperature is below 60 degrees Fahrenheit or 16 degrees Celsius. These suits are made of waterproof materials that can keep your entire body dry and warm in even the coldest conditions.

If you live in a winter climate and expect to go out in the water, investing in a drysuit to paddleboard all year round is highly recommended.

What To Wear Paddleboarding in the Spring or Fall
In the spring and fall, you'll need to dress for a wide range of temperatures. The best way to do this is by layering your clothing so that you can easily add or remove layers as needed throughout the paddle.
For example, put a thermal long-sleeve shirt or rash-guard over a tank top, and a pair of leggings over swimsuit bottoms.
Also, keep in mind that paddleboarding is quite the workout. So if you want to improve your skill level, strengthen with an at home triceps workout!

Proper footwear is also a good idea when paddleboarding in the spring and fall as it can be cooler, so look into water-resistant or waterproof shoes. There's nothing worse than having cold, wet feet all day long!
Best Shoes For Paddleboarding
When paddleboarding, you have the option to wear shoes or go barefoot. Some people find that wearing shoes provides extra warmth, protection, and stability, while others prefer to go without shoes for better traction and control.
Here are some of the best shoe options to try:

Ultimately, it is up to you what type of footwear you choose to wear when paddleboarding. If you are new to paddleboarding, we recommend starting out without shoes to get used to the feel of the board and develop your balance, and then switch later on to wearing shoes if you need them.
More To Consider When Choosing Paddleboarding Attire
When shopping for clothes for paddleboarding, you want to answer a few questions to help you narrow it down.
What type of activity will you be doing on the water?

Will it be more casual or something that involves high intensity physical activity?
If you're going out for a leisurely day of paddling around in calm waters or doing a paddleboard yoga class, you might be ok with just a bathing suit. However, if you're going into the ocean or rougher waters, it would be wise to invest in a wetsuit that can withstand the conditions.
What type of weather is expected during your paddle?
If it's going to be hot and sunny, you'll want to wear clothing that will help keep you cool and protect you from the sun. If it's going to be cold, windy, or wet, then you'll want to dress in layers, as we mentioned earlier.
Final Thoughts
Paddleboarding is a very fun, outdoor activity that can be done at any time of the year. It can be super relaxing or serve as a great workout depending on the intensity you are going for.
Whether you're looking for what to wear paddleboarding in summer, or what to wear paddleboarding in a cooler season, we hope you found some great tips and inspiration for your next paddleboarding adventure!
Pin me:
More Outdoor Outfit Guides You'll Love:
What To Wear Hiking In The Fall
What To Wear on A Hiking Date in Any Season
What To Wear For Rock Climbing: A Beginners Guide to Indoor & Outdoor Attire
What To Wear To A Salsa Class + 4 Perfect Outfit Ideas!
Christal Sczebel is an entrepreneur, published author, and content creator. Over the past decade she has worked in the digital media field building successful websites for both food and fashion. She has a natural affinity for minimal, timeless fashion, neutral home decor, and styling.
Here on Style Your Occasion, Christal is the Editor-in-chief and brain behind the aesthetic. She hopes you love the this space and the inspiration you'll find!