Learn exactly what to wear for headshots when it comes to clothing and accessories so you look confident and your personality shines through! 
*this post contains affiliate links*
What To Wear For Headshots
For many, photoshoots can be a nerve-wracking experience; these emotions are often heightened when headshots are involved. Corporate, branding, and modeling headshots are becoming increasingly common nowadays with social media. 
As more people invest in headshots, the same question inevitably arises: "What should I wear?" 
As much as your face is the focus of the photos, your attire still matters! Apart from your face, your outfit will draw viewers' attention, so you want to make sure you are selecting pieces purposefully. 
As you prepare for your session, you should consider tops, colors, and accessories, etc.
Photos: @jennywuphotography
Whether you're getting headshots taken for the first time or retaking them, knowing the proper attire for a flattering shot is key. 
Continue reading to learn more about how you should dress for your professional headshots to feel comfortable and confident so your personality shines through the photos. 
What Should a Woman Wear For a Headshot?
Ladies, it seems like the age-old question of what to wear plagues us for any occasion, and taking headshots is no exception. Apart from getting a good night's sleep, preparing your outfit beforehand will help alleviate some of your stress. 
The goal is to wear flattering clothing that isn't distracting as the main focus should be your face.
Choosing a top.
Let's start with the most apparent garment: tops. When you're trying to identify what type of top to wear, the neckline is definitely something to consider. 
There are dozens of necklines to choose from: scoop, v-neck, cowl, high neck, square, halter, and more. Aim for a style that best suits your body shape. For example, if you have a larger bust, a scoop neck will enhance your figure while providing coverage. 
Our favorite tops for headshots include structured button-up shirts with a collar, fitted crewneck or scoop-neck long sleeve tops, lightweight knit sweaters with a v-neckline, crewneck, or half turtleneck (you don't want to cover your entire neck as your face will look larger), or camisole-style tops for headshots used for modeling or branding (versus corporate headshots). 
Shop Tops:

Consider adding a blazer.
 If you're in a more formal field, it's common to wear a collared shirt and pair it with a blazer. 
We recommend choosing a blazer with a tailored fit that won't look too oversized or bunch-up in the photos. 
Shop Blazers: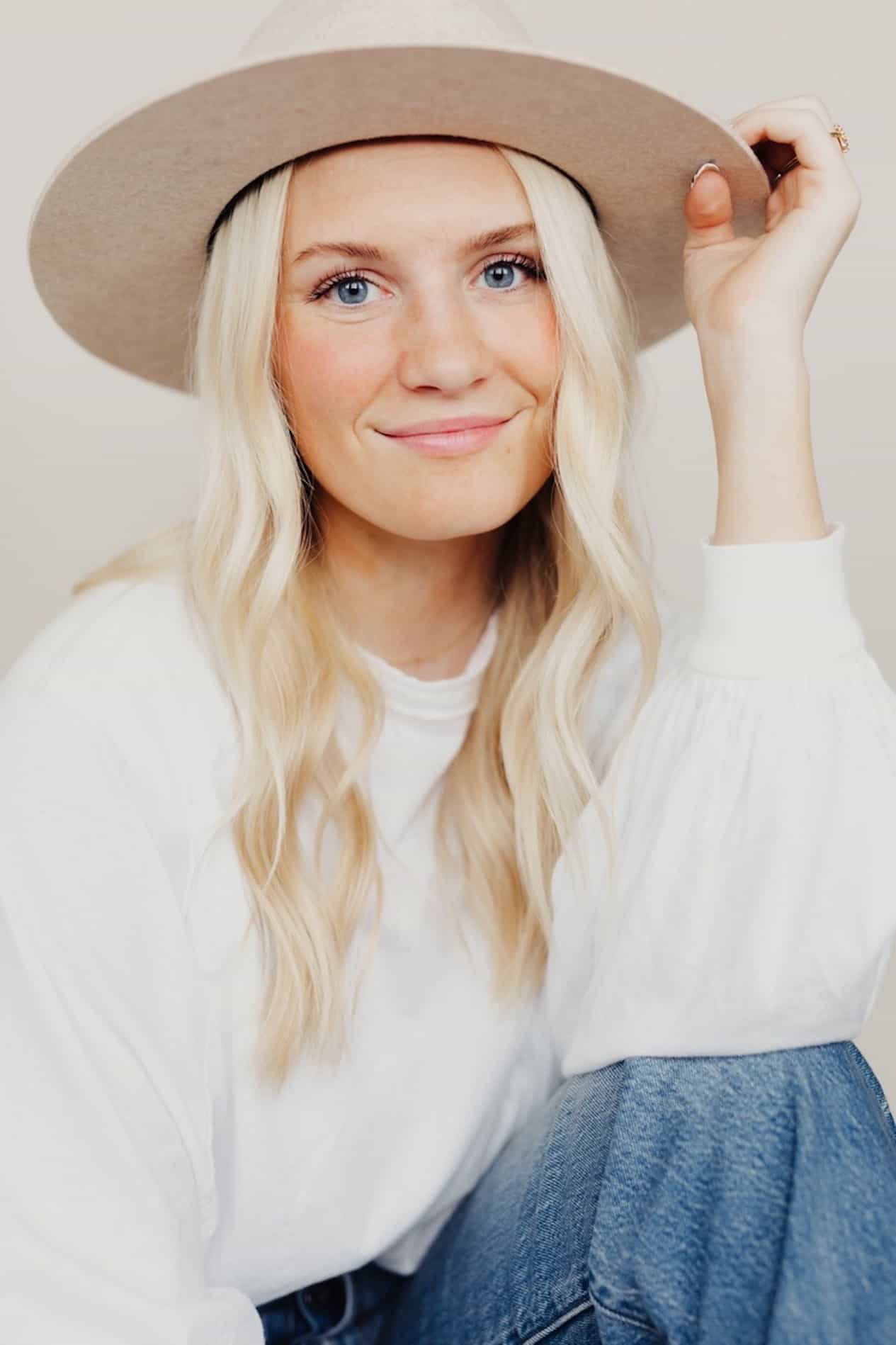 Choosing accessories

.
Jewelry:

Necklaces and earrings present an opportunity to showcase your personality and add in some shape and color. 
However, unless you're in a creative field, try not to get too wild with the jewelry and stick to more dainty, subtle options like gold hoops and a herringbone chain necklace. 
Pro Tip: Avoid overly long necklaces, as they will likely be cropped out from the photo and it may look awkward. 
Hats:

You can also absolutely wear hats for more creative or artistic headshots, especially if a hat reflects your personal style. Just be sure the hat is tipped up slightly to prevent a harsh shadow on your face. 
Pro Tip: If you choose to wear a hat we recommend you style your hair and take some photos without the hat first, then put on the hat near the end of the photoshoot so you can choose between either option. 
Shop Accessories:

Photos: @corinnelouiephoto
What Is The Best Color To Wear For Headshots?
Before determining your outfit's color palette, consider what color the background will be. If it's white, you should wear shades darker than bright white for contrast and to ensure you won't be washed out. 
On the other hand, if the background is dark, you can go with lighter colors that help you stand out, or you can stick with dark for a moodier look, however we recommend you don't wear black on black as you can risk looking like just a floating head! 
Here's a rundown of colors to consider for your headshots: 
Neutral colors:

You really can't go wrong with neutral tones, including black, white, brown, beige, taupe, cream, and white.
These are classic shades that are universally appealing. They pair well with other neutral colors, making them easy styling pieces.
Pops of color:

Though neutral colors are most popular for headshots, a pop of color can help add personality to your photos. However, you want to be purposeful with your choices and not go overboard.
Try to select colors that pair well with your complexion or other garments you're wearing. For example, a red blazer styled with a black or cream top creates a nice contrast that pops on camera.
Shop Colors:

What Should You Not Wear For A Headshot?
When preparing your outfits, learning what not to wear is just as important. To ensure your photos come out professional and flattering, try to avoid the following:
Patterns:

While wearing various patterns can be fun, a photoshoot specifically for headshots is not the ideal occasion for patterns. Loud patterns will inevitably attract the viewers' eye, stealing the attention from the most important part of the photo – your face! Sticking to solid colors is what we recommend.
Unflattering colors:

We've already discussed the importance of colors in your photos. To ensure you're pleased with the results, take some time to determine which colors pair best with your complexion and hair color.
Should You Wear Glasses in a Headshot?
If you wear eyeglasses, you should include them in your headshots so you look the most like yourself. 
If you don't wear glasses, but want to show a range for modeling or acting headshots, you can bring along a non-prescription pair to wear for a few of the photos. 
This goes without saying, but before your session, make sure the glasses are completely spotless! Otherwise, you may end up with visible smudges, resulting in an unprofessional shot. 
Additionally, make sure that your outfit coordinates with the color of your frames for a clean, cohesive look.
How Should You Style Your Hair For A Headshot?
Hair is another critical factor to consider when preparing for your photoshoot. You want to look recognizable in your photos, so consider styling your hair the way you wear it on a regular basis instead of going to a hair-stylist the day of and getting a brand new do. 
Be sure to tame frizz and correct any errant strands with a hot tool or styling products. Also, be sure to bring along a hairbrush to your session to tame any flyaways!
What To Wear For Headshots Male Edition 
This article is mostly directed to women, but we thought we'd include some tips for men too!
Much of the same as above applies:
Try sticking to neutral colors

, as they are universally appealing and have a classier appeal. 

Consider the neckline on your shirt

. A structured dress shirt, or crewneck sweater will appear more corporate-like than a deep v-neck t-shirt, which may be more suitable for modeling headshots. 

Add a blazer

. For professional headshots whether it be corporate, modeling, acting, or branding, a blazer can look really sharp and be easily dressed-up or down depending on the style of shirt you wear under it. 

Consider your accessories.

Watches, glasses, ties, and hats can all be worn for your headshots but we recommend going for subtle options that won't grab too much attention in your photos. 
Below is some great inspiration for what to wear for headshots for males, simple is best! 
(Photos: @douginglish, @ceoportrait, @justinbettman, @wallstreetpaper)
Final Notes
When you are wondering what to wear for headshots remember it's recommended to stick to a minimal, professional style that showcases your face and your personality within your features. You don't want your clothing or accessories overshadowing "you"!
Don't forget to relax, breathe, and have some fun. The first few photos might feel a bit awkward but you'll be smiling and at ease before you know it!
Pin me: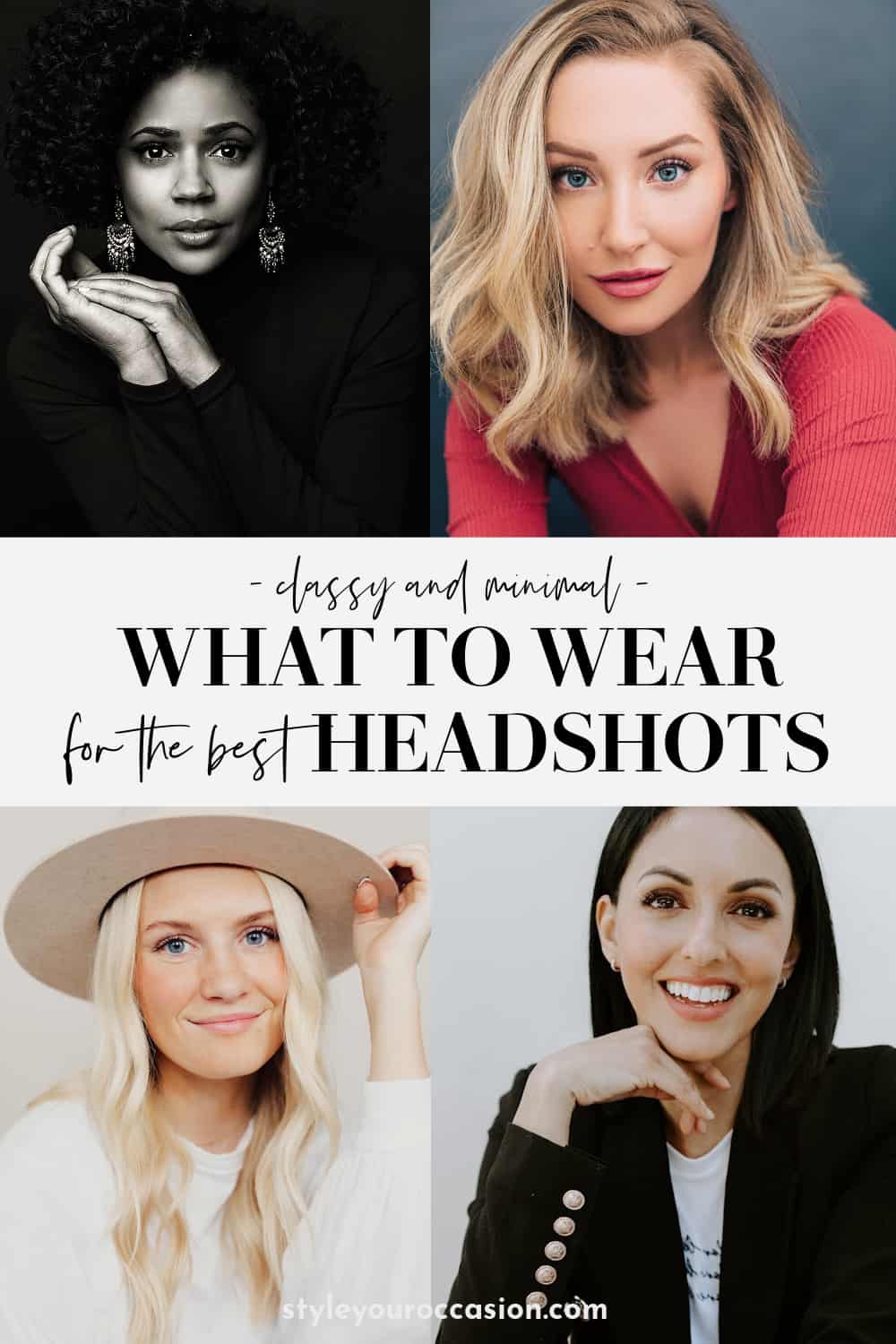 More Style Guides You'll Love:
What To Wear To A Broadway Show
How To Look Expensive On A Budget