You've just sealed the deal, the date is on and you're going…hiking! Find out exactly what to wear on a hiking date in every season so you're comfortable and looking your best at the same time!
*this post contains affiliate links*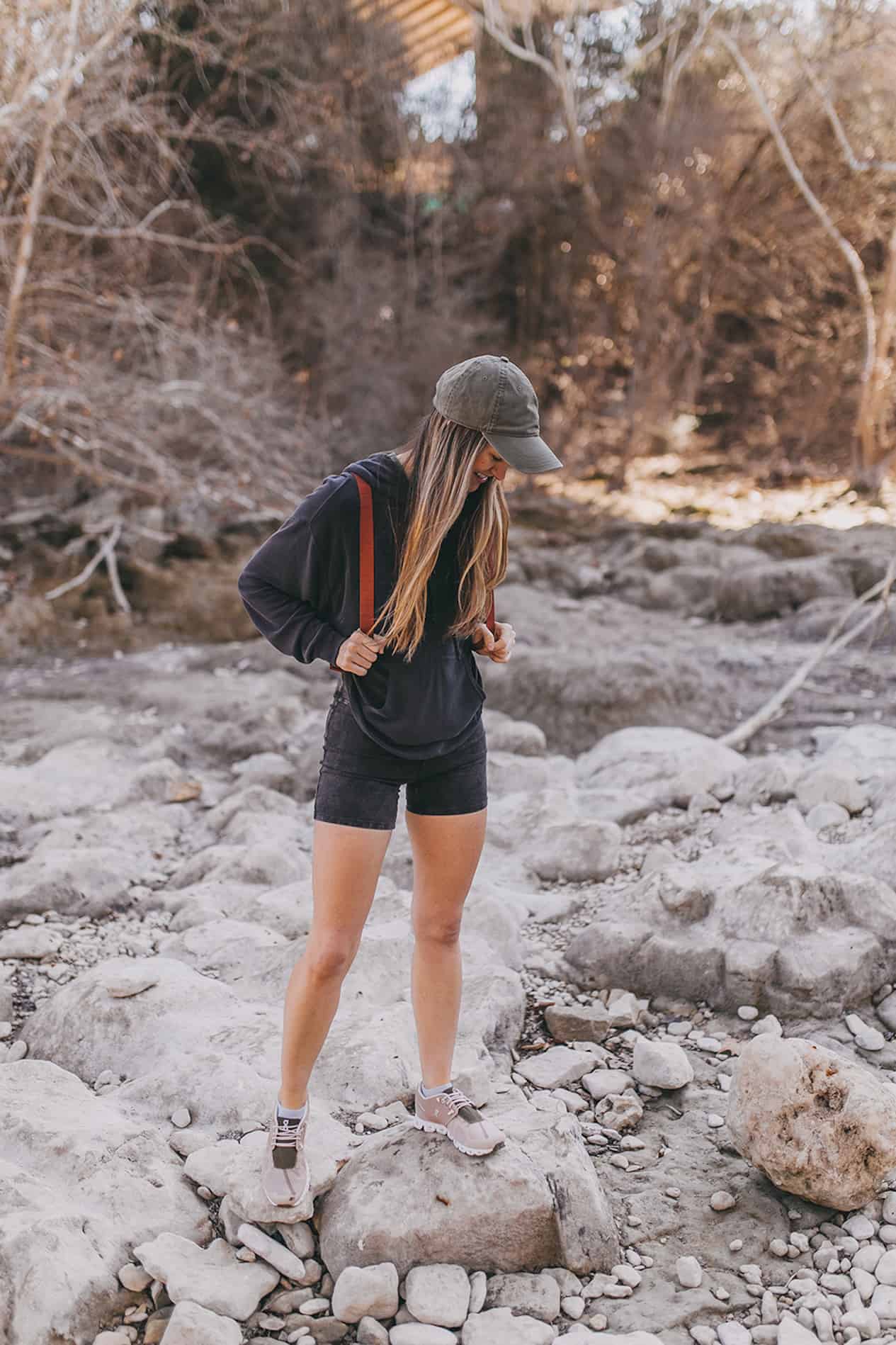 photo: LivvyLand
What should I wear on a hiking date?
If you've made plans with someone who makes your heart flutter and are wondering what to wear on a hiking date… you've come to the right place!
What to wear depends on the season and your own level of comfortability, but there are definitely some key things to consider and outfit guidelines that everyone can follow.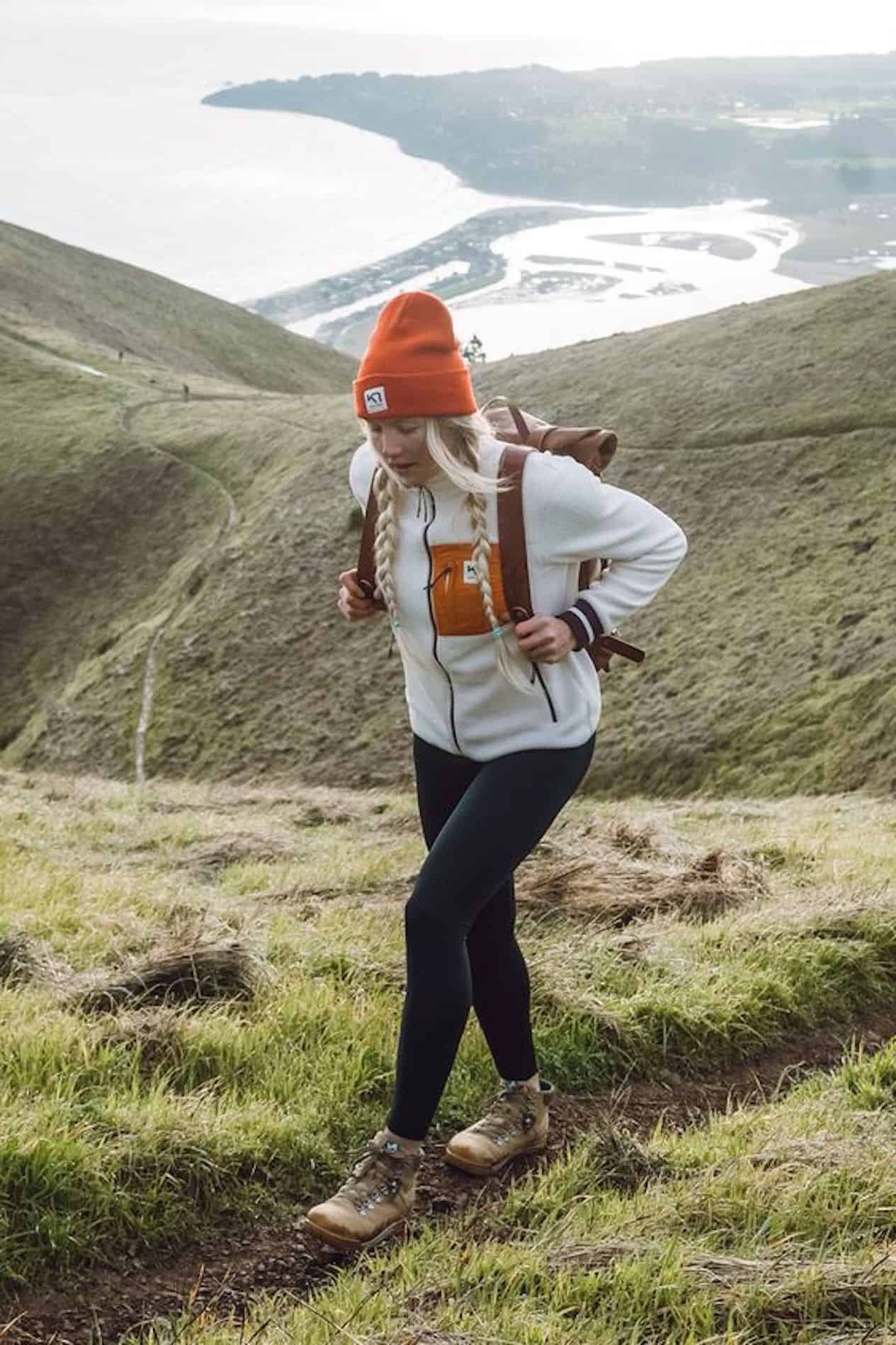 photo: Forsake
We'll get into the details below but here are the main areas we will cover:
Proper footwear
Tops and bottoms
Layers for variable weather
A great backpack and other accessories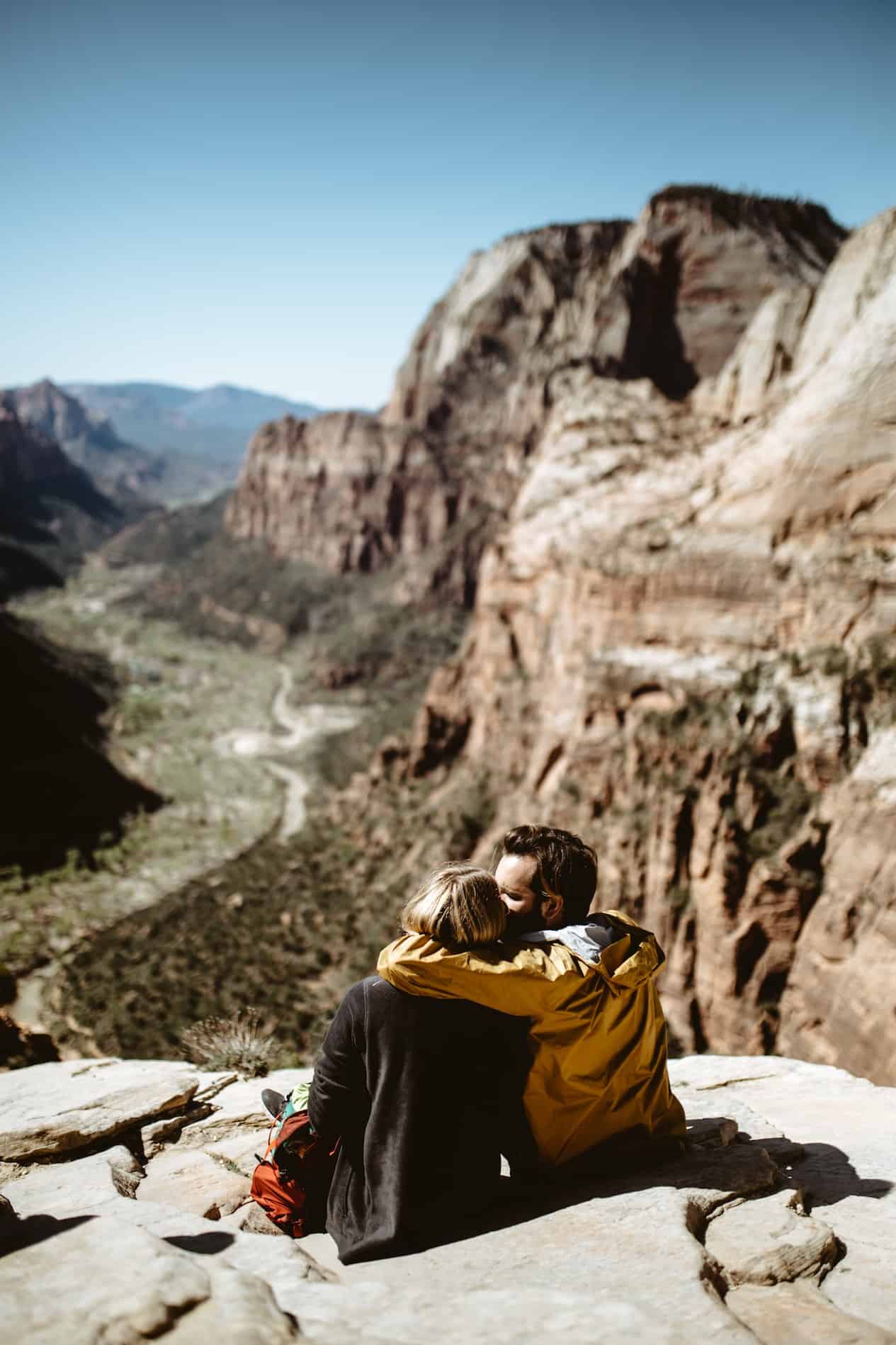 photo: Clarisse Meyer
Is going on a hike a good first date?
Hiking dates can be a ton of fun and can really help put nerves at ease while you are in the fresh air, walking and talking at the same time. When I started dating my now husband the idea of a hiking date was definitely appealing to me as I was not a fan of the "interview" style of date in a coffee shop that ramped up my nerves.
Even if you are a beginner hiker or not at the greatest fitness level, you can choose an easy hike and stop to chat and rest often. IMO hiking dates aren't as much about the actual hike as they are about getting to know your date and working together to accomplish a fun activity.
Here's 10 more reasons why a hiking date is a great idea from Otterbee Outdoors.
photo: Andrea Ference
What shoes should you wear on a hiking date?
When it comes footwear there are a lot of options to choose from. Depending on the season you might opt to go with a pair of sturdy hiking boots, or you might be better off with a great pair of hiking sandals.
Hiking boots (all seasons) – For fall, winter, spring, or summer, you can go with hiking boots that have good traction and are comfortable. Because you might encounter wet areas you'll want to make sure your boots are waterproof or water resistant.
Running shoes with traction (spring, summer, or fall) – If conditions are dry and you aren't going on a difficult hike, or you don't already own a pair of hiking boots and don't want to buy a pair, you can also wear a comfortable pair of running shoes that have good traction – a slip injury on a date wouldn't be the best.
Hiking sandals (spring or summer)- If you think you'll be too hot in hiking boots or runners, you can slip into a pair of comfortable hiking sandals.
Shop Shoes:

photo: No Man Before
Best Tops and Bottoms for a Hiking Date
Clothing options are plenty when it comes to what to wear on a hiking date. You can keep it simple with a pair of leggings and a comfortable t-shirt or tank top, or go with a pair of joggers and a long-sleeve thermal shirt.
photo: LivvyLand
Pro Tip: Stay within your personal style and choose items that you feel comfortable and confident in. Avoid buying a bunch of brand new clothing you aren't used to. On a hiking date you want to be focusing on your date and the beautiful scenery…not adjusting uncomfortable clothing!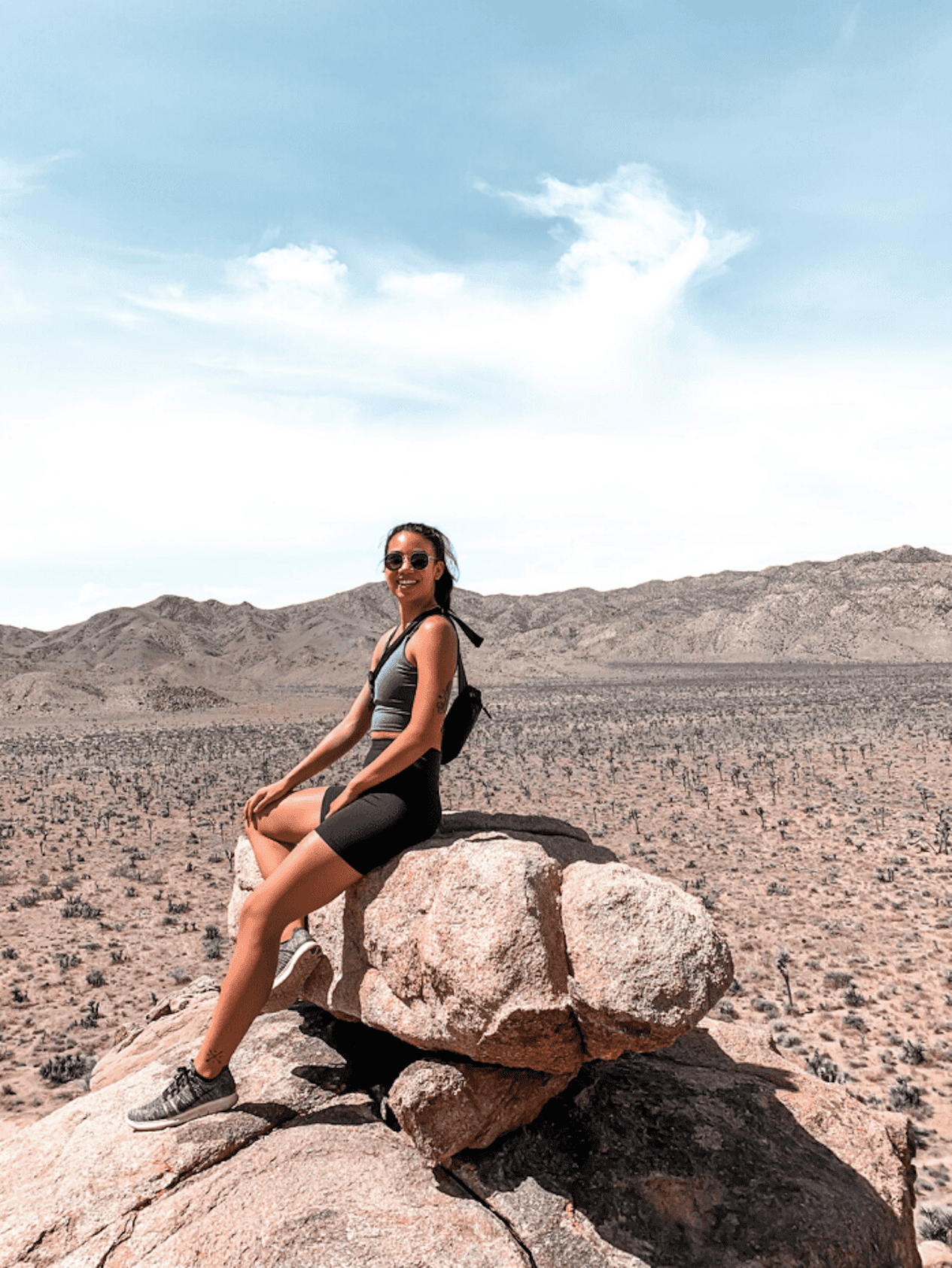 photo: Mariah Manibusan
Here are some ideas depending on the season, listed from warmer weather to cooler weather:
Tops
Spring:
Thermal long sleeve shirt
Summer:
Fall:
Winter:
photo: Lynzy and co
Bottoms
Spring:
Joggers (light or thicker depending on temperatures)
Summer:
Fall:
Winter:
Shop Tops & Bottoms: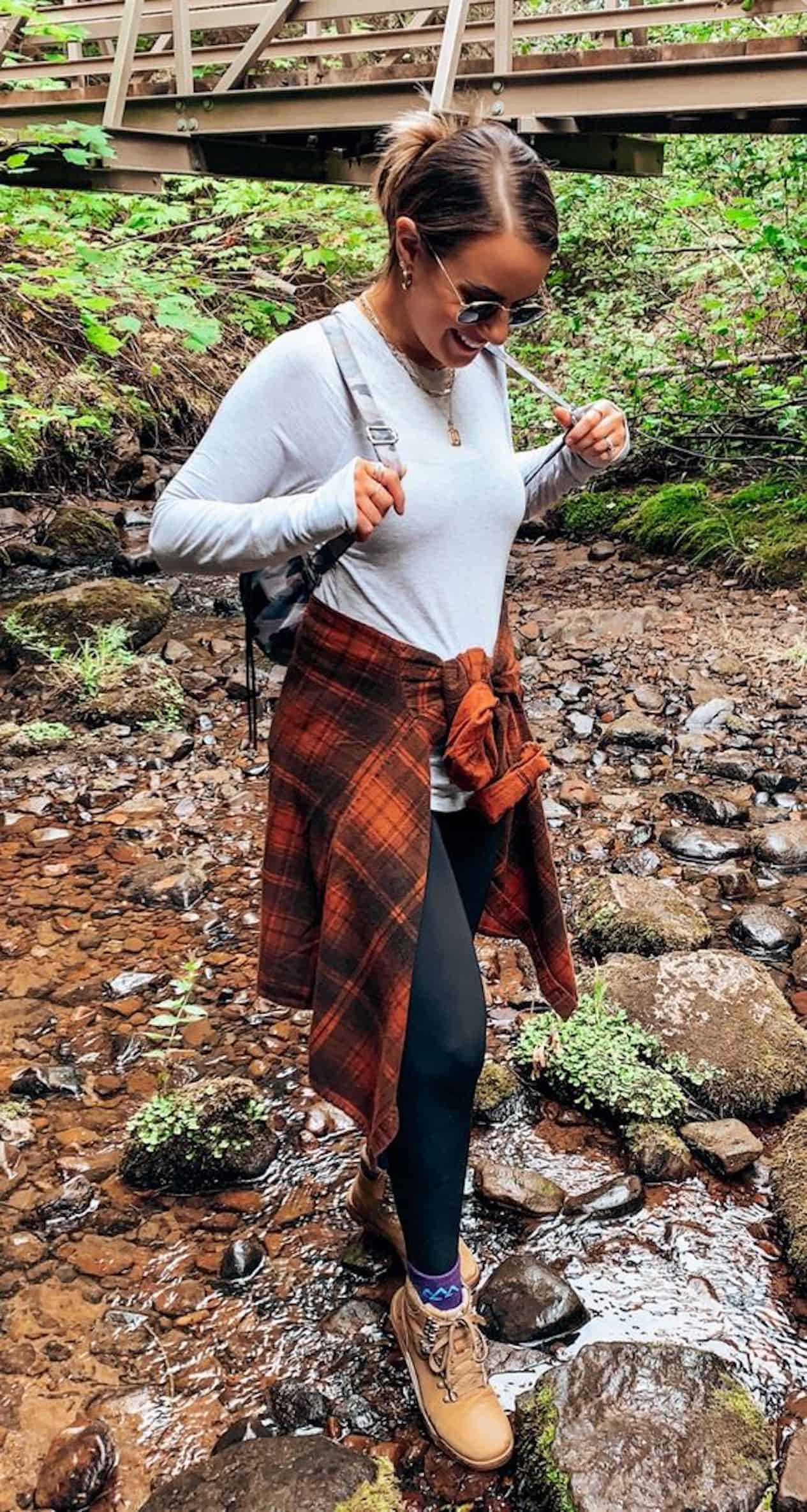 photo: Lo Meyer
Adding in Layers
Bringing along layers on your hike is always a great idea. Then, you can add or remove them as needed depending on the weather.
It's not uncommon for temperatures to change with elevation so you might find you have to put on an extra layer as you hike higher, or on the other hand you might need to remove a layer if you are working up a good sweat.
photo: Rolee
Here are some layering options:
Shop Layers:

photos: Duluth Pack, United By Blue
Don't Forget a Backpack & Accessories!
Bringing along a backpack or even a fanny-pack (or more modernly called a "belt bag"… they can actually look good!) is a must. You'll need a place to store extra layers and any accessories you might choose to bring on your hiking date listed below:
Water bottle (insulated so your water stays cold)
Cell phone (make sure it's fully charged)
Snacks (granola bars, nuts, fruit, etc.)
Hat (especially if it's a hot day)
Beanie (for cooler fall or winter weather)
Gloves (for cooler fall or winter weather)
Wool socks

(thin and lightweight or thicker depending on weather)

Bug spray
Sunscreen
FitBit or Apple Watch (to wear)
Shop Backpacks & Accessories:

photo: Jared Rice
Hiking Outfit Ideas For Each Season
Shop The Look:

Shop The Look:

Shop The Look:

Shop The Look:

What Not To Wear On A Hiking Date
While you likely know that a dress and high heels isn't suitable for a hiking date, there might be some other pieces you haven't considered. Here's what I recommend avoiding for the sake of comfort and practicality.
Jeans or denim shorts – they aren't the most comfortable, aren't sweat-wicking, and if you happen to get wet from an accidental slip in a puddle they don't dry easily.
Flat sneakers, slip on sandals, or flip flops – proper footwear is key when going on a hike, otherwise there's a chance you could fall and hurt yourself.
New shoes or clothes you haven't 'broken in' – as I mentioned before, the more comfortable you are the better, adjusting clothes and dealing with blisters can definitely put a damper on a hiking date!
photo: Lauren Kay Sims
You're all set!
Remember, dates are meant to be fun and care-free and a time to get to know the person you're with. Don't over-stress about your outfit – choose what you feel most comfortable and like yourself in and you'll have a great time!
Pin Me:
Want More Hiking Outfit Inspiration?