Looking for date night outfit inspiration for the fall? Get chic and modern fall date night outfits that have an elevated, minimal, and classy vibe!
*This post contains affiliate links*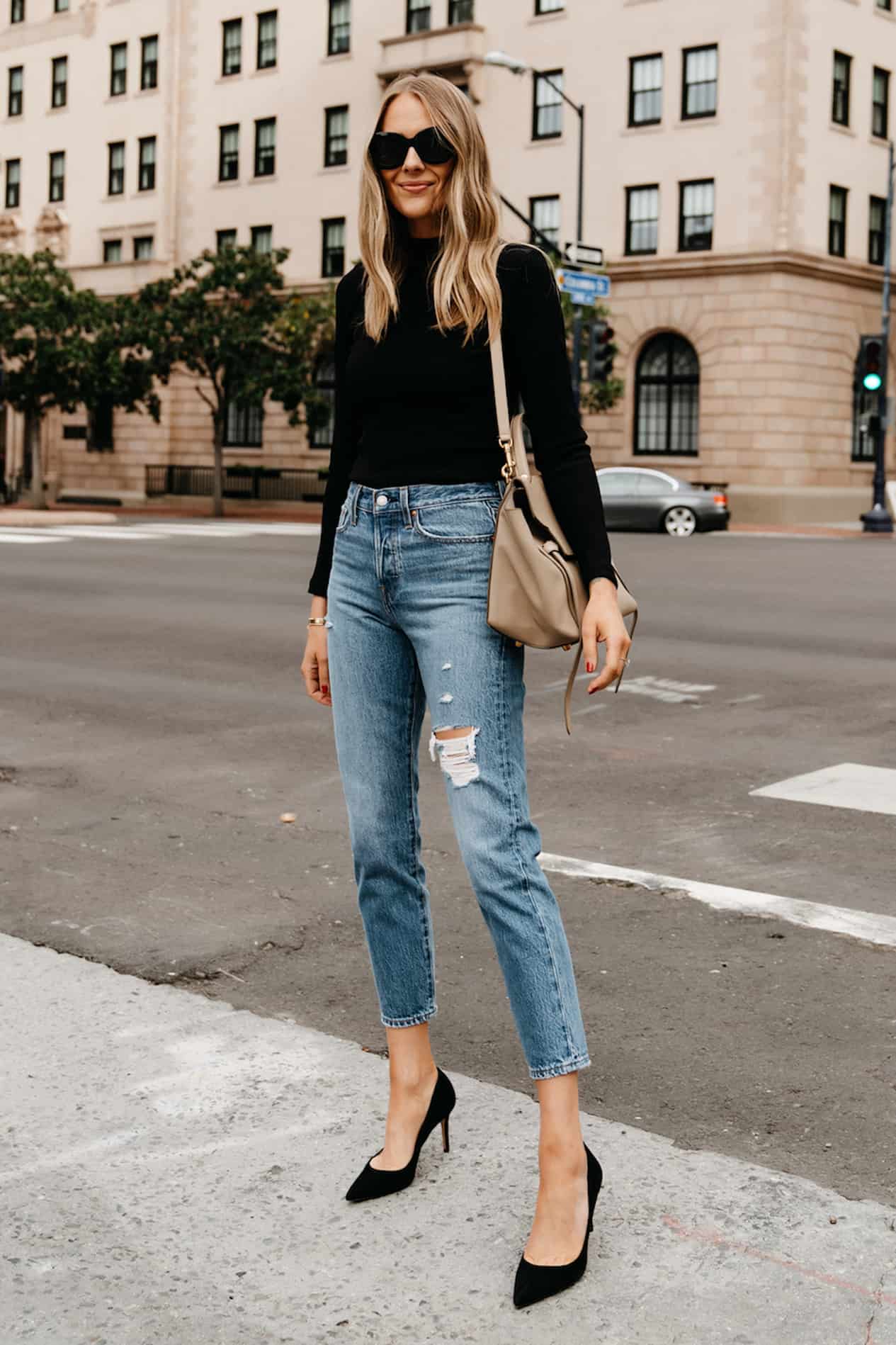 get the look:

As summer transitions to fall, it's time to start thinking about mixing up your wardrobe. As you begin changing out your closet, you might be looking for fall outfit inspiration, specifically fall date night outfits.
We're here to help! Read on for 15+ chic fall date night outfits that you'll look and feel amazing in.
Cute Fall Date Outfits
Date night outfits can be tricky. For starters, the date night activity has a lot to do with what outfit you'll put together.
You'll also want to make note of the weather to insure that you are comfortable enough to focus solely on your date. From a first date, casual date night, formal date and everything in between, we've got the perfect fall date night outfits for you!
get the look:

How should I dress for a date night in fall?
Light layers, sweaters, jeans, sweater dresses, and boots are all excellent fall date night outfit options. Choose mostly neutrals like ivory, cream, black, and grey paired with rich, fall colors like rust, forest green, camel, and brown.
When it comes to dressing for fall date nights, choose pieces that are versatile and that you feel your best in. Because, when you feel your best, you look your best!.
Additionally, play with fabrics and textures. Silk, satin, cashmere, and leather are subtly sexy options. Get dressy date night outfit inspiration below!
silk slip skirt + boots.
get the look:

A silk or satin slip skirt with a basic tank and lug boots is a great look to rock at a concert or drinks on a rooftop. Throw a cozy sweater over your shoulders for a layer of warmth and to create an effortless look.
This outfit is cool, chic and absolutely timeless. You'll be grabbing these pieces anytime you have a fun date night planned.
midi dress +heels.
get the look:

This more formal fall outfit is perfect for a fall wedding date. The pumpkin spice color of this midi dress is everything fall is made of.
Throw on some strappy black sandals, and you'll be the best dressed wedding guest. If it gets a little chilly, a black leather jacket would be fabulously chic atop this show-stopping gown.
If rust isn't your color, opt for a black midi dress, or an earth tone floral pattern.
leopard dress + red pumps.
get the look:

We love animal print for fall. A leopard or cheetah print midi dress is a neutral staple in our fall handbook.
For a pop of color, pair your animal print with a red heel. Not in to animal print? A floral midi dress would look just as chic.
No matter your preference, you'll look sophisticated and fun for a dinner, wedding or cocktail lounge date night.
olive slip dress + nude heels.
get the look:

Another more formal fall dat night option, this olive green slip dress is super sexy and great for a warm evening in early fall. With this look, you'll shine at any September or early October wedding or formal date.
Again, a black leather or suede jacket could be a great added touch, and add a layer of warmth if it cools down at night.
Wanting to wear a satin slip dress to a more casual event? Switch out the heels for some black leather boots and you'll be ready for anything!
Casual Date Night Outfits 2022
Choosing an outfit for a casual date night can sometimes be a bit challenging. You want to look classy and chic, but not too dressed up.
If you are going to a movie, for a walk in the park, eating at a casual restaurant or simply spending time with your date at home, you'll want to look cute but still feel comfortable. No matter what your casual date night plans are, we have outfit ideas below that are sure to please.
striped knit + leather leggings.
get the look:

This cute and casual outfit is perfect for an afternoon or evening where you may be walking a bit. Pair sleek black leather leggings with a slightly oversized sweater for a put-together, laid-back look.
Add a pair of low heeled suede ankle boots and you'll feel chic but still be able to walk comfortably.
knit tunic + straight leg jeans.
get the look:

A sleeveless sweater or tunic is the perfect transition piece for those warmer fall days and nights. We love how this sweater is paired with vintage-wash black jeans and a heeled bootie for an effortlessly cool look.
This outfit is casual, but still chic. You can dress it up or down depending on your date night activity. If you're planning on walking a lot, you may want to switch out the booties for a lower heel or sneakers.
knit sweater, jeans + kitten heels.
get the look:

We love a straight-leg vintage-wash denim for a casual date night. It definitely screams comfy, cool, and effortless.
Pair your jeans with a cozy knit sweater and low pumps or kitten heels for an elevated look. This fall date night outfit is perfect for dinner and a movie or drinks at a semi-casual spot.
oversized cardigan + leather leggings.
get the look:

Want to be as comfortable as possible but still look chic? Black leather leggings and an oversized cardigan is the perfect way to achieve this.
With this outfit, you'll look and feel cute, cozy, and still dressed-up enough for a first date. Plus, if you get a little warm, you can always shed the cardigan and rock a knit ribbed cami underneath.
This truly is the the perfect early fall casual date night outfit.
What do you wear on a cold date night?
On a cold date night the best options include warm wool coats, shearling jackets, knit sweaters, cozy cardigans and all the boots. Some people think that cold date nights are hard to dress for, but that couldn't be further from the truth!
Chilly nights mean chic jackets and all the cuddling potential. Take a look at some of our favorite cold date night outfits below.
faux fur jacket, denim + boots.
get the look:

Our favorite cold date night look includes a cozy faux fur coat. Pair the coat with straight-leg denim, a fitted turtleneck or crewneck sweater and heeled booties.
This look is great for a chilly night on the town or an outdoor concert. It's also great for a casual dinner.
An outfit like this is also very versatile, effortless and timeless because of the use of neutrals and staple wardrobe essentials.
leather pants + layers.
get the look:

Want to stay warm on your fall date night but don't want to wear a bulky jacket? Layer a turtleneck sweater under a comfy cardigan to stay warm and still look chic all evening.
To keep this look from getting too casual, put on a pair of stylish leather pants. Then, add heeled booties to elevate the outfit even more. Choose the height of the heels on your boots depending on the amount of walking you'll be doing.
This outfit is perfect for anything the night may throw at you!
all black with a pop of snakeskin.

Hopping around town on your chilly date night? Nothing is better for cold weather than a shearling utility jacket and a chunky scarf.
You'll be warm all night in this timeless look. To spice it up a little, wear a snakeskin print ankle boot. This is a perfect way to elevate neutral basics with an edgy print and pop of color.
What should I wear on a 2022 first date?
On a first date in 2022, it's best to aim for a simple, yet elegant outfit. 2022 is all about timeless neutrals so go with jeans, heeled ankle boots, neutral tops, and uncomplicated pieces.
You're already nervous enough on a first date, you don't want to be overthinking everything you're wearing. Read on for our favorite first date outfit picks.
sweater dress + low heels.
get the look:

We always love a black sweater dress, but we especially love the look on a first date. This is a great outfit for happy-hour dates after work.
You'll look polished and put together in a knit dress, without looking like you spent the entire night before concocting the perfect outfit (our lips are sealed)!
Two toned pumps add a bit of interest to outfit, while still looking chic and timeless.
leather pants + dressy top.
get the look:

Will you be grabbing dinner and drinks at a fancy cocktail lounge for your fall date night? We've got the perfect outfit for you.
Black leather pants are sexy, yet subtle. Pair them with a flirty silk top and simple black pumps for an elevated look. One look at you in this outfit, and you'll definitely be getting a second date invitation!
leopard slip skirt + leather jacket.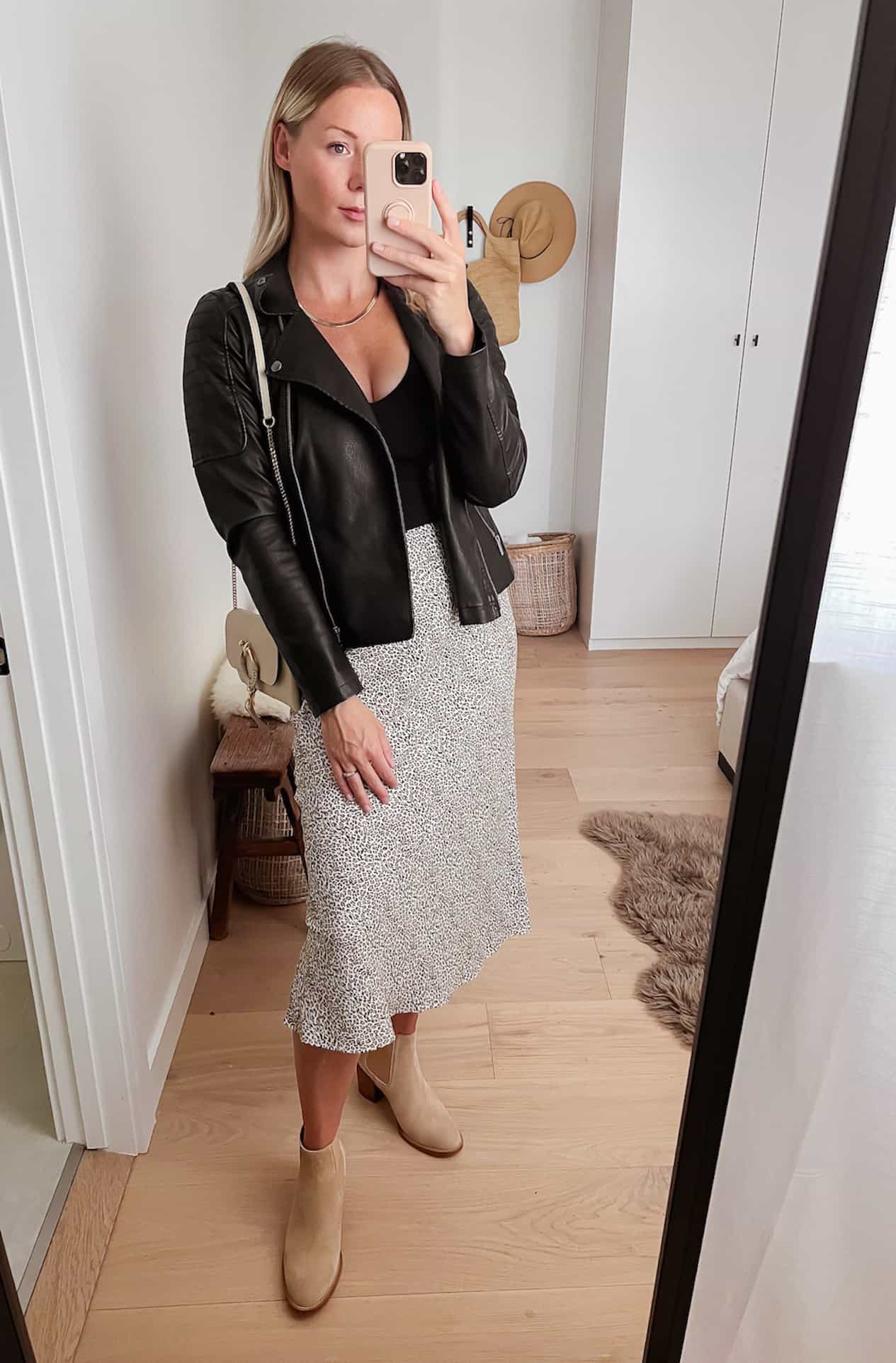 get the look:

Not sure where the night will lead you? We've been there. For those date nights where you are going with the flow, we suggest comfy boots, a feminine midi skirt and a cool leather jacket.
This outfit is great for the surprise date. You'll look put together at a bar, concert venue, walk in the park, dinner, or at a movie. It's basically the perfect, versatile fall date night outfit, and you'll be turning heads in all the right ways.
Final Notes
If you are wondering what to wear on your upcoming date night, we hope these chic fall date night outfits have inspired you! Remember, light layers, leather jackets, midi skirts and boots are excellent fall-friendly pieces.
With these looks, you'll be commanding your dates attention and you'll feel chic and put-together.
More Fall Style Inspiration You'll Love:
What To Wear When Meeting His Parents: 10+ Perfect Outfits
15+ Coffee Date Outfit Ideas That Are Classy & Casual
15+ Sexy Outfit Ideas That Are Seductive & Classy
10+ French Lingerie Brands That Should Be On Your Radar
17+ Leather Pants Outfit Ideas That Prove You Need A Pair
14+ Modern Fall Winery Outfits To Try
The Best Shoes To Wear With Sweater Dresses
How To Wear A Sweater Over Dress: Chic Outfits + Tips To Own This Look!
What To Wear With Faux Leather Leggings: Chic + Modern Outfits To Try
How to Wear a Poncho: Chic + Modern Outfit Ideas To Try
What To Wear On A Hiking Date In Any Season
What To Wear To The Ballet: 11+ Chic and Elegant Looks To Try