Looking for fall date outfits that are chic and stylish? You'll love this list of 20+ chic and modern fall date night outfits that have an elevated, minimal, and classy vibe!
*This post contains affiliate links*
Originally published August 2022, Update July 2023
My Fave Cute Fall Date Outfits
As summer transitions to fall and you begin changing out your closet, you might be looking for fall outfit inspiration, specifically fall date night outfits. I'm here to help! Read on to see my favorite chic fall date night outfits, as well as looks from my favorite fashion influencers!
Whenever I head out on a date with my hubby, I want to make note of the weather to ensure that I am comfortable enough to focus solely on him. From a first date, casual date night, formal date, and everything in between, I've compiled several fall looks I think you'll love!
How should I dress for a date night in fall?
The best way to dress for fall is in light layers, sweaters, jeans, sweater dresses, and boots or heels! These are all my favorite pieces to pair together for a chic fall date night outfit. I also choose mostly neutral colors like ivory, cream, black, and grey paired with rich, fall colors like rust, forest green, camel, and brown.
When creating a fall date night look, I always choose pieces that I feel my best in, because, when I feel my best, I look my best! I love to play with fabrics and textures to create eye-catching outfits including silk, satin, suede, cashmere, and leather. These fall-friendly fabrics are subtly sexy options that are great for date nights.
Scroll on for inspiration!
leopard slip skirt + leather jacket.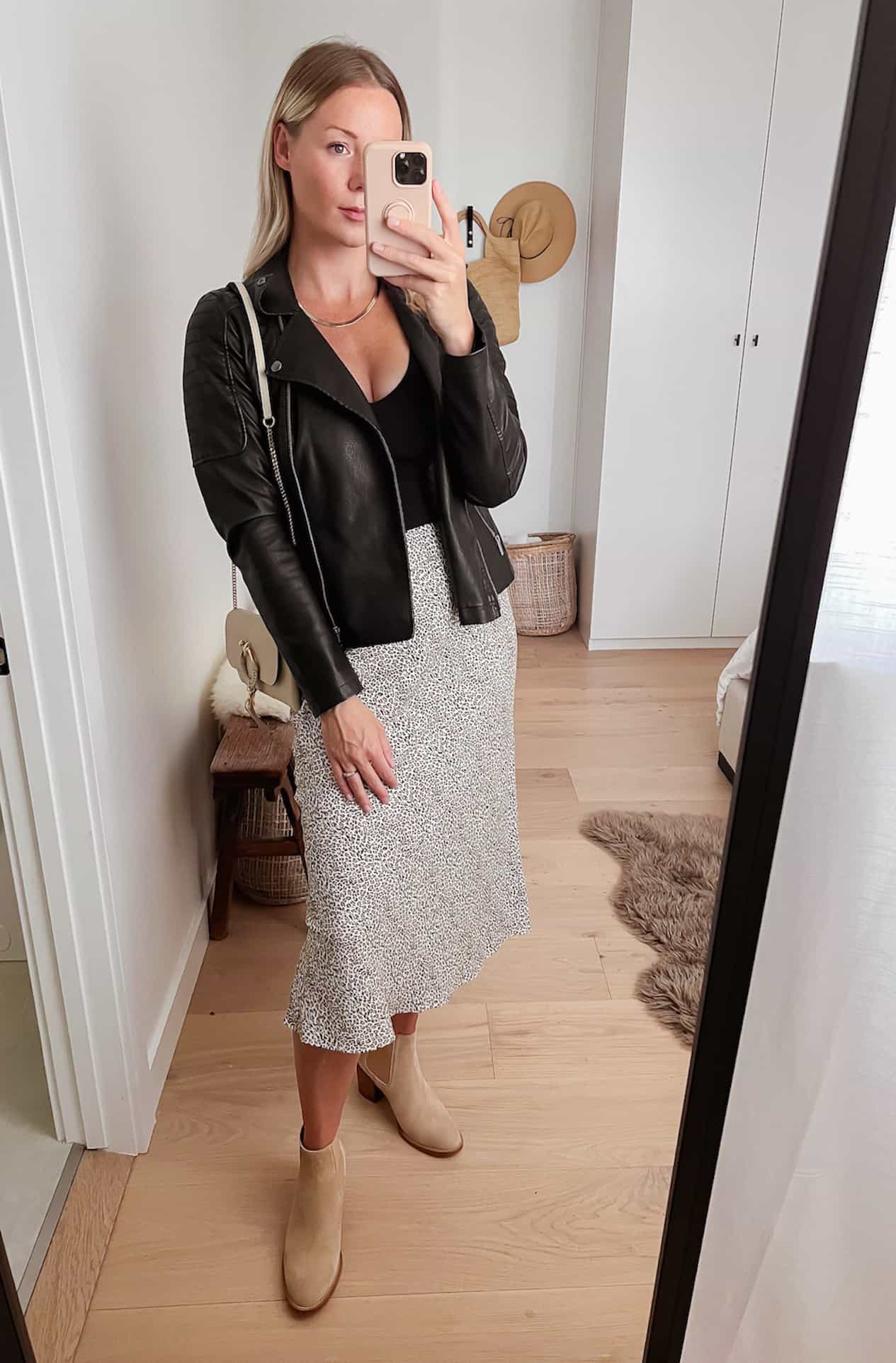 get the look:

Not sure where the night will lead you? I've been there. For those date nights where you are going with the flow, I suggest comfy boots, a feminine midi skirt, and a chic leather jacket.
This is one of my favorite outfits for the "surprise" date. In this combo, you'll look put together at a bar, concert venue, walk in the park, dinner, or at a movie. It's basically the perfect, versatile fall date night outfit, and you'll be turning heads in all the right ways.
Pro tip: Be sure not to leave for your date with clumpy lashes – try these hacks for how to fix dry mascara!
black slip dress + ribbed cardigan.
get the look:

When it comes to date nights, I believe you can never go wrong with a little black dress. A silky slip dress has a sexy yet refined feel that's perfect for a night out.
In this look, I opted for a simple long-sleeve black cardigan for extra coverage. You choose a fitted style like mine to keep your outfit sleek and sexy or go for an oversized fit if you want a cozy feel.
And the perfect way to spice up an all-black outfit like this – accessories! I chose to accessorize with a leopard print clutch and Western-inspired ankle boots to add some warmth and show off my playful side too!
chunky sweater + mini slip skirt.
get the look:

Luckily, when it comes to fall date nights, you can have an outfit with a seductive feel while staying warm. In this look, I went with a mini slip skirt for a sexy, feminine touch, and layered a cozy knit sweater on top for added warmth. An oversized turtleneck is my favorite option!
Ankle boots are also great for staying warm in cold weather – I love these Poppy Barley boots with a Western-style to add a bit of fun to the outfit. If it's a particularly cold night, I would add some sheer stockings under my skirt that wouldn't take away from the overall vibe!
knit sweater, jeans + kitten heels.
get the look:

I love a pair of straight-leg, vintage-wash denim for a casual date night. In my opinion, this outfit definitely screams comfy, cool, and effortless.
To get this look, pair jeans with a cozy knit sweater and low pumps or kitten heels. This fall date night outfit is perfect for dinner and a movie or drinks at a semi-casual spot.
oversized cardigan + leather leggings.
get the look:

Want to be as comfortable as possible but still look chic? I get it! Black leather leggings with an oversized cardigan is the perfect way to achieve this.
With this outfit, I always look and feel cute, and cozy, but still dressed up enough for a date night. Plus, if I get a little warm, I can always shed the cardigan and rock a knit ribbed cami underneath.
This truly is the perfect early fall casual date night outfit.
denim midi skirt, bodysuit & leather jacket.
get the look:

My long denim skirt is one of the newer additions to my wardrobe and I absolutely love how versatile it is. Because of its length, it's the perfect choice for an early fall date night.
I paired it with a black bodysuit and kitten-heel sandals, although I'd switch out the sandals for heeled ankle boots if the night was going to be chilly.
The black leather jacket is the perfect cherry on top, in my humble opinion! It's sexy and adds an edgy element to the look. To finish, I've gone with my favorite designer shoulder bag, but you could easily bring a simple clutch or a cute purse with a pop of color like red or a metallic finish.
knit midi dress, leather jacket + boots.
get the look:

If I want to feel cute but casual on a fall date night, I'd opt for a comfortable knit midi dress with a leather jacket and Chelsea boots. This look is dressy enough for date night but comfortable enough for lots of walking and hanging out in.
This look would be perfect for a comedy club date, visiting a new restaurant, or taking in a wine tasting at a winery.
silk slip skirt + boots.
get the look:

Next is a look from the beautiful Sylvie, one of my favorite style icons.
In this outfit, a silk or satin slip skirt with a basic tank and lug boots make the perfect combo for a concert date or drinks on a rooftop. Throw a cozy sweater over your shoulders for a layer of warmth like Sylvie, and you can easily recreate this effortless look.
In my opinion, this fall date night outfit idea is cool, chic, and absolutely timeless!
midi dress +heels.
get the look:

This next look on Karina is a more formal fall outfit that is perfect for a fall wedding date. The pumpkin spice color of this midi dress is everything fall is made of.
I love the addition of strappy black sandals to keep it classy, and if it gets a little chilly, a black leather jacket would be fabulously chic atop this show-stopping dress.
If rust isn't your color, opt for a black midi dress, or an earth-tone floral pattern.
leopard dress + red pumps.
get the look:

I absolutely love animal print for fall. Seanna looks amazing in this leopard print midi dress, which is a neutral staple in my fall handbook. For a pop of color, I love that she paired her animal print with a red heel.
Not into animal print? A floral midi dress would look just as chic.
Dressing to the nines and putting in that extra effort to look beautiful for your beau is one of the many ways how to show someone you love them. And in a dress like this, you're significant other will have no doubts in their mind!
Mini sweater dress + tall suede boots.
get the look:

This next fall date night outfit idea on Jamie is sexy, yet warm and cozy. I love the combo of the knit mini dress with the tall suede boots. The suede is perfect for fall and the sweater dress gives a cozy feel while still showing a little leg.
On a chillier evening, I would recommend the addition of a long, belted wool coat, to add warmth while keeping the vibe elevated and classy.
olive slip dress + nude heels.
get the look:

Natalie brings us another more formal fall date night option with an olive green slip dress. This look is super sexy and great for a warm evening in early fall. Again, I'd recommend a black leather or suede jacket (or a black blazer) as an added layer of warmth if it cools down at night.
Do you want to wear a satin slip dress to a more casual event? Switch out the heels for some black leather boots and you'll be ready for anything!
leather pants + dressy top.
get the look:

Will you be grabbing dinner and drinks at a fancy cocktail lounge for your fall date night? Go with this stylish outfit on Dileiny of @lovefashionfriends.
The black leather pants are sexy, yet subtle, and paired with a flirty silk top and simple black pumps, the overall look is elevated and polished. One look at you in this outfit, and you'll definitely be getting a second date invitation!
Casual Date Night Outfits For Fall 2023
Choosing an outfit for a casual date night can sometimes be a bit challenging. You want to look classy and chic, but not too dressed up.
Whether you are going to a movie, for a walk in the park, eating at a casual restaurant, or simply spending time with your date at home, I have great outfit ideas below that you are sure to love!
knit tunic + straight-leg jeans.
get the look:

A sleeveless sweater or tunic is the perfect transition piece for those warmer fall days and nights. I love how this sweater on Lauren is paired with vintage-wash black jeans and heeled booties for an effortlessly cool look.
This outfit is casual but still chic. You can dress it up or down depending on your date night activity. But if you're planning on walking a lot, you may want to switch out the booties for a lower heel or sneakers.
denim midi skirt + suede.
get the look:

A denim midi skirt paired with a suede jacket is a seriously stunning combination!
I love the warm tones from the brown suede jacket and boots that instantly give this outfit on Santina a fall feel. And the midi skirt will add warmth while keeping a chic and feminine vibe.
I love the idea of a suede shirt jacket like this one to keep you cozy on a chilly fall evening, and the oversized fit has a relaxed vibe that I'm digging. With an outfit like this, you're sure to look stylish and feel confident all night!
What do you wear on a cold date night?
Cold weather should never get in between you and date night. Here are some of the best pieces to wear for an extra cold date night:
Wool coat
Shearling jacket
Knit sweater
Cardigan
Tall boots or ankle boots
Turtleneck sweater
Leather pants
Jeans
Suede skirt
Sweater dress
Scarf
Chilly nights mean chic jackets and all the cuddling potential. Take a look at some of my favorite cold date night outfits below.
faux fur jacket, denim + boots.
get the look:

Leave it to Julia to create a gorgeous cold date night outfit with a cozy faux fur coat. I love how she paired the coat with straight-leg denim, a fitted turtleneck sweater, and heeled booties.
This look is great for a chilly night on the town, an outdoor concert, or a casual dinner. In my opinion, an outfit like this is also very versatile, effortless, and timeless because of the use of neutrals and staple wardrobe essentials.
leather pants + layers.
get the look:

Gahhh, I just love this fall date night outfit by Jordanna Sharp.
In this outfit, she effortlessly layers a ribbed tank under a knit cardigan to stay warm and still look chic all evening. And the leather pants make the whole ensemble more dressy.
Then, to elevate the outfit even more, she adds a stunning pair of deep red suede slingback heels. The perfect pop of fall color!
I'd wear this classy combination for a date at a museum!
all black with a pop of snakeskin.
get the look:

Hopping around town on your chilly date night? Nothing is better for cold weather than a shearling utility jacket and a chunky scarf.
This date night outfit on Emma is timeless and chic, but the addition of the snake print booties spices up the look just enough! Adding printed boots to your outfit is a perfect way to elevate neutral basics.
What should I wear on a first date in 2023?
On a first date in 2023, it's best to aim for a simple, yet elegant outfit. This year has been all about timeless neutrals so go with jeans, heeled ankle boots, neutral tops, and uncomplicated pieces.
You're already nervous enough on a first date, you don't want to be overthinking everything you're wearing. Read on for my favorite first date outfit picks.
sweater dress + low heels.
get the look:

I always love a black sweater dress, but I especially love the look on a first date. This outfit on Ewelina would be perfect for a happy-hour date after work.
In this ensemble, you'll look polished and put together without looking like you spent the entire night before concocting the perfect outfit (my lips are sealed)!
go monochromatic
get the look:

I love a good monochromatic look – and Brenna has created the perfect combo above. And since the cold seasons are the perfect time to wear dark tones, a full-black outfit is a great choice!
A black monochromatic outfit instantly gives off a sophisticated and stylish vibe. The jeans and turtleneck are cool-weather pieces that look so chic together, and the pointed black boots add another elegant touch.
Finish this look by layering an oversized blazer or a black wool coat and you'll be ready for anything the night sends your way!
suede mini skirt + boots
get the look:

If you're going for a look that has a cute and girly vibe – this look from Amanda might be just for you!
Suede skirts are sexy and stylish pair perfectly with a chic black sweater. Over-the-knee black boots are so gorgeous with a mini skirt, and they elongate your legs while adding some extra warmth.
I would also recommend switching to a cardigan and knit tank instead of the sweater if you want the option of removing a layer in case it gets too hot in a restaurant, bar, or wherever you spend your date night!
Final Notes
I hope these chic fall date night outfits have inspired you! Remember, light layers, leather jackets, midi skirts, and heeled boots are excellent fall-friendly pieces.
With these looks, there's no doubt you'll be commanding your date's attention, and feel chic and put-together too!
More Fall Style Inspiration You'll Love:
What To Wear When Meeting His Parents: 10+ Perfect Outfits
15+ Coffee Date Outfit Ideas That Are Classy & Casual
12+ Flattering Plus-Size Thanksgiving Outfits You'll Want To Try
15+ Sexy Outfit Ideas That Are Seductive & Classy
10+ French Lingerie Brands That Should Be On Your Radar
17+ Leather Pants Outfit Ideas That Prove You Need A Pair
14+ Modern Fall Winery Outfits To Try
The Best Shoes To Wear With Sweater Dresses
How To Wear A Sweater Over Dress: Chic Outfits + Tips To Own This Look!
What To Wear With Faux Leather Leggings: Chic + Modern Outfits To Try
How to Wear a Poncho: Chic + Modern Outfit Ideas To Try
What To Wear On A Hiking Date In Any Season
What To Wear To The Ballet: 11+ Chic and Elegant Looks To Try