Looking for stylish boots like Doc Martens? You have to see these incredible (and affordable) alternatives to Doc Martens that will make you do a double-take.
*this post contains affiliate links*
Originally published May 2022, Updated June 2023
The Best Boots Like Doc Martens
Dr. Martens (also known as "Doc Martens" or "docs") were never intended to be iconic as they are today. The boots were originally designed for workers in the 1960's and became trendy when they were adopted by the British punk crowd years later.
Since then the boots have deservingly established a place among iconic fashion brands and are worn by celebrities and the every day fashion junkie. So, it's no surprise that people are always on the search for the best cheap Doc Martens look alikes and Doc Martens dupes.
We've scoured the fashion world for high quality boots like Doc Martens, and have come up with some fantastic options that are a bit more budget-friendly.
Best Doc Martens Combat Boots Alternatives:
On the list below you'll discover some of the best boots like Doc Martens we could find, based on the different looks and styles. While none of these Doc Martens dupes look exactly the same (we aren't sharing knock-off replicas here), they do have a very similar look and the overall Dr. Martens vibe.
We've rounded up more affordable, a.k.a. cheap Doc Martens look alikes, for the combat boots, Chelsea boot, and lug sole styles!
These combat boots from Sam Edelman are one of the more expensive alternatives on this entire list but worth mentioning because they are a fantastic quality-made Doc Martens look-alike. So if you are on a tighter budget, read on for many more budget-friendly Doc Martens alternatives.
These boots from Sam Edelman are made with genuine leather and are durable, gorgeous looking chunky boots with that Doc Martens vibe. In other words, they are worth the investment if you have the budget!
The next look-alikes on the list are very similar to the Same Edelmans, but come in at a much lower price point. These boots by Unionbay are made with synthetic or vegan leather, hence the price, but they have a great chunky style with a similar stitching to the Doc Martens.
They feature a soft padded sole and chunky lugged outsole that remind us of the Doc Martens. Not to mention the wide stitching along the outsole.
These boots also have positive reviews mentioning how comfortable they are!
These Steve Madden boots are giving us major Doc Marten vibes as they look so much like the 1460 Pascal Max Boots. They have a very similar shape and slightly less chunky sole.
The boots are made with a genuine leather upper and lining and will totally bring a punk rocker-chic look to your outfit. They also come in a white color which looks very similar to the Dr. Martens Jadon 8 Eye Boots in white.
Next up we are switching over to white with these combat boots from Esprit. They have a very similar vibe to the Dr. Martens 1460 8 Eye Boots in white.
The leather pattern on the sides is almost identical and the white color along with the black laces definitely speaks docs. Made with synthetic leather these come in at a very affordable price point which is a big plus for such a great looking pair of boots.
These chunky sole boots by CircusNY (formerly Circus by Sam Edelman) are speaking Doc Martens Shriver 8 Eye boots to us. While they don't have the yellow stitching that chunky platform really makes a statement and these boots are totally punk-rock.
Made with synthetic materials they are vegan-friendly and come in at a great, budget-friendly price. Win-win!
Touted as an excellent pair of Doc Marten dupes from thousands of reviewers on Amazon, these Soda Lug Sole Boots are worth looking at!
Because they are made with synthetic leather they are at a great price for just under $50. They also have over 2,000 5-star ratings and are said to be super comfy! Definitely worth checking out if you are looking for a low-cost alternative.
Switching back over to the white leather boots, let's take a look at these chunky Chelsea boots by Marc Fisher. They are very similar to the Dr. Martens 2976 Quad Chelsea Boots.
These boots are great alternatives to Doc Martens as they come in at half the price. But, they are made with genuine leather (not vegan leather or synthetic), and have a lot of the same features. They are also currently on sale 40% OFF at Nordstrom*!
*as of June 2023
Next up, from the Madden Girl brand, these look alike boots are a perfect Doc Martens look-alike in a bright white color. They have a similar shape and style as the Dr. Martens 1460 8 Eye Boots in white, but are made with synthetic leather.
They also boast a pull tab, chunky sole, and lace-up style. With over 150 5-star reviews, we had to include these on our boots like Doc Martens list.
Another great pair from Dirty Laundry, these combat boots are super similar to the ones above but have a slightly different chunky sole style and high heel.
At $80 these boots are an affordable alternative and are well-rated to boot (no pun intended...)!
Doc Martens FAQ's:
Now that we've taken a deep dive into some great alternatives to Doc Martens boots, below are answers to some common questions if you are still toying with the idea of getting a pair of the real ones.
What is the difference between Doc Martens and Dr. Martens?
Nothing! They are one in the same. Dr. Martens is often called other names including "Doc Martens" "Docs" and "DM's" in the fashion world. Think of it as different nicknames for the iconic brand.
Are Doc Martens edgy?
Absolutely. The edgy appeal is partly what has made the Doc Martens brand so iconic. The edgy vibe these boots give any outfit, be it a pair of jeans, a dress, or pair of shorts, is unrivalled.
Are doc Martens vegan?
Doc Martens are not exclusively vegan. But the brand has made an effort to appeal to the vegan community by offering a Vegan Collection of boots and shoes. Outside of the vegan collection, most of the products are made from bovine leather.
Do doc Martens run big?
While they often appear big due to their chunky style, most Doc Martens boots and shoes run true to size. Take your normal size if ordering online, or refer to the reviews to see what other purchasers are saying about a particular style.
Or, if you can, go try them on in person as that's the best way to get the perfect fit!
What Are Some Boots Similar to Doc Martens?
There are a lot of boots that are similar to Doc Martens with both a combat boot style or chelsea boot style. The brands that offer some great look-alikes include:
Sam Edelman
Steve Madden
Marc Fisher
Dirty Laundry
Esprit
Circus NY
…and more!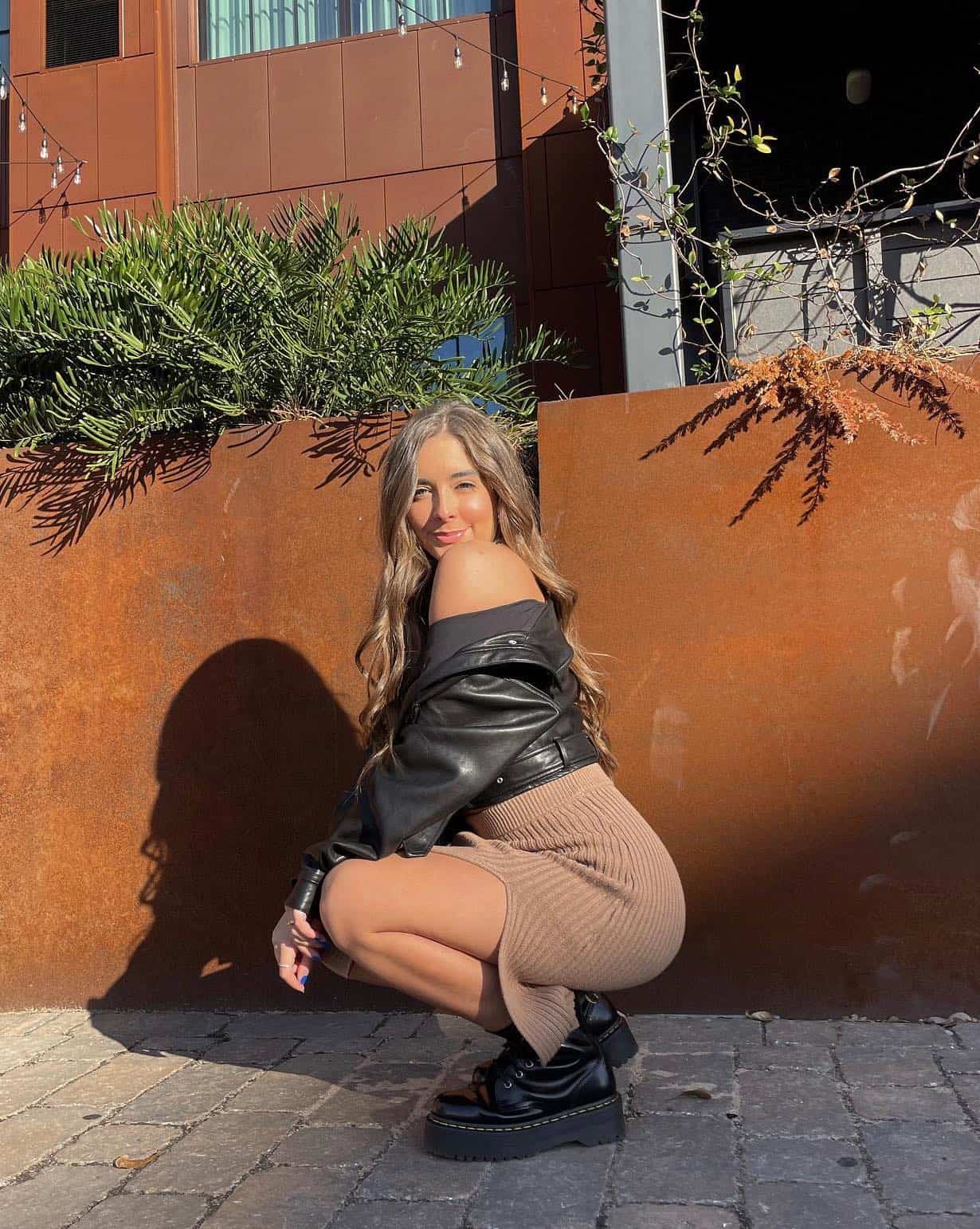 There you have it!
A big handful of great boots like Doc Martens and cheap Doc Martens look alikes! We hope at least one of these alternatives to doc Martens have peaked your interest and you'll find a pair that works great for you!
More Look-alikes You Need To See:
8 Chanel Dupes You Absolutely Have To See
3 Balmain Blazer Dupes You'll Go-Gaga-Over
8+ Must-Have Jenni Kayne Dupes
Seriously Good Gucci Loafers Dupes (& Mules too!)
Christal Sczebel is an entrepreneur, published author, and content creator. Over the past decade she has worked in the digital media field building successful websites for both food and fashion. She has a natural affinity for minimal, timeless fashion, neutral home decor, and styling.
Here on Style Your Occasion, Christal is the Editor-in-chief and brain behind the aesthetic. She hopes you love the this space and the inspiration you'll find!