Wondering what to wear to a gala? Learn all about the dress code for a gala and be inspired with gorgeous and elegant gala outfits.
*this post contains affiliate links*
What To Wear To A Gala
Do you have a fancy gala on your calendar this year and aren't sure what to wear? Don't worry, we've got you covered! From black and white-tie to semi-formal and black-tie optional, we've put together a selection of gala outfits for every single dress code.
And no matter the dress code, minimalist jewelry can enhance any outfit, including formal attire. Birthstone earrings, for instance, will add a touch of beauty and elegance to your look.
Dive into our ultimate gala attire guide and feel inspired!
Dress Code for Gala 101
The first thing you must be aware of when choosing what to wear to a gala, is the dress code. Black-tie events require elegant length dresses, while at black-tie optional galas less formal long dresses or refined cocktail dresses are accepted.
For semi-formal galas you can wear a charming cocktail dress. On the other hand, white-tie events are the most formal and female guests are expected to wear evening gowns.
When dressing for a gala it's better to err on the side of caution and dress-to-the-nines rather than show up underdressed and looking out of place.
What is the appropriate attire for a gala?
Overall, a woman should wear an elegant dress or gown, or a fancy cocktail dress with heels to a gala. Gala events are often very formal and guests are expected to dress their best.
While dresses are the norm, an elegant tuxedo or pant-suit for women can also make a great impression too! If you're a trousers type of gal, a stunning evening suit is a great option for a gala.
Elegant Gala Outfits
Now that you know the basics of what to wear to a gala, let's see the theory in practice. From playful cocktail dresses to stunning gowns, take inspiration from the ultimate gala outfits list.
Make a statement.
get the look:

What's the most common dress code for a gala? A long dress, of course! Play with color and shape and choose a statement long dress for your next charity event. Always add on jewelry for the ultimate chic gala outfit.
If you plan to wear a brightly-colored dress like bold red or silky yellow, stick with neutral accessories and let the dress be the star of the show.
The little black dress.
get the look:

You can never go wrong with a little black dress. For semi-formal galas, a short black dress with an asymmetrical neckline might just be the perfect evening attire – pair it with black tights (it's definitely more appropriate) and interesting accessories.
Or, go with a refined black evening gown with dainty gold jewelry for the perfectly polished touch.
Refined in pants.
get the look:

If you're not a dress type of gal, a tailored black tuxedo is the perfect option for an evening gala. Don't forget to add a layer of interest to the outfit with statement accessories, like beautiful jewelry or a feminine brooch.
Alternatively, you can wear a nice pair of trousers with a sleek statement top and finish with an oversized blazer or tuxedo-style jacket. We love the dangly statement earrings on Olivia above which add a glamorous feel to the whole outfit.
Dress to impress.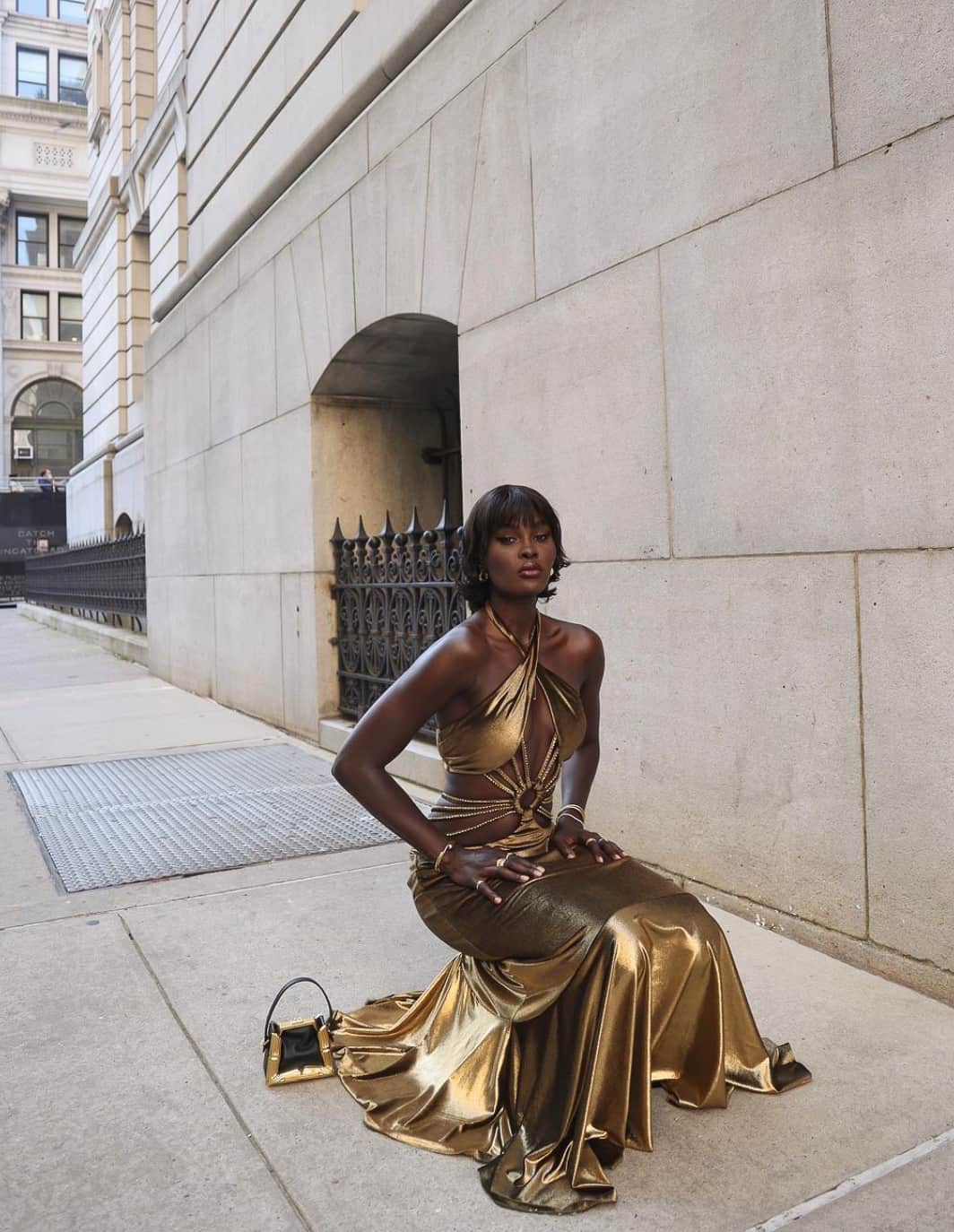 get the look:

Are you going to a formal charity gala? Then, opt for a gorgeous gold gown that is both elegant and glamorous. Accessorize with a matching handbag and closed toe heels for the perfect formal gala look.
While this dress above has many cut-out features, if you are looking for something more conservative, you'll love the gold gowns we've linked above that provide more coverage.
Try a train.
get the look:

There's nothing more elegant than a stunning gown that makes a statement with a train. If you are heading to a white-tie or black-tie gala, you can't go wrong with a dress that has a small train, or a train that drapes over the shoulder.
This look has an old hollywood vibe and we love the color of this icy blue dress. Paired with shimmery gold heels and a simple black clutch, this outfit is gala-ready.
Go for gloves.
get the look:

There is something about long silky gloves that add an extra element of elegance to a dressy outfit. The gloves give an old Hollywood vibe which is perfect for a gala affair.
If gloves aren't your cup of tea, have fun playing with other accessories like embellished shoes, a glittery handbag, or statement jewelry.
Creamy shades.
get the look:

We love the idea of an ivory or cream-colored dress for a gala event. It's a welcome change from classic black, but is also very simple and elegant.
Go with a cream slip dress under a black coat (or faux-fur bolero) like the outfit above. Or, opt for an off-the-shoulder ivory gown with statement sleeves. Finish with black or metallic pumps and a simple clutch.
Feathers or fur.
get the look:

A feather or faux-fur bolero, cape, or scarf can add so much to a classic black evening gown. The look becomes extra luxe and is on-point for a gala dinner.
When attending a gala in the winter, opt for faux fur which will give you an extra layer of warmth and a luxury appeal. Additionally, one of the best tips for gala attire is closed shoes. Pair them with an elegant long dress and dainty jewelry for the ultimate charity gala outfit.
(Liana is wearing the House of CB Safari dress)
Feminine florals.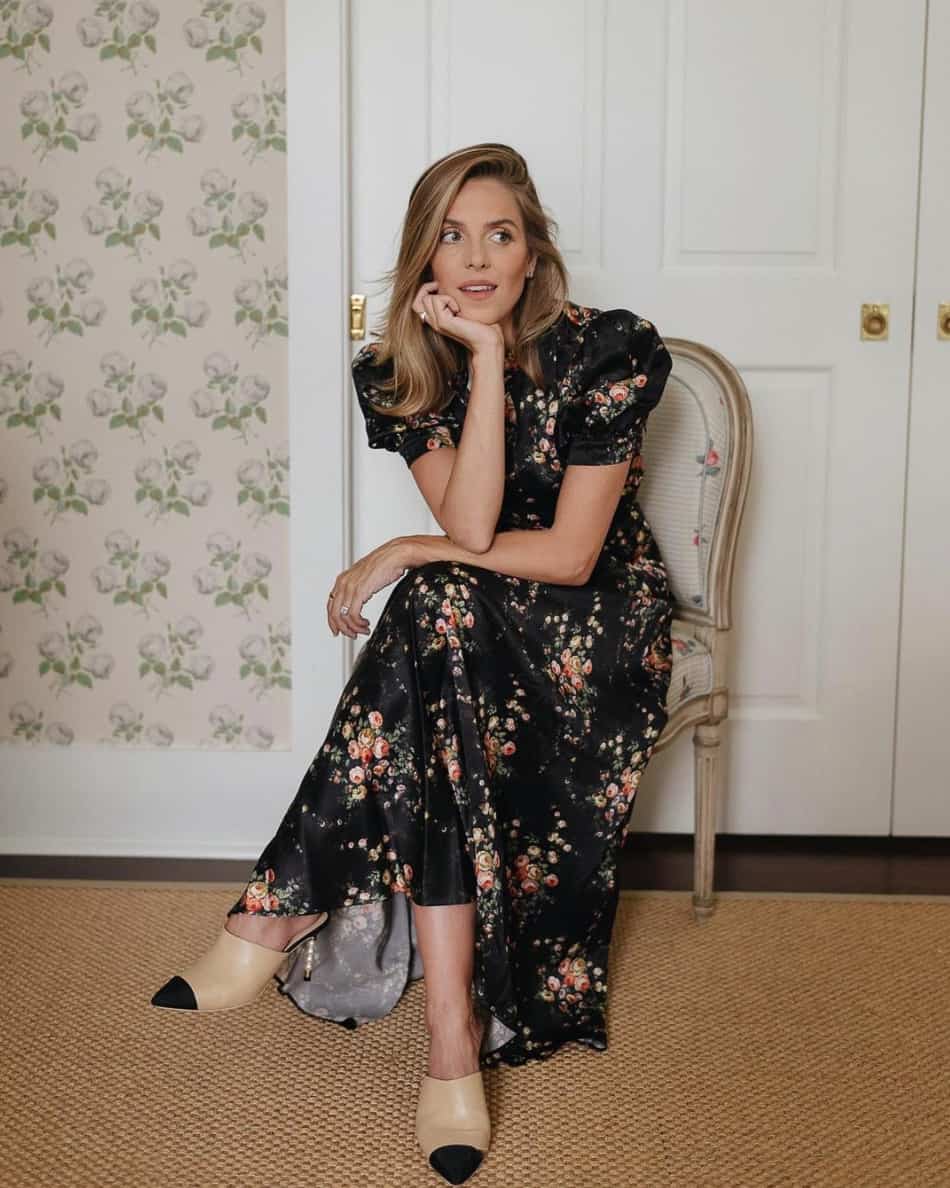 get the look:

A formal dress code doesn't have to be boring. Bring out your personality by swapping a solid color for a beautiful pattern : florals and feminine motifs are always a good decision.
This look is not only eye-catching, but classy and refined too. We love the silk material of this floral dress on Julia, and the black mixed with pops of floral print.
Add a little color.
get the look:

Black is the safest option, but why not impress with a bright color in your next gala? Make sure it's appropriate for the dress code (better semi-formal or black-tie-optional galas) and complement the outfit with your best accessories.
We love this pink slip dress for a summer evening gala, but forest green, baby blue, or marigold would be just as stunning (think Kate Hudson in How To Lose A Guy In 10 Days).
Gala Dress Code FAQ's
Below are some of the commonly asked questions regarding the dress code for a gala in case you still aren't totally sure about what to wear.
What colors do you wear to a gala?
When it comes to colors, black, navy, deep green, gold, or silver are always a great choice if attending a formal gala. If the dress code is more relaxed, then go ahead and play with colors like red, pink, or blue.
Is it OK to wear a short dress to a gala?
Don't be afraid to show some leg! It's absolutely ok to wear a short dress at a gala, especially if the event is less formal. A good way to make a short dress look more formal is by pairing it with black tights and classic pumps.
Can I wear jeans to a gala?
No, most galas do require formal attire so it's best to leave the jeans at home. That being said, black-tie optional galas are uniquely imaginative events where you can play with more daring styling options. A bright colorful dress? Why not! A fun brooch? We say yes, go for it!
Now that you know the absolute essentials of what to wear to a gala, have fun finding the right attire for your event: play with big gowns or little dresses, choose statement jewelry or sky high heels. Remember, the most important thing is that you enjoy your night!
More Style Guides You'll Love:
11+ Dress With Stockings Outfit Ideas For A Next-Level Aesthetic
What Shoes To Wear With Black Dress + Stunning Looks To Steal
The Best Shoes To Wear With Long Dress for Any Occasion
What To Wear To The Ballet: 11+ Chic and Elegant Looks To Try