If you are looking for what to wear to the ballet, you'll love this list of chic, modern, and elegant ideas for what to wear to a ballet show whether you are going to the Nutckracker in New York City, a fancy ballet for date night, or a more casual ballet performance.
*this post contains affiliate links*
(wearing the linen cut-out dress from Zara)
Attending the ballet is one of life's great experiences. Combining beautiful music with powerful and captivating movements, any ballet performance is a memorable one.
If you're planning on attending a ballet (or are wondering what to wear for the Nutcracker ballet this winter), you'll love this list of looks to try. From form-fitting dresses to classic skirts and blouses, we have something to satisfy every taste.
What To Wear To a Ballet Performance
A ballet performance is such a special occasion, so it's important to wear attire that is formal yet comfortable enough to sit in.
When dressing for a ballet, many people opt for clothing that is business casual such as slacks, paired with a nice blouse or dress shirt. Others go all-out in elegant gowns and gorgeous dresses. Both are perfectly fine choices!
If it's colder outside, adding a sweater or coat in a neutral color will complete the look while still being appropriate. Whether you're going by yourself, on a date, or with friends to see the show, following our outfit guidelines will ensure you blend in with the audience and the ballet aesthetic!
make a statement.
get the look:

The ballet is a classic art form that requires an equally exquisite outfit to go along with it.
Go artistic with a unique, yet polished dress. This chartreuse maxi dress paired with black heels and a matching black clutch is perfect for a ballet outing. The yellow dress has just the right amount of color without being too overwhelming, with minimal jewelry as an accessory.
Of course, a purse must also be taken into consideration; in this case, the choice of a small clutch instead of a large tote bag prevents any loud crinkling or shuffling noisiness while ballet patrons stay focused on enjoying the show.
All in all, it's a perfect ensemble for a night of ballet!
cozy + elevated
get the look:

When it comes to comfortable ballet outfits, this one is spot on! You'll look sophisticated when you come in wearing an oversized knit sweater paired with a silk midi-length slip skirt.
To finish off the look, add simple and delicate heels and a small crossbody purse – perfect for carrying all your ballet essentials, yet minimal enough to avoid being flashy. This ballet outfit will definitely give you that effortlessly stylish vibe.
blazer + ballet flats.
get the look:

Is there a more perfect event to wear ballet flats to than the actual ballet itself? We think not!
This chic look is made up of a timeless black midi dress paired with a tan blazer and stunning Chanel ballet flats. If Chanel isn't an option, any ballet flats in a neutral color will look just as refined.
Minimal gold jewelry adorns the neckline and stands out beautifully against the bold black of the dress, giving it an extra touch of elegance. From every angle this ballet outfit looks effortless, allowing you to enjoy not only a magical evening at the ballet but also be the best dressed!
Do you dress up to go to the ballet?
Yes, it is recommended that you dress more formally for the ballet. Dressing up shows respect for the artists behind the ballet and makes for a more festive atmosphere.
If you've been looking forward to your trip to the ballet, chances are you're trying to figure out what dress code to follow. Many venues will specify attire requirements on their websites before the performance, so it's always a good idea to check ahead of time.
Generally speaking, dress codes at ballets range from business casual in the summer to dressier options, even black tie attire, for winter or Christmas performances. If you're ever unsure of the dress code, err on the side of caution and dress up more than you normally would — looking well-dressed never goes out of style!
monochromatic elegance.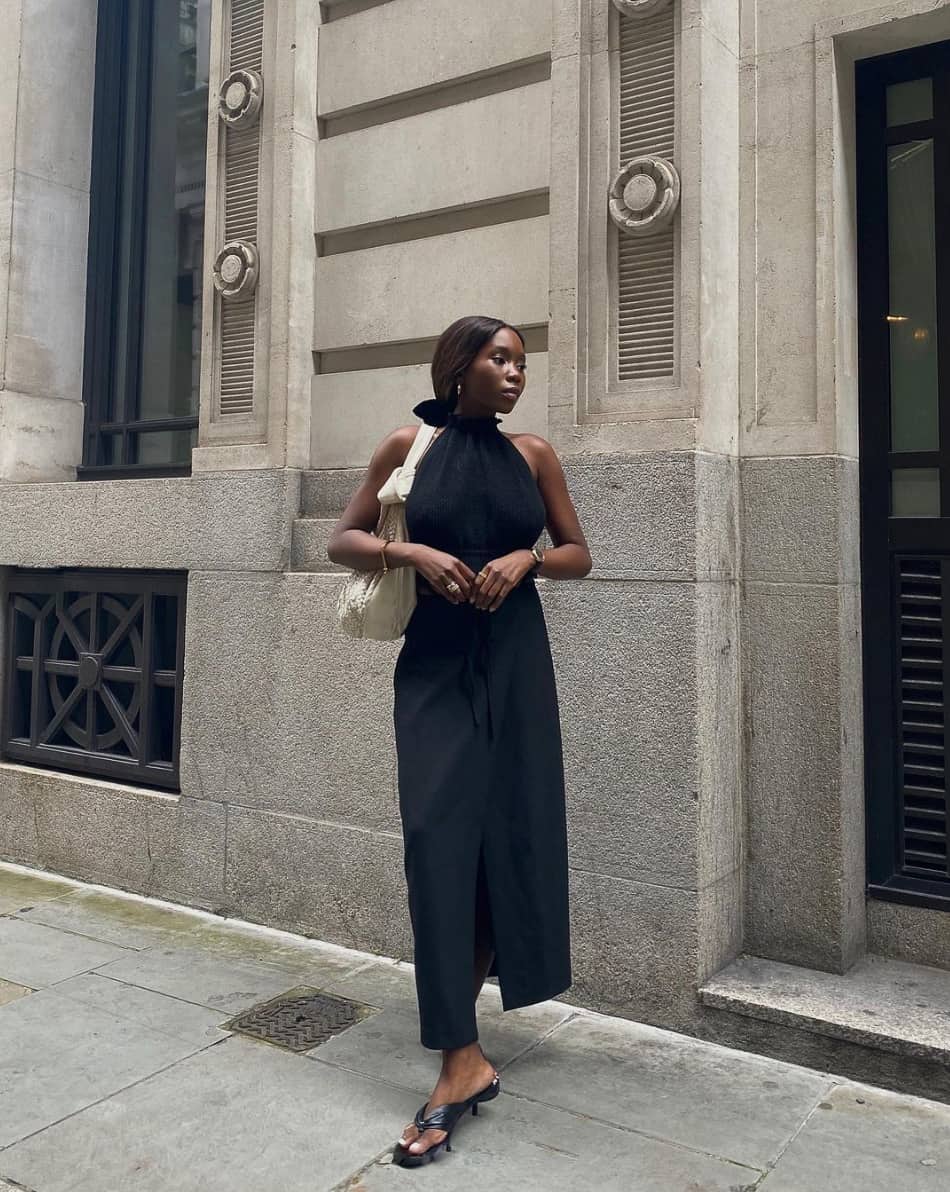 get the look:

Whether it's an evening show or matinee in the spring or summer, this ballet look is nothing but chic. A perfect outfit for ballet-goers in the warmer months is a black sleeveless blouse paired with a long skirt and sleek kitten heels.
Don't forget the finishing touch – a ballet-inspired sleek bun! The bun completes the sophisticated look, ensuring you are ready to enjoy the performance in style.
date night ballet.
get the look:

This outfit is the perfect combination of sexy and sophisticated, perfect for a ballet date night. The long-sleeve white bodysuit paired with black leather pants is sleek and modern. And, the black pointed toe boots take the look to the next level.
When you wear this combination, you'll be ready for a ballet performance and drinks at a cocktail lounge to follow! It's the perfect compromise of business casual and ballet fashion — stylish but still comfortable enough to enjoy the show.
elevated neutrals.
get the look:

A soft neutral sweater paired with wide leg neutral pants is anything but boring. It's an ideal combination for stepping out to a ballet performance during the day or with colleagues from work.
What's more, this ballet outfit gives space to truly appreciate the grace of ballet with its unrestricted fit that leaves no need to fuss as the show takes place around you.The look is finished off with crisp white pumps that complement the neutral tones.
Whether you are a ballet enthusiast or attending your very first performance, this timeless outfit has you covered!
What To Wear To The Nutcracker Ballet
The New York City Ballet's famous performance of the Nutcracker is an iconic winter tradition. While there are many interpretations of what to wear, it is always important to look your best and be comfortable during the performance. Here are some great ideas:
dress pants with a blouse or sweater and pumps
elegant dress with heels and a wool coat
midi-length slip skirt with a blouse and heels
faux-fur coat over a long gown
dressy jumpsuit with ankle boots and a long coat
Adorn yourself with dainty jewelry or hair accessories, and go with pumps or a pair of sleek boots. Remember that the performance itself is beautiful enough, so keep it simple!
Below are some of our favorite ideas for what to wear to the Nutcracker ballet, or a more formal winter performance.
polished + professional.
get the look:

For a night at the ballet, a cropped tweed jacket is perfect for creating an eye catching and chic look. The jacket can be worn with business casual black trousers that hit at ankle length and short black heels to keep you comfortable.
Or, wear the jacket over a midi-length slip dress for a more formal approach.
This ballet outfit will make sure that you stand out in the crowd while being comfortable and sophisticated for a classic Nutcracker experience.
classy + elegant.
get the look:

For a ballet-inspired outfit that is sure to make heads turn, try this eye-catching combination.
We love the this form-fitting ruched strapless Khaite dress paired with a black blazer for a classic appeal. And, the sophisticated black pointed toe heels add polished elegance.
If you can't swing the Khaite Spence dress ($$$), opt for the Endless Rose look-alike instead! To finish off this chic look, go with a sleek bun.
And, if you have a larger chest, check out this list of the best strapless bras for big boobs to help you rock this style of dress.
black-tie affair
get the look:

An outfit that is perfect for the Nutcracker (while adding a splash of personality) is a long black gown paired with a faux-fur, feather, or taffeta jacket and a metallic clutch.
The bold jacket makes a statement while simple details like sleek hair and dainty accessories add elegance. It's an outfit that will set you apart from other ballet goers, while still embracing the ballet's refined atmosphere.
More Ideas For What To Wear To The Ballet
In case you haven't found your preferred ballet outfit yet, below are a couple more ideas to consider!
layered + refined.
get the look:

This cozy outfit is the perfect combination of style and comfort. For the Nutcracker or a ballet in the fall, a brown sweater and black boots provide both warmth and chicness.
The skirt offers an elegant length, balanced out by the long grey trench coat for a touch of contrast. You can also easily swap the sweater and skirt out for a mini length brown knit sweater dress (see some chic options linked above).
This outfit will be sure to put you right in the mood for a dazzling performance!
a subtle pop of color.
get the look:

Last on the list of what to wear to the ballet, this outfit combines chic simplicity and feminine appeal. Giving a subtle pop of color, the navy blue body-con dress is a perfect choice accompanied by a neutral maxi coat that will keep you warm on chilly evenings.
This ballet outfit radiates sophistication without needing much and is perfect for attending a special performance with your beau.
What should you NOT wear to the ballet?
Choosing the right outfit when you attend the ballet is essential. So, it's important to know what to avoid when choosing your attire. Here are a few things you should avoid when attending a ballet:
Casual clothing such as shorts, jeans, and leisurewear can be seen as disrespectful to audience members and the performers
Overly revealing cocktail or party dresses are generally frowned upon at a traditional performance
Large hats or overly flashy jewelry that

makes noise can be distracting to other audience members

Sneakers or flip-flops as they are generally too casual for the ballet
With a bit of careful planning, you can look stylish and appropriate for the ballet.
Can you wear jeans to a ballet?
While you might want to wear your favorite jeans, it's not the best choice when it comes to a ballet. Even if there isn't a strict dress code, trousers or dress pants are more appropriate than jeans.
If you insist on wearing jeans, wear black or dark blue, and avoid jeans that have rips, holes, or distressing. Dress them up with heels and a blouse, blazer, or formal coat.
To blend in with the culture of ballet, dress in a way that shows respect to this elegant art form.
More Style Guides You'll Love:
What To Wear To A Broadway Show + 8 Chic Outfit Ideas
12+ Museum Date Outfit Ideas With A Cool & Classy Vibe
What To Wear To A Gala: Elegant Outfits + Gala Dress Code 101
What To Wear To A Comedy Show + 10 Chic Outfit Ideas
15+ Chic Fall Date Night Outfits You'll Feel Amazing In!
The Best Shoes To Wear With Long Dress for Any Occasion
11+ Chic Winter Concert Outfits That Just Make Sense
13+ Paris Outfit Ideas Inspired By The Chicest French Influencers
Christal Sczebel is an entrepreneur, published author, and content creator. Over the past decade she has worked in the digital media field building successful websites for both food and fashion. She has a natural affinity for minimal, timeless fashion, neutral home decor, and styling.
Here on Style Your Occasion, Christal is the Editor-in-chief and brain behind the aesthetic. She hopes you love the this space and the inspiration you'll find!