Need a Stagecoach outfit for the upcoming festival in 2023? Get yourself festival ready with our list of 11+ Stage coach outfits that will help you get that perfect modern cowgirl look and know exactly what to wear to Stagecoach!
*this post contains affiliate links*
What To Wear To Stagecoach
Are you planning to make 2023 an unforgettable year by hitting up the Stagecoach music festival? This iconic festival is definitely the biggest country concert of the year, and it's a perfect time to dress up in some playful and chic country-inspired outfits.
The Stagecoach festival has a fun and laid-back vibe. You can wear comfortable and casual pieces to spend a desert day in while styling them in a way that makes them elevated and chic.
If you are wondering what to wear to Stagecoach, we're here to help! Make this year's festival even better with modern country stage coach outfits that are not only comfortable but have a coastal cowgirl vibe that's perfect for the festival!
Chic Stagecoach Outfits
We've found some of the best Stagecoach outfits from fashion it-girls to show you how to steal the attention at this music festival with your stunning looks!
keep it neutral
get the look:

When it comes to Stage coach outfits, keeping your pieces neutral is an easy way to make sure your outfit will look effortlessly chic. Plus, it makes it easy to mix and match different pieces and create multiple outfits from a smaller selection of items.
Accessories are the perfect way to elevate a neutral outfit. This outfit is simple and chic yet still has that Western feel from the cowboy boots. You can also go with cow print shorts, a western hat, or fringed pieces to make your neutral outfit Stagecoach-ready!
all the rompers
get the look:

Rompers are the perfect stage coach outfits for dancing the night away, and these chic one-pieces are also easy to spend a warm day in.
Add a feminine touch by wearing a romper with a floral pattern or opt for a print that has a Western vibe like Aztec or paisley. Alternatively, you can add that country feel by pairing your romper with cowboy boots or a rancher hat.
a touch of metallic
get the look:

We love the look of metallic accessories as it's a perfect way to elevate any festival outfit! Boots are a must when going to a country music festival, and going with a metallic pair will have you turning heads from the second you walk in.
You can also add flair to your look with other metallic accessories, like a metallic belt or a rhinestone purse. We love silver, but gold or a bold color like green or pink would look just as chic.
What do you wear to Stagecoach?
When dressing for Stagecoach you want to prioritize comfort while showing off a country-inspired style. Since Stagecoach is in the desert, focus on wearing lightweight and breathable pieces that will keep you cool such as summer dresses, rompers, midi skirts, denim shorts, mini skirts, and cowboy boots.
These pieces are perfect for creating a cute outfit that is festival worthy. Pair them with graphic tees, floral shirts, or classic tanks.
Additionally, choosing pieces that have a Western vibe will quickly make your outfits suitable for a country music concert. Think fringe details, cow print, plaid, metallics, and denim.
And, of course, you can't forget about accessories – cowboy boots or a western hat are a go-to item for a country festival like this!
go boho with a kimono
get the look:

While fashion trends come and go, the bohemian vibe remains! A kimono is definitely a staple for a weekend at a music festival, and this piece will not only add some style to your outfits but protect you from the sun.
You can add a long kimono like this to any look. Layer it over shorts and a tee or a mini dress for an effortless coastal cowgirl vibe!
Get more white cowboy boots outfit ideas here.
the fringe effect
get the look:

Where would we be without chic fringed details in fashion? It's only fitting that fringe be a part of your country festival outfit.
We are in love with the combo of this two-piece fringe set and the fringed jacket. But, you can also add fringe details to your outfit in a more subtle way if you prefer.
Opt for just one piece with fringe to add some flair to your look without making it the star. You can use anything from a jacket to shorts to cowboy boots with fringe to add this stylish touch to your Stagecoach outfit.
denim dresses
get the look:

Denim has an unmistakable country vibe so it's a fantastic choice for a music festival. A denim dress is a feminine and elevated piece that still has a casual feel.
Go with a mini dress like the above to stay cool and comfy during your day in the desert sun while you dance to your fave country songs. Whether you prefer a light blue, dark blue, or a black denim dress, you can easily style this piece with a cowboy hat and western boots to complete your festival look.
What is the weather like at Stagecoach festival?
The California weather during Stagecoach is typically warm and sunny. You can expect it to be hot during the daytime with the temperature dropping as the sun goes down.
In general, you should wear clothing that will keep you cool or protect you from the desert sun, although you'll want a jacket or other layering piece to keep you warm during the cooler evenings.
midi dress + boots
get the look:

Want to look polished at Stagecoach rather than wear an overly loud outfit? A midi dress and boots are a classy combo that is a great option for the Stagecoach festival!
We love the modern and feminine feel of this dress, and pairing it with sleek ankle cowboy boots definitely adds that Western vibe we want. You can stick with a sleeveless dress like this one or go for something long-sleeved for more protection from the sun.
Either way, this is a perfect choice for a simple but stunning outfit for a music festival.
Daisy-Duke-inspired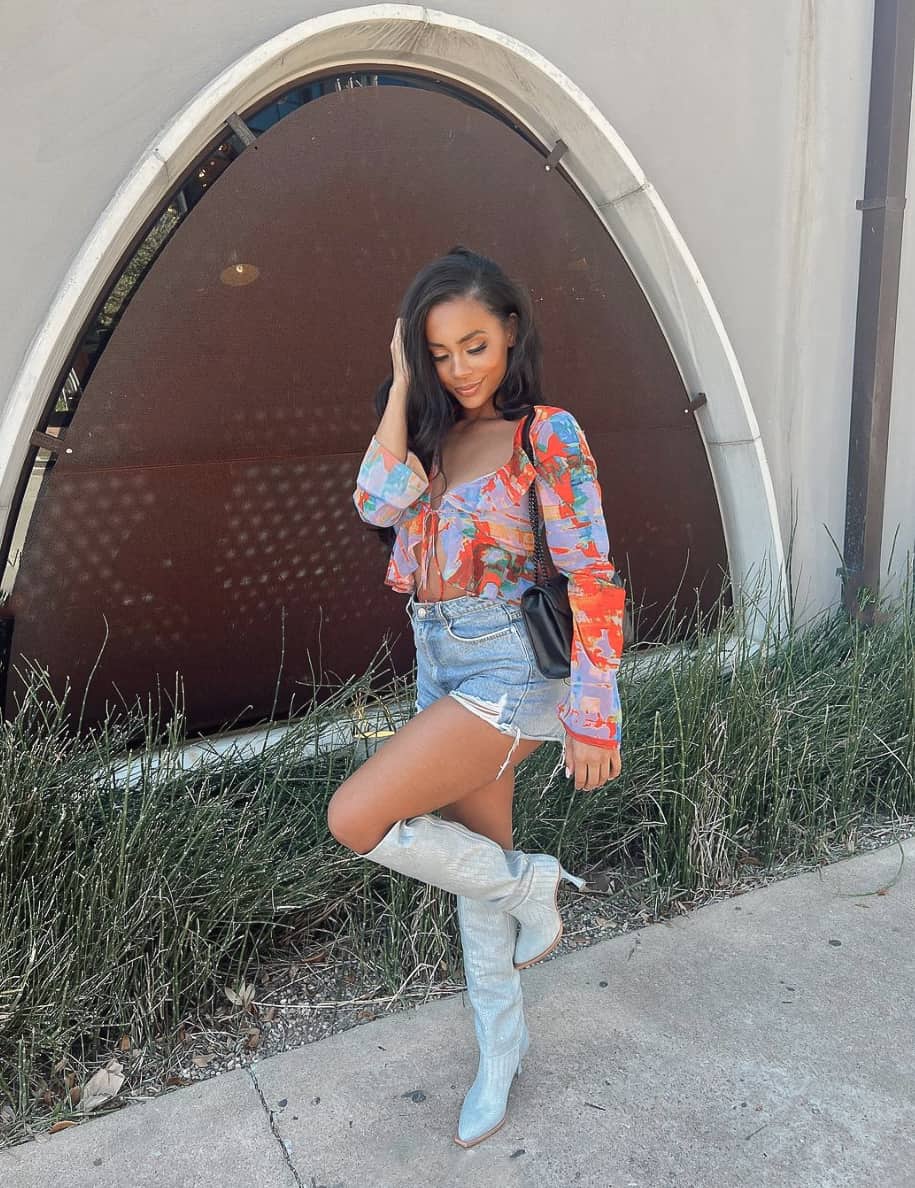 get the look:

Is there a more iconic country belle than Daisy Duke? A classic pair of blue jean shorts have a country vibe and it's easy to style them to add a flirty flair.
You can pair daisy dukes with just about anything, from a flowy feminine blouse to a classic crop top. Add a pair of tall cowboy boots and you'll have the perfect recipe for cute Stagecoach outfits!
pretty in plaid
get the look:

We know that flannel is a popular choice for country concerts, but it's not the only way to add plaid print to your look. You can find dresses, skirts, shorts, and short-sleeved button-ups with a gorgeous plaid pattern to add western vibes to your Stagecoach outfit.
Pair plaid pieces with denim shorts, a white mini skirt, and cowboy boots for a quintessential cowgirl look. Or, add plaid in a more subtle way by using accessories like a bandana or handbag.
What should I pack for Stagecoach?
Stagecoach is a three-day festival, so you'll need to bring enough clothing for three days of chic outfits. Below are some of the best pieces to pack for a weekend at Stagecoach:
Denim shorts
Mini skirt
Tank top or crop top
Cute blouse
Mini dress or midi dress
Fringe or denim jacket
A graphic tee
Cowboy boots or ankle boots
Sneakers
Flats or sandals
Crossbody bag
Sunglasses
Cowboy or Rancher hat
You should also make sure to pack comfy clothes to lounge in at night. And obviously, you want to bring plenty of sunscreen!
feminine dresses
get the look:

You can easily look cute at a country music festival with a stylish girly dress. Think floral patterns, ruffles, lace, embroidery, or a gorgeous shade of pink!
These breezy dresses will be cute and comfy to wear during the day and can be styled in many ways. For shoes, opt for sandals, cowboy boots, or ankle boots. And, add a denim jacket, kimono, cowboy hat, or wide-brimmed hat to complete the look for a day at Stagecoach!
oversized graphic tee + boots
get the look:

Last on the list of stage coach outfits, an oversized graphic tee is always a bold and stylish look. And, adding cowboy boots turns this classic street chic look into a perfect festival outfit!
We are in love with these vibrant green cowboy boots, although a classic pair in a neutral tone would also work. You can wear biking shorts under your graphic tee to stay comfy all day, and add jewelry with a chic handbag to complete your look.
We hope you now have a good idea of what to wear to Stagecoach! While you're there for the music and the dancing, we don't want you to miss an opportunity to wear a stunning Stagecoach outfit.
Whether you prefer feminine dresses, Daisy Duke shorts, or a cute and comfy romper, this style guide can help you choose the perfect Stagecoach outfits!
More Style Guides Like Stage Coach Outfits:
14+ Country Concert Outfit Ideas You'll Want To Copy
What To Wear In Nashville + Chic Nashville Outfits
11+ Chic Winter Concert Outfits That Just Make Sense
13+ Harry Styles Concert Outfits For The Perfect Glam-Rock Vibe
Cowboy Boots with Shorts: 11+ Chic Ways To Rock This Aesthetic
10+ Obsession-Worthy Lollapalooza Outfits
11+ Cool-Girl Concert Outfits for Summer
12+ Perfect Morgan Wallen Concert Outfits To Dance All Night In!