Wondering what to wear with linen pants? Check out our style guide with 15+ linen pants outfit ideas including white linen pants outfit ideas that will show you how to add this piece to your everyday looks!
*this post contains affiliate links*
What To Wear With Linen Pants
Linen pants are chic, airy, and breathable, making them perfect to wear during spring and summer. These pants add an effortless, breezy feel to any look and can be dressed up or down to suit almost any occasion.
Linen pants are also great if you love comfortable pieces since they commonly have a relaxed fit and are easy to spend a whole day in.
If you want to add this gorgeous piece to your wardrobe but don't know how to style it, you've come to the right place! We've put together a style guide, complete with 15+ linen pants outfit ideas from top fashion it-girls, to show you how to style these pants.
Linen Pants Outfit Ideas
Whether you want to add linen pants to your everyday looks or you plan to create more formal outfits, we've got a look for every style below!
make it monochromatic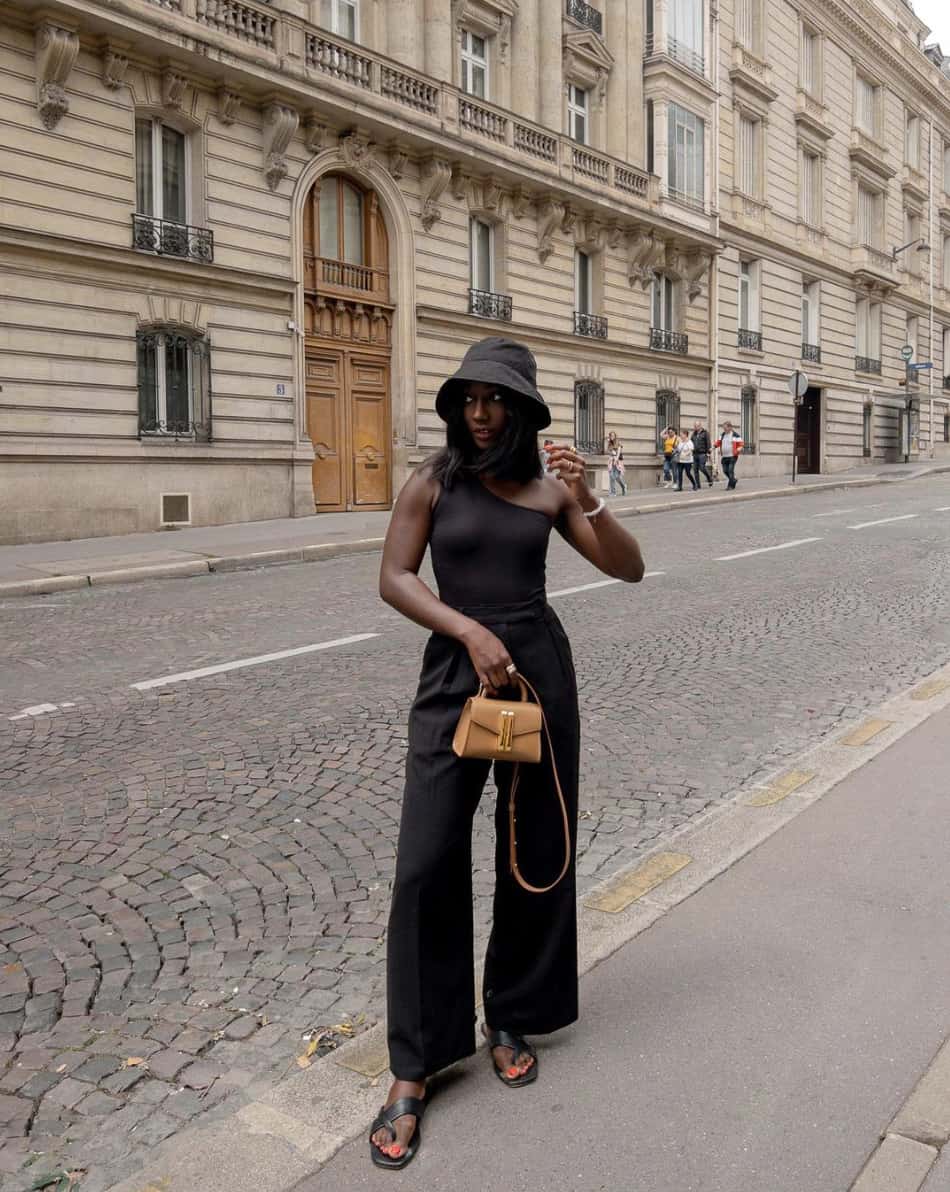 get the look:

A quick way to style an elevated outfit with linen pants is to go for an all-black monochromatic look. Black pants with a black tank and sandals is a simple yet chic choice and will have you looking polished anywhere you go.
The pleated linen pants add a classy touch to this casual outfit, or you can stick with relaxed drawstring linen pants to keep it laid-back. Alternatively, if you want a more sophisticated look, opt out of the bucket hat and go for a sleek bun instead, and switch the flats for heeled sandals.
linen pants + a button-up
get the look:

Linen pants are a classic piece, so it makes perfect sense to pair them with another classic wardrobe staple. A button-up can be styled casually like it is here, or you can go for a fully buttoned, tucked-in look for a business casual outfit. The clogs add to the relaxed vibes here, but heels would look fantastic if you wanted a formal outfit.
We love the neutral colors of this outfit, but you can easily use your favorite shades to create a look that shows off your personality. Go for pastel shades for a spring look or bright colors during the summer.
add a blouse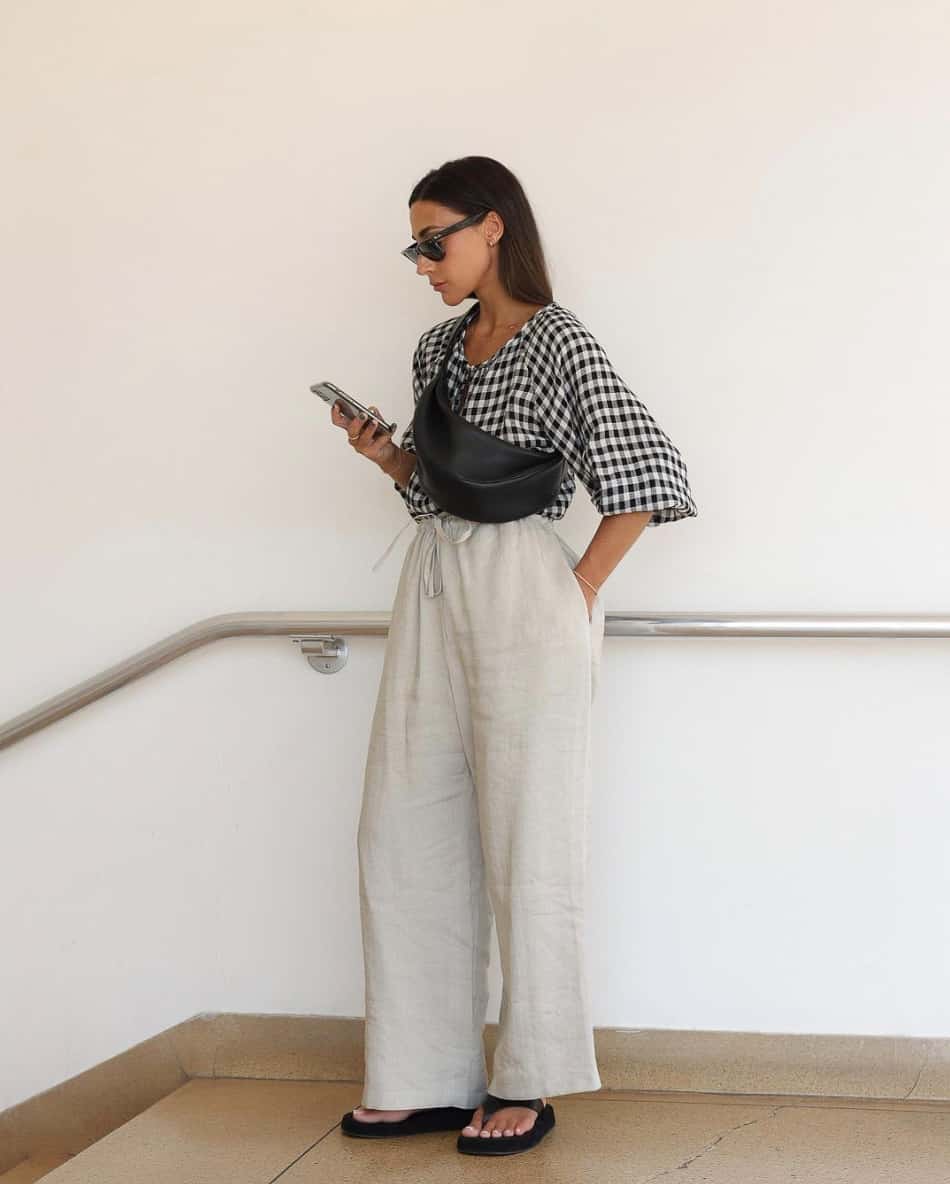 get the look:

Linen pants are an excellent choice for a casual outfit when running errands and meeting friends for lunch. And, pairing them with a blouse quickly adds a feminine touch.
You can opt for a short-sleeved blouse for hot summer days or choose one like this for transitional weather. If you want to dress this outfit up, trade the flops for strappy sandals and the sling bag for a handbag.
We also love the idea of a floral top for a spring vibe, and any color would work because of the neutral pants.
linen pants for cooler days
get the look:

We know that jeans are an everyday go-to for a casual outfit, but linen pants are a perfect alternative when you want something comfortable and light. Linen pants work well in any laid-back look while still looking chic and refined.
When the weather is a little cooler in the spring or summer, linen pants, a cozy tee, and sneakers are an excellent combo. A cropped cotton or denim jacket is perfect for early spring, or you can wear a trench coat or bomber jacket with a look like this.
go with a matching set
get the look:

A matching set is the easiest way to achieve an elevated look, and this matching linen pants and button-up set is a stunning combo. You can layer a set like this over a bikini in the summer, or you can style this for a lunch date.
If you don't have a matching linen set, don't worry. You can pair any linen top with pants for a stylish look. Go for matching colors or try contrasting shades like black and ivory.
You can also wear printed linen pants and a solid-colored shirt for a playful and fashionable outfit.
What goes best with linen pants?
Linen pants are easy to pair with other wardrobe staples, especially neutral linen pants in black, white, or beige. Here are some of the best pieces to wear with linen pants for a chic and timeless outfit:
classic tee or tank
denim jacket
blazer
long-sleeved blouse
linen button-down shirt
crop top
swimsuit
dainty sandals
sneakers
chunky sandals
heeled sandals
classic pumps
linen pants + a graphic tee
get the look:

Pair your comfy linen pants with your favorite graphic tee for a casual-cool outfit. You can use a graphic tee with a minimal look like our favorite Jil Sander tee or a top with a bolder print.
This is a perfect comfy outfit for a day of errand running. You can wear this combo with anything from Birkenstocks to strappy sandals to trainers. Add the sunglasses and baseball hat to stay safe from the bright summer sun, and add a classic tote or crossbody bag to keep hands-free during a busy day.
a crop top + birkenstocks
get the look:

Clean-girl aesthetic here we come.
We are totally here for this youthful summer look. This outfit will definitely keep you cool in warm weather and is a great choice for a weekend brunch date.
You can go for light tones like this, swap it out for dark shades, or choose vibrant colors for an eye-catching outfit. Go for Birkenstock slide sandals for a laid-back feel or try platform sandals for a trendy style.
For ultimate comfort (and no blisters), learn how to break in Birkenstocks faster!
casual chic
get the look:

Linen trousers with a pleated detail can easily look dressy with minimal and timeless pieces. We love the wide-leg cut of these Dissh linen pants as it adds an elegant feel, and the asymmetrical tank is another chic touch.
Go for tailored linen pants to achieve a dressier look thats perfect for dinner at a resort. Simply add some jewelry and a chic handbag, and you're ready for your next spring or summer date night!
On a really warm day, swap the pants for shorts – you'll love these linen shorts outfit ideas!
White Linen Pants Outfit Ideas
White linen pants have a fresh and sleek look and are an ideal piece to wear in the spring. We have gorgeous white linen pants outfit ideas to show you how easy it is to style white linen pants for any look!
add an oversized sweater
get the look:

This stylish combo is a perfect outfit to wear in early spring when you're ready for linen but still want a cozy feel.
A white linen pants outfit with an oversized sweater is a great cool-weather option. You can go for a bright blue like this one here or opt for a neutral color for a timeless look. Add some clogs for warmth, or go for sneakers if you plan to be on your feet all day.
resort-ready
get the look:

A flowy linen top with white linen pants or a white skirt is the perfect resort or vacation outfit. It is trendy and youthful, and definitely gives a summer vibe.
We love the airy look of this white set, and it pairs well with other light neutral accessories for a breezy, ocean-inspired feel. The chunky sandals and a chic handbag complete this look, and we love a touch dainty gold jewelry to elevate the whole look.
How do you make linen pants dressy?
Linen pants can easily be dressed up for an anniversary dinner, birthday party, or special event. Pair them with a dressy blouse or a linen blazer and add heeled sandals or pumps for an elevated touch. Go with accessories such as dainty jewelry or a high-end handbag to quickly give your linen pants a dressed-up look.
spring vibes
get the look:

A pair of belted linen dress pants and a feminine tank top makes a simple and combo that works so well together. The button-up is the perfect addition to keep this outfit looking laid-back while adding a sublte pop of color.
This tank and button-up combo is easy to recreate and looks gorgeous with these tailored white linen pants. The sandals and straw tote make this outfit spring-ready, so wear it out when you're taking a stroll and enjoying the warm weather.
stripes + a blazer
get the look:

If you want a refined look that stands out, go for striped linen pants and a blazer. Striped pants are a great piece to have in your wardrobe, and they'll easily pair with elevated pieces for a dressed-up look.
Wear a tank or classic tee under your blazer, add gold jewelry, and a gorgeous handbag. Stick with the slide sandals to stay comfy while you grab brunch and shop or go for loafers or heels if you want an office-ready outfit.
lug boots + a chunky sweater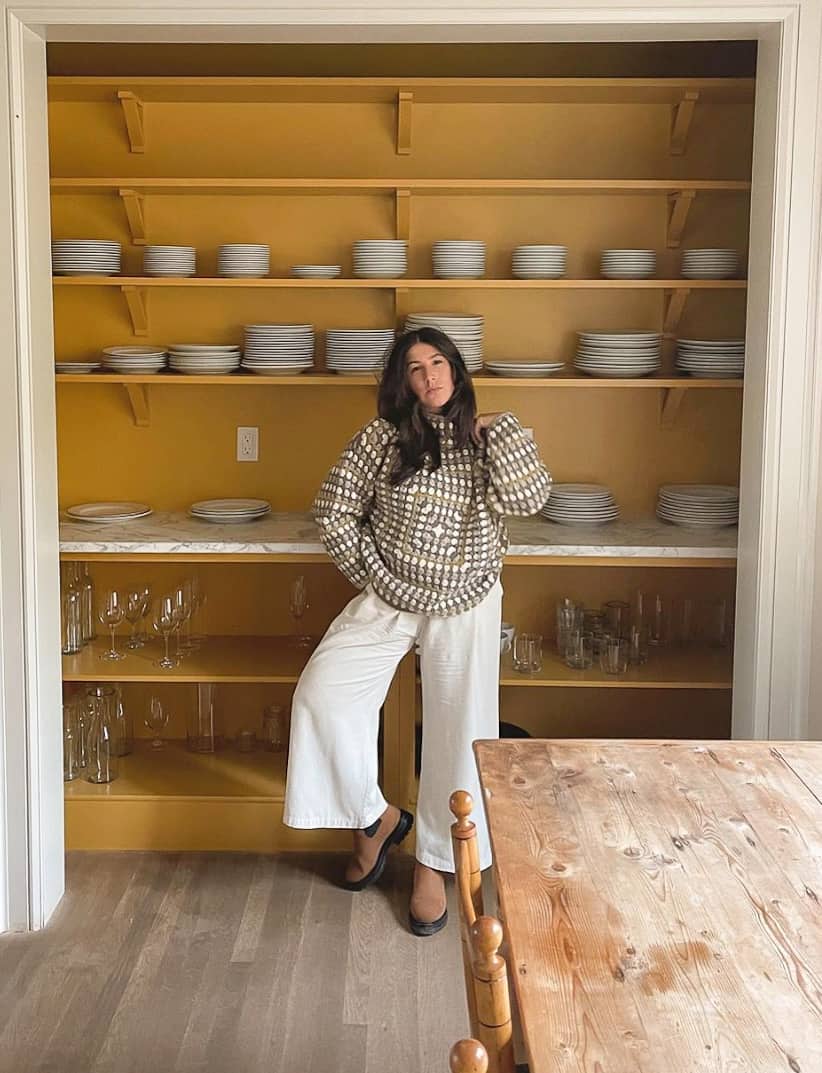 get the look:

Linen pants aren't just for spring and summer!
You can easily wear linen pants in the fall (and even winter) by combining them with a chunky sweater and boots. Chelsea boots are the perfect casual choice, but you can also wear heeled boots for a dressed-up vibe.
We love the cozy feel of this patterned knit sweater, although a solid color would work just as well. Casual, wide-leg linen pants are perfect for a comfy look or try tailored linen pants if you want a sleek and modern feel.
What Shoes To Wear With Linen Pants
You can wear all kinds of shoes with linen pants, and your footwear should match the vibe you're going for. Here are some excellent options for shoes to pair with linen pants:
flat sandals
flip-flops
heeled sandals
classic pumps
ballet flats
mules or clogs
sneakers
lug or Chelsea boots
heeled boots
pair it with denim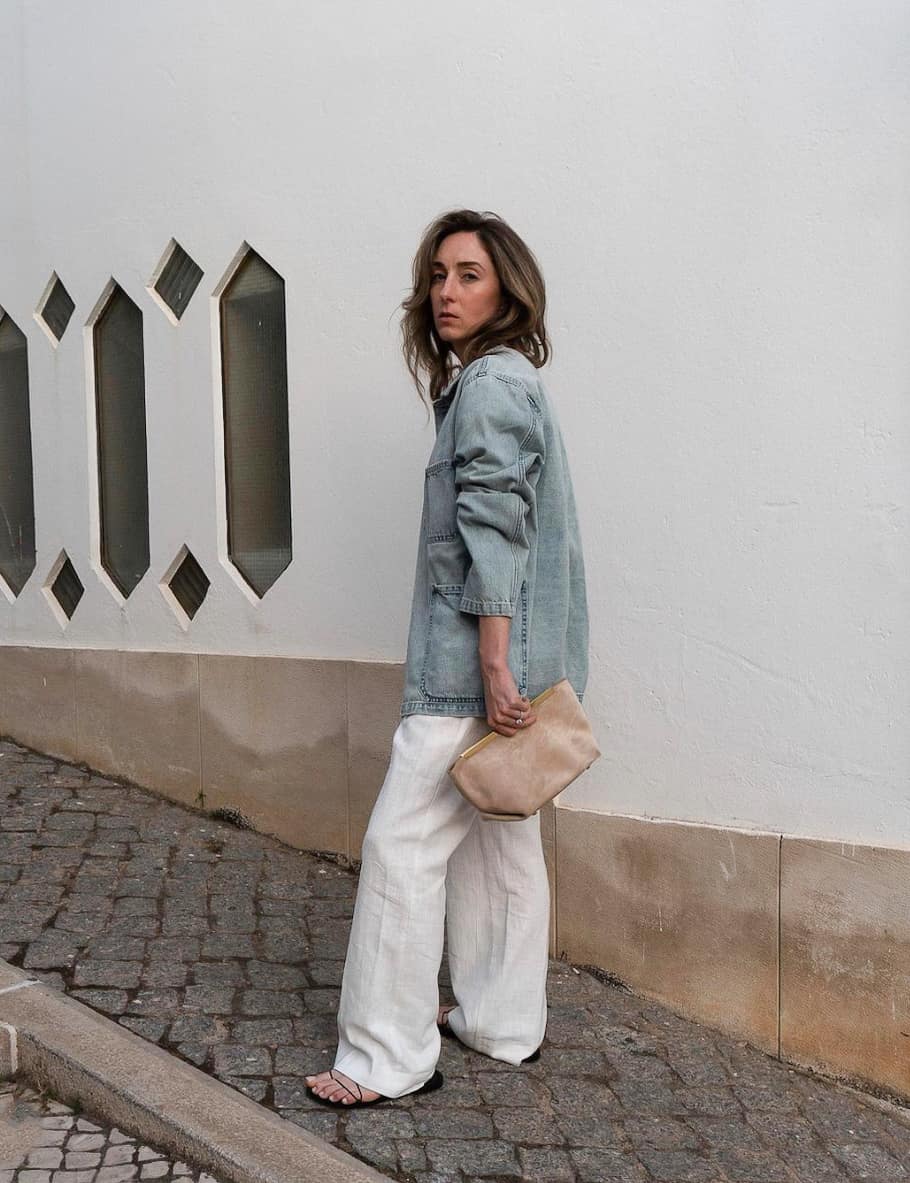 get the look:

An oversized denim jacket or shirt jacket adds a laid-back feel to any outfit, and pairing this piece with linen pants creates an on-trend and casual look perfect for spending the day in.
If you feel that the oversized look isn't for you, go with a cropped denim jacket for a look that is still stylish and timeless. Sandals and a clutch are fantastic accessories for this outfit and take this look from casual to chic.
make it a beach look
get the look:

Last on the list of white linen pants outfit ideas is a beach look we love!
Creating a summer outfit with linen pants is as easy as pairing it with a bikini top and sandals. Get beach ready by layering airy linen trousers over your favorite bikini and grabbing a straw hat.
We love the crisp white of these pants, but you could add some summer color here by going for pink, blue, or green. Grab a straw tote to carry your towel, sunscreen, and other essentials during your beach day!
How To Style Linen Pants
As you can see, styling linen pants doesn't have to be hard!
You can pair these pants with dozens of pieces to create chic outfits that can be worn anywhere from a casual lunch date to a summer vacation to the office. Use this style guide for inspiration so you can sport this stylish piece all spring and summer long!
More Style Inspiration You'll Love:
Mexico Vacation Outfit Ideas & What To Wear On Your Next Trip
What To Wear in Maui + 8 Chic Outfit Ideas & Printable Packing List
Capsule Summer Wardrobe: Checklist + What To Wear