Heading to your first Pilates class? Learn exactly what to wear to Pilates for form, function, and great style too!
*this post contains affiliate links*
You've signed up for your first Pilates class, congratulations!
Pilates is a great way to strengthen your body and improve your flexibility, and it happens to be one of the top hobbies for women in their 20s (but is great for people of any age!). Before you head to your first class, you might be wondering what to wear.
First and foremost, you want to wear comfortable clothing that will allow you to move freely. For women, this most often means wearing leggings or yoga pants and a tank top or t-shirt, but there are other options as well.
You may also want to consider wearing a lightweight sweater, as the room may be cool. And while it is easy enough to find comfortable clothing, you likely also want to look and feel good doing your thing!

What To Wear To Pilates
When planning what to wear for your first Pilates class, it is crucial to pick comfortable pieces that make you feel good as feeling your best while you exercise will give you motivation to keep up with your workouts.
Opt for clothes made from natural fabrics such as cotton and avoid any clothing that is too restrictive. You'll also want to avoid anything with extra bells and whistles, as Pilates is all about simplicity.
Here are some outfit ideas to help you get prepared for your first Pilates class.
Photos: @organicbasics, @melodyjoy
The Go-To All Black Outfit

When planning your outfit for Pilates, I love a classic all black look with matching top and bottom. Choose a natural fabric that is form-fitting while not too restrictive.
Reformation's high-waisted eco-stretch leggings go well with the matching sports bra or cropped tank. The fabric is light and breathable, which makes it comfortable.
Bring the whole look together with this long sleeve wrap top from Zella.
Feminine and Functional Matching Set

If you are looking for something a little more feminine to wear to your pilates class, this sports bra from Le Ore and matching leggings come in a pretty pastel pink or a bold brick red.
Either should do the trick as they are functional and still have that feminine flair. These pieces hug the body and won't ride up or down as you move through your pilates class. And, they are also a practical option for other workout regiments you might be doing along with pilates like this 4 day workout routine.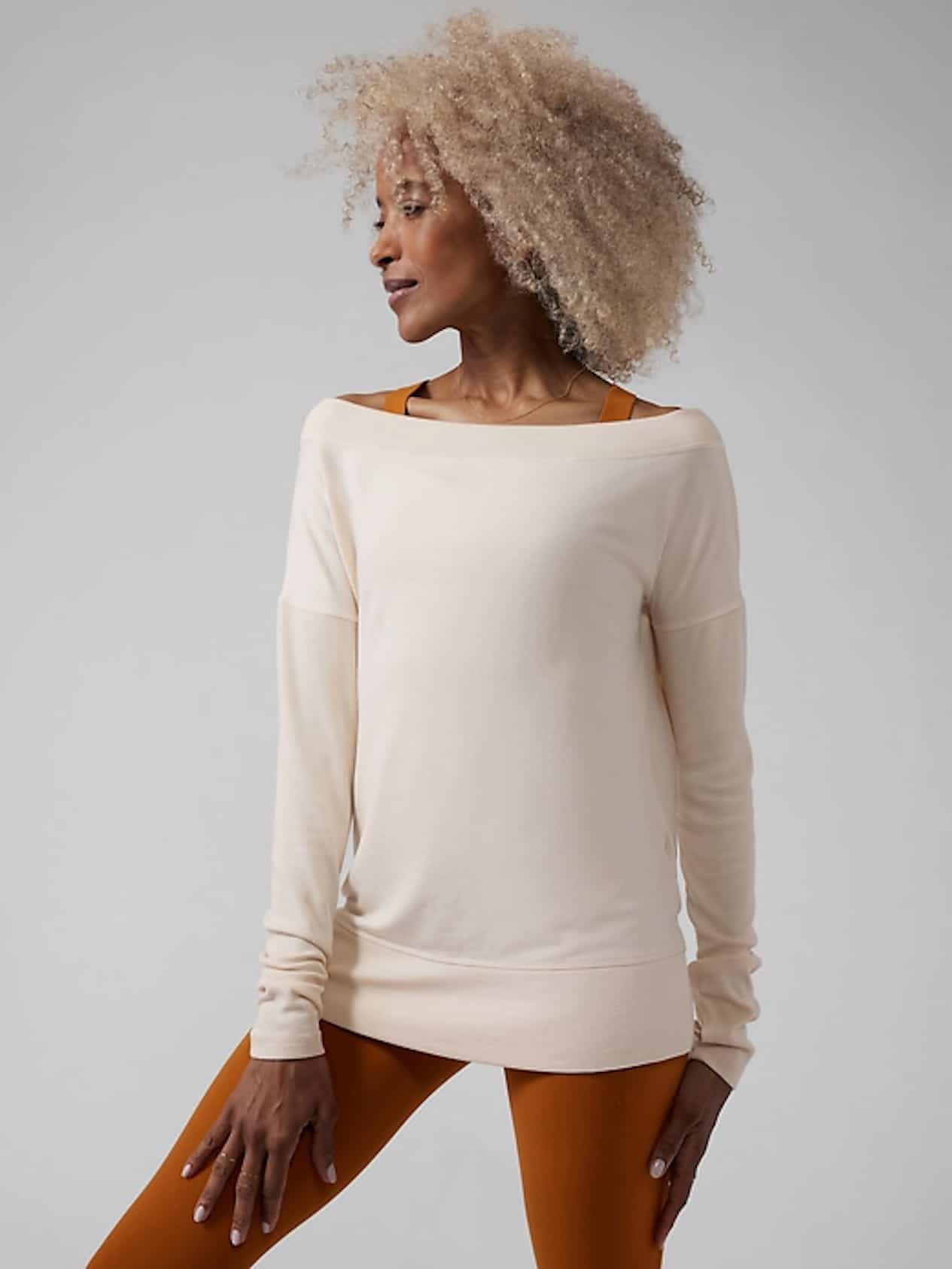 Comfortable Sweater and Leggings Combo
If you are looking for a comfortable and stylish option for your first Pilates class, try this outfit from Athleta.
If the room is a little cooler or the AC is going, the loose fitting top will keep you perfectly warm and you can wear a sports bra or tank top underneath if you work up enough of a sweat to remove the top layer. The cropped leggings will let you move and stretch.
You can also swap out the leggings for the stretchy mid-length shorts.
What should I wear to mat pilates?
When it comes to what to wear to Pilates, specifically a mat class, the options are pretty much endless. In mat pilates you are on the floor with a mat, versus on a reformer machine.
You can go with anything from a simple sports bra and spandex shorts to a full-on workout outfit with leggings, a tank, and sports bra.
Just make sure that whatever you choose is comfortable and allows you to move freely.

If you're looking for something a bit more sporty, try this top and leggings set from Splits59. The top is made from a lightweight, breathable fabric, while the leggings are designed to keep you cool and dry.

Try a Bodysuit
Another option that you might not have thought of for what to wear to pilates is a one-piece bodysuit. You'll feel hugged in all the right ways, but able to move and stretch without any seams digging into your waistline.
If you feel up for it, go with a swimsuit-style bodysuit with bare legs, or a short, or full leg bodysuit.

Joggers and a Tank
If form-fitting leggings or shorts just aren't your thing, don't fret. Opt for a slightly looser pair of athletic joggers and pair them with a tank top, cropped tank, or sports bra.
It is recommended you avoid overly baggy joggers as they might slip down during your workout or could get caught up in the machine in a reformer pilates class.
Do you wear shoes at Pilates?
No, you do not need to wear shoes for Pilates. The vast majority of your workout will take place on a mat or reformer, and it is best to practice barefoot so that the shoes don't get in the way of your movements.
You can choose to wear socks during class, but make sure they are non-slip, with a grippy bottom, so you don't slip on the equipment.

Do you need socks for Pilates?
While it is not necessary to wear socks for Pilates, many people prefer them to avoid slipping. These socks from Athleta are a great choice as they have a grippy sole and come in neutral colors.

What are the best pilates socks?
A fan favorite are these socks from Pointe Studio. Made from soft and stretchy cotton fabric, they will keep your feet cool and dry while you work up a sweat.
The grippy sole ensures that you won't slip on the equipment, no matter how sweaty your feet get, and they come in a variety of colors to match any outfit.

Do I need a sports bra for Pilates?
It is recommended that you wear a sports bra for Pilates or a tank that has a built in bra. While Pilates is a low-impact workout, you still want to have a certain amount of support during your workout especially if you have a larger bust.
A good sports bra will help to keep you comfortable and supported throughout your entire class.
This one from Good American is an excellent option as it is made from a lightweight fabric that wicks away sweat and comes in regular and plus size.
Can I wear shorts for Pilates?
Absolutely. Pilates is all about form, and wearing shorts can give you a better glimpse of your form whether you are working on a mat or a reformer. Plus, they can help keep you cool and comfortable during your workout.
If you are looking for a pair of shorts that are comfortable and will stay in place throughout your class, these shorts from Good American are a great option. They will not ride up and are made from a lightweight, breathable fabric.

Final Notes on What To Wear To Pilates
When it comes to what to wear to Pilates, comfort and simplicity are key. Opt for lightweight, stretchy, and form fitting pieces that you can move easily in.
Avoid anything with many extra bells and whistles, as Pilates is all about simplicity and you don't want to be adjusting and fiddling with your clothing throughout the class. Go barefoot or in grippy socks if you choose, and bring a lightweight layer in case the classroom is cooler or the AC is pumping.
While I'm all about minimal, neutral style, choose pieces that reflect your own personal style so you feel like a queen as you rock that reformer.
Last of all, enjoy yourself and don't be too concerned about how you look. Pilates is an incredible way to move your body, get a sweat on, and practice self-care.
Need some pre-workout energy? Try these athletic greens!
Pin me:
More Outfit Guides You'll Love:
What To Wear To A Salsa Class + 4 Perfect Outfit Ideas!
What To Wear Paddleboarding: A Simple Guide for Every Season
What To Wear For Rock Climbing: A Beginners Guide to Indoor & Outdoor Attire
What To Wear On A Hiking Date In Any Season
What To Wear Hiking in the Fall
What To Wear To A Rodeo For Style and Function